Taking engagement photos at Whistling Gardens is always an amazing choice. However, for Becky and Jason, planning to have the session here at sunset was the perfect scenario. Although this wasn't our first stop on our journey, ending the session here was the ultimate ending and an amazing experience for all of us.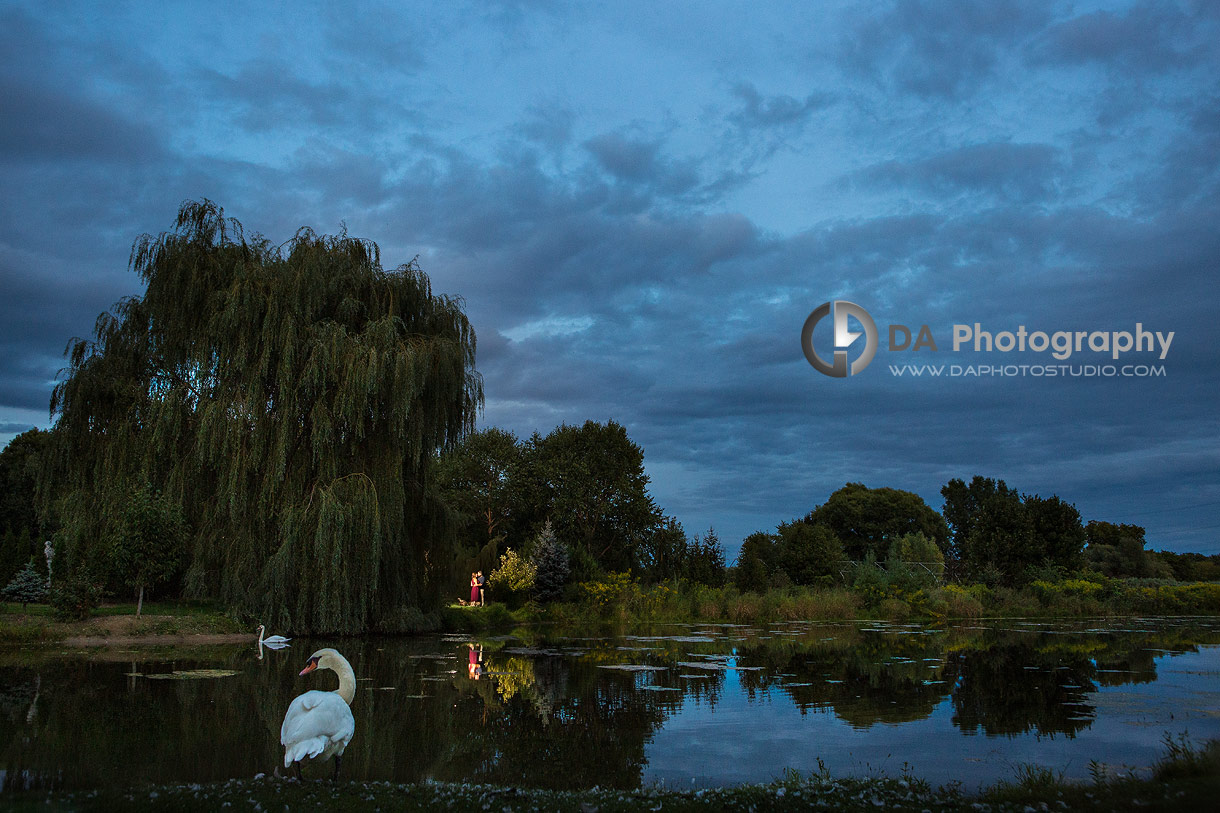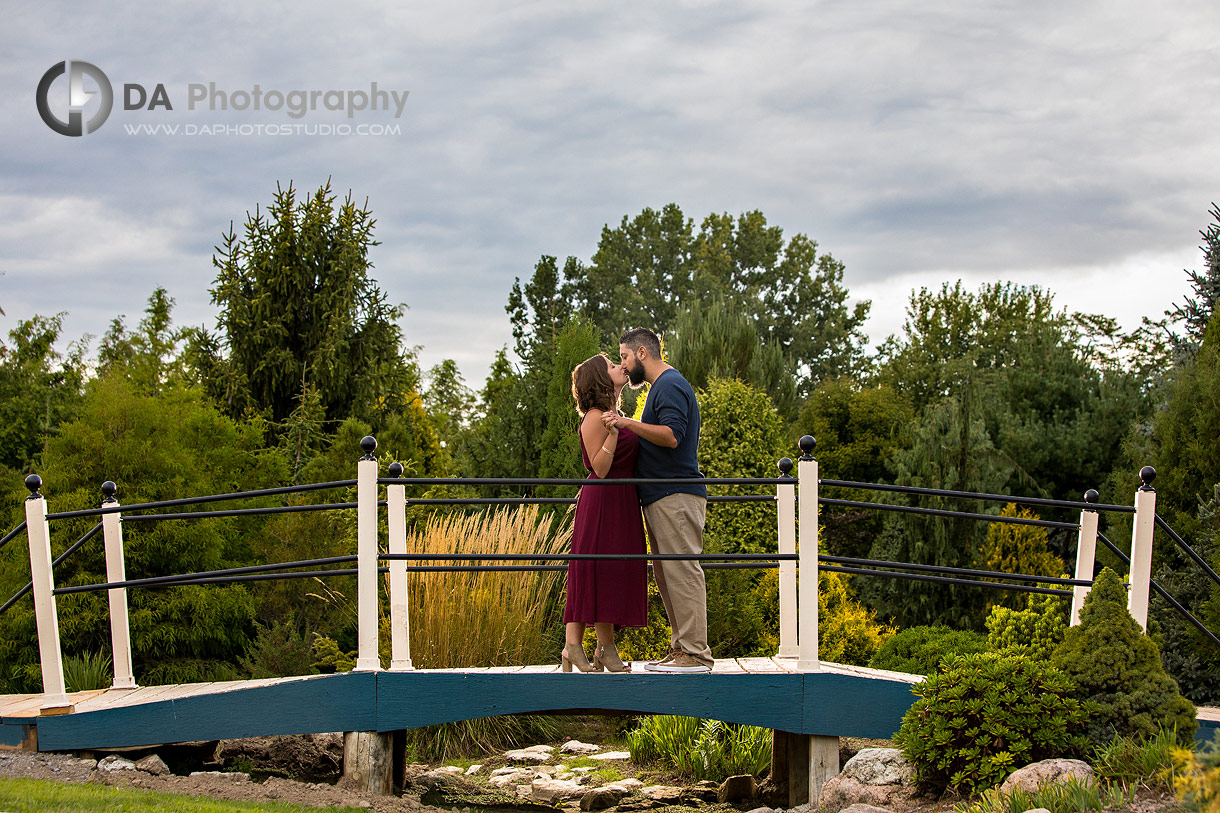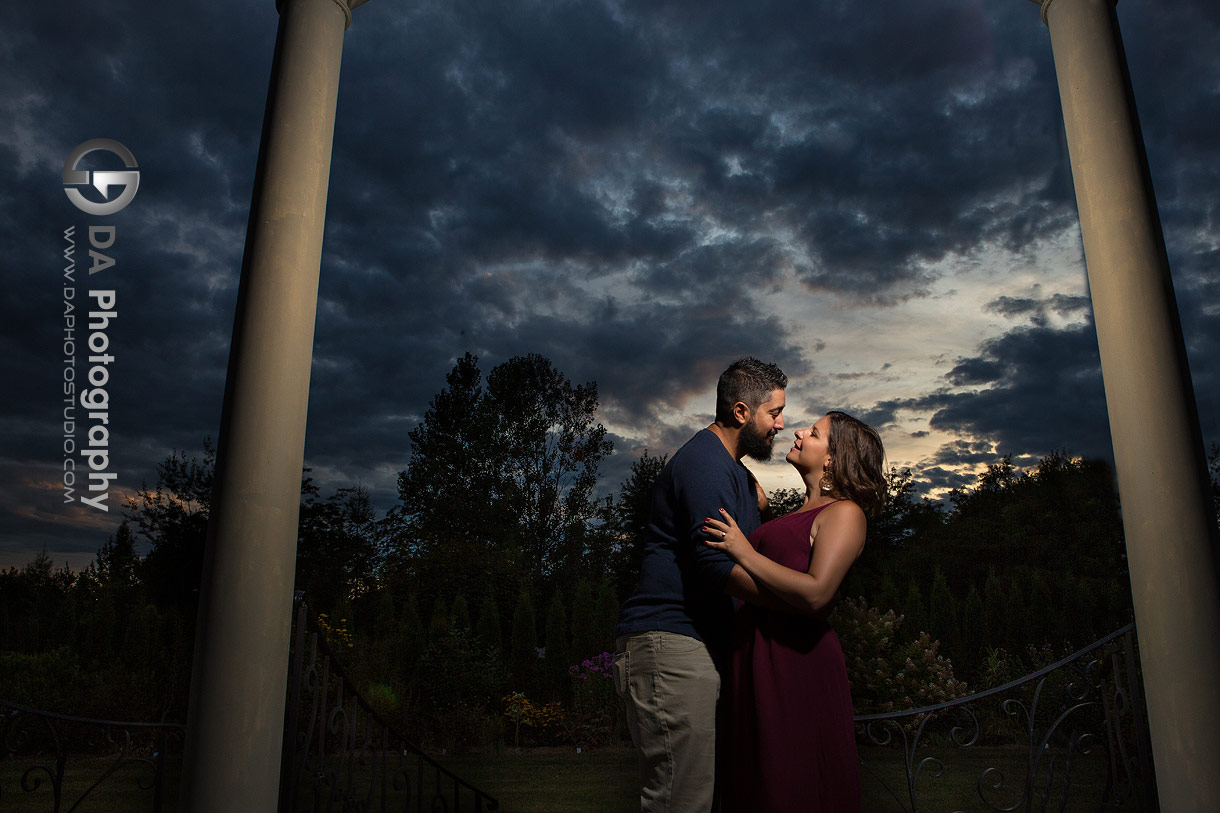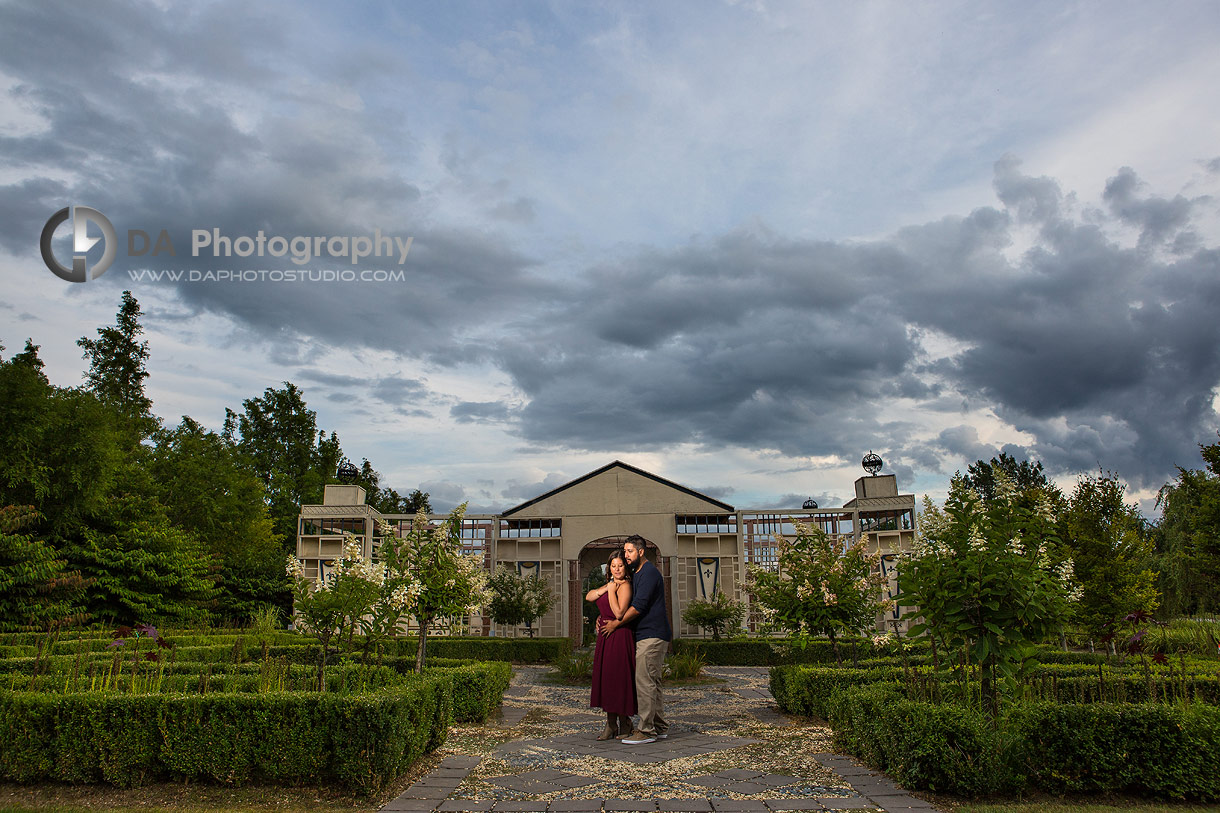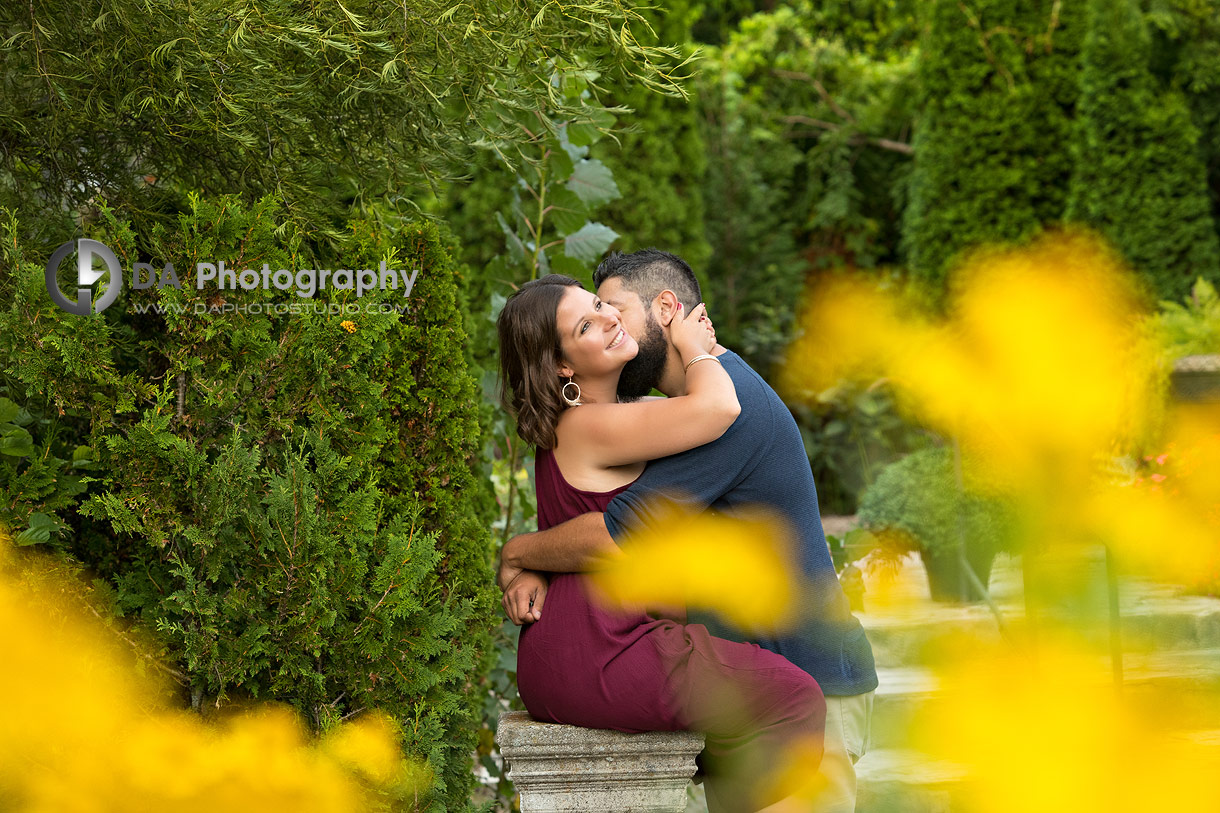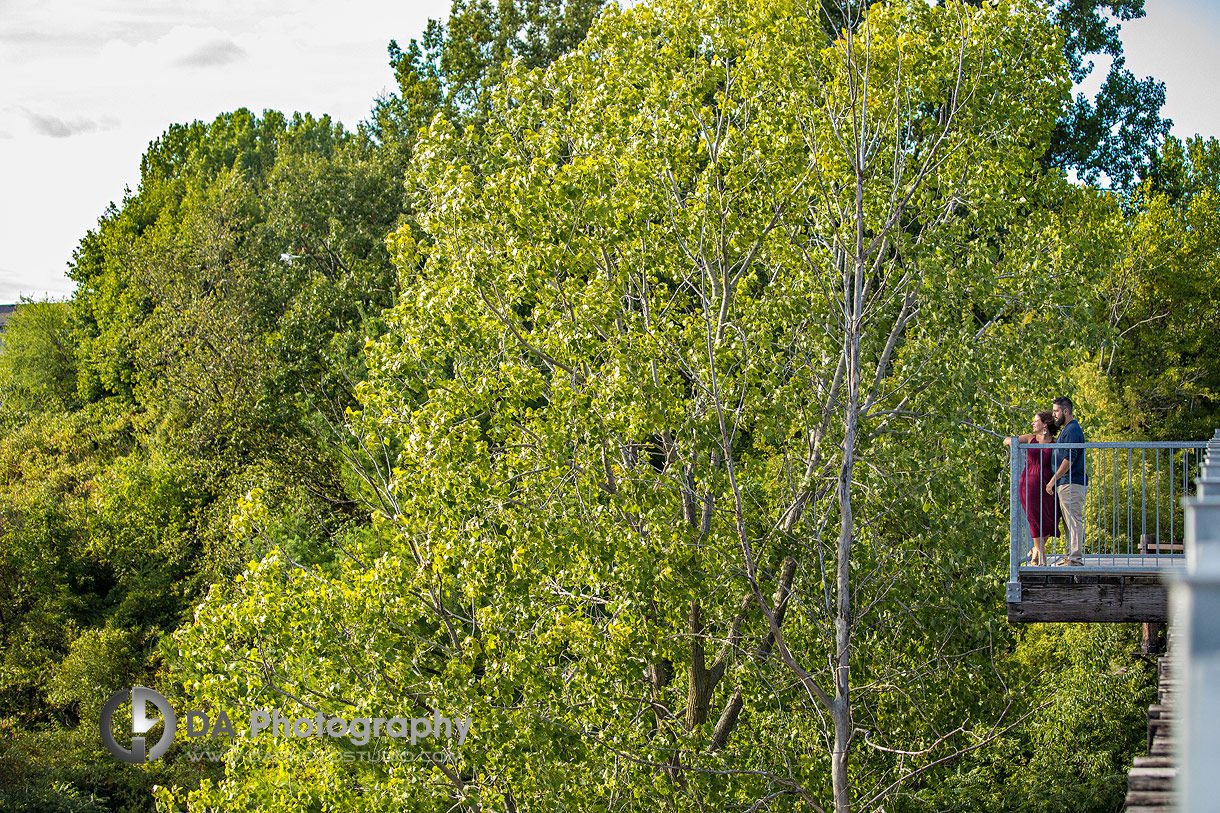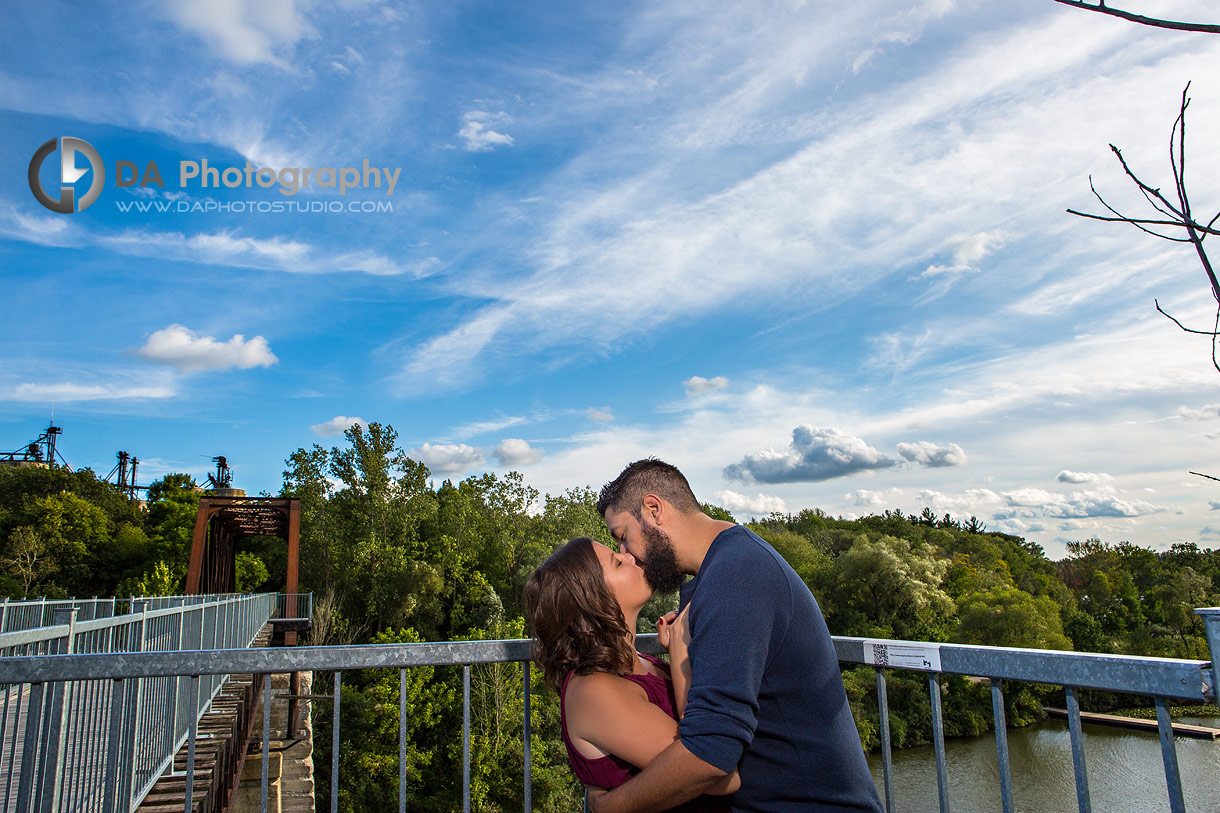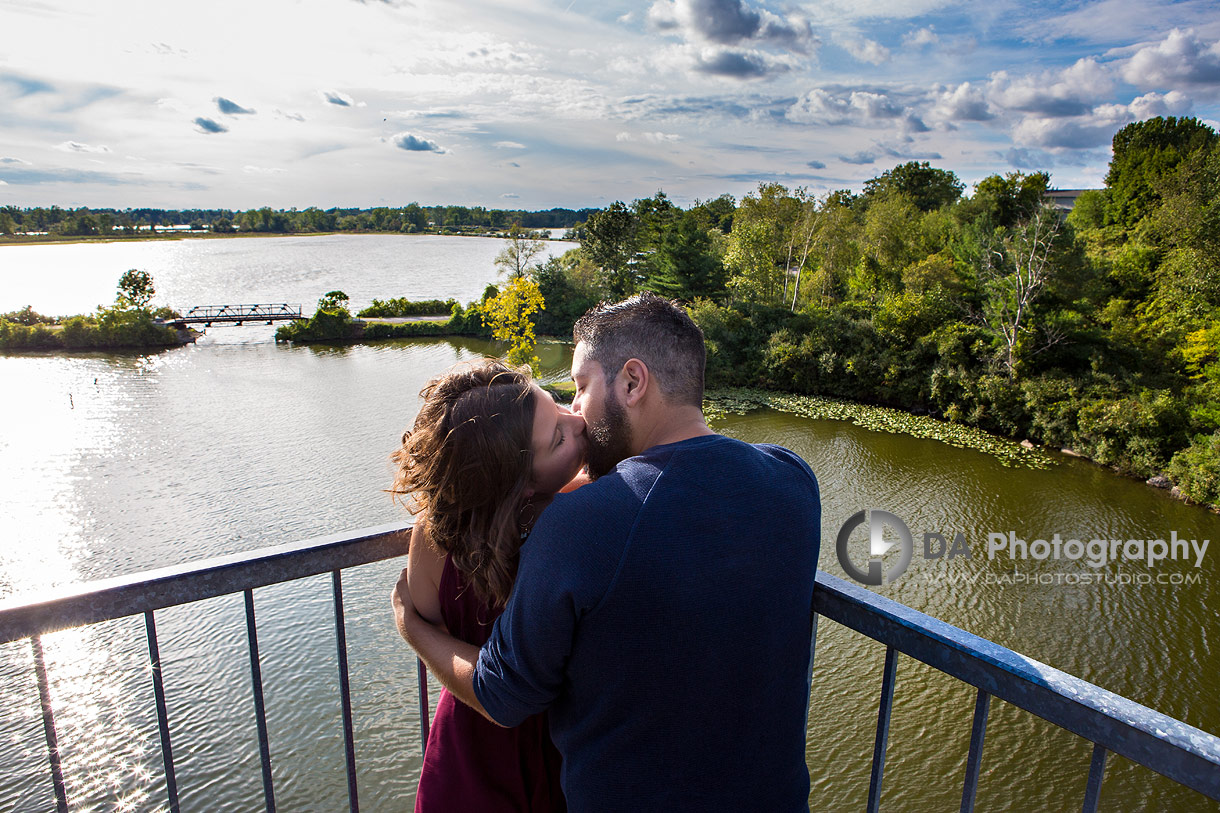 How Whistling Gardens became the final destination for this Engagement session
To cover all of their photo ideas for the day, Becky selected three different locations for their session. Each space was so different from each other and would provide us with more diversity for potential images. Interestingly, I had actually photographed at two of those three locations previously. However, as always, one can never expect for any two sessions to be alike. The time of day, the season and the individuality of each couple provides a different atmosphere and image result every time.
Becky and Jason reserved Whistling Gardens for the end of the list. As they wanted to have a sunset session at this location, we planned to be there for 6:30pm. The other two locations had more flexible timing. We could visit them for an extended time or we may skip them altogether. The only timing set in stone for their engagement session was sunset at Whistling Gardens.
I vividly remember planning this engagement session with Becky. We discussed the weather as there was going to be overcast. She was very excited about each location and the images we were going to be capturing. For me, I was happy to revisit these amazing locations for the 2nd time as well. It's always interesting to go back and see what else I can create in a space using different points of view this time.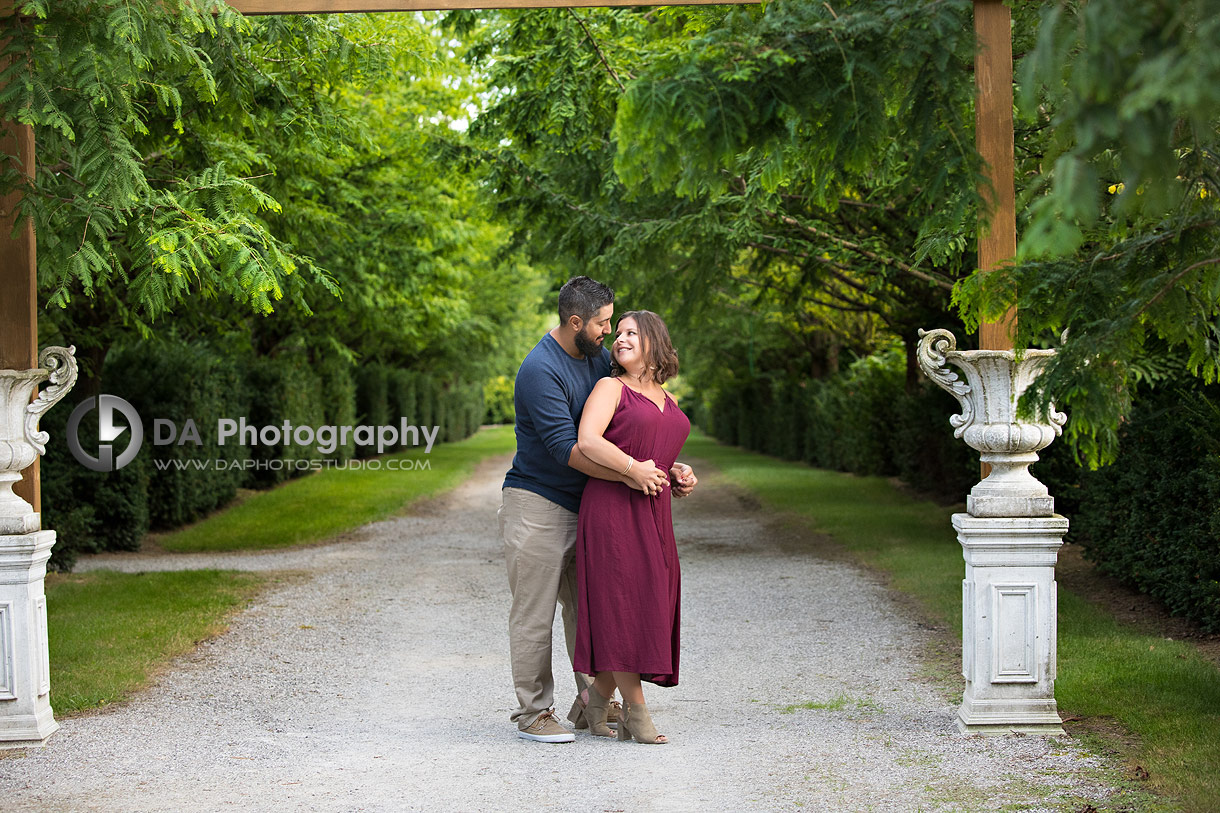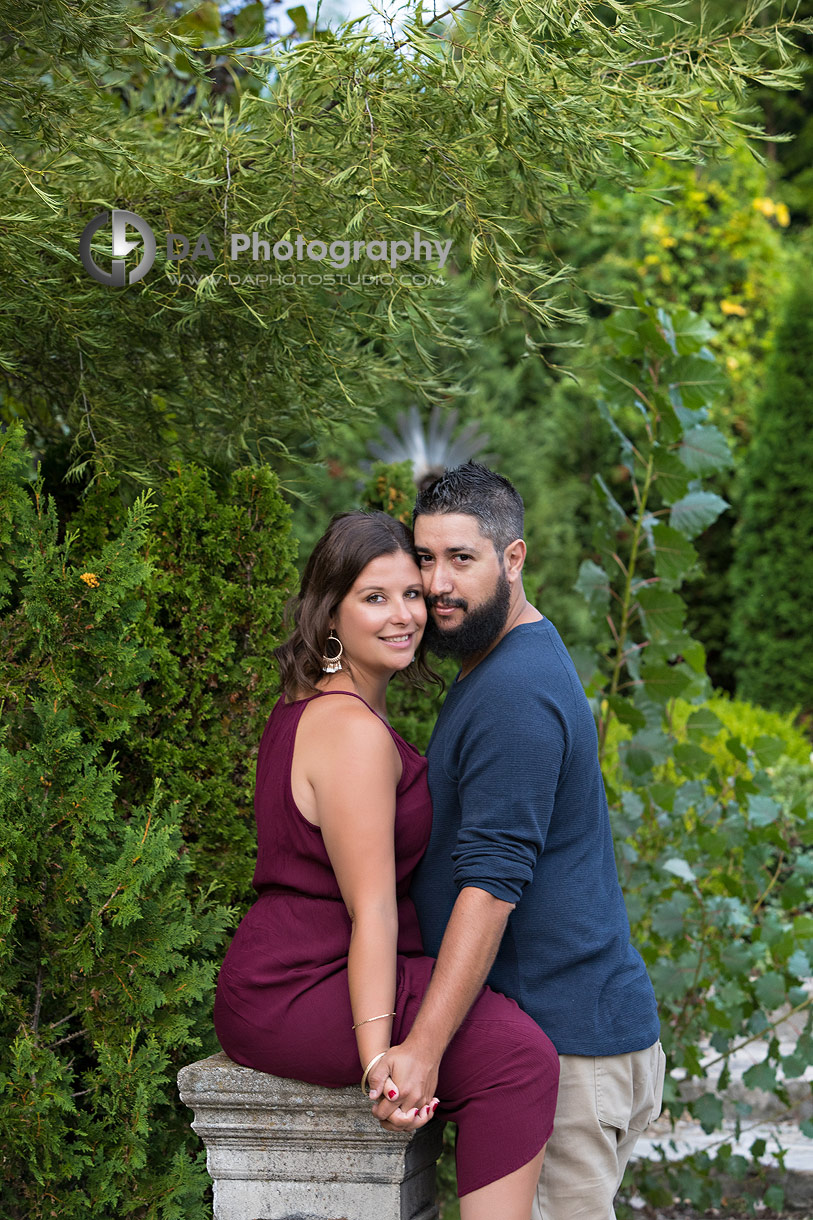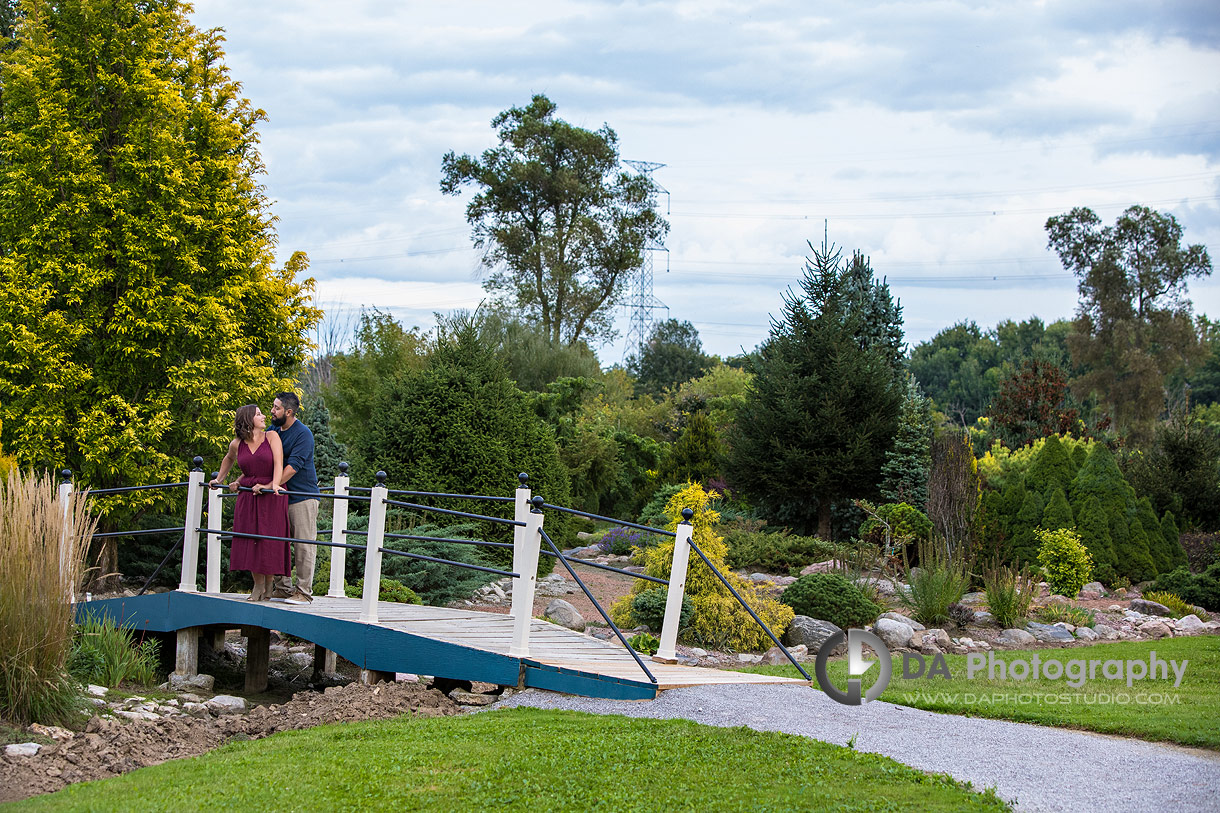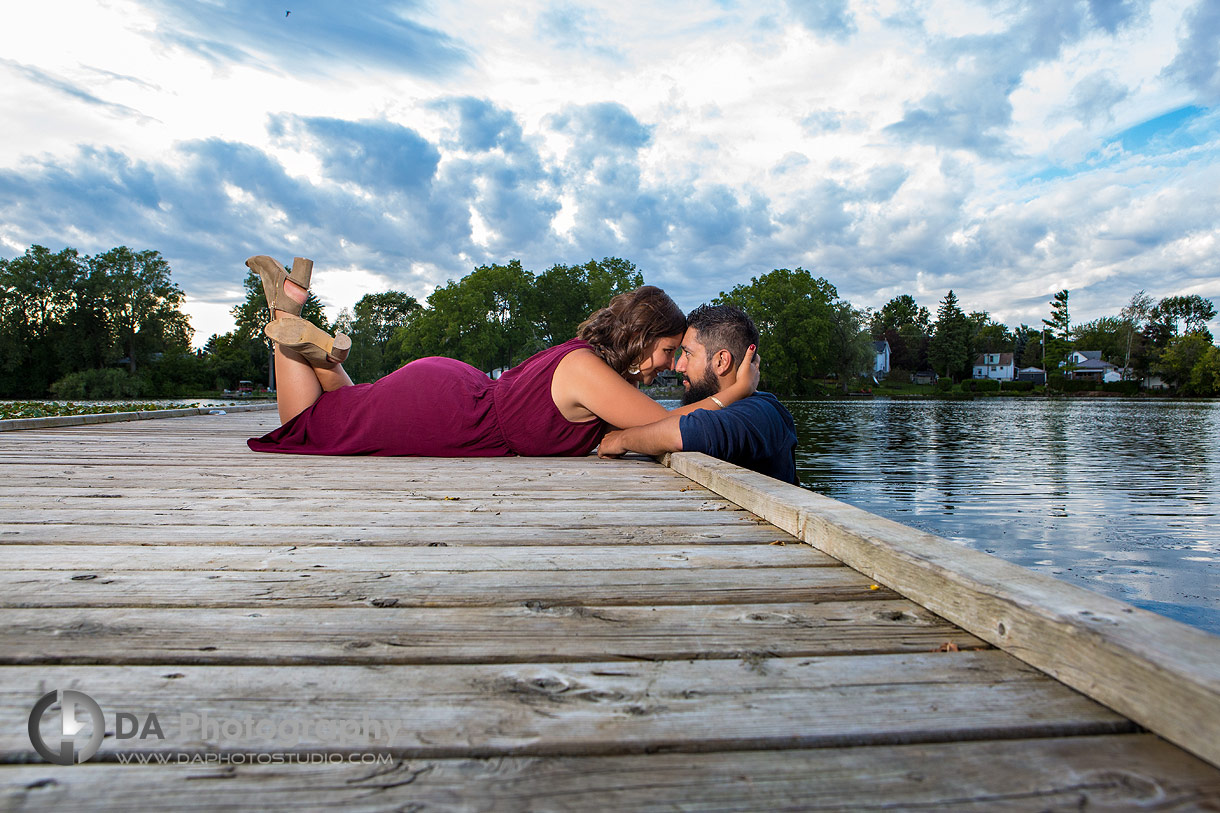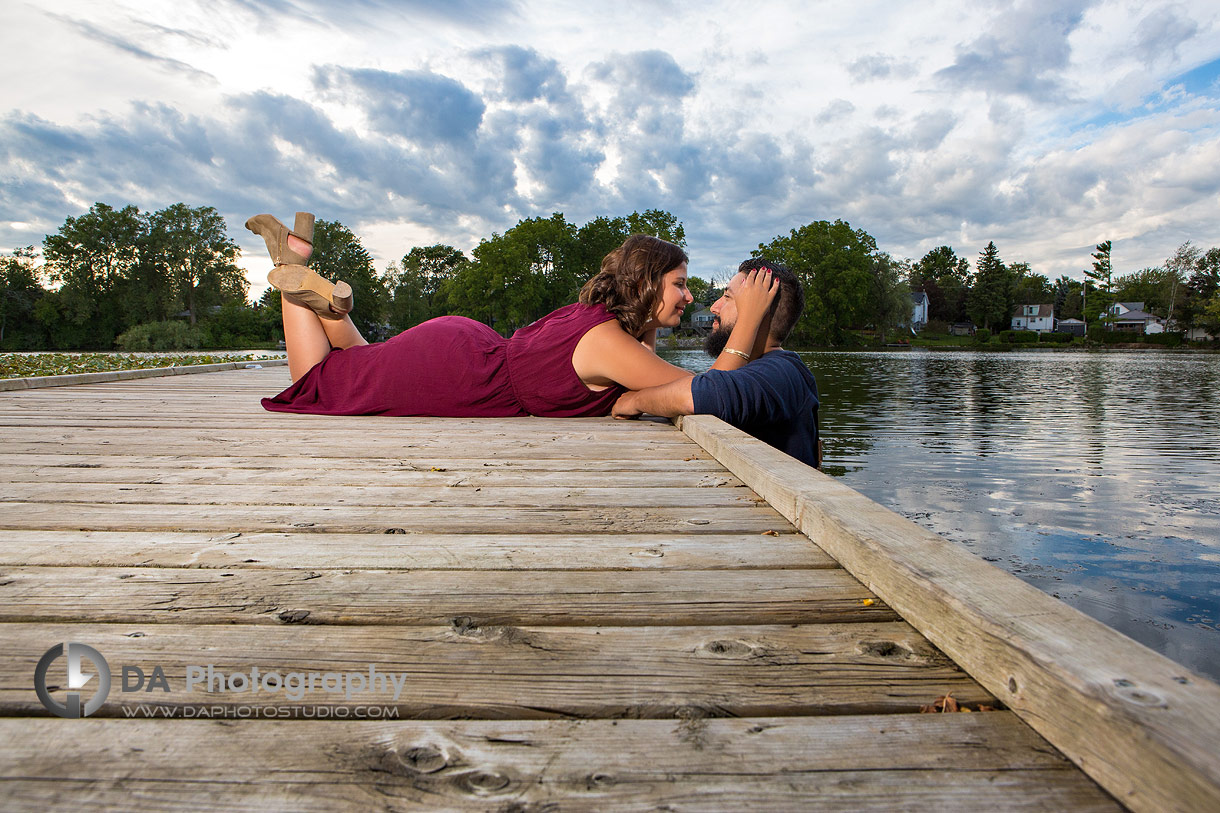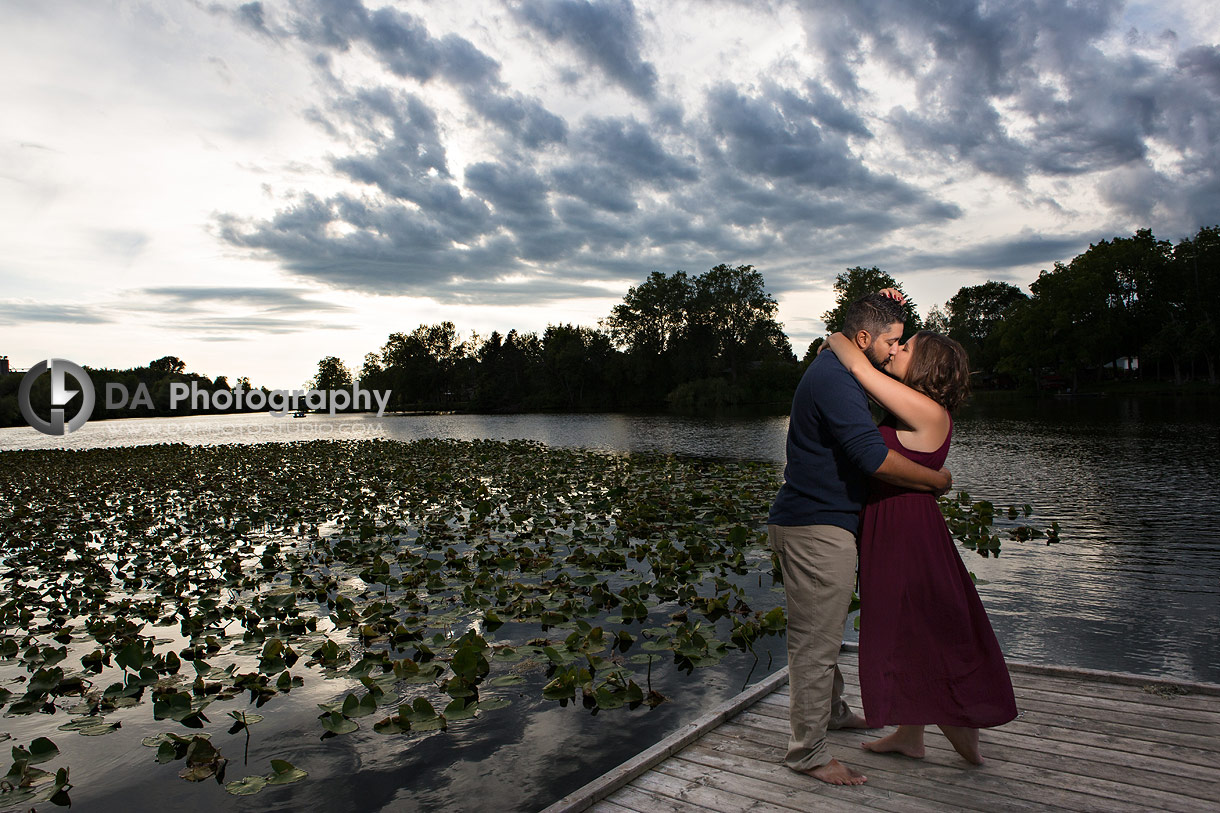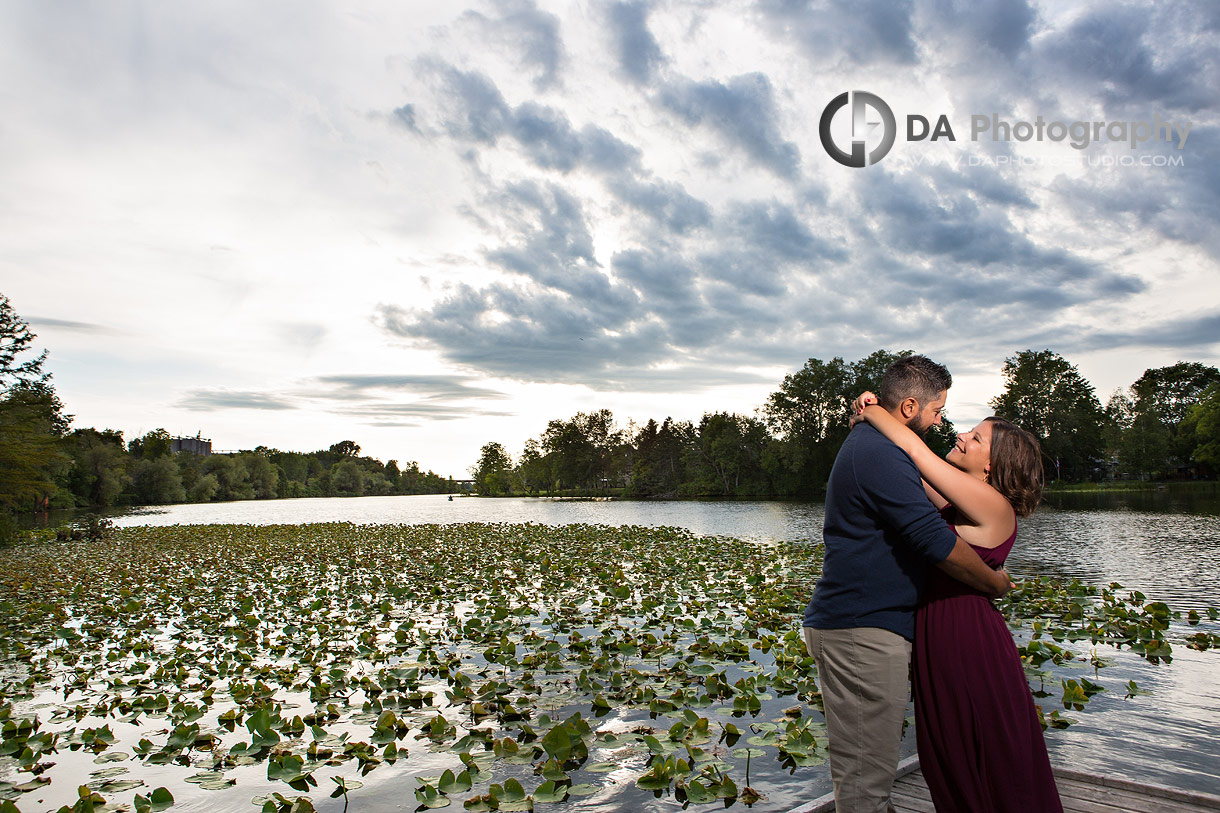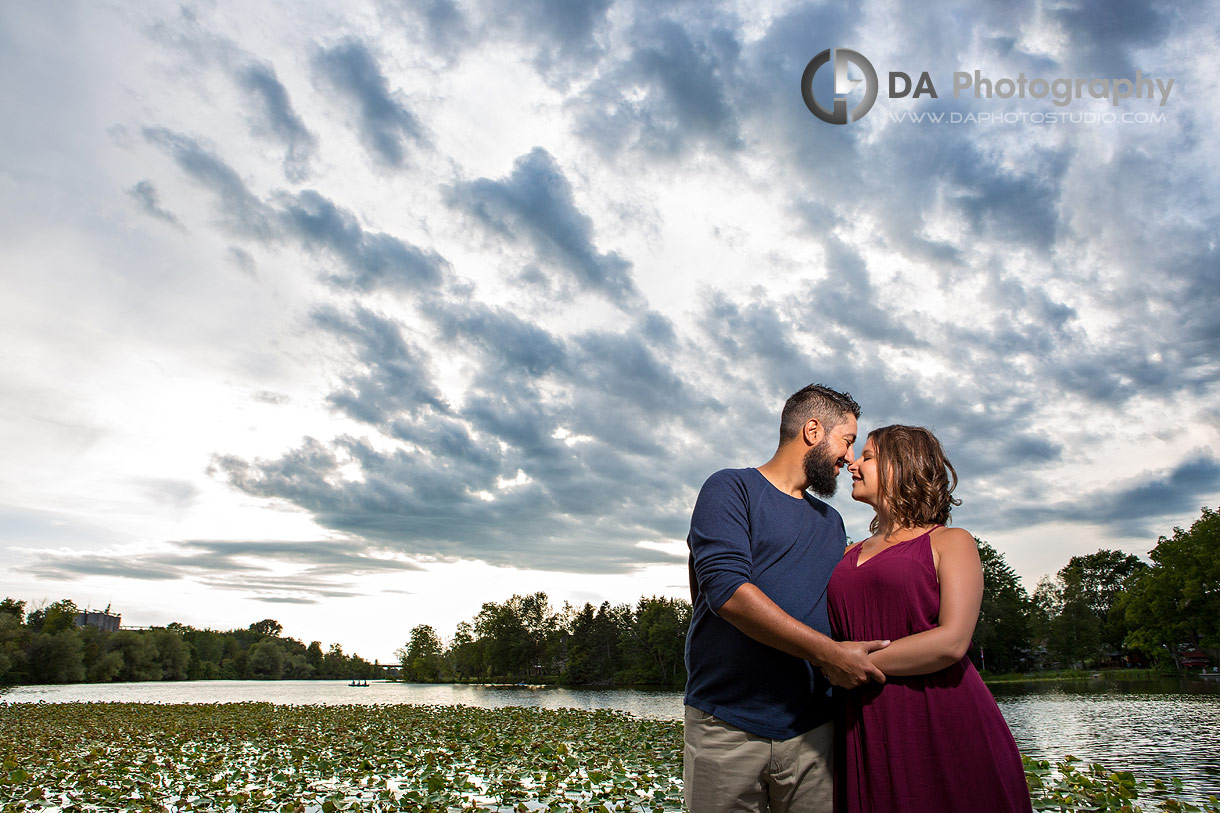 The bridge of leading lines at Simcoe
We first started at the Waterfront Black Bridge which is located between Simcoe and Brantford. I have photographed there about 4 years prior to this session. Then, Martha and Corey had chosen this as their 3rd and final location for their engagement photos. Certainly, this location is very dear to me. It is here that I have taken one of the best sunset photos that I have ever captured. Check out this blog post to see images of that session too.
With Becky and Jason, we arrived at the bridge much earlier. The sun was not even near dipping to the horizon. While we started working together on the bridge, I continued to work on connecting with these lovebirds. It's always important to establish their likes and dislikes in the very beginning. Then, we get to know each other and I can ensure that my clients will be as pleased with the outcome as I am.
The spot that we chose also posed some challenges. It is a beautiful spot to look at and can give you some really great photos. However, it's so hard to photograph. This would never be something I would mention at the time. I knew that I could achieve what images I was looking for. I just needed to keep pushing myself to overcome the obstacle. Instead, I focused on their connection and the experience they had while overlooking the world from the highly-elevated bridge. We took as many photos here as we could or whatever we thought we wouldn't be able to achieve at the other two locations. And then we were off and one step closer to sunset engagement photos at Whistling Gardens.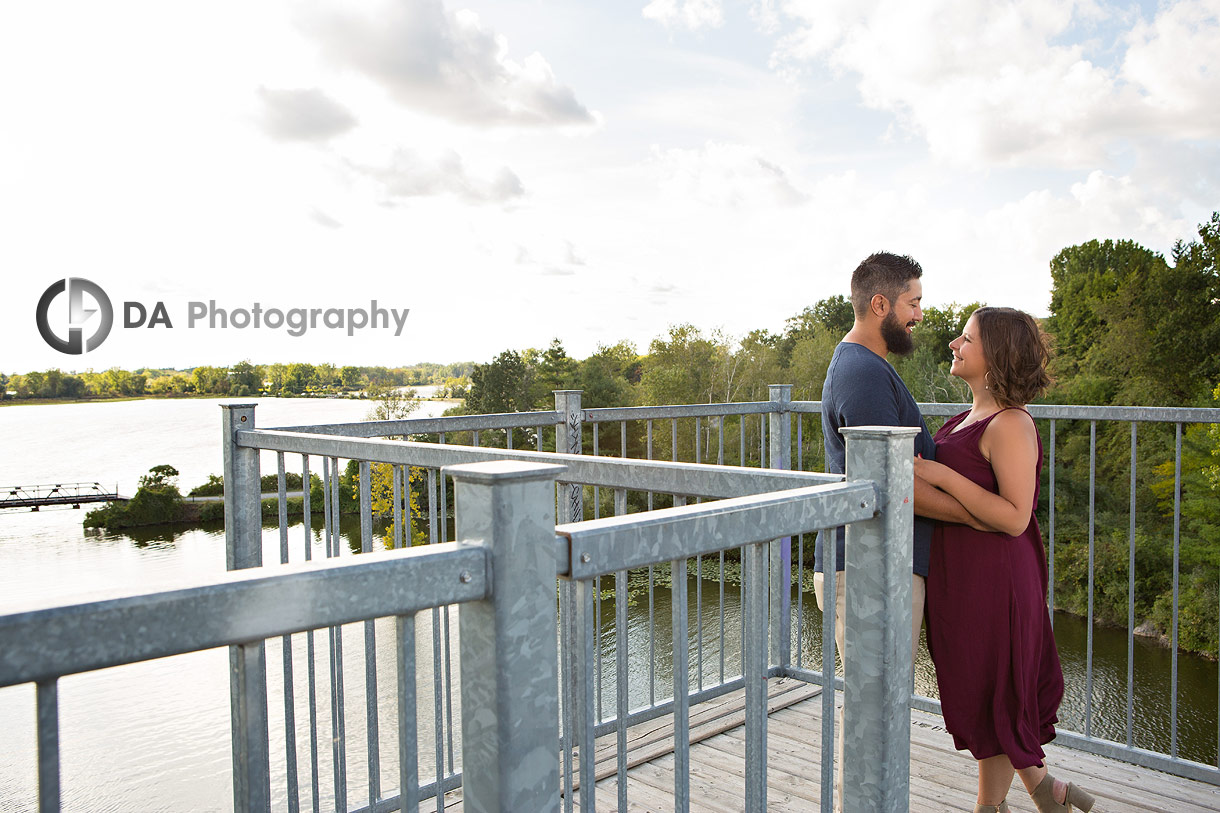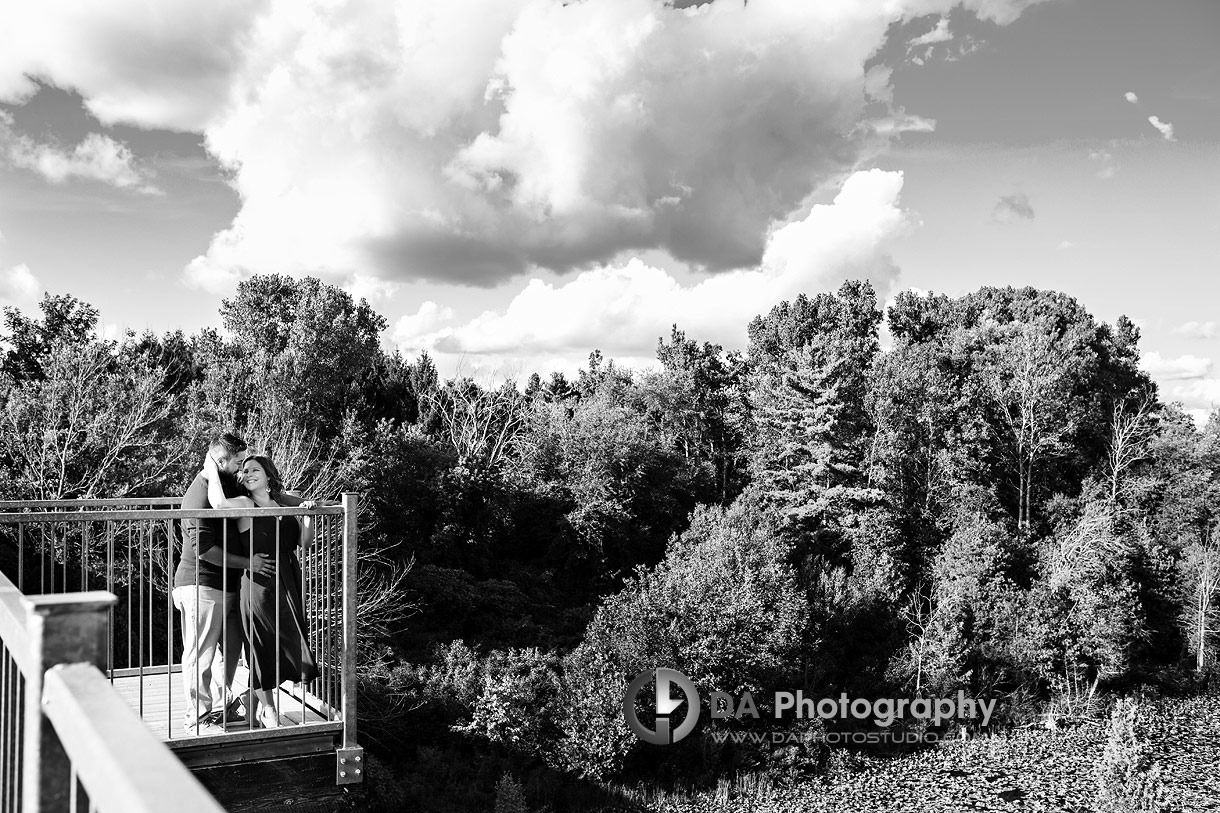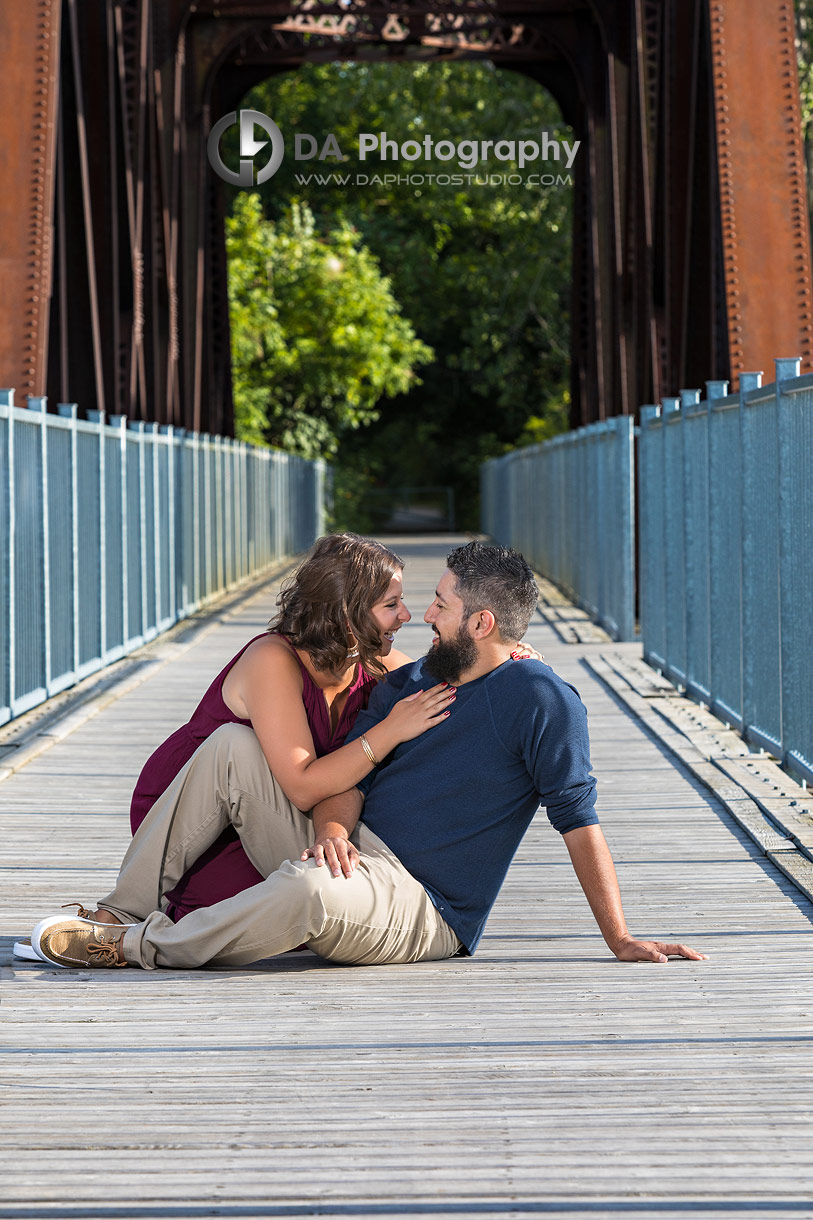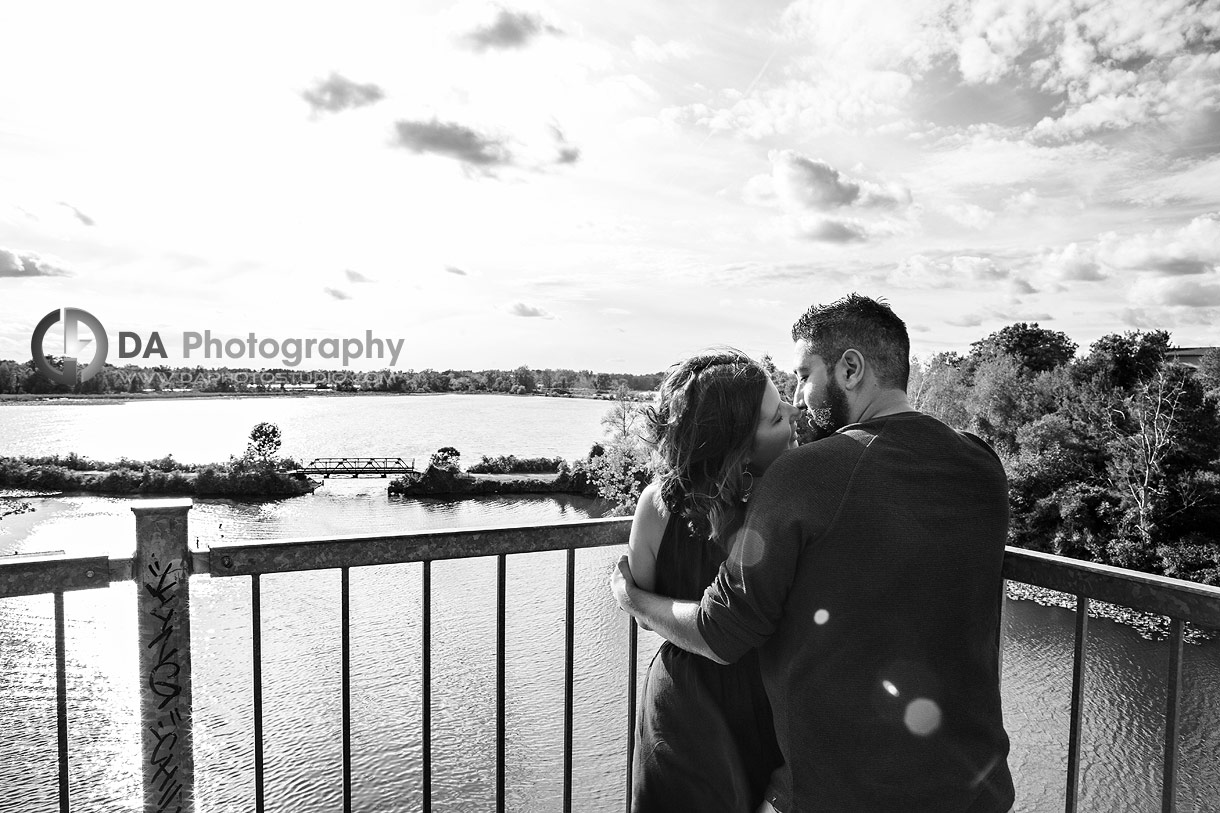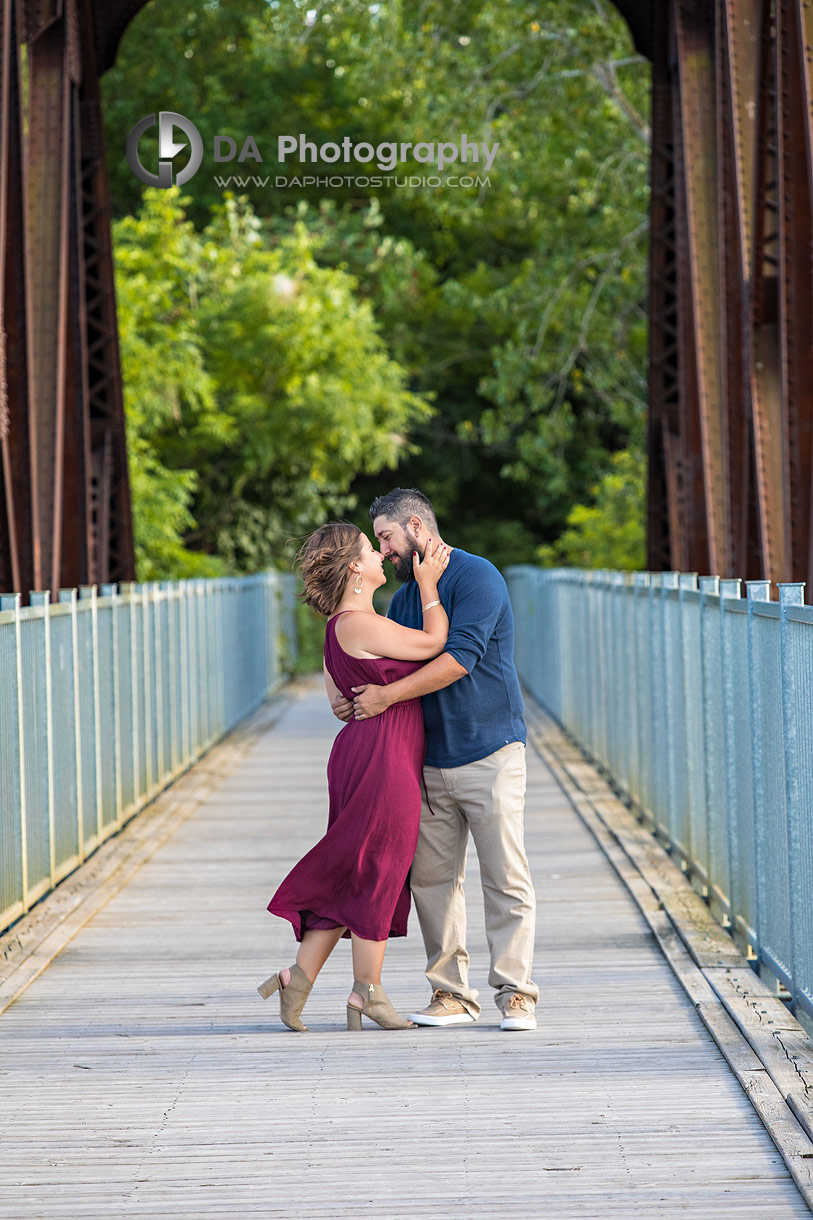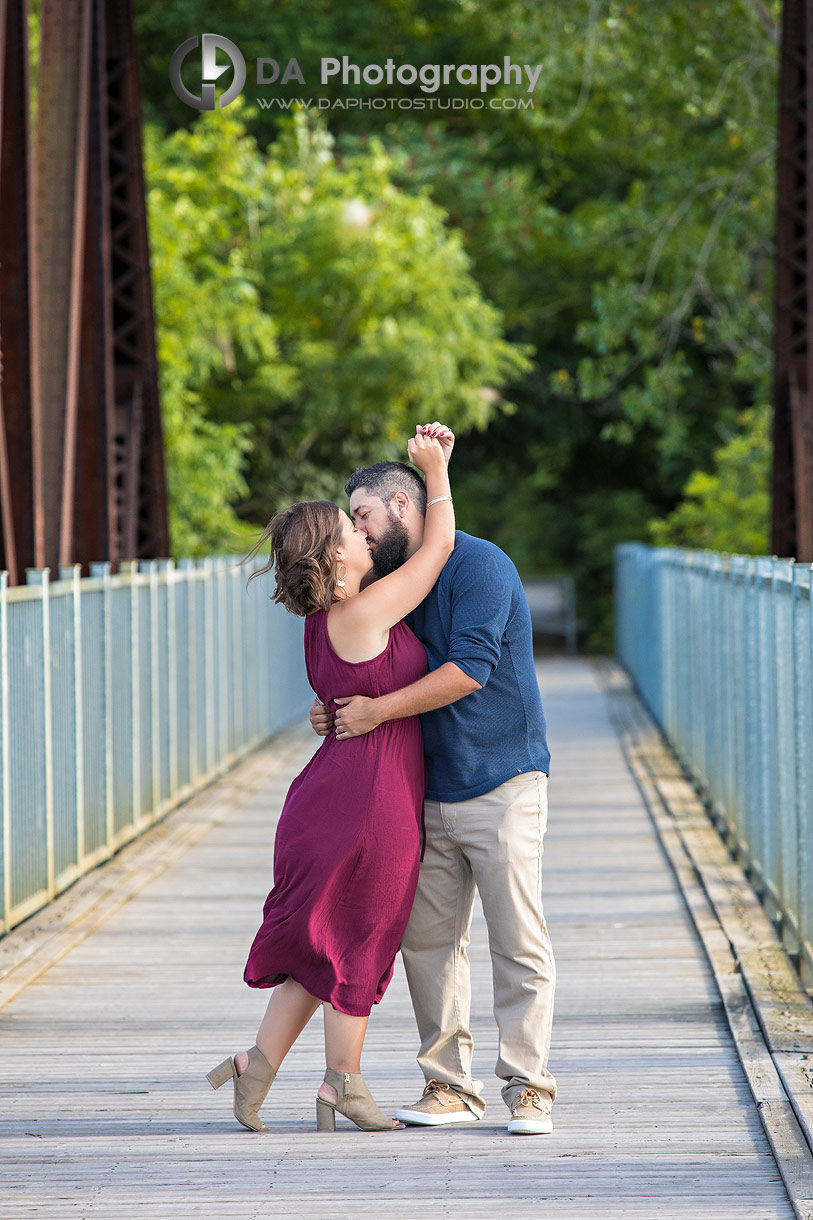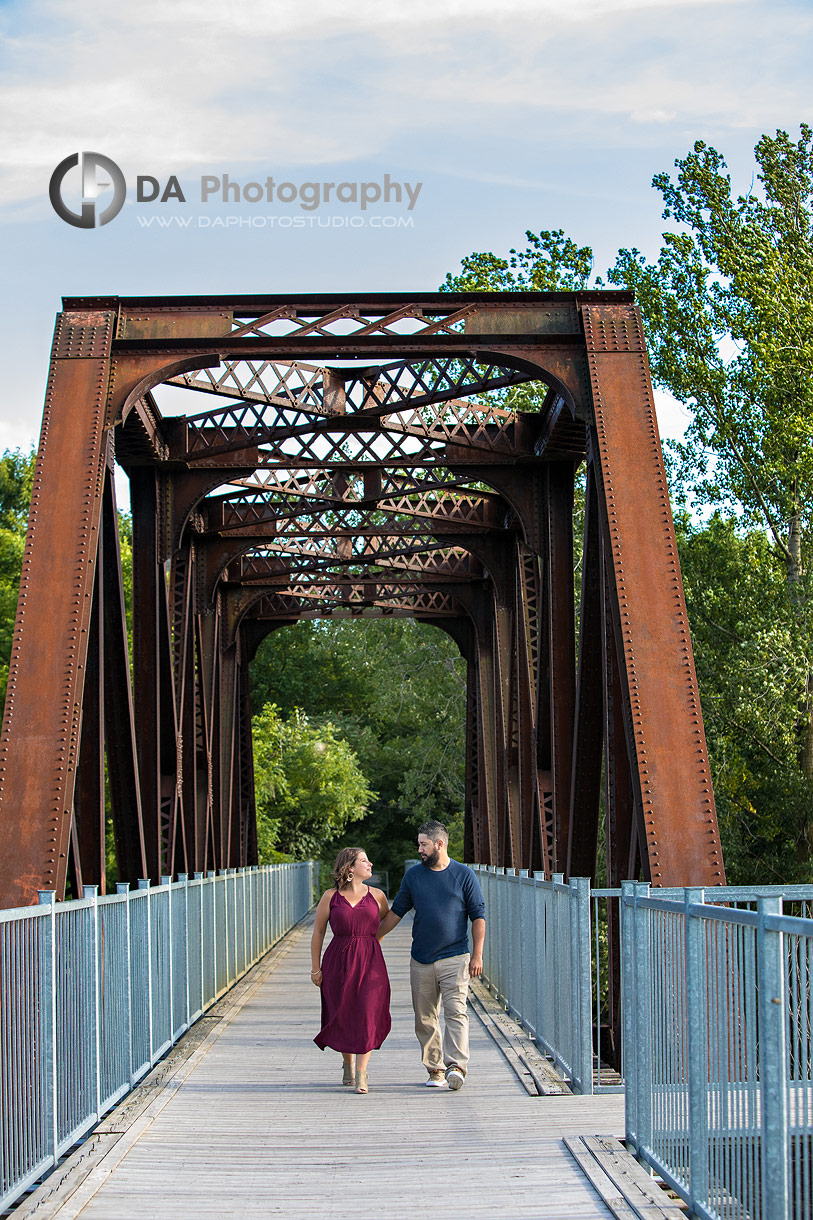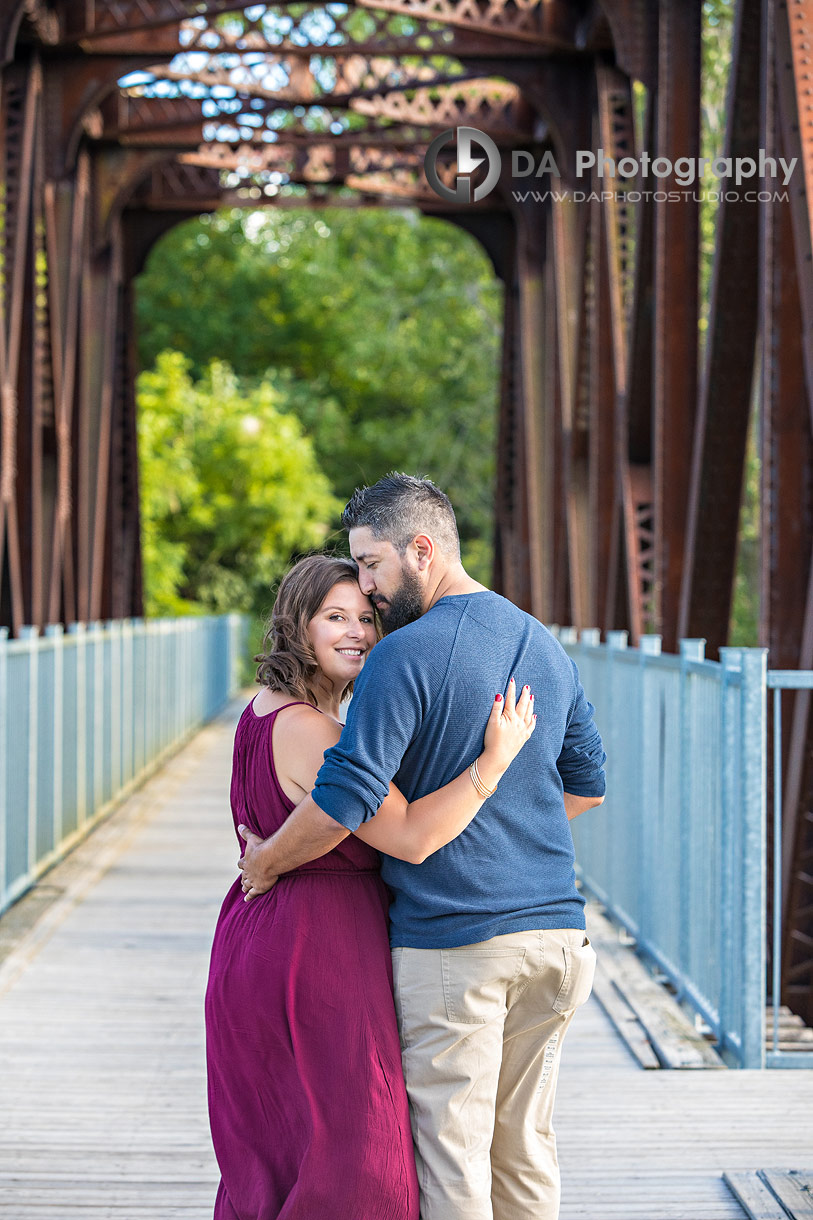 Bringing out the fishing waders for an out of the box approach
Next, we went to a location that was truly unique for Becky and Jason. I can honestly say that this is something I have never done before and I loved every minute of it! While Becky and I were walking towards the wooden dock, Jason stayed behind. Once he caught up to us, I noticed that he was wearing tall fishing waders. They were almost like rubber boots but for your entire body. I had no idea what to expect! Without hesitation he went out into the water and met Becky at the wooden dock. It started making sense to me and the creativity kicked into high gear.
Excited with their unique idea, I made sure we had an abundance of amazing photos. I honestly didn't realize how many I was taking. This was the only location Becky chose that was new to me. Even though we were going to Whistling Gardens for the sunset part of their session, the sun had started to descend slightly while at this location and it was just as gorgeous!
Finally, we wrapped up the rest of our ideas for photo memories and started to make our way to Whistling Gardens.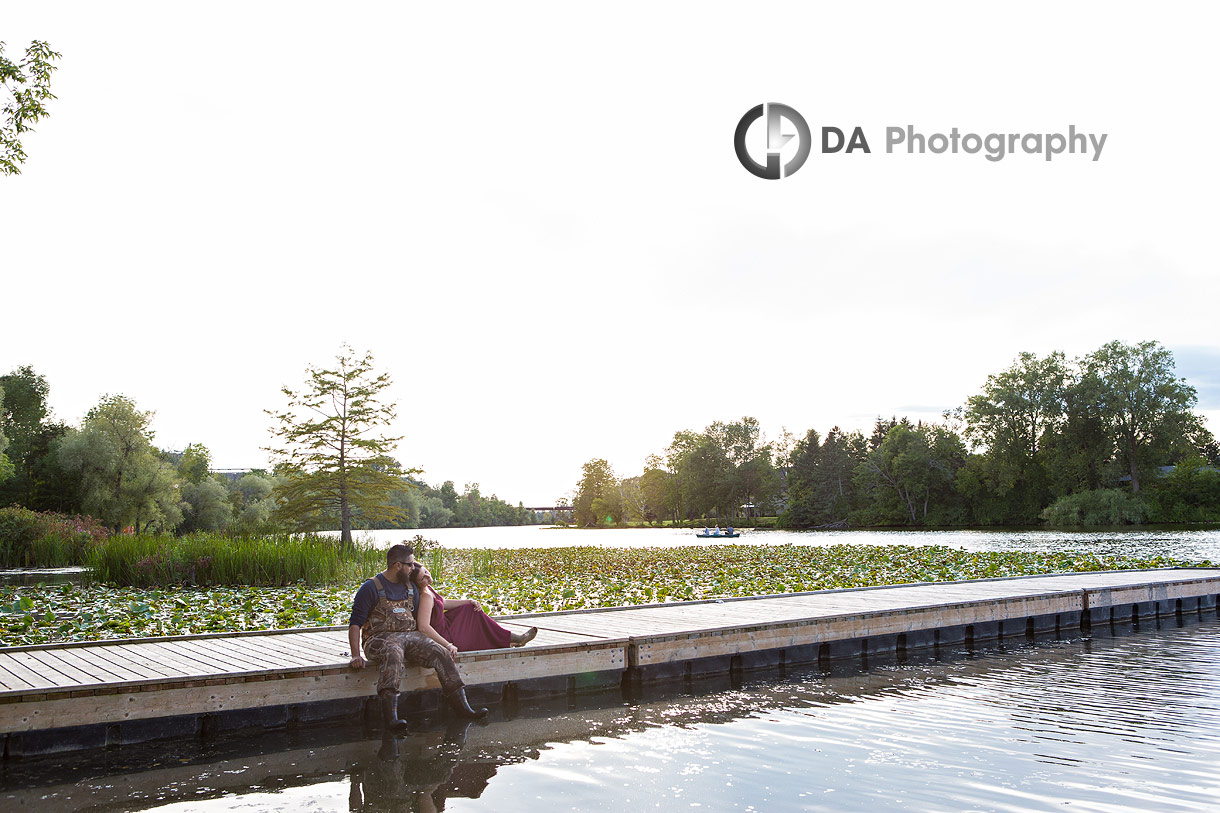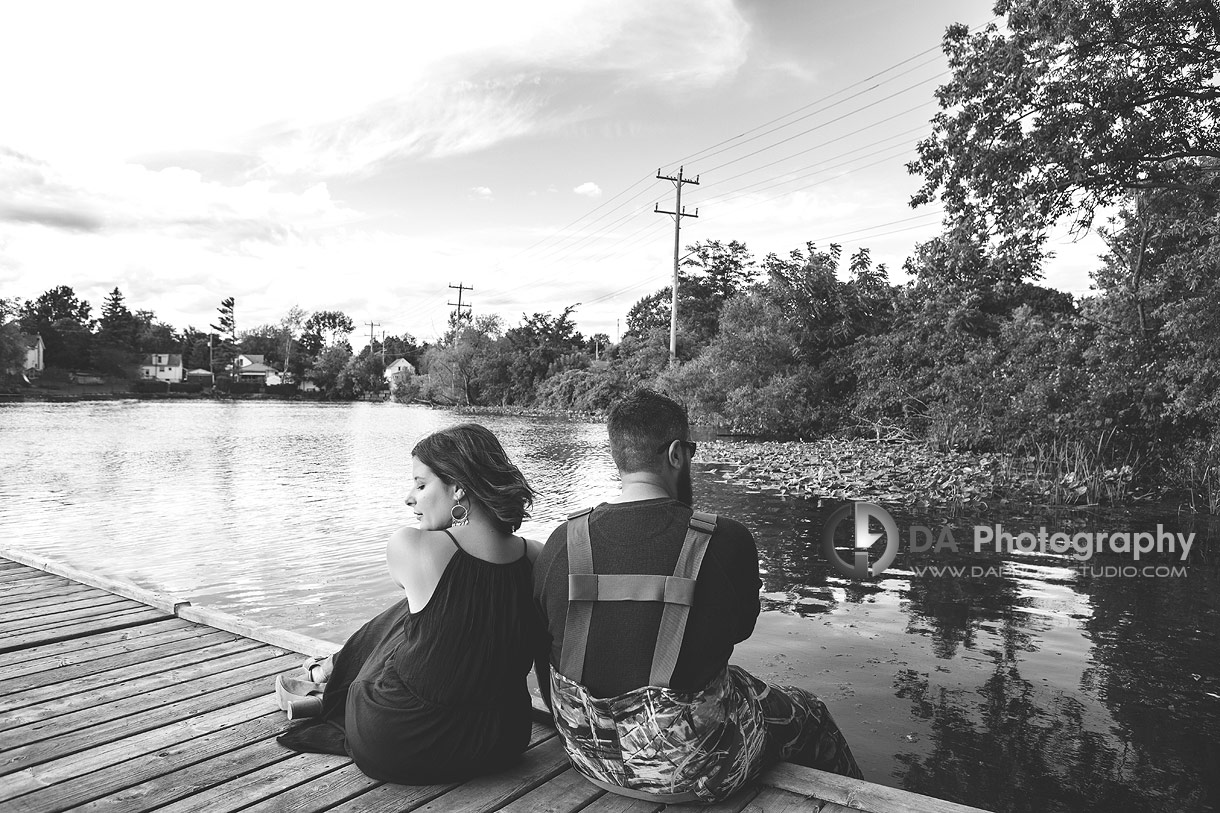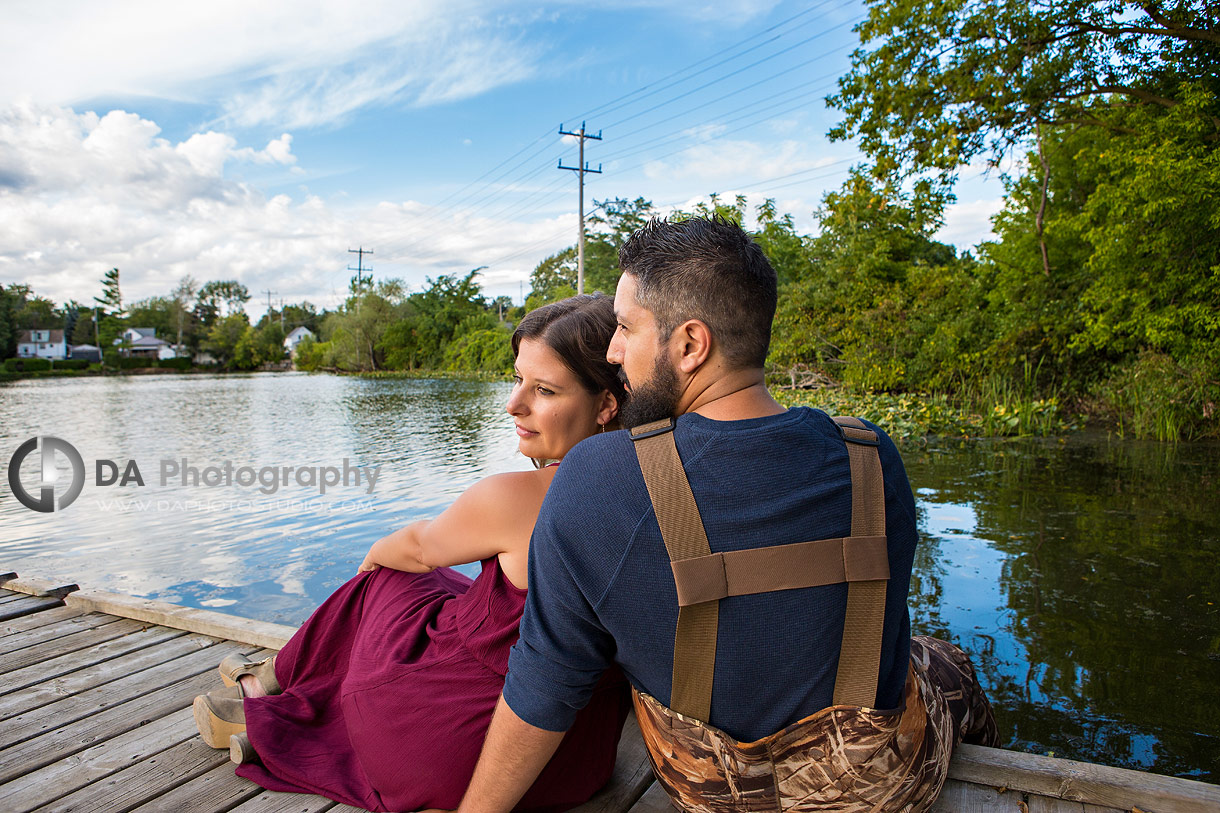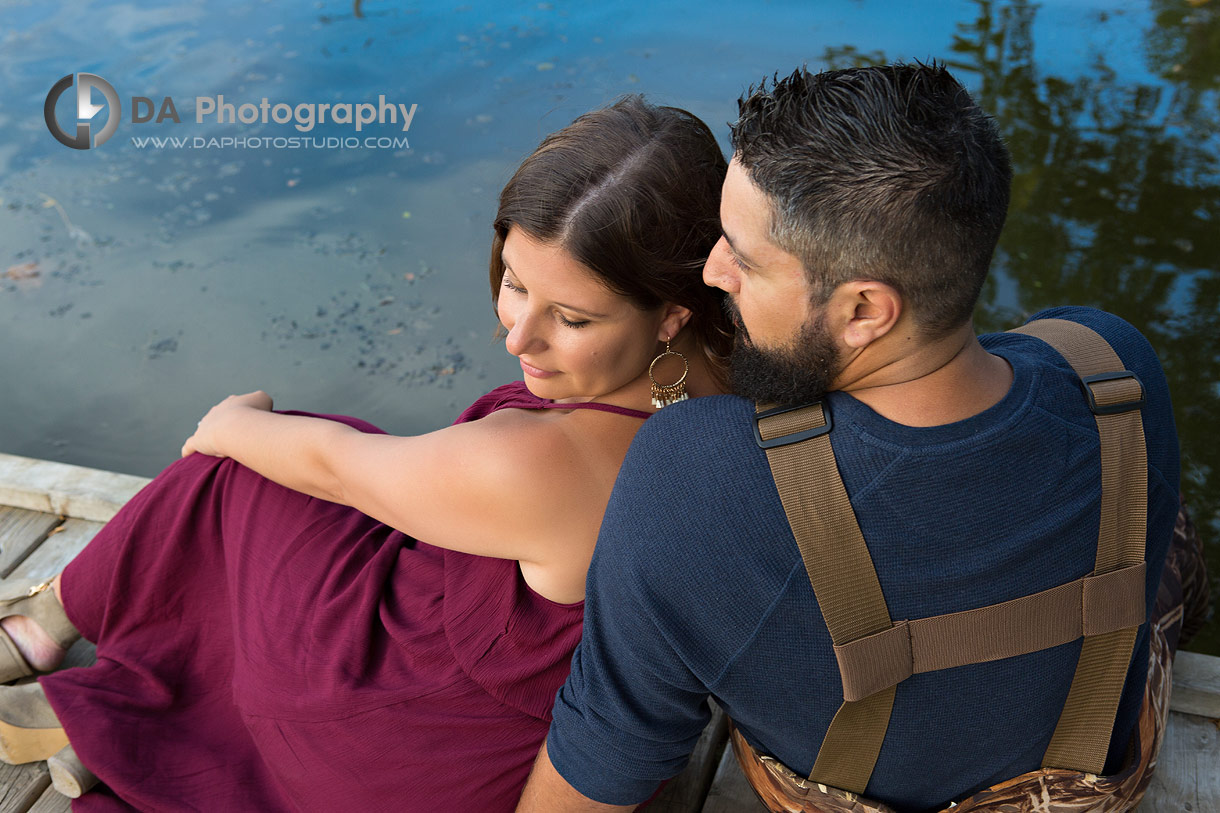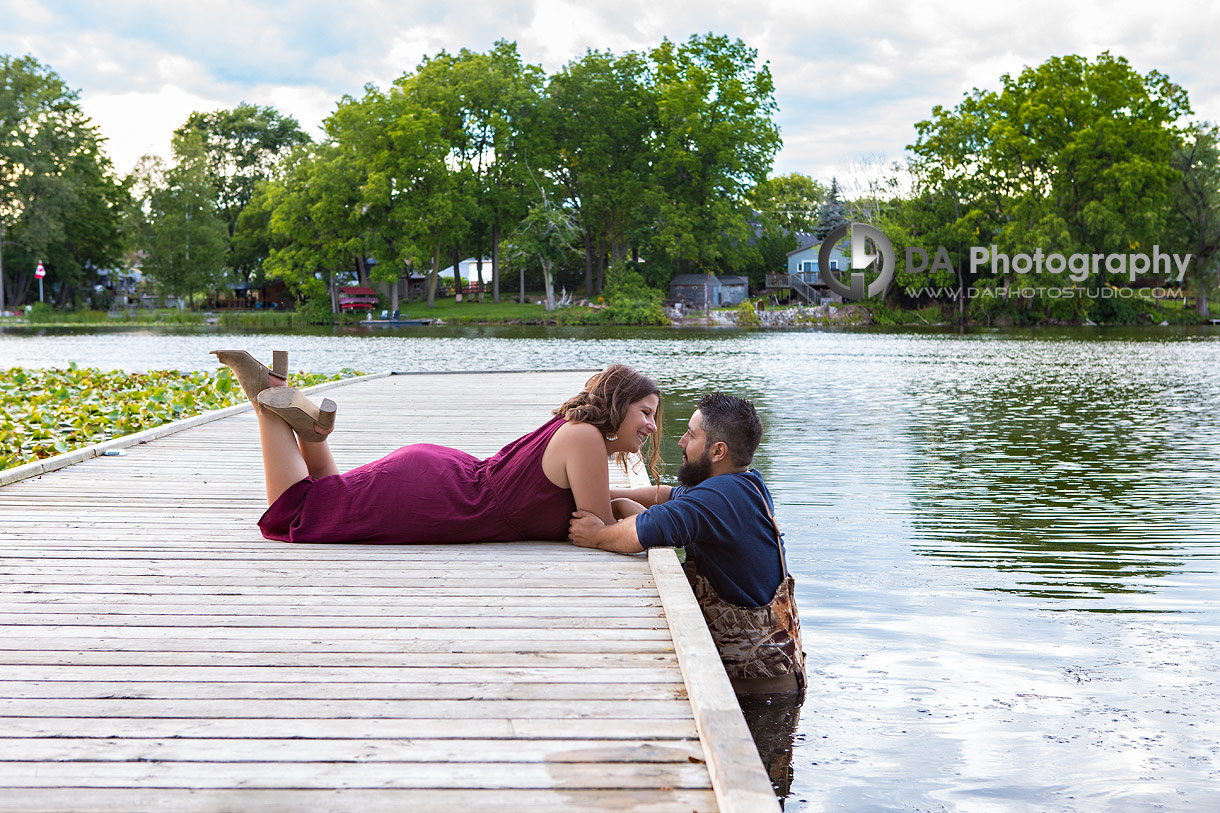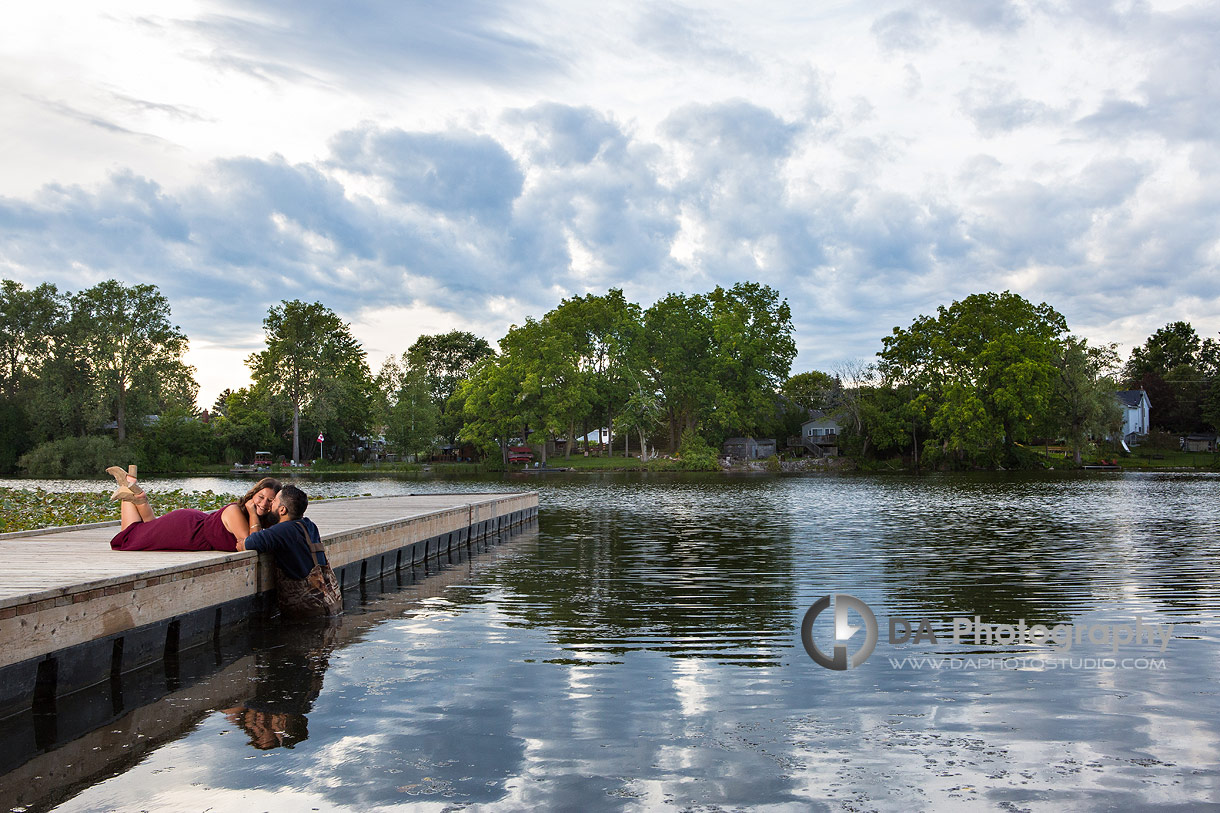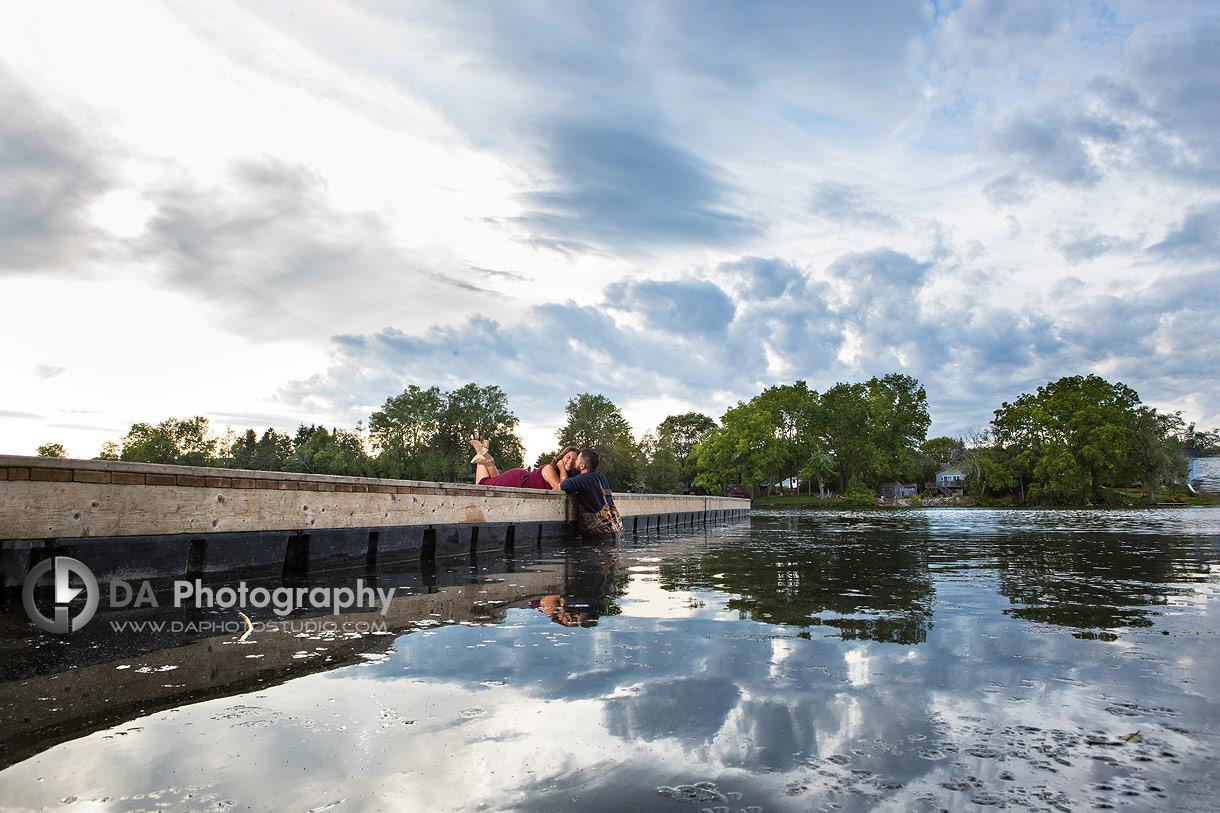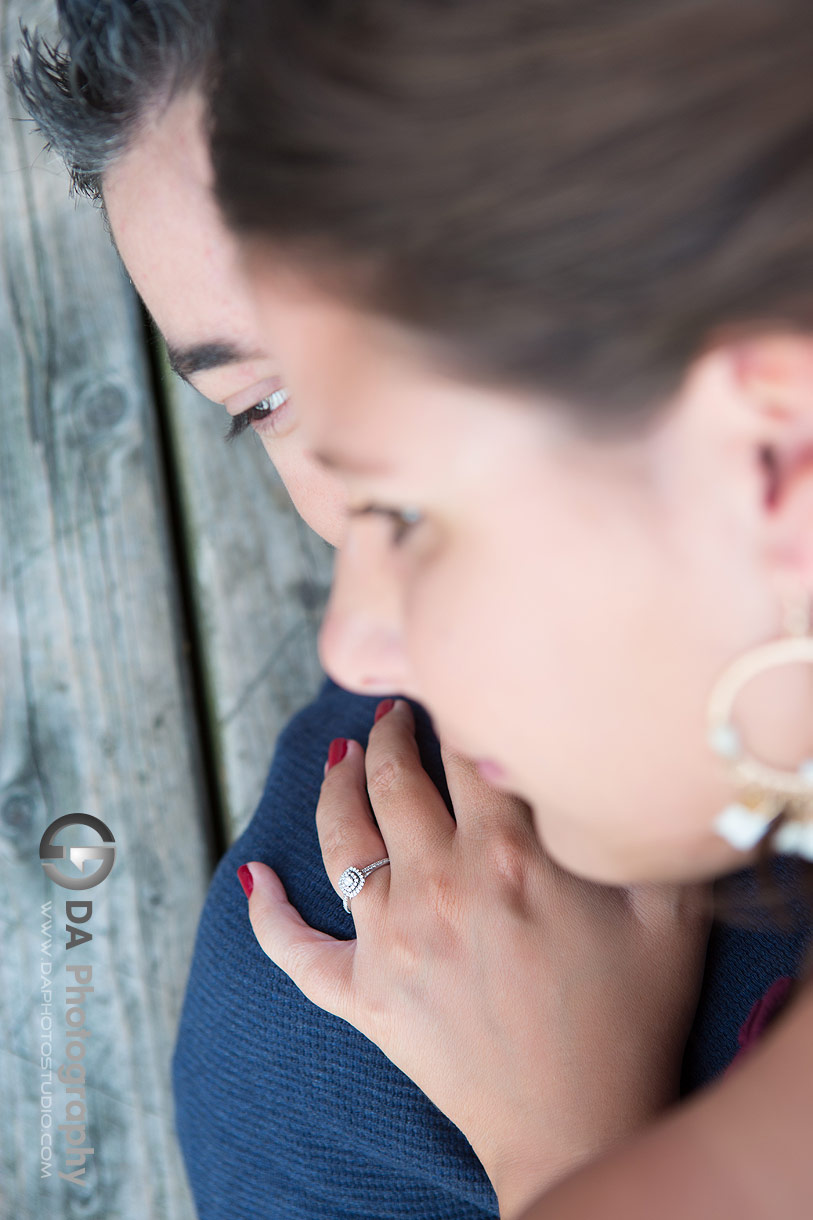 Whistling Gardens Engagement at sunset
We were on track to arrive at Whistling Gardens quickly. However, we unfortunately missed an exit which set us back a bit behind on our plan. At the gardens, we met the same lady that I have seen and experienced her hospitality previously. It was here 4 years ago that I photographed a one of a kind wedding. Melissa and Mack's wedding was a true statement of love and Becky and Jason's engagement was equally as heartfelt. Here you can see more from Melissa and Mack's wedding.
Jason and Becky's sunset engagement at Whistling Gardens actually turned out to be twilight engagement photos. The sun had already passed the horizon line and we were entering the next stage after the sunset. To learn more about the many stages of sunset and how it impacts your sessions, check out this blog post.
As I was walking around the gardens, I was amazed at how much this location had to offer. I said to Becky and Jason that if this place was in Toronto we would need a photography permit of hundreds of dollars just to take some photos here. With that in mind, we were working the grounds, making sure that we take as many photo as we can in all of the unique and inspiring spots. I also made sure to stop at the locations that Becky had in mind as well!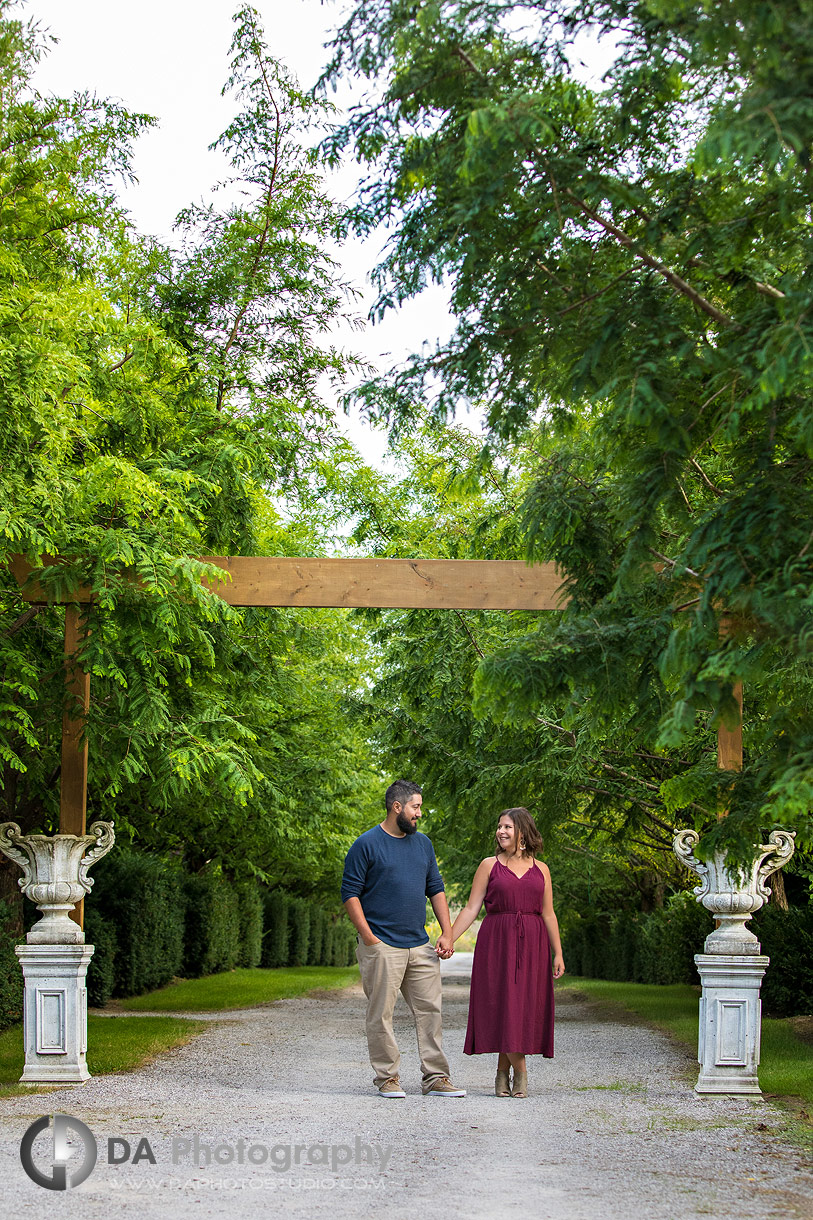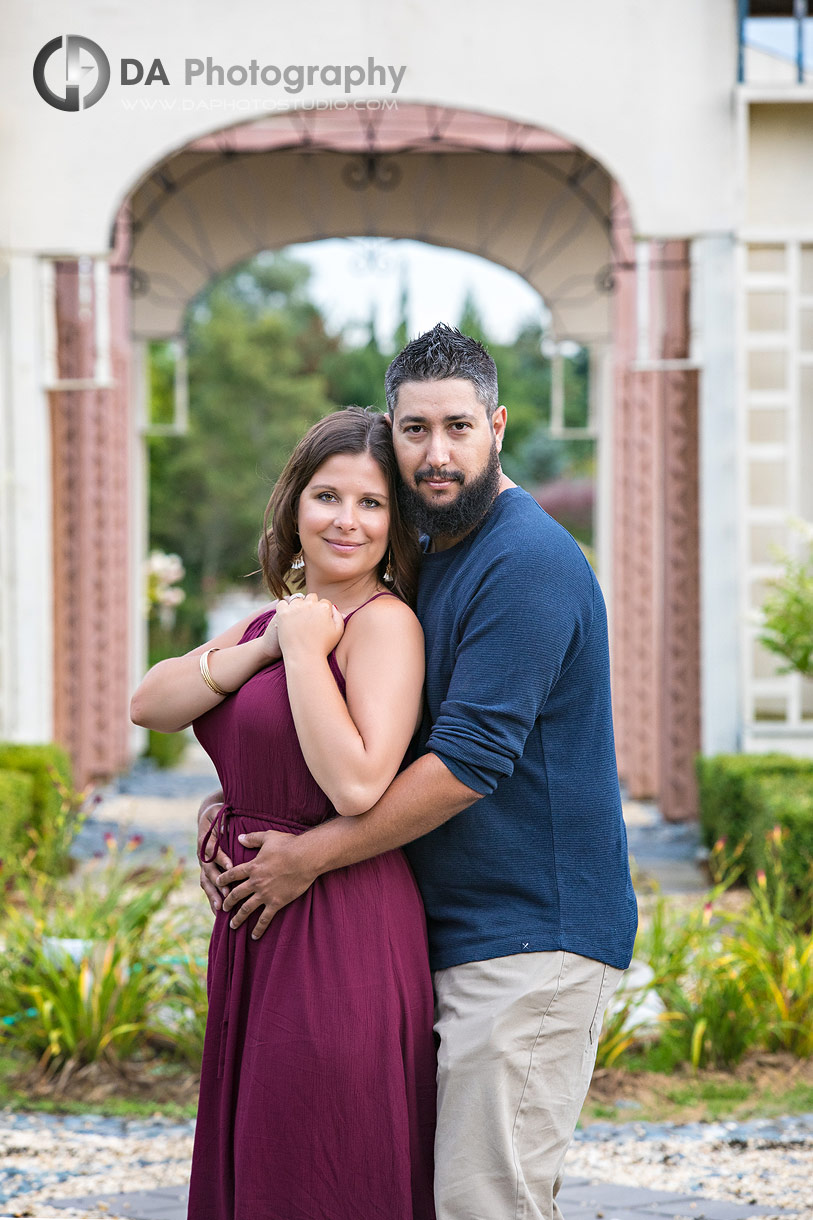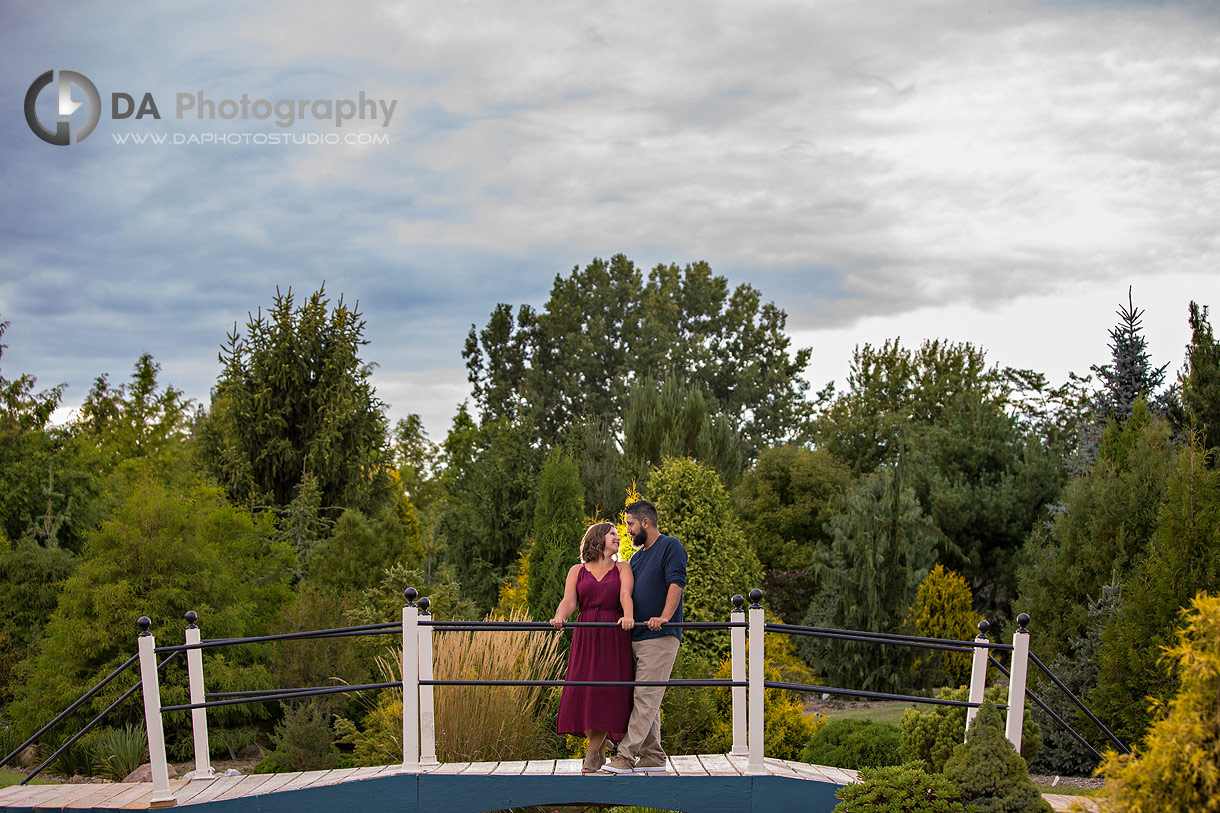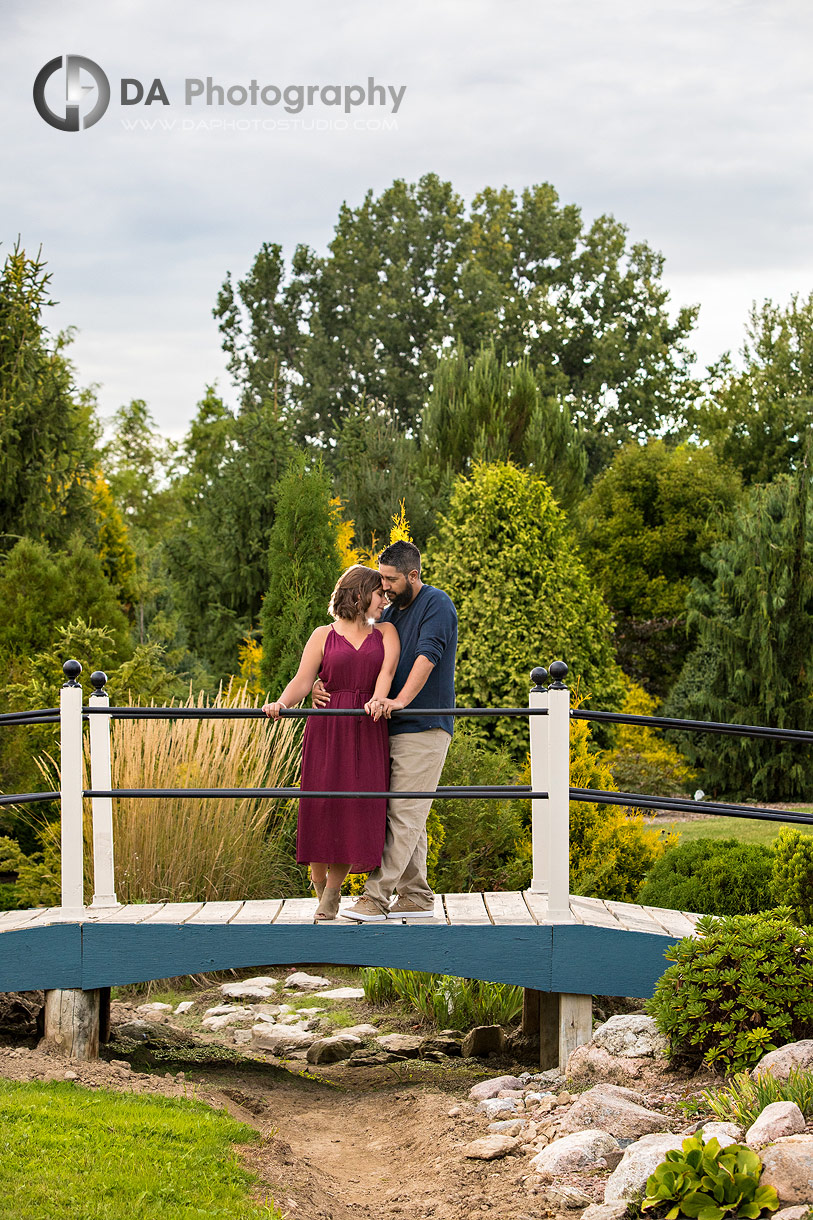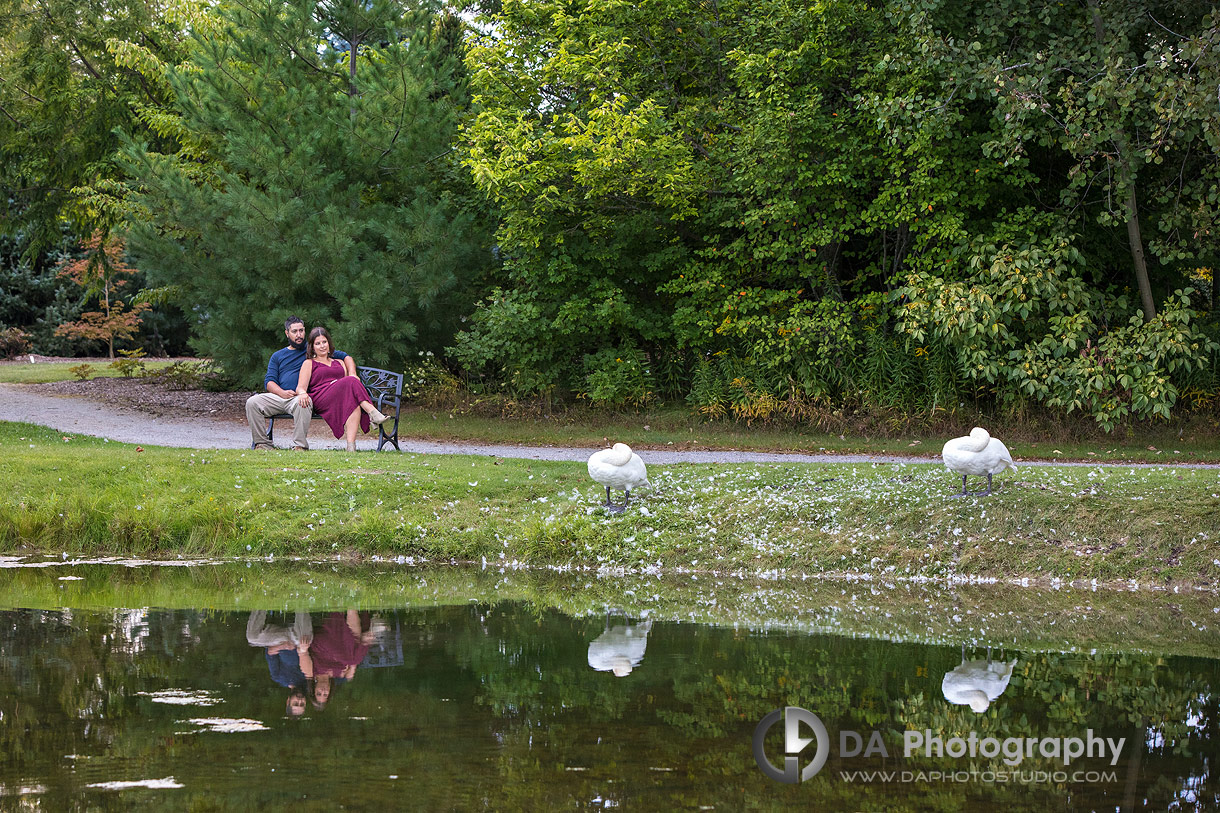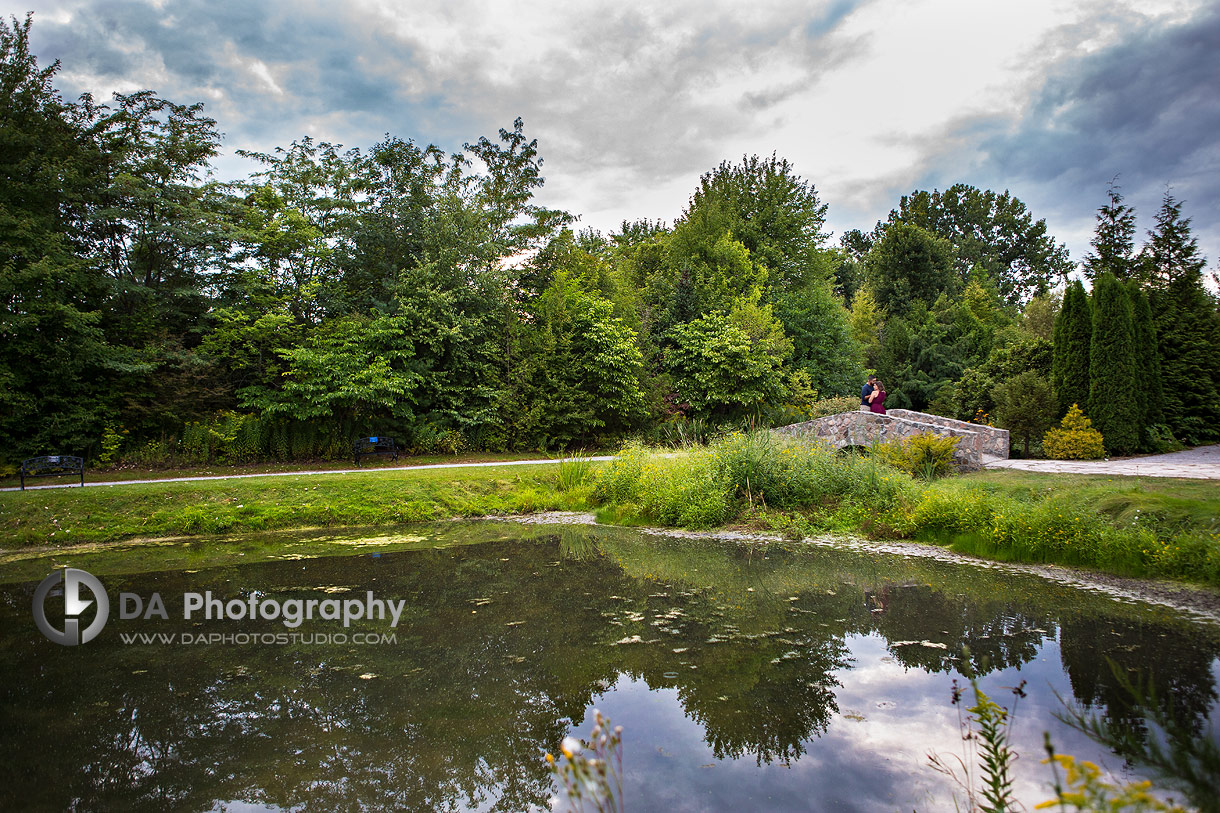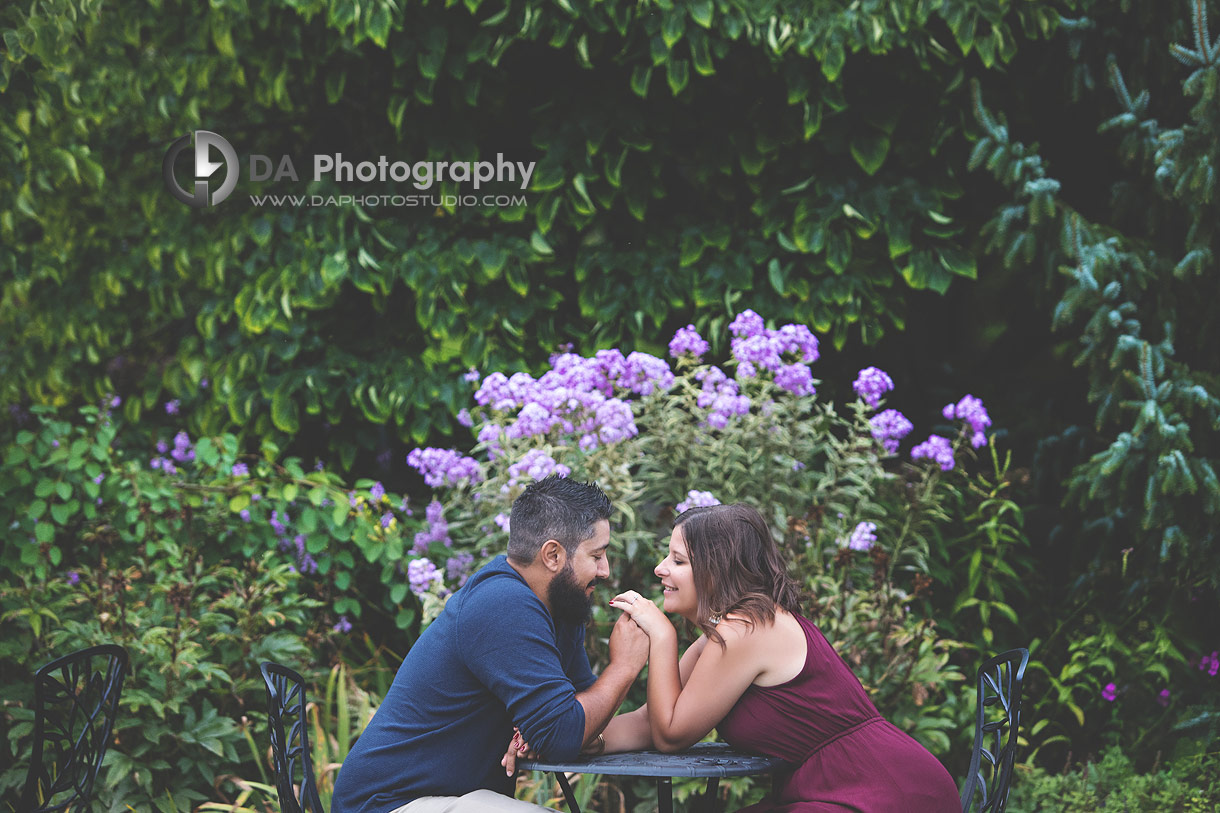 Swans and nighttime photo experience
We were deep into the twilight stage when we had arrived at the gazebo. I really wanted to photograph here! Nighttime photography is definitely a passion of mine, so it was definitely fun for me too. I was also so happy that Becky and Jason were still willing participants. They were enjoying their part of being together and having fun while I was scouting places to showcase their Whistling Gardens engagement in the best way possible.
On my way towards the gazebo, I noticed a set of swans that were a bit too far away from us. The swans reminded me of when we were near the weeping willow on the other side of the pond and curious birds that I hadn't seen before came towards us and stayed near us. This scenario gave me an amazing idea! I left one of my lights behind my couple and ran all the way to the other side of the pond.
While trying to compose the scene, one of the swans came closer to me while the continued to swim in the water. Capturing this mixture of nature and my lovely couple was one of my favourite photos of the day! There were two swans in the foreground, a weeping willow tree with Becky and Jason underneath surrounded by the wild birds. The blue sky of nautical twilight was as vibrant as could be. After that image, we took a few more while walking towards our cars. By this time it was pitch black and we couldn't see much. There weren't any lights to interrupt the wild life in the gardens. Then, we said good-bye and I started driving home. To be honest, I was already editing that last image in my head!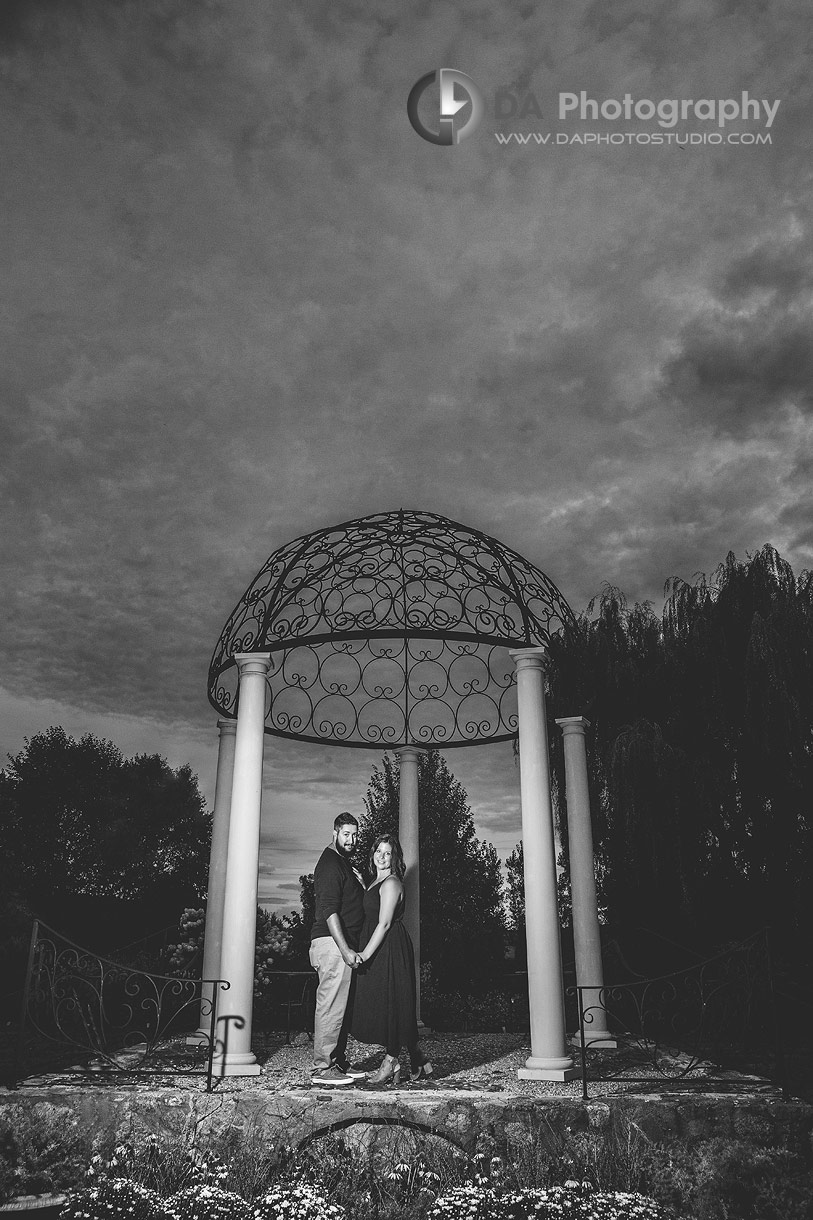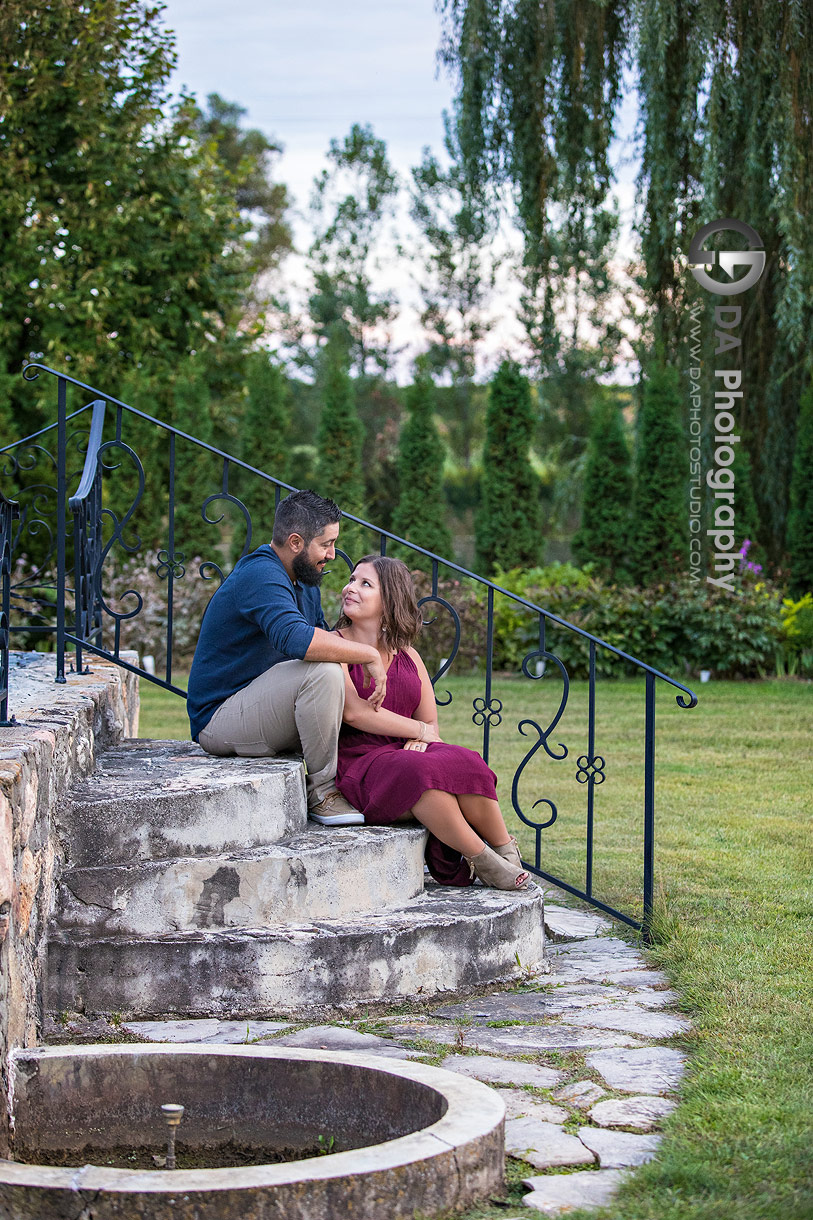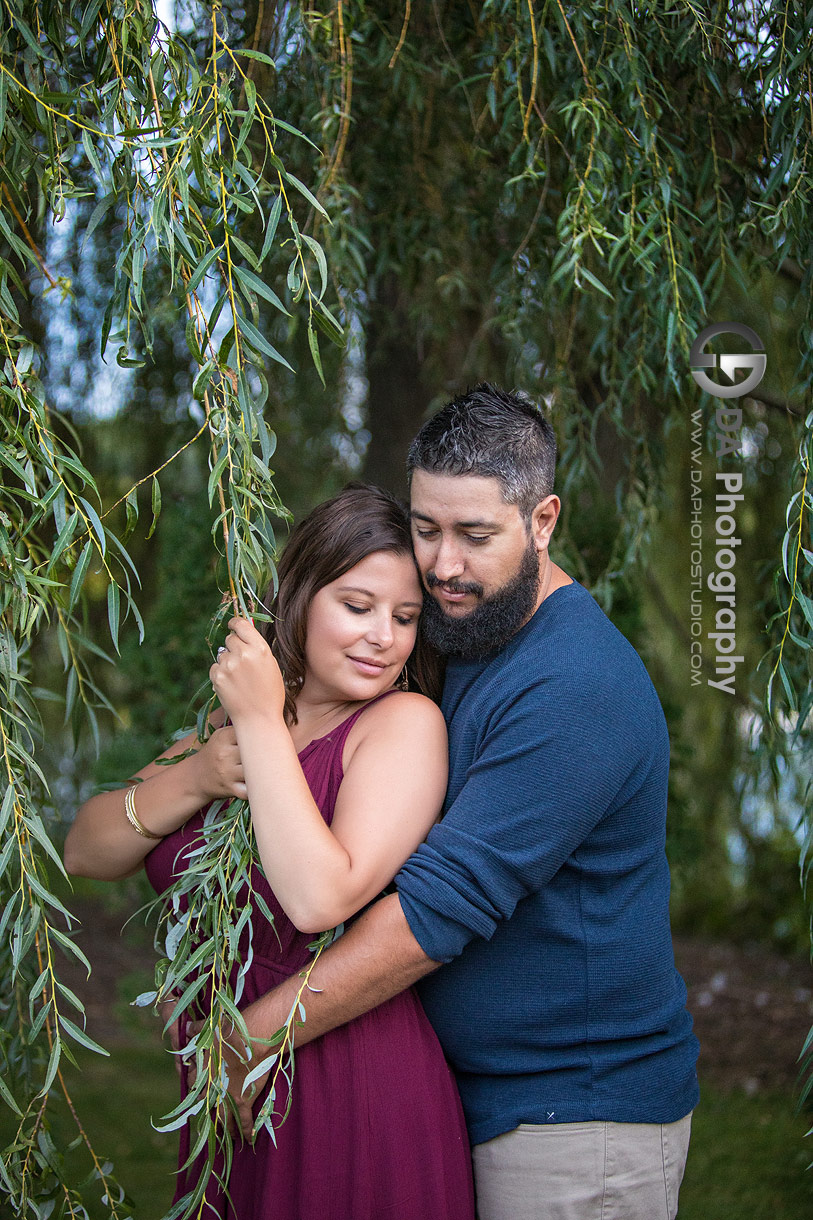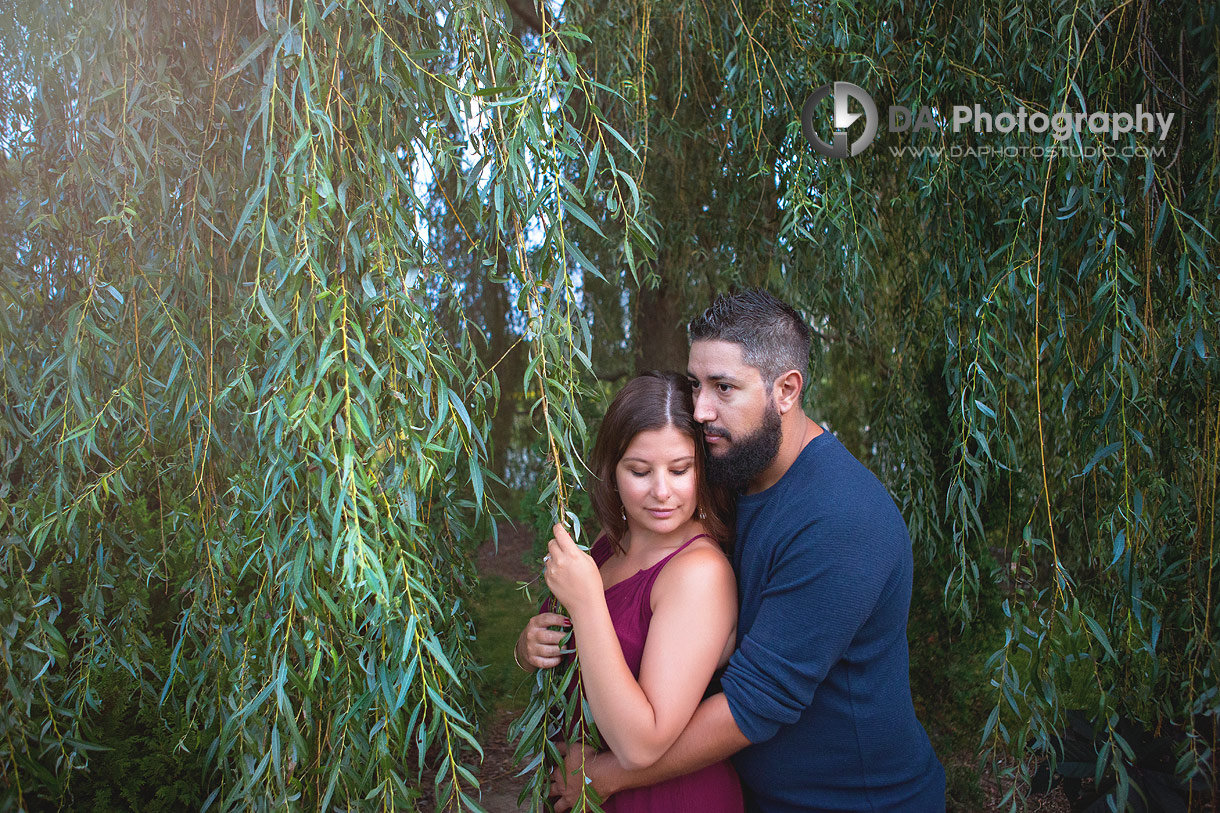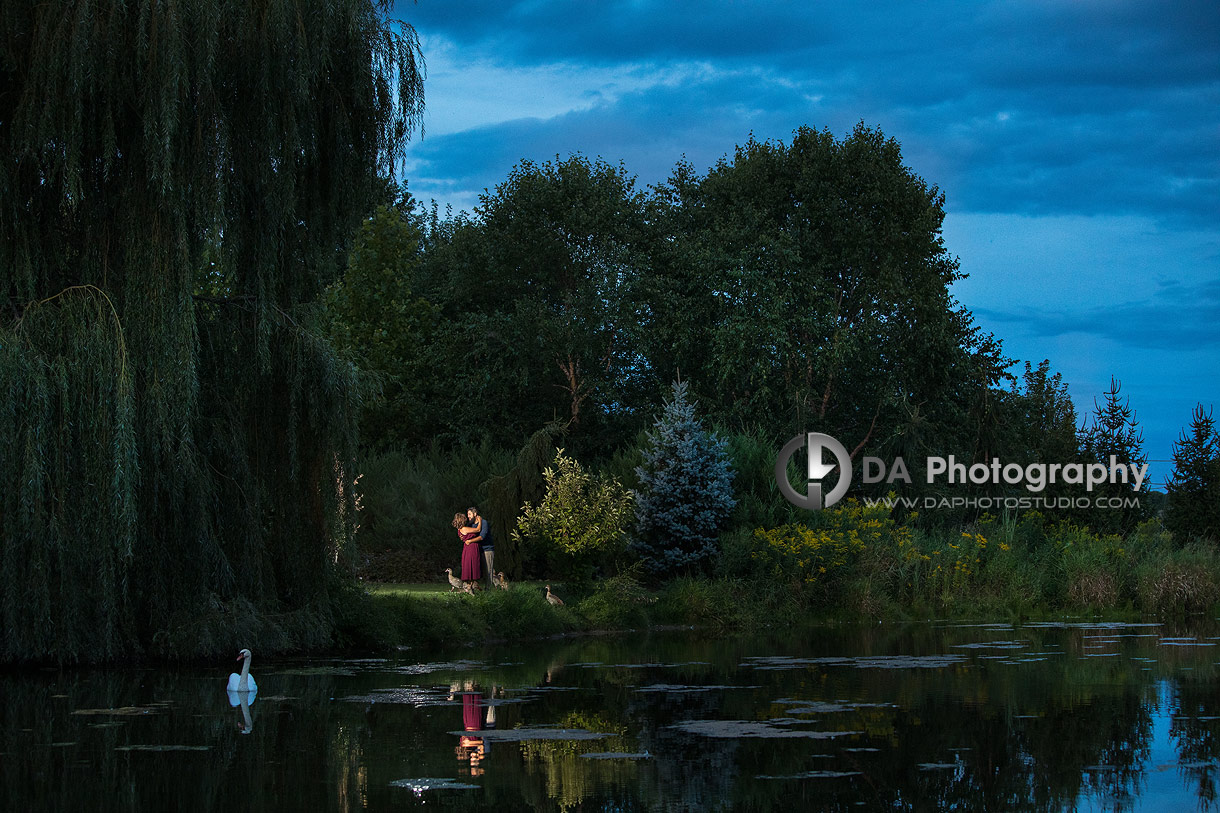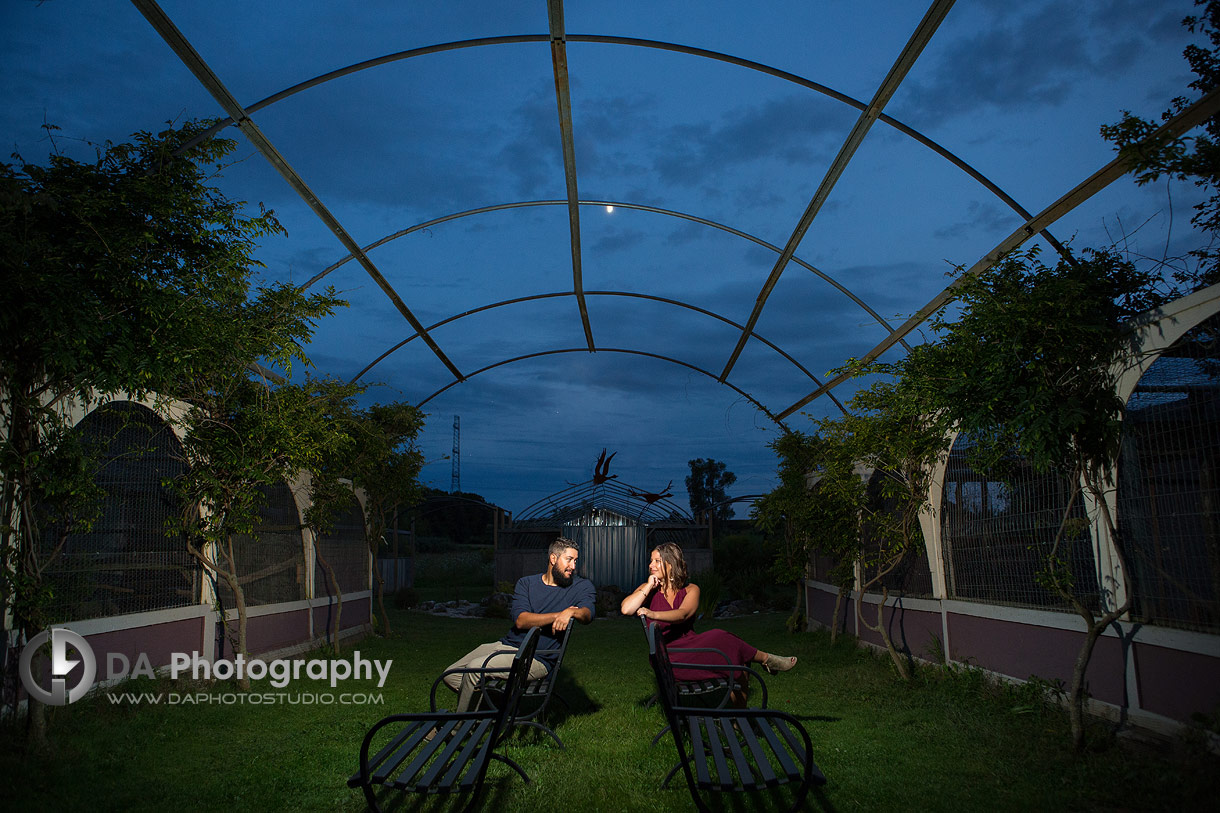 Planning of their wedding + postponing
Since their amazing engagement session, Becky and I have been back and forth communicating about their wedding day. As many of my wedding couples of 2020, their wedding day was affected by the pandemic. Originally scheduled for September 5th, 2020, their wedding day was rescheduled and postponed for May 15, 2021. They were able to have it at the same venue, The Cranberry Creek in Delhi, Ontario.
This location is so beautiful and I am so excited that I'm going to be working with the two of them here! Did I tell you that they have two boys too? Looking forward to capturing photos of their family and seeing their happiness when the entire tribe is together.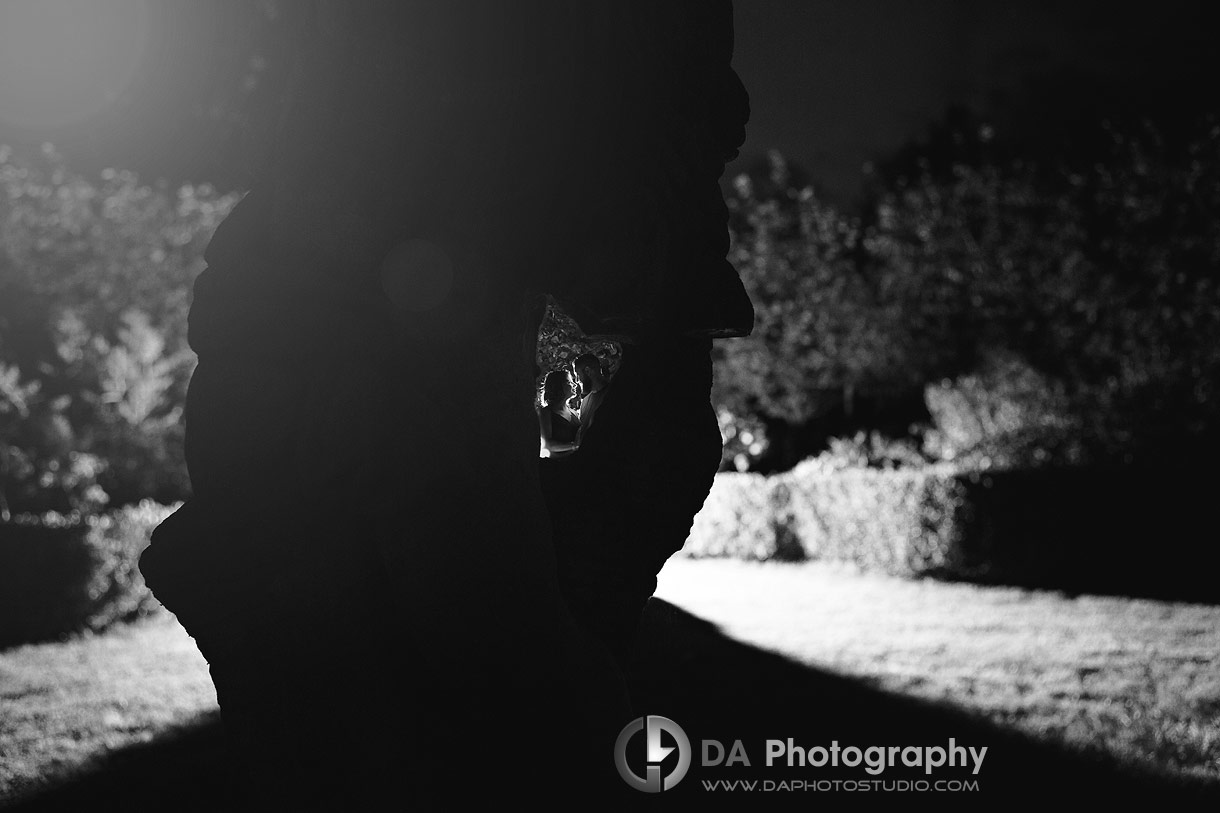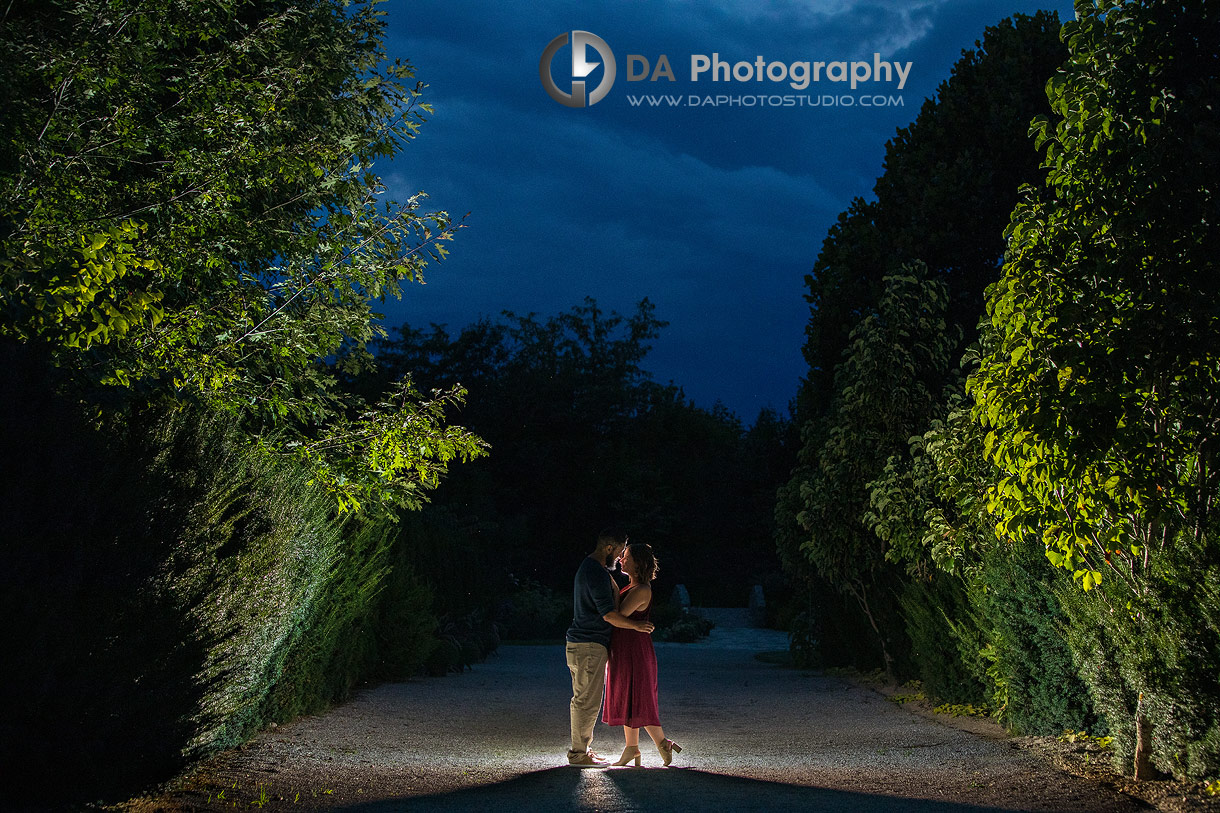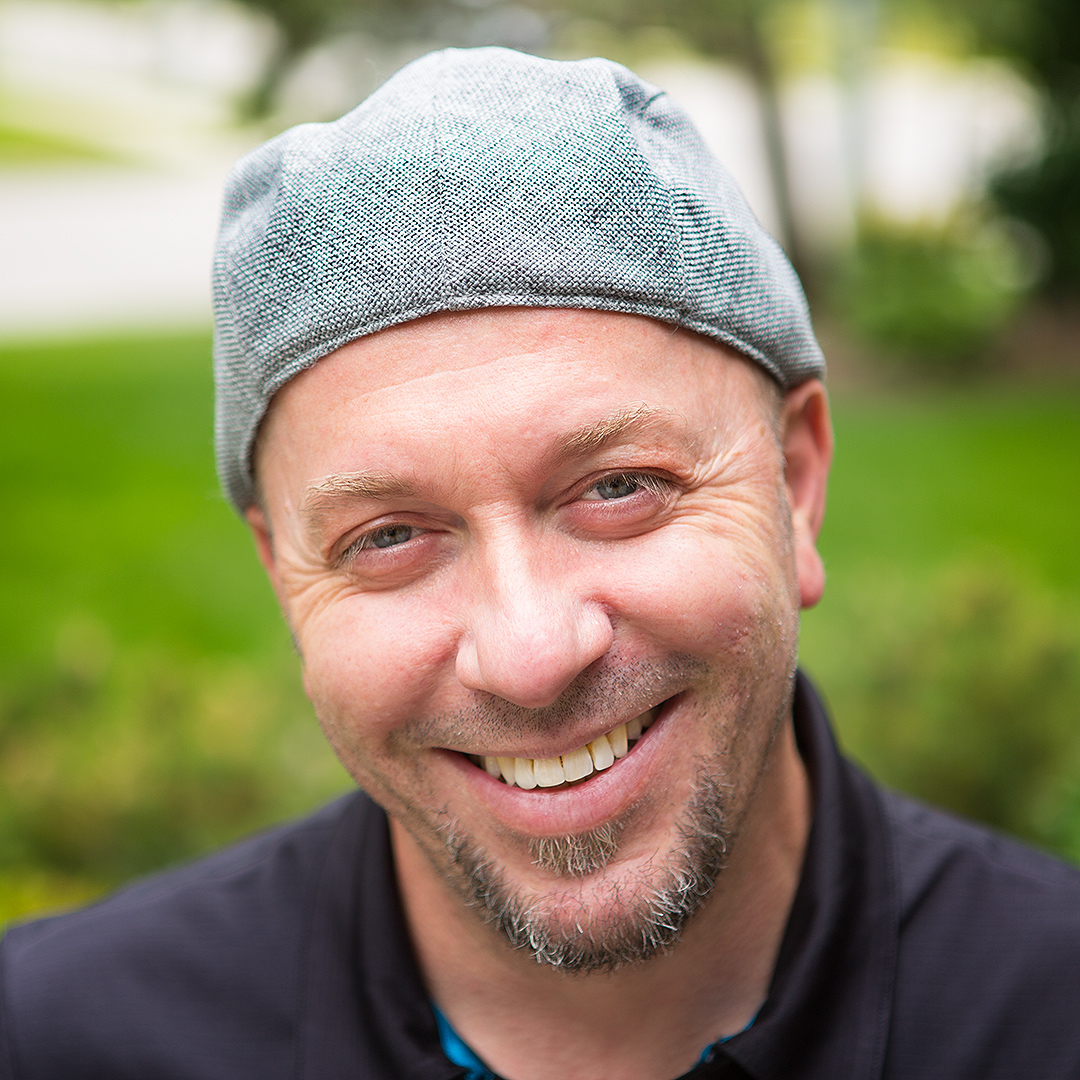 My passion and biggest asset is taking the time to make every client comfortable and relaxed before I even pick up the camera. The result? Photos of you that actually look like you at your best! I can prove to you how much you can enjoy having your picture taken. Lifestyle photography is about the experience that happens to be served up along side of some great photos.
Specialties:
Family Photography for families that like to move around and enjoy their photo time, Wedding Photography for couples looking for a mixture of photojournalistic, contemporary and traditional images and Professional Corporate headshots that are far from cheesy and stiff.