This Hindu temple wedding was over two years in the making. Considering how many guests were attending, I think that Julie and Alem did an amazing job with the planning. The event went as smoothly as possible. These pictures easily illustrate how amazing it was to attend and to be a part of!
If you have ever been to a South Asian wedding, you know that there are many events held in the lead-up to the actual wedding reception. All of these events are very different from each other and are equally important to the couple and their families. Celebrations are fun, lively, and full of gorgeous rituals and traditions. Above all, they each tell a story and build excitement as the time gets closer to the final celebration of the couple's union.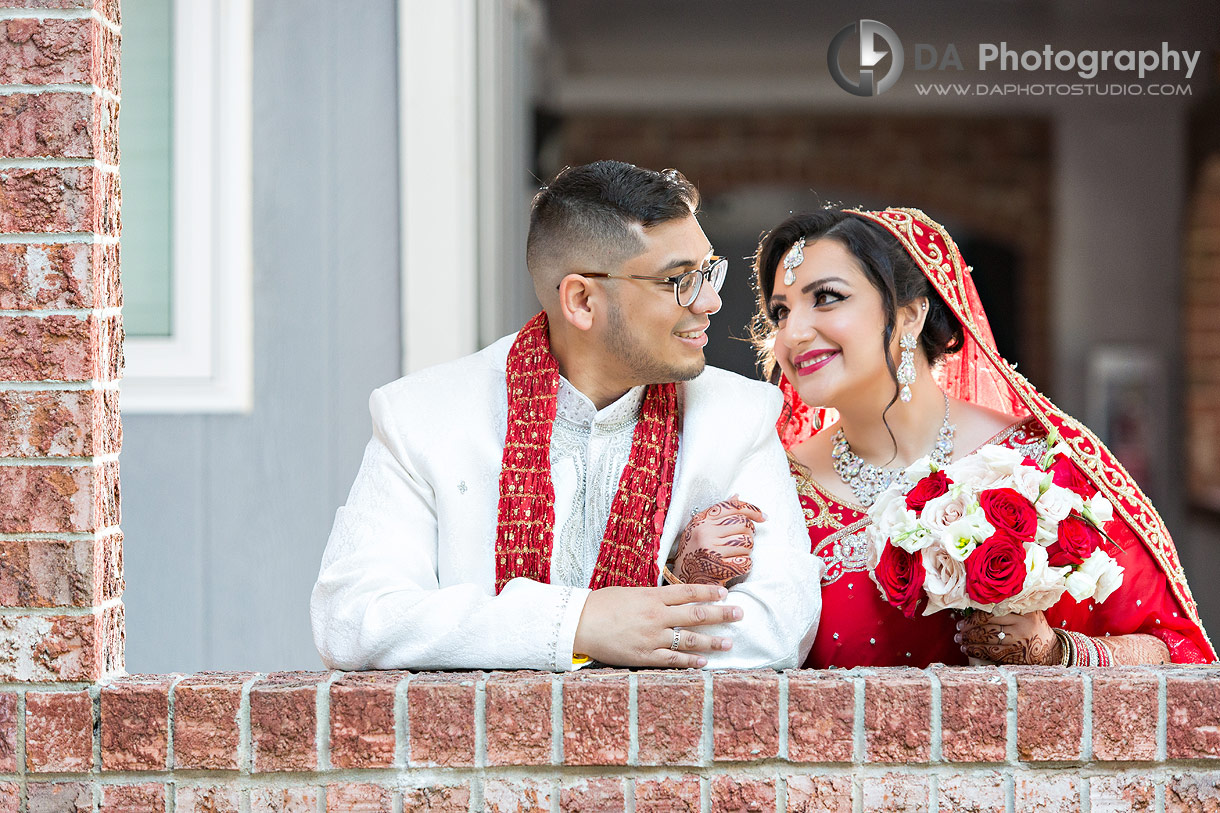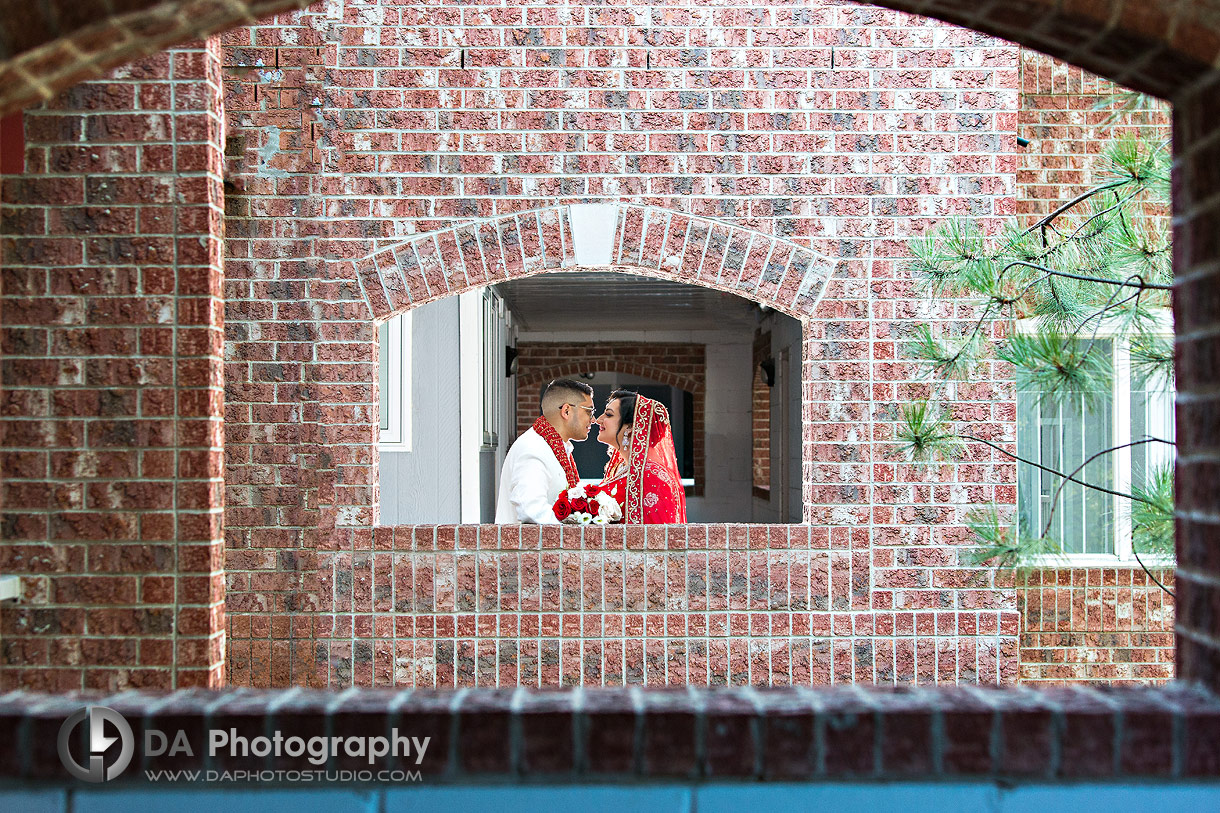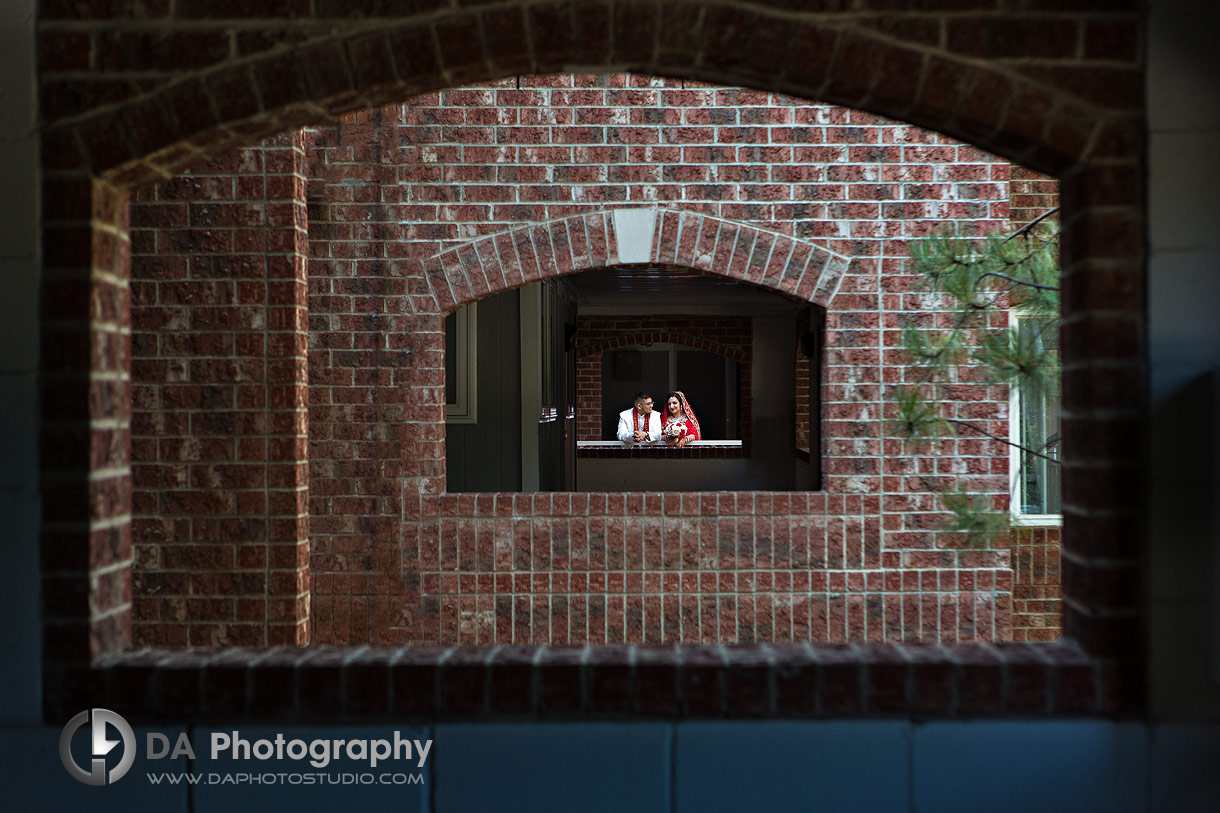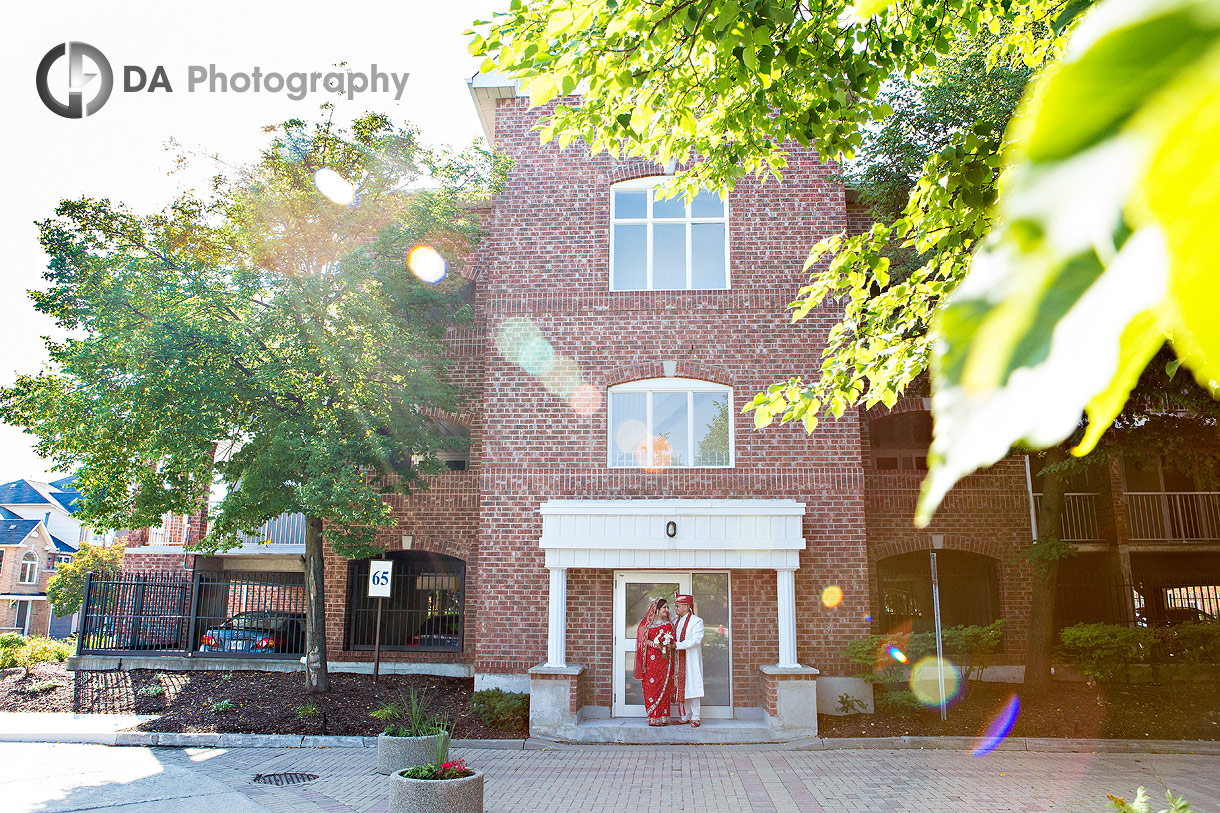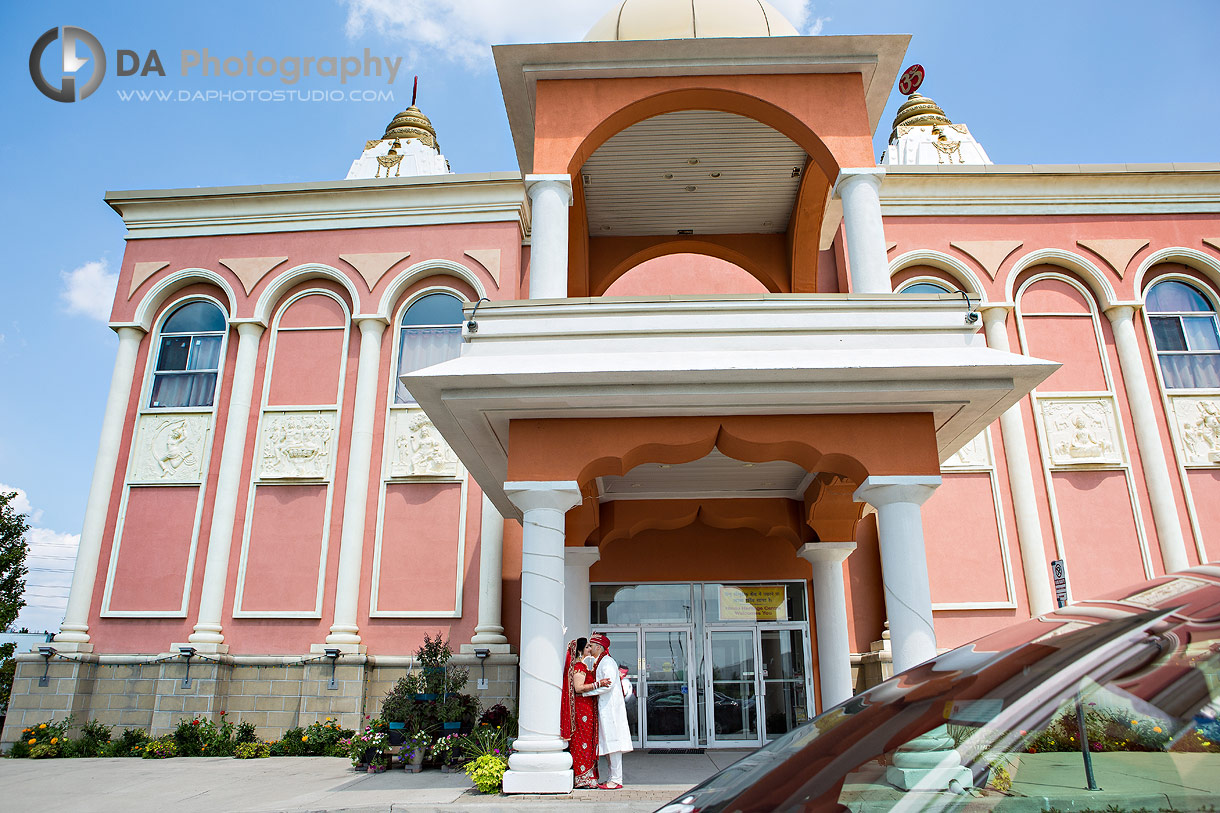 The beginning of the planning for this Hindu wedding ceremony
I first met Julie and Alem at one of our wedding shows. As is usually the case, it was a very busy day with lots of people browsing and asking questions. Julie and Alem were a quiet couple. They preferred a more behind-the-scene approach of researching my photography and observing what I could offer.
That Fall, I had actually seen Julie and Alem at multiple wedding shows but they had yet to contact me. However, when they came to my booth at the National Bridal Show the following Winter season, they had made up their mind. At this point, they knew that I was the photographer for their wedding. We scheduled a consultation meeting right on the spot!
During this meeting, they let me know that they wanted me to cover more than just their wedding. They also wanted me to photograph their Hindu wedding ceremony to be held at the Hindu Heritage Centre in the Streetsville Hindu temple as well as Julie's Mehndi.
As well, they made sure to secure my Italian handmade album for their wedding images and parent albums too. Julie's sister had recently married. Julie knew based on her sister's experience what she would like and what she didn't want for her own wedding.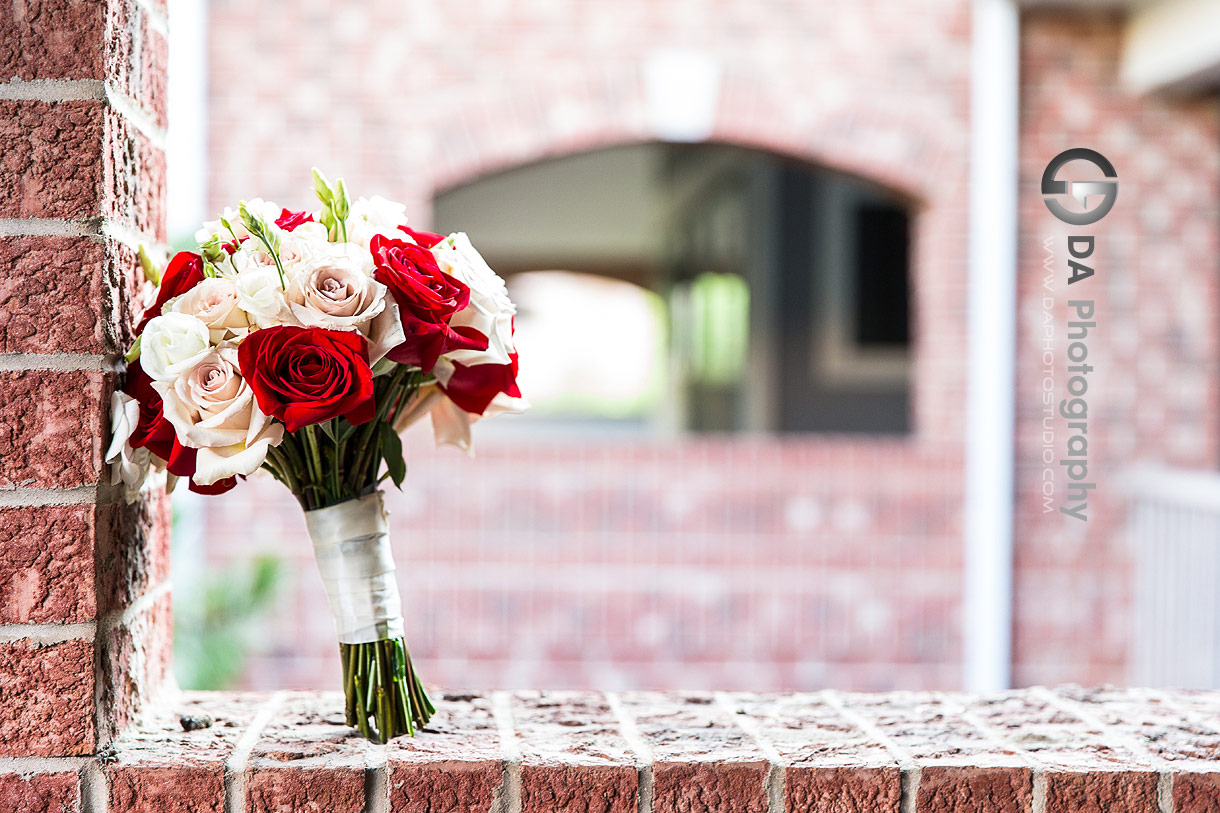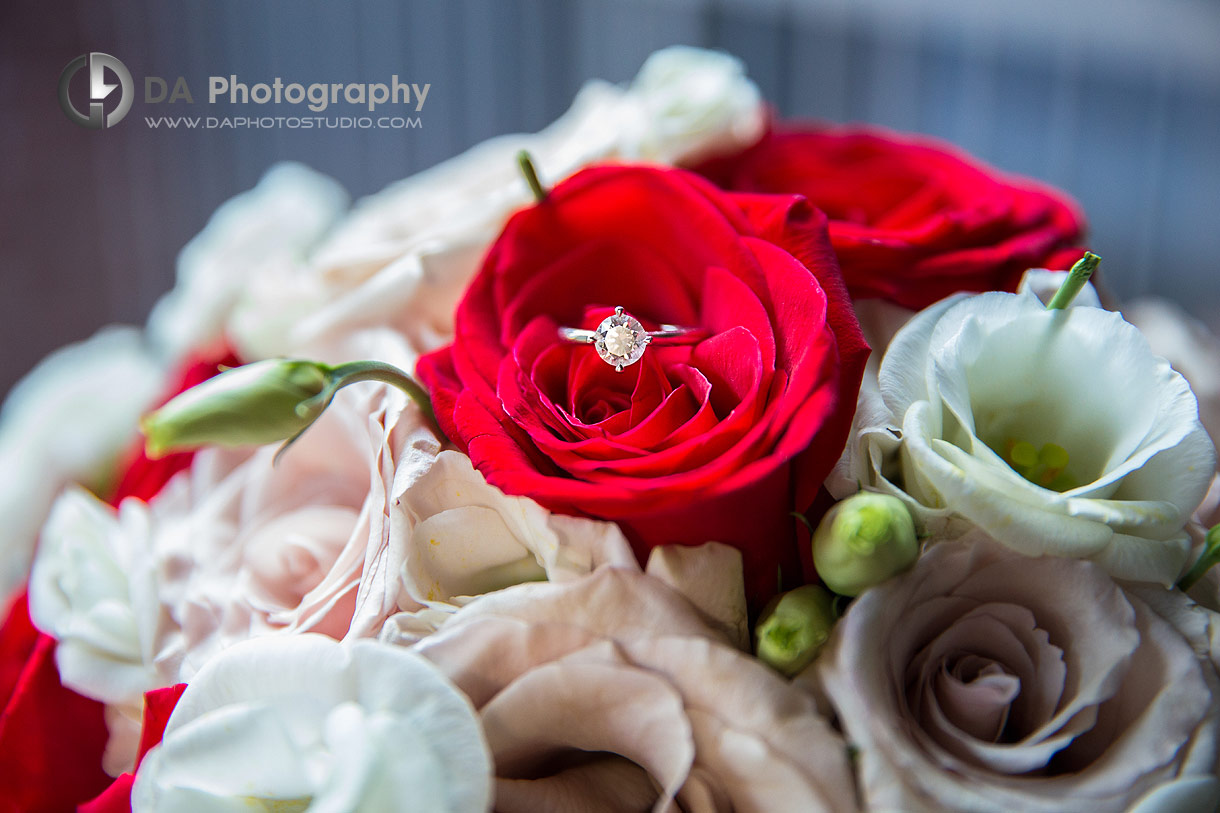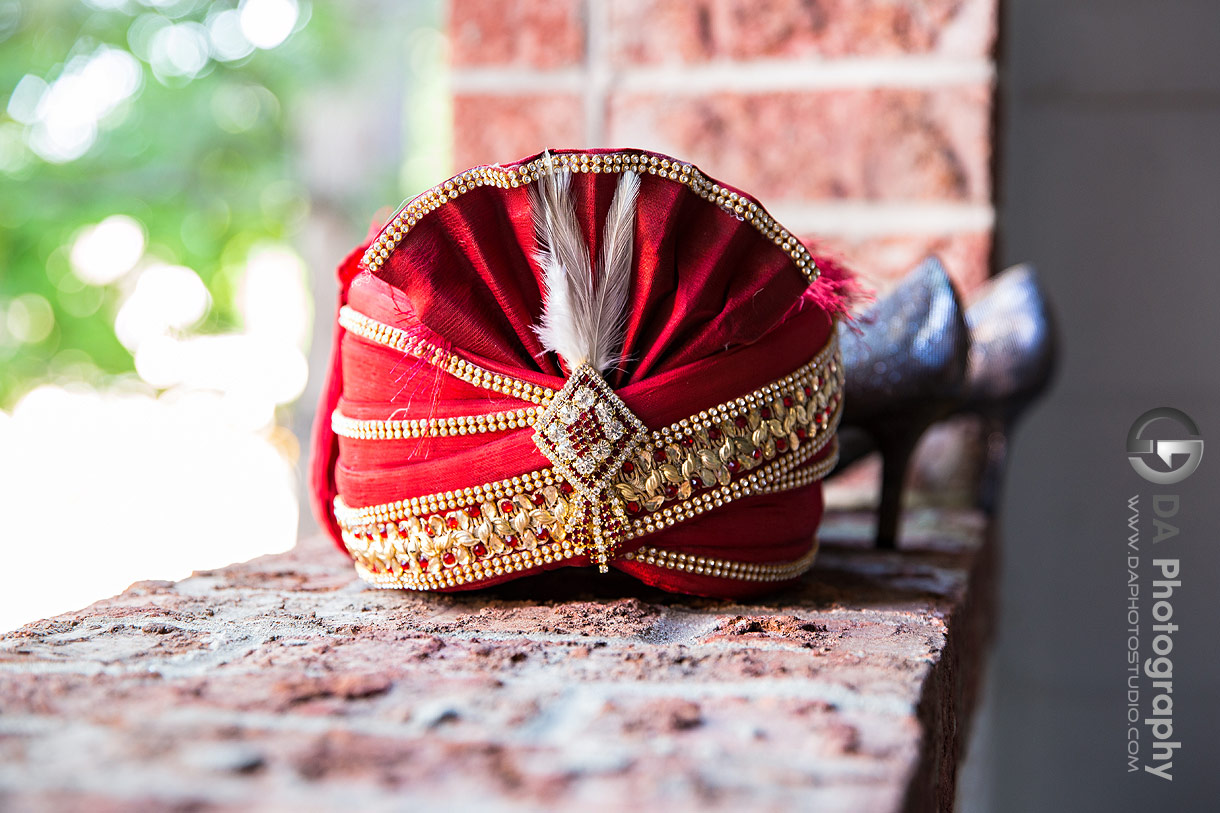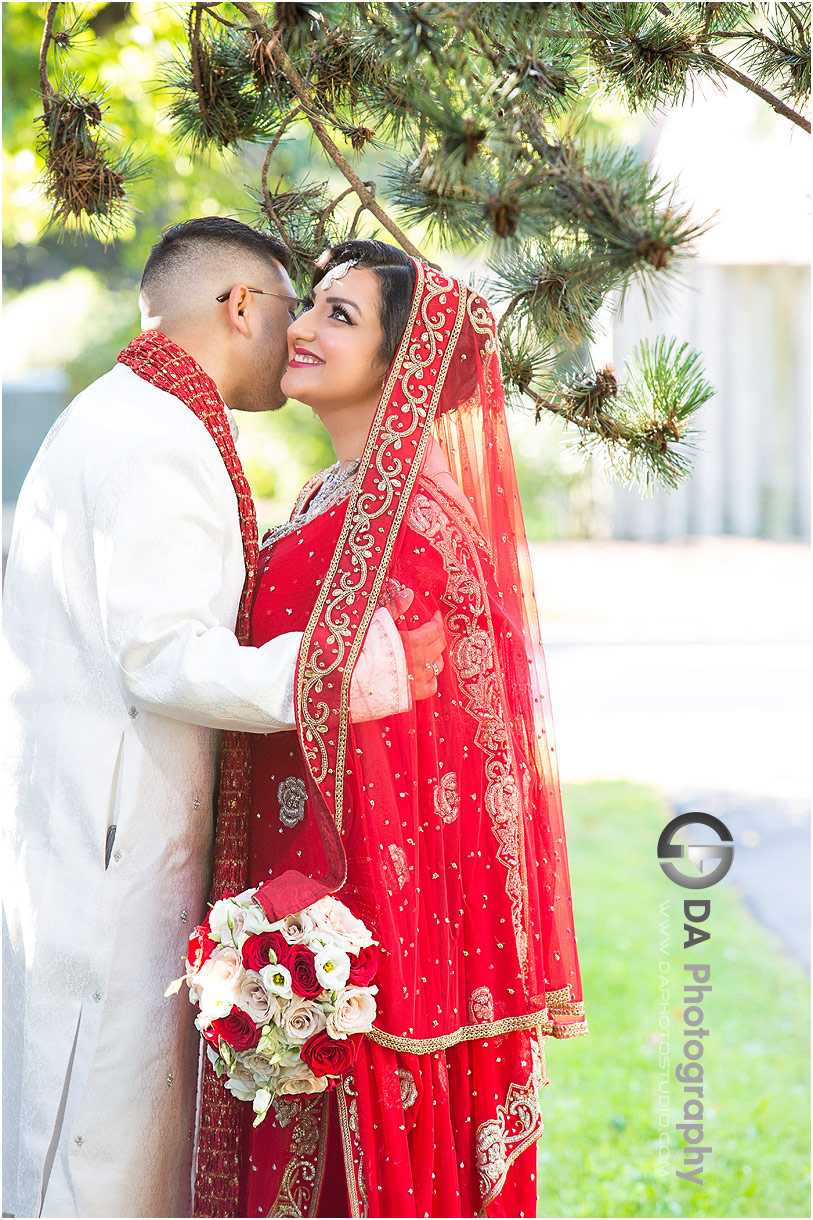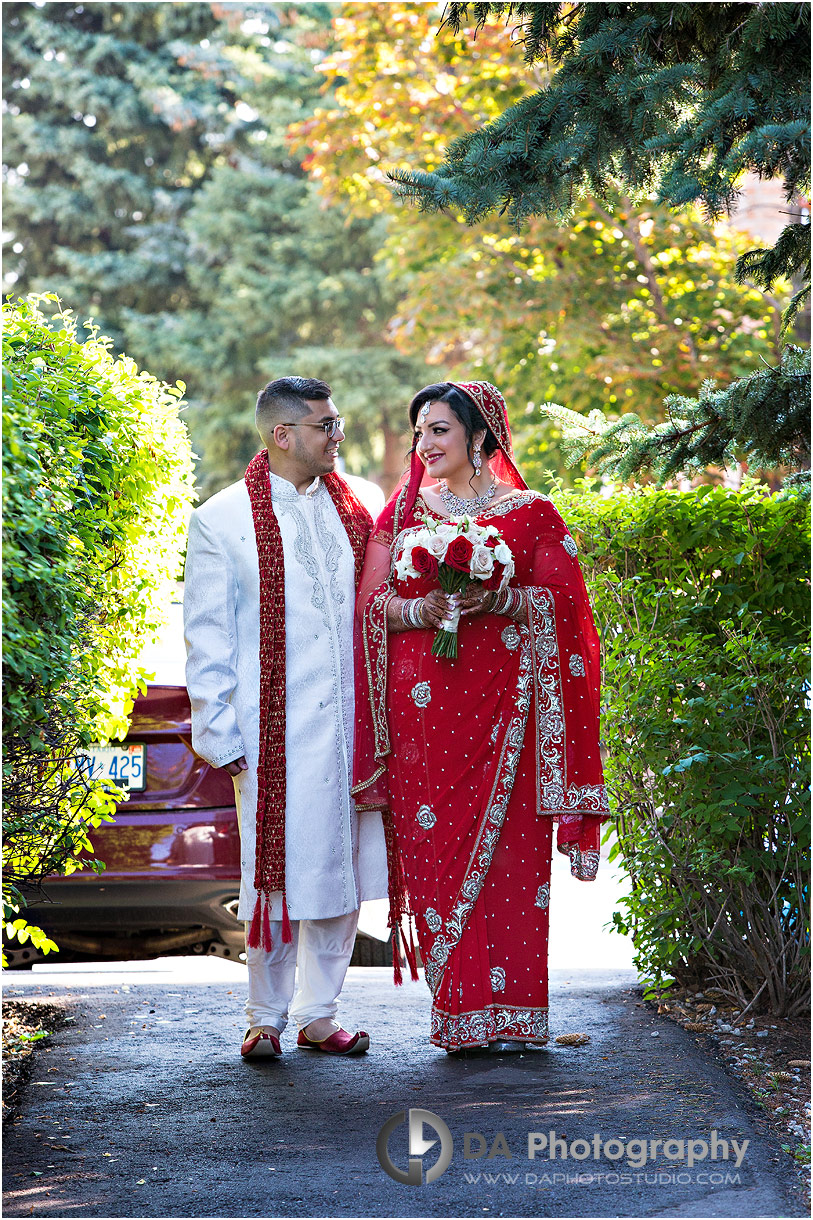 The first of the events: The engagement session
With a great plan in place, we set out on navigating their wedding journey. We continued to communicate closely in regards to the upcoming events. The first of these would be their engagement session.
Julie and Alem are very city-oriented, preferring an urban location. With this in mind, they chose the Distillery District for their engagement photos. However, they didn't want to go there for just any season though. We were going to take their engagement photos during the beautiful Christmas Market! Here you can read all about this amazing session and see their engagement session blog.
The session was completely flawless. The time spent together allowed me to get to know them that much more. With this reassurance of our ability to work so fabulously together, I knew that we would have some amazing wedding photos in our future!
Mehndi: The henna ceremony
The Mehndi is the bride's pre-wedding event that is held during the week leading up to the wedding. This ceremony is a fun-filled nostalgic sit-down for the bride's family, her cousins, siblings, friends, and aunts. It is here that Julie, along with her sister and her mother, sits down for the intricate traditional henna drawings over their hands and feet.
My coverage for this was a fully documentary approach along with a few posed photos of her family and groups of close loved ones. I just love this fast-paced event that is rich in fun, food, and celebration.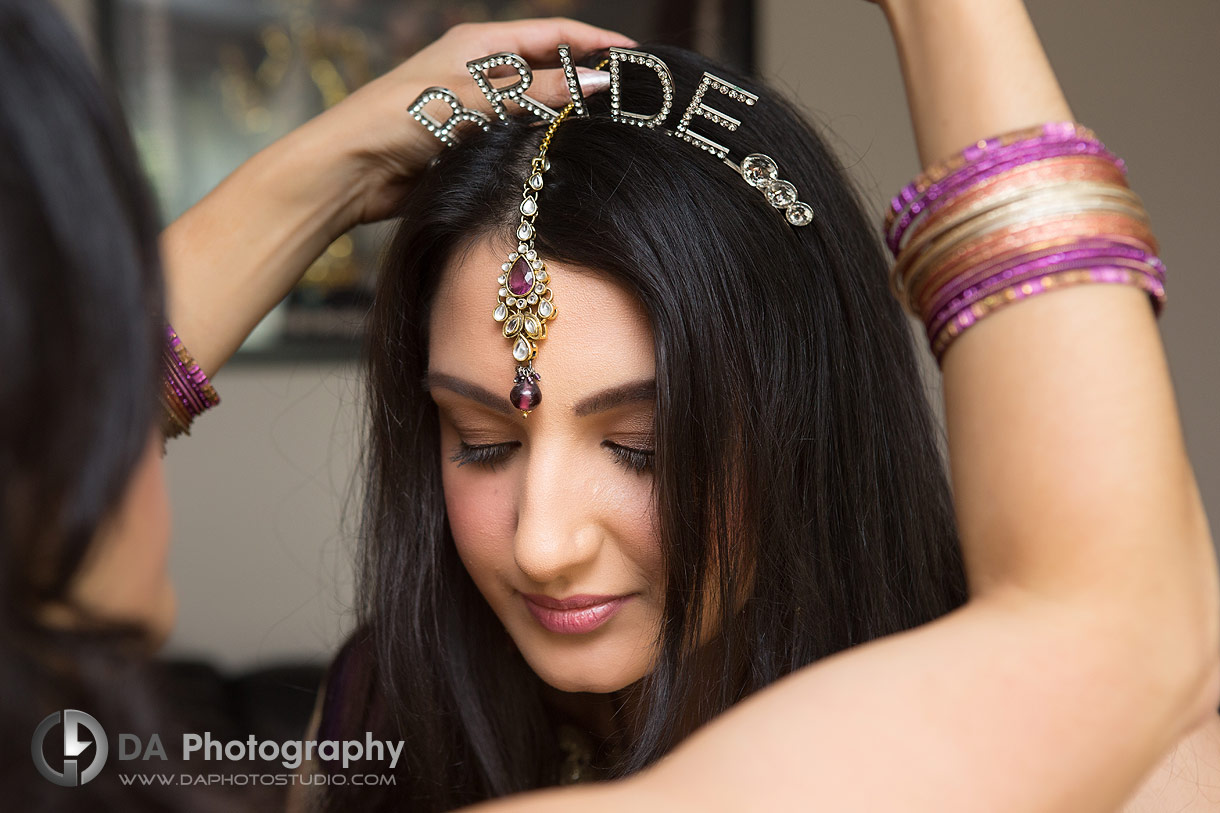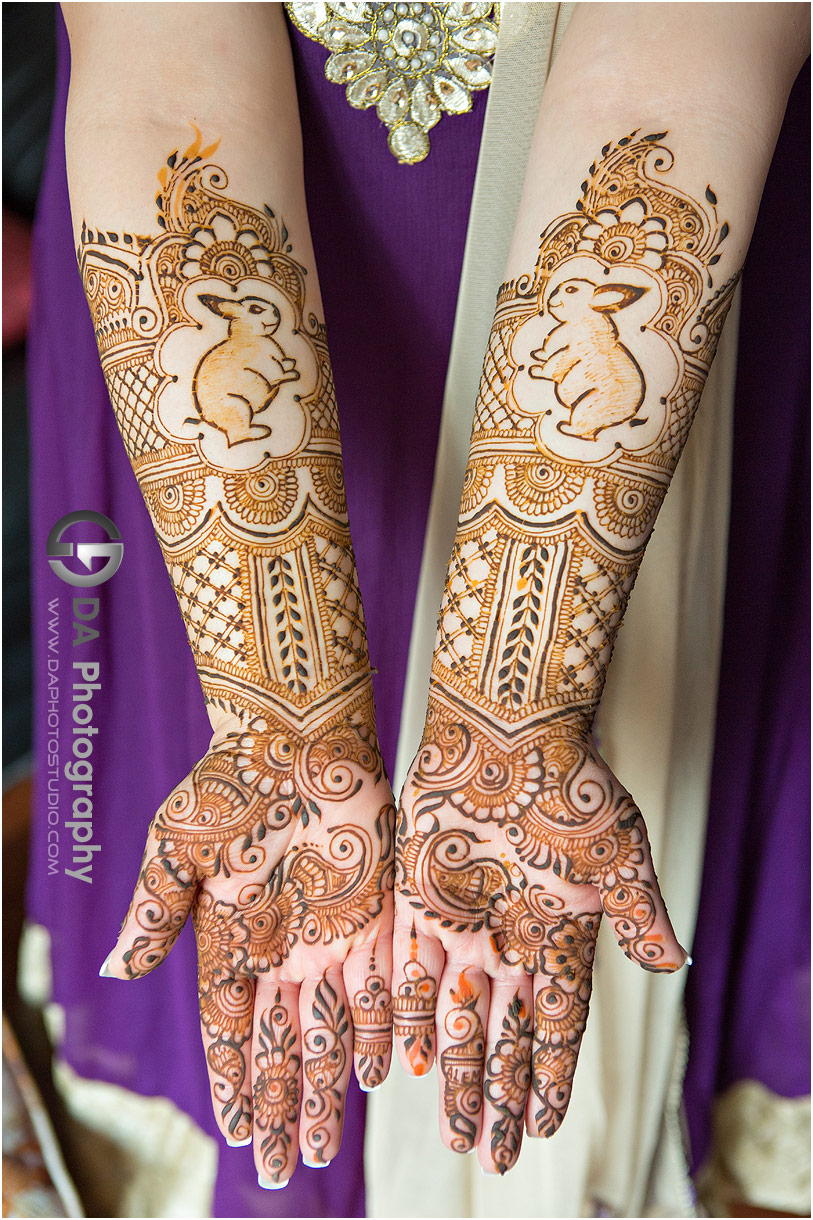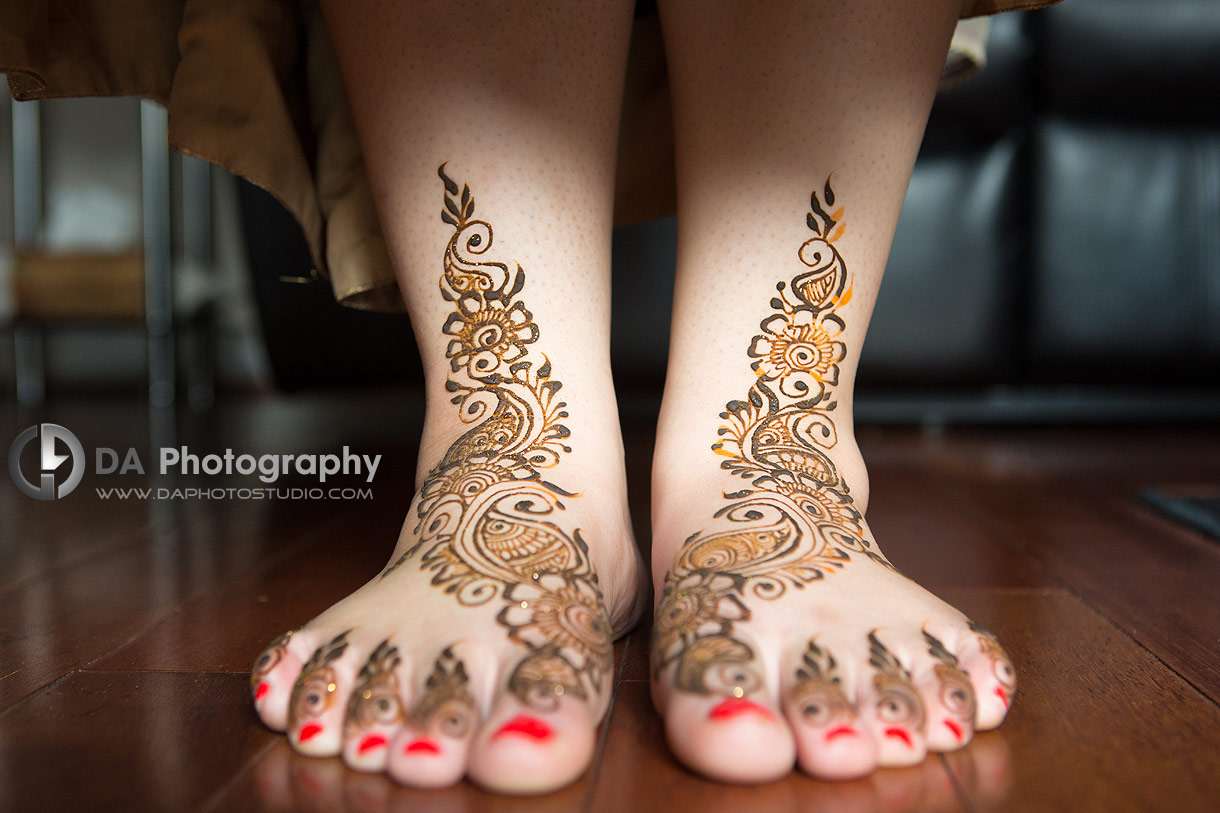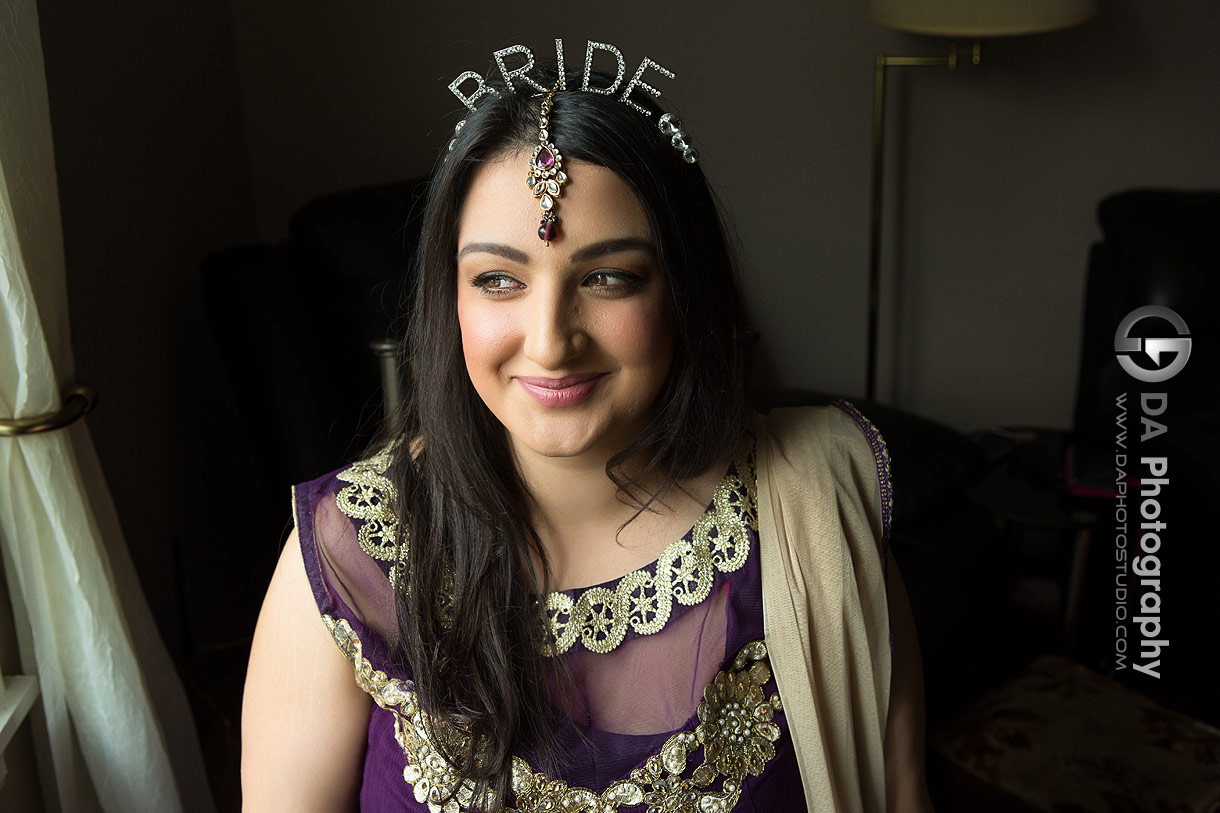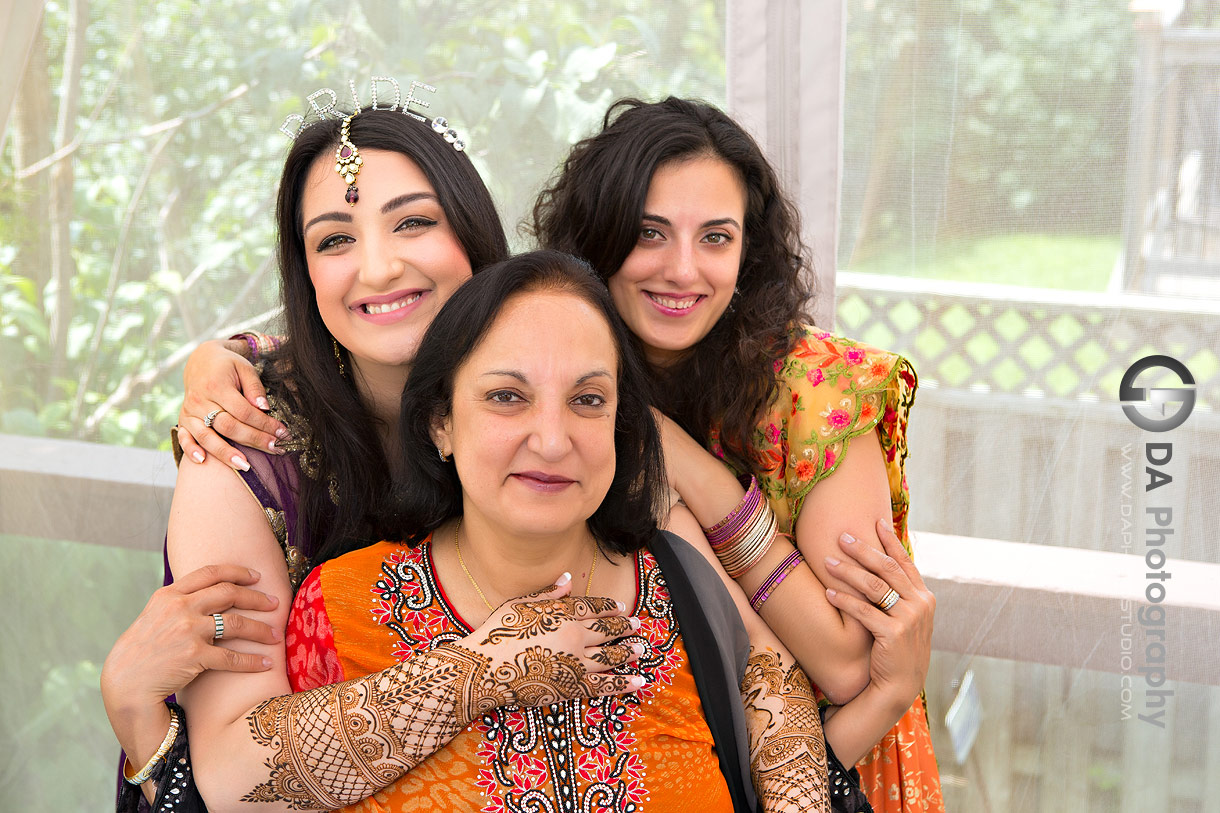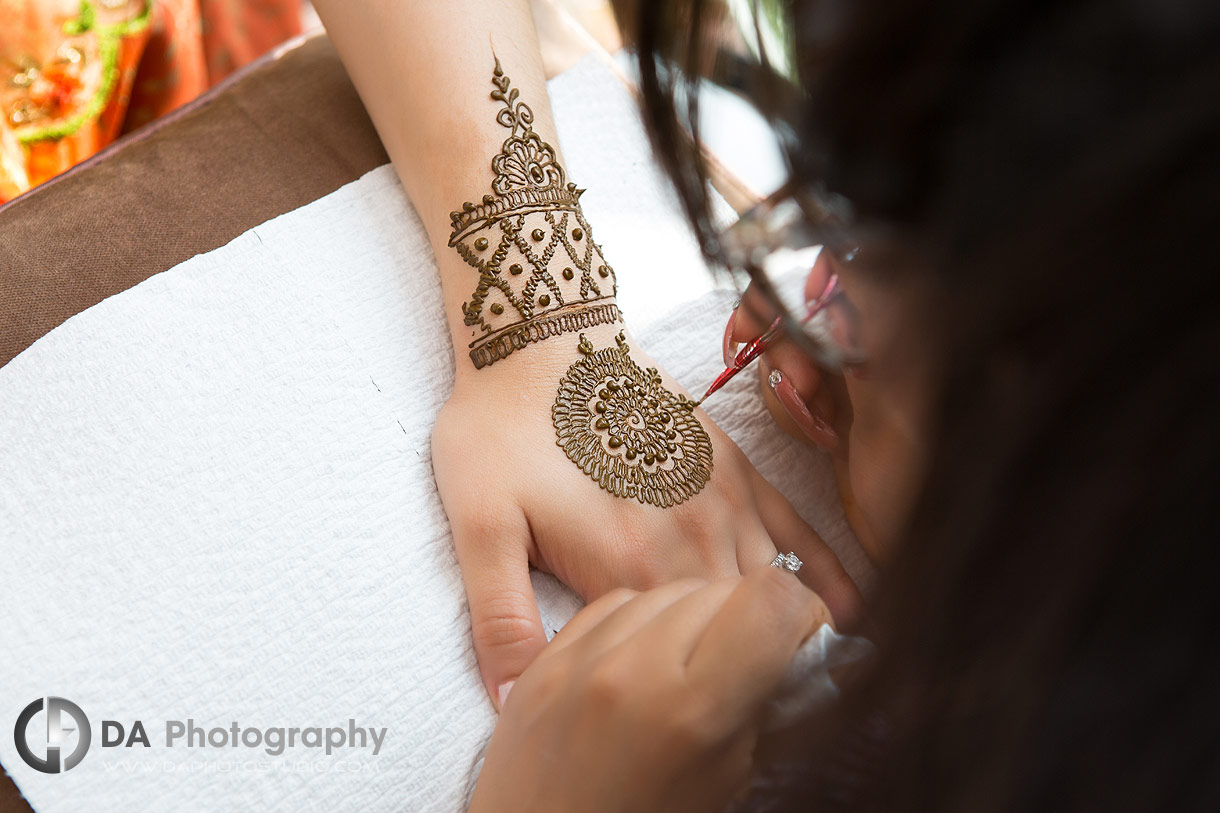 Getting ready for the Hindu Temple Wedding Ceremony
Two days after the Mehndi ceremony, it was time for the Hindu temple wedding ceremony. The ceremony was in the early morning which meant we had to start even earlier in order to capture the getting ready moments for both Julie and Alem. Jacquie, my 2nd photographer for this wedding, was covering Alem while I went to cover Julie and the girls.
Both Julie and Alem were both relaxed while preparing for the ceremony. However, knowing the nature of these fast-paced events, we made sure to look for and capture every single important moment. We couldn't forget to take some photos of their lovely rabbits, the many little details in their apartment, the amazing make-up and stunning colourful outfits. Everything was coming along, just as planned!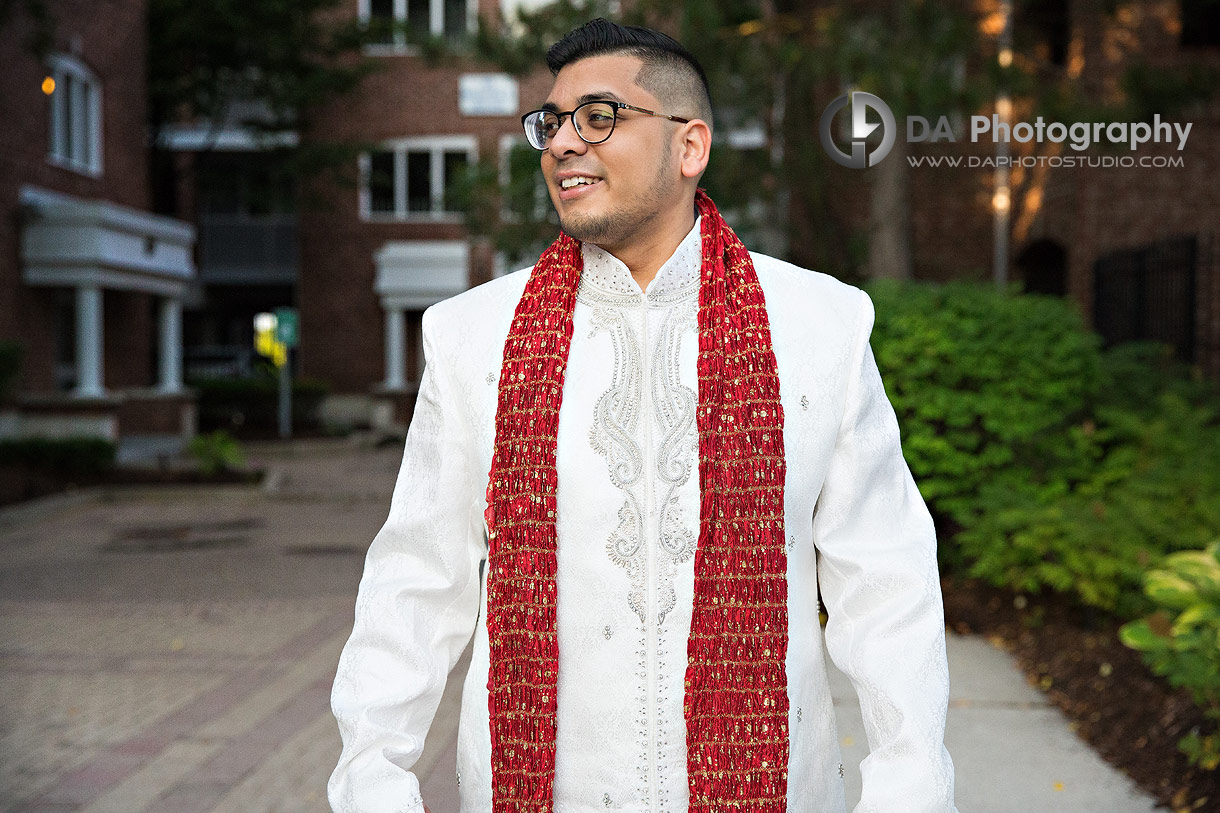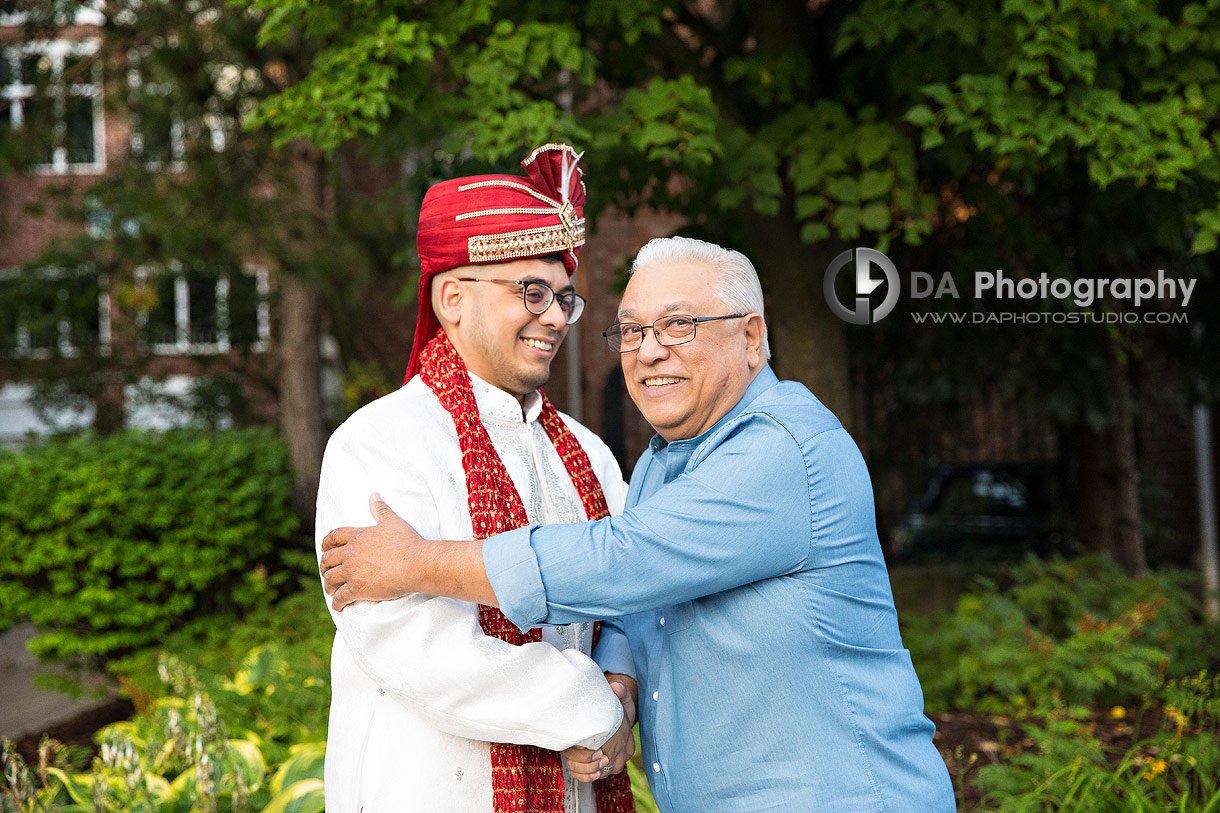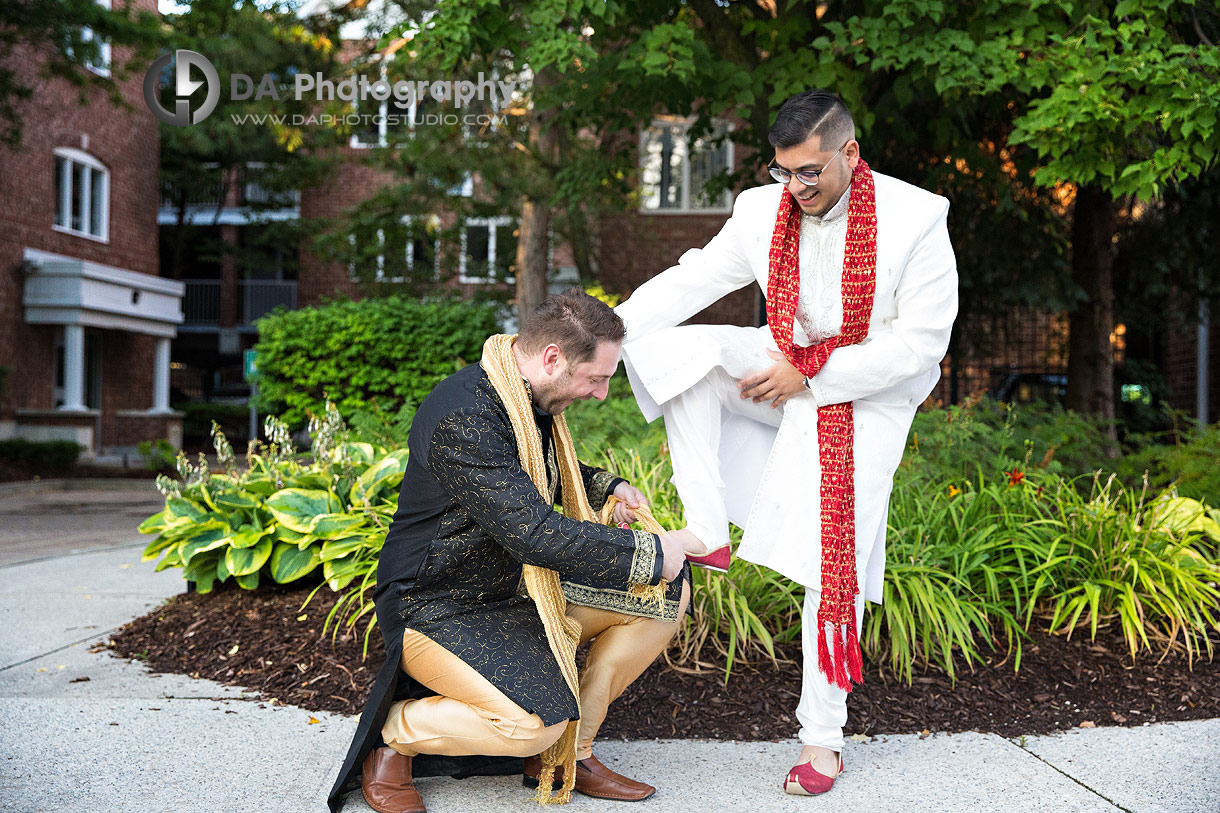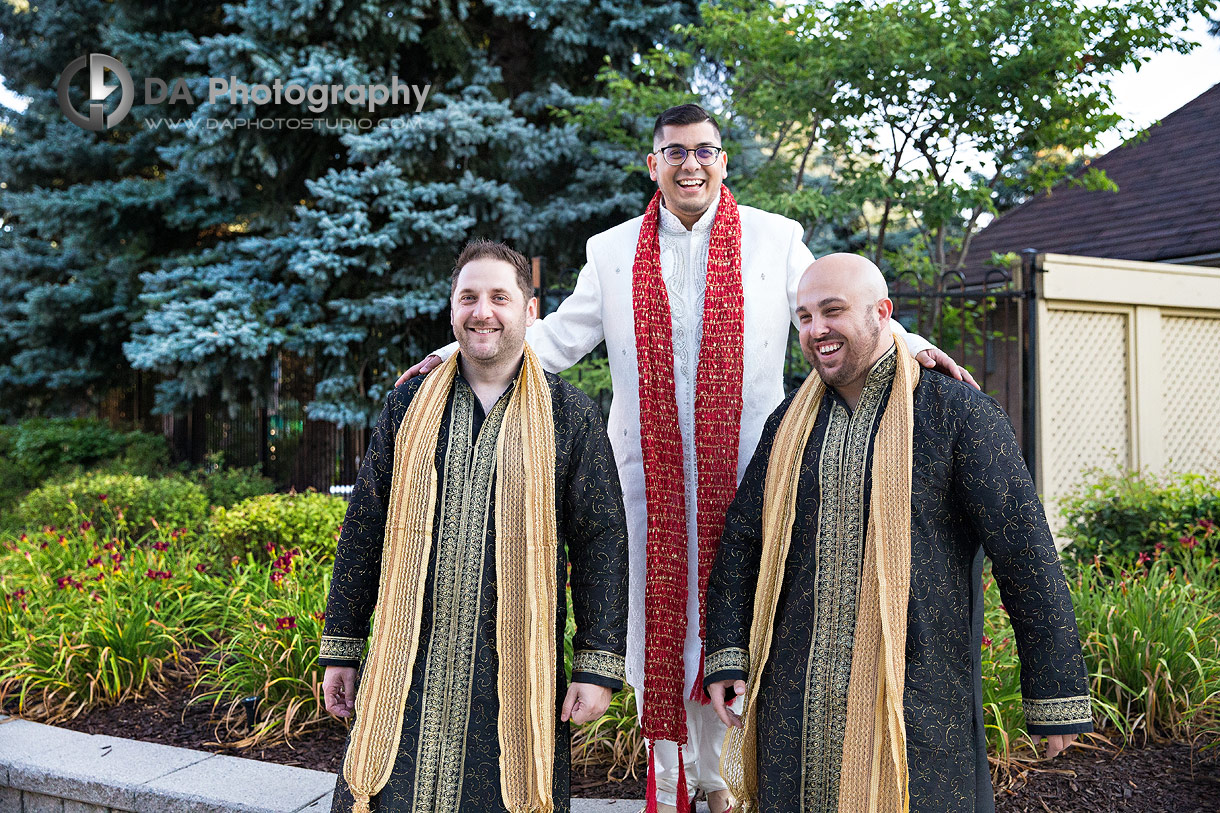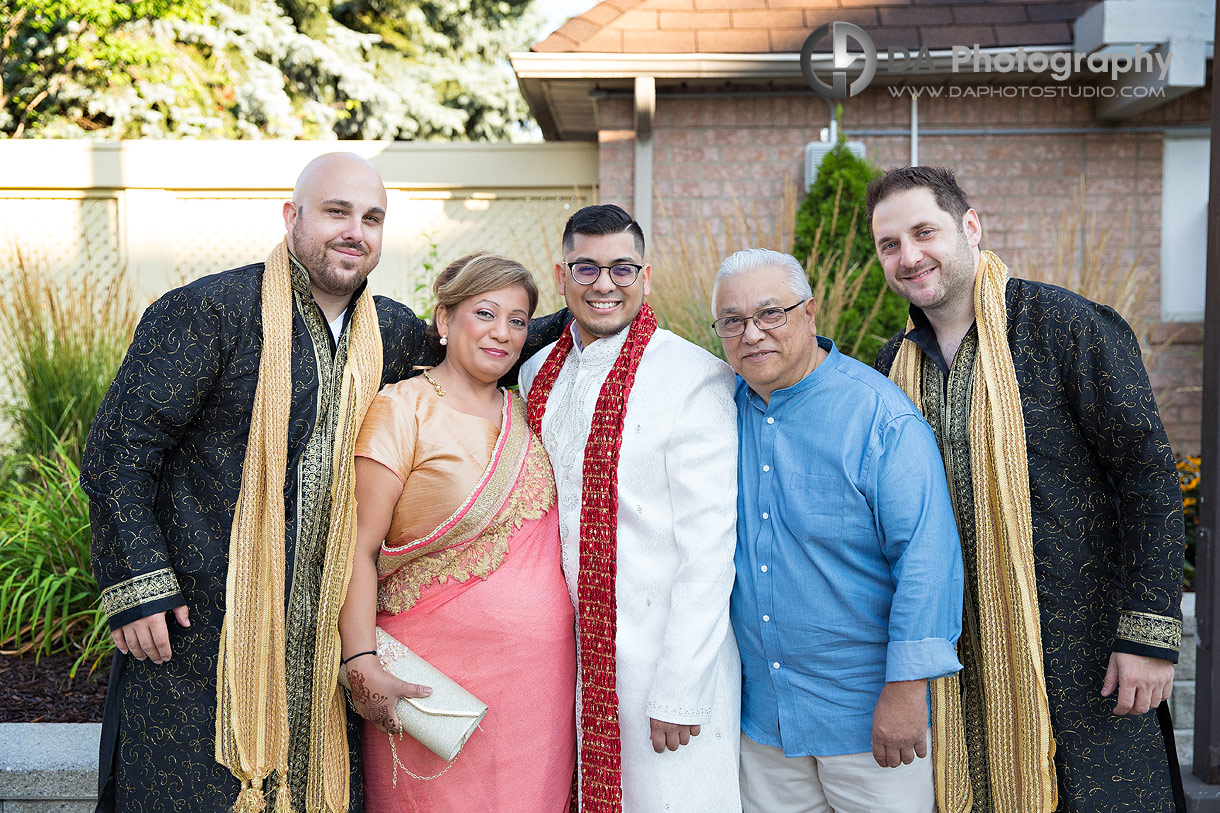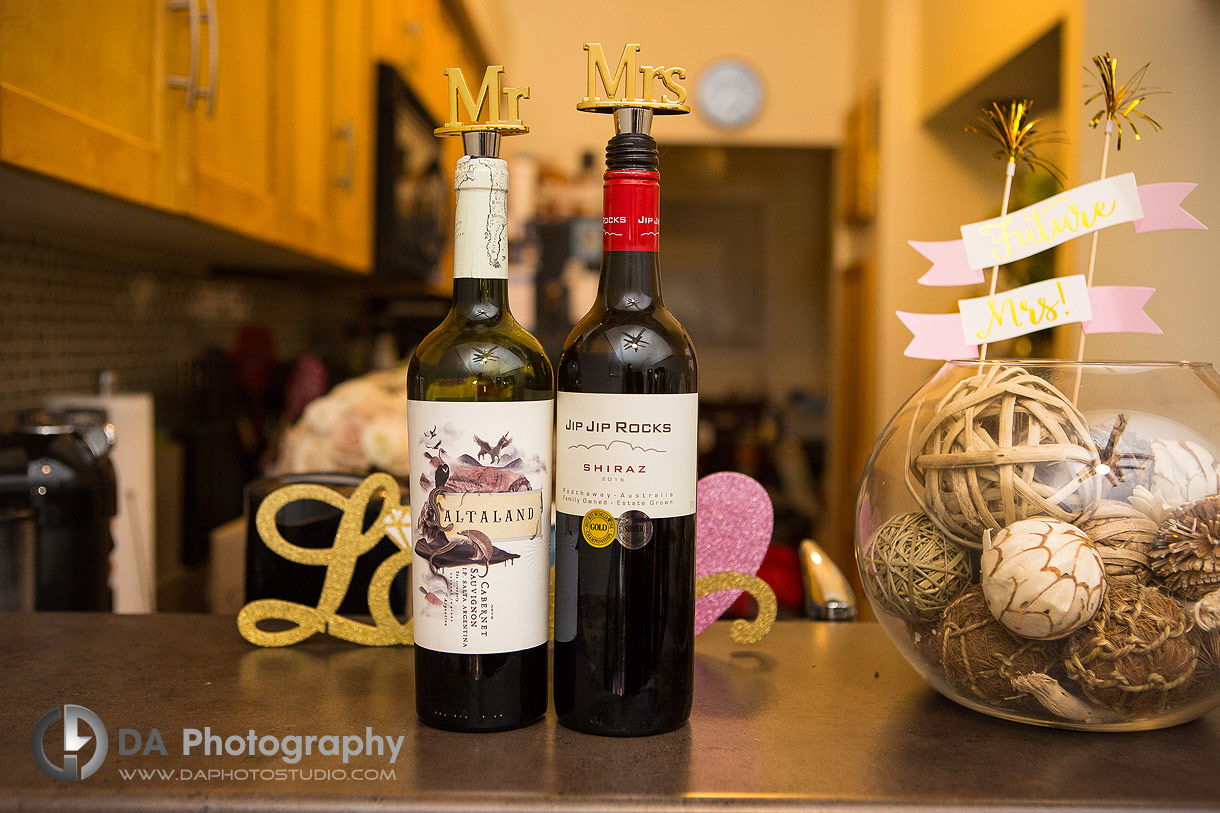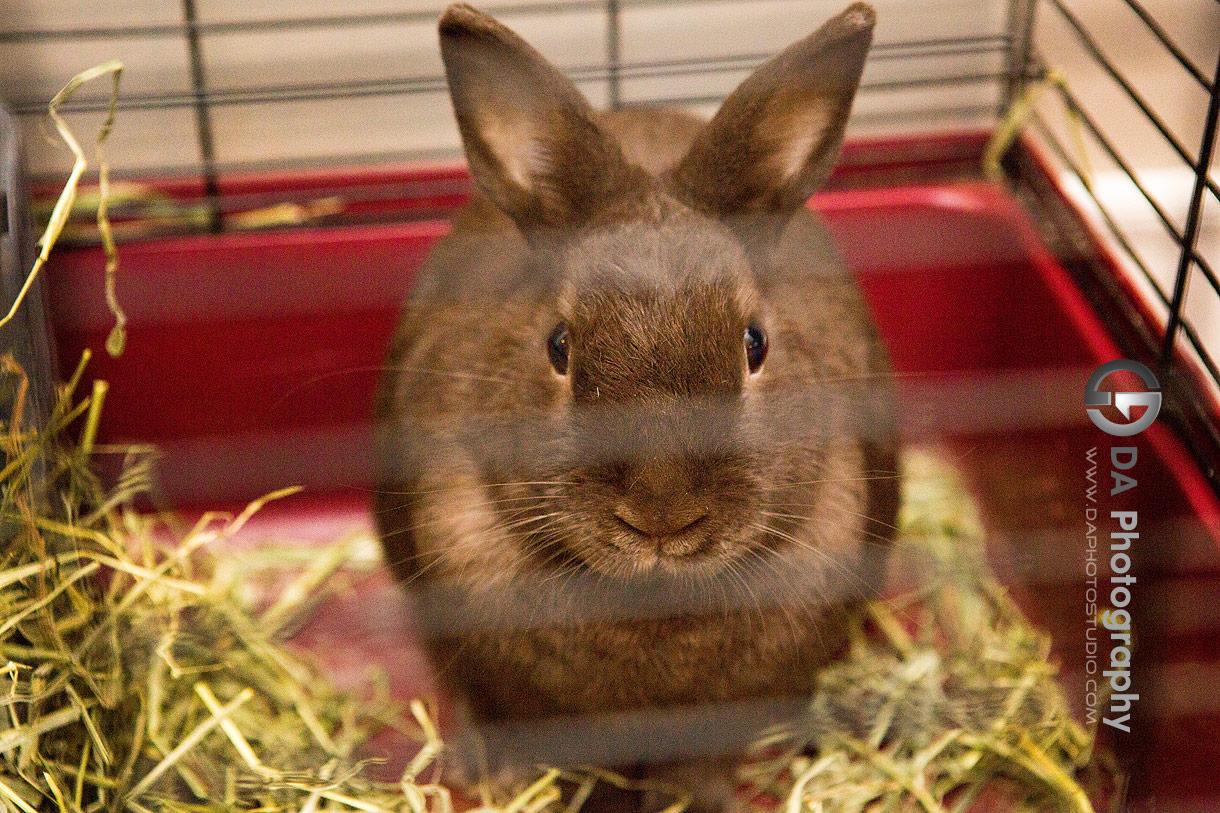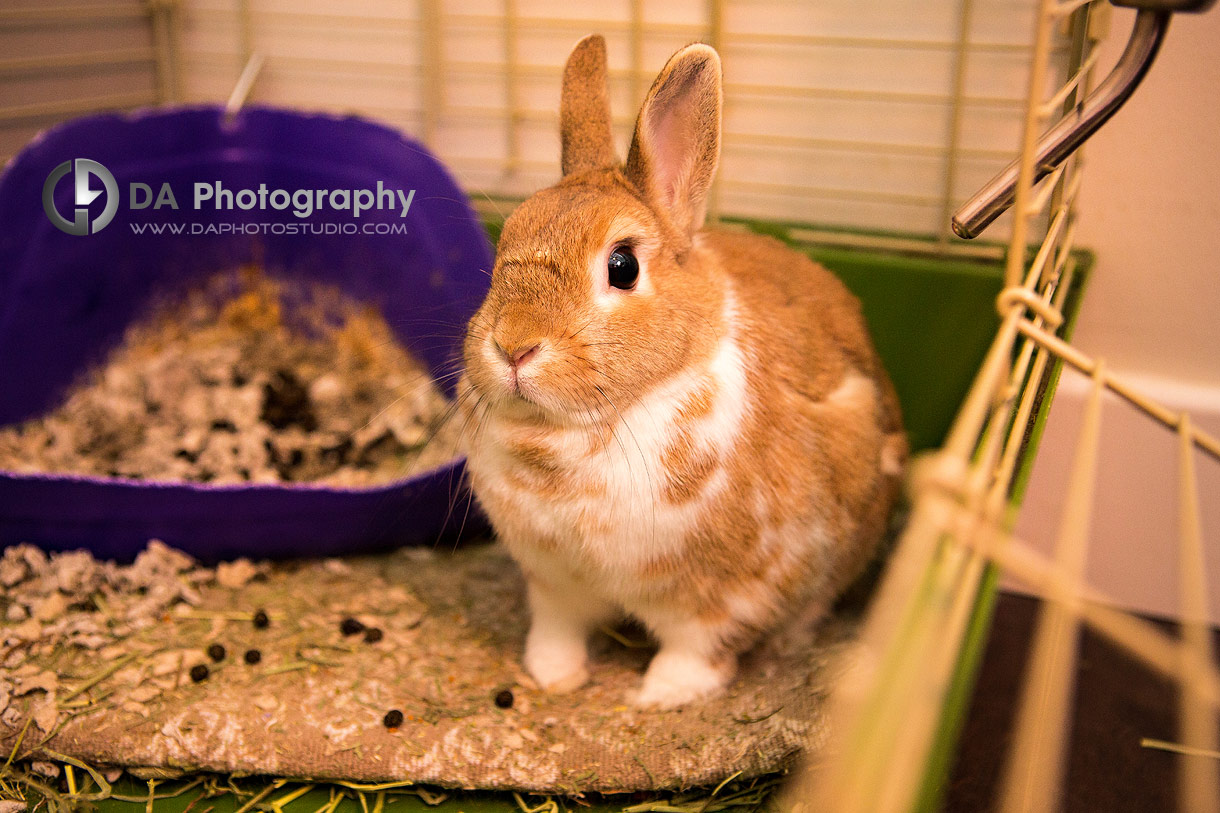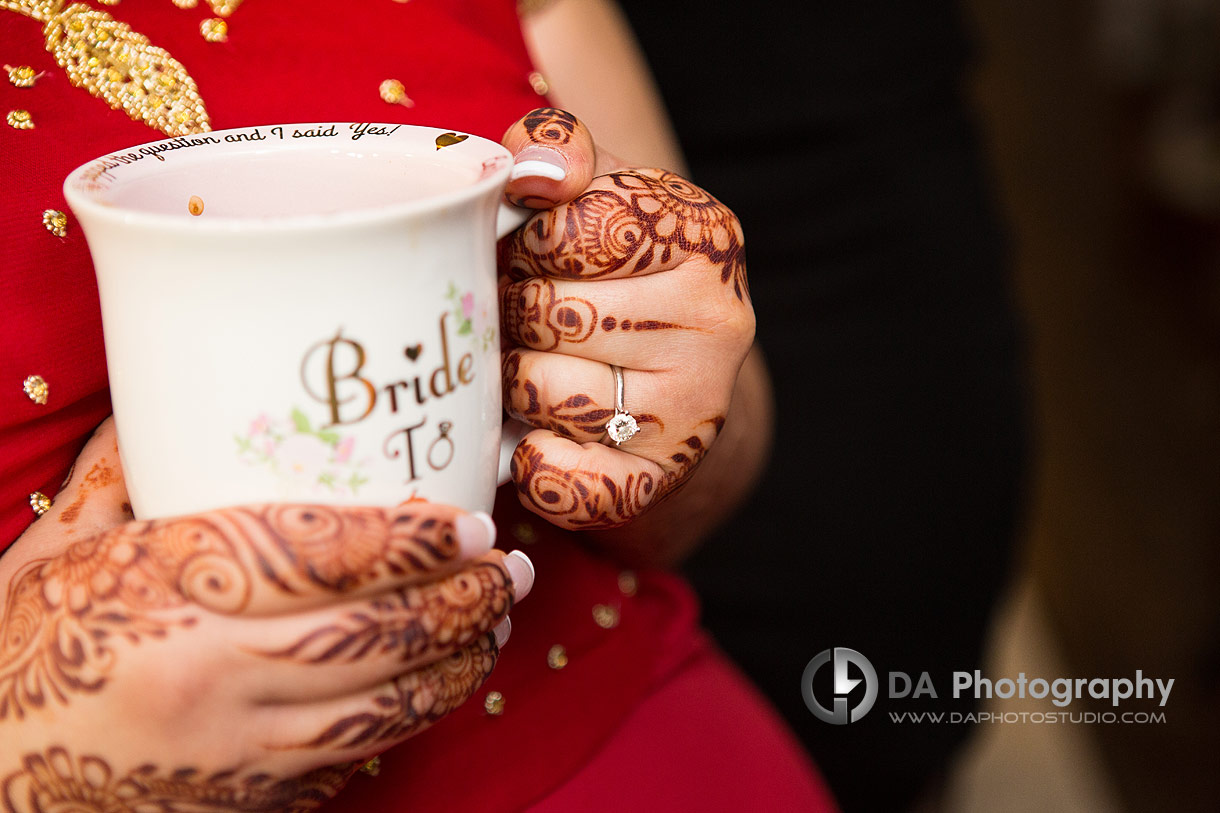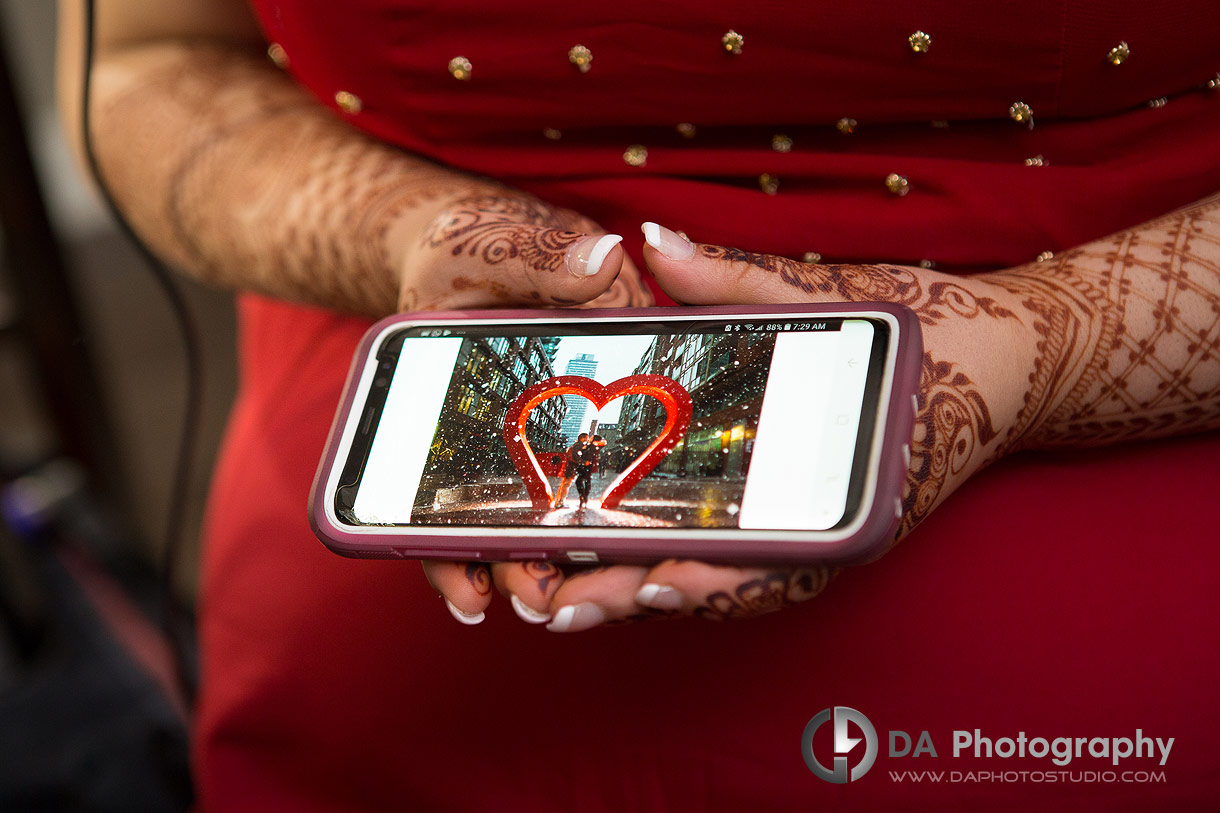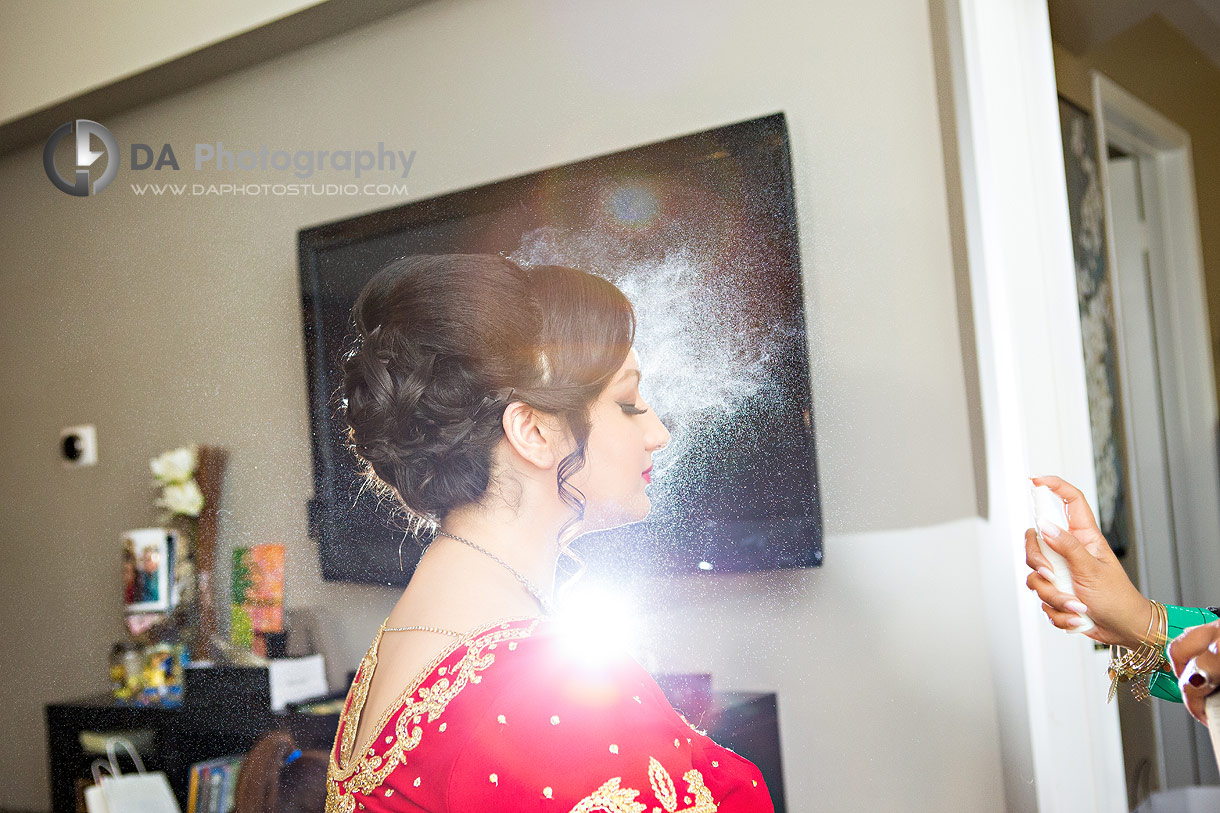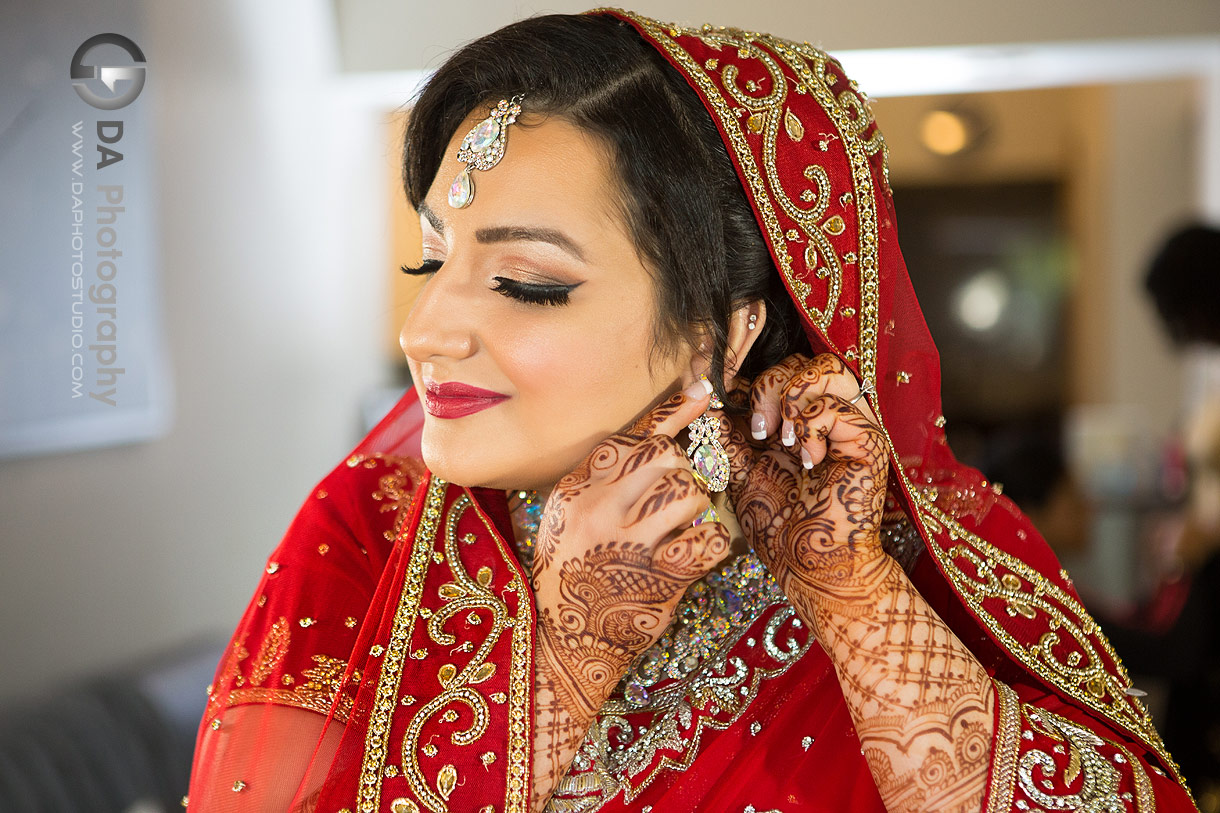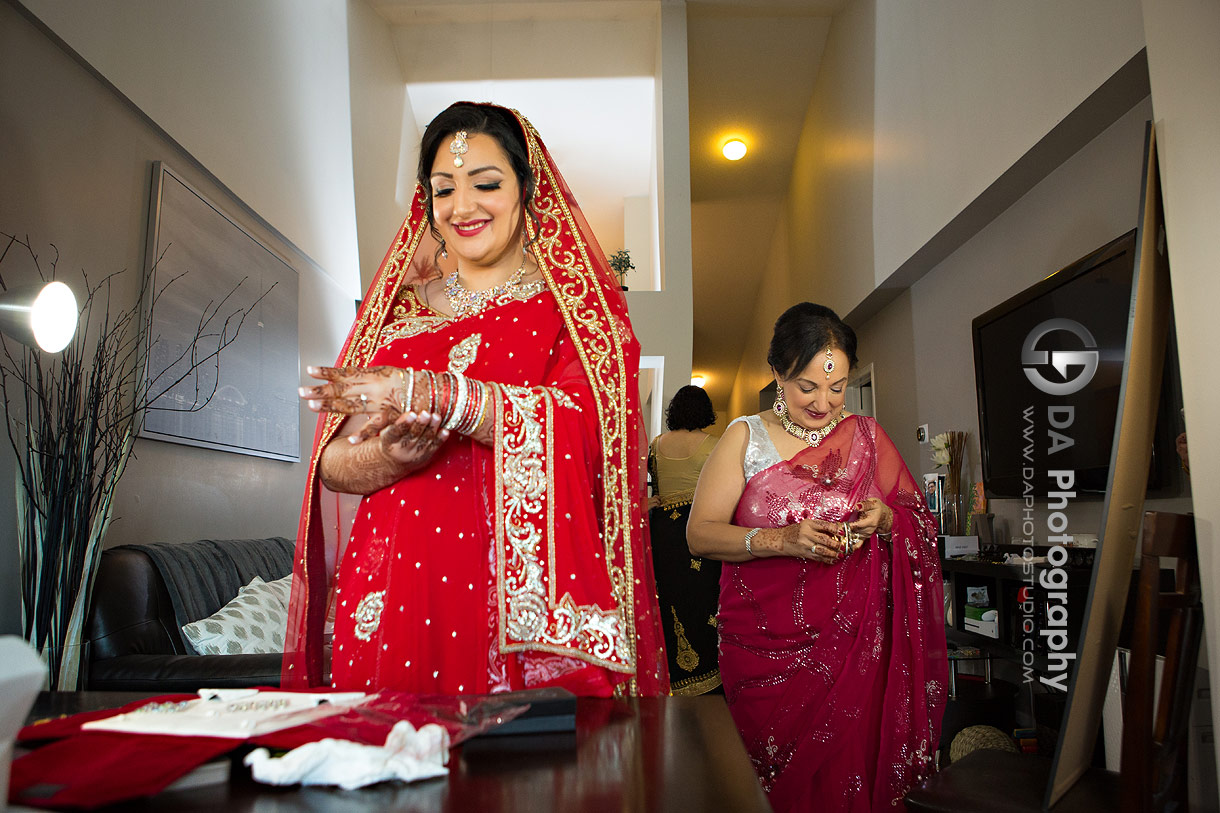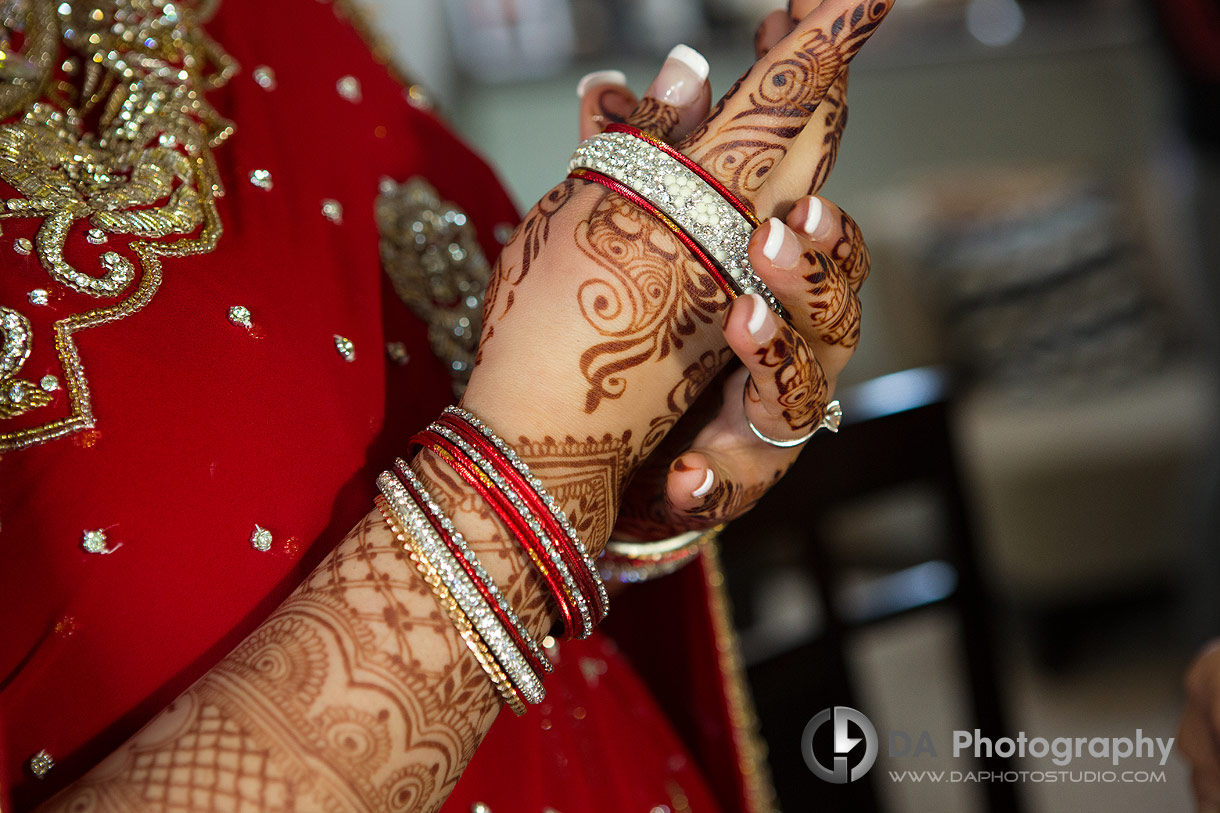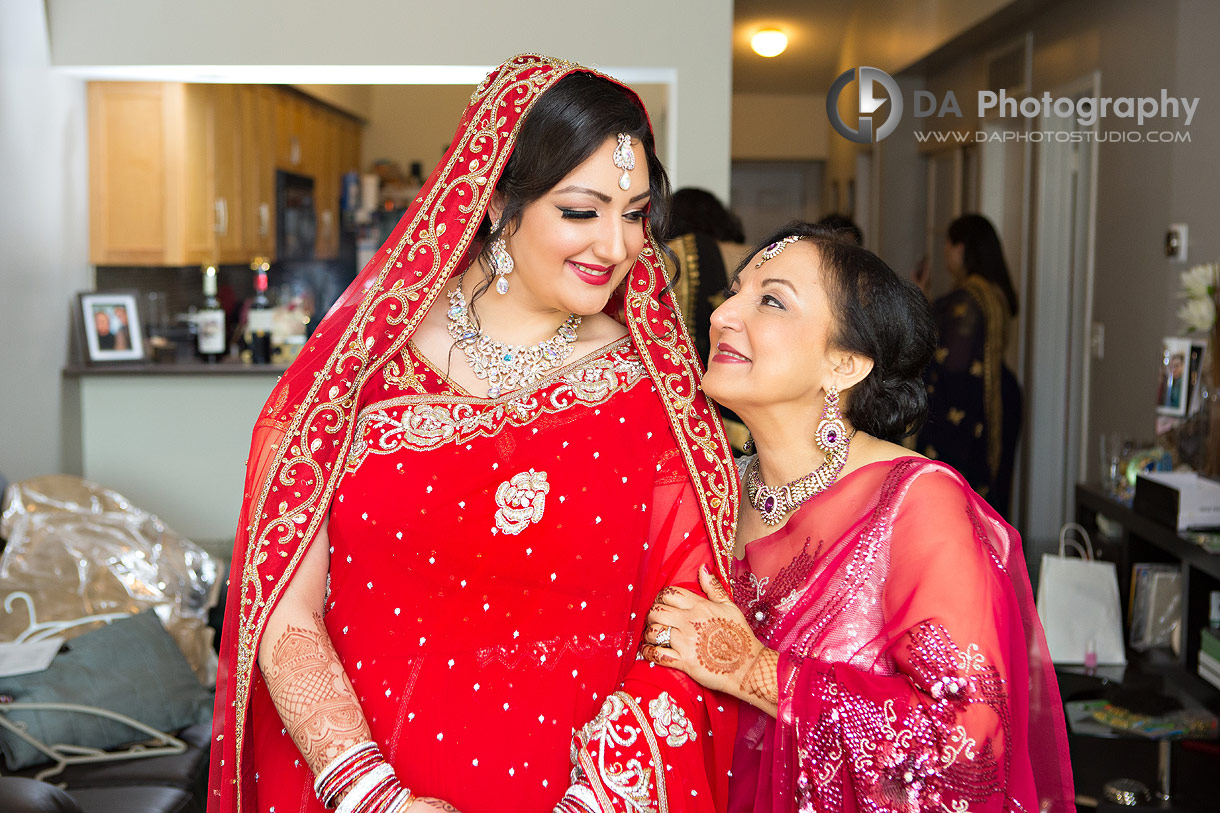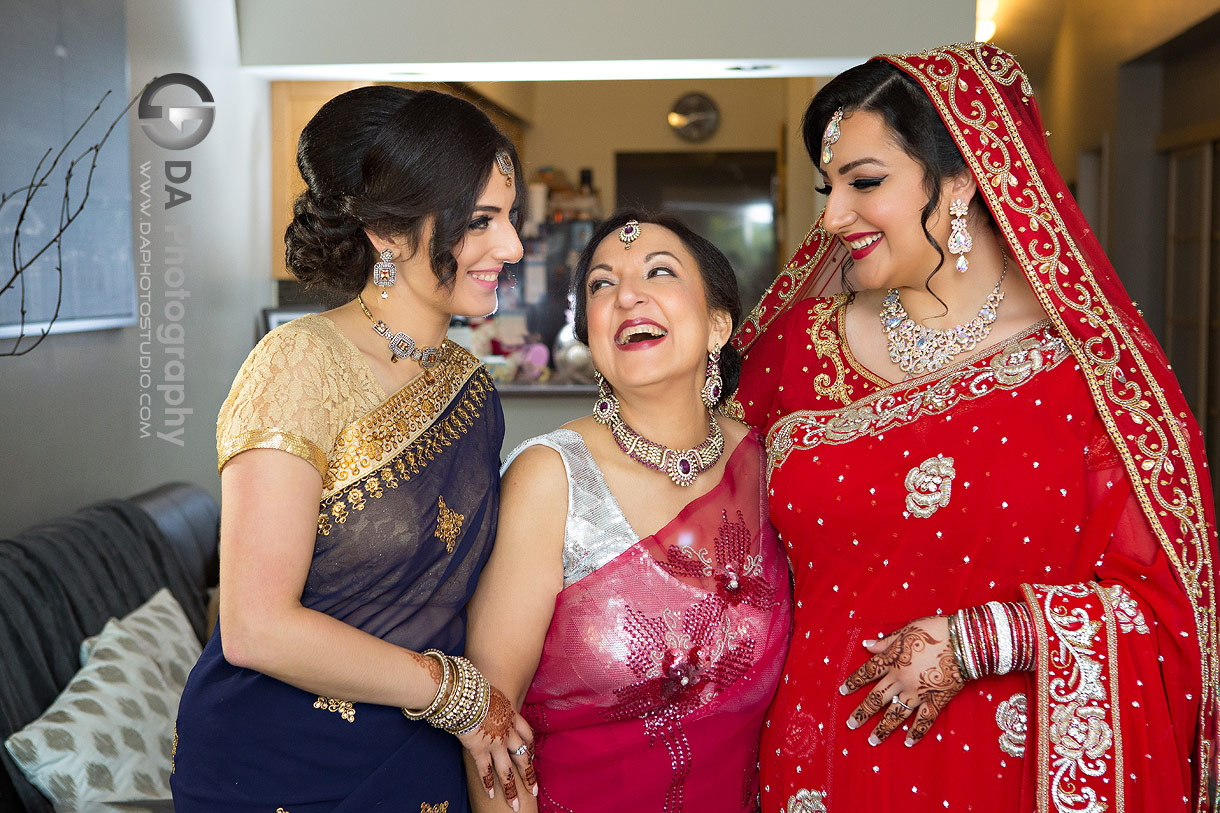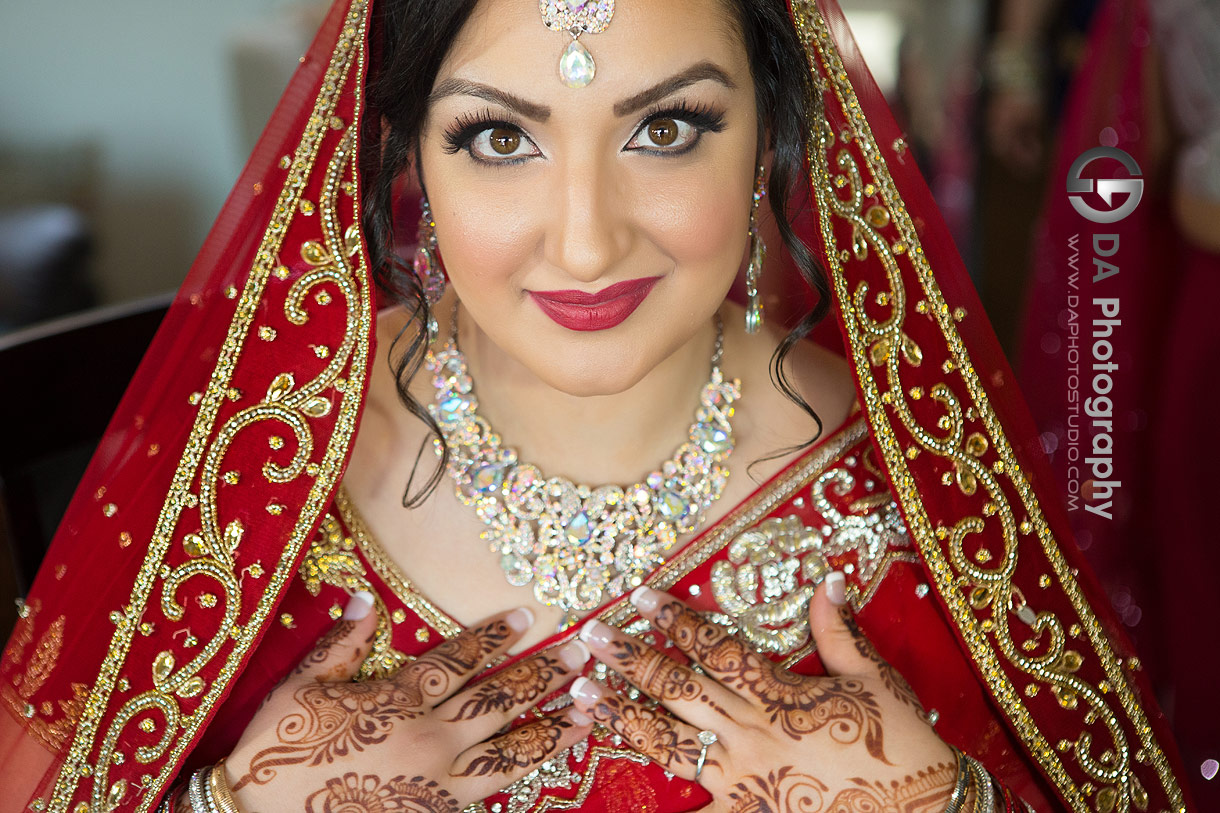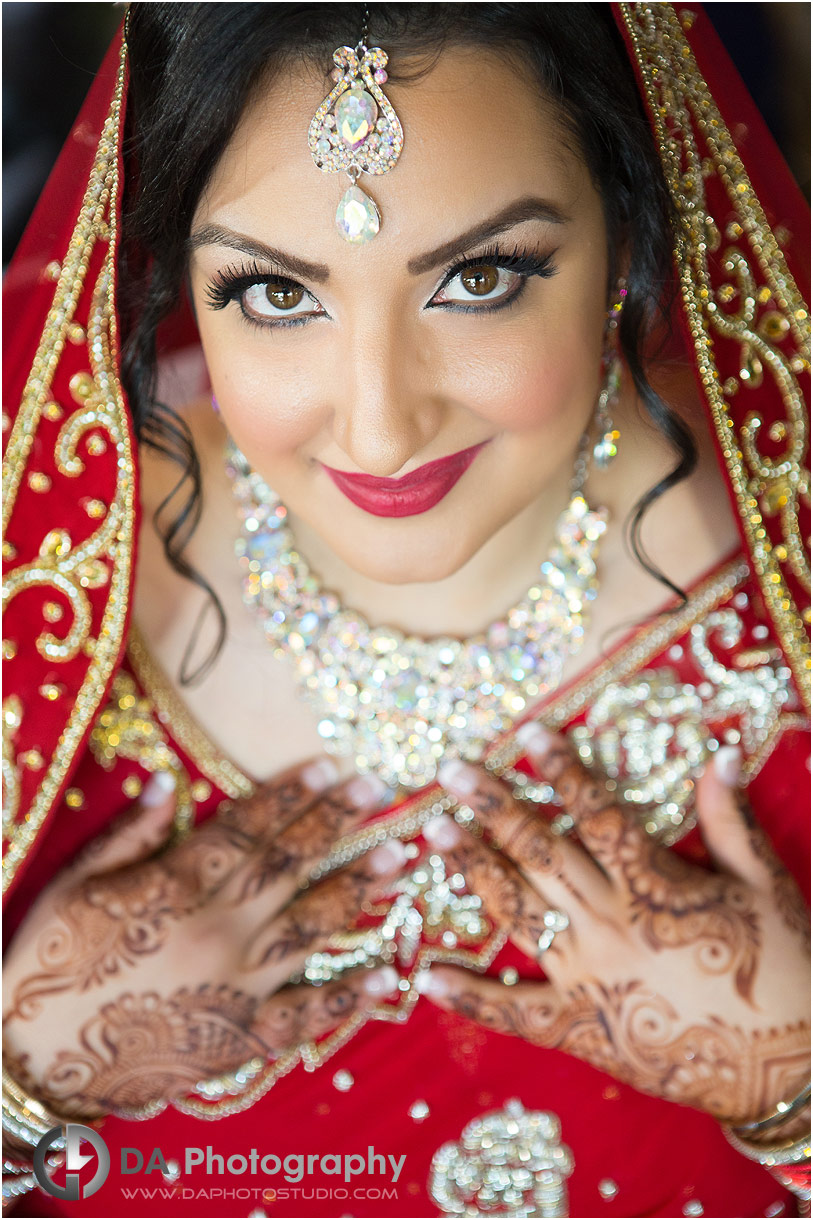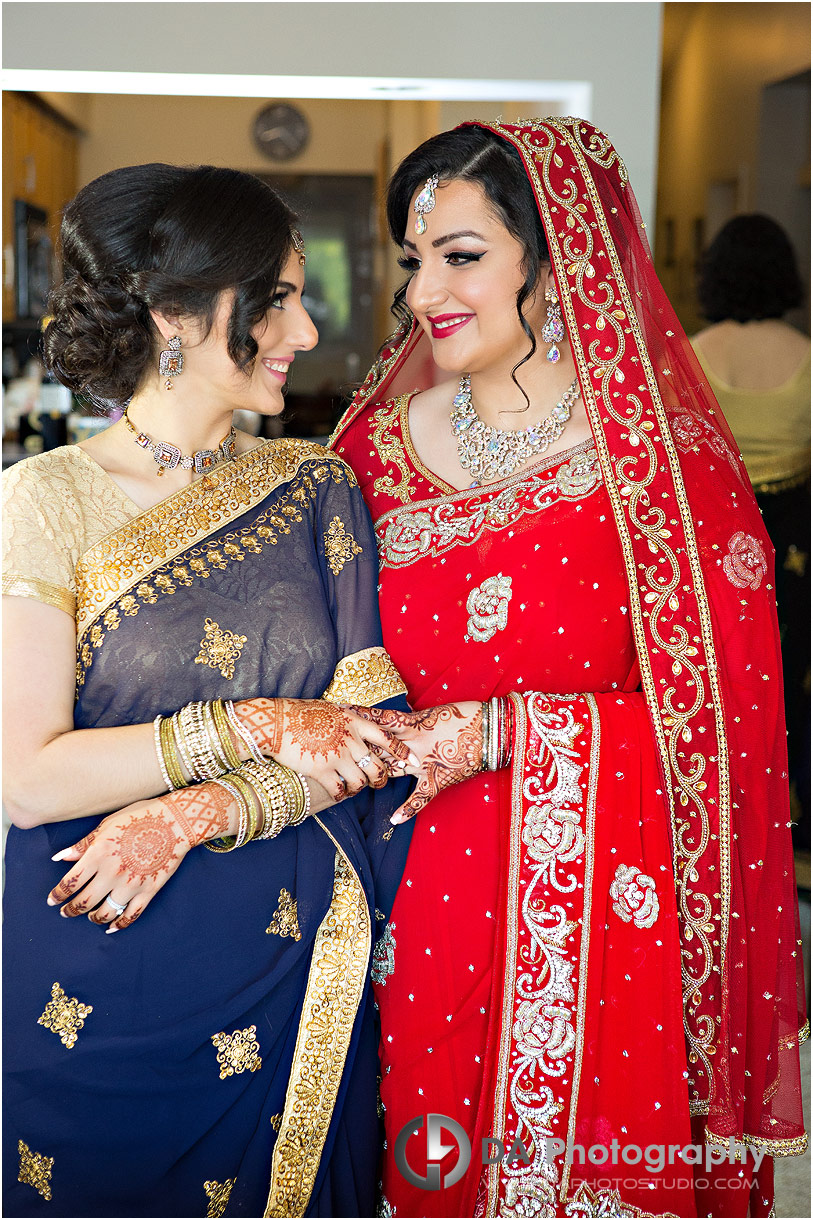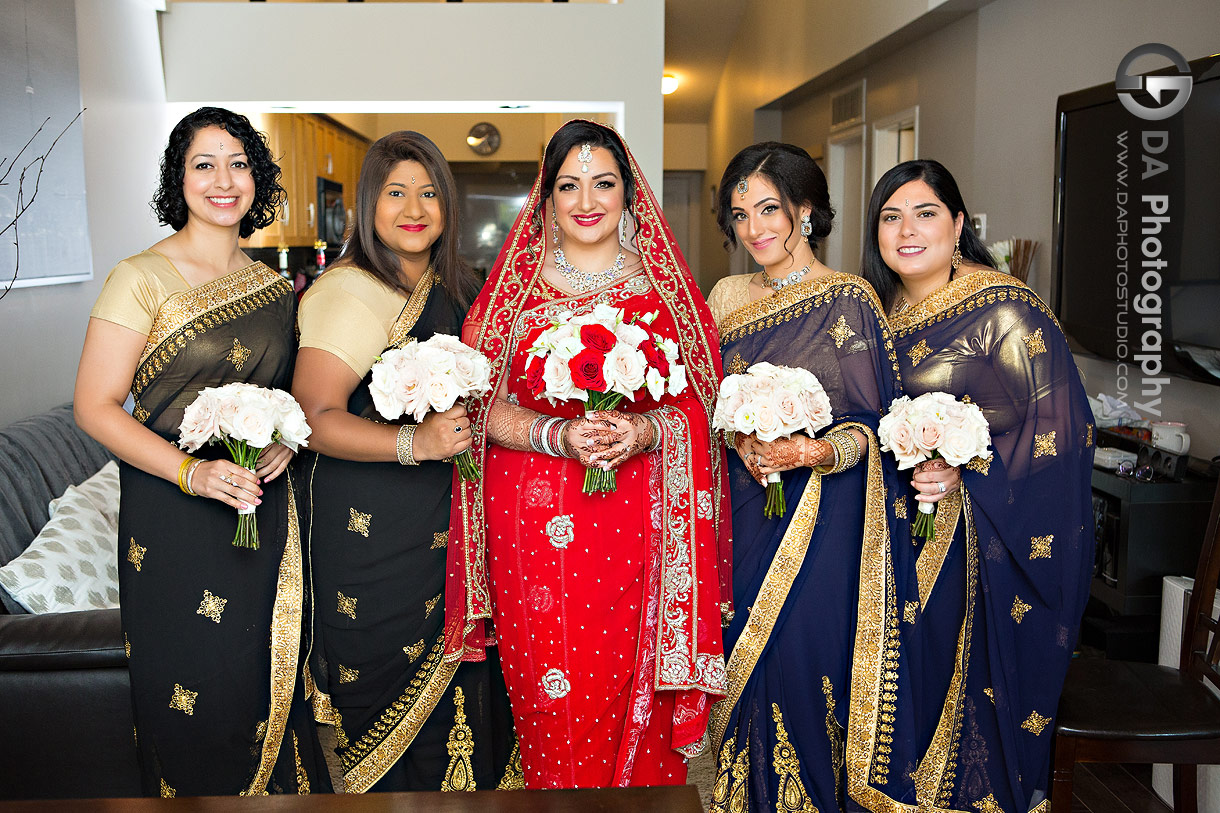 First Look Photos and the grand reveal
The next significant moment was the first look between Julie and Alem. They chose the location behind their building for this. It was ideal for this intimate encounter with a shaded courtyard that is surrounded by tall trees and bushes.
I went downstairs with the couple while Jacquie was covering aerial shots from their apartment balcony. The use of different perspectives and different lenses with unique focal points gave them a variety of images from this important moment.
Having this time to photograph their emotions and interactions during this first look was priceless. After capturing these once-in-a-lifetime memories, we continued with close family photos and some bridal party images.
Since there was no need to travel to a different location, it was perfect for us to finish all the planned photos on schedule. Then, towards the end, Julie, Alem, Jacquie, and I stepped away for some creative images before leaving for their Hindu temple wedding ceremony.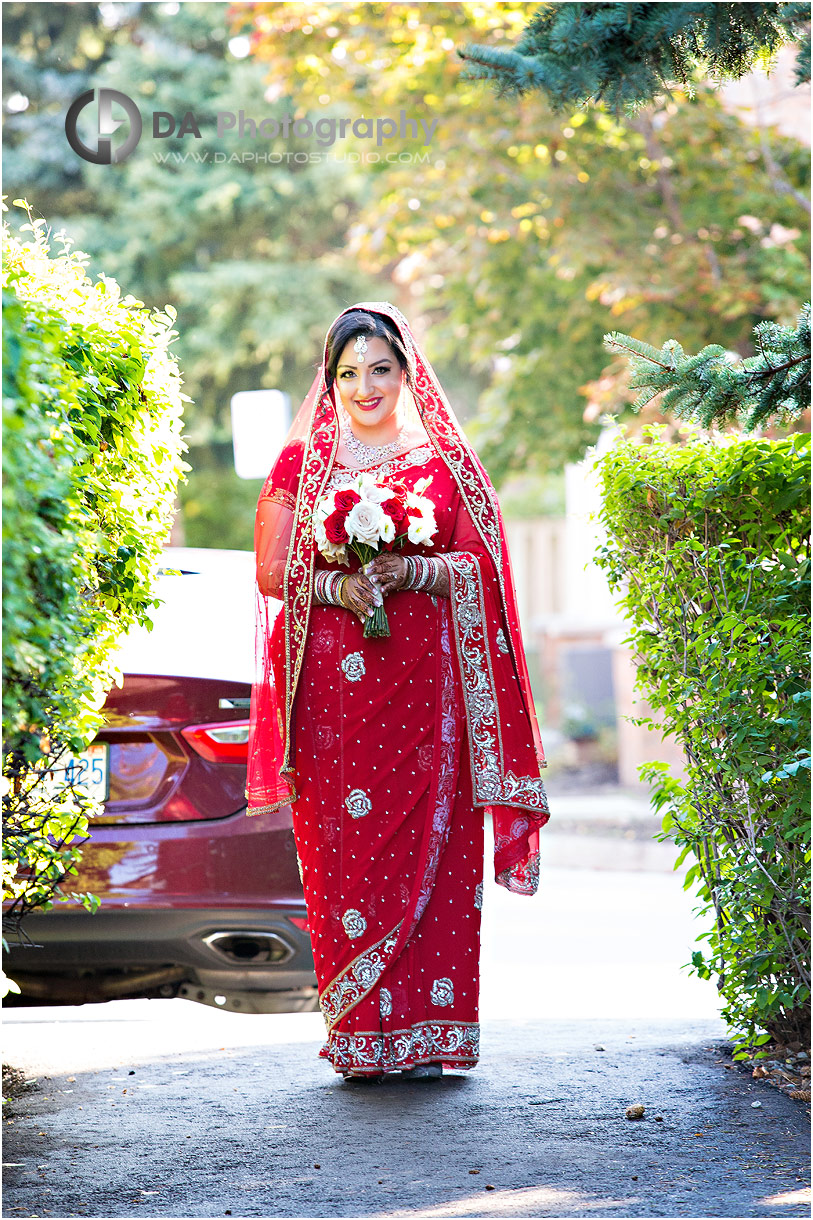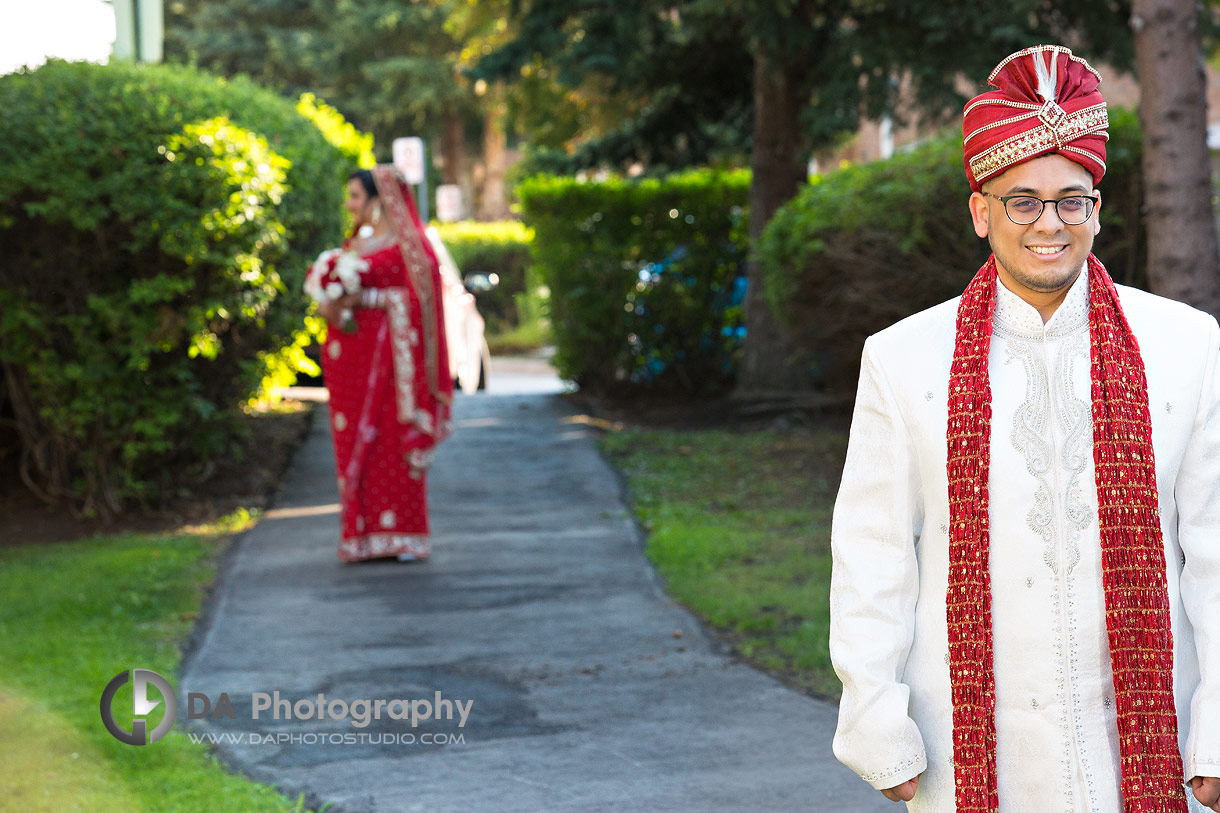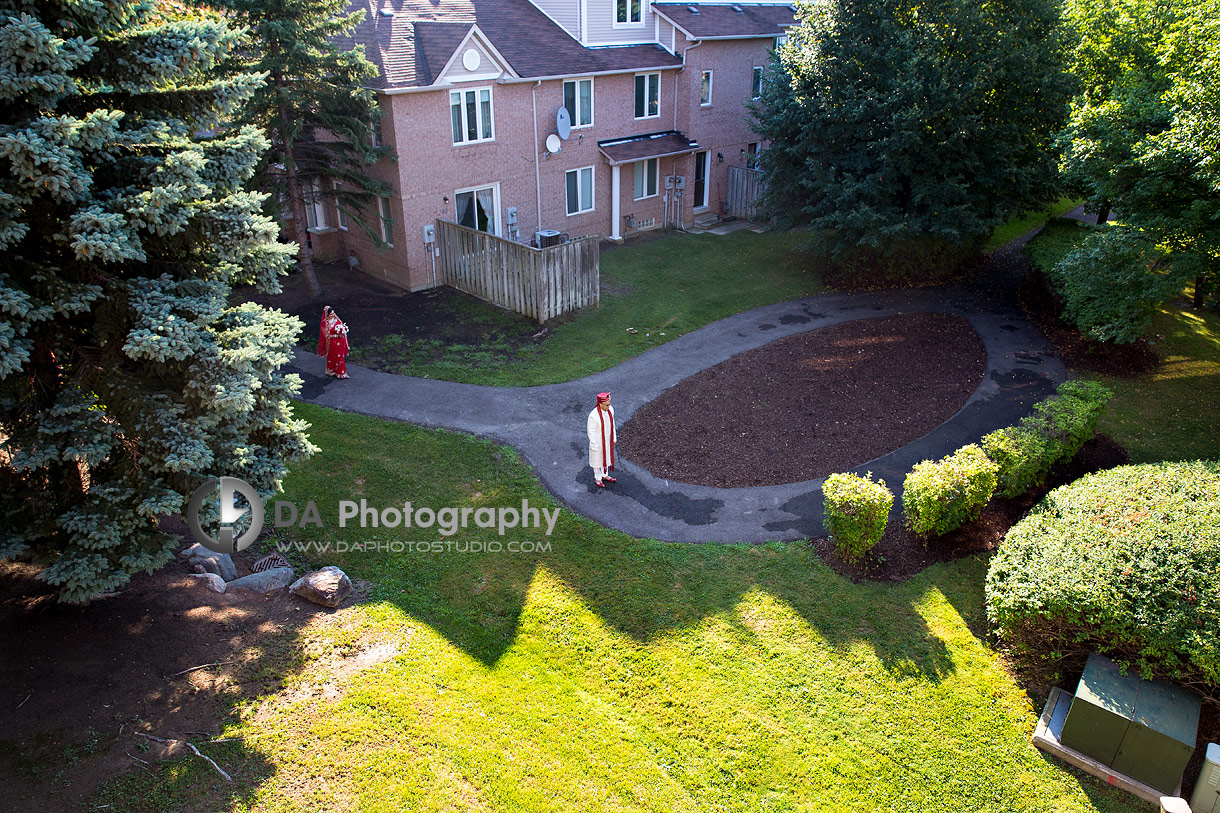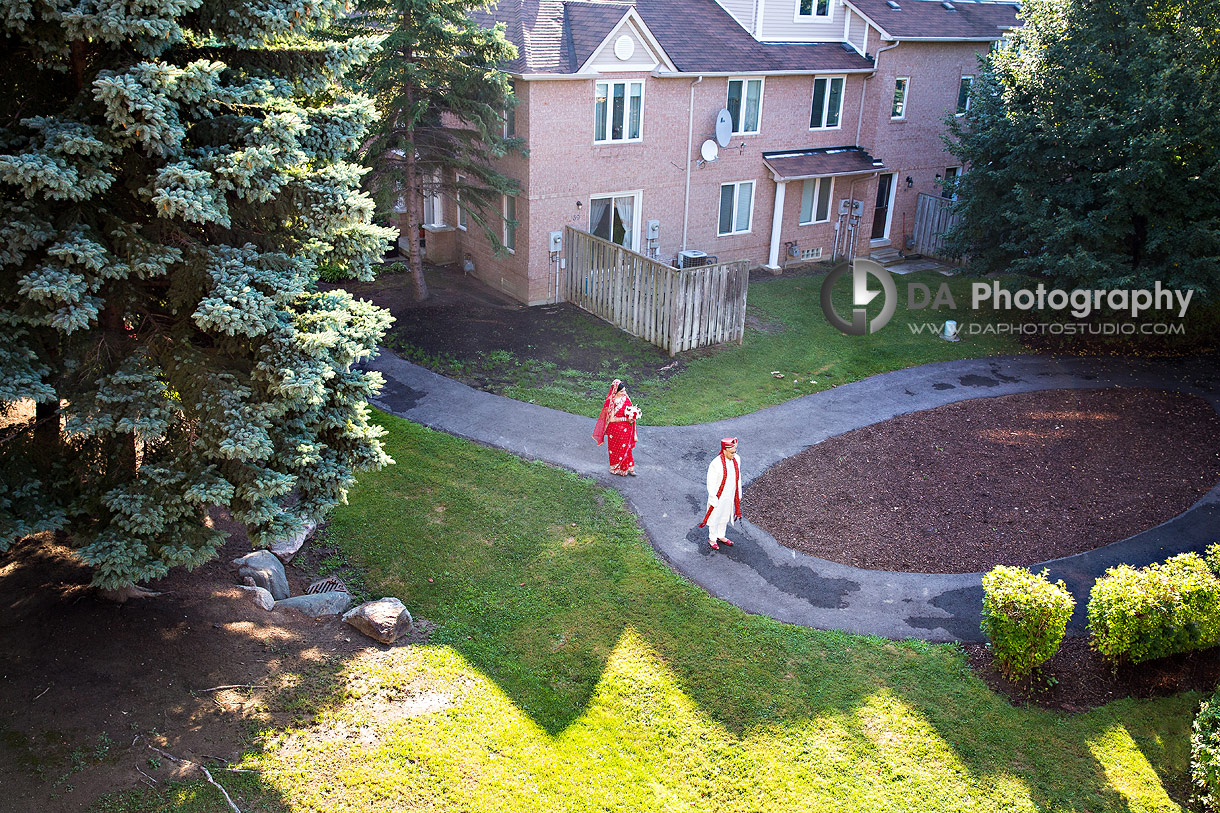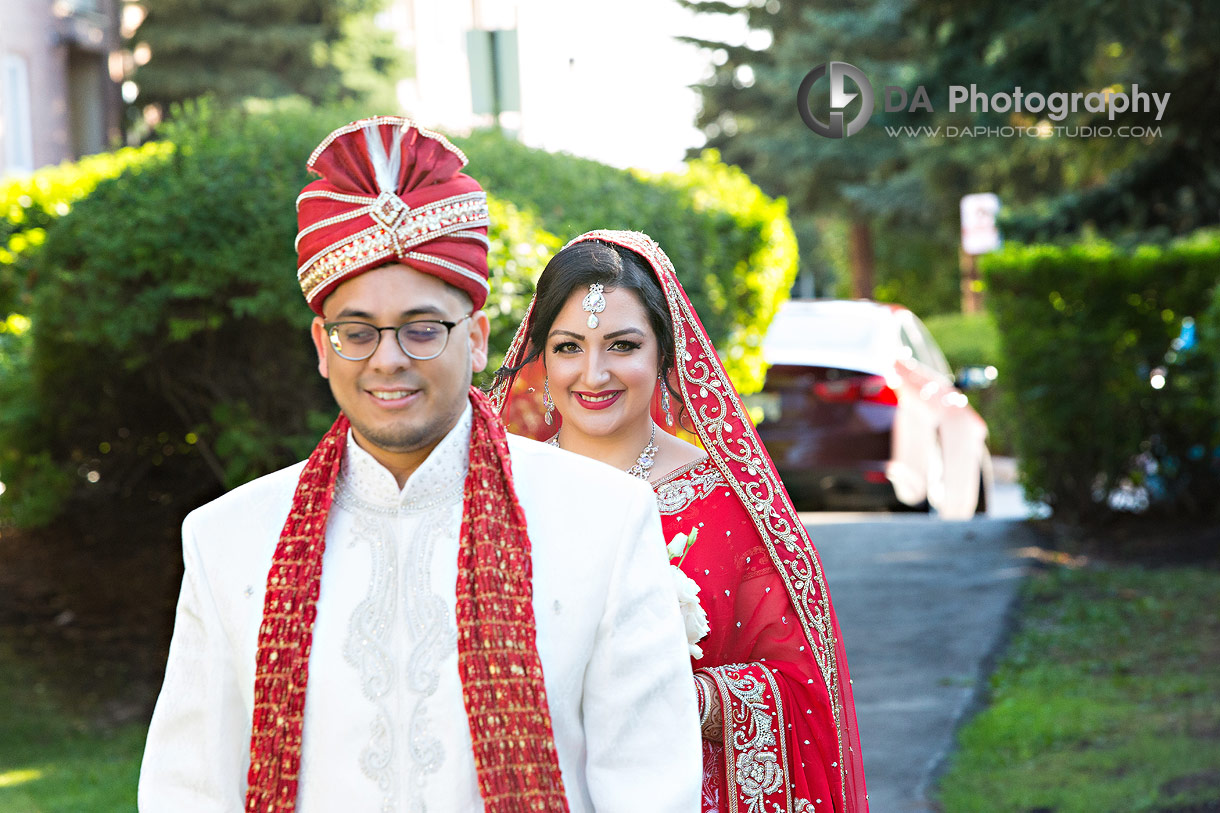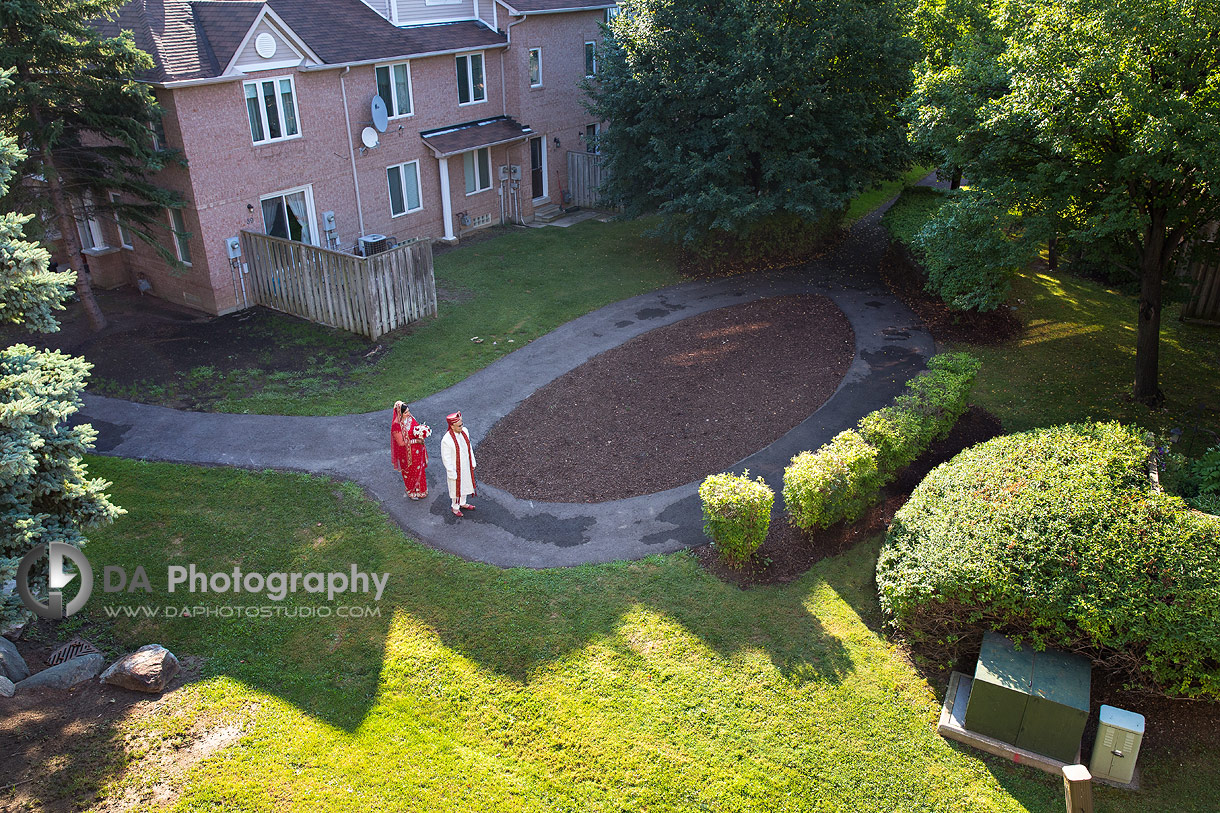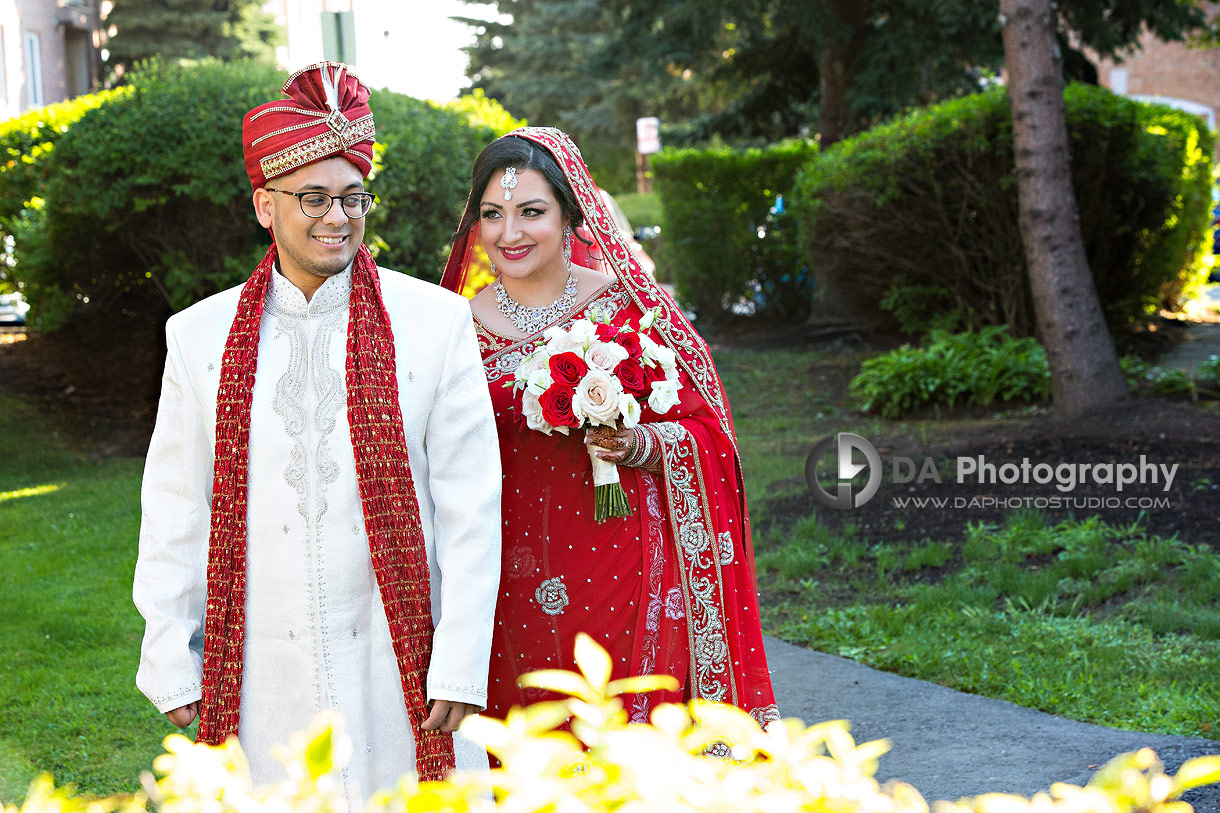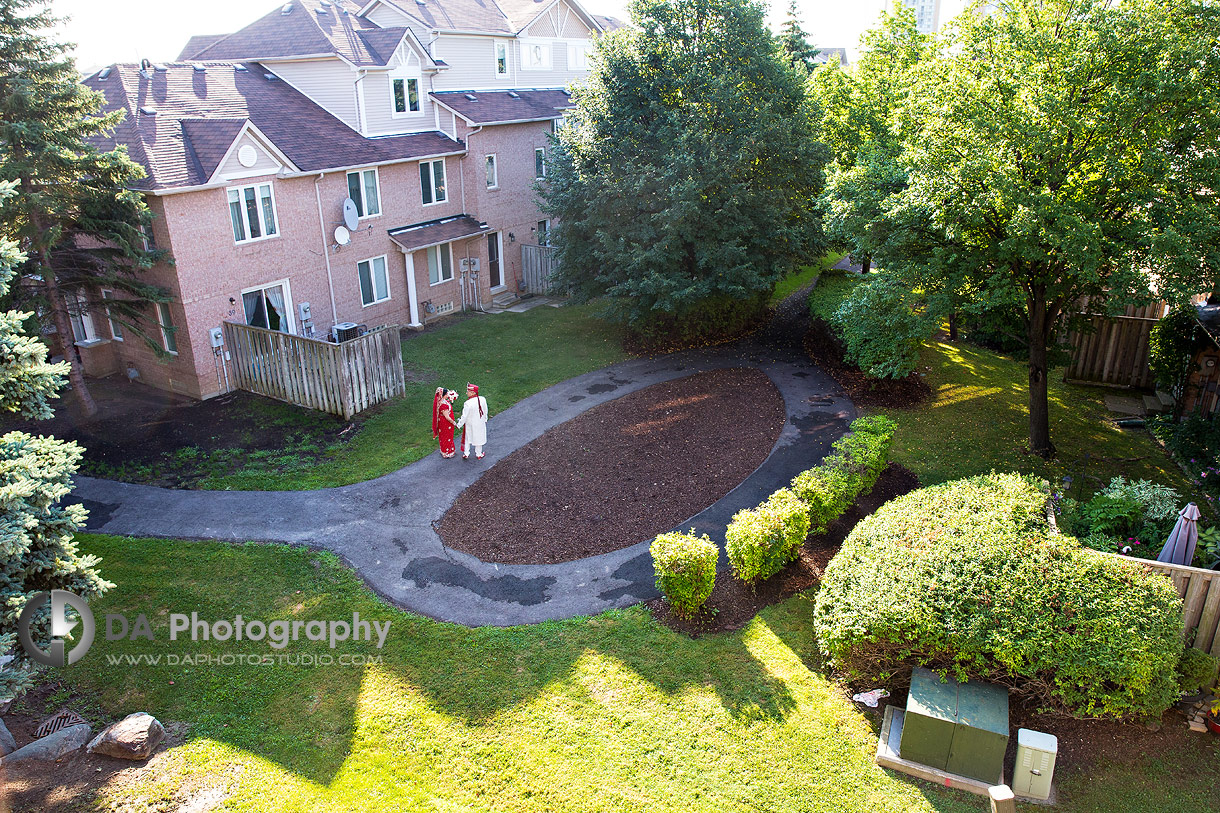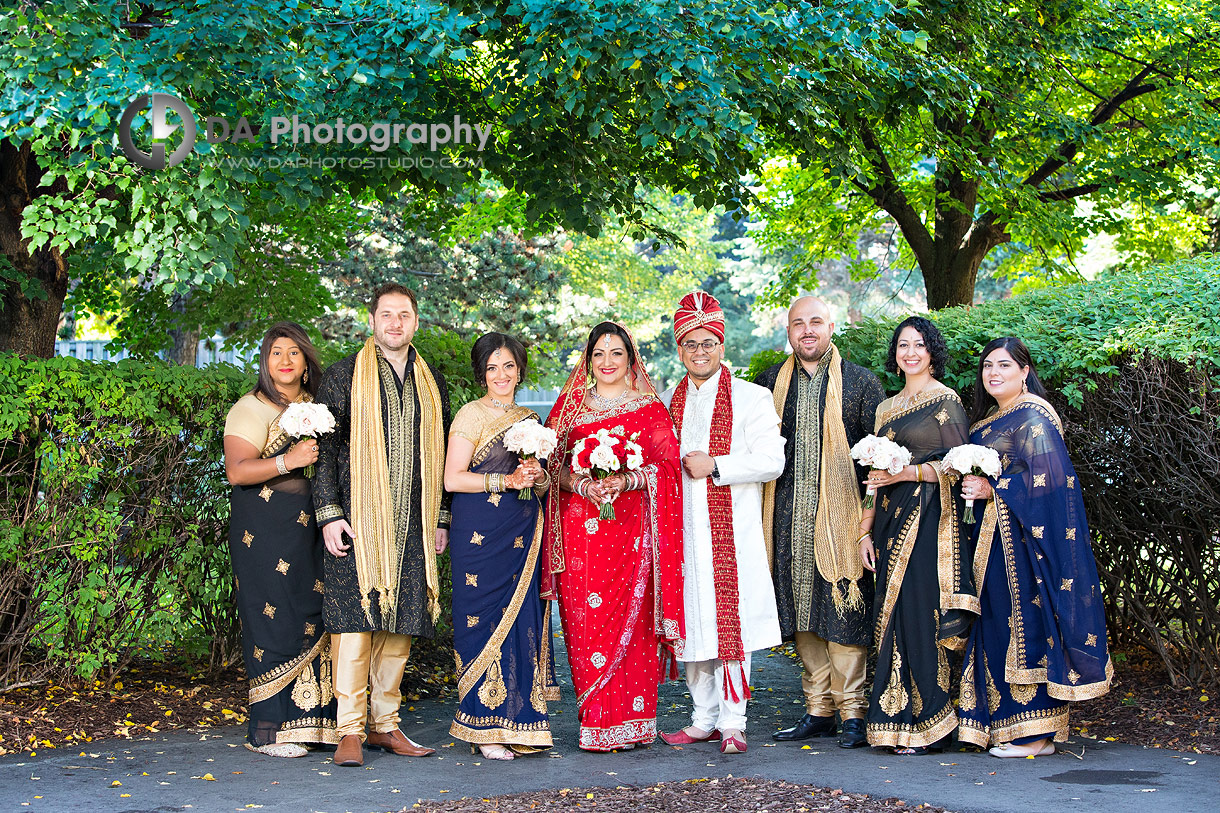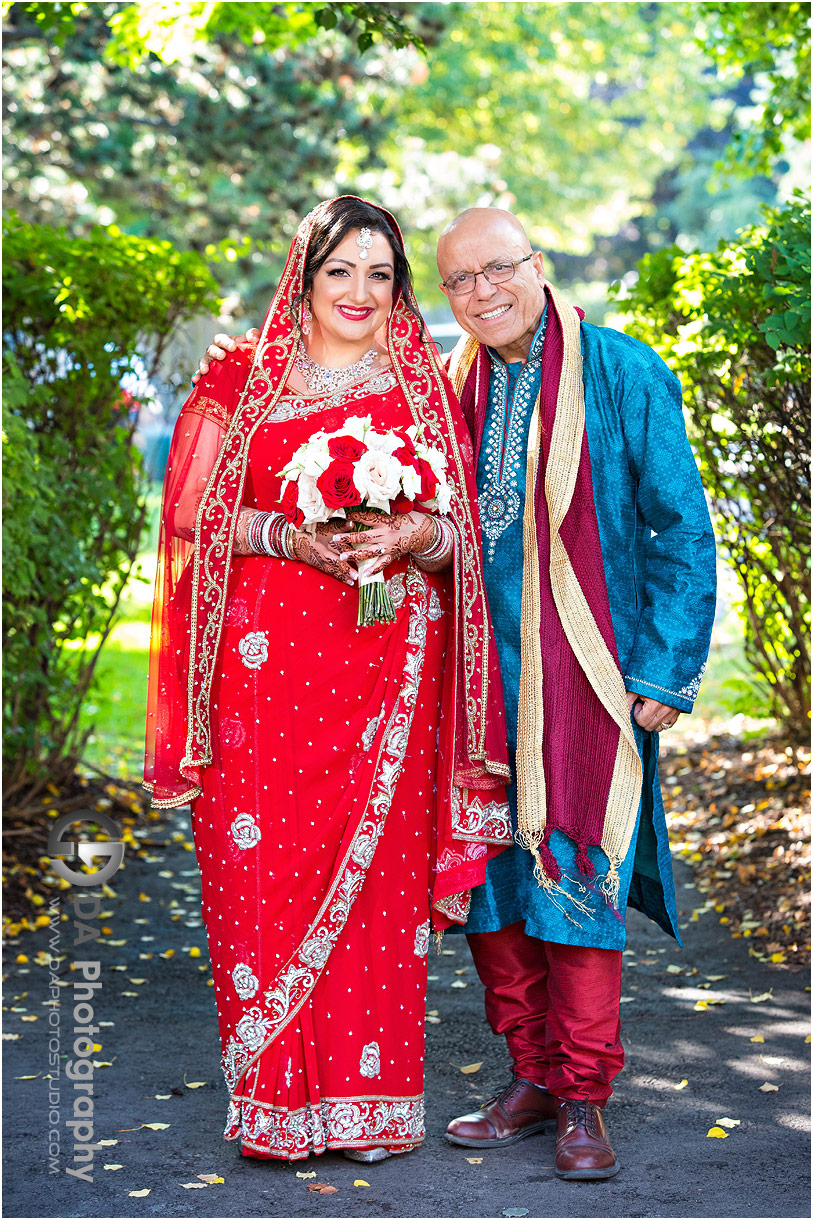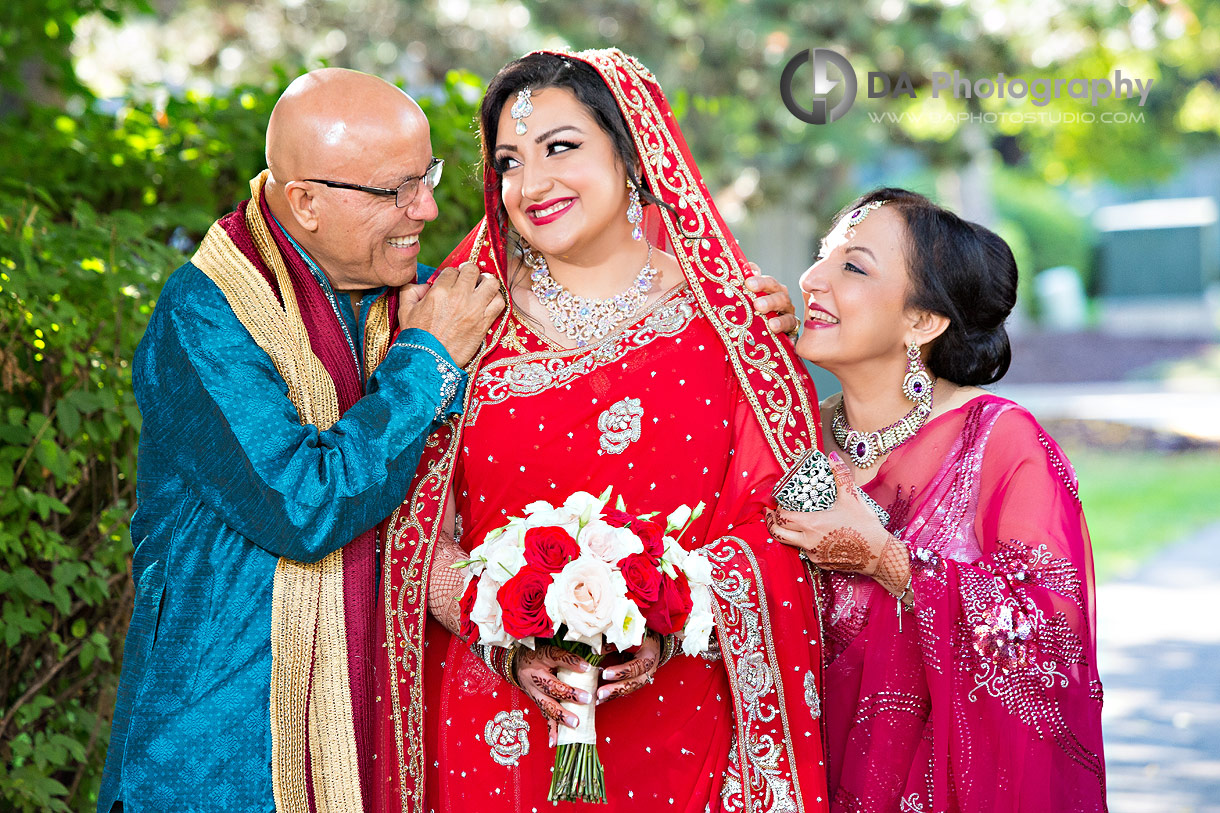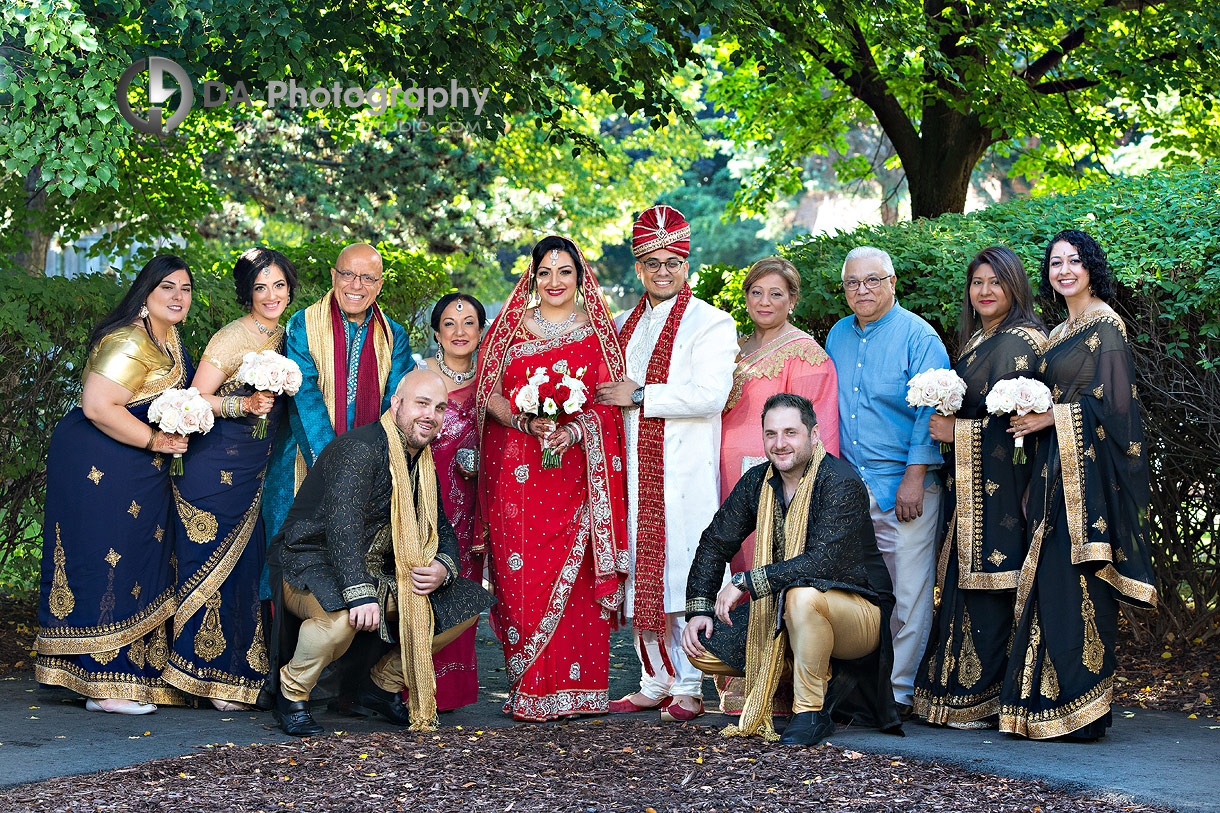 Hindu Temple Wedding Ceremony
As with my usual routine, I arrived first at the location to set up my lights and tackle any issues I can foresee before the wedding ceremony begins.
The temple's basement was very nicely set for the ceremony. There were huge windows on both sides that could have emitted some beautiful available light. However, the blinds fully covered them and closed off the light which prevented this. On top of being dark, the blinds were red which in turn made everything else in the basement look red too. Thankfully, I was able to get permission to open the blinds and we benefitted from that irreplaceable available sunlight!
The ceremony was spot on. Perfectly executed by the Hindu priest, pandit-pujari which I had a chance to work many times in the past. With that excellent light we uncovered, I shifted my focus to the event and my need to document the real wedding story for my couple.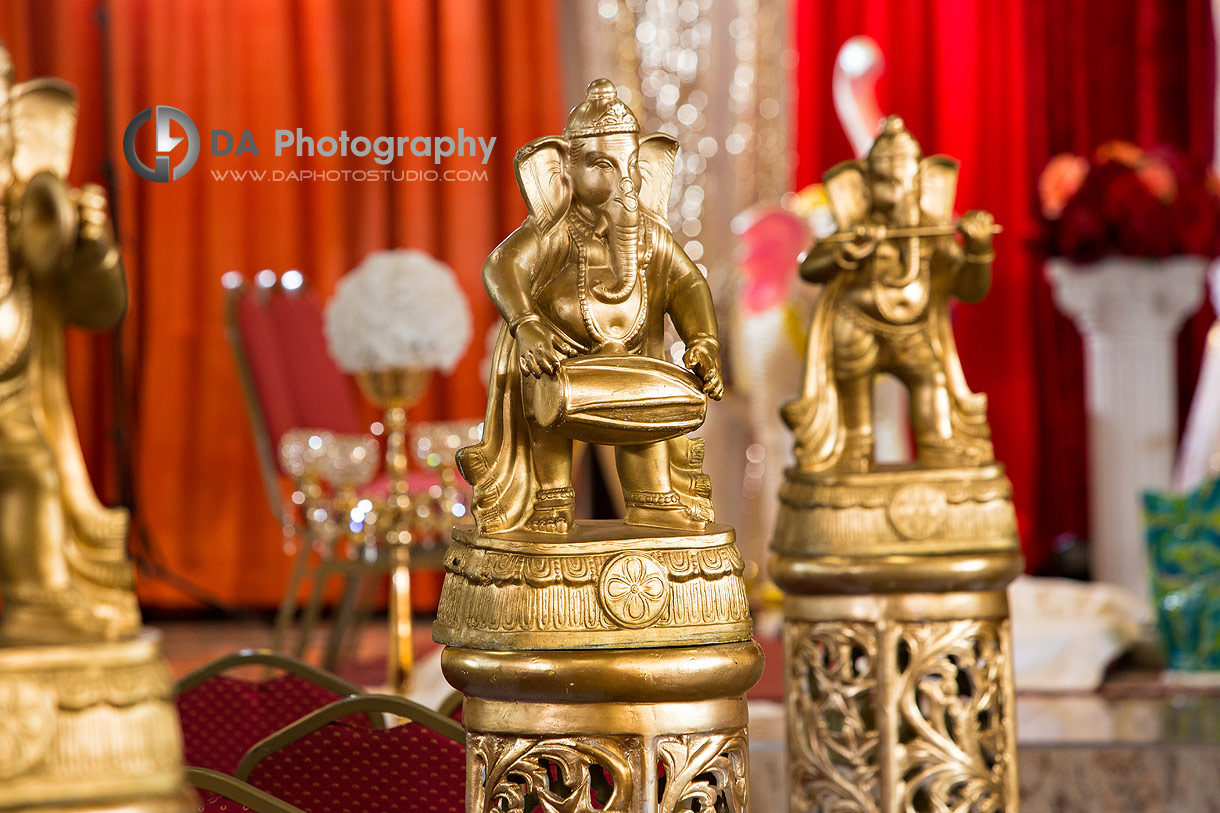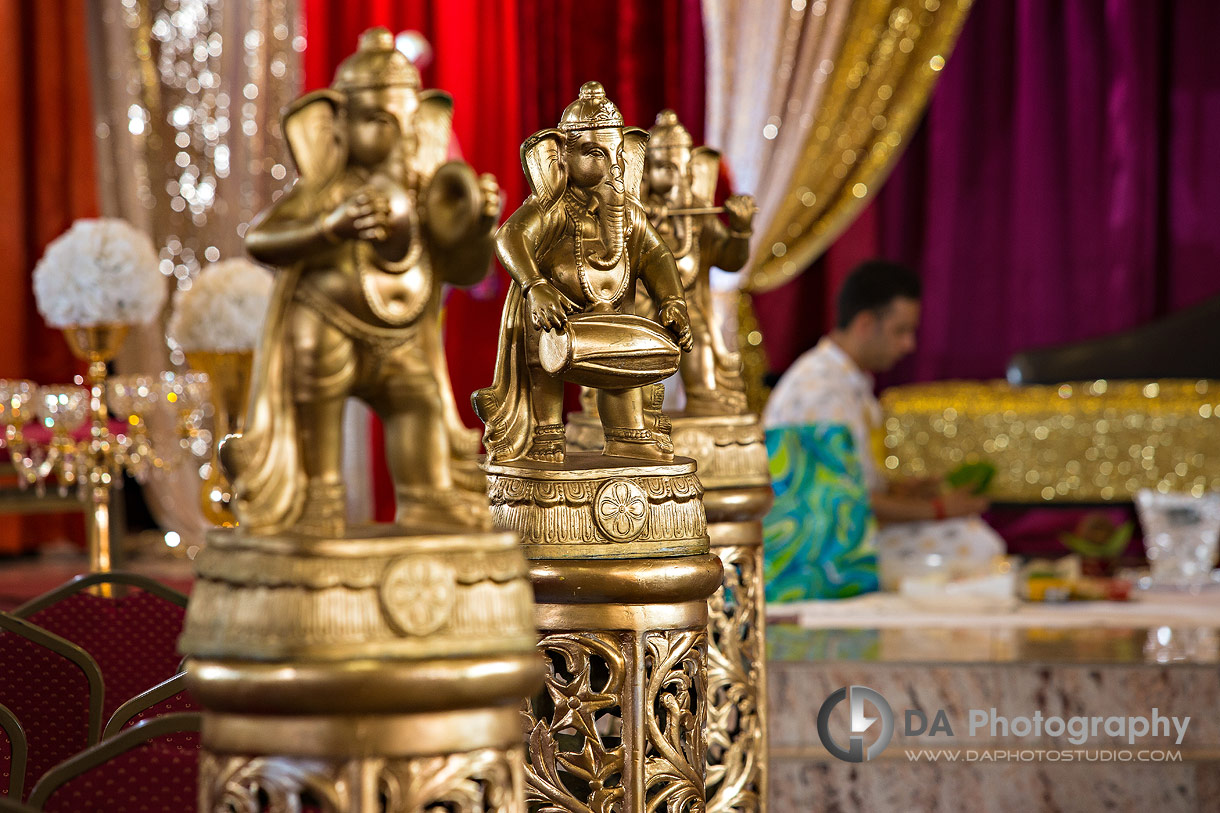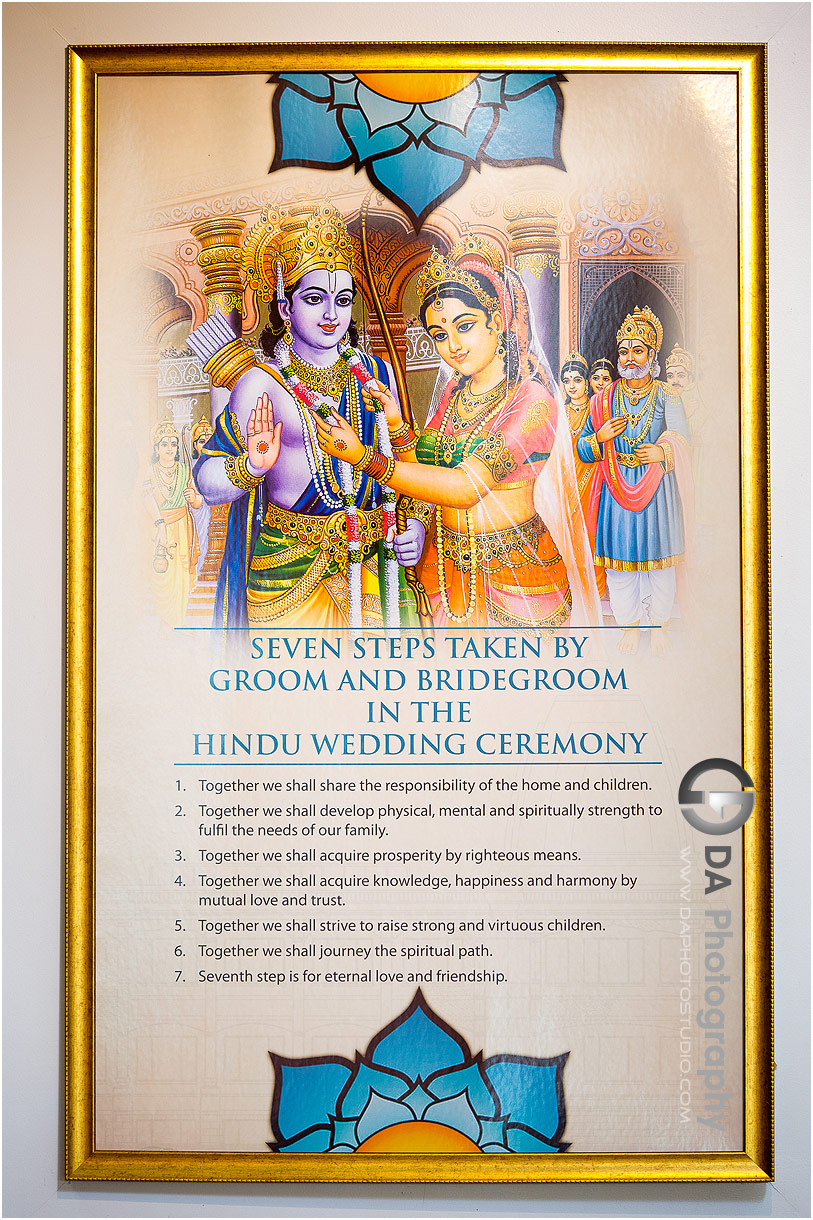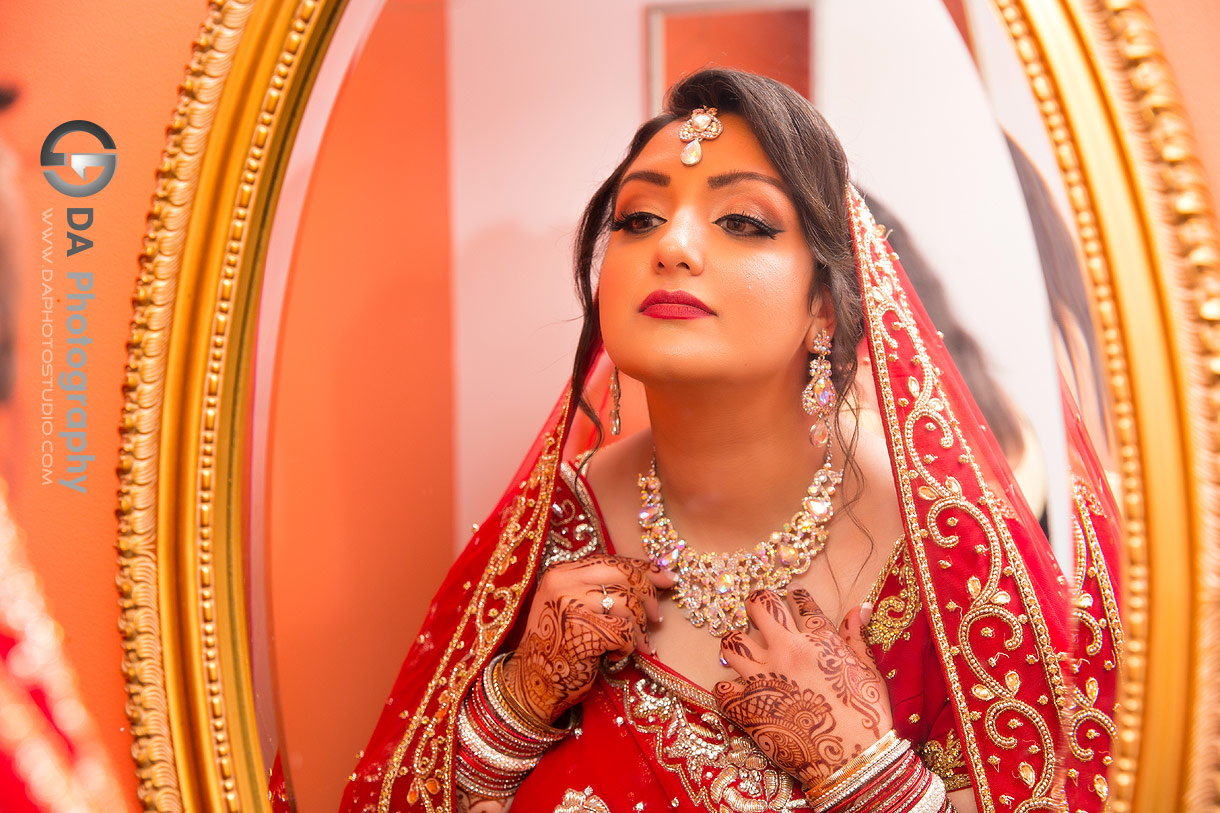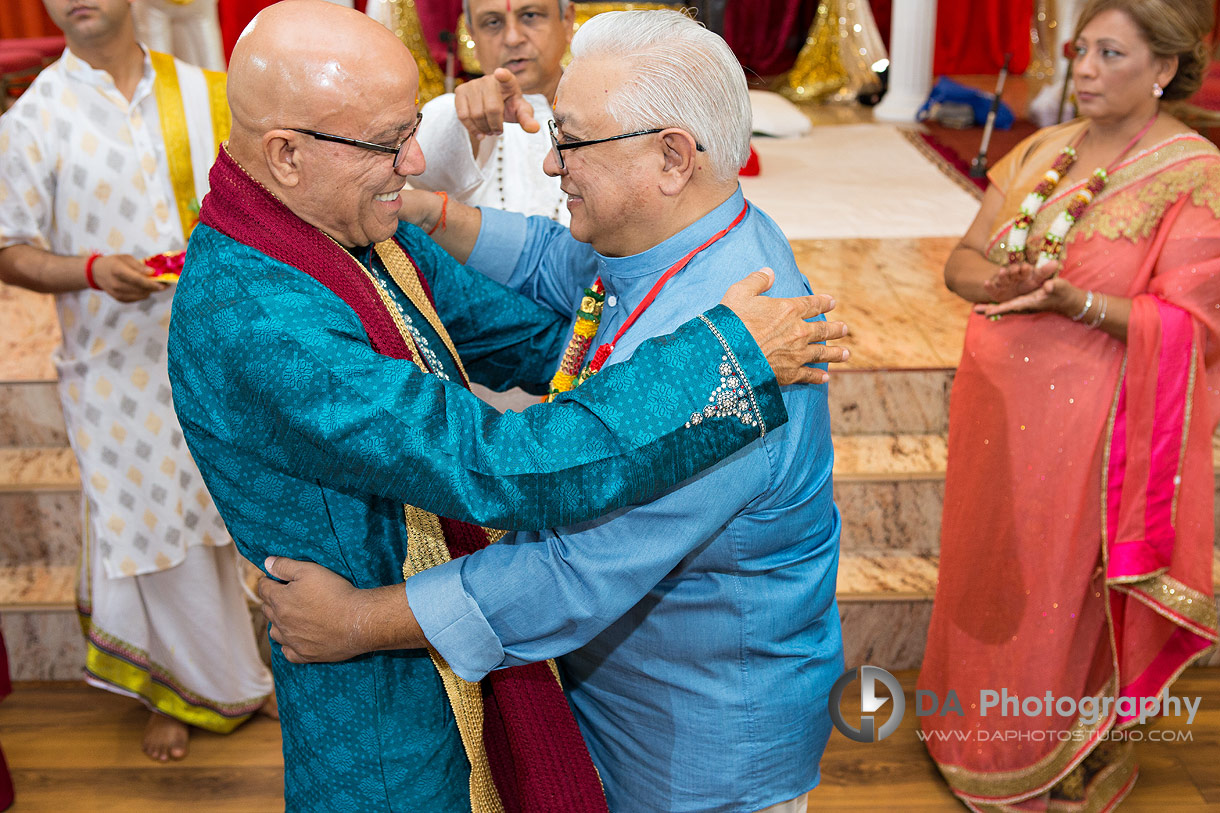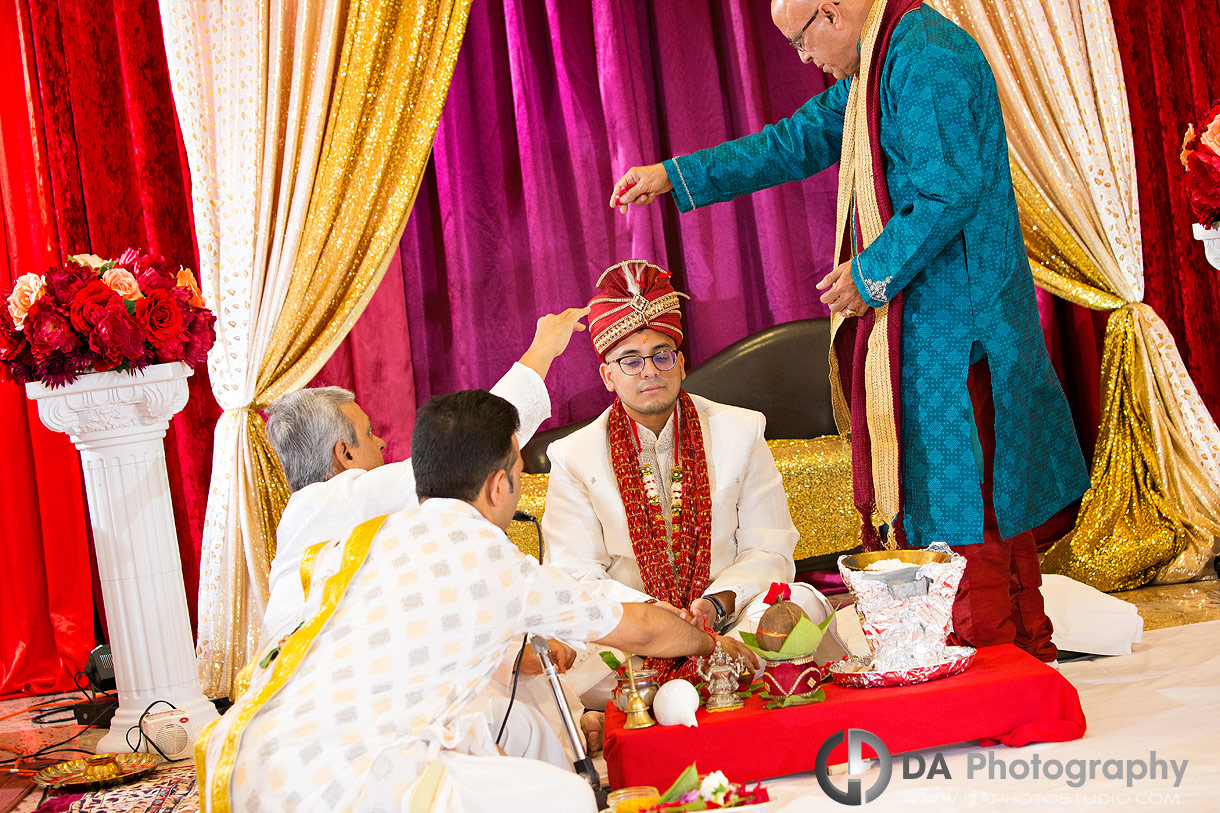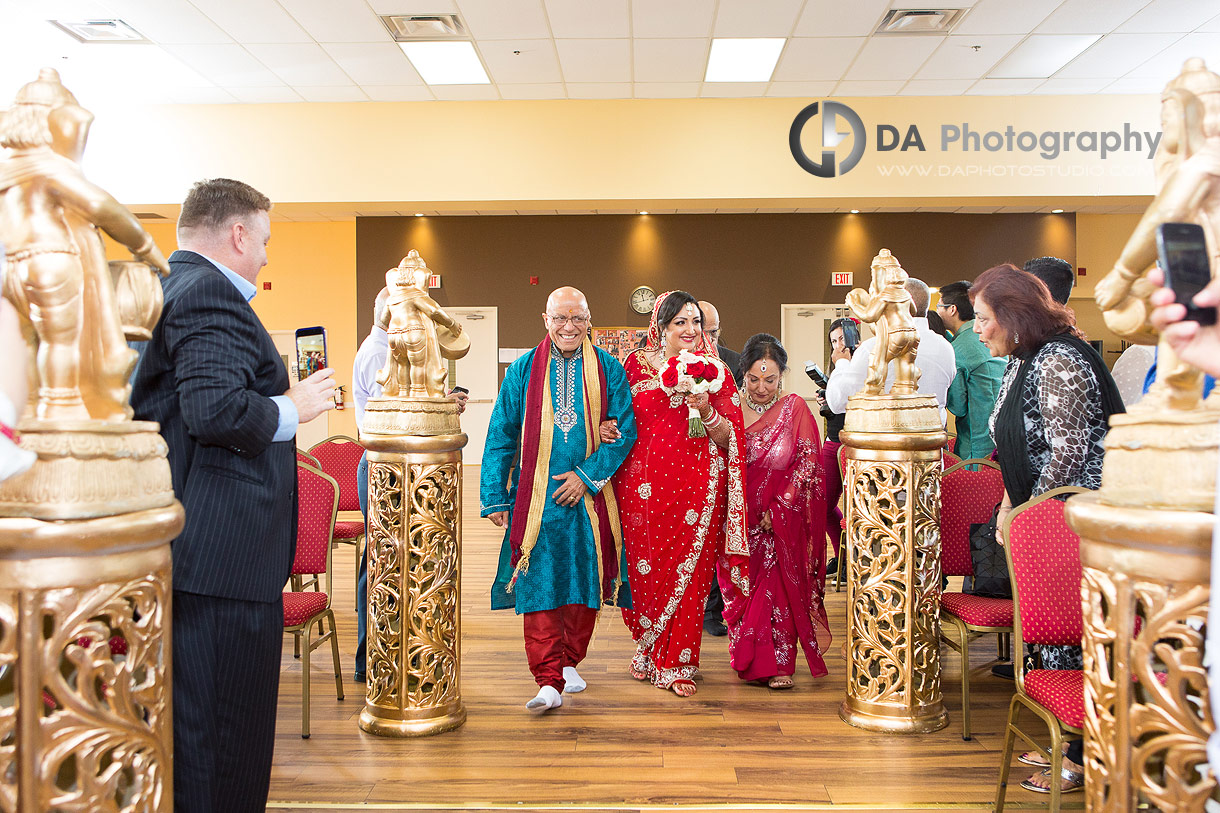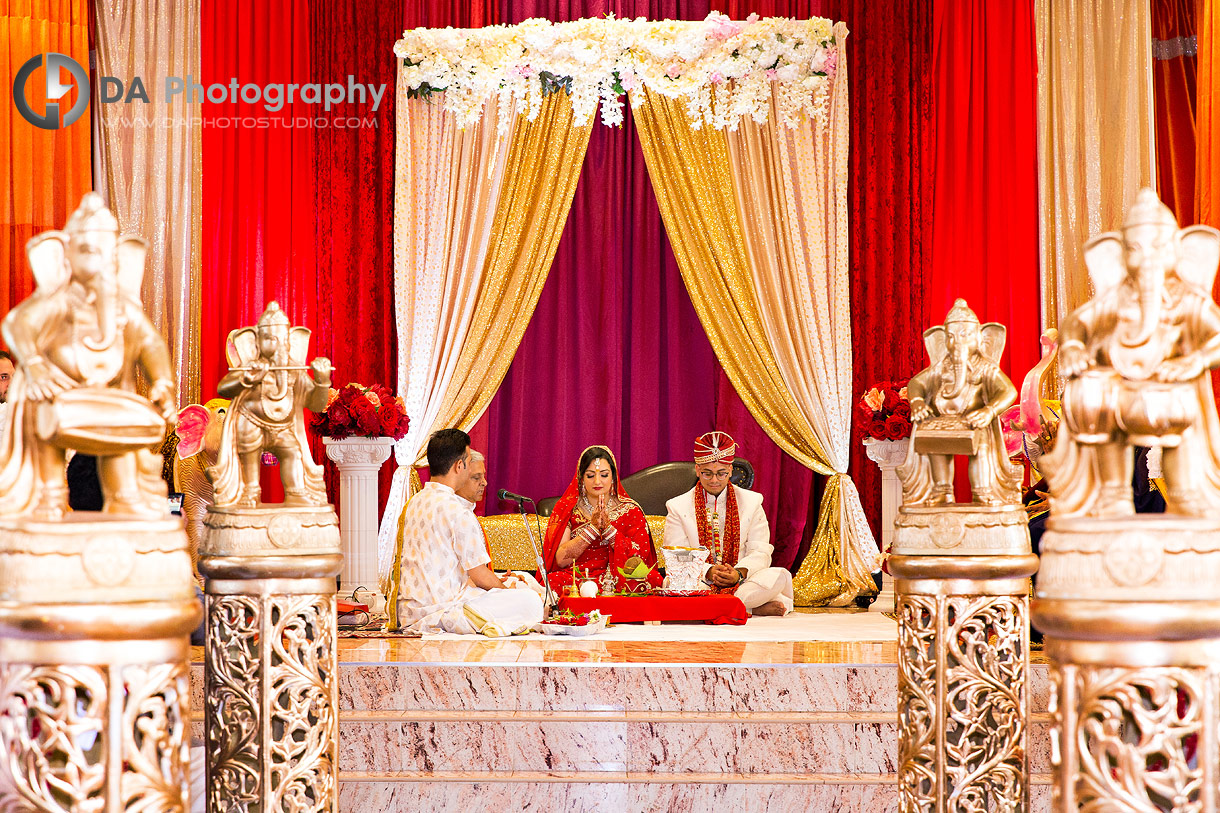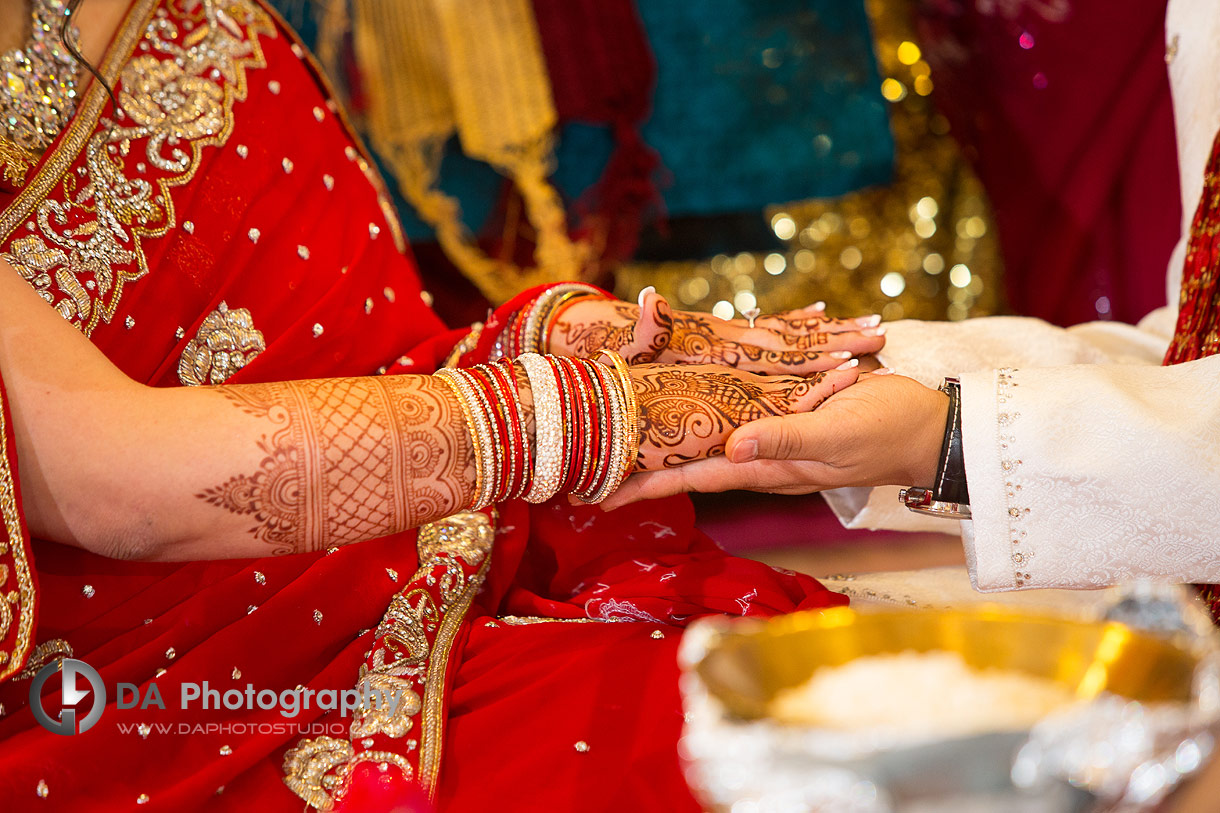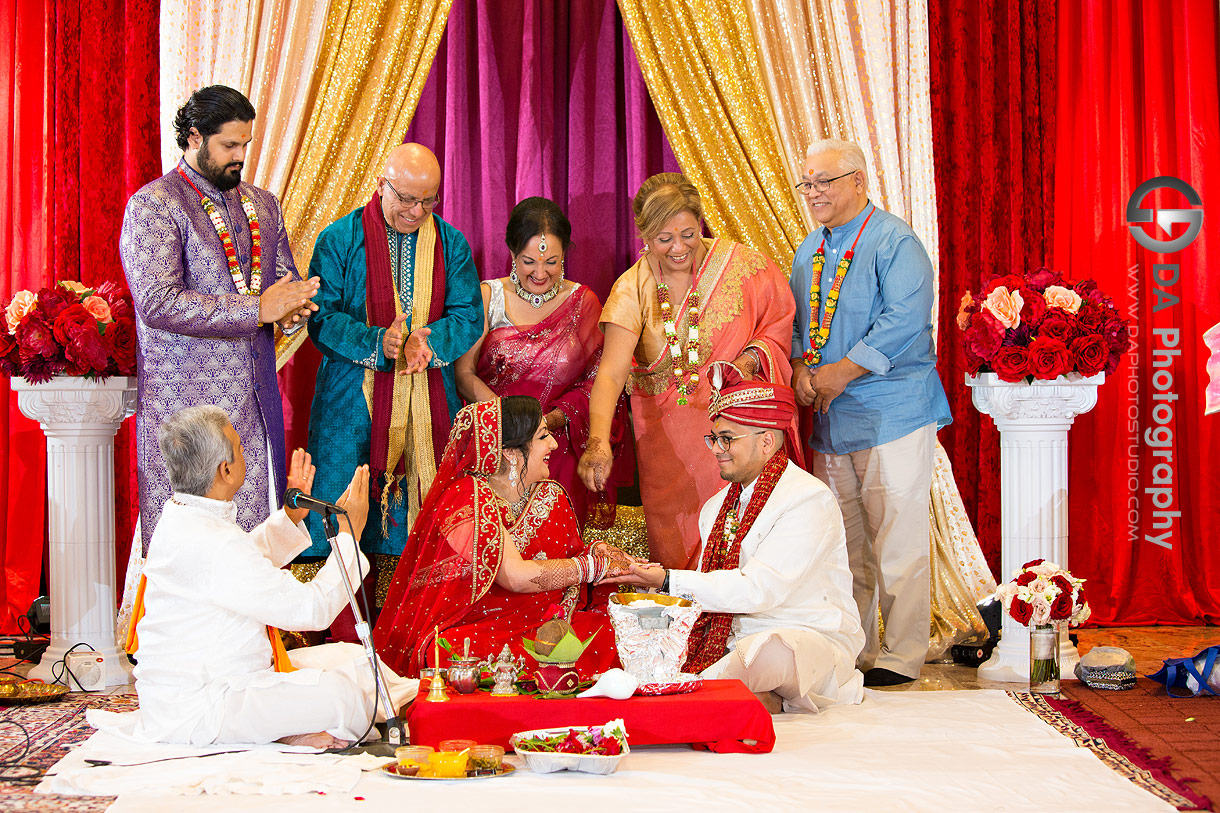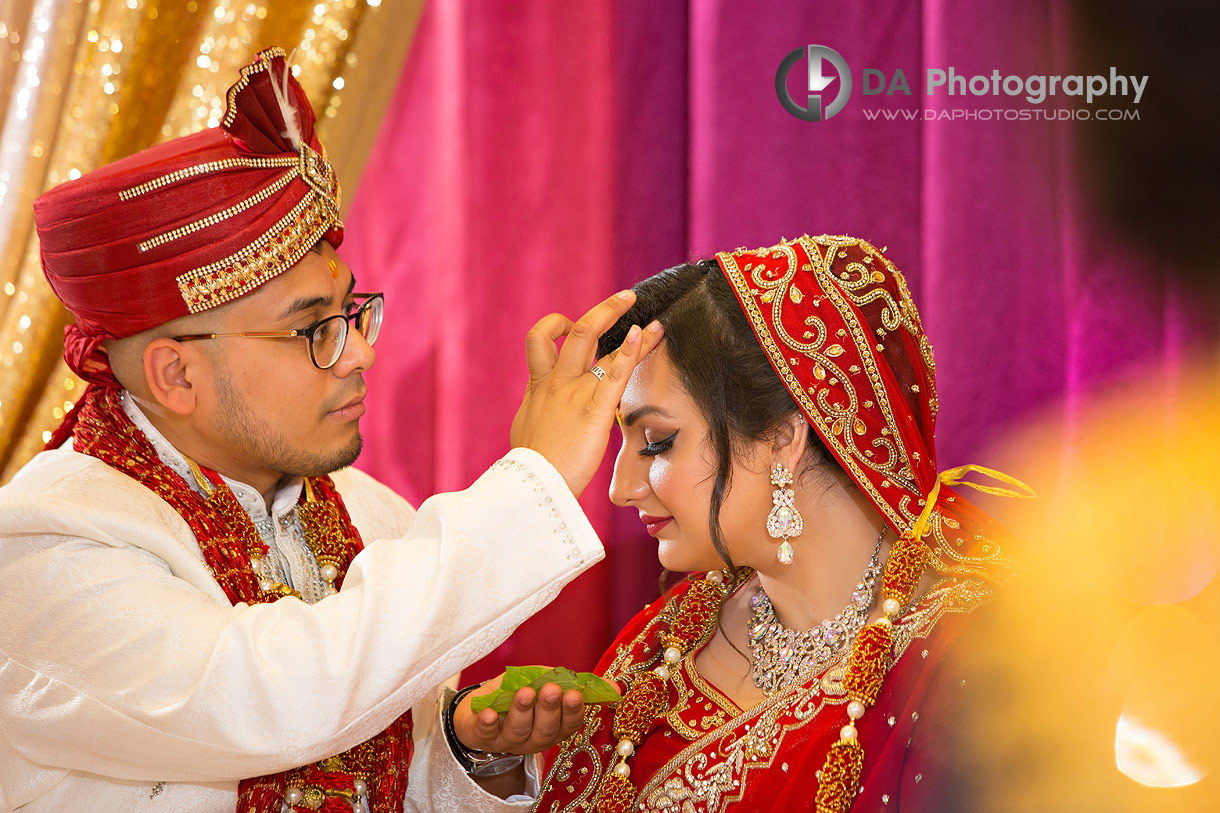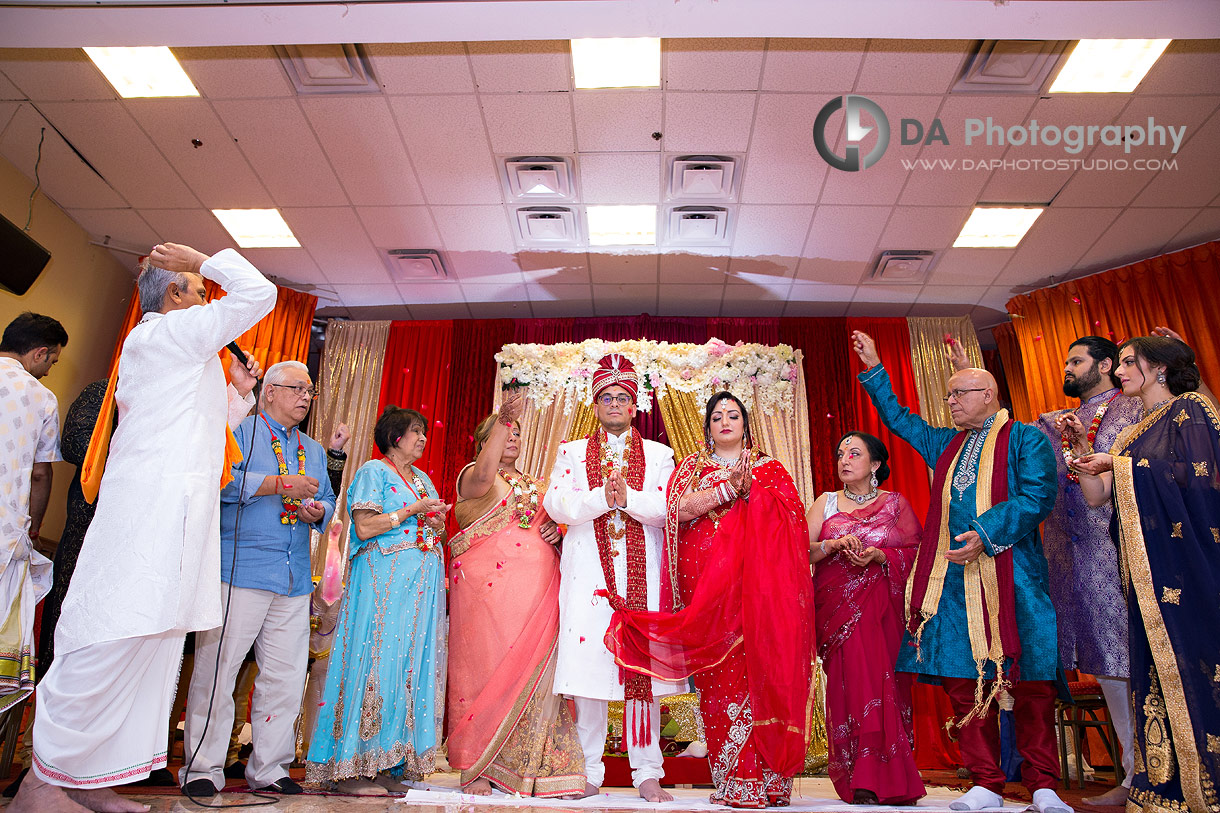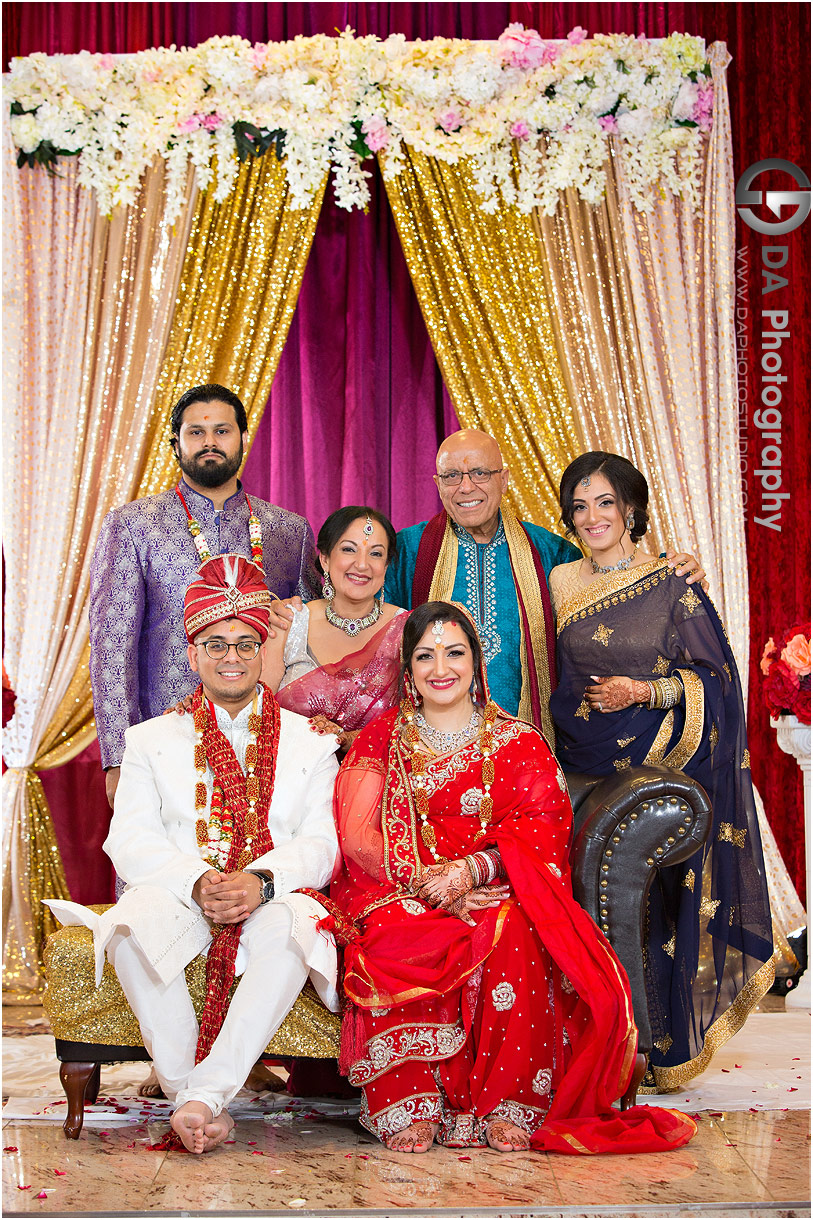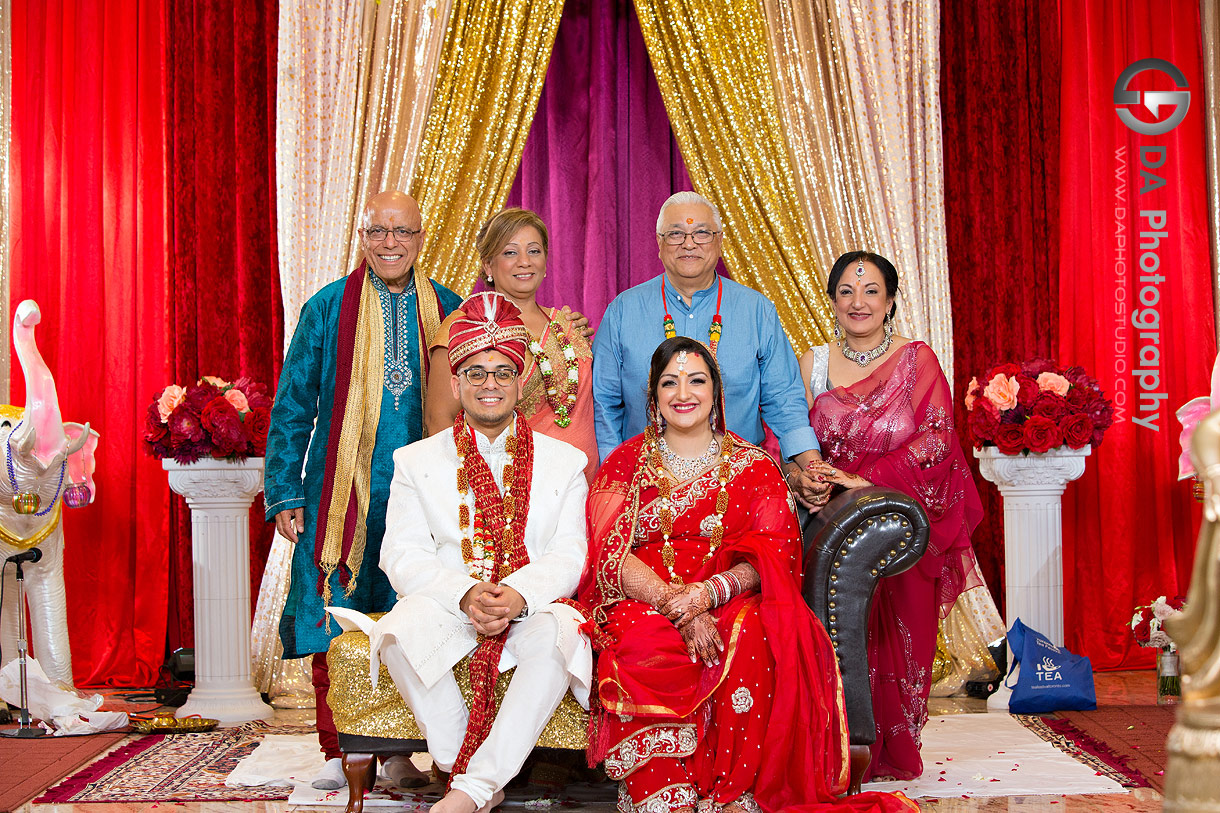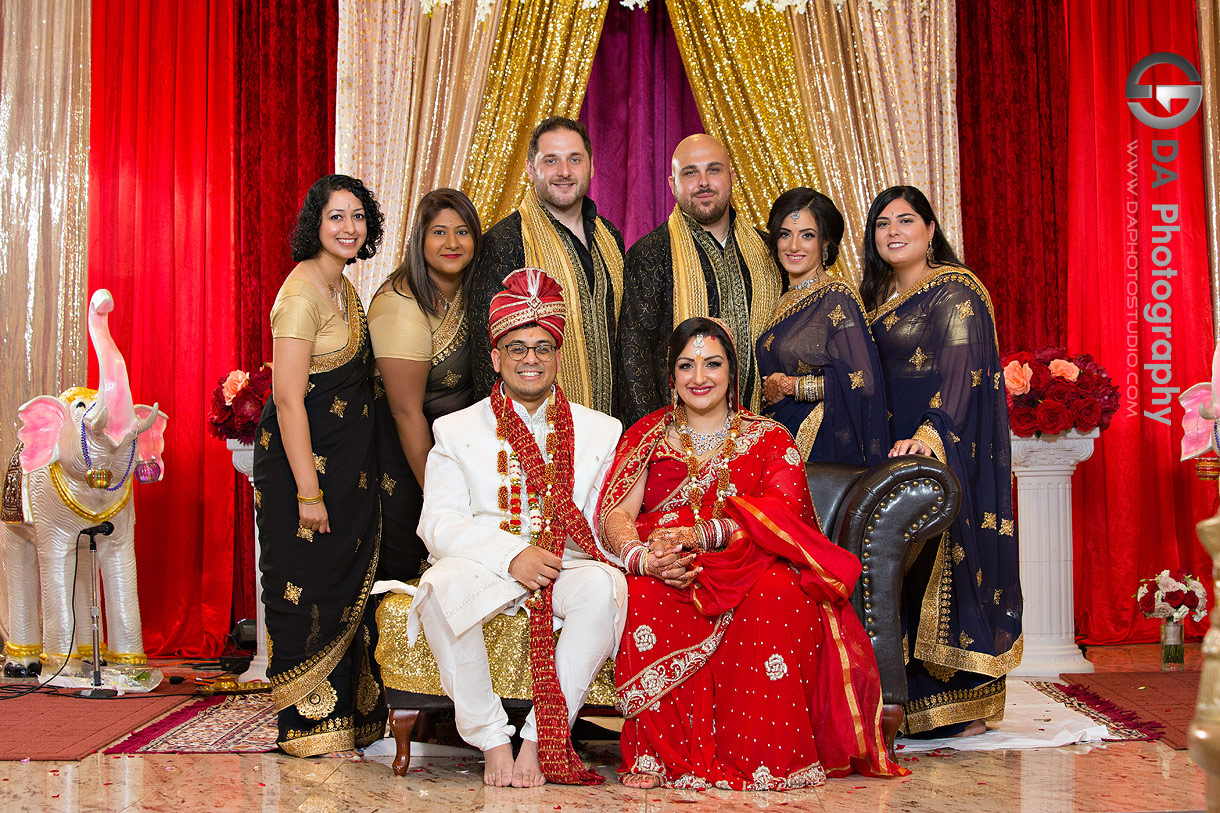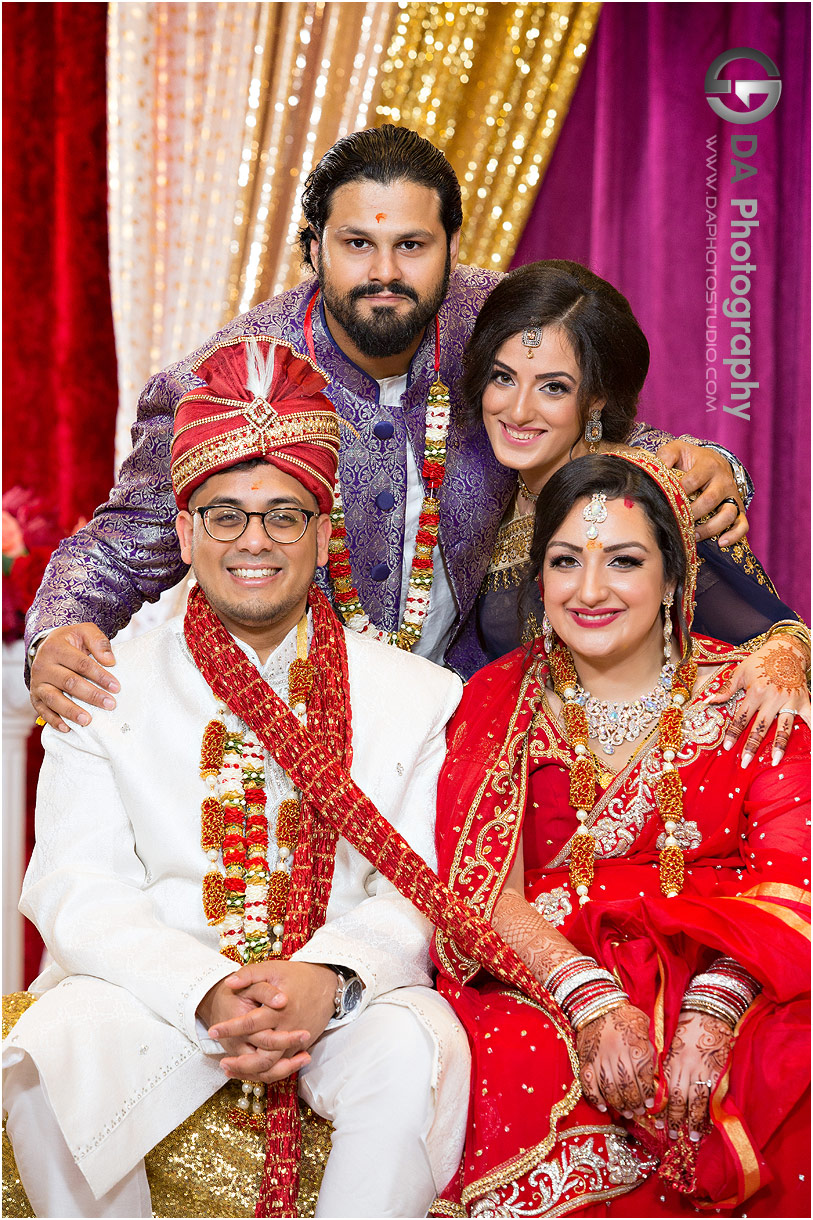 Afterward, we finished the group images while Julie and Alem sat on two huge chairs on the stage of the mandir. After lunch, we went outside the temple together for another 5 minutes or so. I really wanted to showcase the location and get some creative images for their memories of this event. After successfully achieving this, I left them to enjoy the rest of their time celebrating with their guests.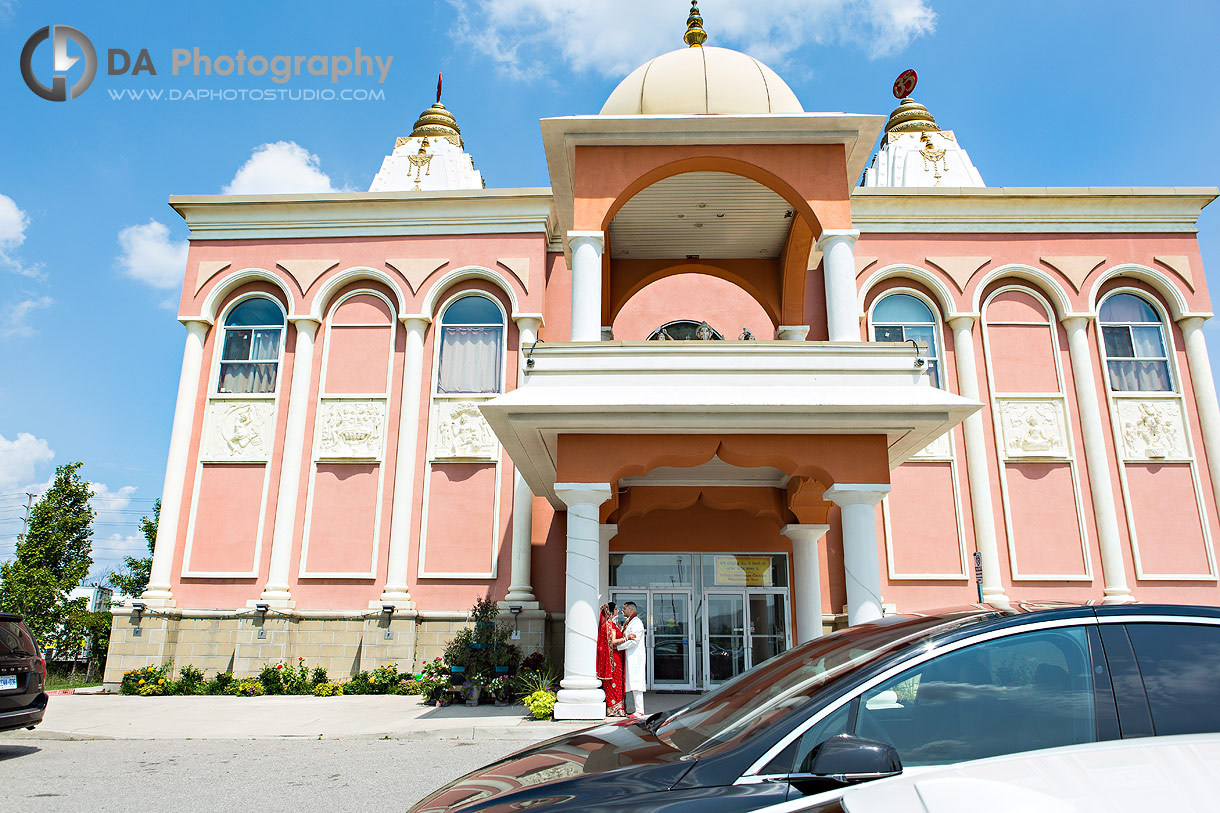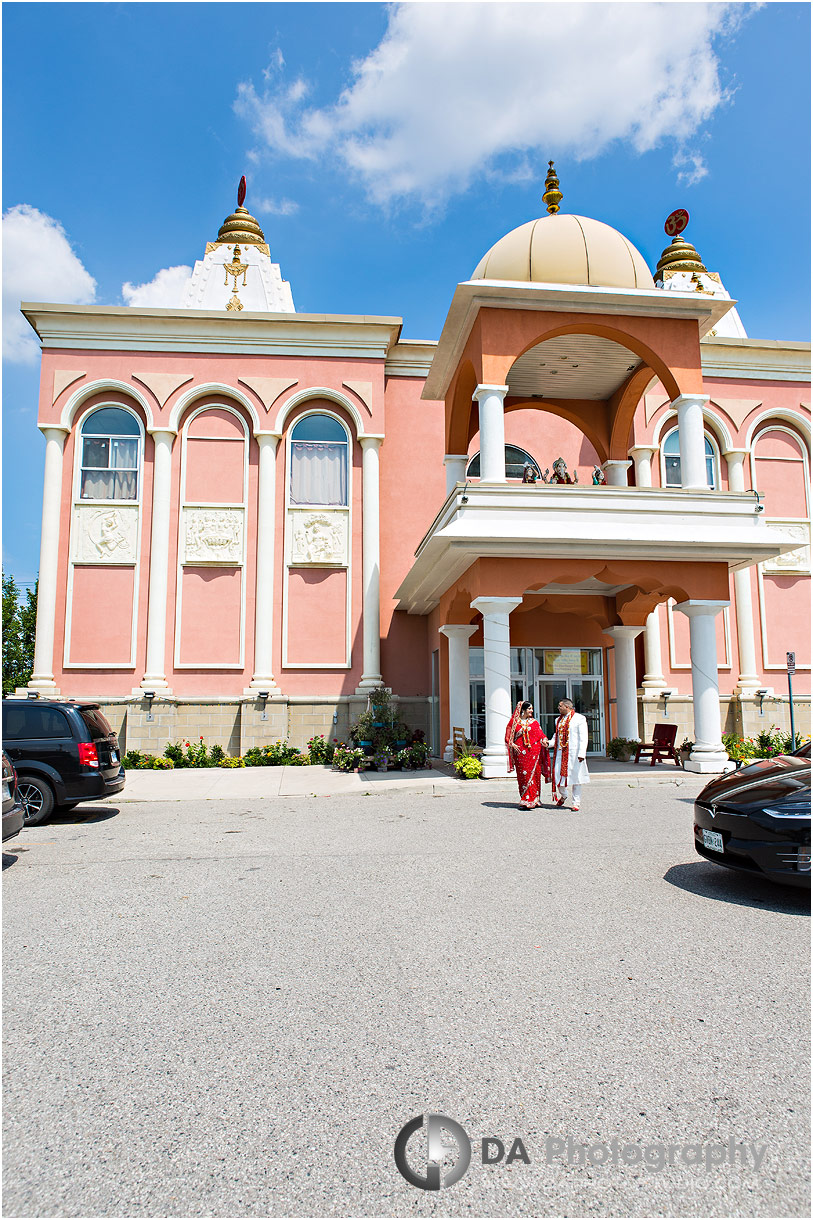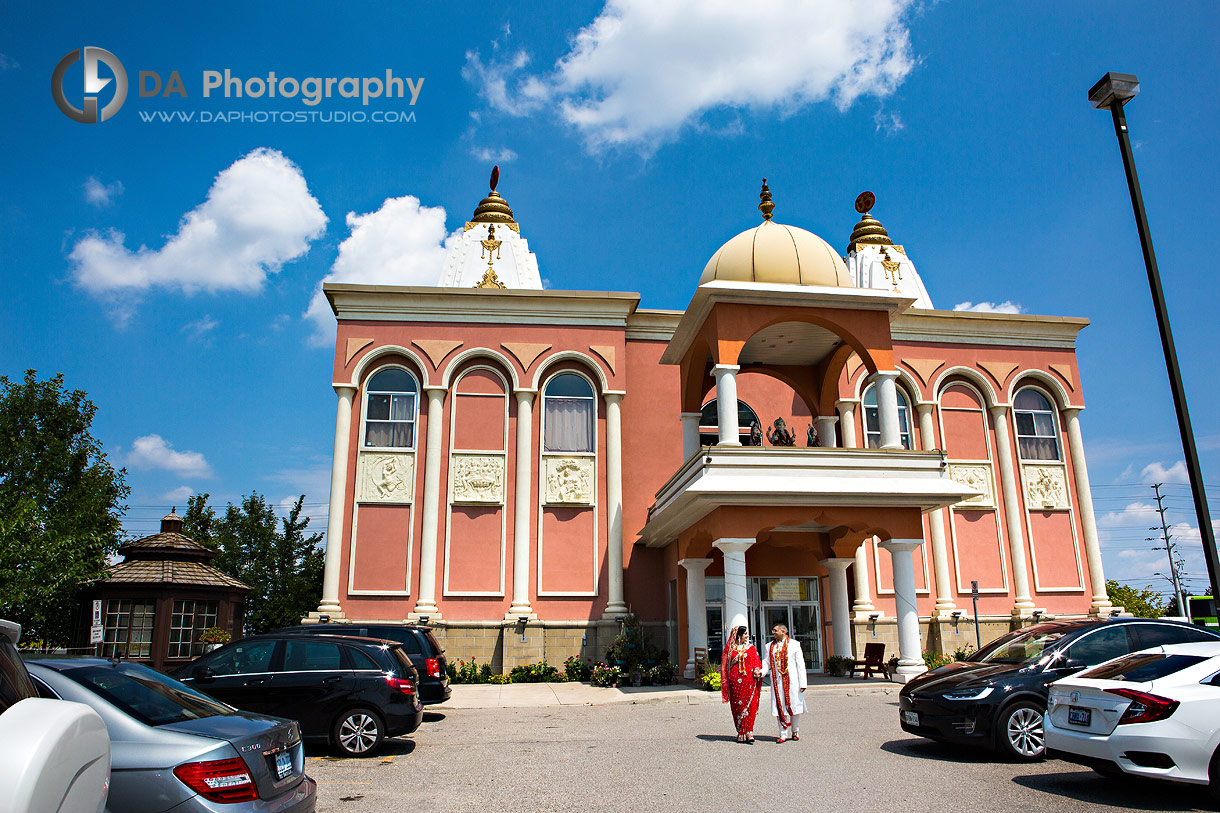 Credits to below wedding professionals and locations that helped Maggie and Dan's wedding to be one of a kind.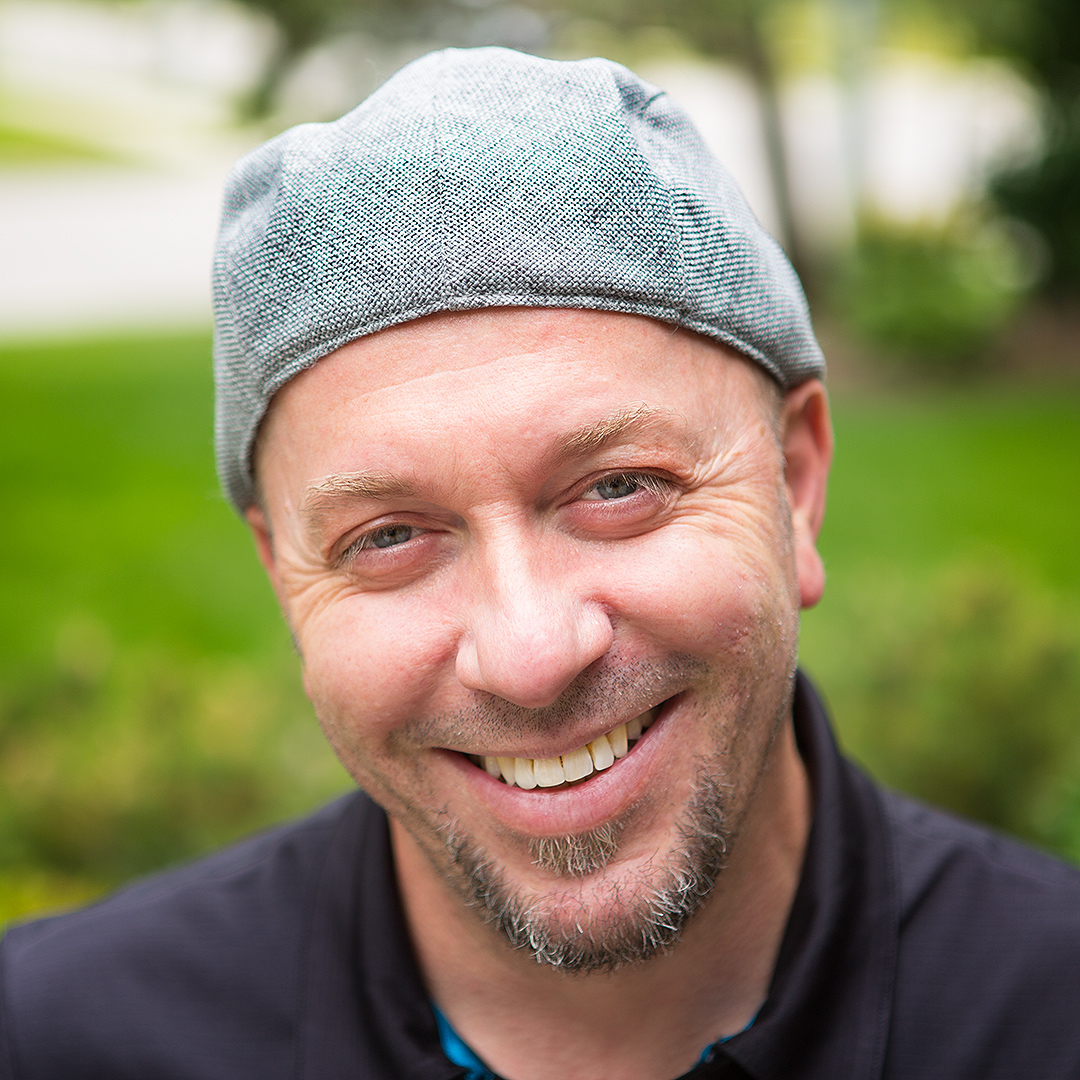 My passion and biggest asset is taking the time to make every client comfortable and relaxed before I even pick up the camera. The result? Photos of you that actually look like you at your best! I can prove to you how much you can enjoy having your picture taken. Lifestyle photography is about the experience that happens to be served up along side of some great photos.
Specialties:
Family Photography for families that like to move around and enjoy their photo time, Wedding Photography for couples looking for a mixture of photojournalistic, contemporary and traditional images and Professional Corporate headshots that are far from cheesy and stiff.