If you can get through planning a wedding without breaking down, then the chances are you will get through anything life throws at you as a couple. Wedding planning and trying to please family members can crumble the strongest of characters. Frances and Rob planned their Toronto fall wedding and left no stone unturned. This resulted in the most relaxed couple I have ever seen. The beauty of following these three easy steps is that a stress-free environment on the day guarantees everyone's relaxed. The vendors can then maximise on their creativity rather than worrying about calming the couple's nerves.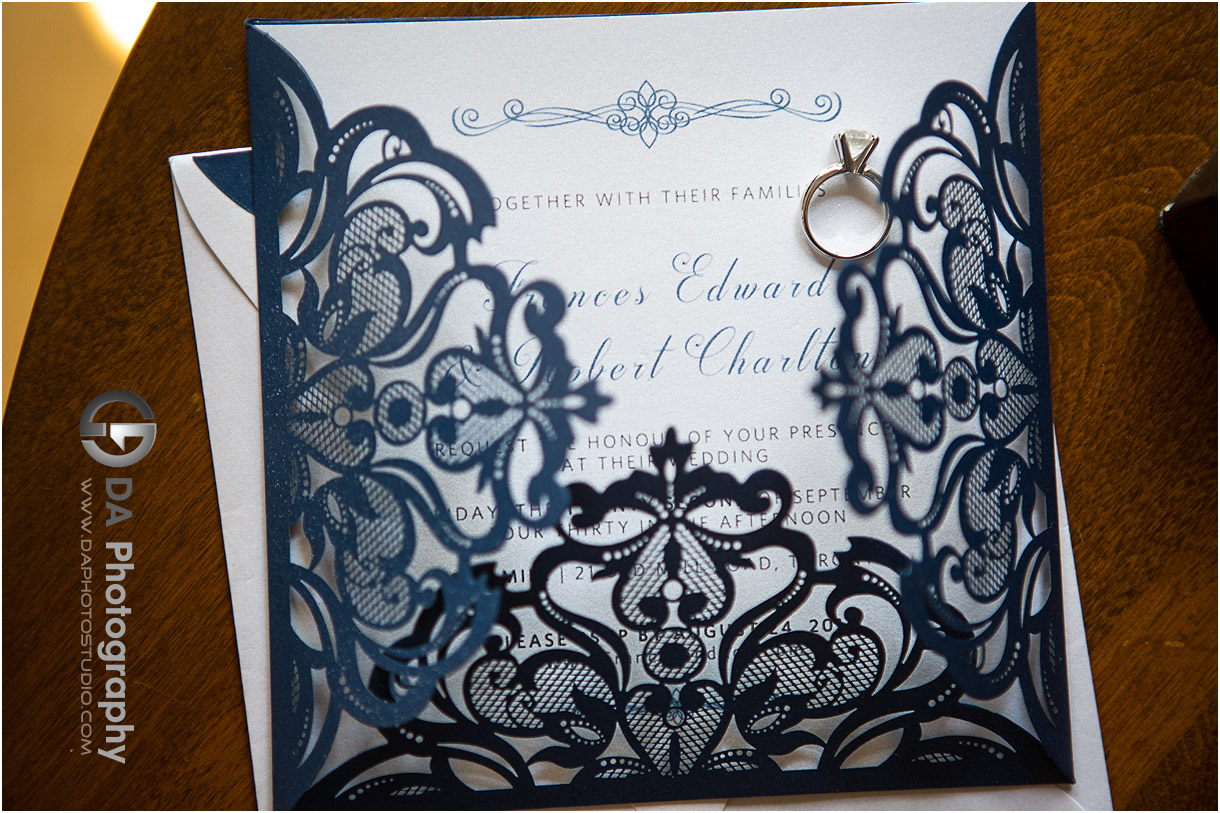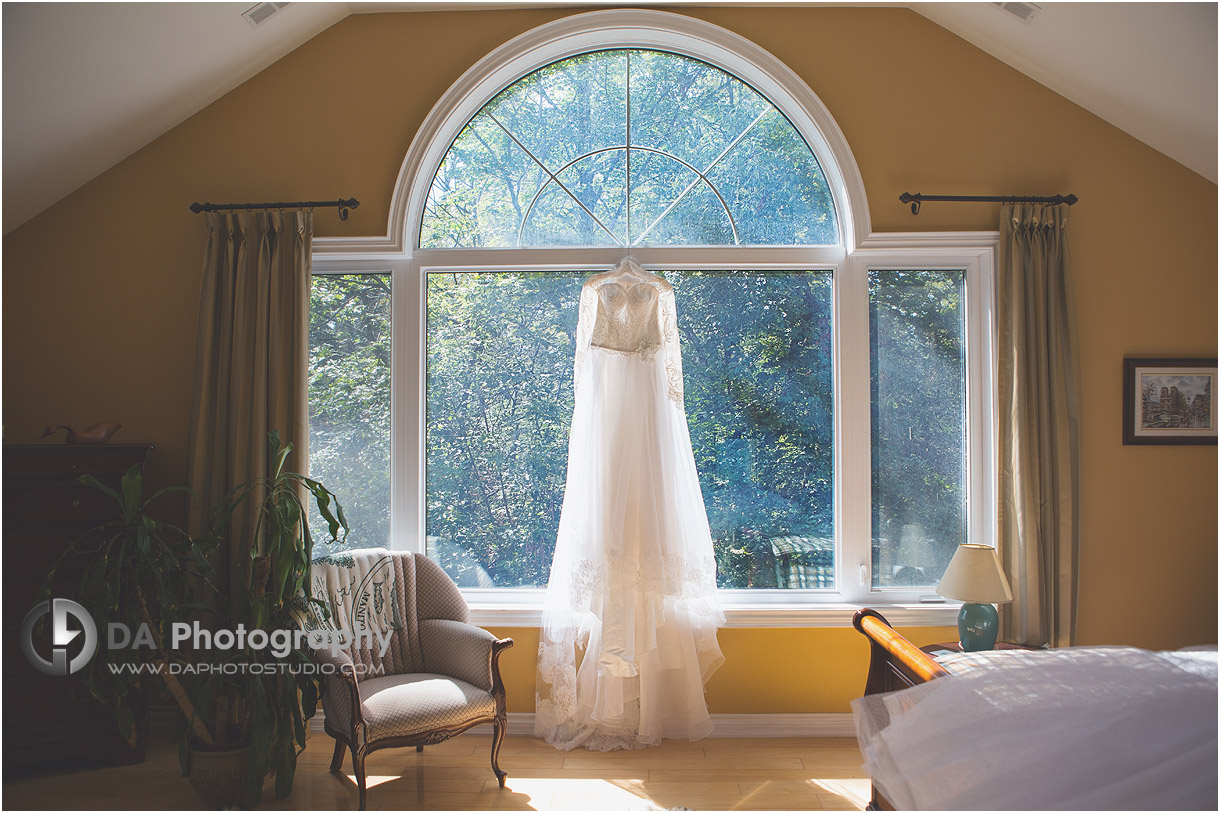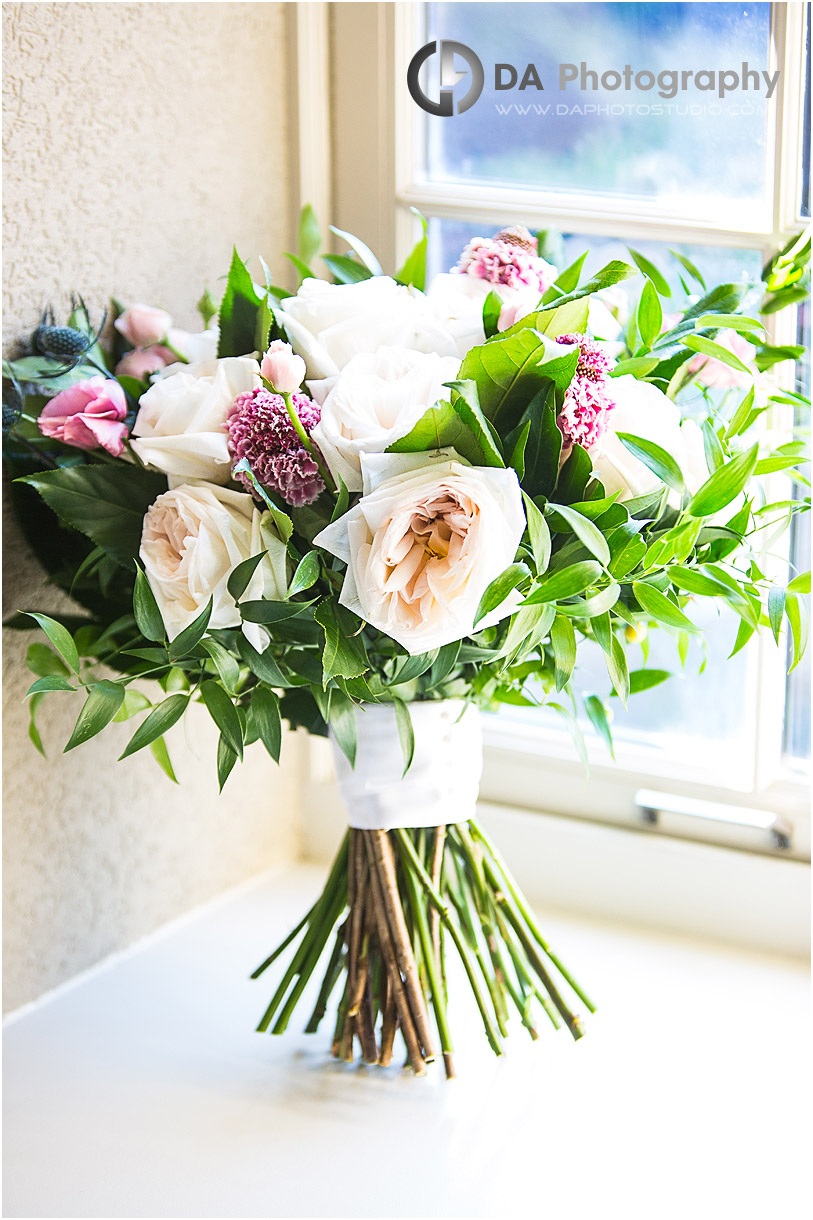 Create a colour palette
It sounds simple, but you'd be surprised how many people assume it's their vendors responsibility to match their colour. By creating a colour palette, you are in charge of a designated colour scheme and can choose complementary tones. By having a specific colour guide, there will be no discrepancy and you can link various shades throughout the wedding. Wedding attire, flowers, accessories, favours and finishing touches at the reception result in a well executed and thought out event.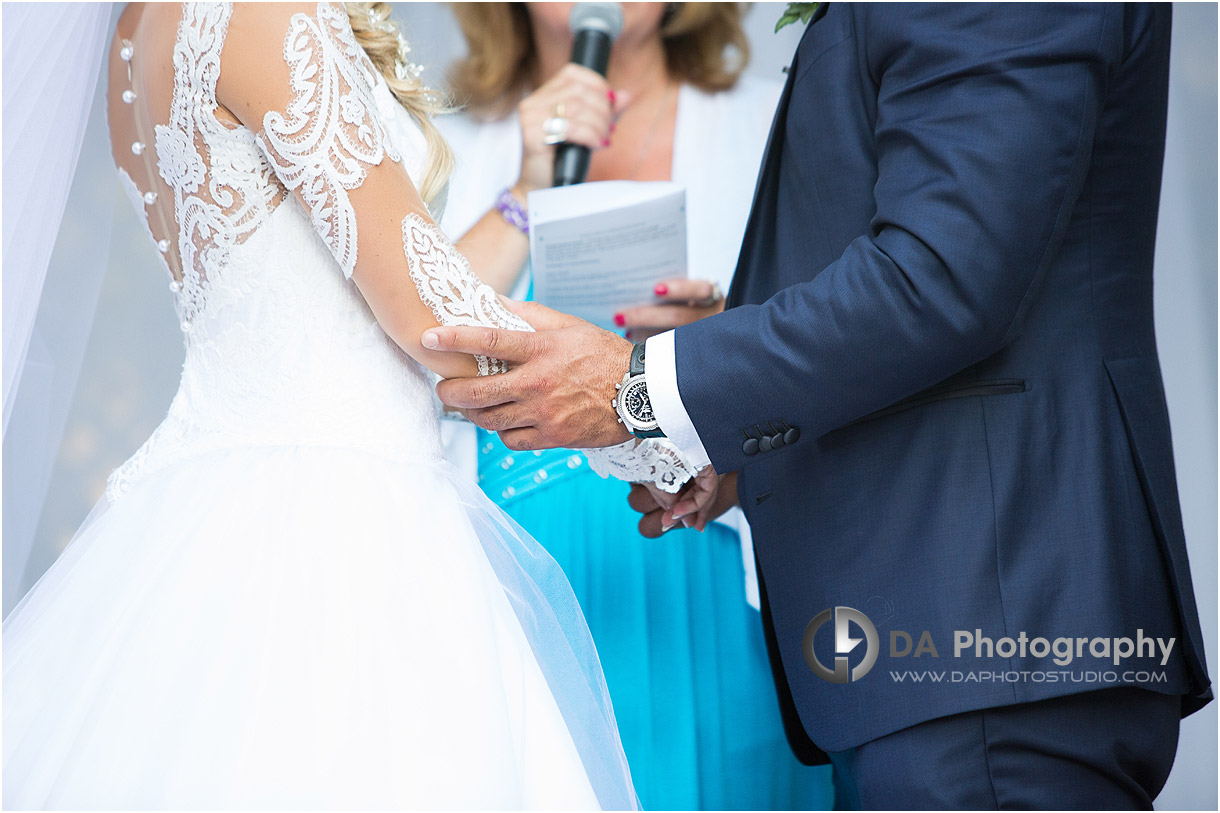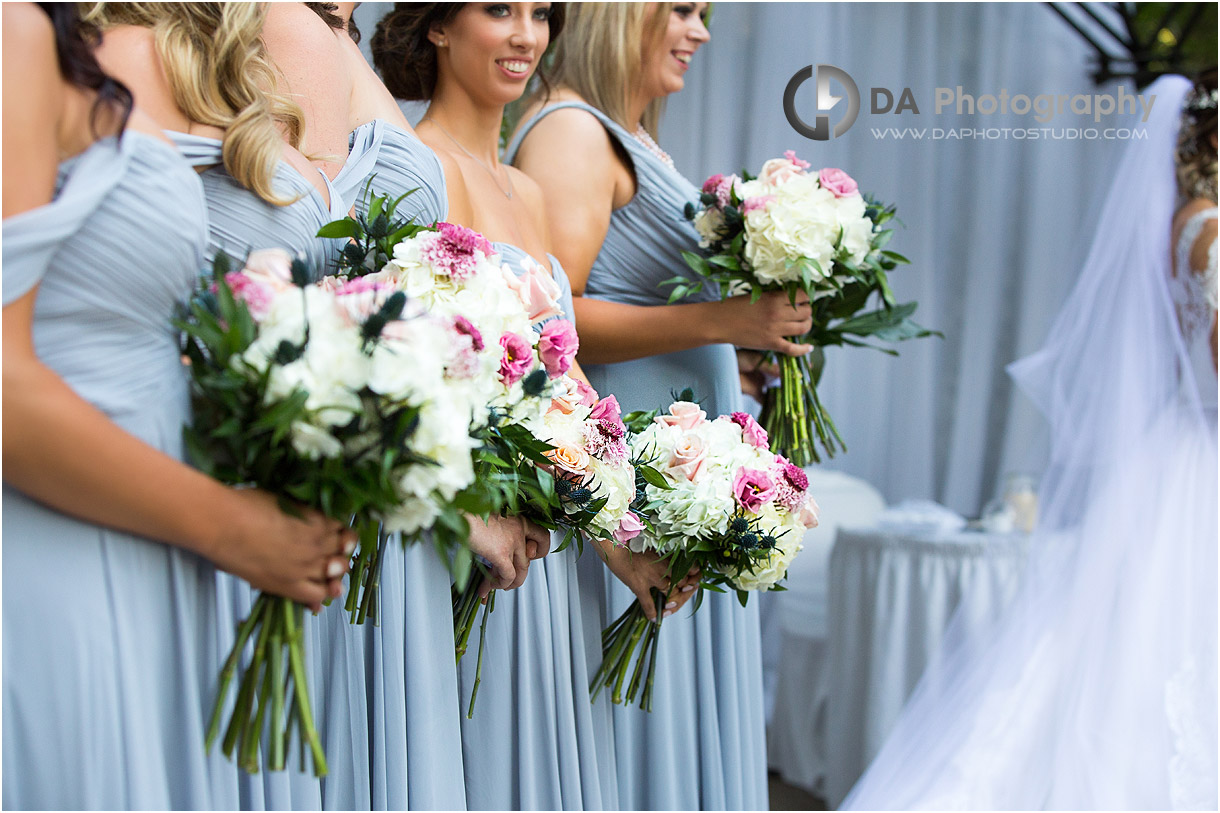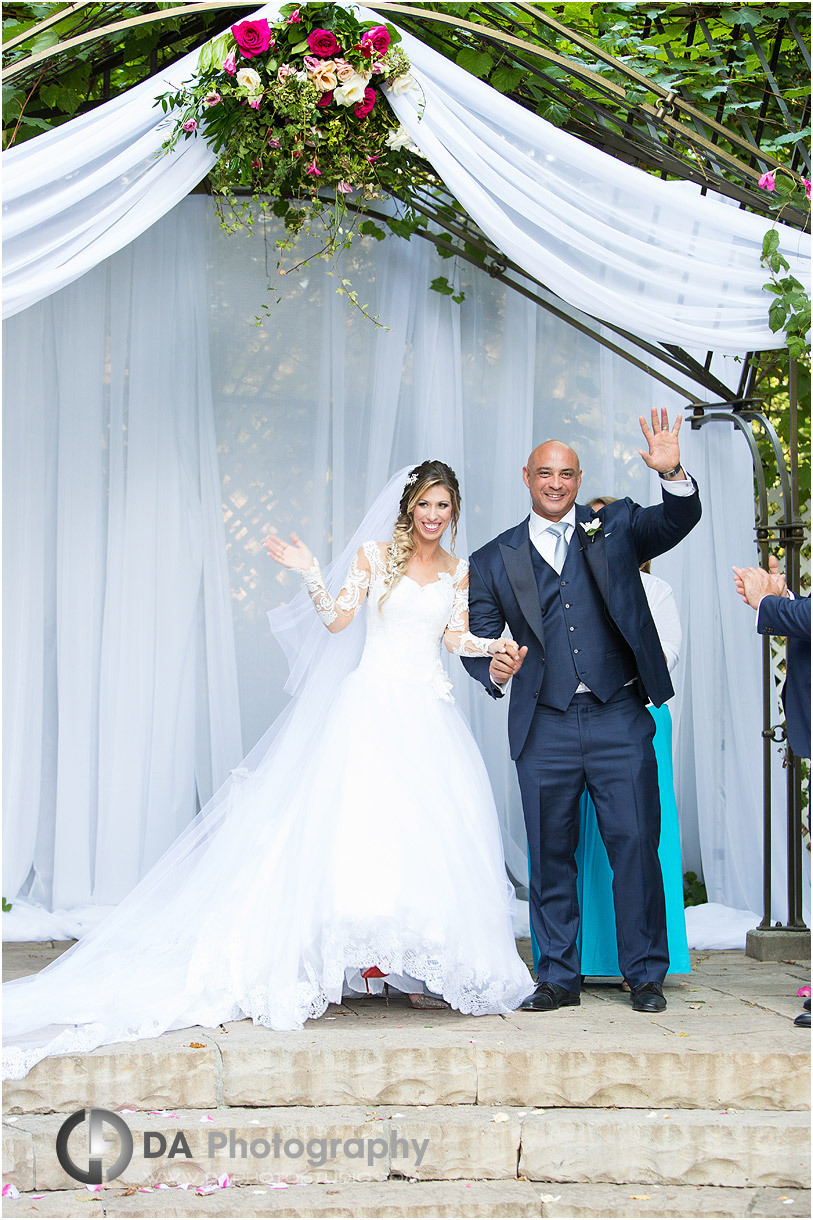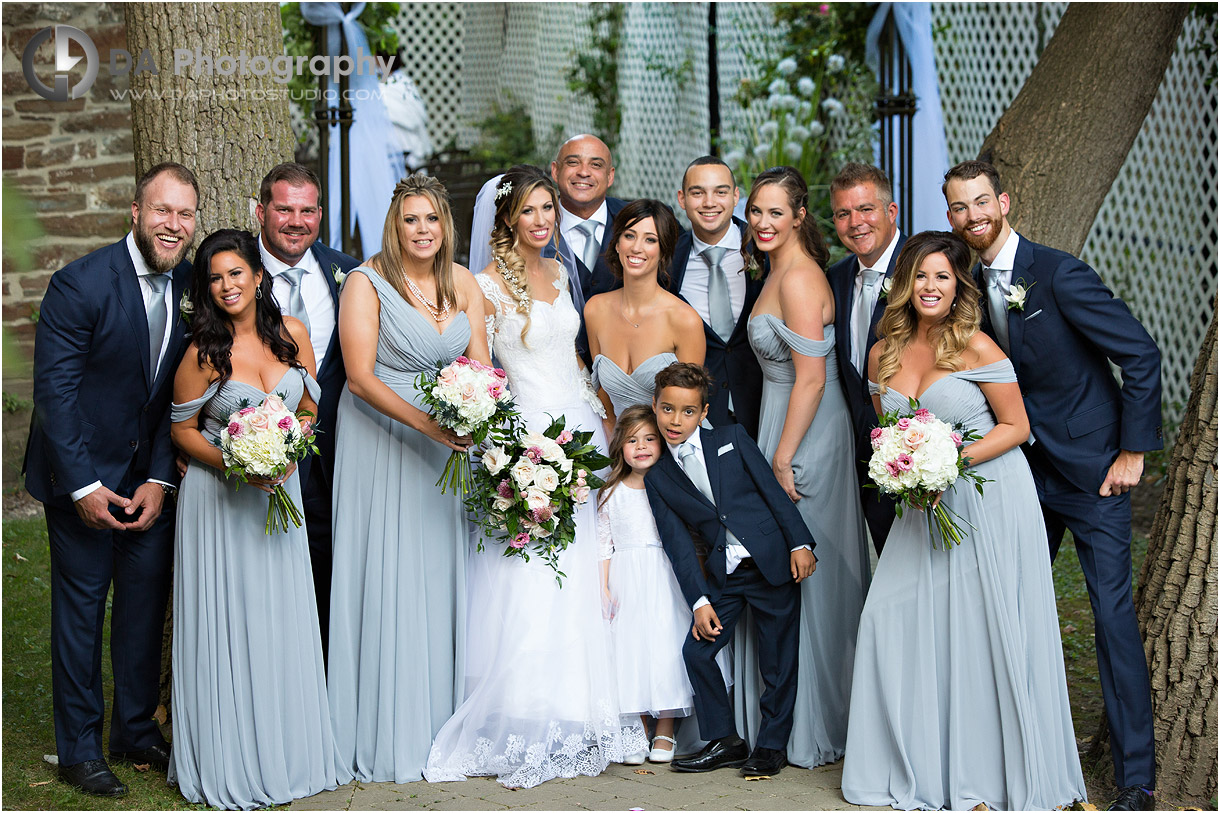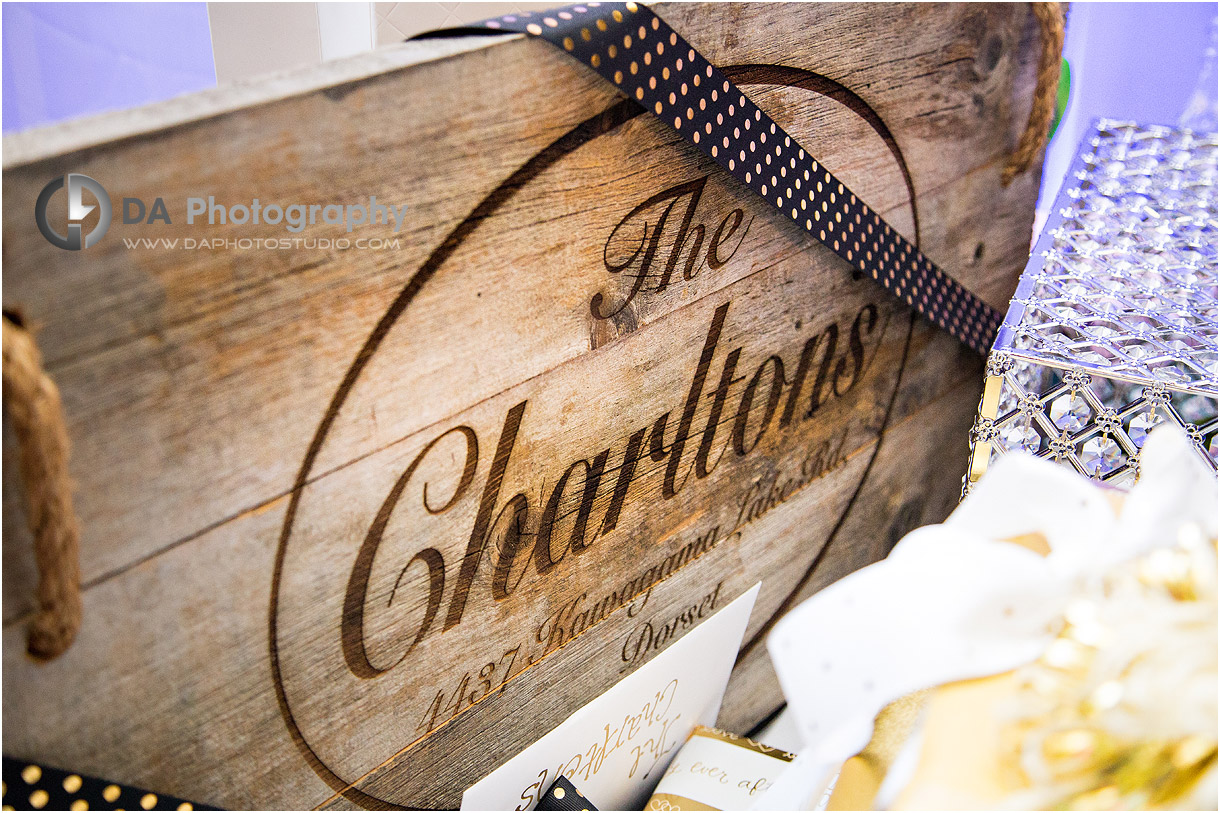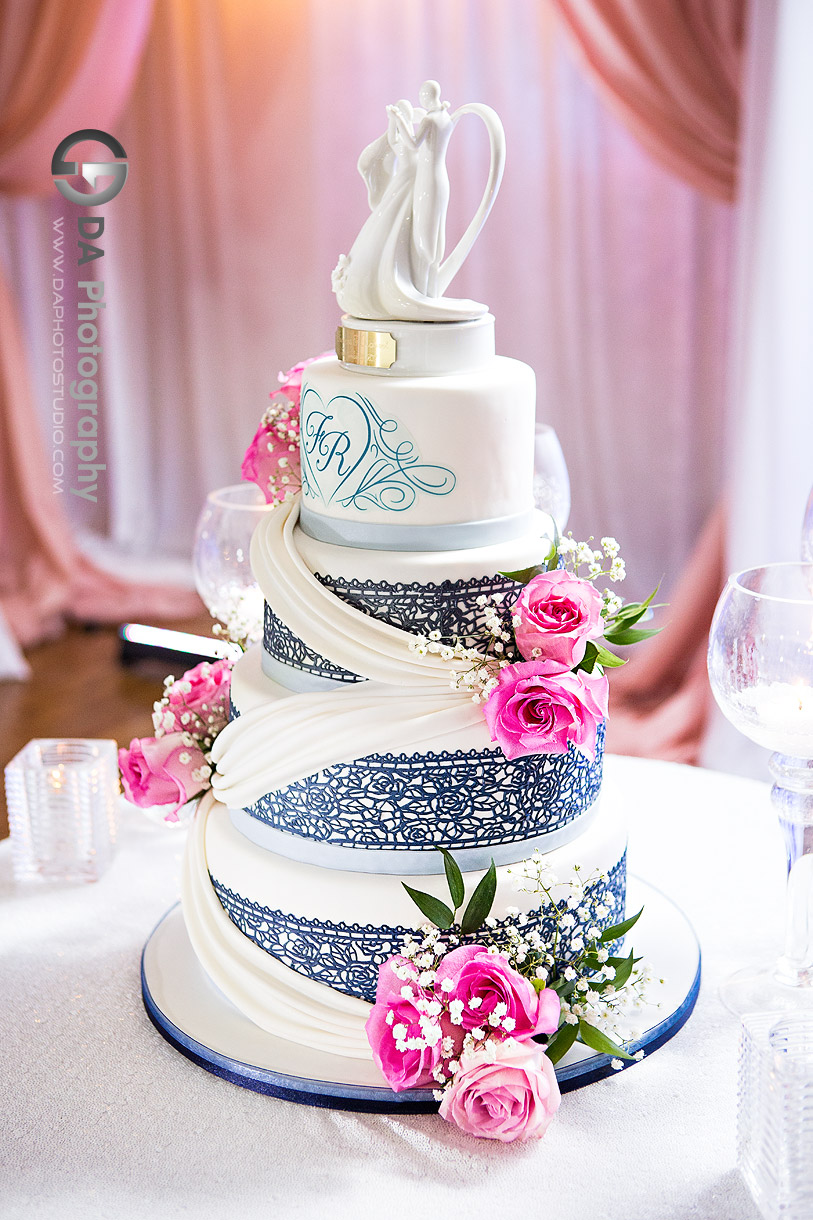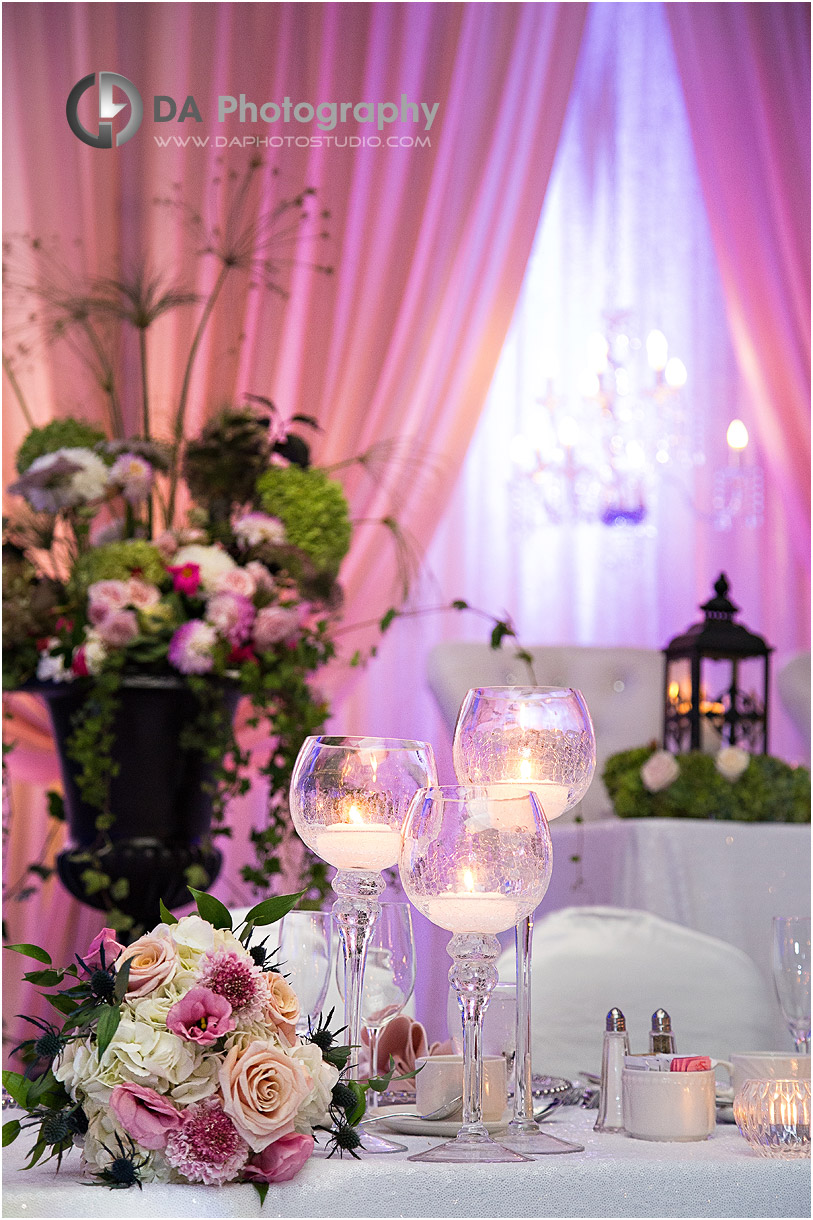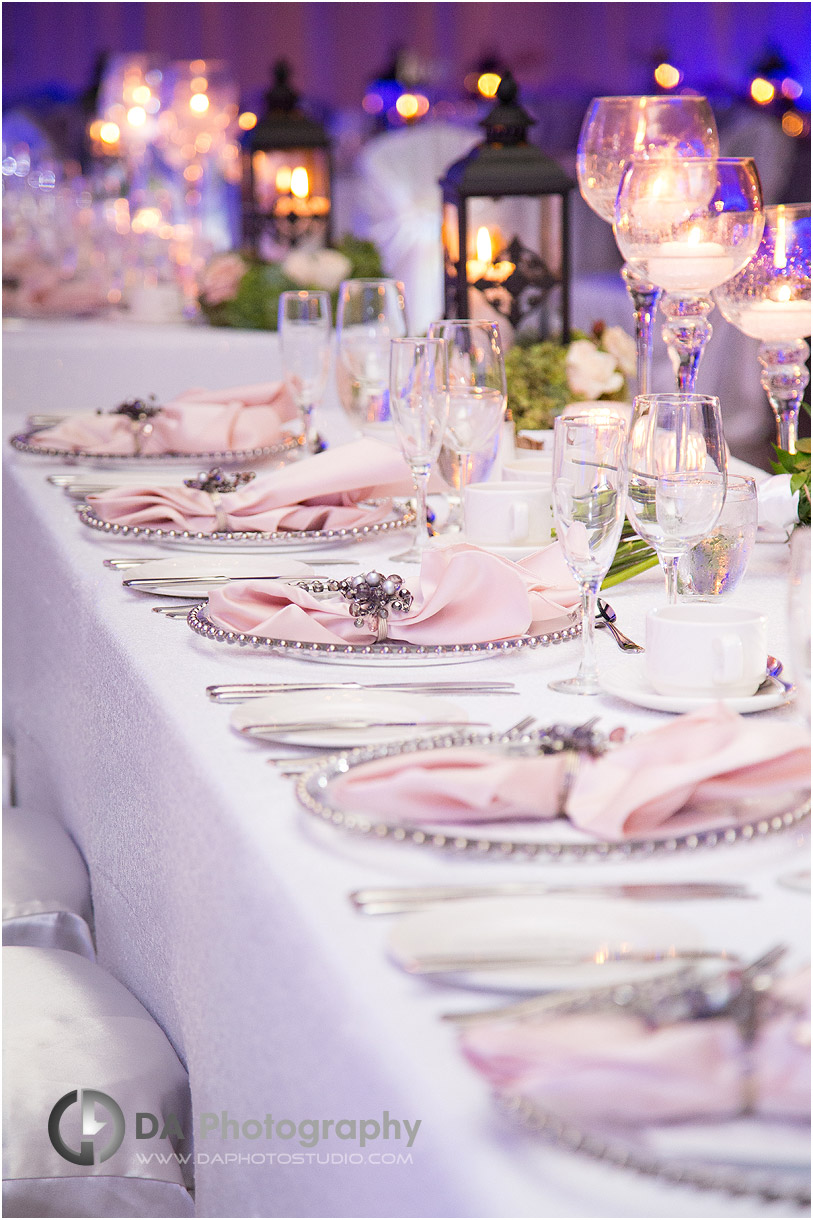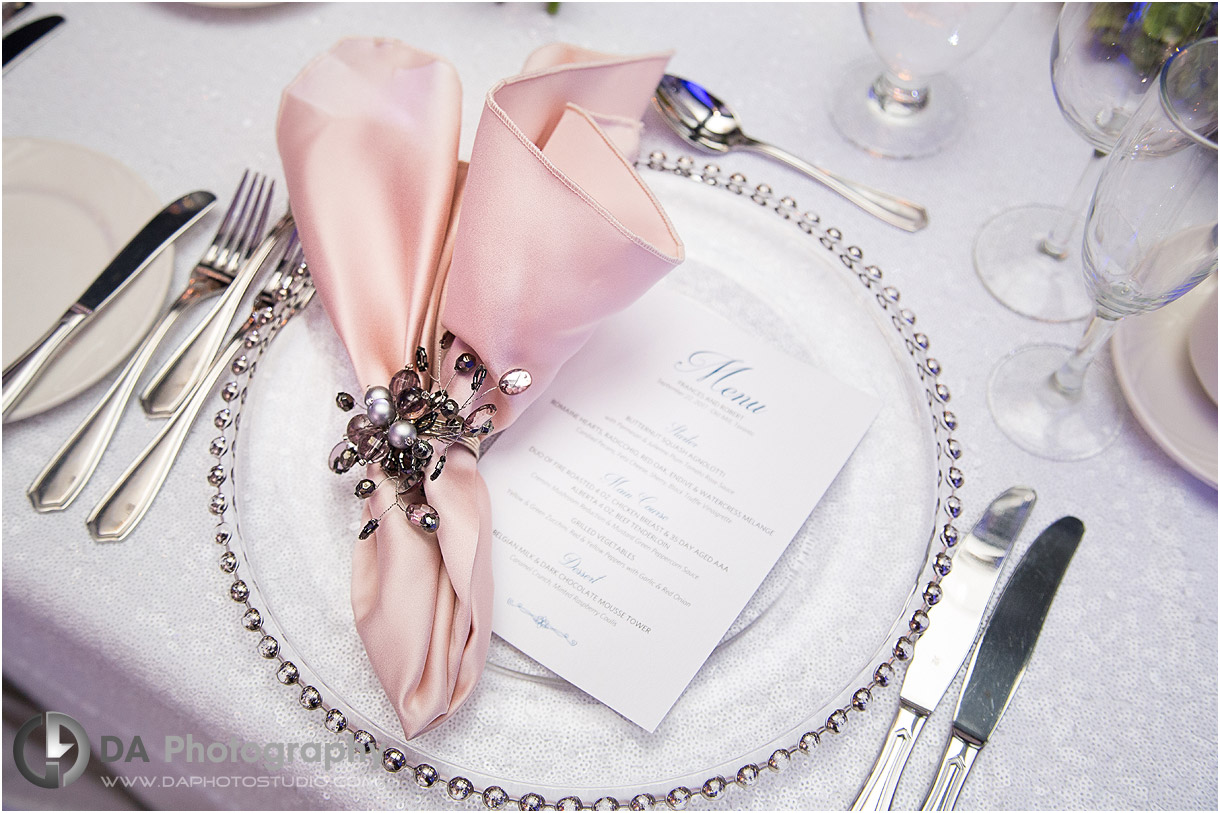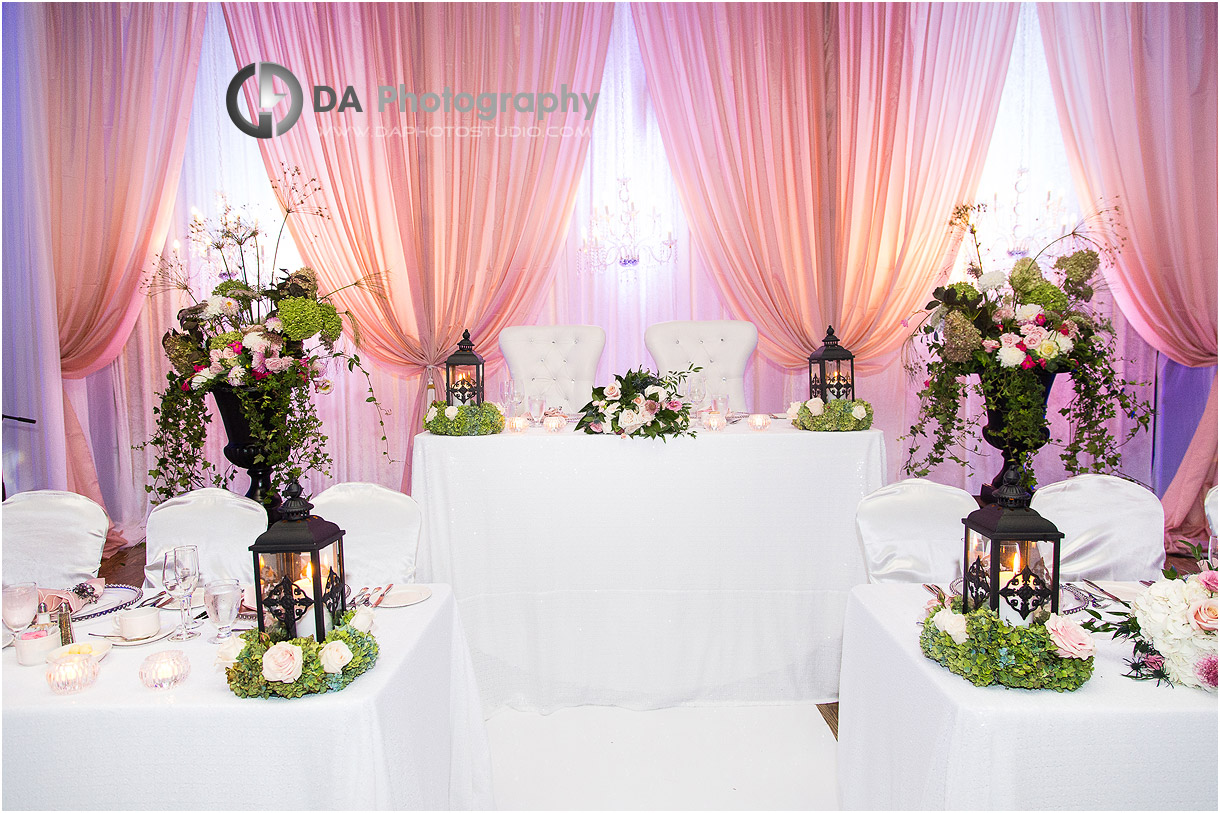 Behaviour
Your behaviour and stress management will play a major factor in your big day. If you are bridezilla in the run up or running around like a headless chicken on the day, it's going to impact the experience for all involved. A relaxed wedding couple will result in a relaxed wedding party who will be easier to delegate to. Create a timeline of what needs to be done and when, and designate roles to those you trust most.
Guestlist
It can be tempting to want to invite everyone under the sun but limit your guestlist to those who you are closest to. This is your day and everyone in attendance should be able to stand up and tell a story about your relationship. Surround yourself with those who have a vetted interest in seeing you get married and being there for you emotionally. A close knit guestlist will result in heartfelt, genuine speeches that people will want to listen to.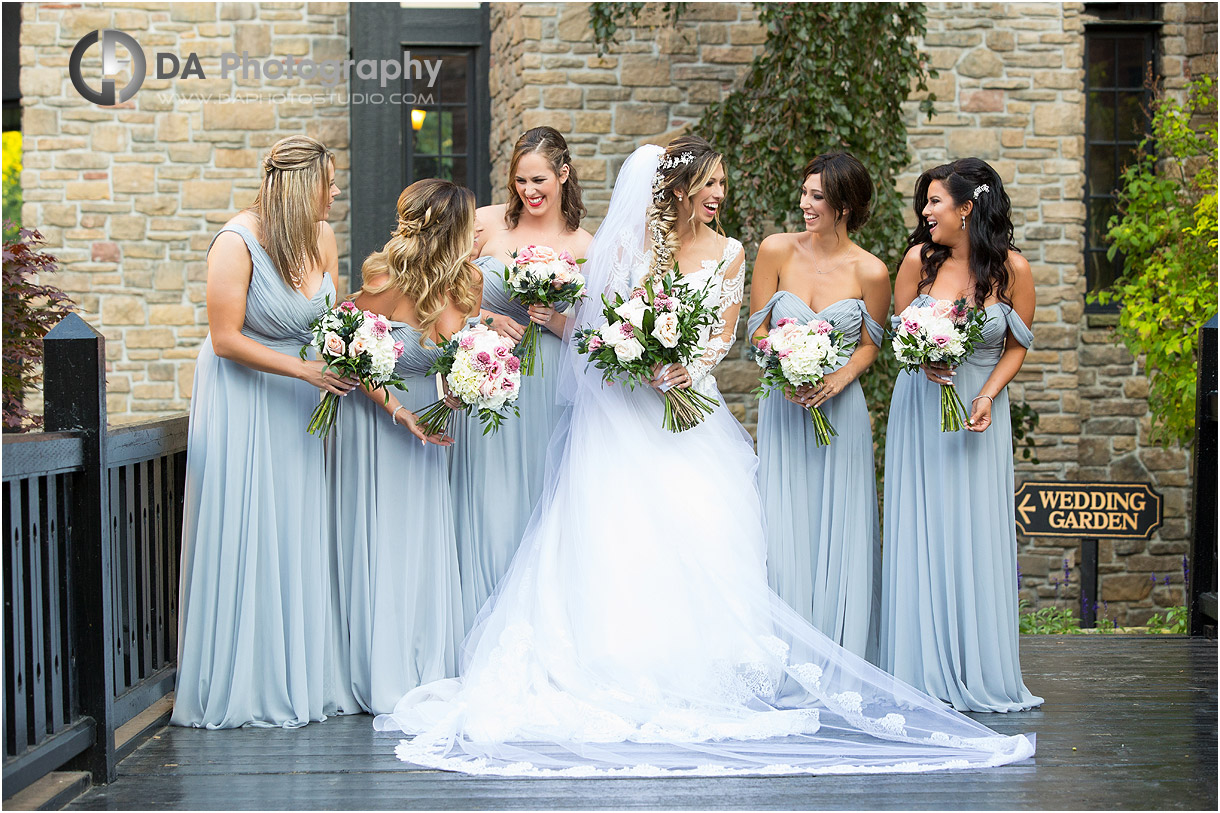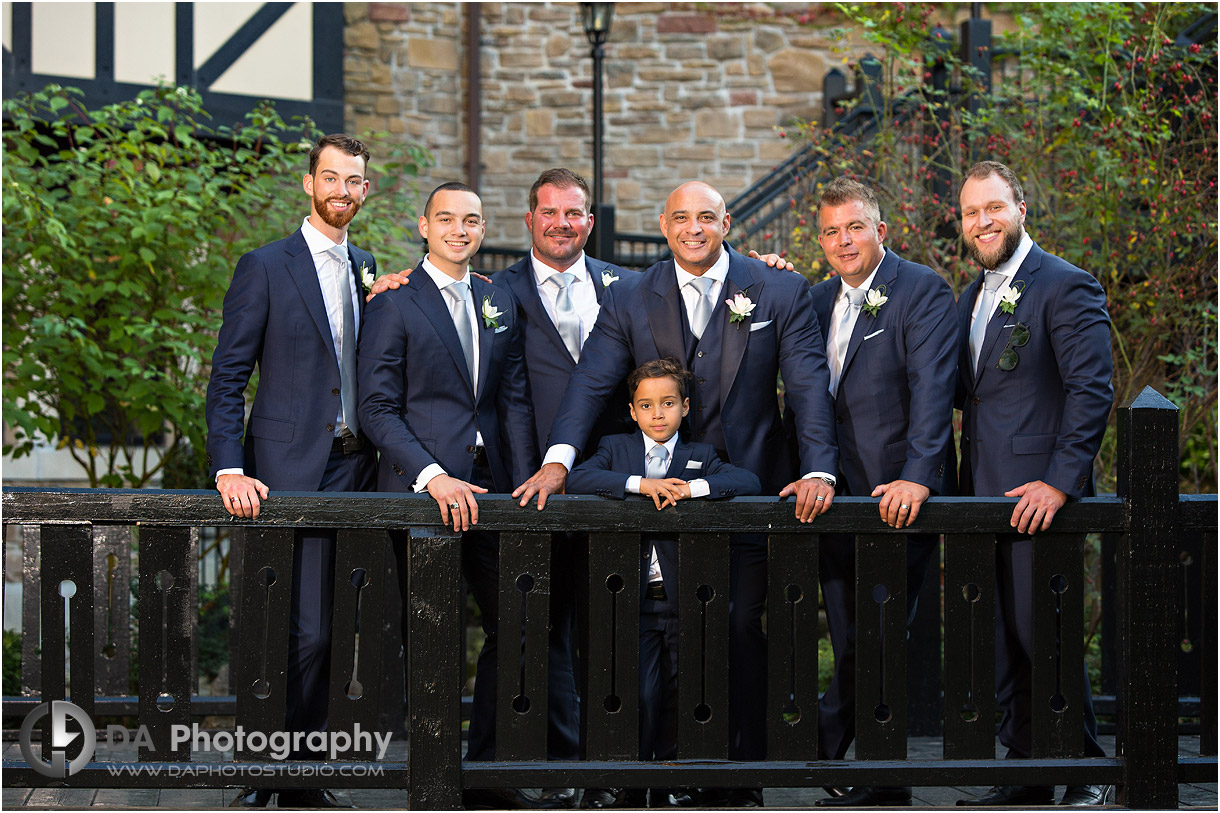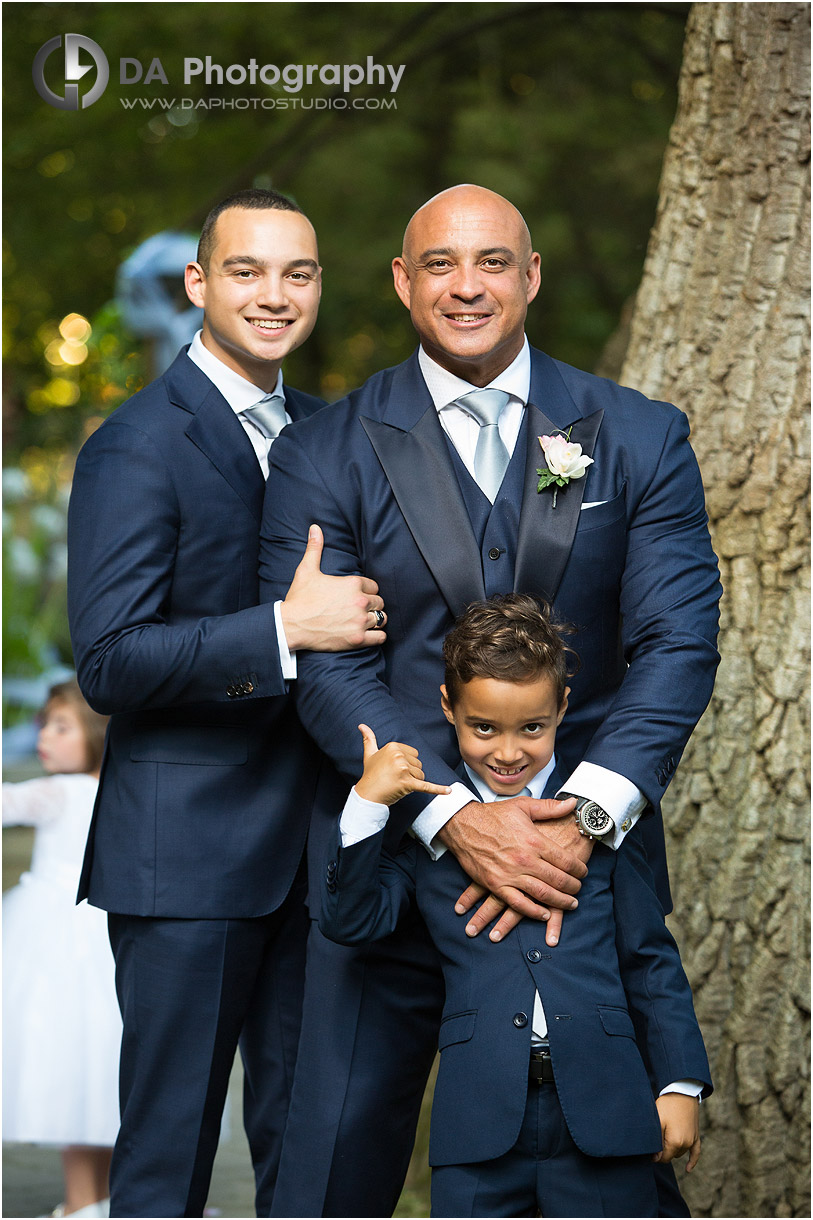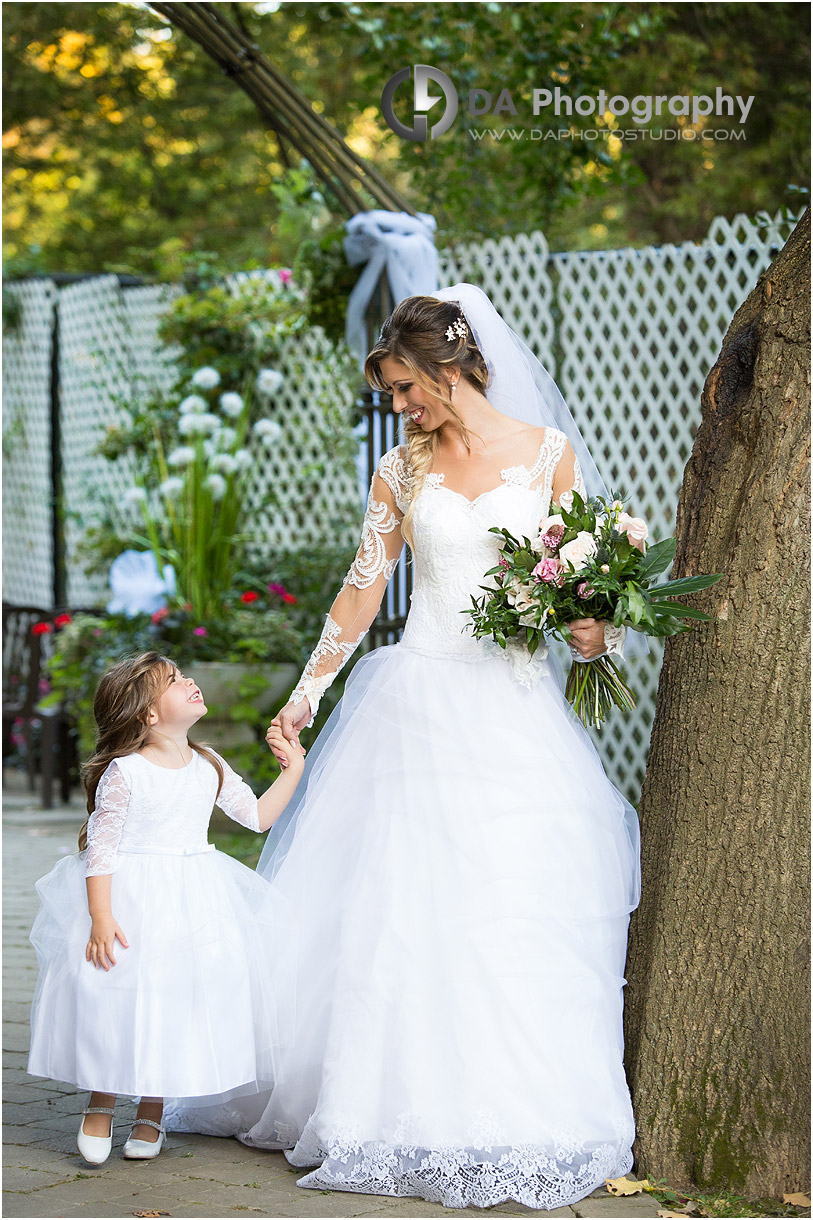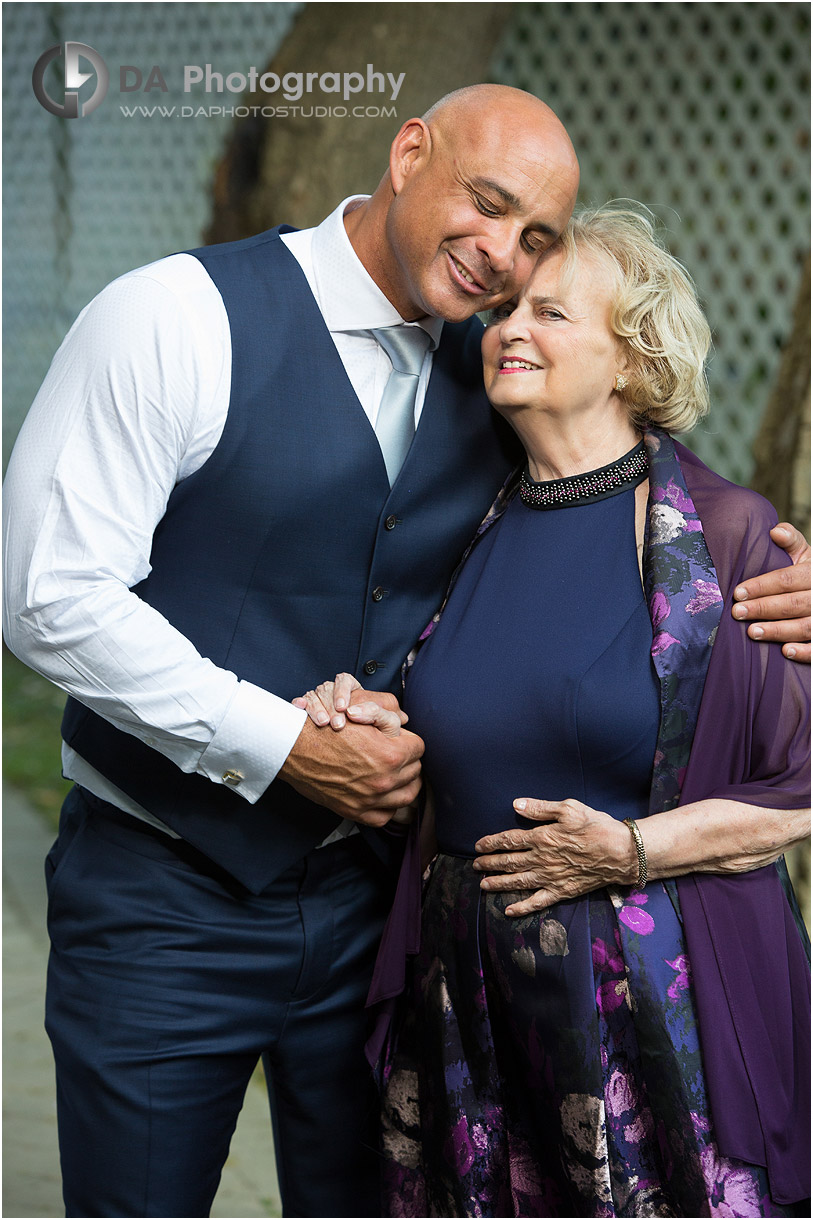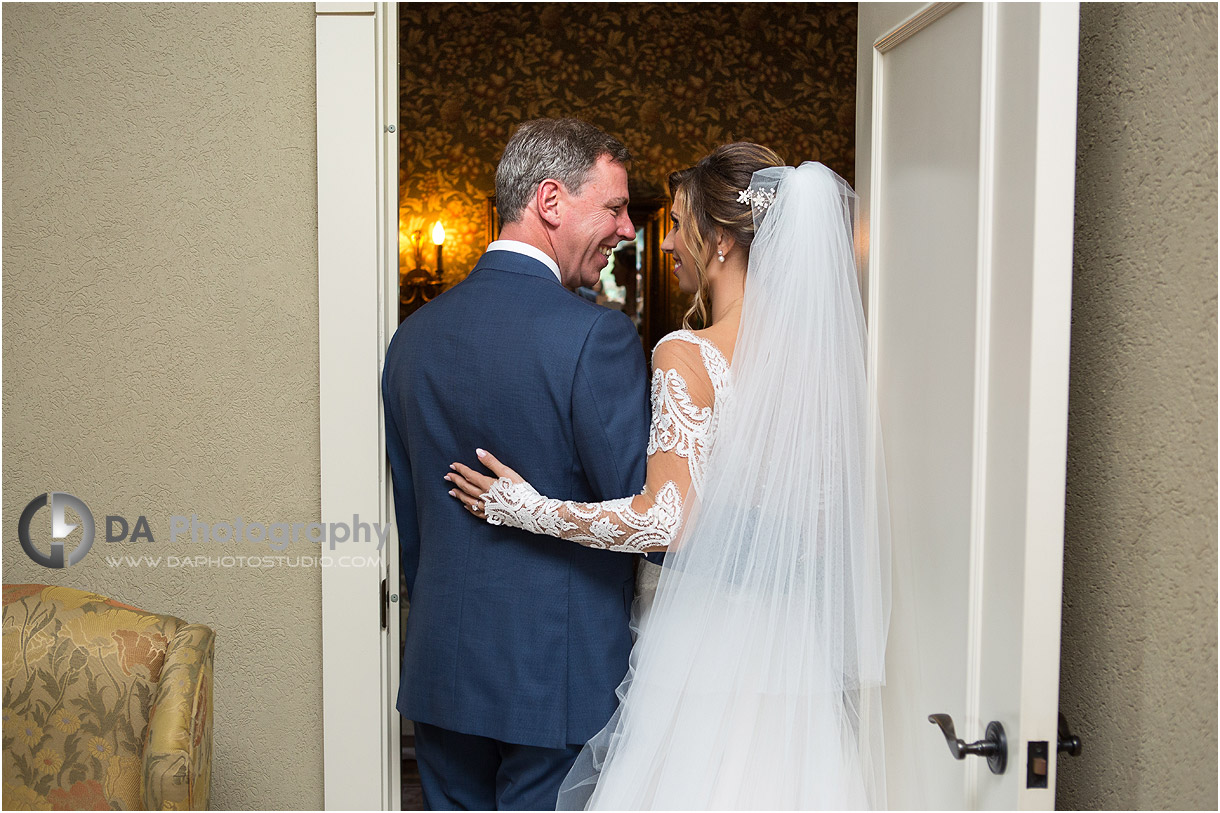 Ready to see more of this Toronto fall wedding?
We began our day photographing Rob getting ready at their house with his best man. They had the ultimate man cave, so I utilized the pool table in some of the shots as they kept the mood light-hearted. Meanwhile Frances was getting ready at her parent's family home, so I dashed over to capture her preparations. The light radiating through a gorgeous oversized window allowed me to capture the intricate details of her dress and accessories. The flower girl was adorable, and you could see the excitement on her face watching her getting ready. I wanted to capture the size of the diamond ring in the flower girl's hands as she was handling it like precious treasure. The detailing in the lace against the sparkle of the diamond made for a stunning yet simple composition.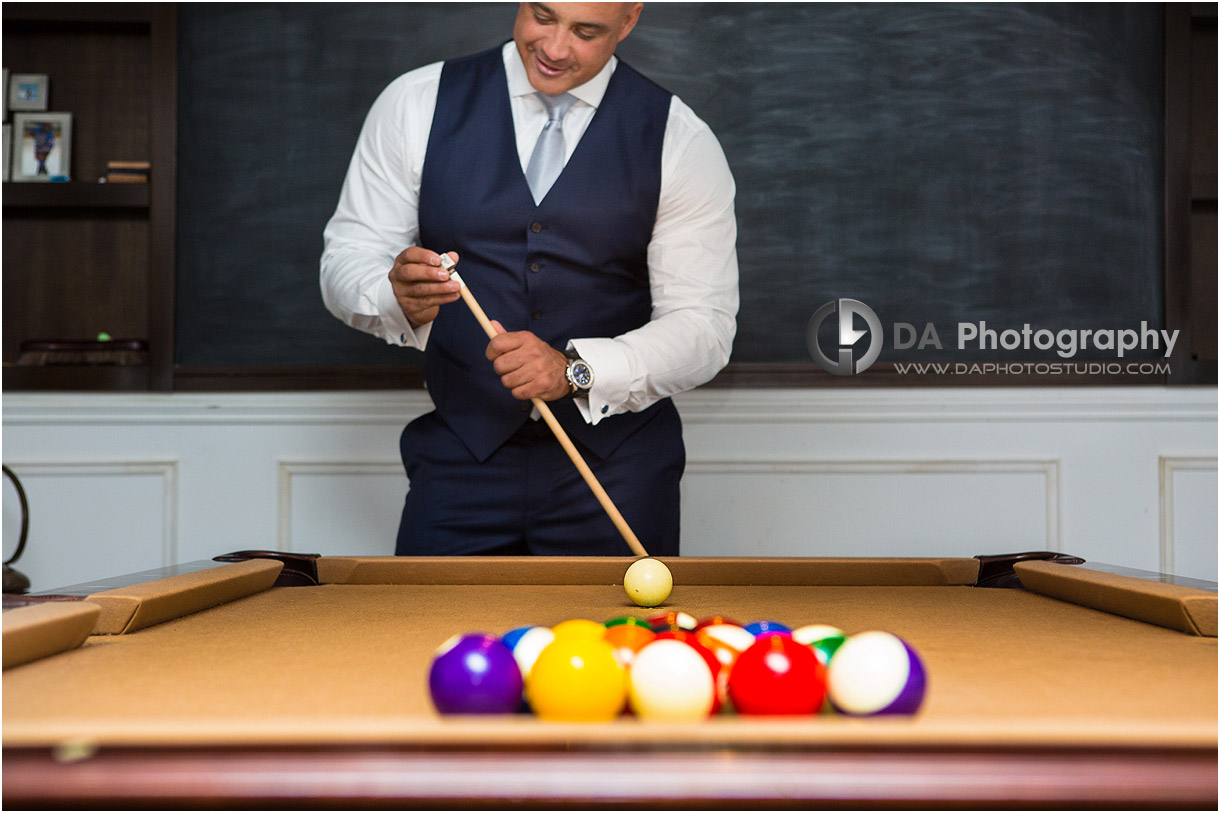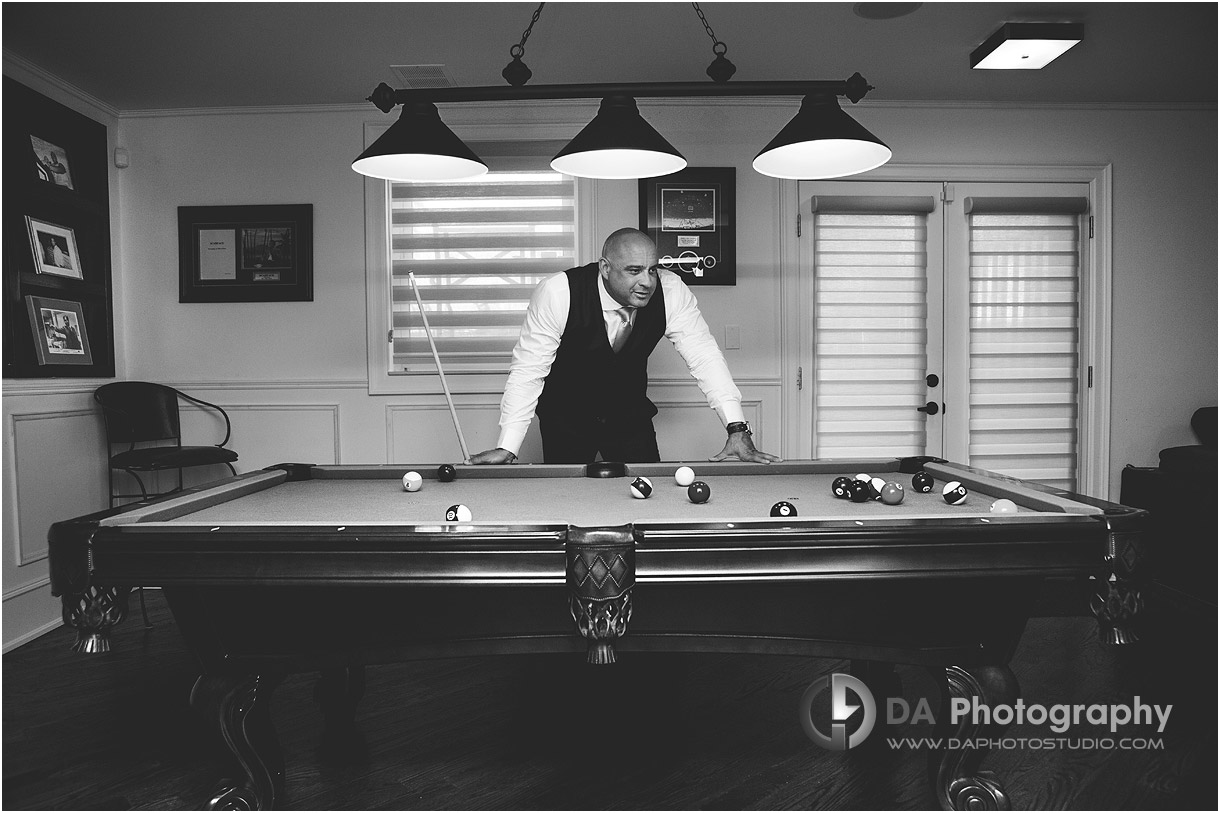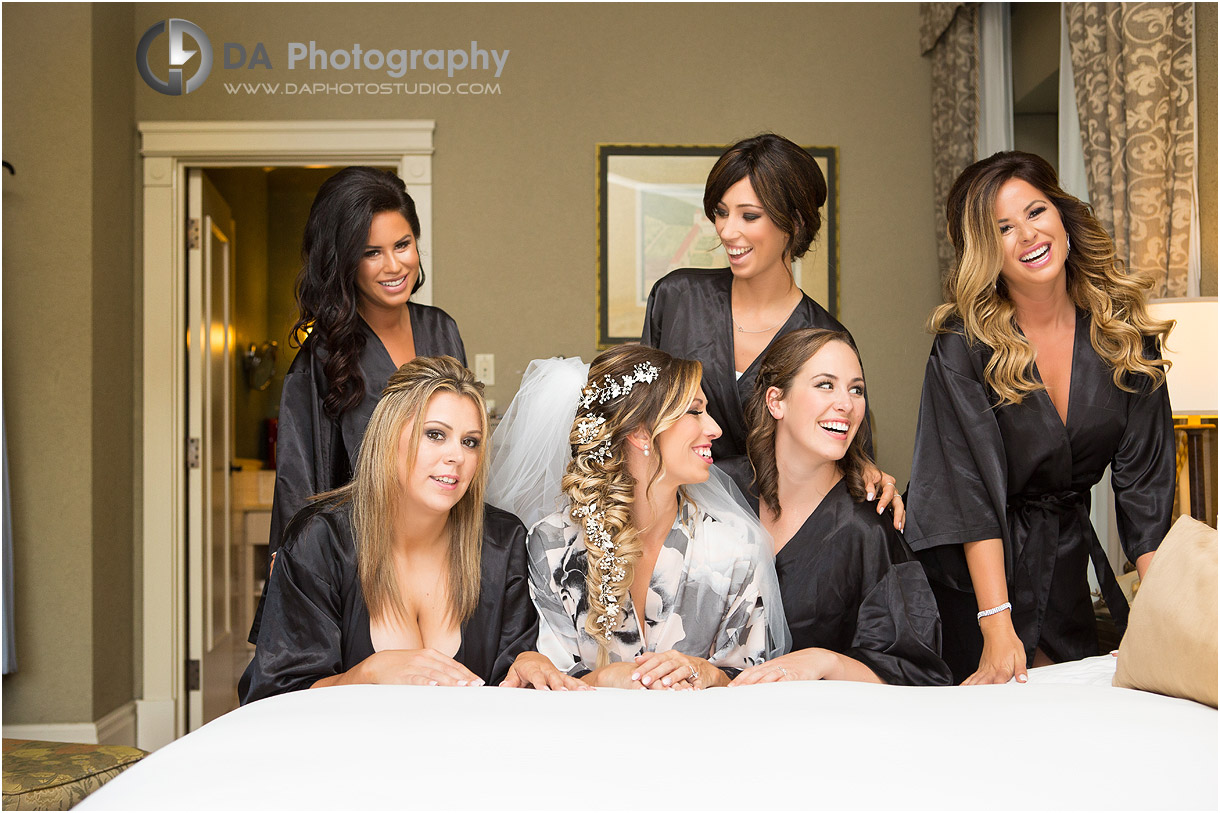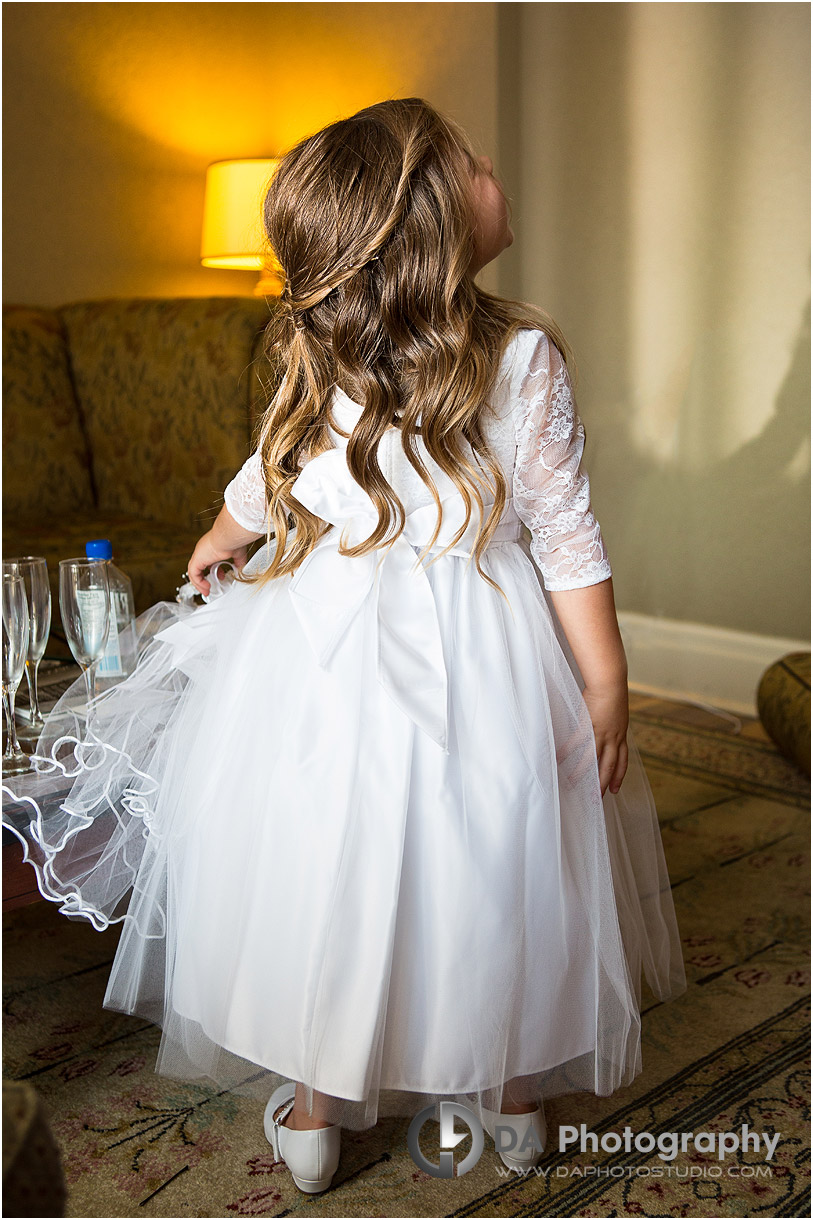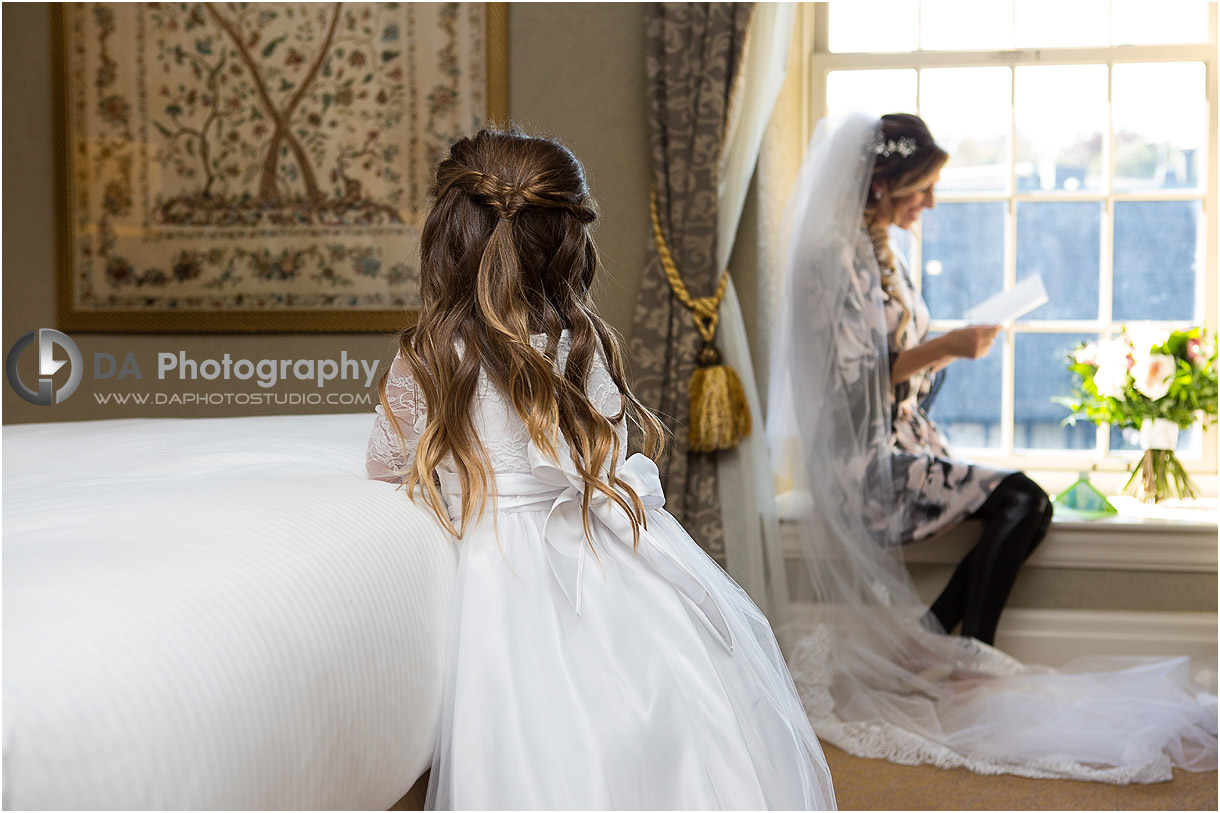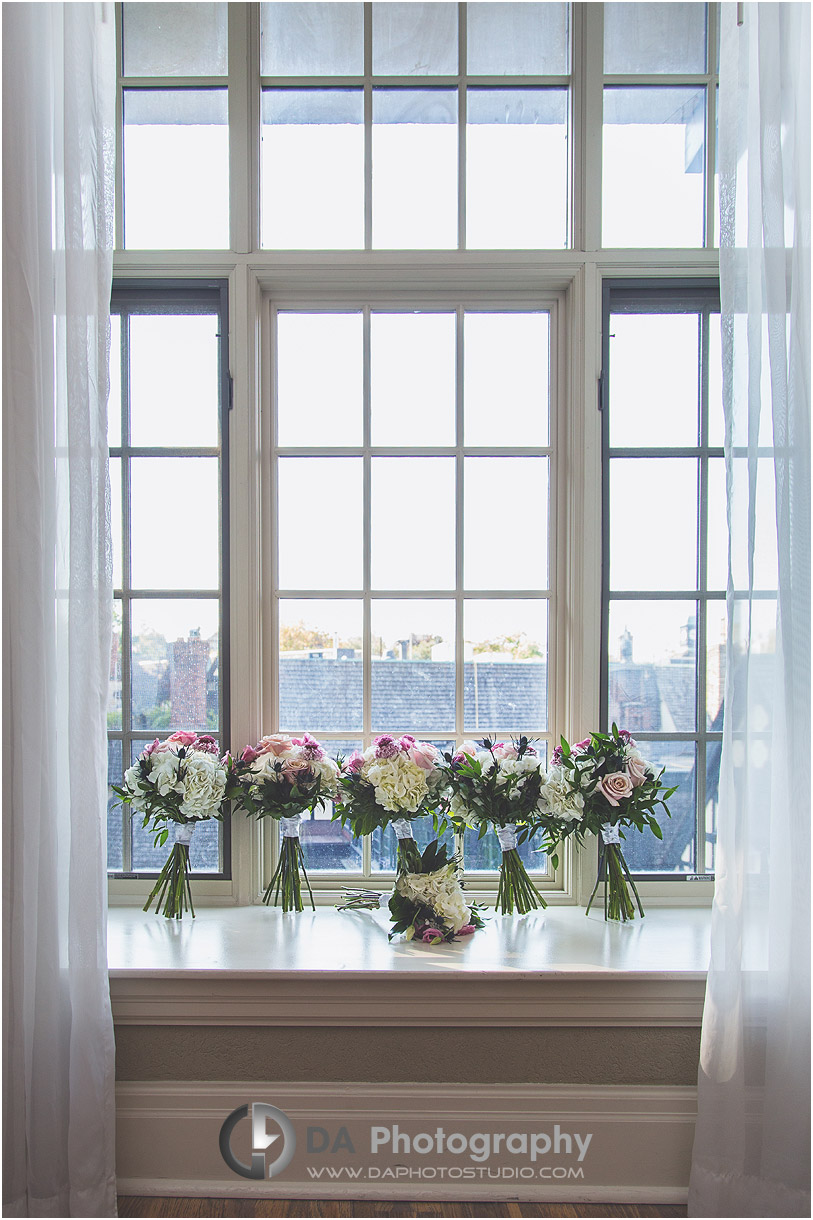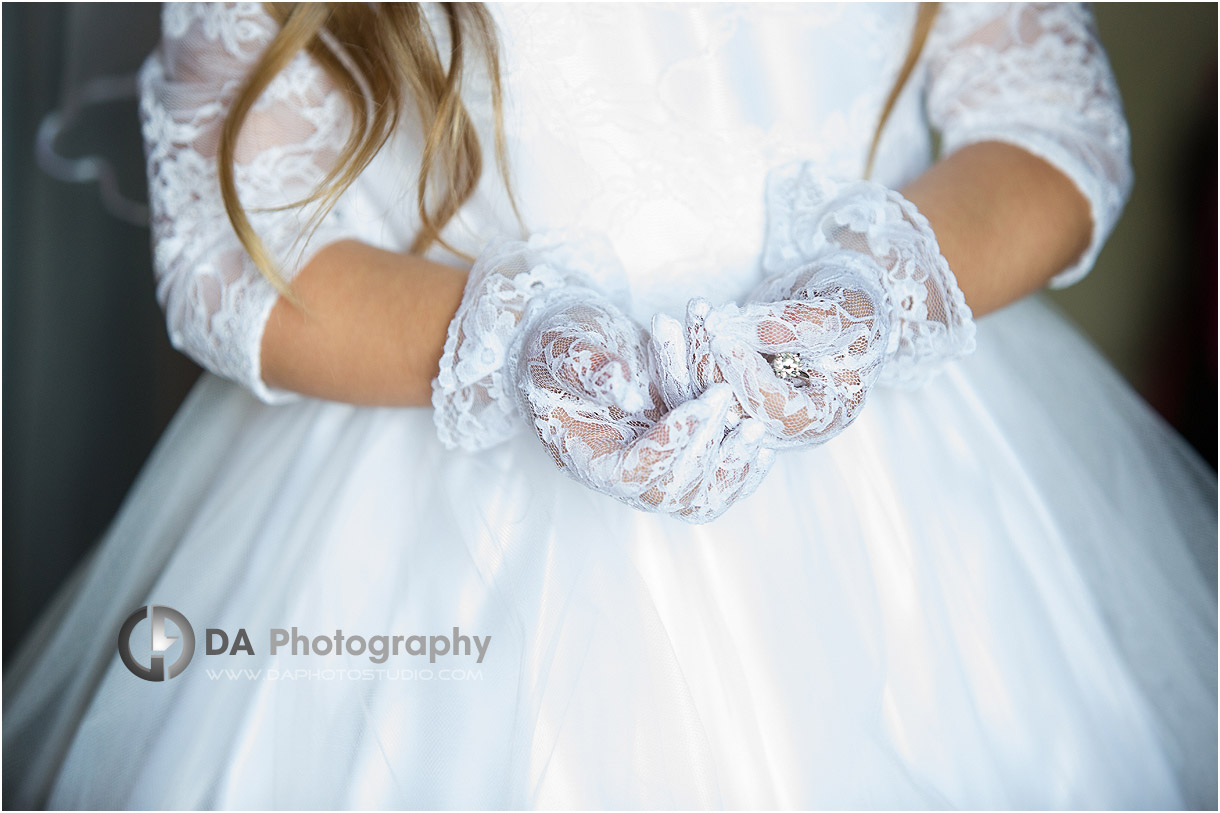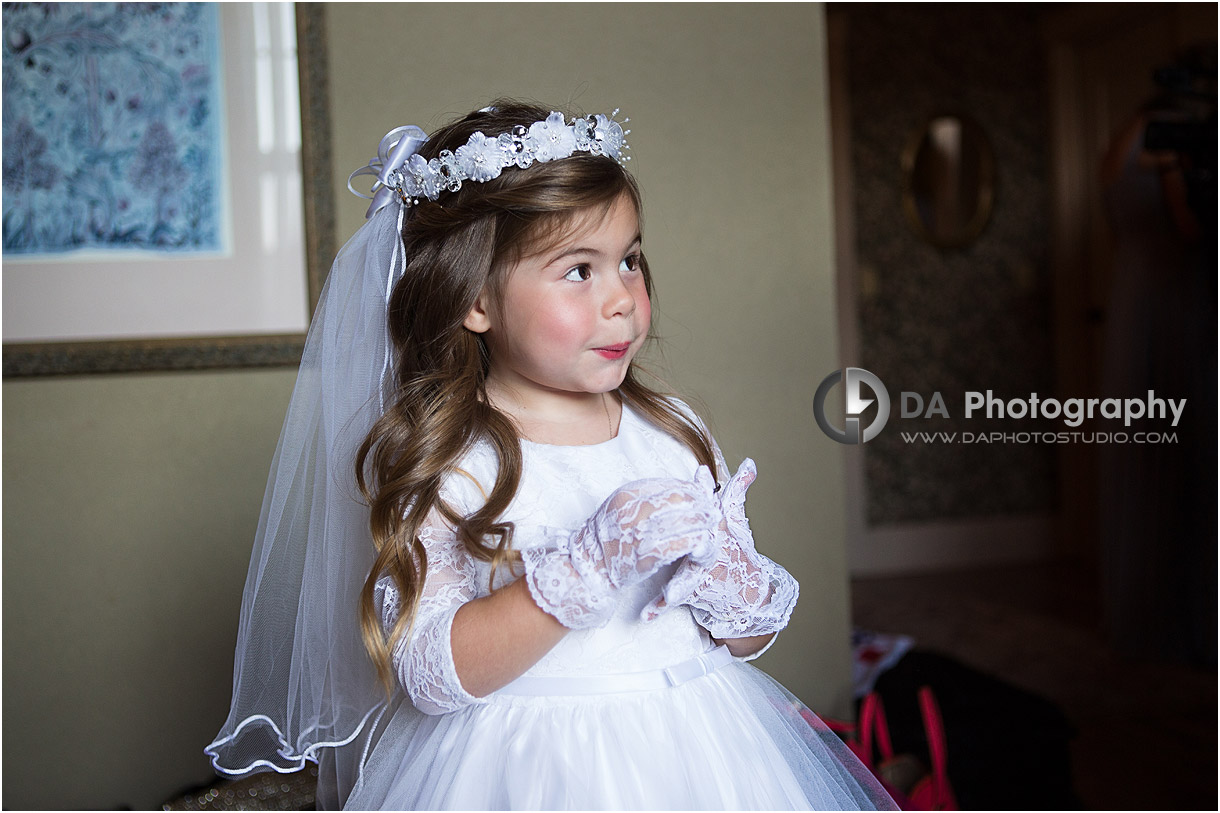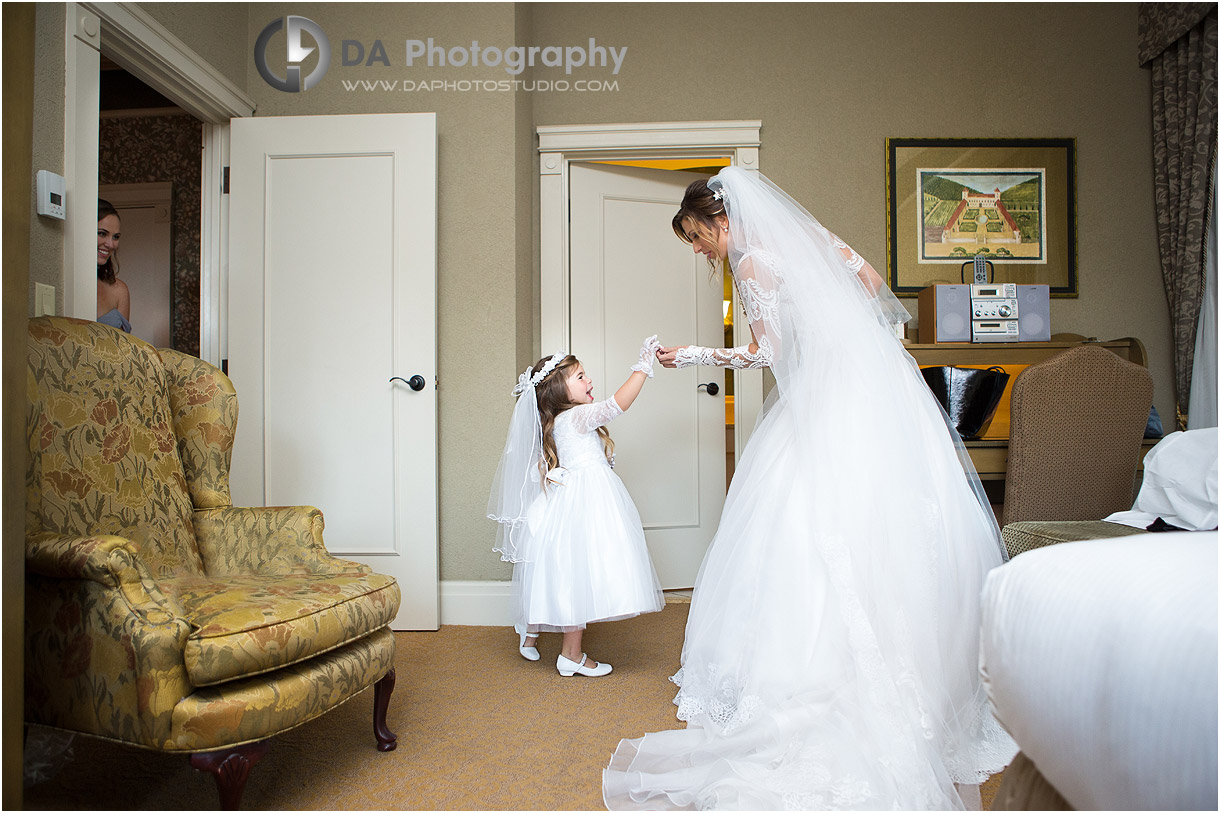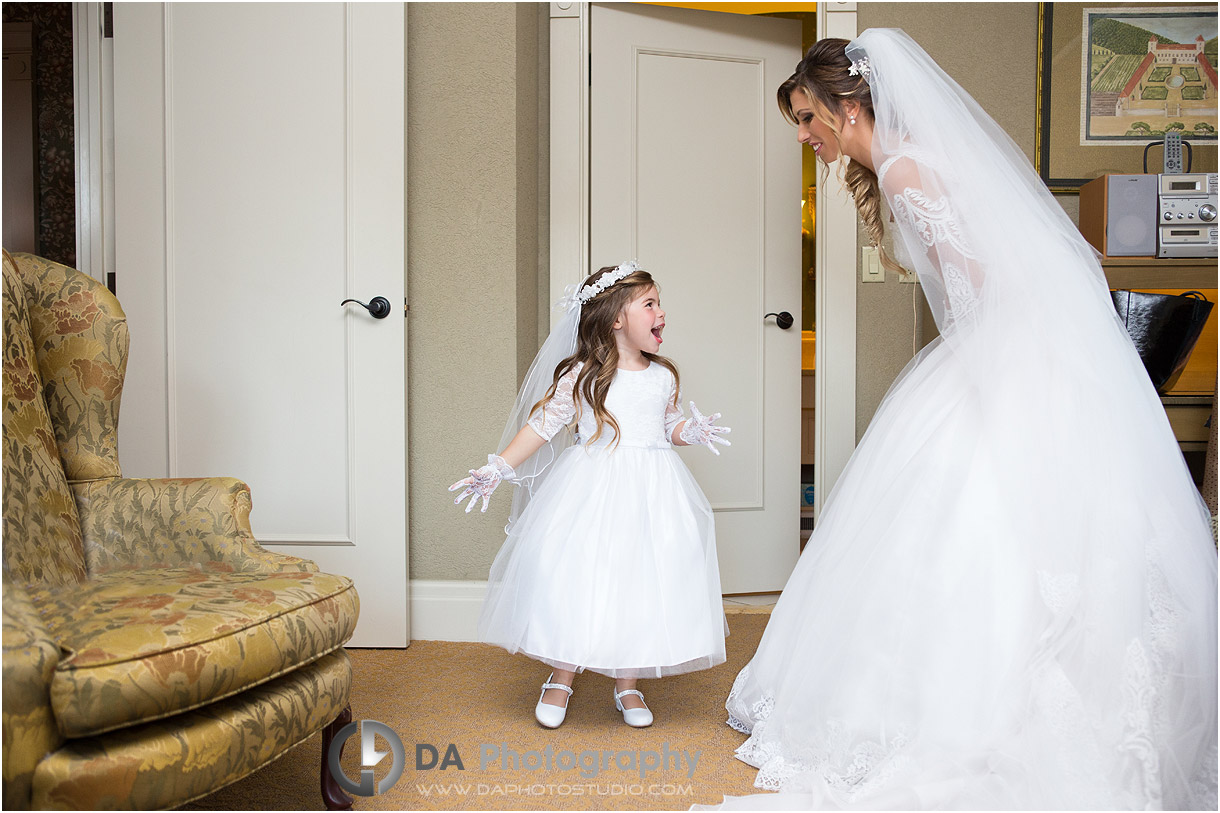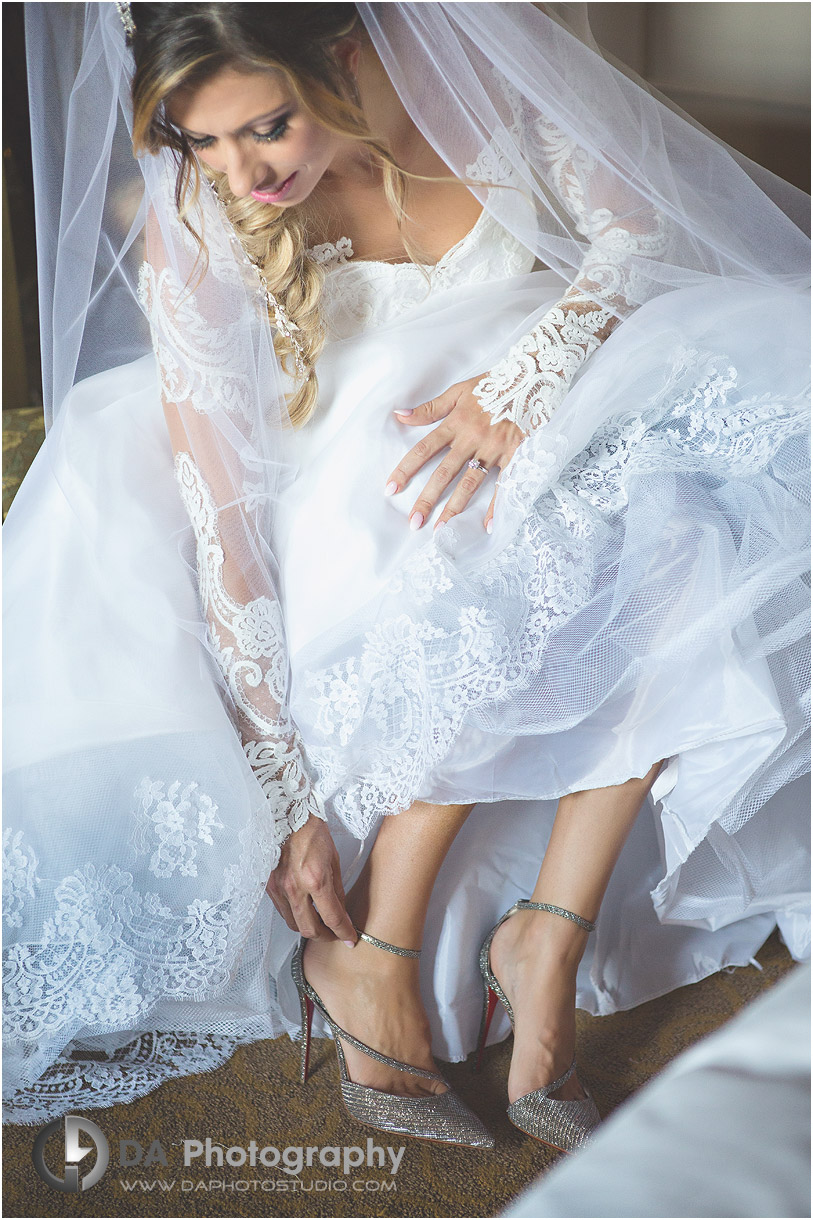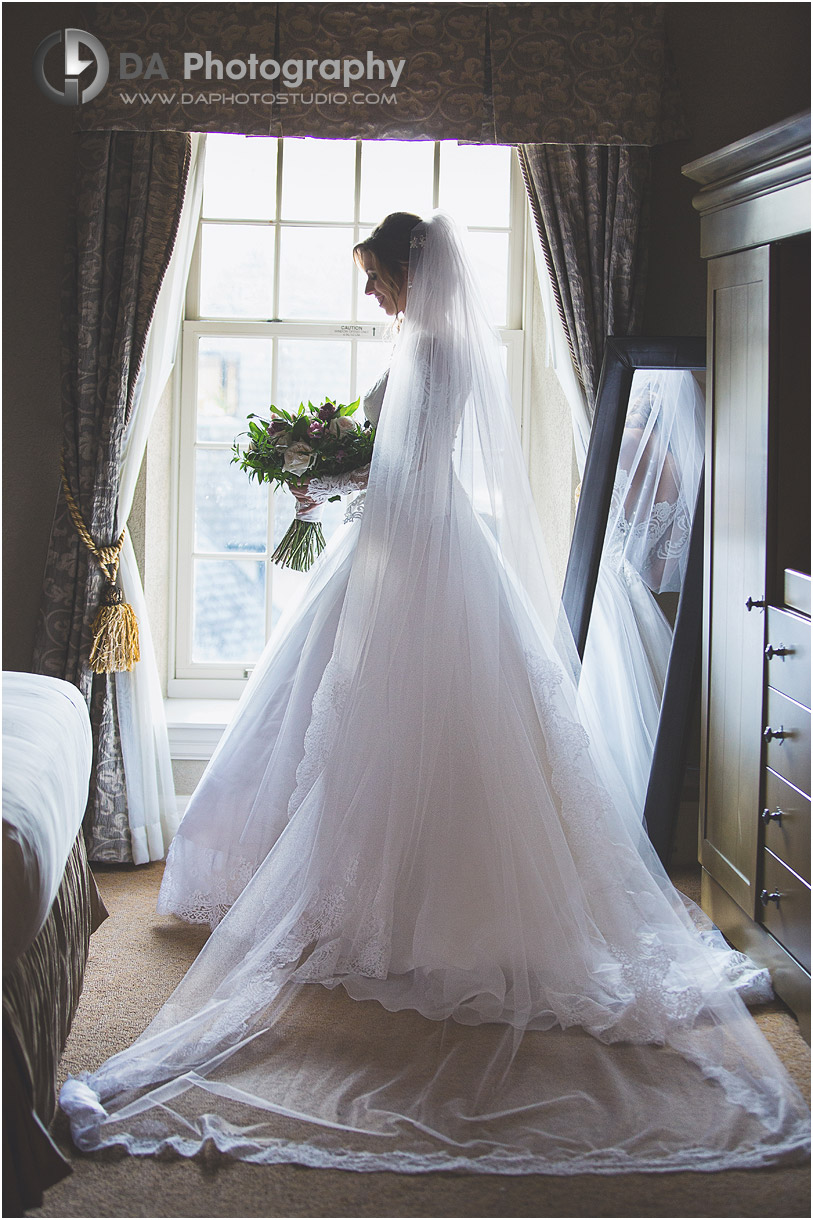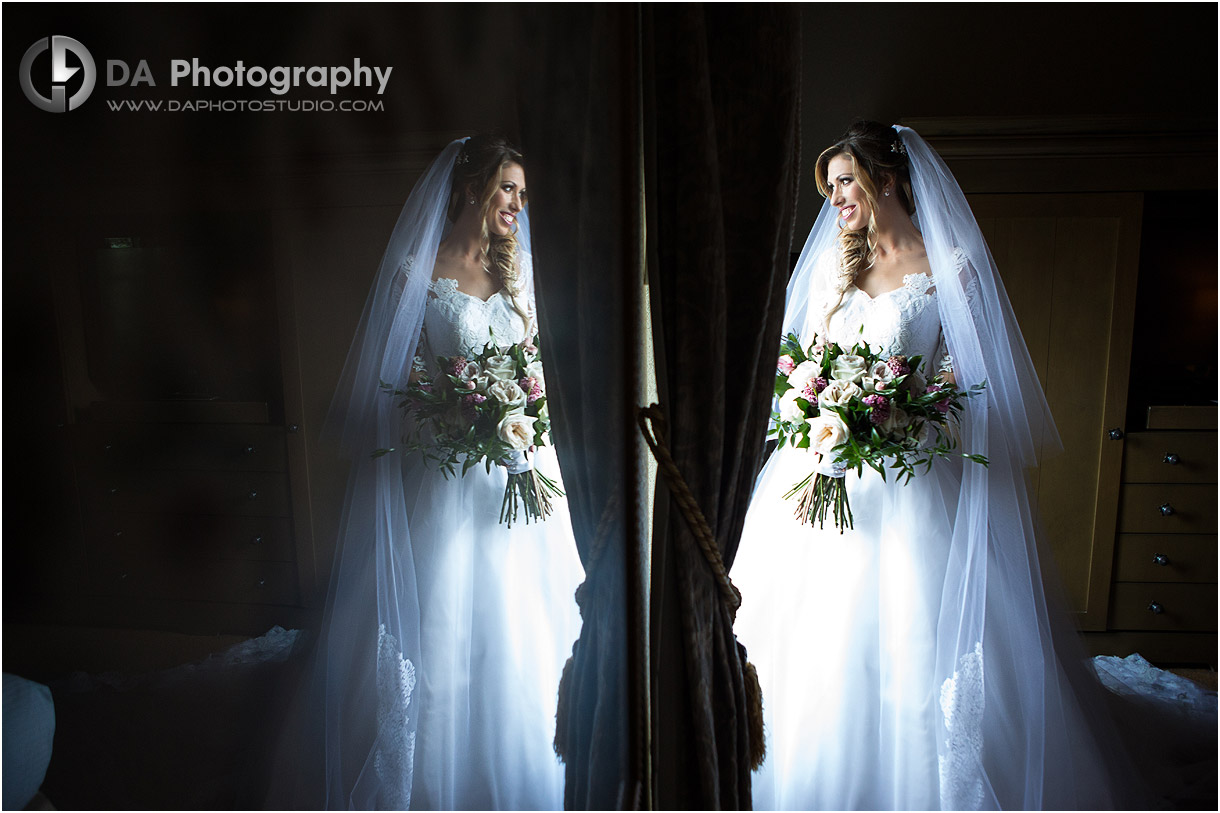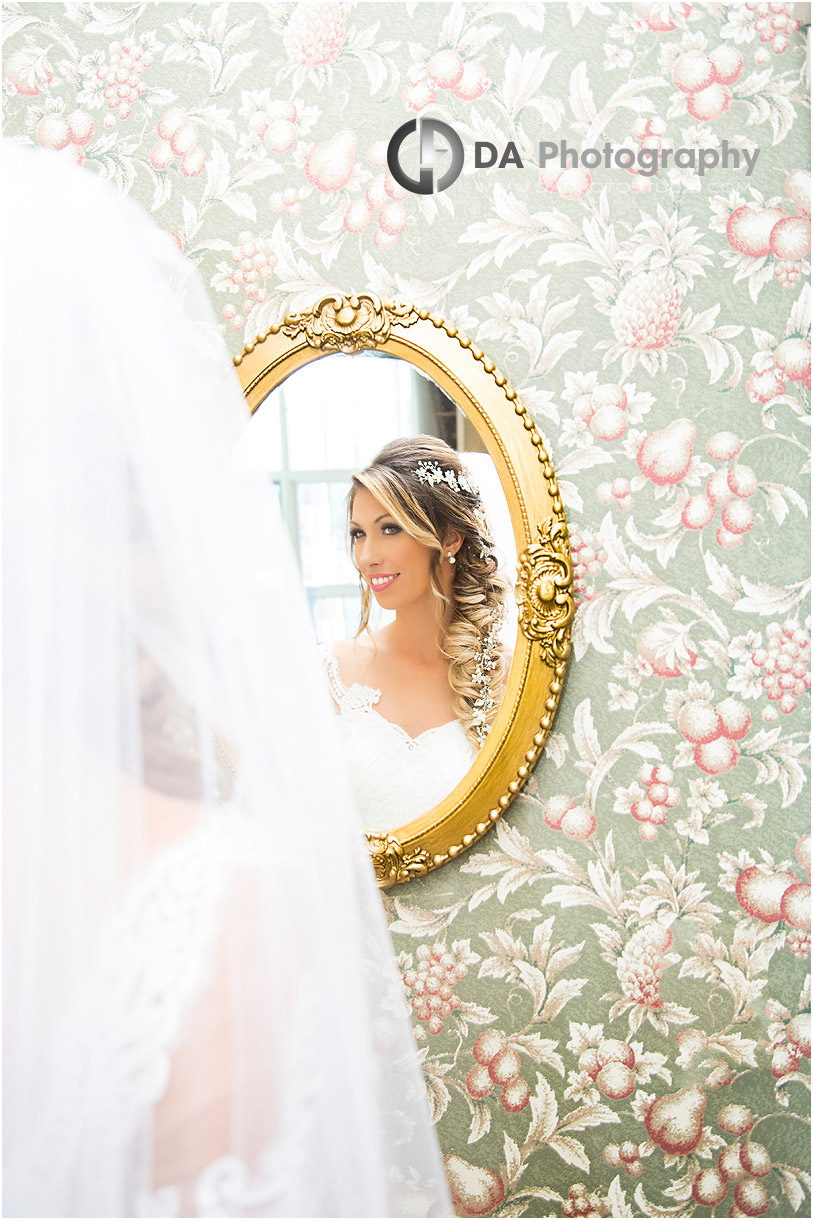 It was easy to see how well prepared they had been and how effortlessly the day ran due to diligent planning. There was such a relaxed vibe, and the Old Mill executed the event flawlessly. The colours of the wedding party and their floral arrangements worked in complete harmony.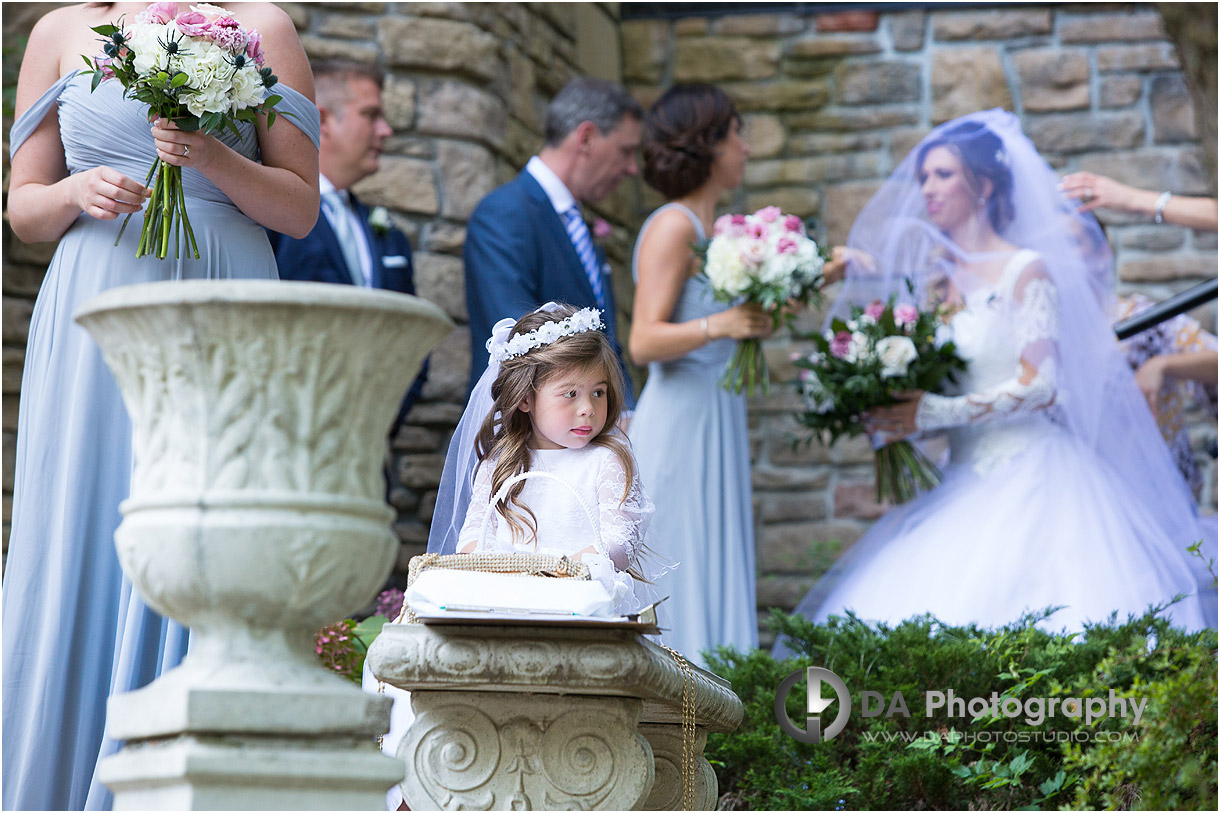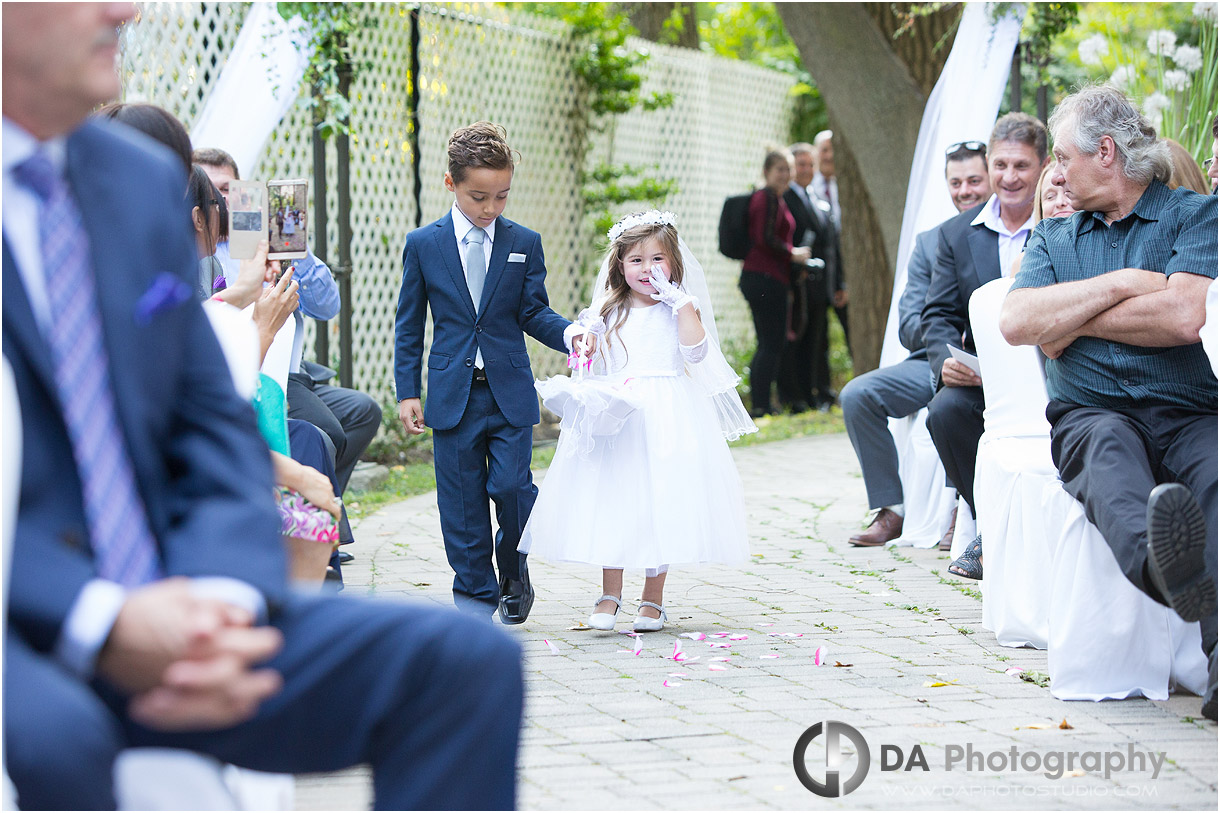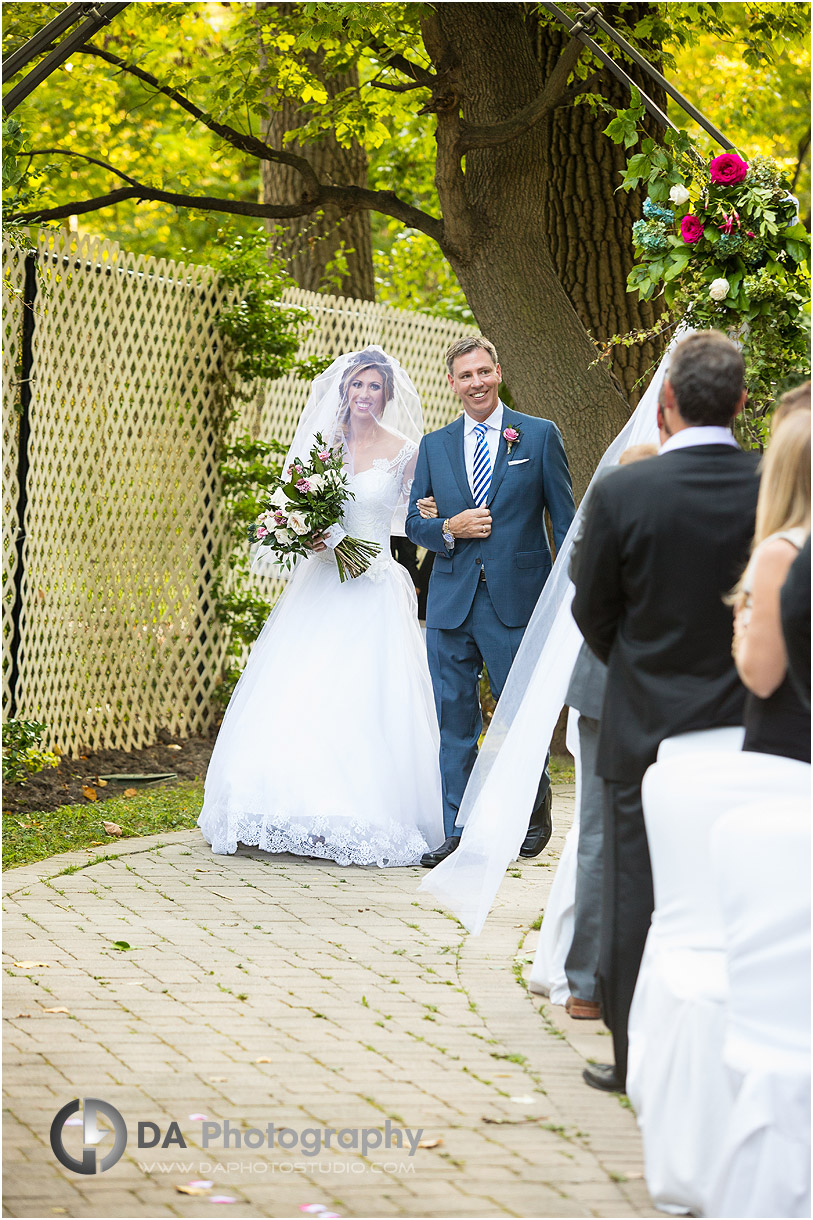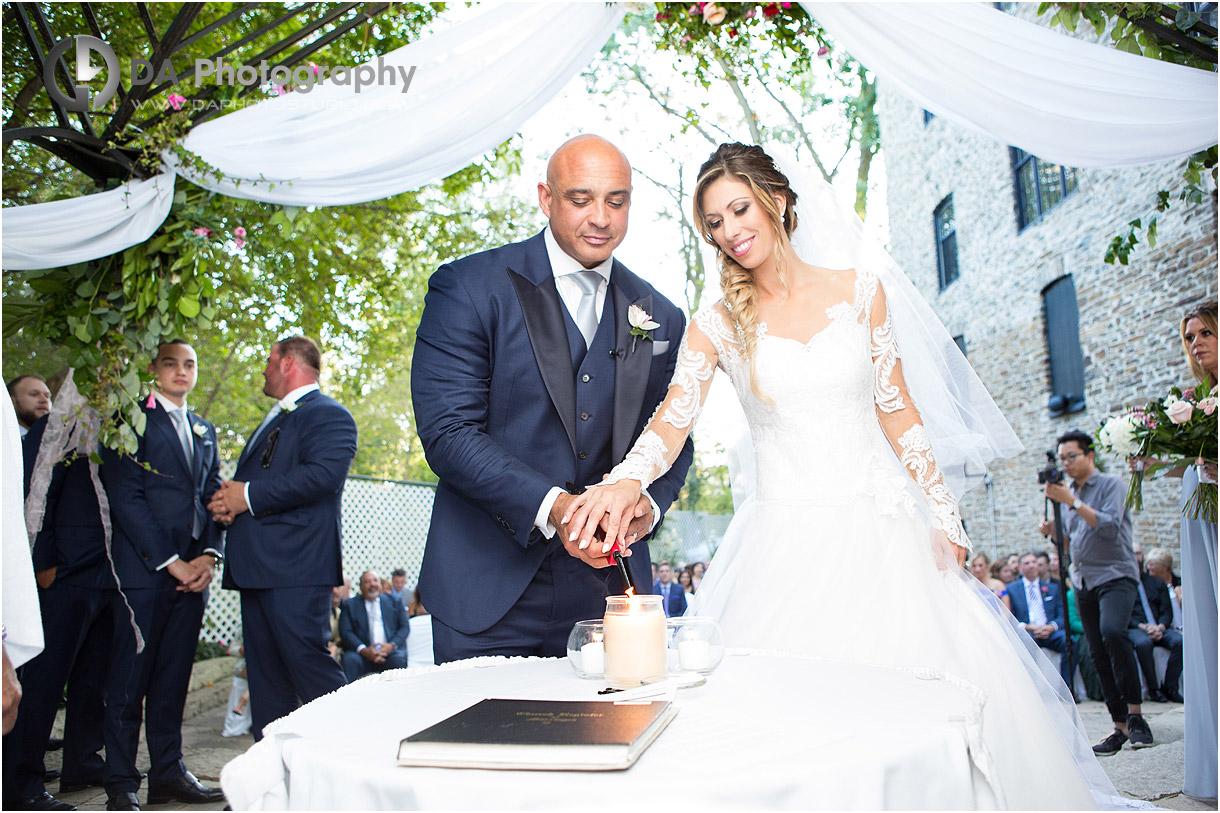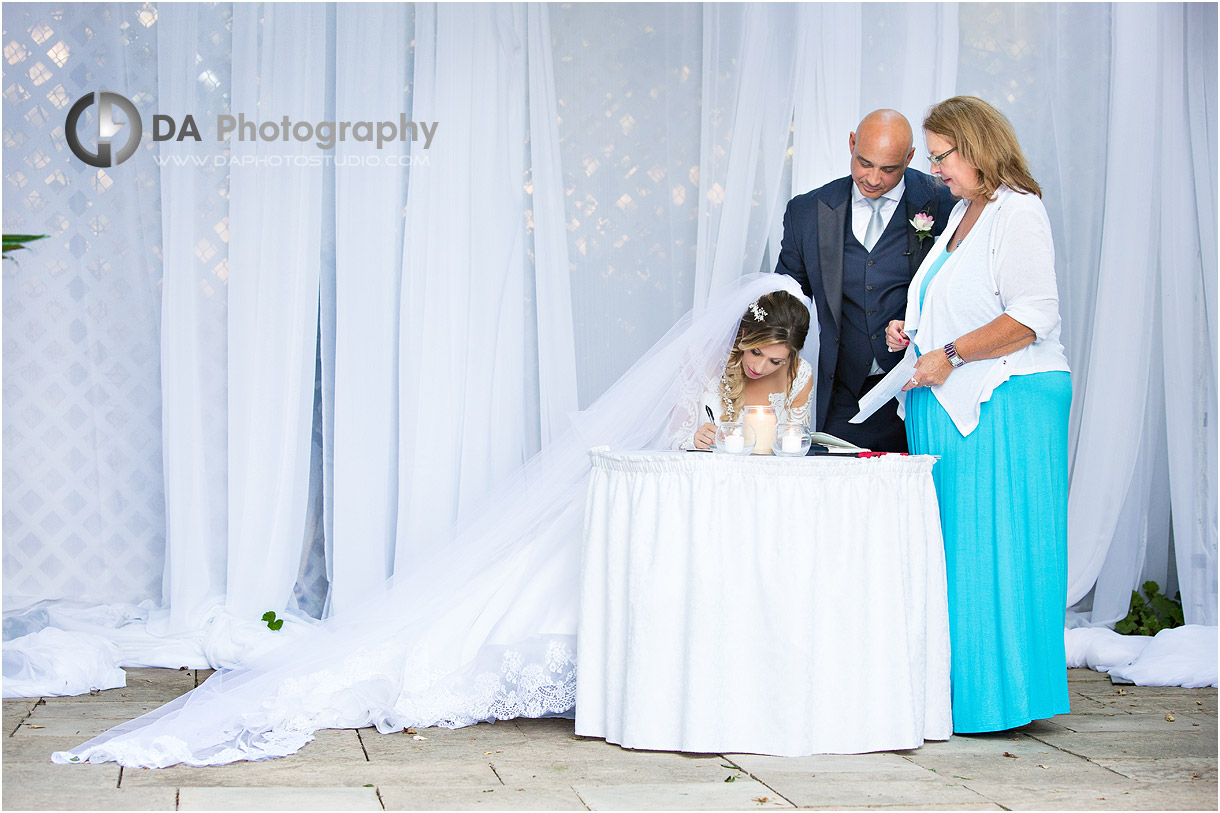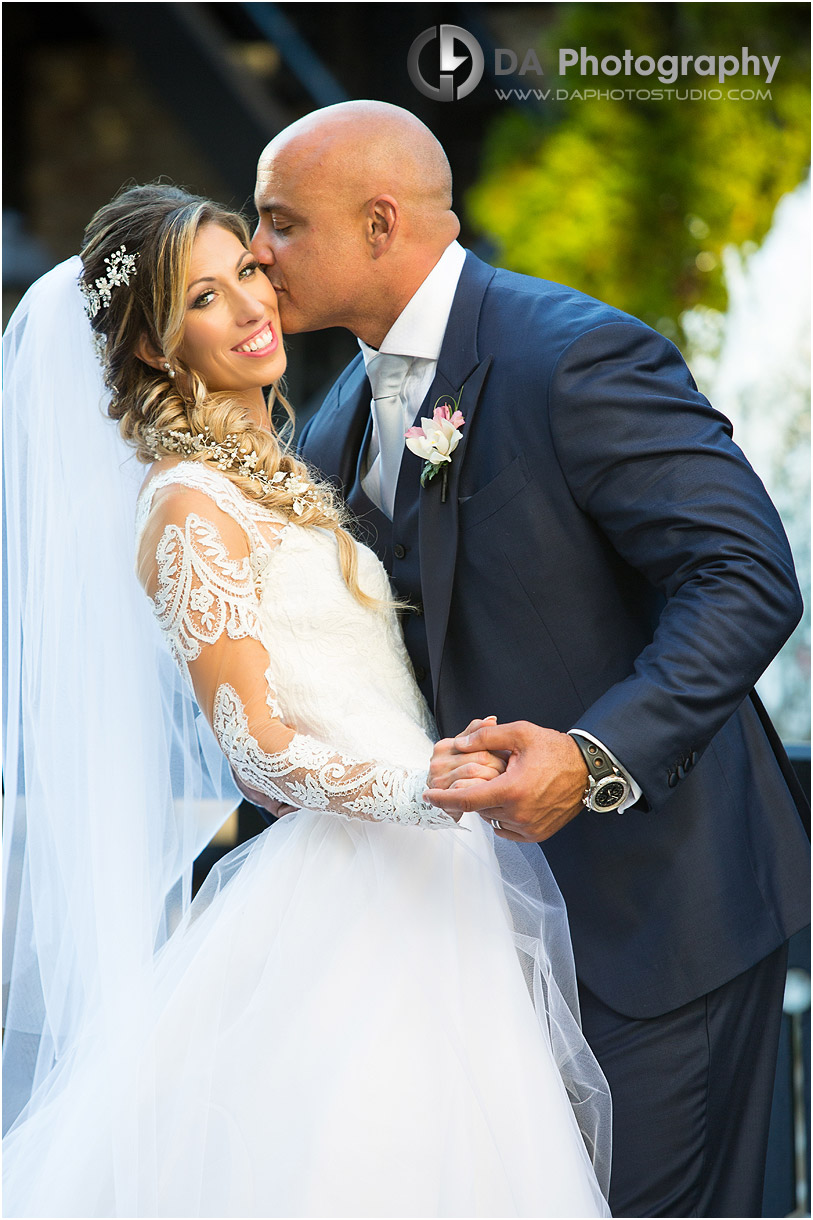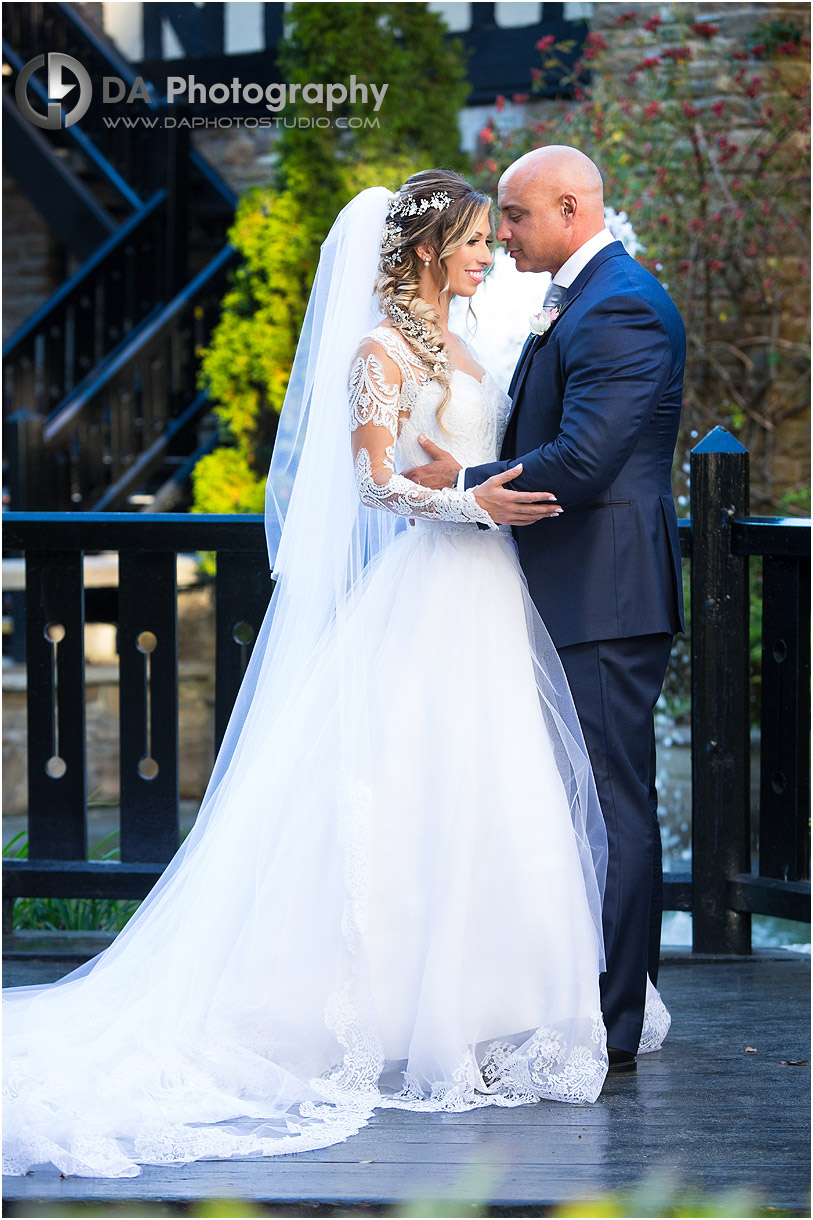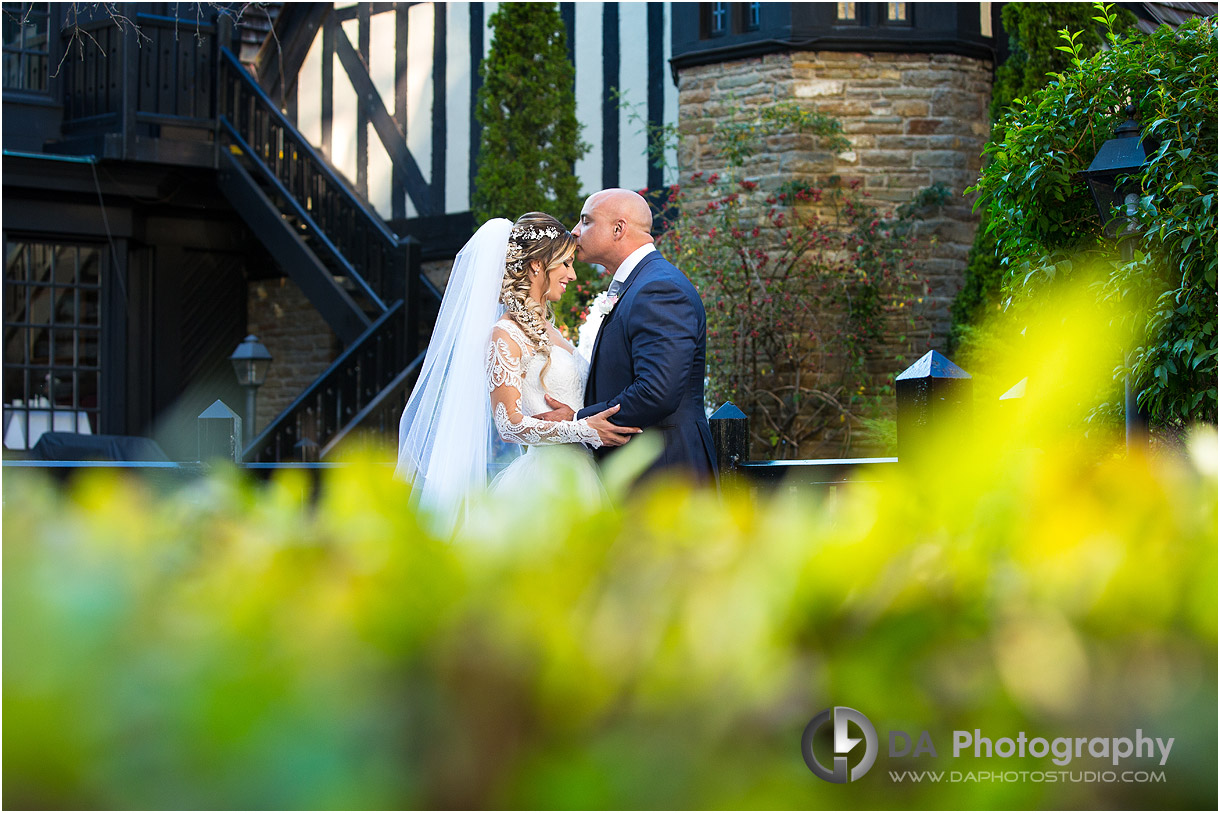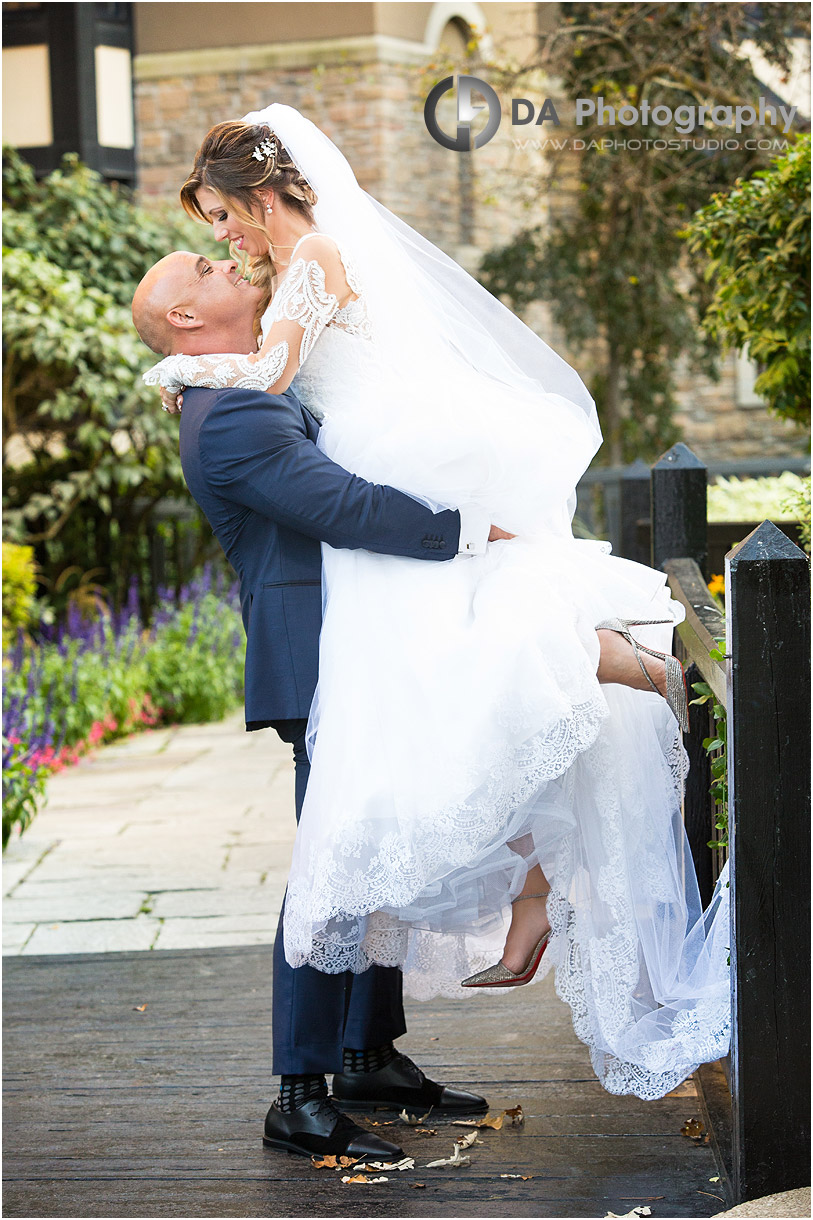 When it comes to photographing the ceremony and reception, I always prefer to shoot in a journalistic nature. This allows me to document the day as it happens, and reflect the emotions and energy behind it. The integration of the children and their reactions made for such honest photography and a realistic snapshot of their event.
In an age where couples can be blindsided by the need to have a large number of guests in attendance, this couple had only invited those who were important in their life. The connections were obvious, and the love between the guests and couple was touching to witness.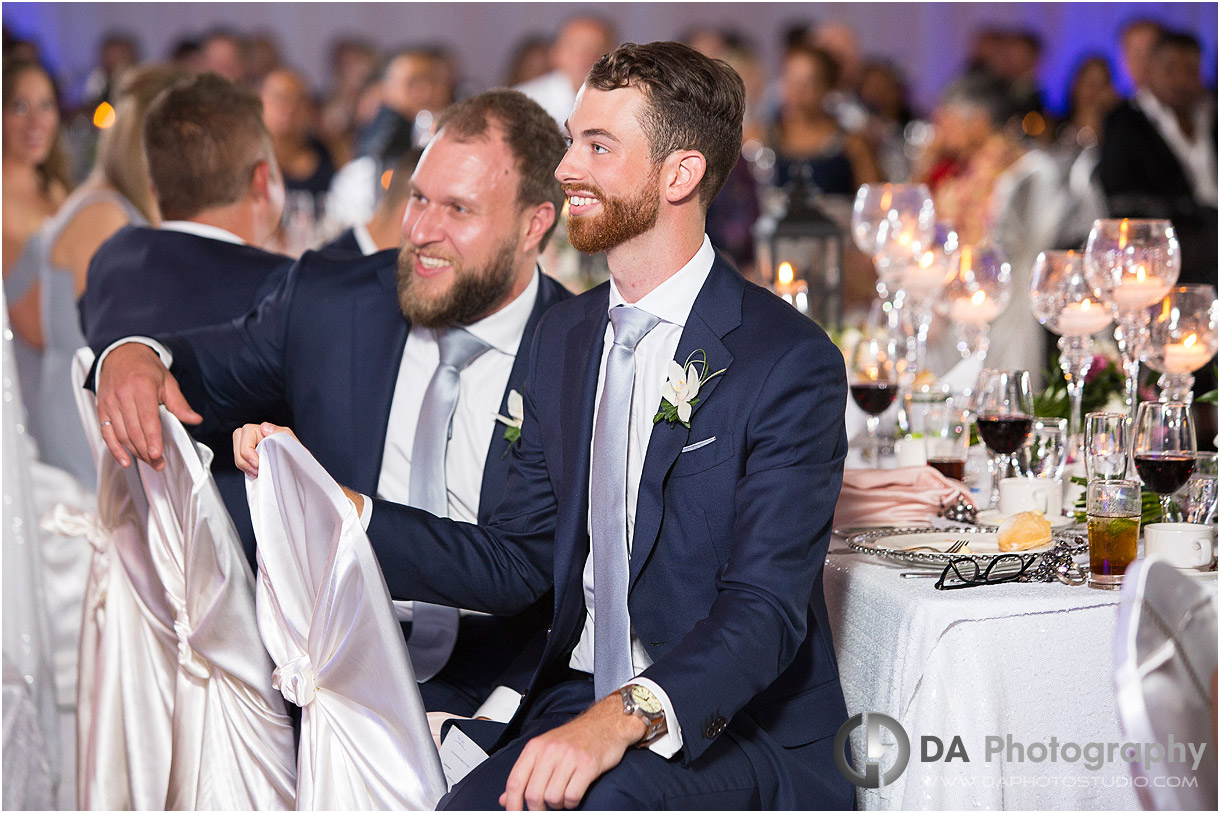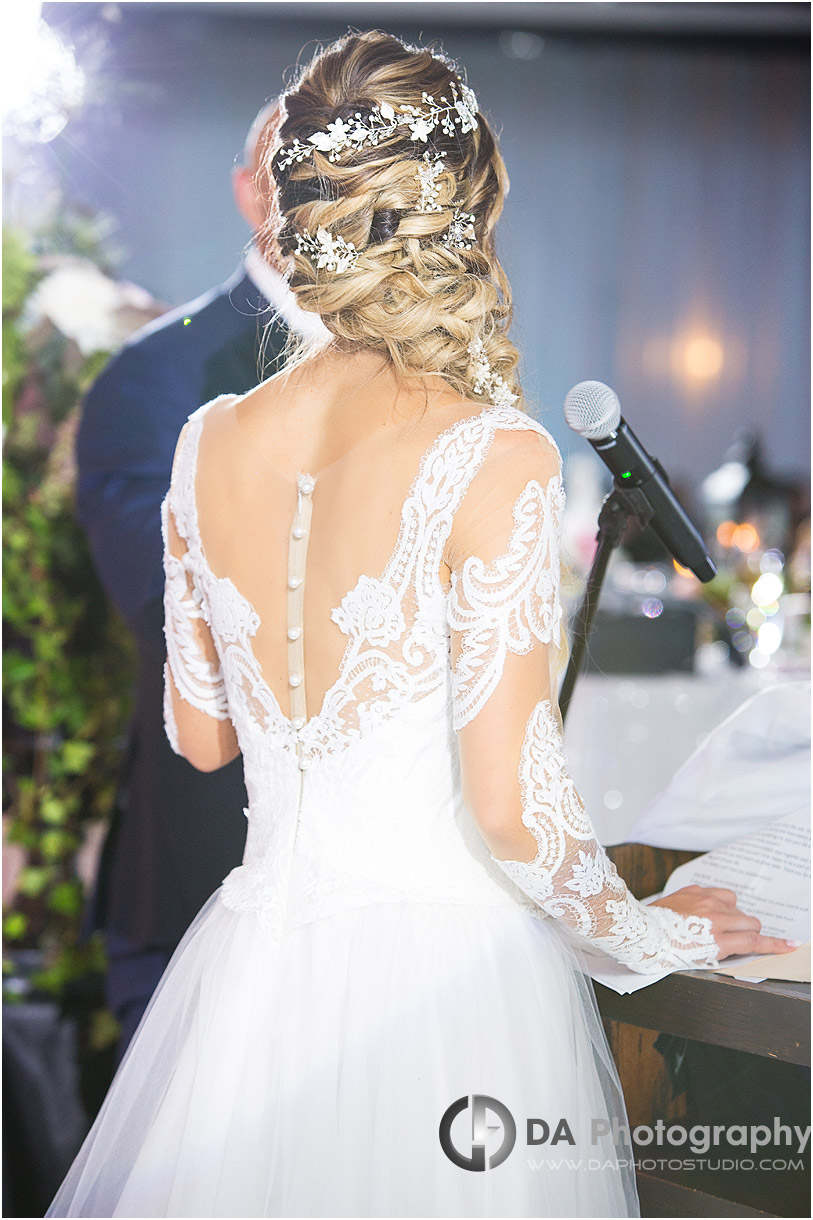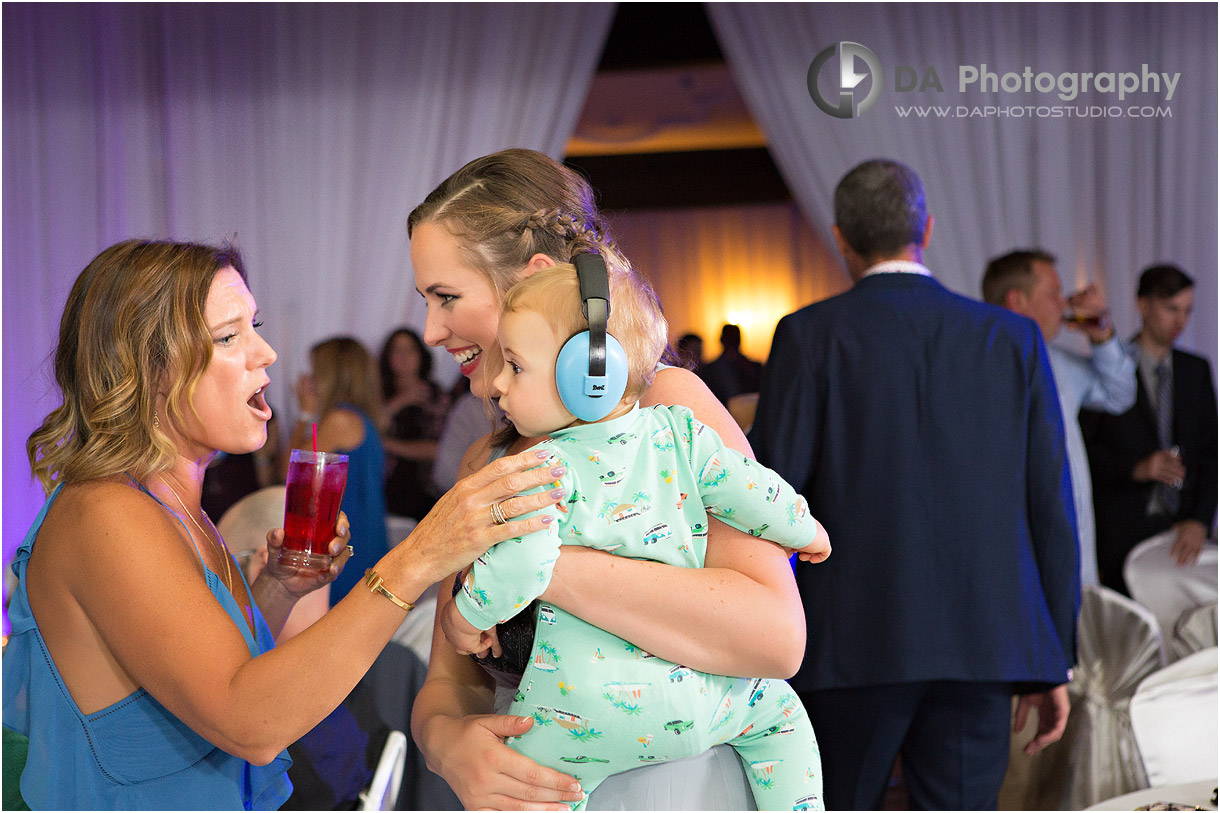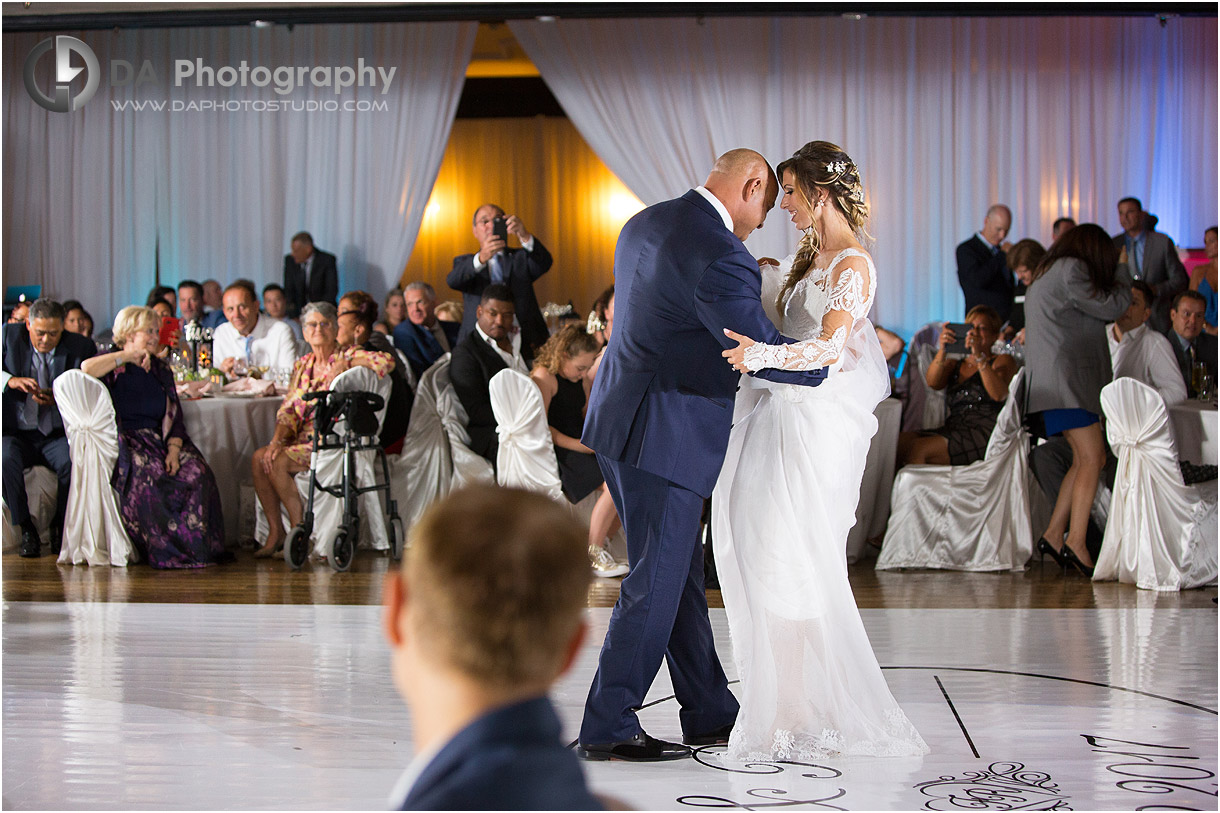 Frances and Rob's Toronto Fall wedding was stunning from beginning to the very end!
Once the festivities were underway at the Old Mill reception, I took the opportunity to capture details of Frances's planning. The part when Rob removed Frances's garter was priceless as I caught Rob's son with his jaw agog!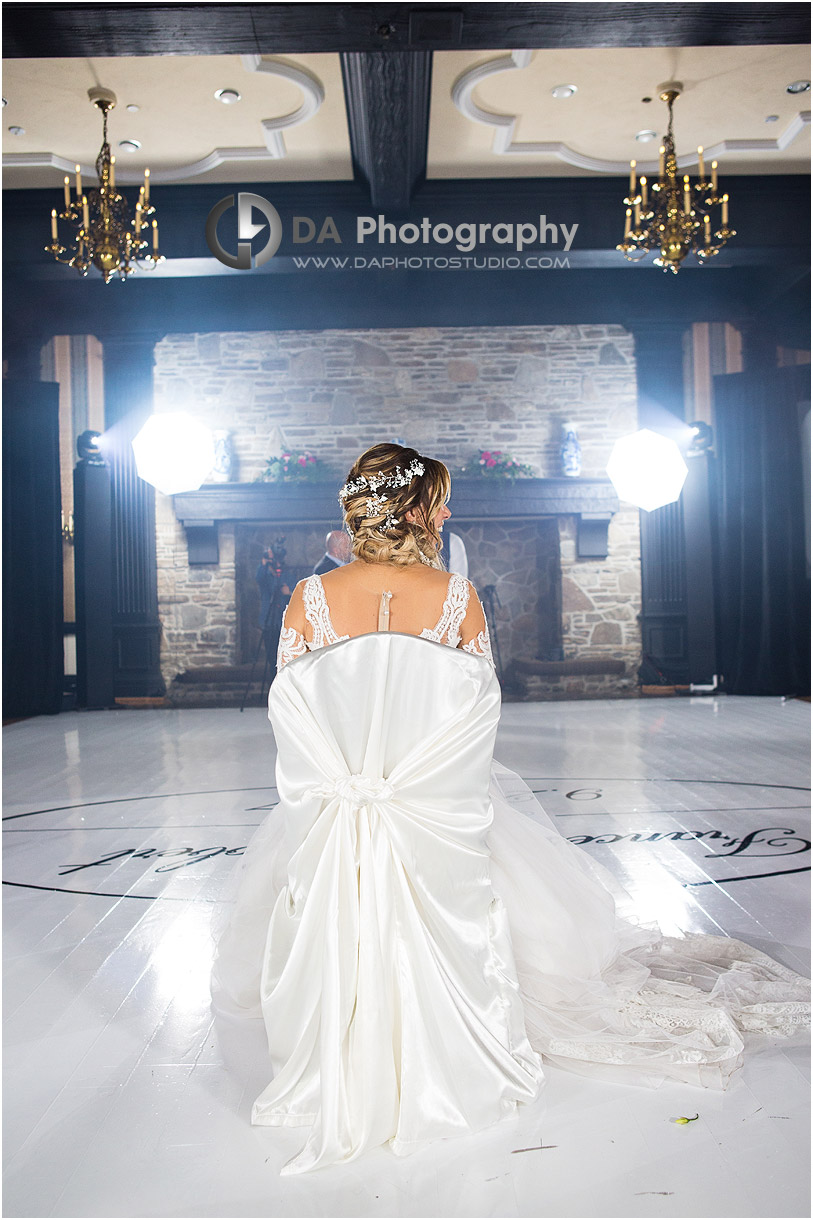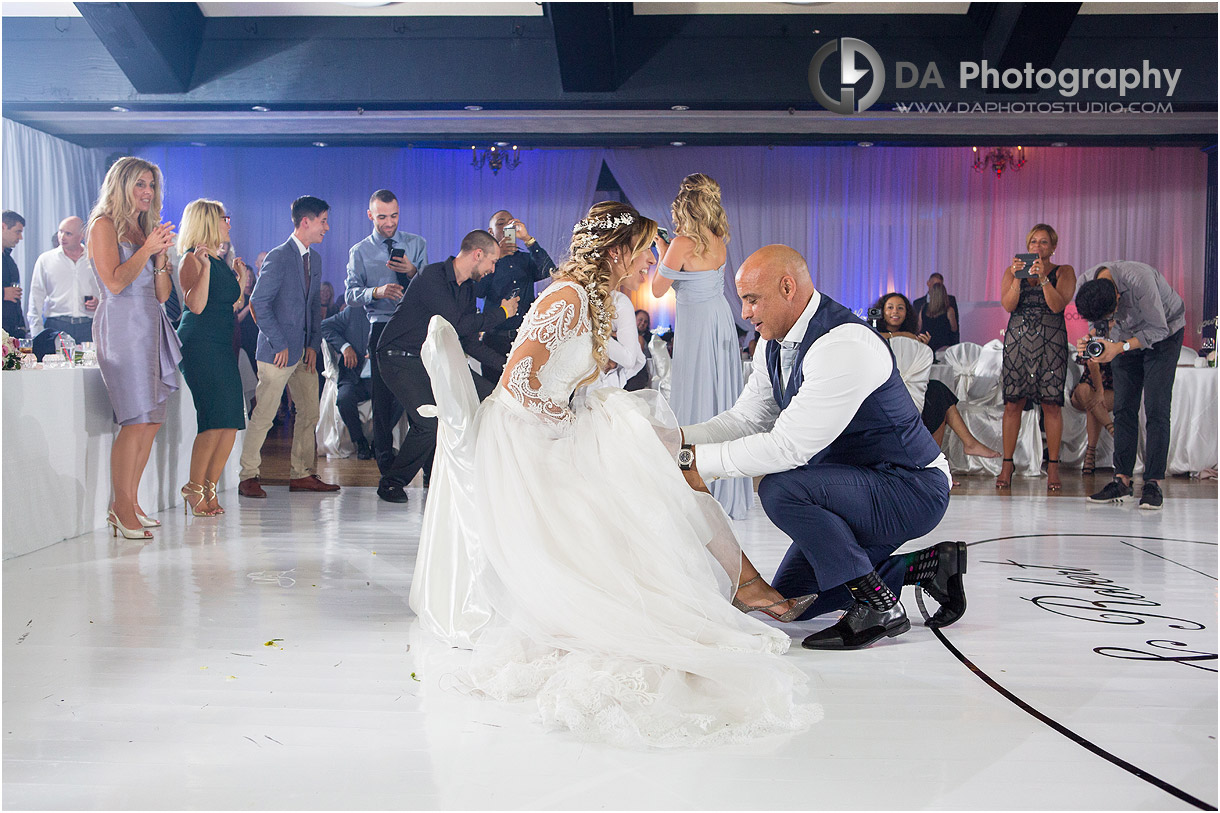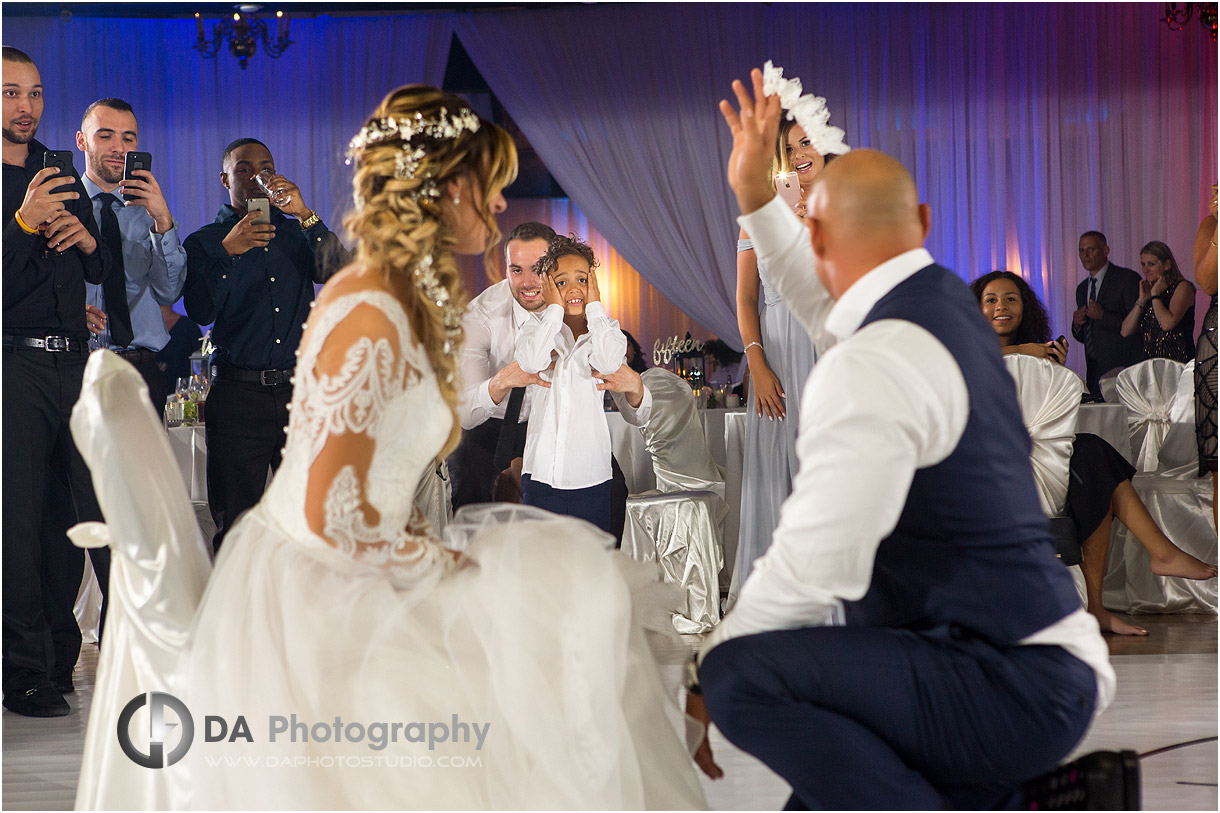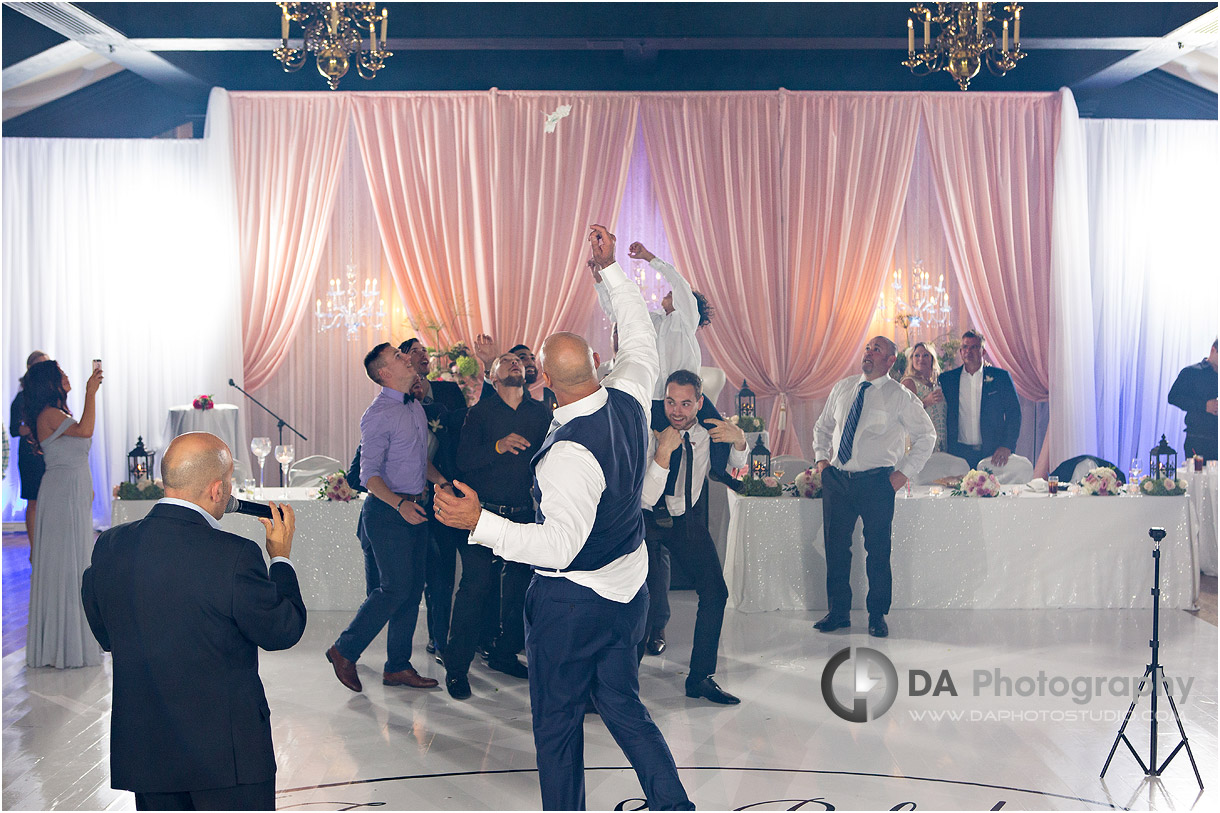 After the first dance and speeches, I managed to sneak my couple out to do my signature night portraits. Having previously shot at the Old Mill, I had discovered a really special spot that makes for a dramatic backdrop. The cobbled flooring and street style lighting are reminiscent of a Parisian side street. I had Frances and Rob reflect on the gravity of their wedding and captured their connection.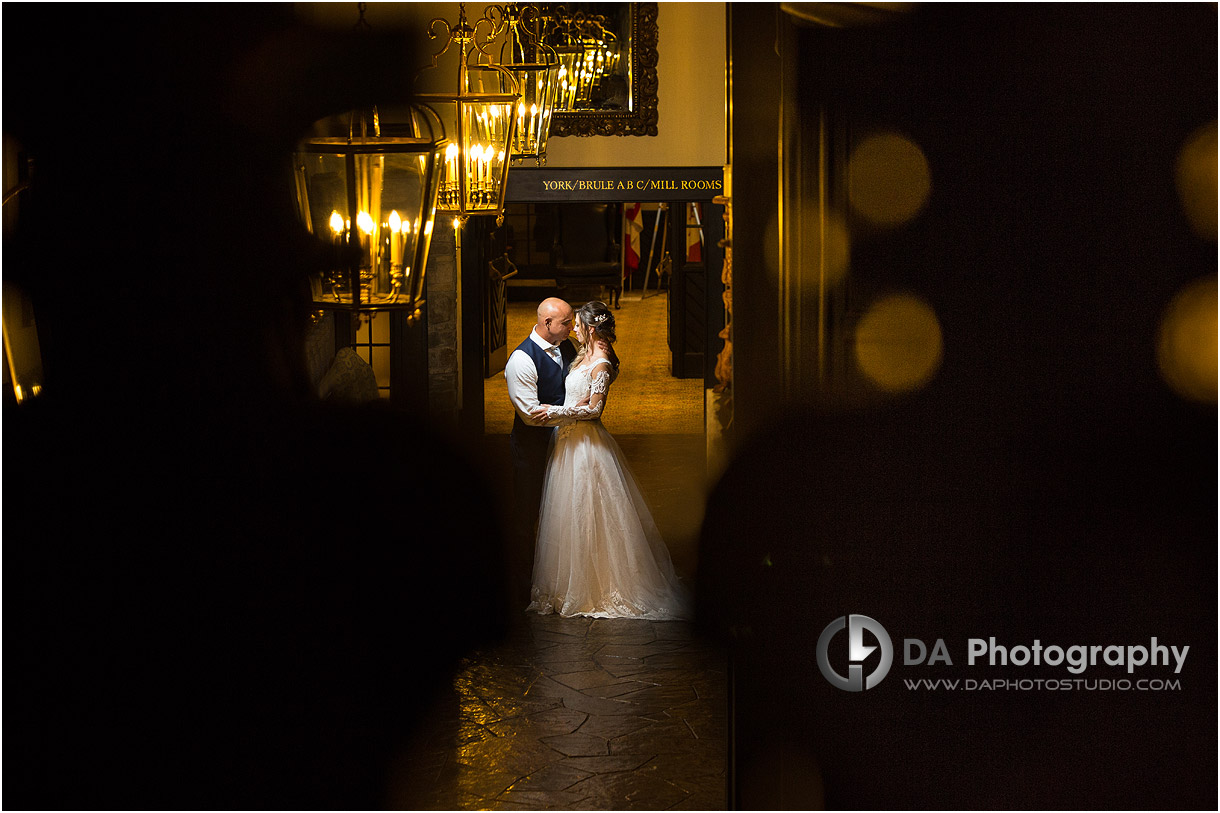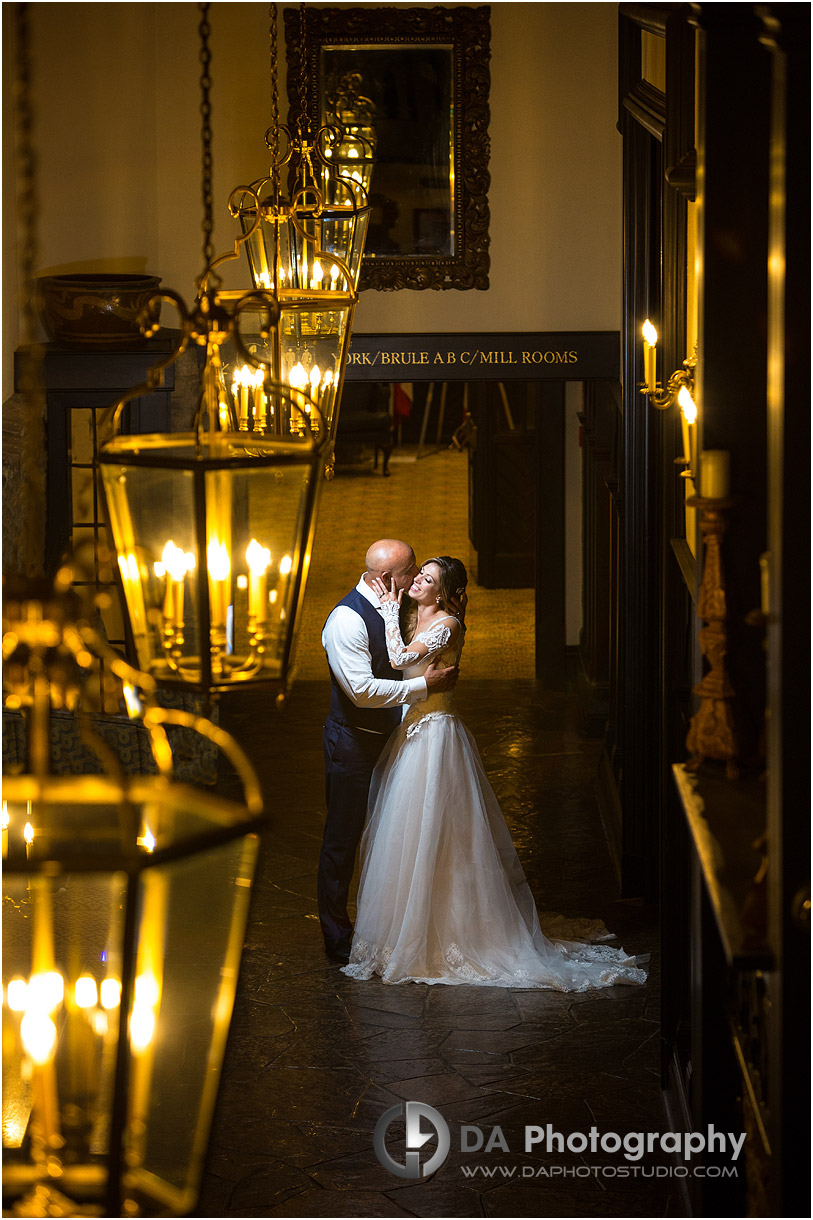 As they rejoined their friends and family, I got a statement shot of the two of them from behind. You see the matching red on the soles of their shoes and the textures of her sparkles and lace dress. This shot sums up just how well put together their Toronto fall wedding was. Every last detail was thought out and eloquently executed, allowing them to sit back and enjoy their day surrounded with those they loved.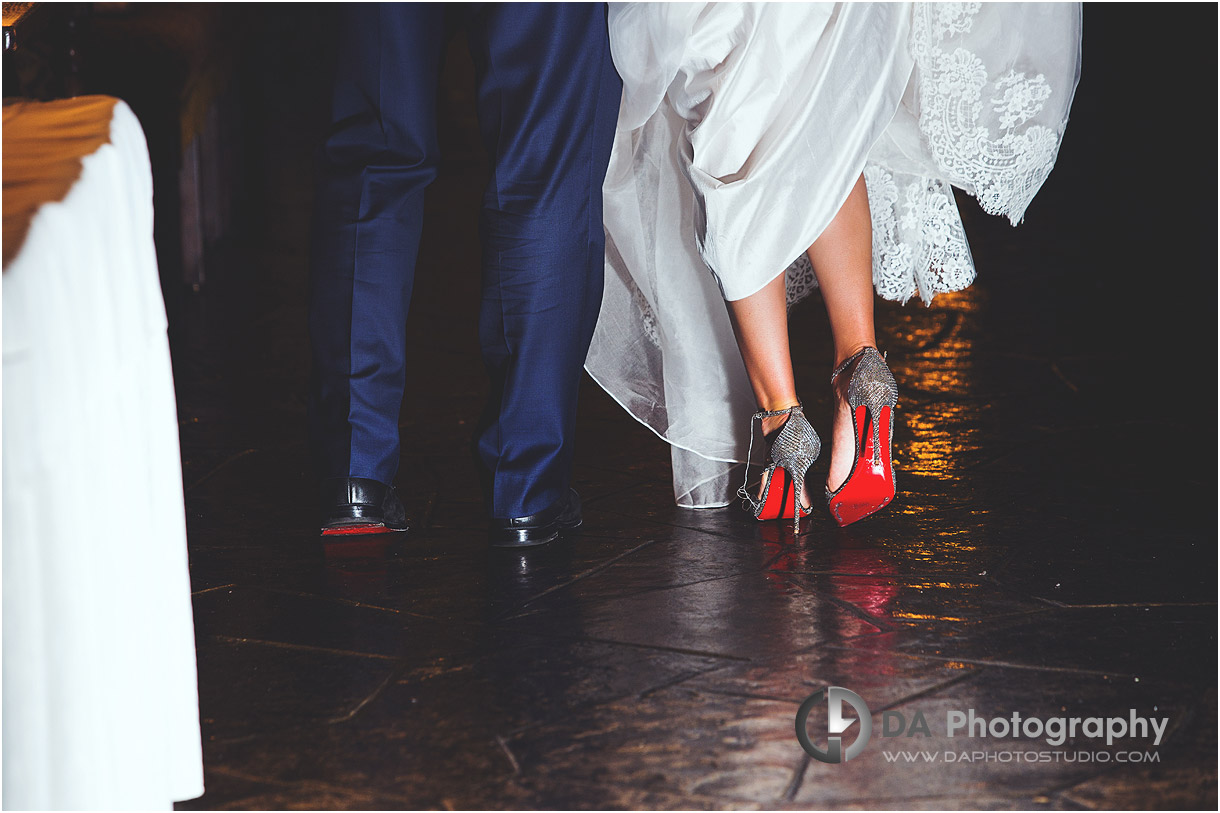 Please check another Toronto Fall Wedding in this blog post 
here.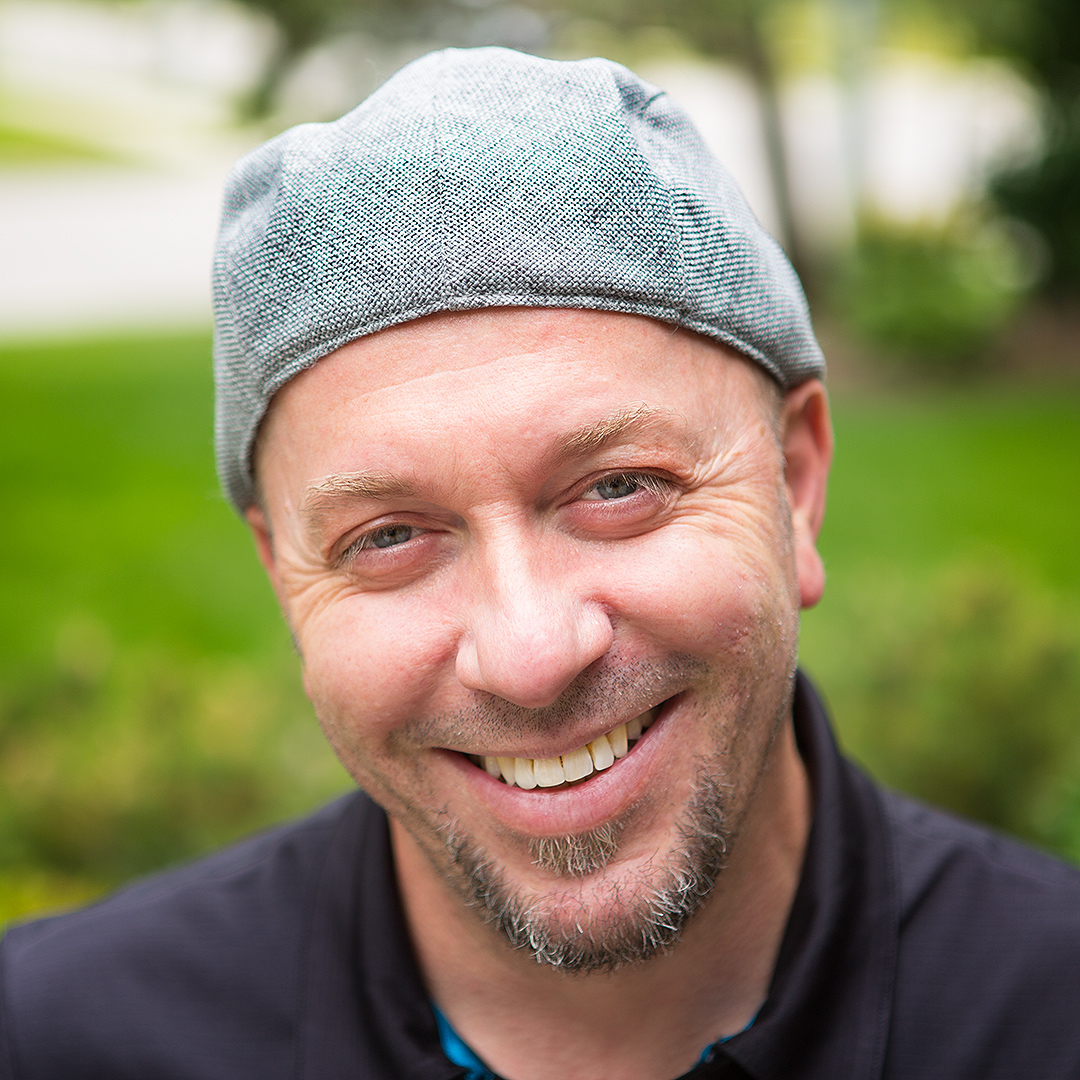 My passion and biggest asset is taking the time to make every client comfortable and relaxed before I even pick up the camera. The result? Photos of you that actually look like you at your best! I can prove to you how much you can enjoy having your picture taken. Lifestyle photography is about the experience that happens to be served up along side of some great photos.
Specialties:
Family Photography for families that like to move around and enjoy their photo time, Wedding Photography for couples looking for a mixture of photojournalistic, contemporary and traditional images and Professional Corporate headshots that are far from cheesy and stiff.