This Royal Canadian Yacht Club wedding has quite the story behind it. In order to tell the whole story behind this wedding, we have to first begin with how I met Jess and Monty in the first place.
Originally, Diego recommended me to Jess and Monty. At the time, he was the wedding sales coordinator at Columbus Event Centre. As a preferred wedding photographer for the venue, he already knew that I could provide the service that Jess and Monty were looking for.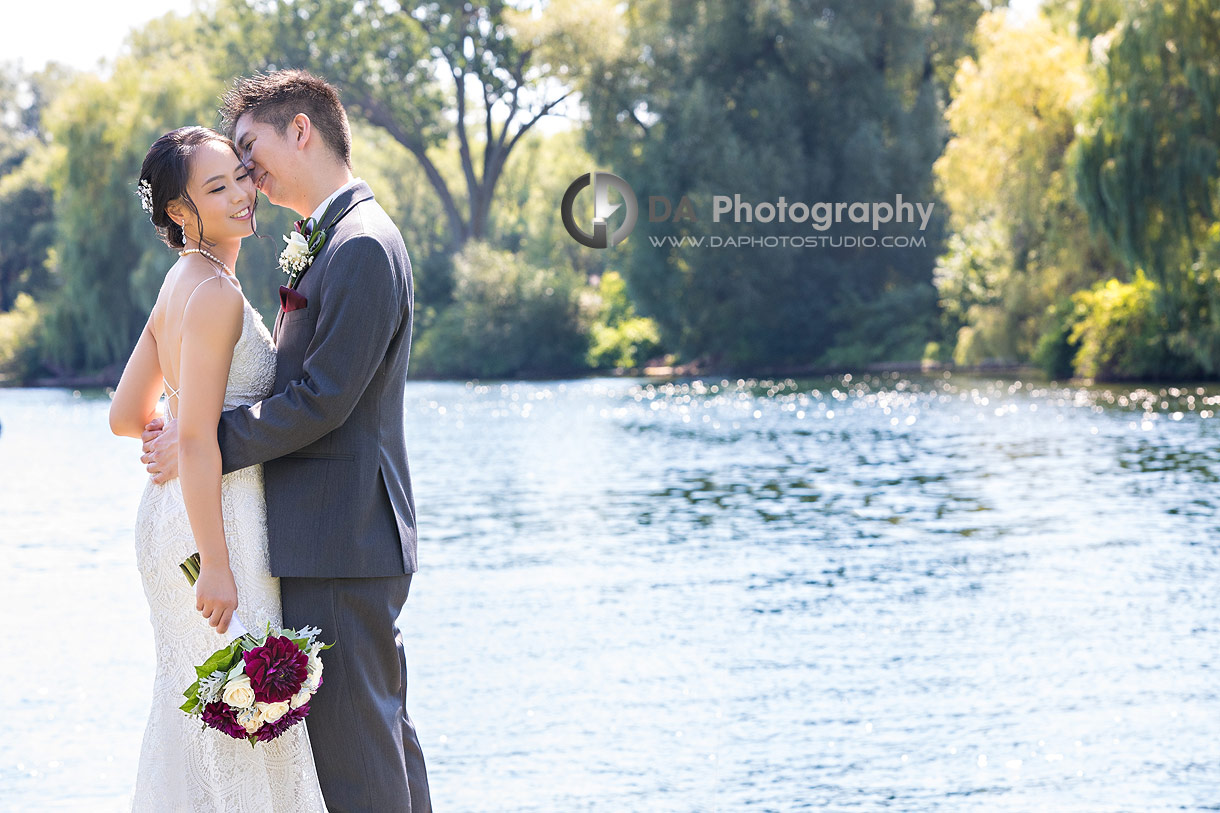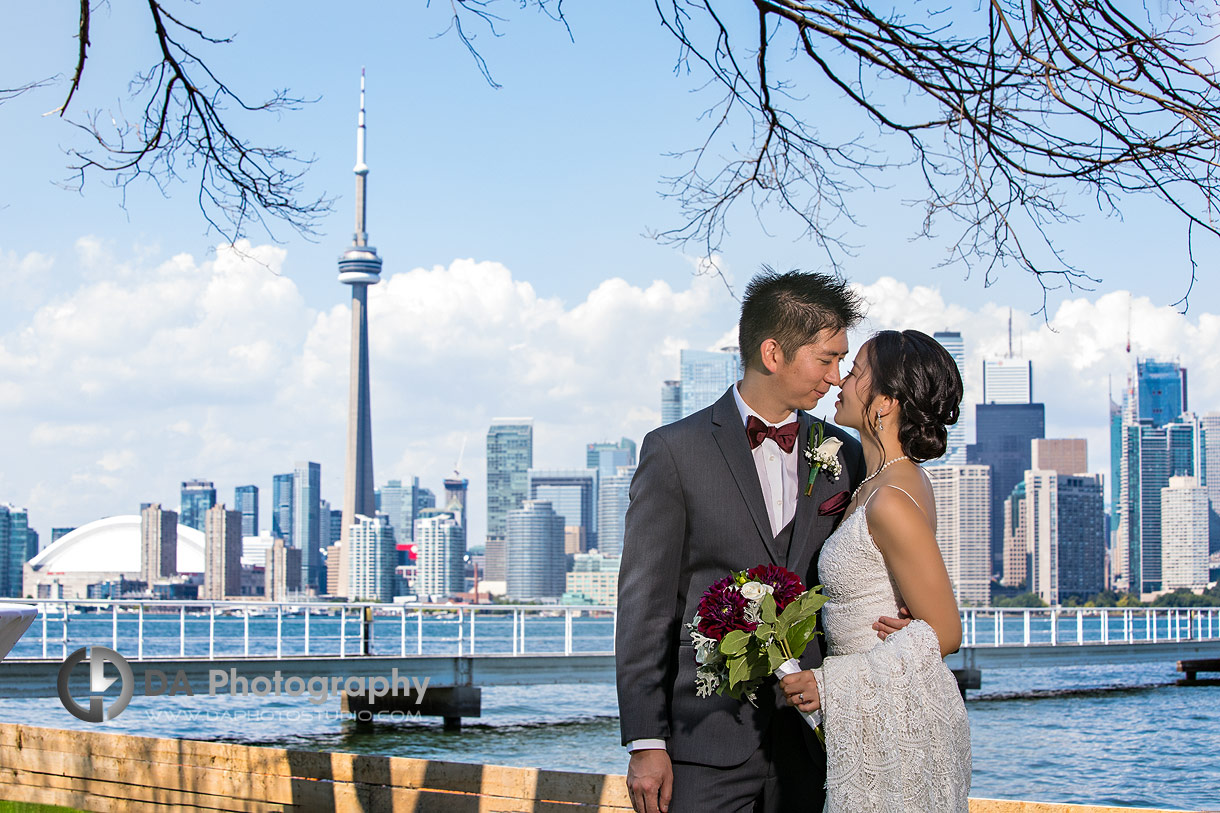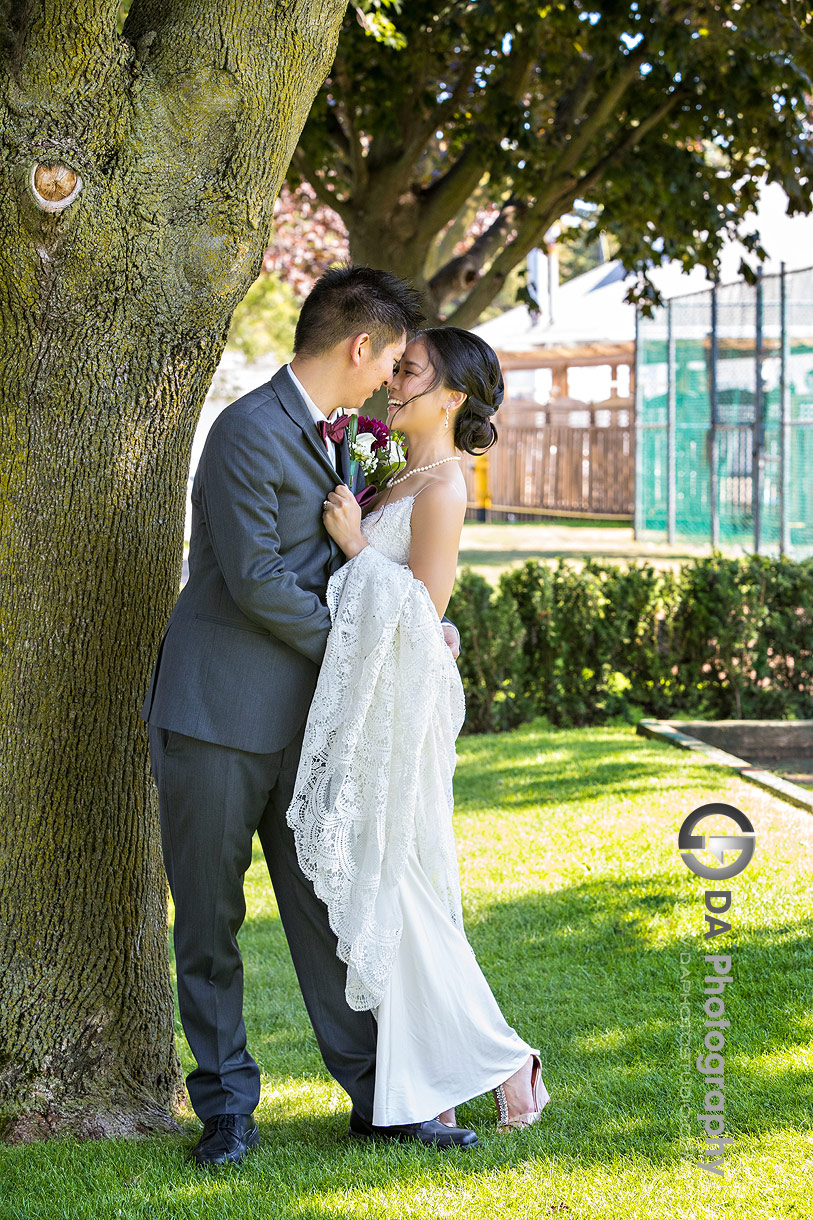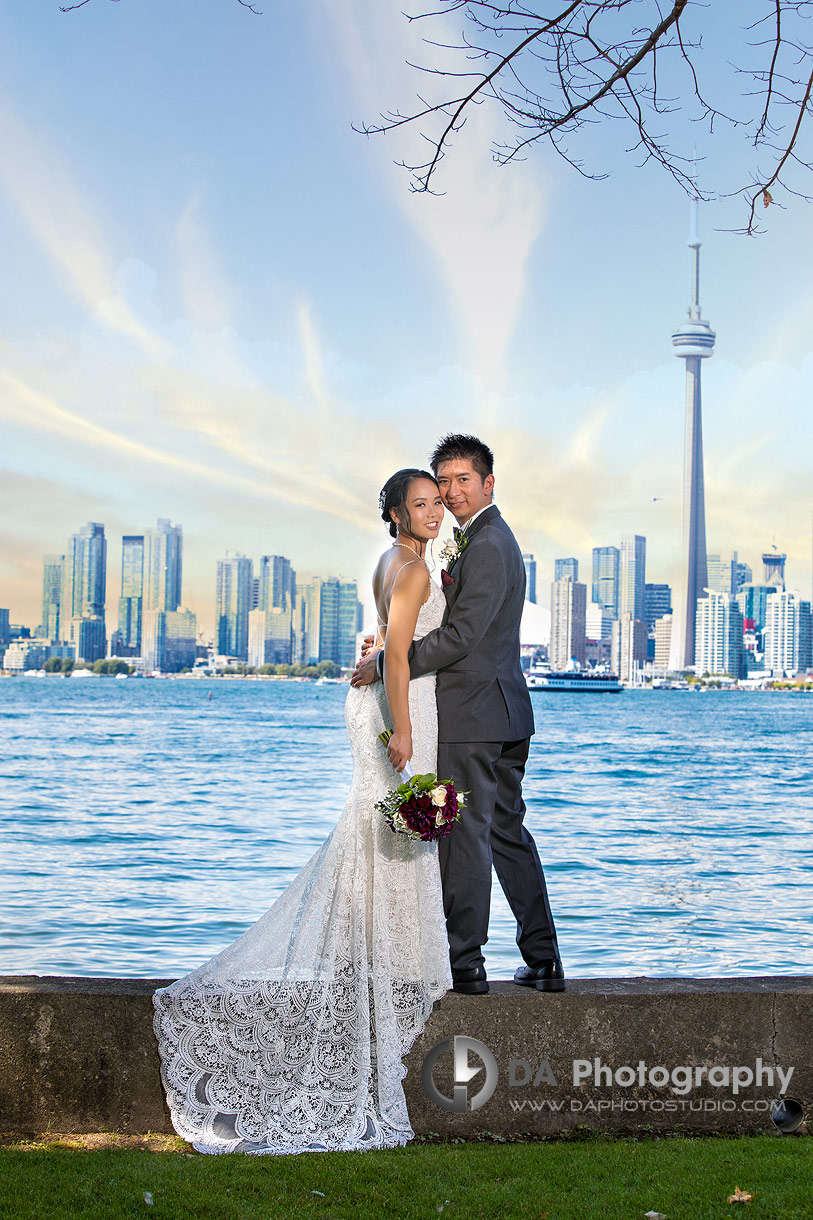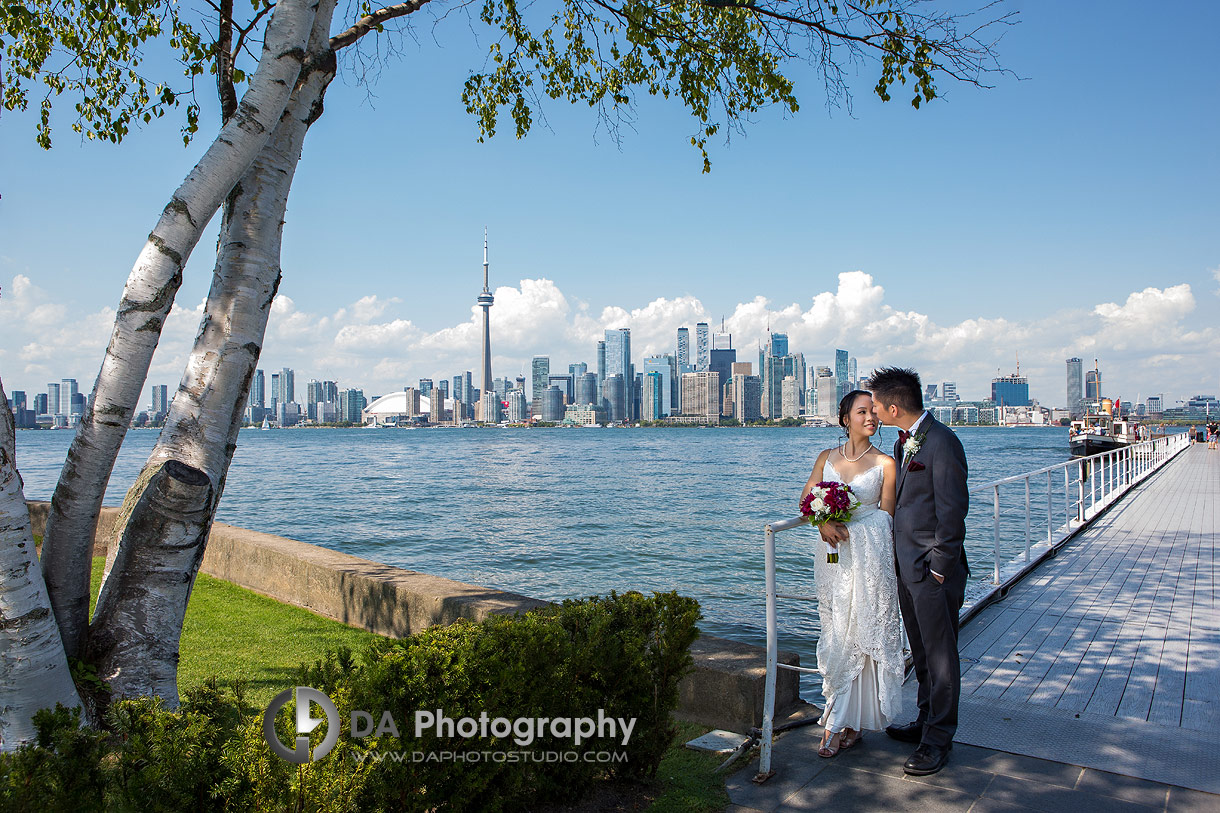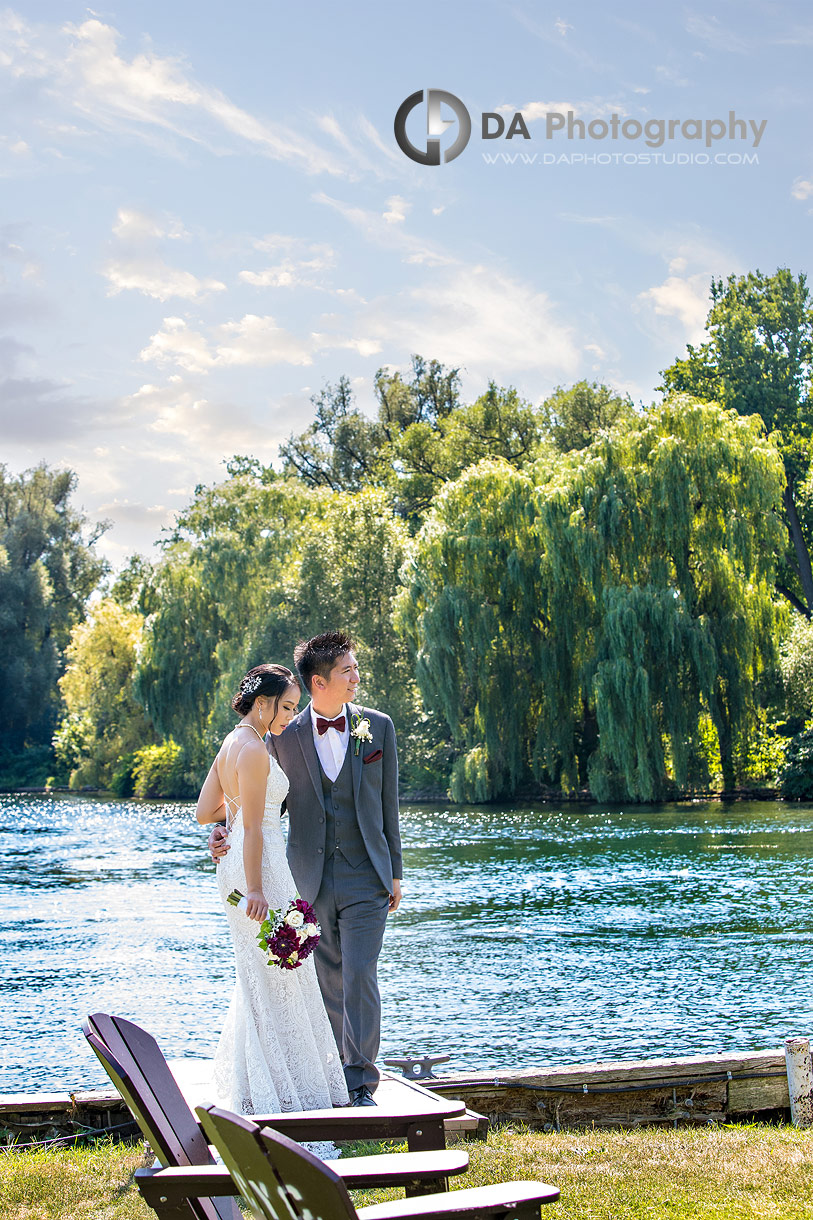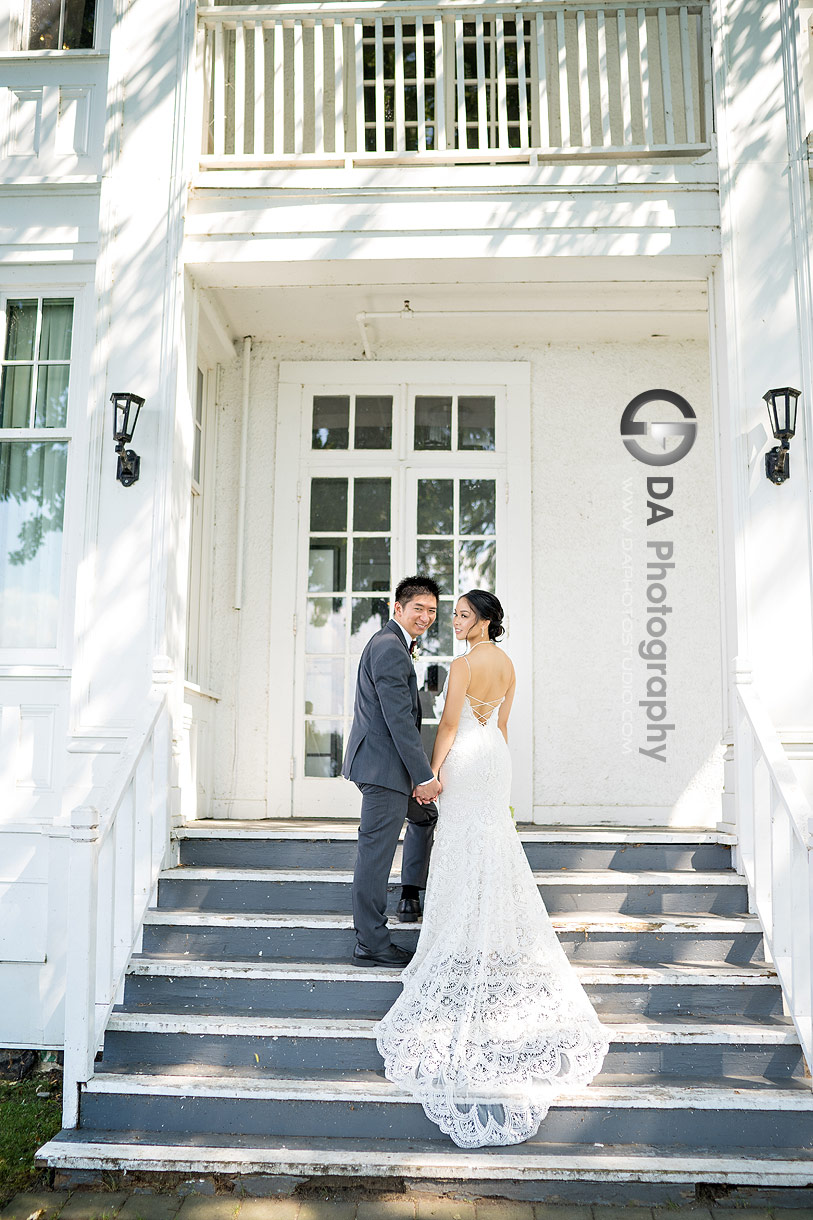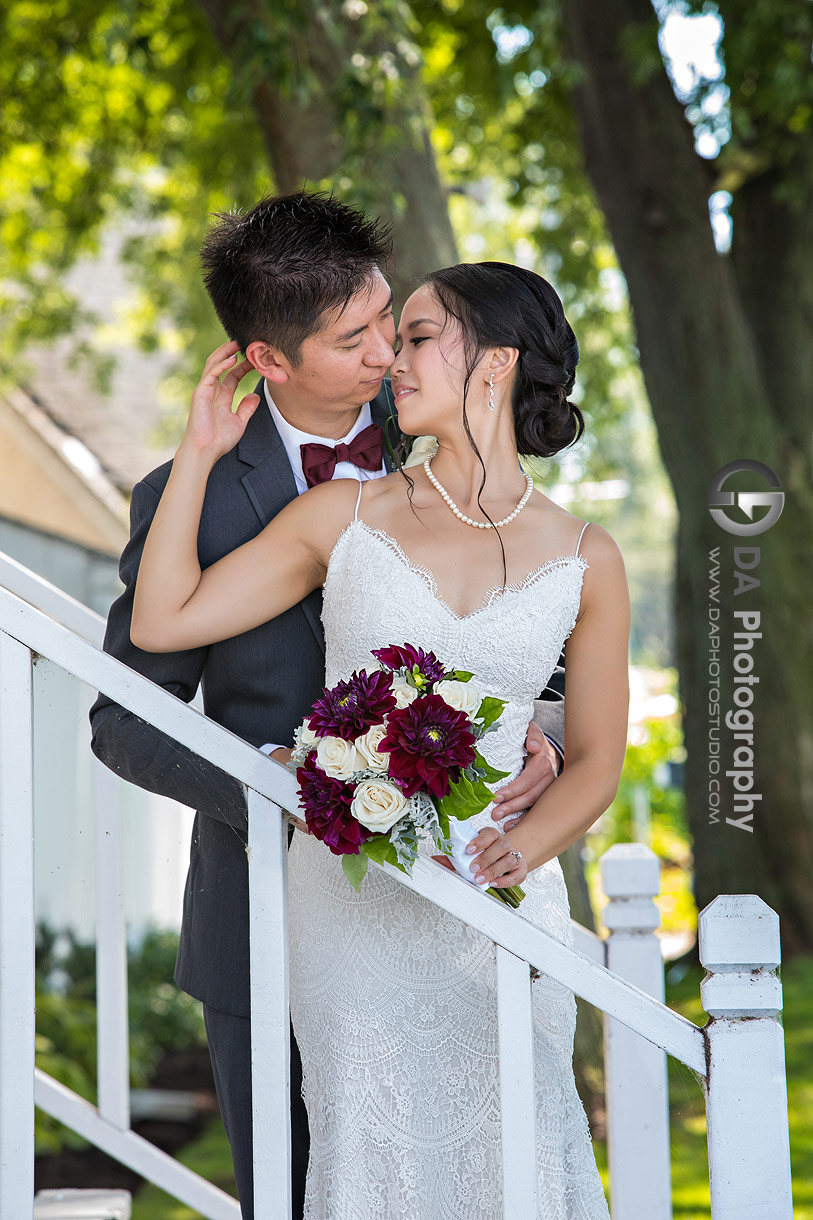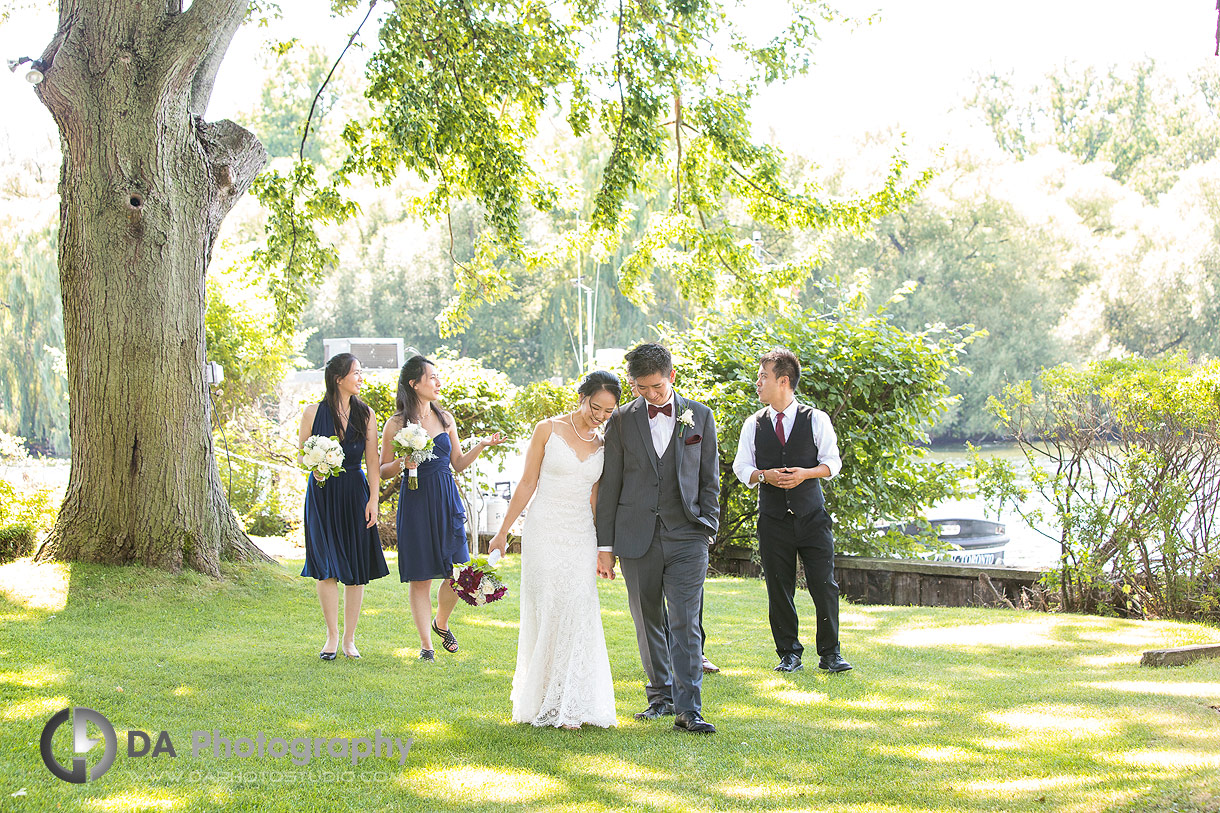 Starting to plan this Royal Canadian Yacht Club wedding
We initially met in one of the conference rooms at Columbus. Jess and Monty were there and accompanied by his mom. Immediately we felt a connection. They all had such great personalities and there was no doubt in my mind that we would work amazingly together. It turned out, I wasn't wrong!
After the meeting, they reached out to tell me that they would indeed like for me to photograph their wedding. This meant we needed to get started on planning their photo needs. The first item on their list was the engagement session. They chose to have fall engagement photos. When they asked me for location ideas, I was sure to recommend one of my absolute favourites, The Paletta Mansion. That was such a fun, amazing day! However, this blog is about their wedding story so I won't go into it here. If you would like to full story, here is the blog post where you can read all about their engagement photo session.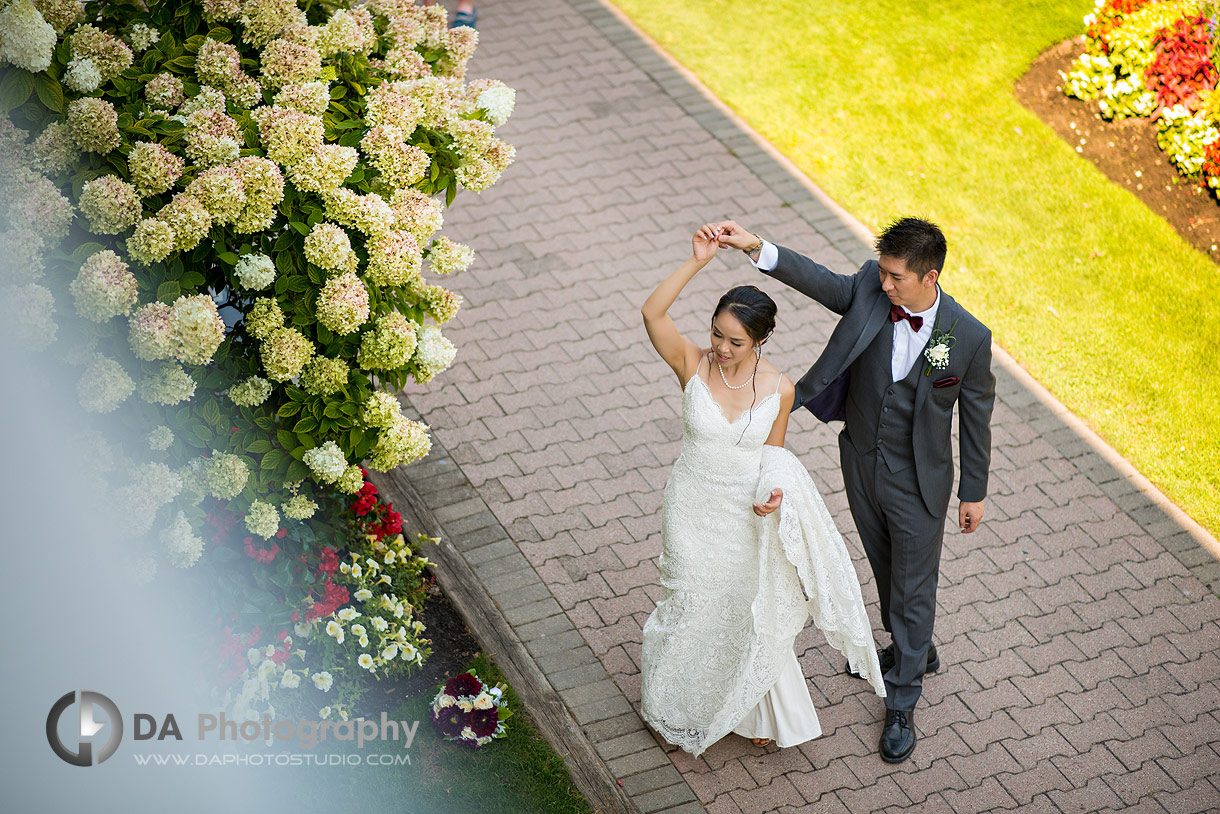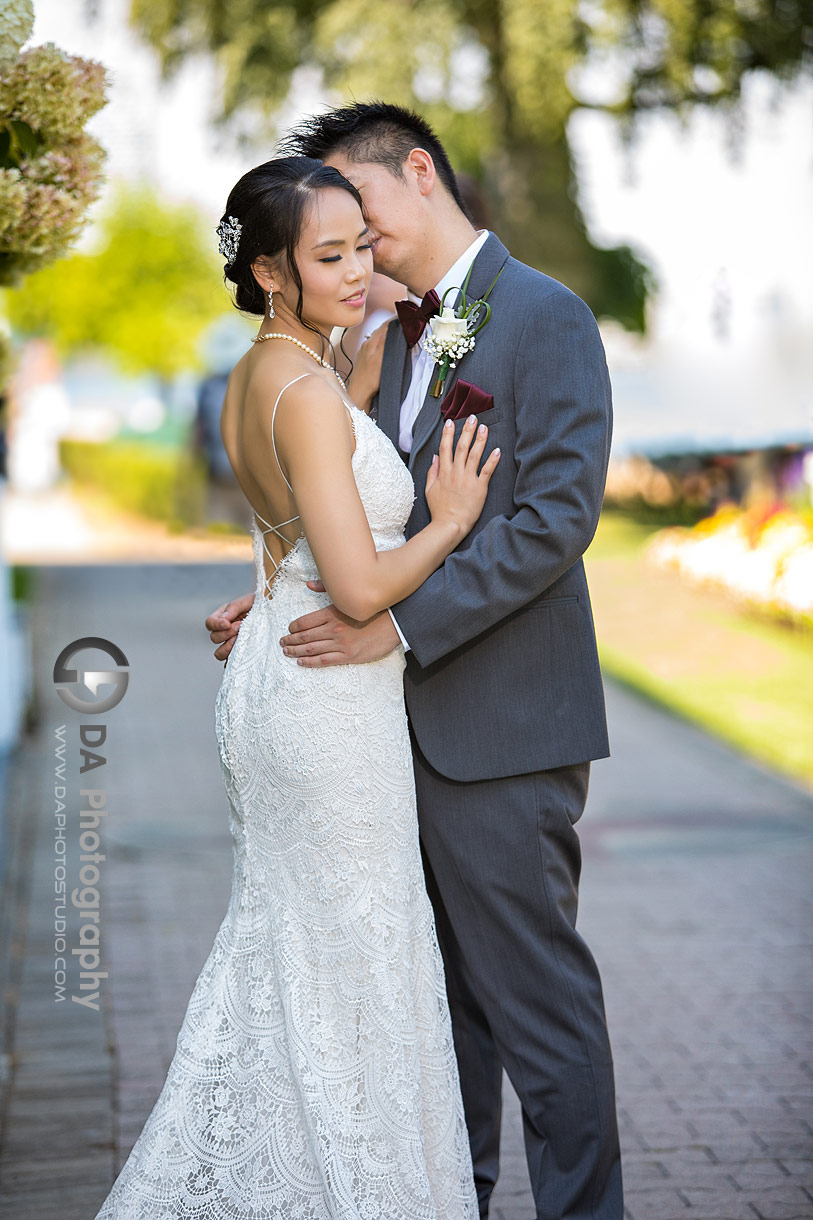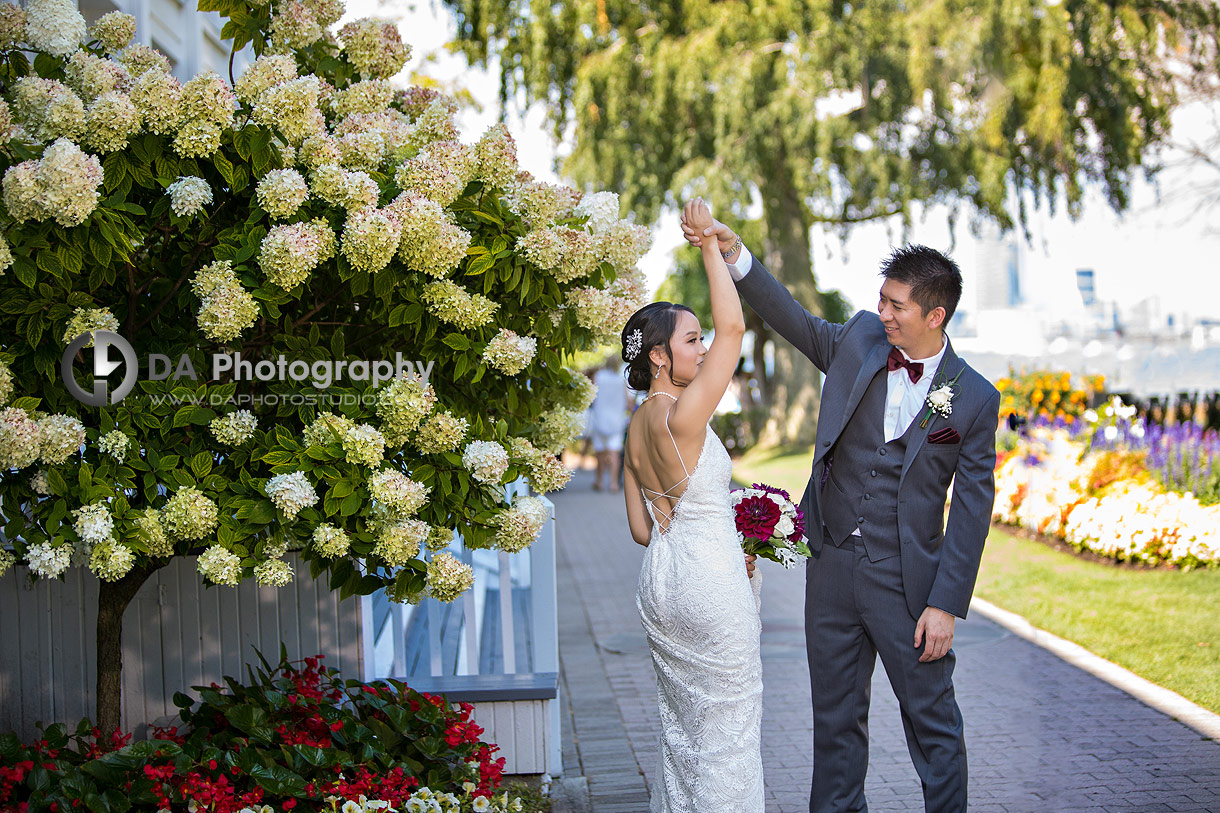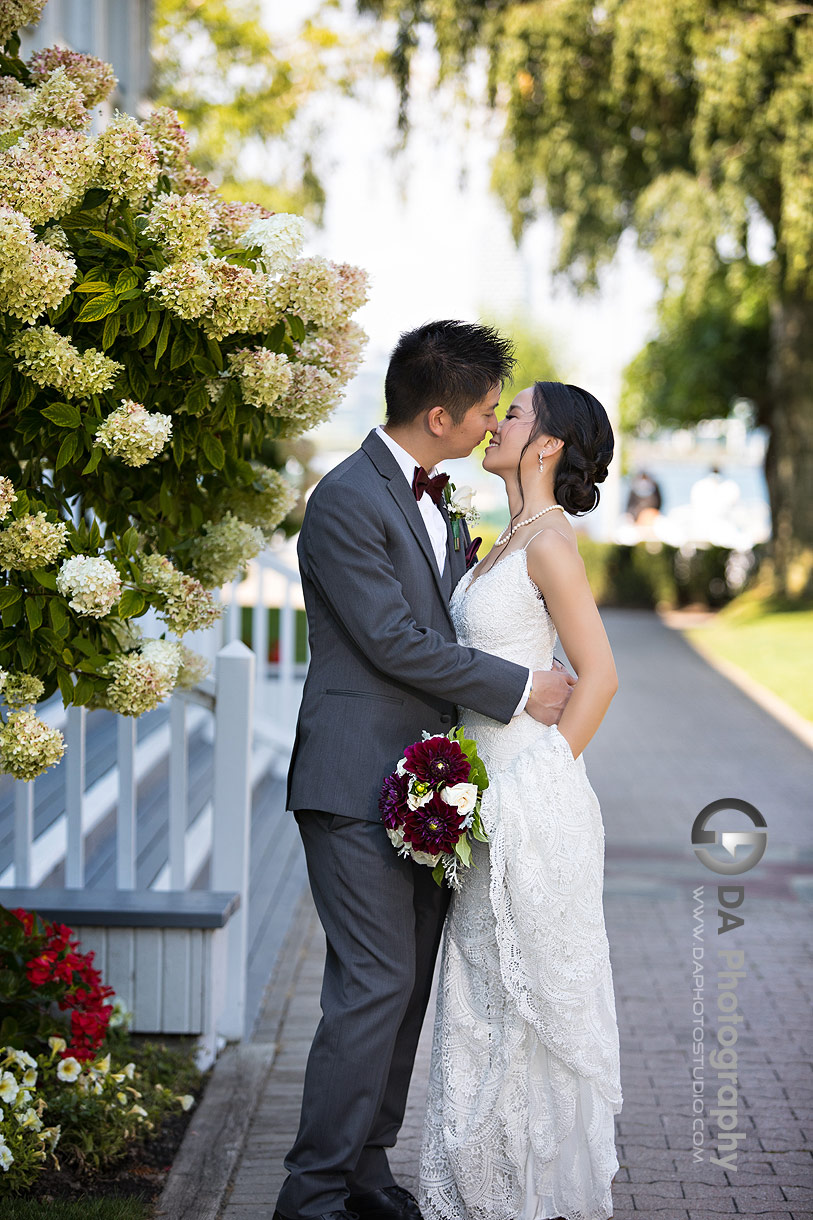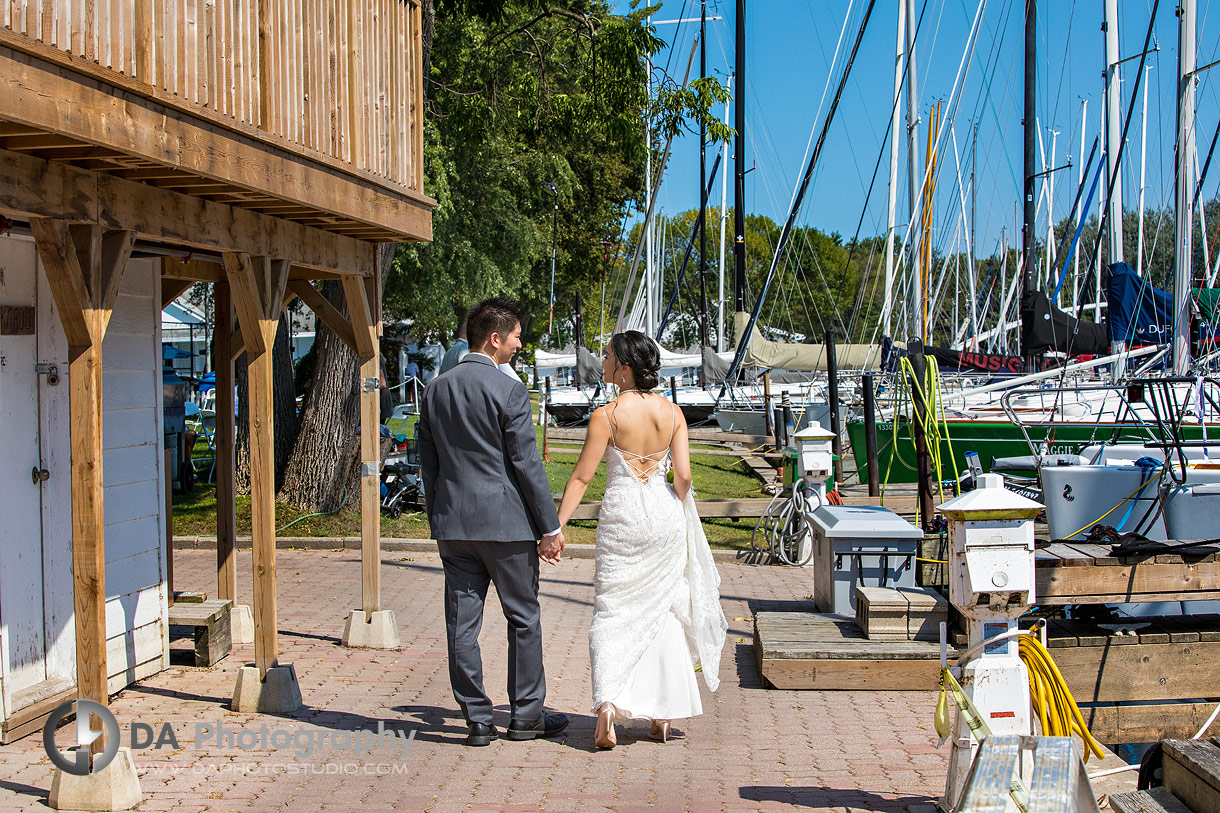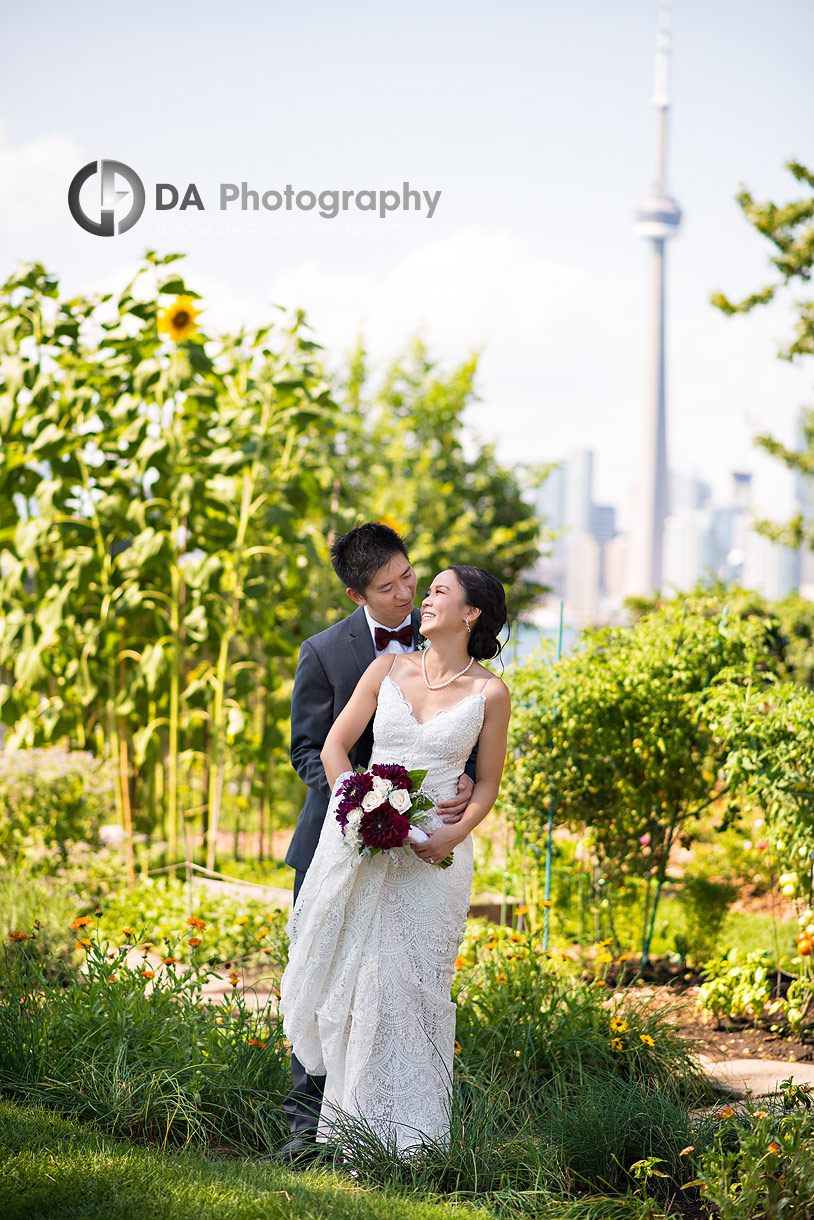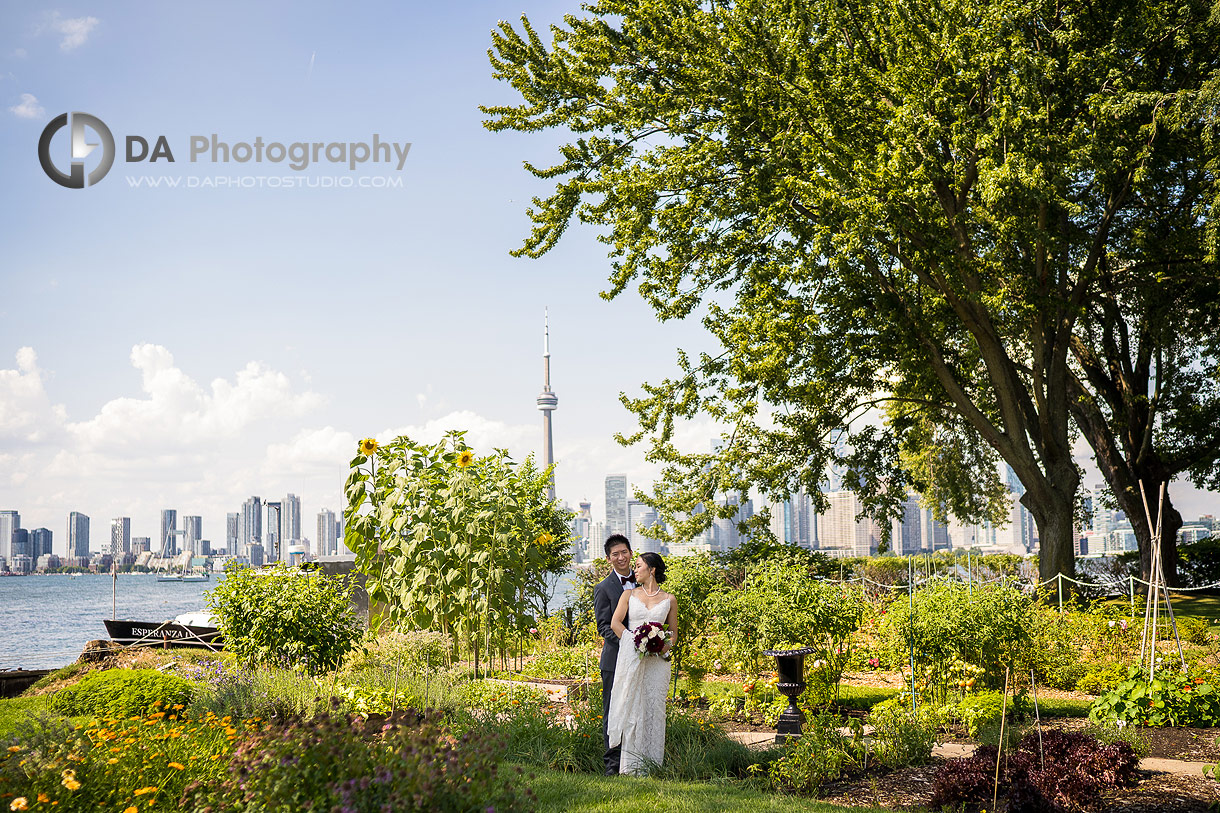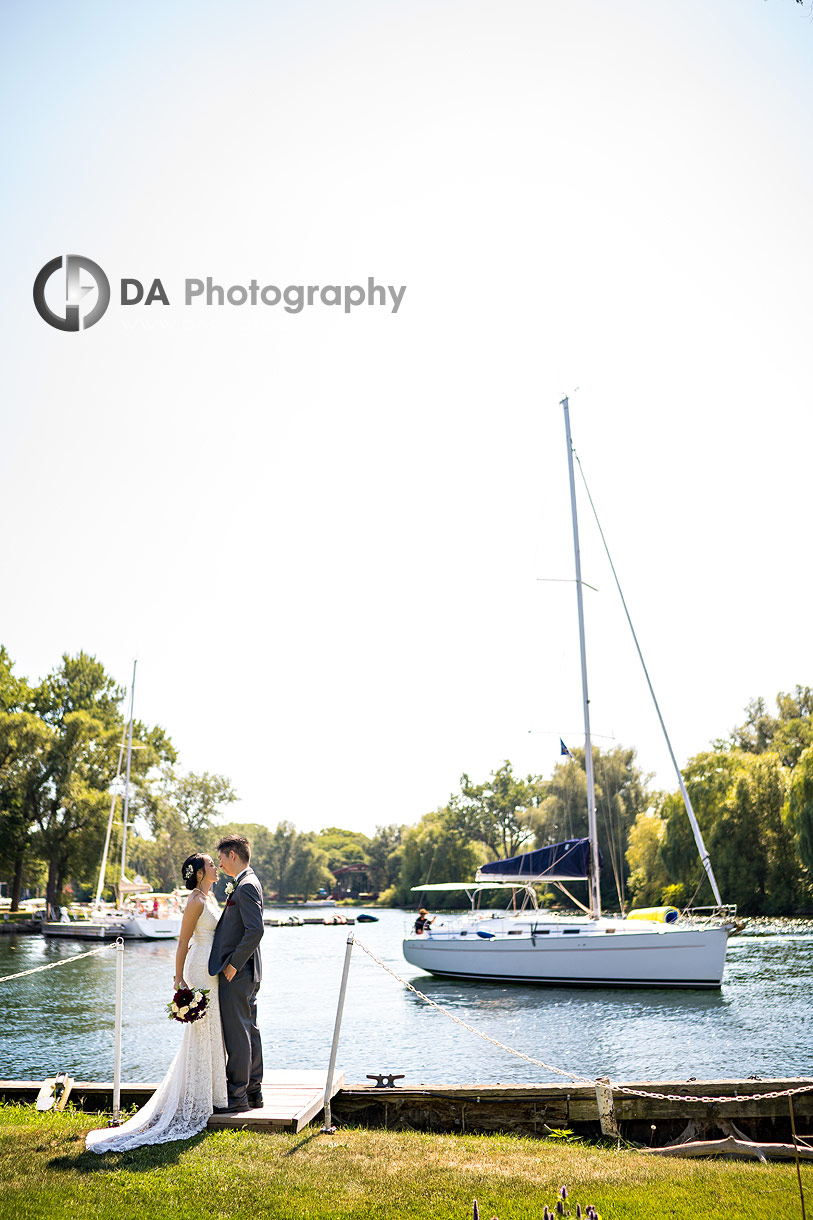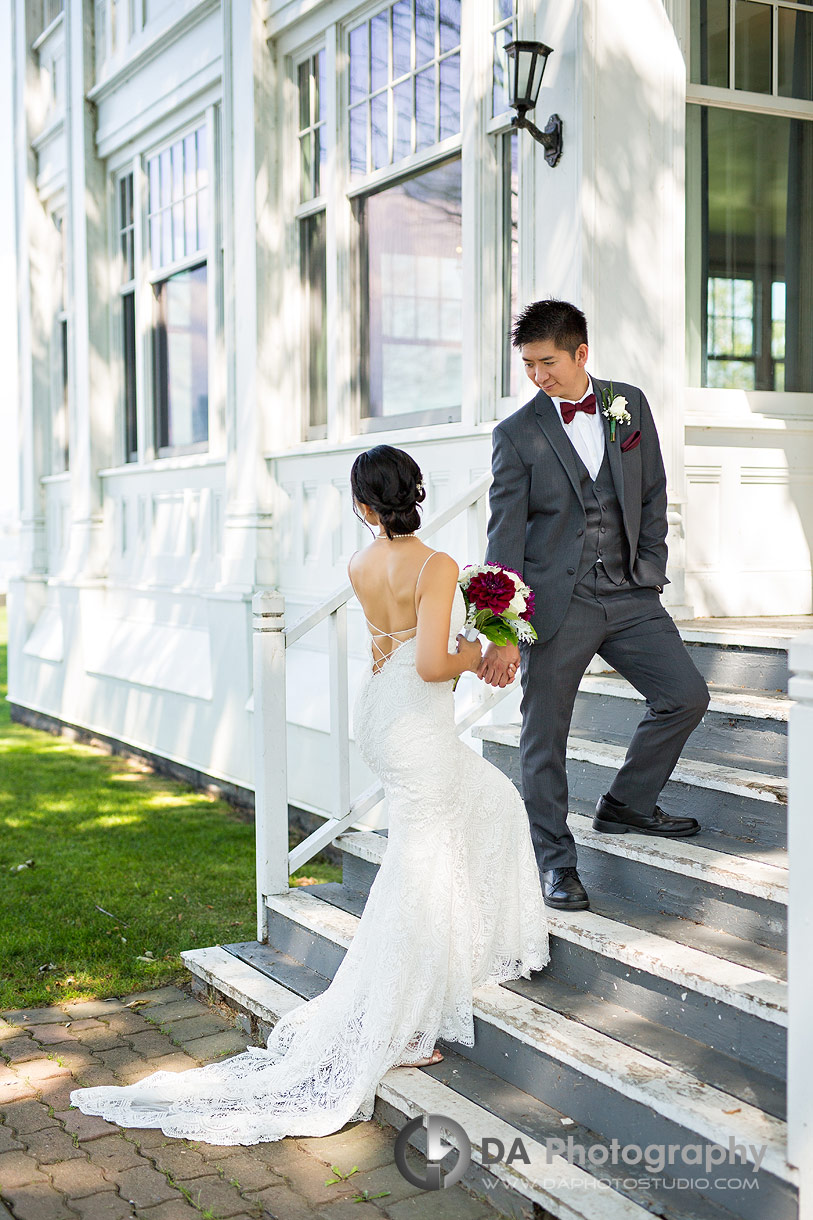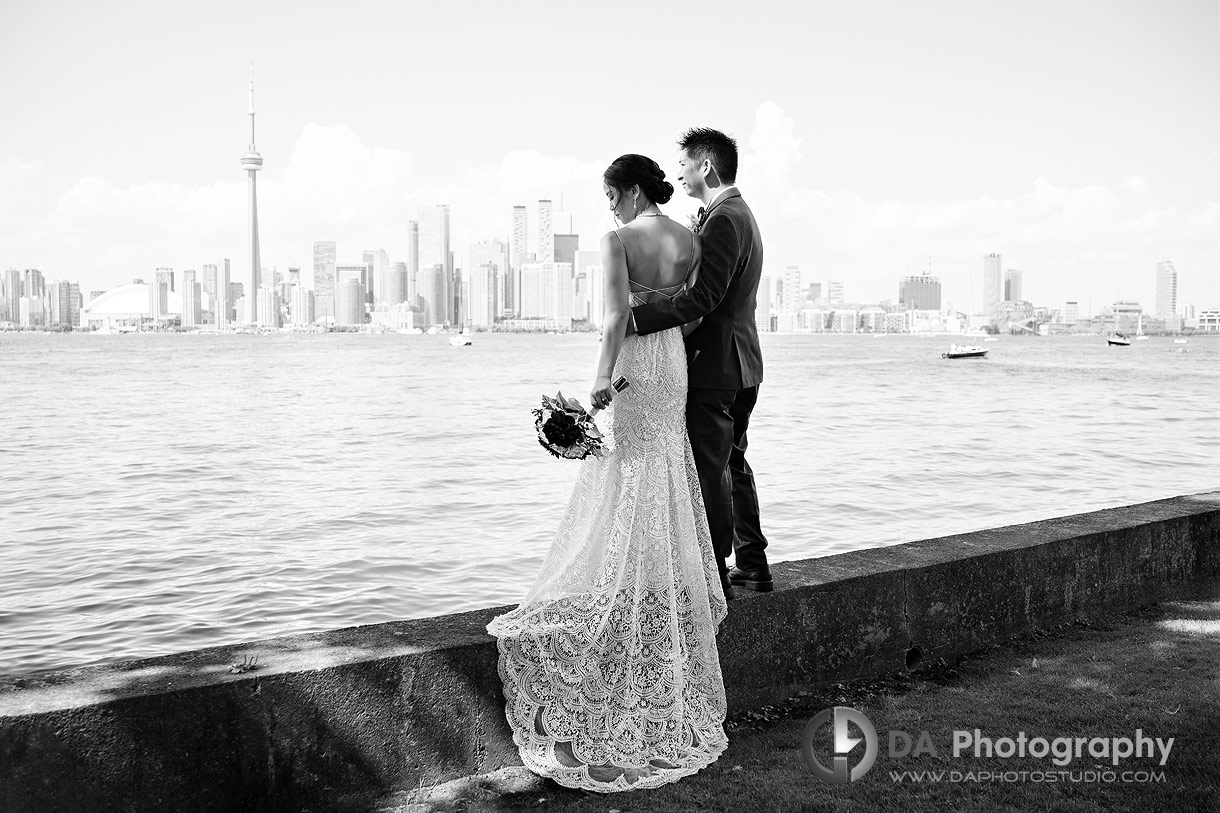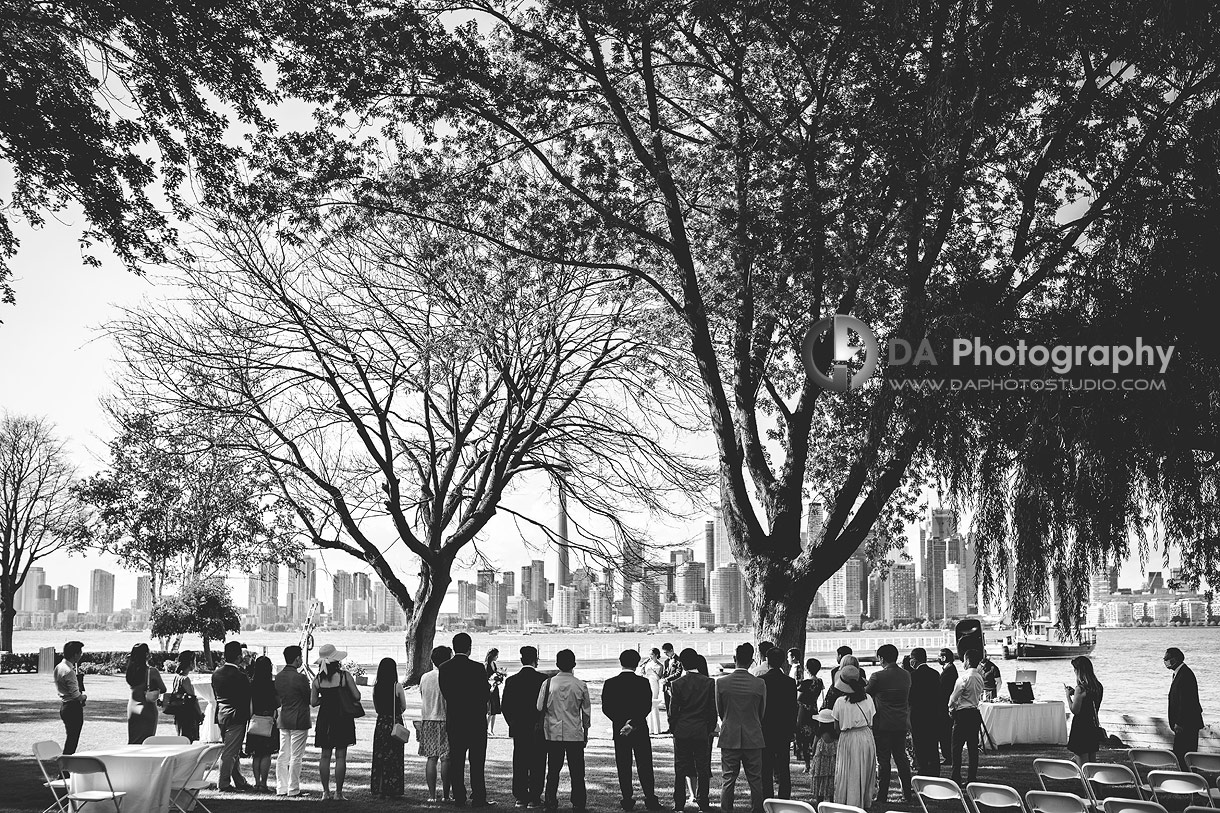 Sometimes original plans aren't meant to be
With the first item checked off their wedding planning list, we began to work on their wedding day itinerary for photo coverage. The original wedding date was scheduled for May 31, 2020. At such a beautiful time of year, the plans were shaping up to be absolutely perfect. Then, the COVID-19 pandemic became our inconceivable reality and the plans had to change.
Jess and Monty knew that their planned date would be impacted, so they began to start on a Plan B. The beautiful Columbus Event Centre is attached to a long-term care facility. Because of the protocols they need to follow for the safety of their residents, it is crucial that they follow strict procedures when it comes to social gatherings and events. Of course, this meant that Jess and Monty had to also look into new venues and dates for their wedding.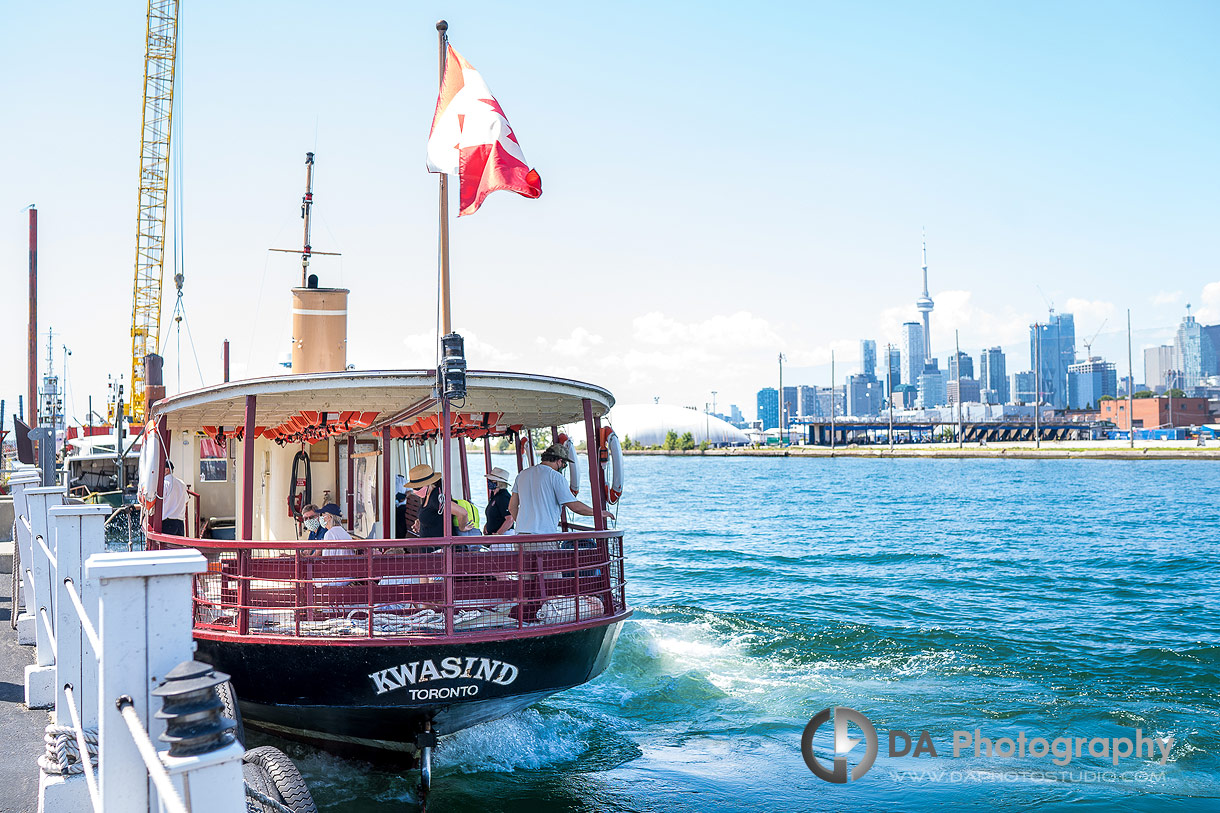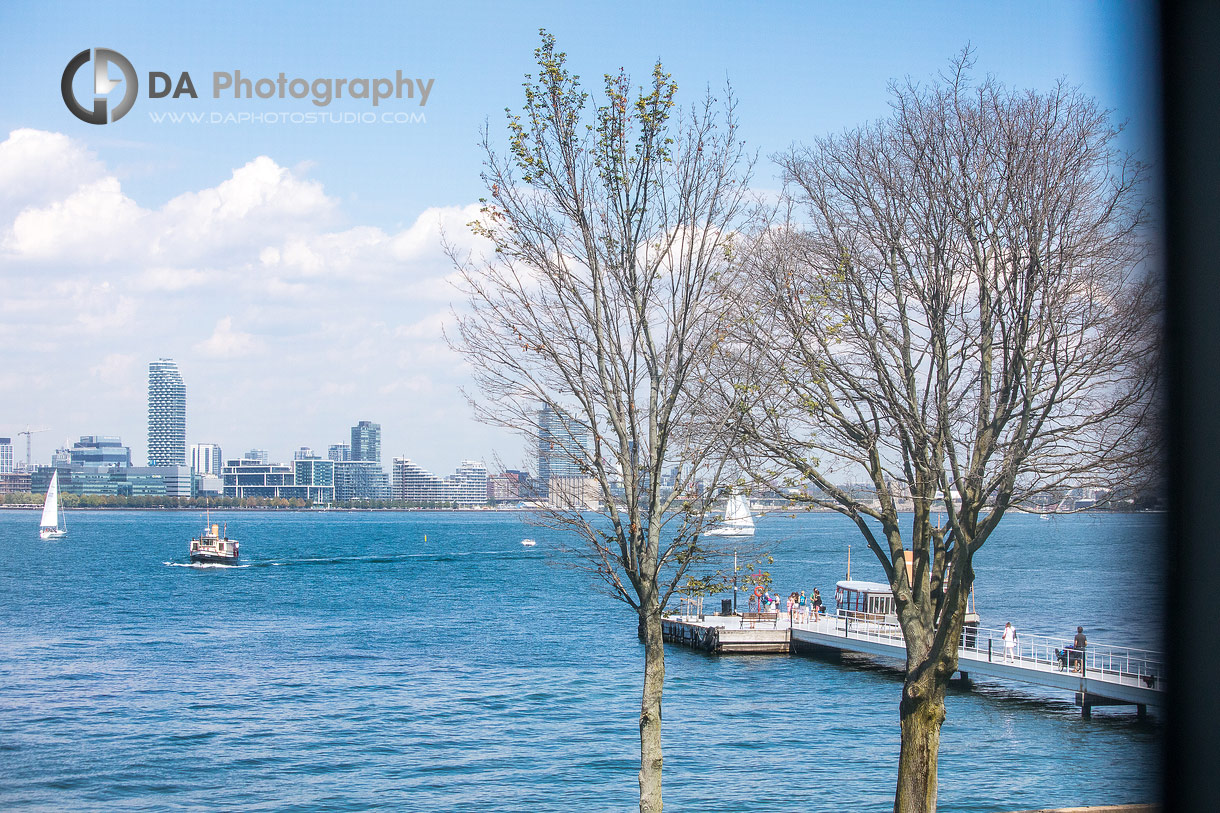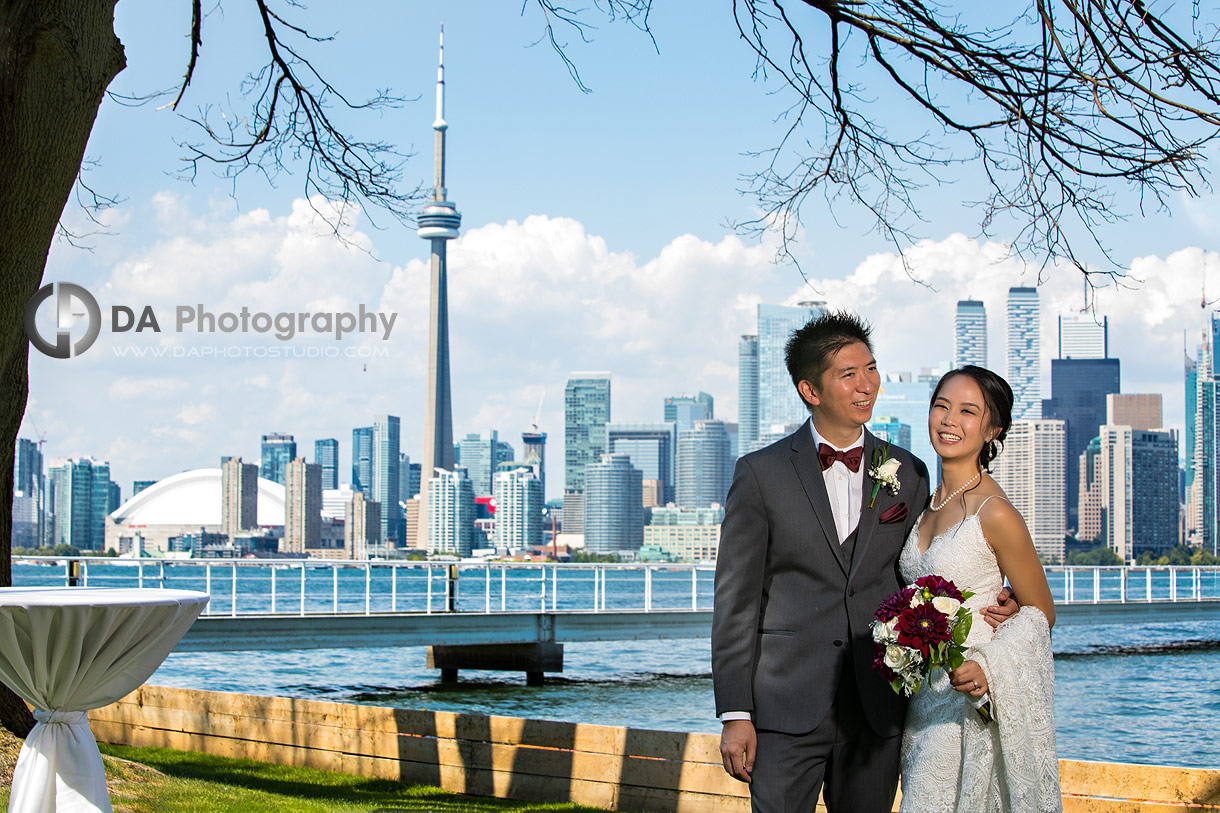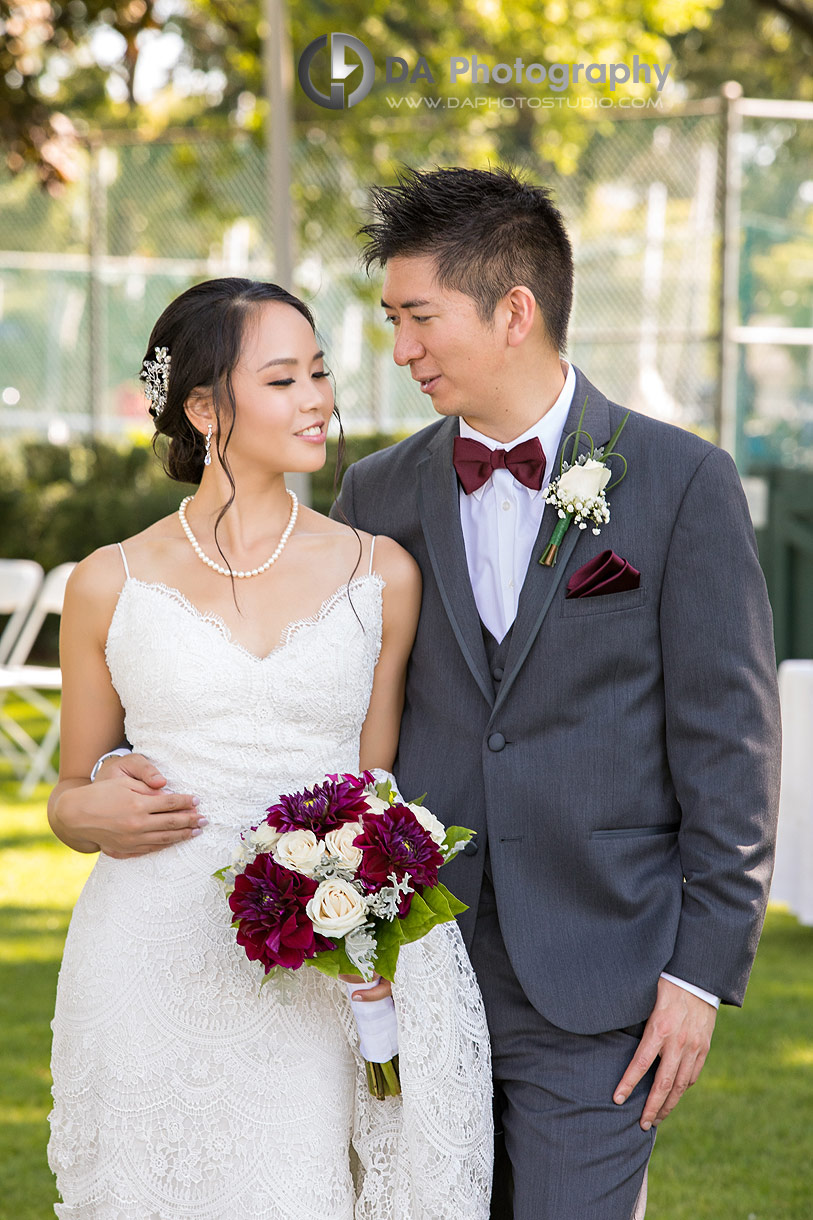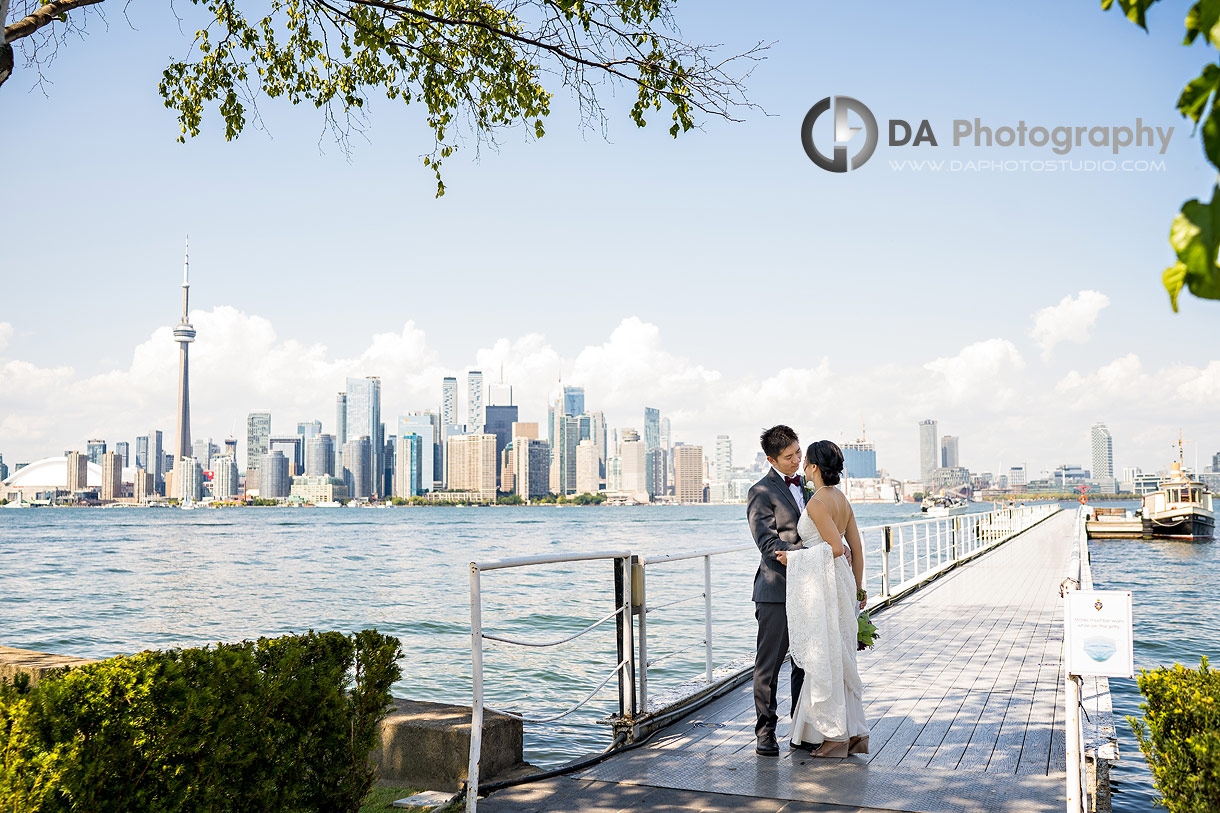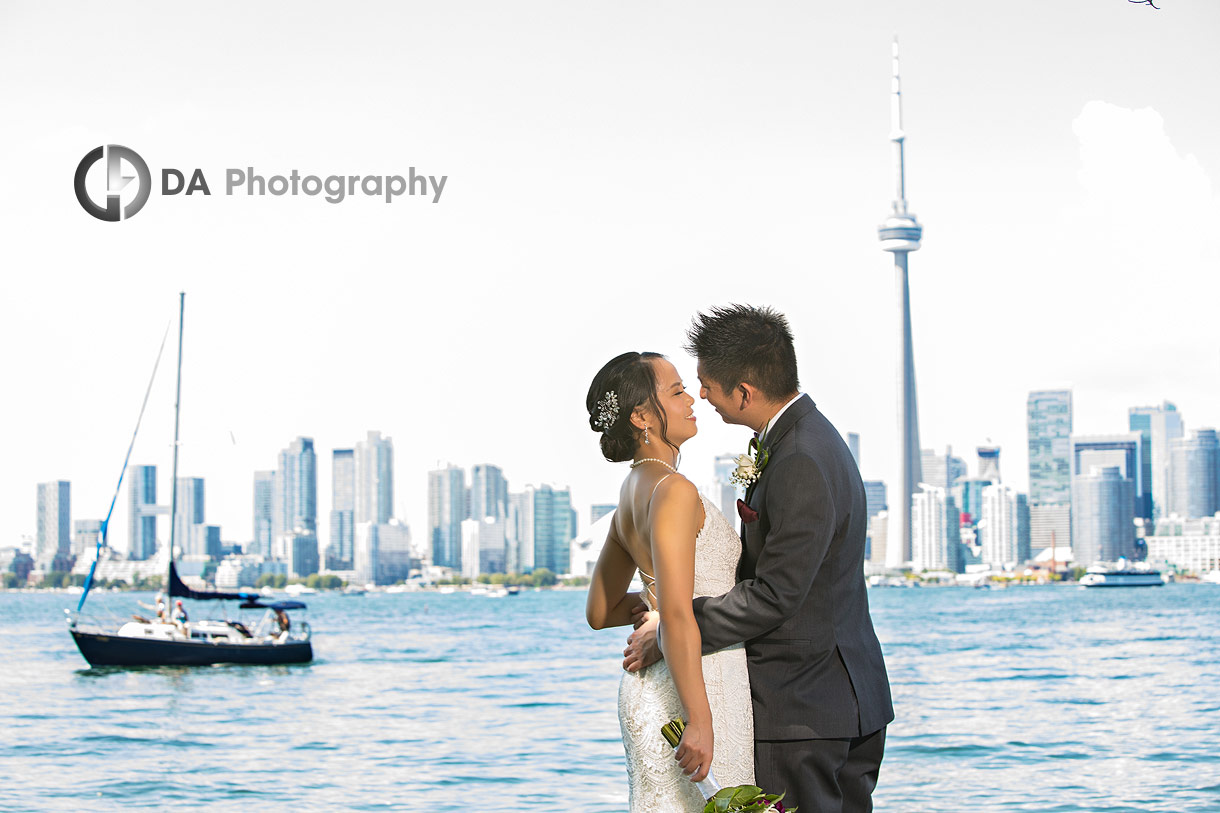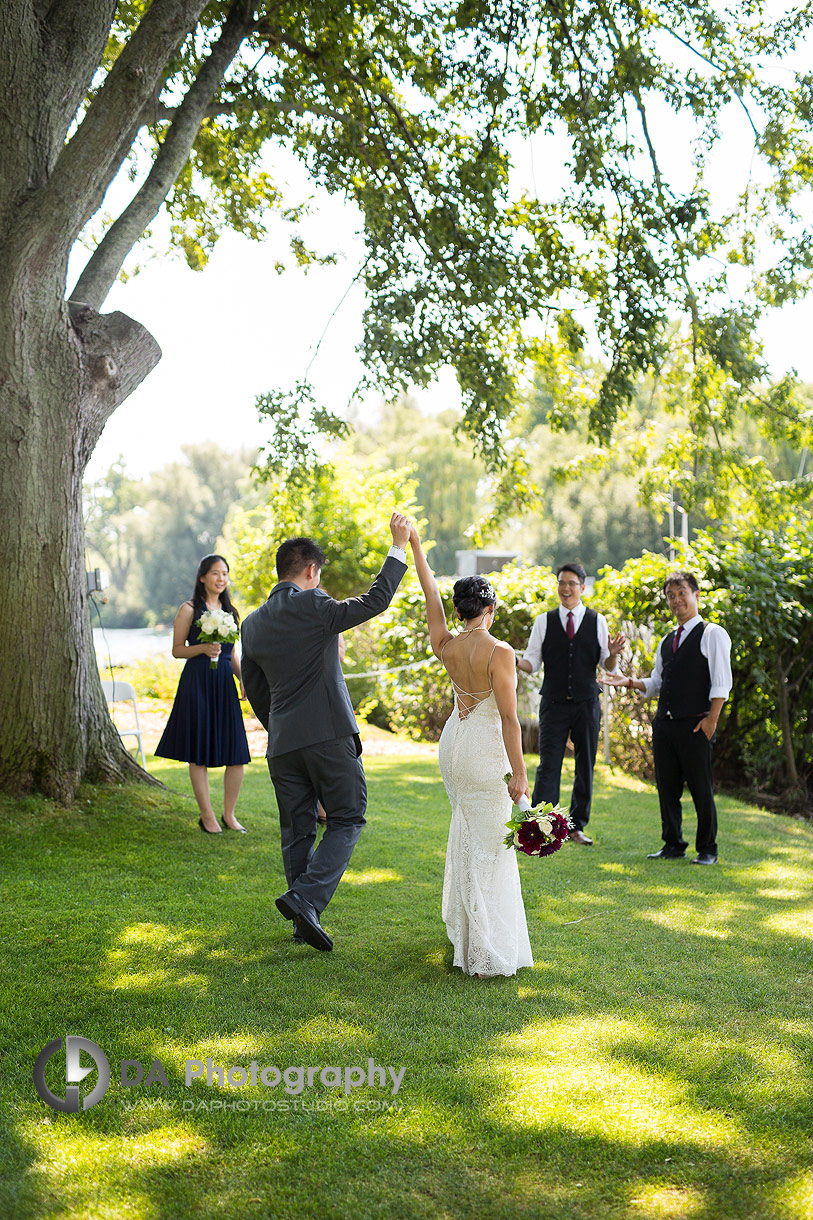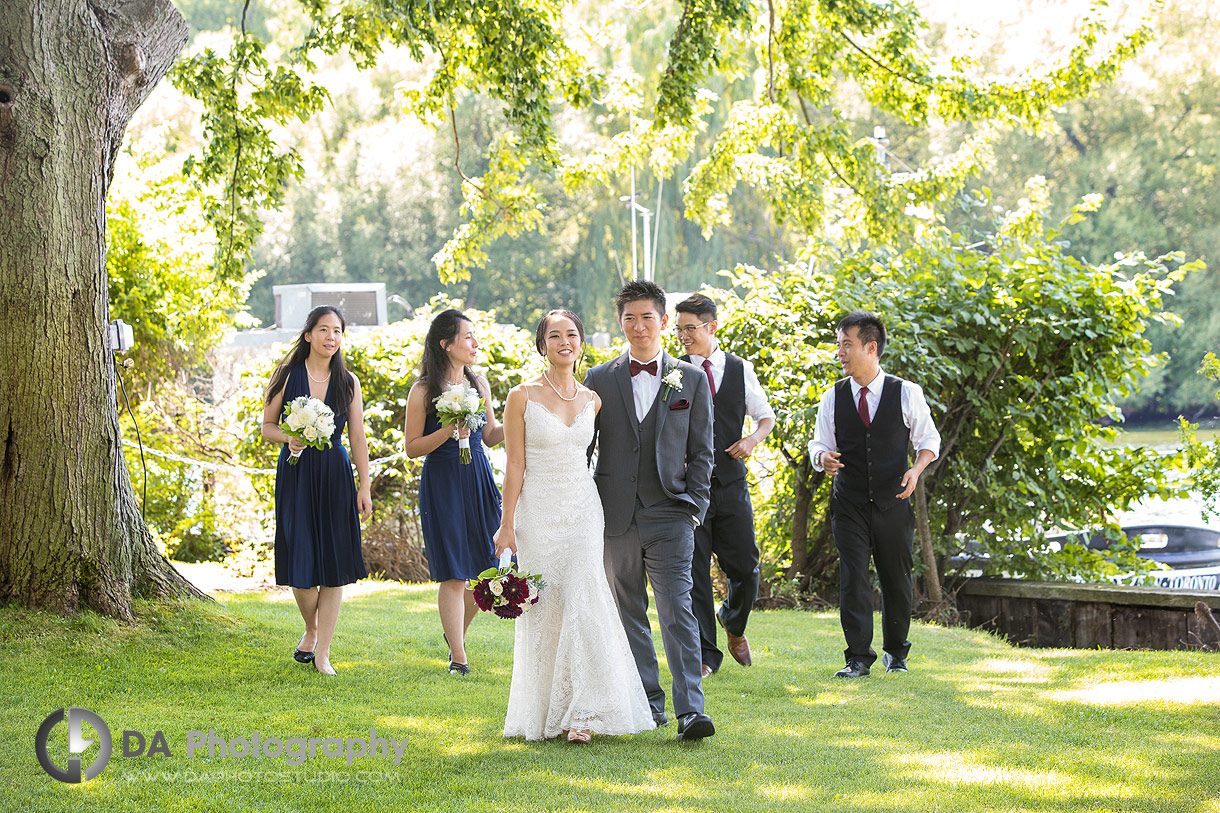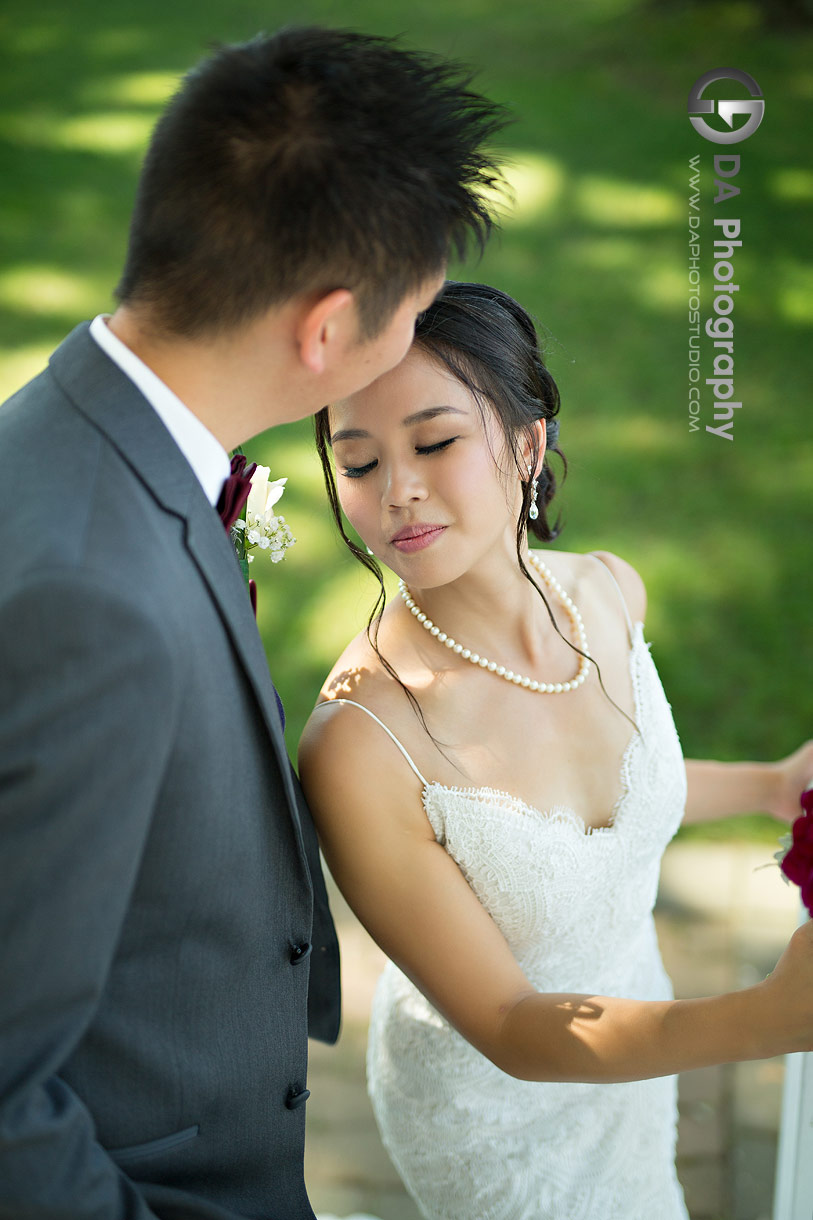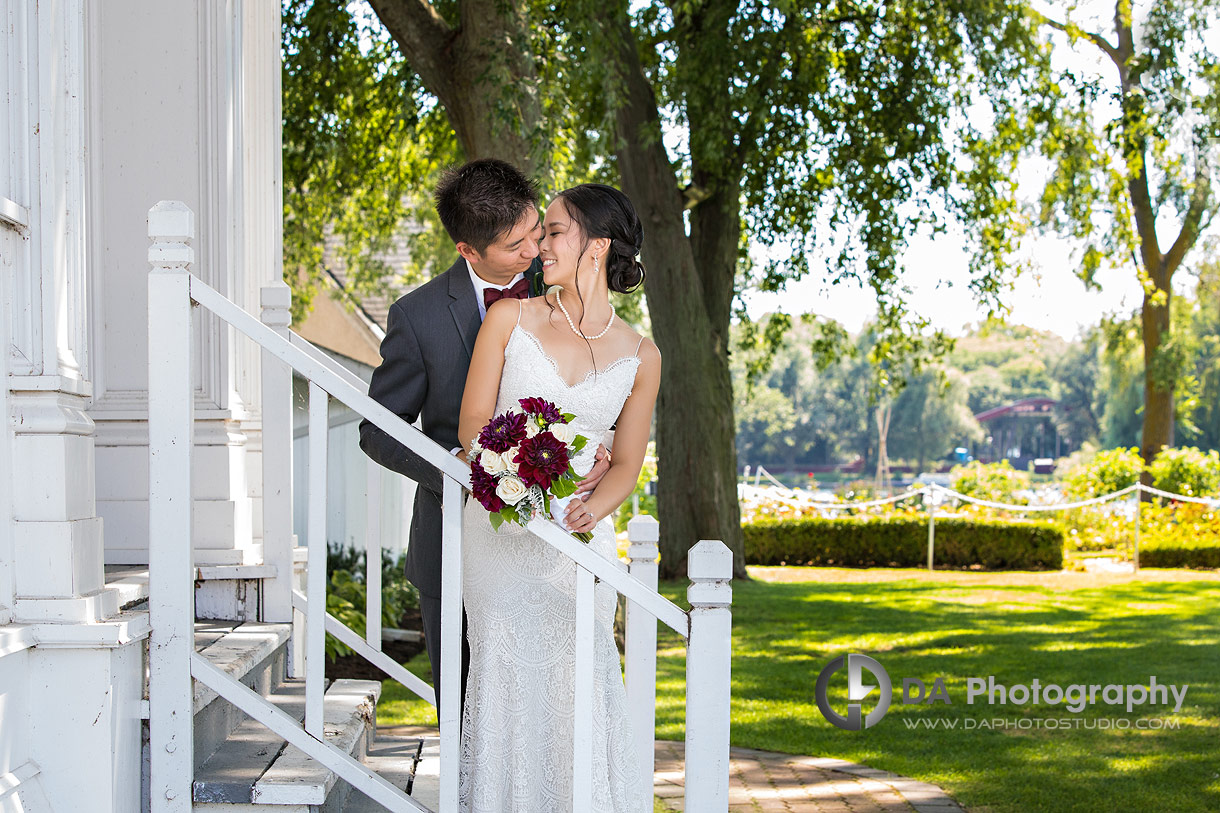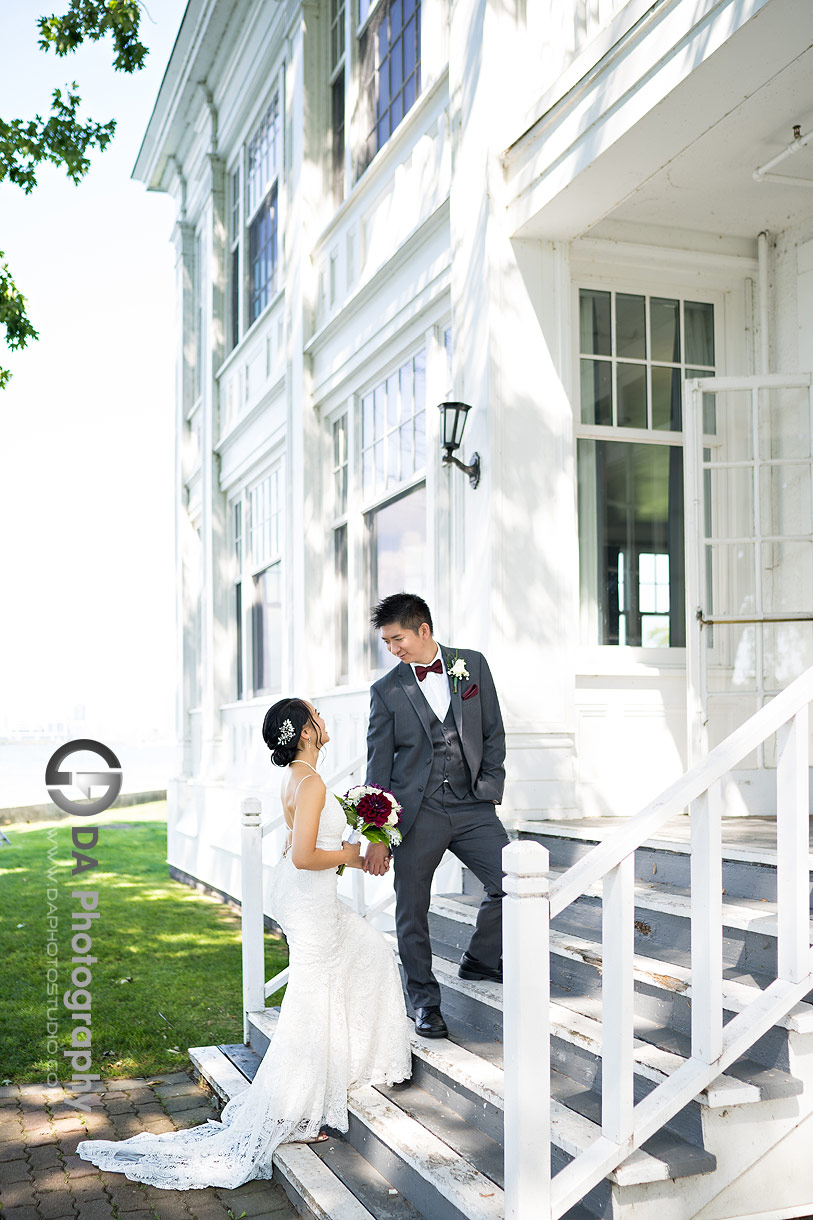 Choosing the Royal Canadian Yacht Club
At this time, Jess and I were emailing back and forth during the re-planning stages. At one point, she asked me about my preference between two venues that they were considering. One of the options was the Royal Canadian Yacht Club of Toronto. I had not worked at either location that she had asked for my feedback on.
When I scouted the options available I was blown away by the Royal Canadian Yacht Club's photo potential. I was so excited because I could literally see them getting married there. My photo visions allowed me to transfer Jess and Monty into the Google images on my screen.
I gave them my feedback while trying to tamper down my excitement a bit. I didn't want them to get their hopes up if it turned out that they could not get that location.
Within the next week, Jess told me that they secured the Royal Canadian Yacht Club for their wedding with a new date of August 21, 2020.
With all of the required changes, we made a point of meeting to discuss their photo coverage needs. This scenario was completely different to the pre-pandemic plans and we talked about some customized options for their extended circumstances. We put together a new plan to document their wedding day. Taking into consideration all of the adjustments and new procedures to follow, I called in some back-up for their important day. I asked my long-time friend Erika to be my 2nd photographer for the day. She was on board and we prepared to capture some great memories.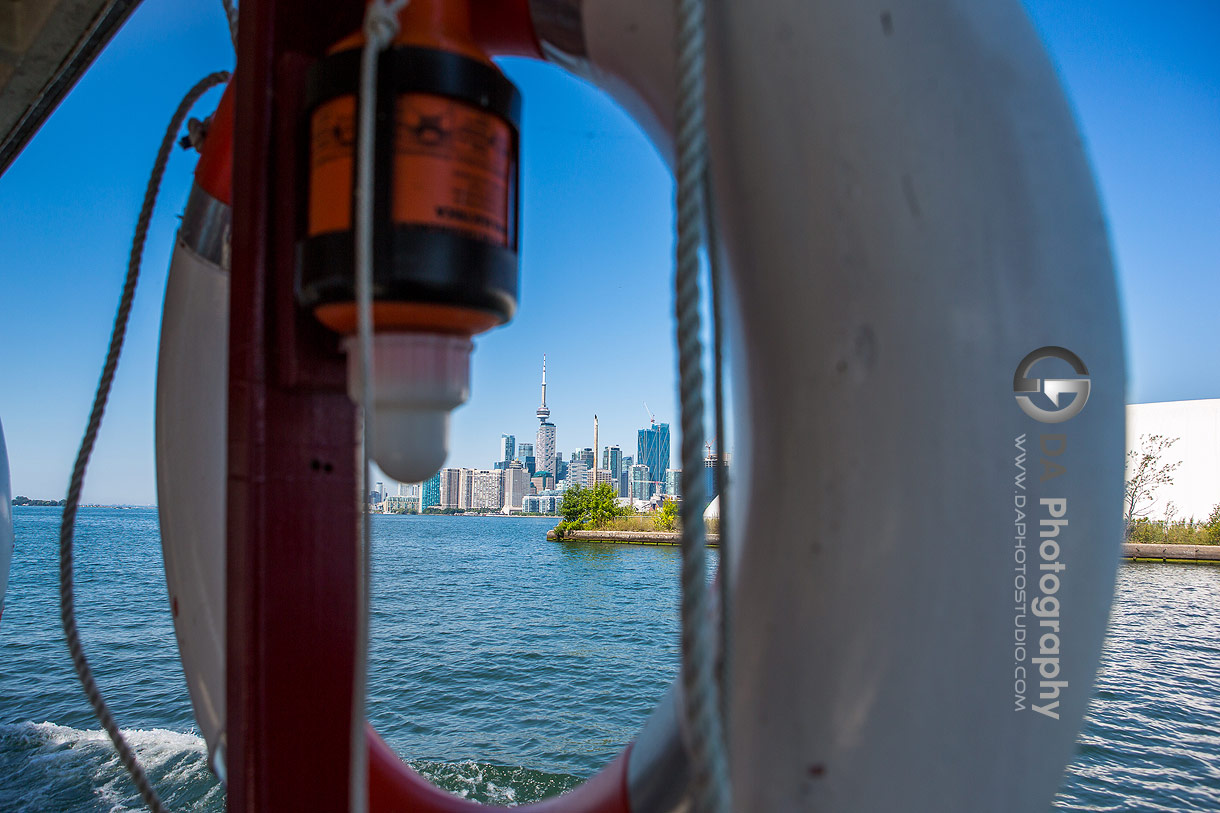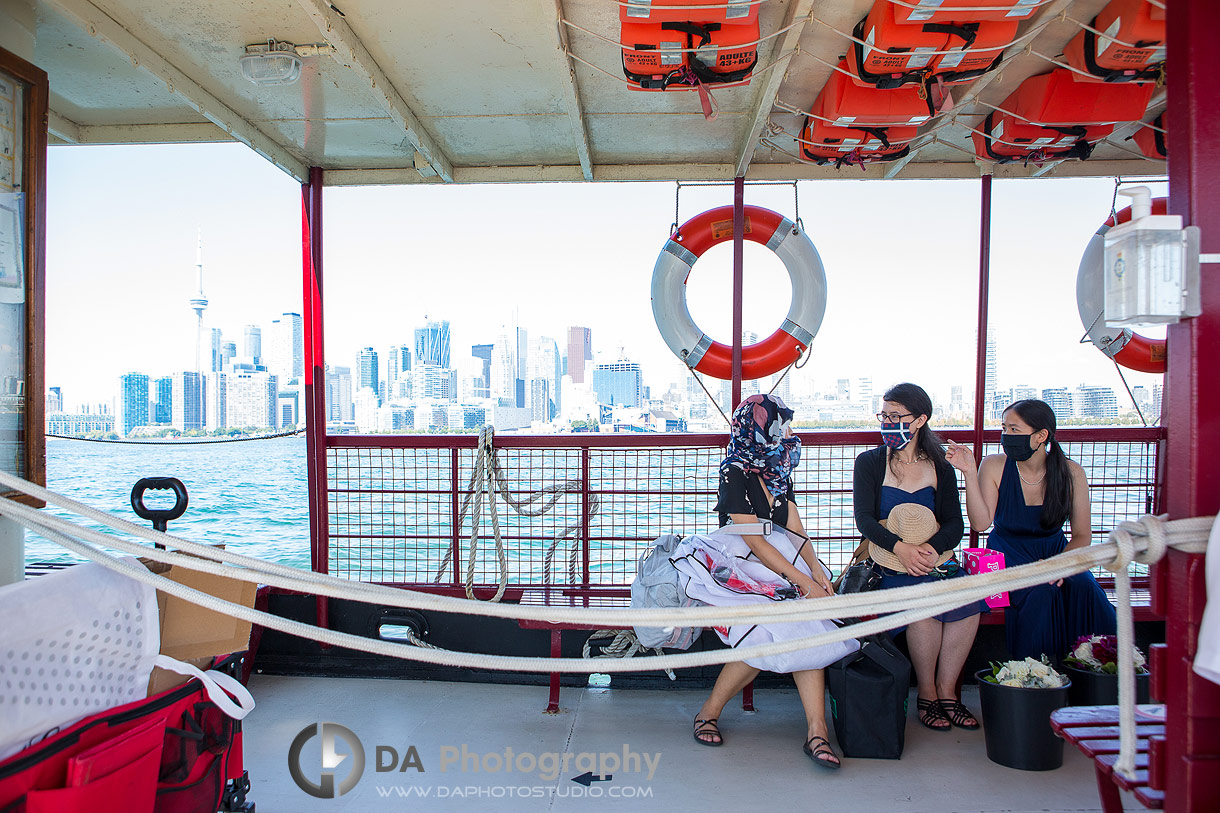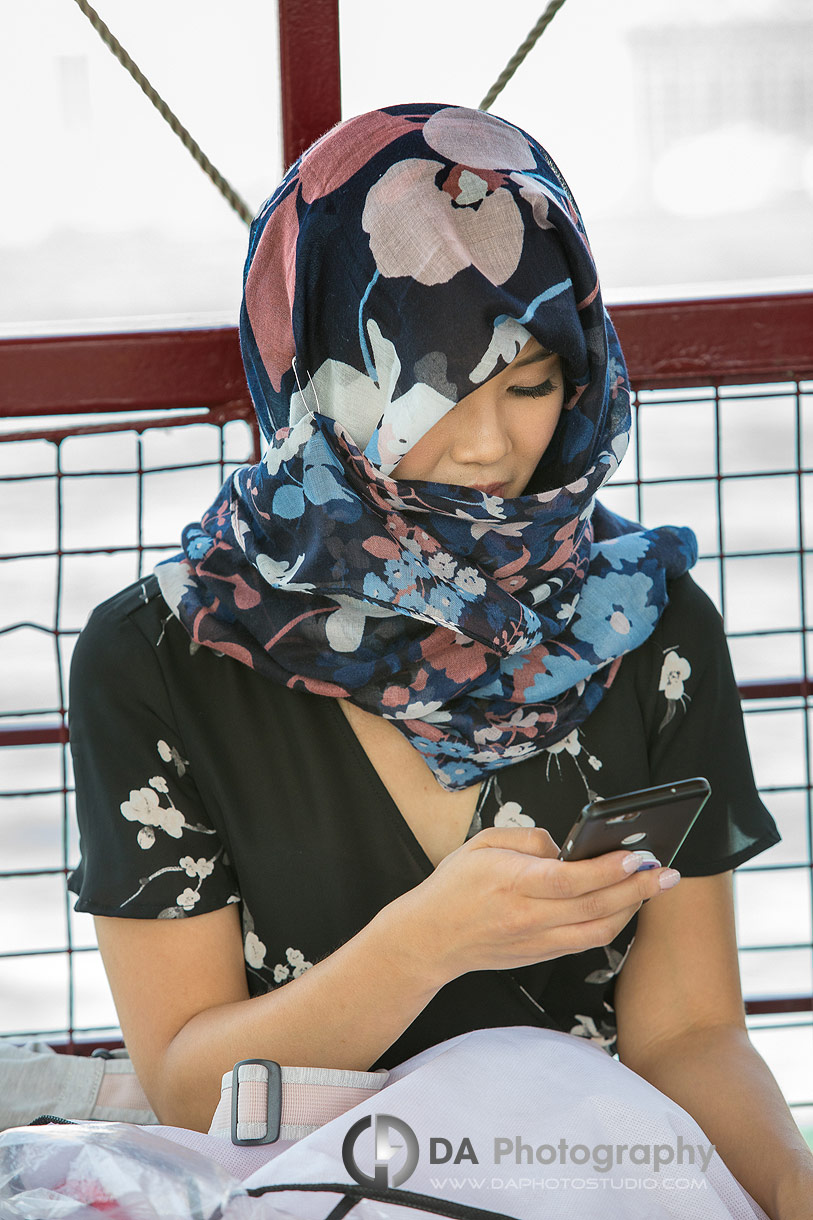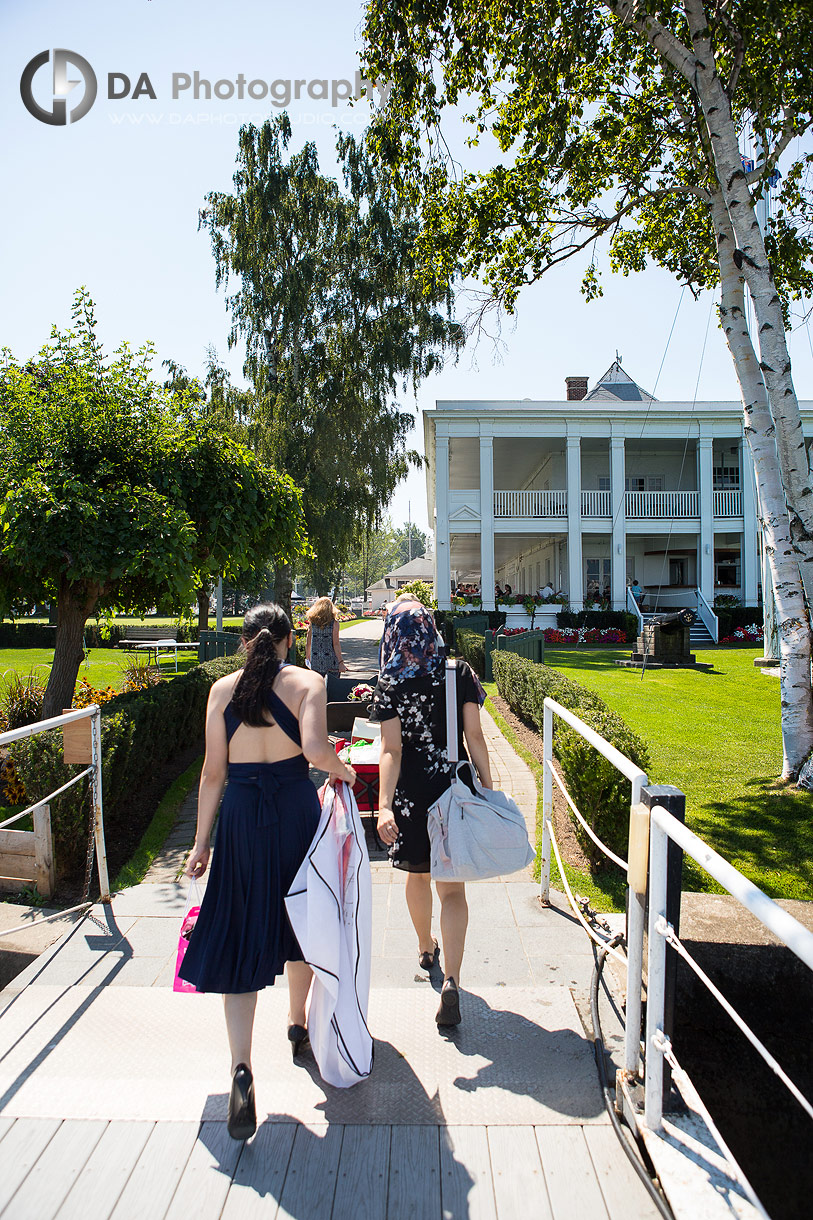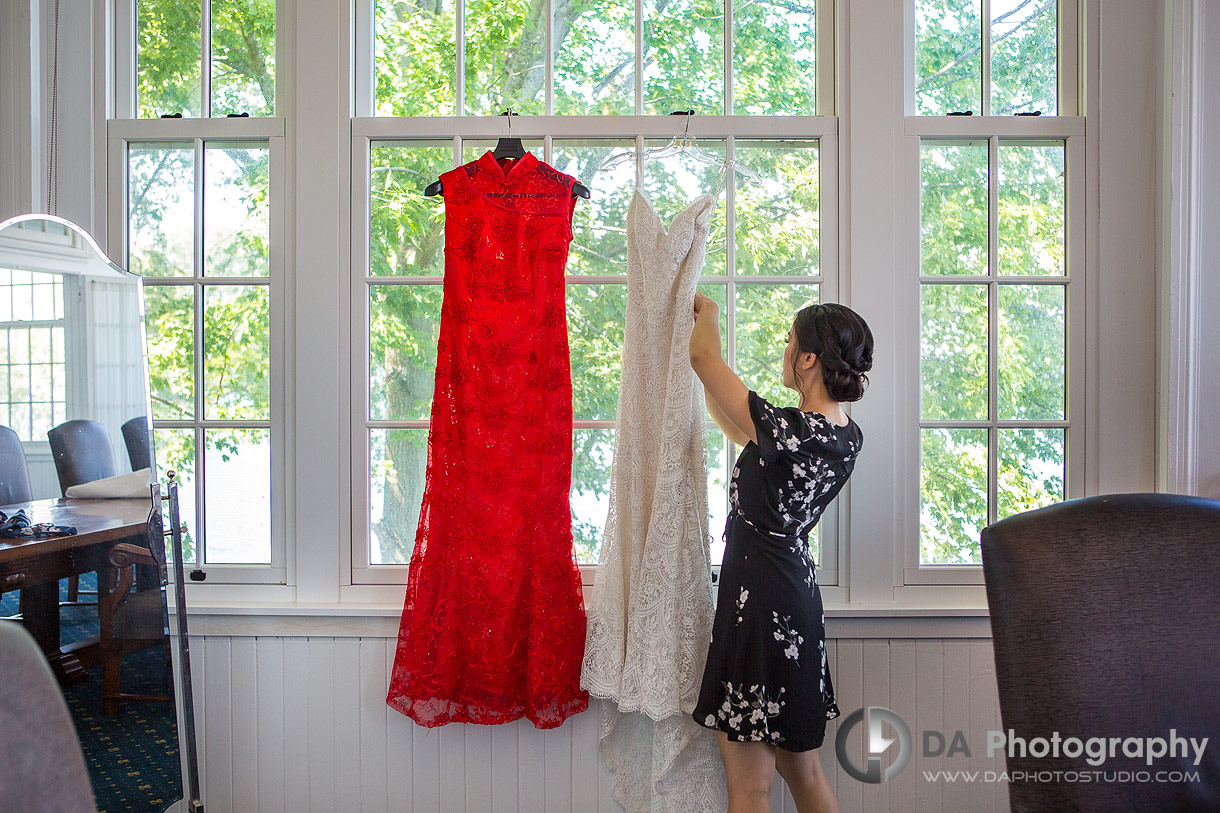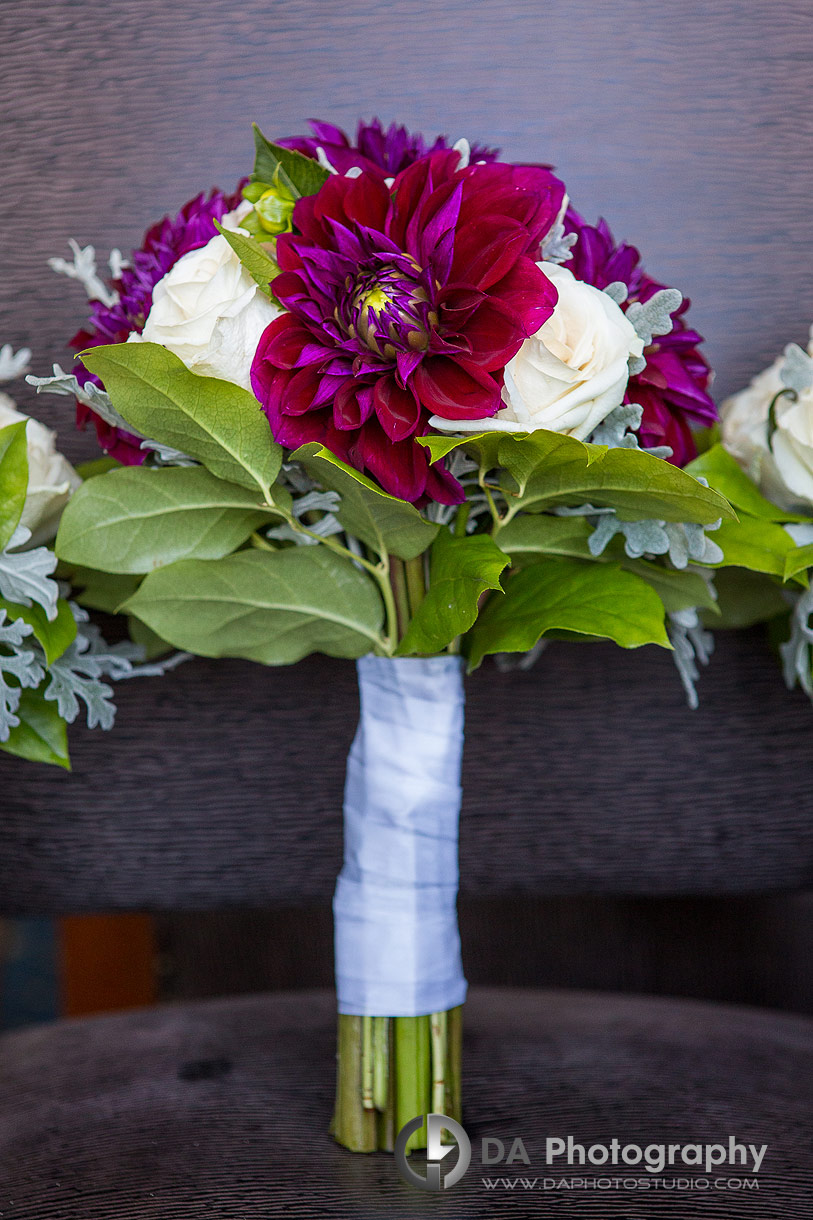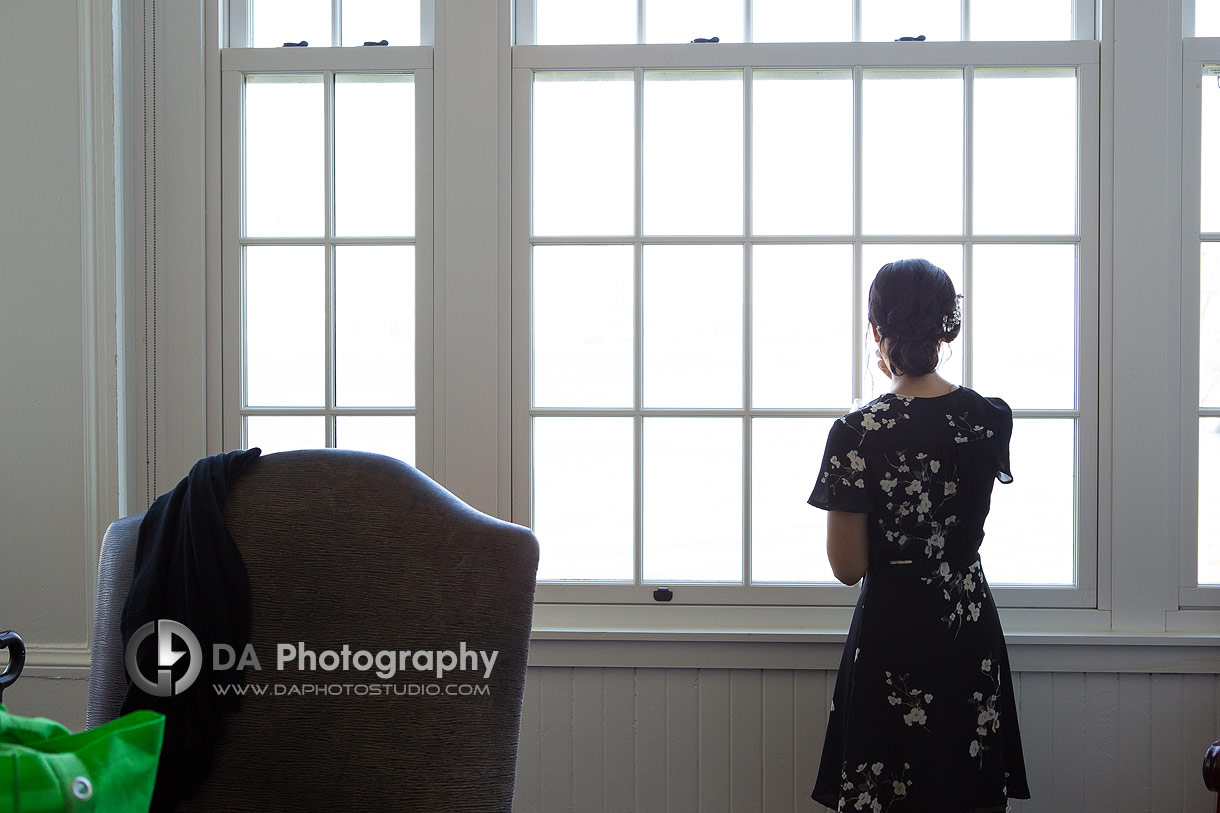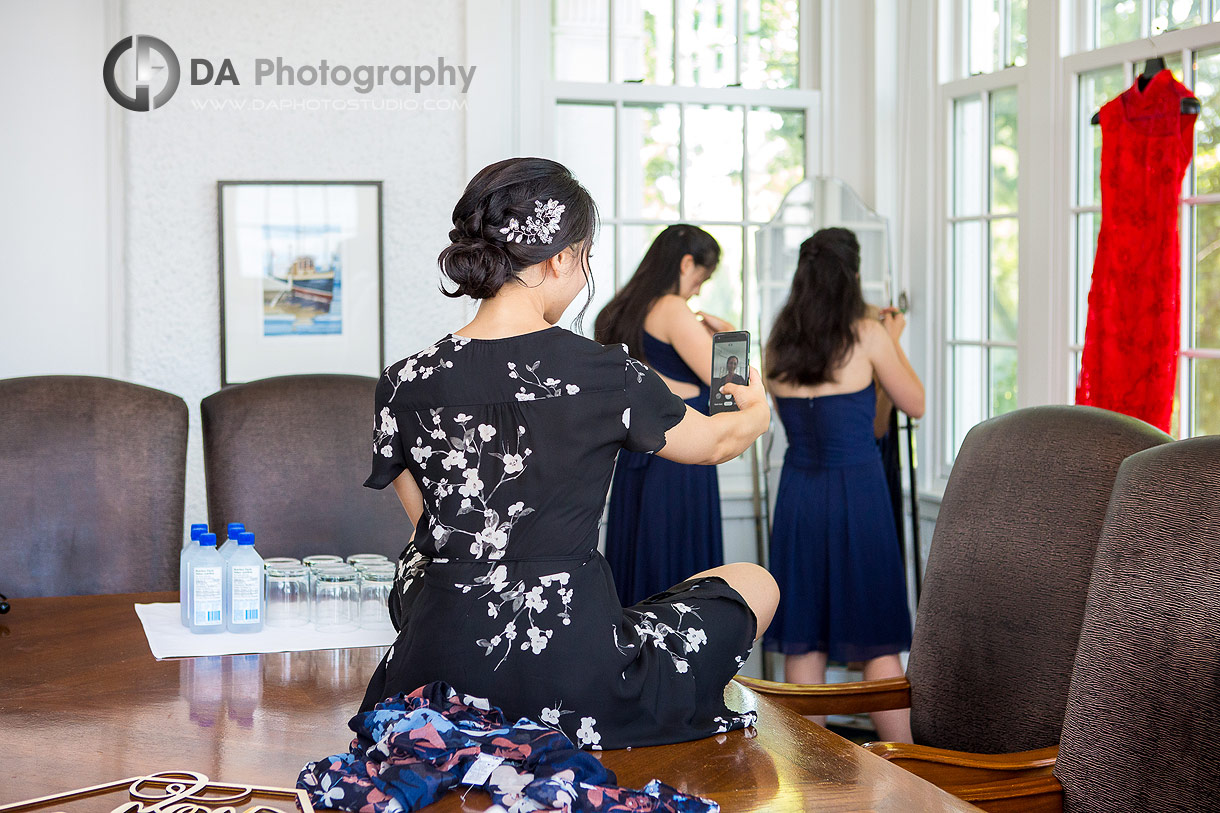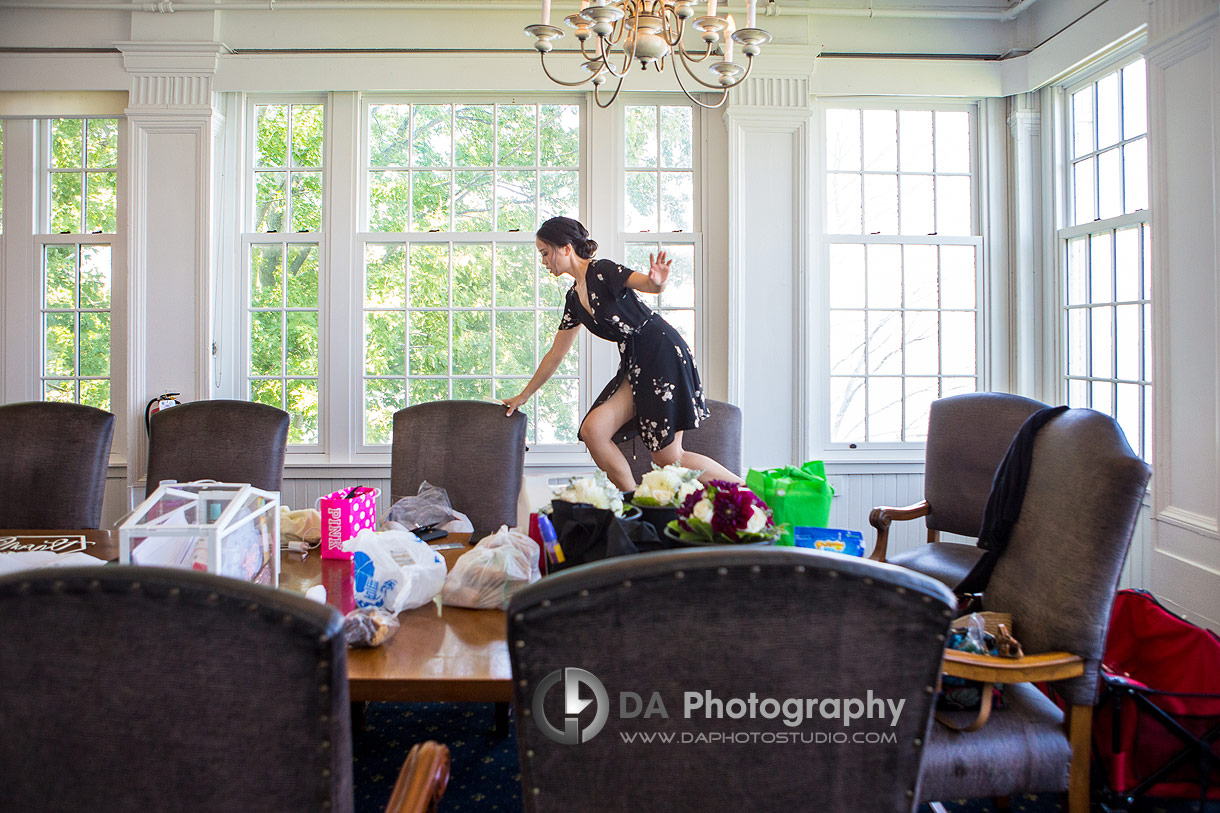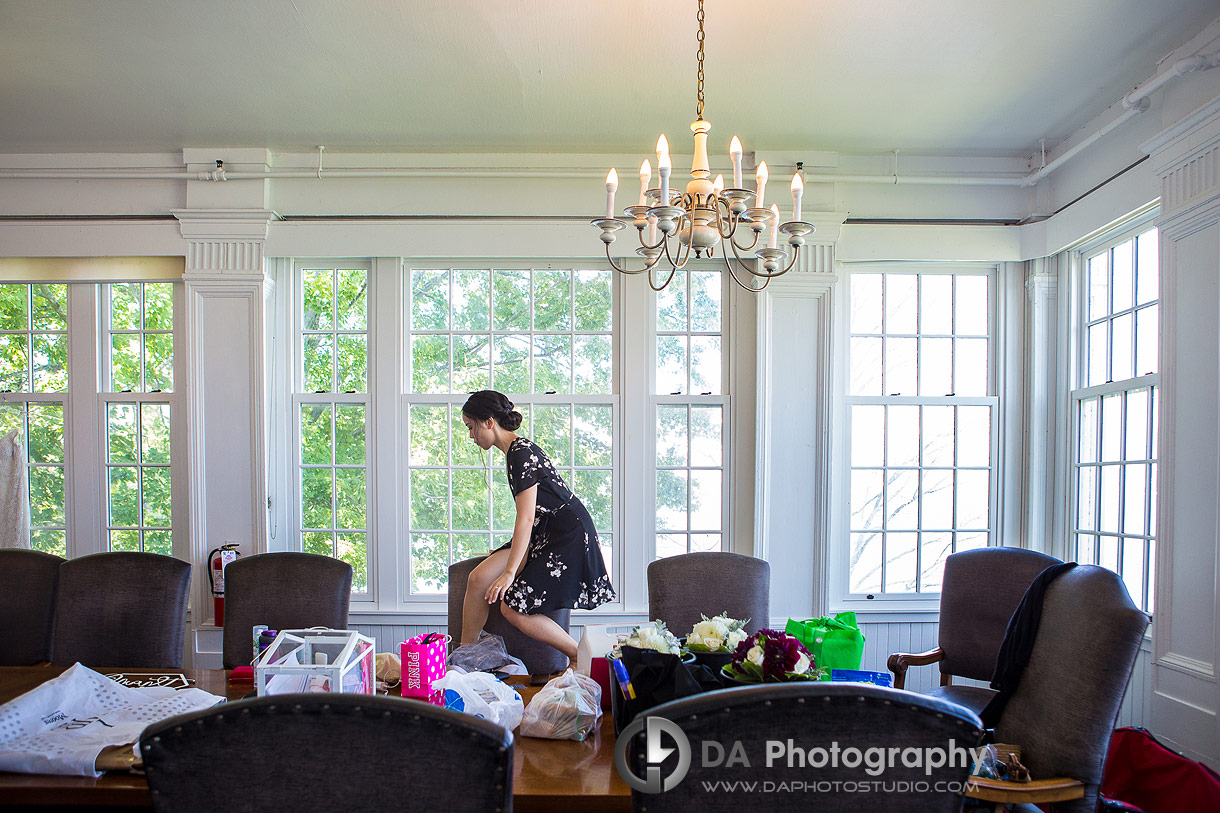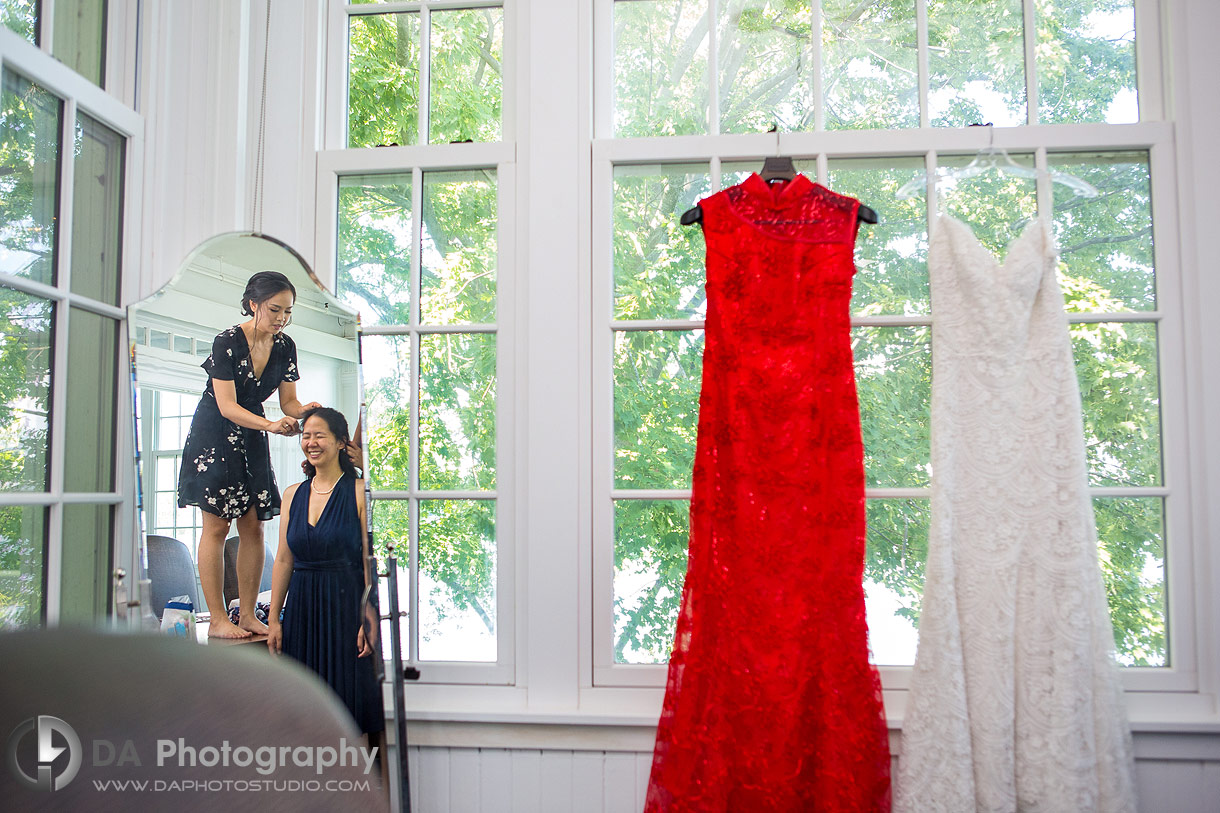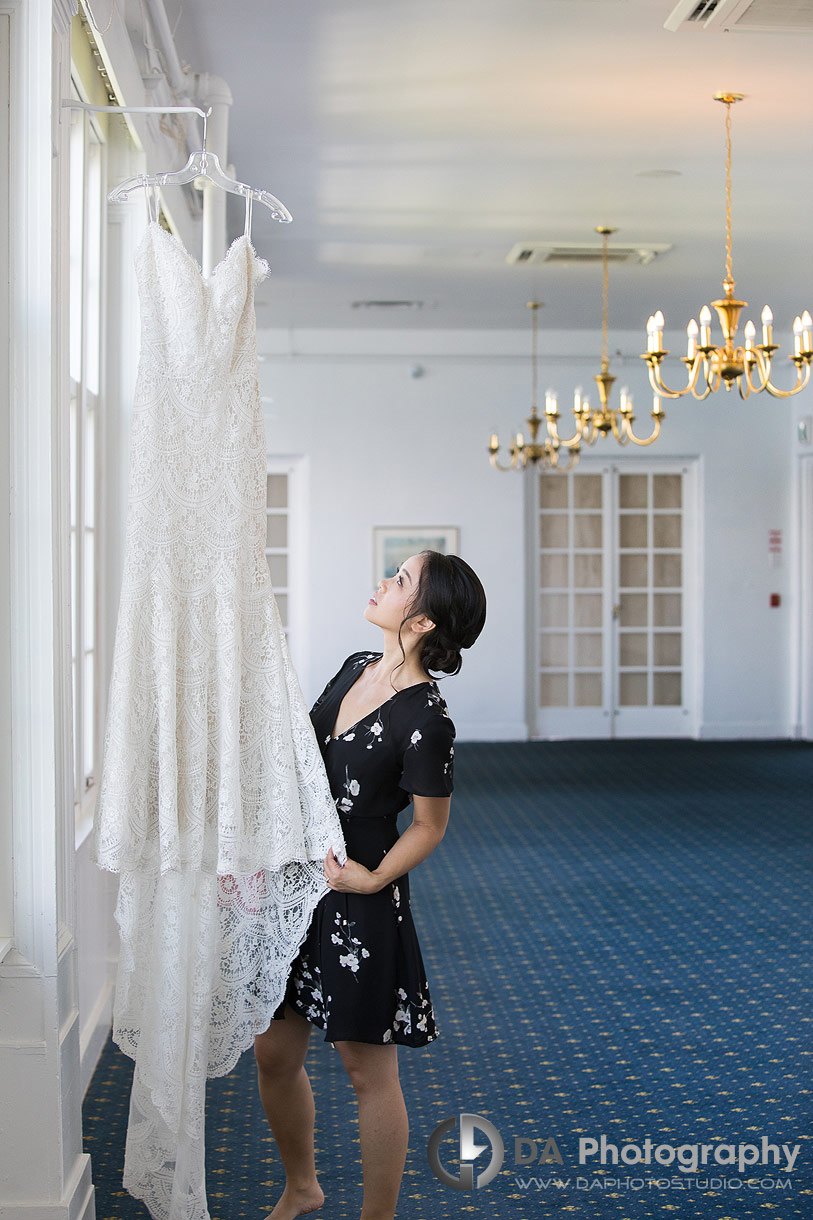 Wedding planner | Perks of having one
Once Jess, Monty and I confirmed our plan, Jess let me know that their wedding planner would connect with me for more in-depth plans, such as the itinerary and other important points for the day. I had the pleasure of working with their wedding planner Karina from Karina Lemke Wedding and Event Design. As a preferred vendor for Royal Canadian Yacht Club she already knew all of the ins and outs for this location and she shared the details with me. I am so grateful for her help! The Royal Canadian Yacht Club has very strict wedding photography procedures. Then, with COVID-19 as well, they were extra firm to follow guidelines to keep everyone safe too.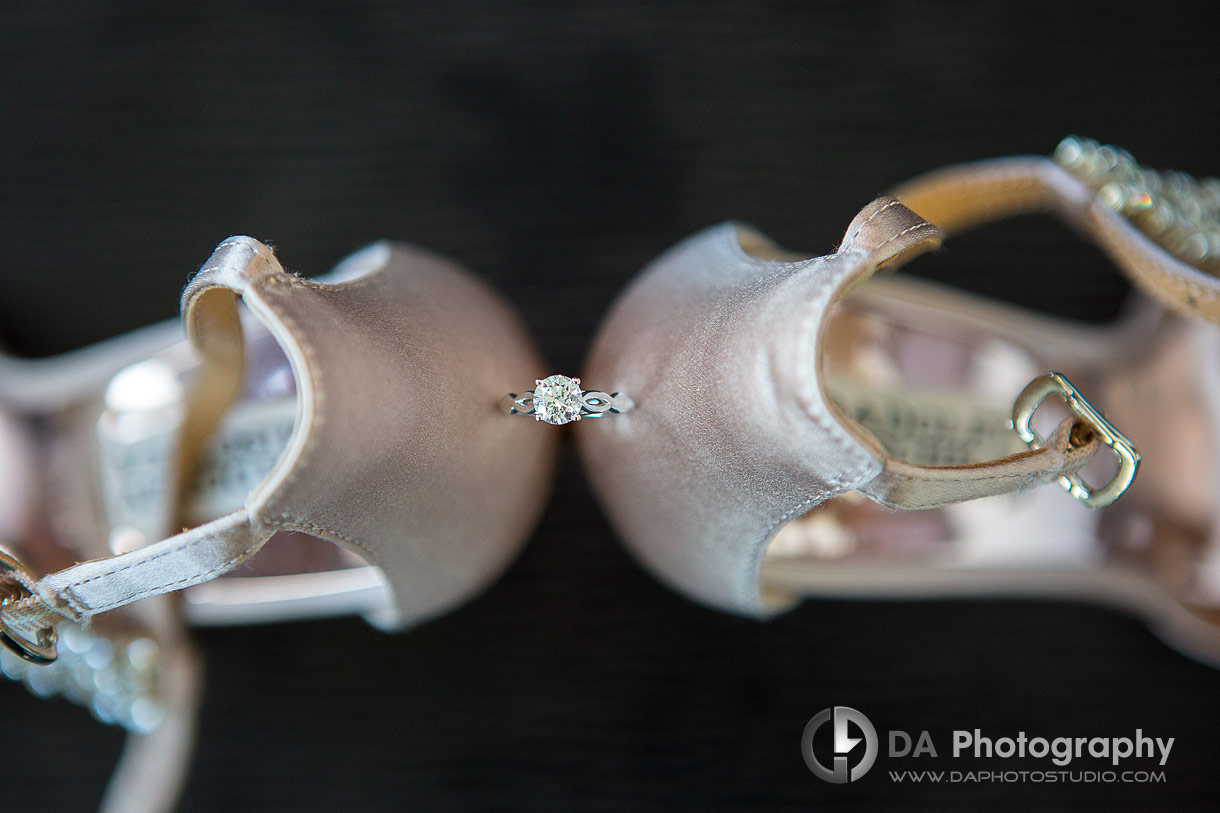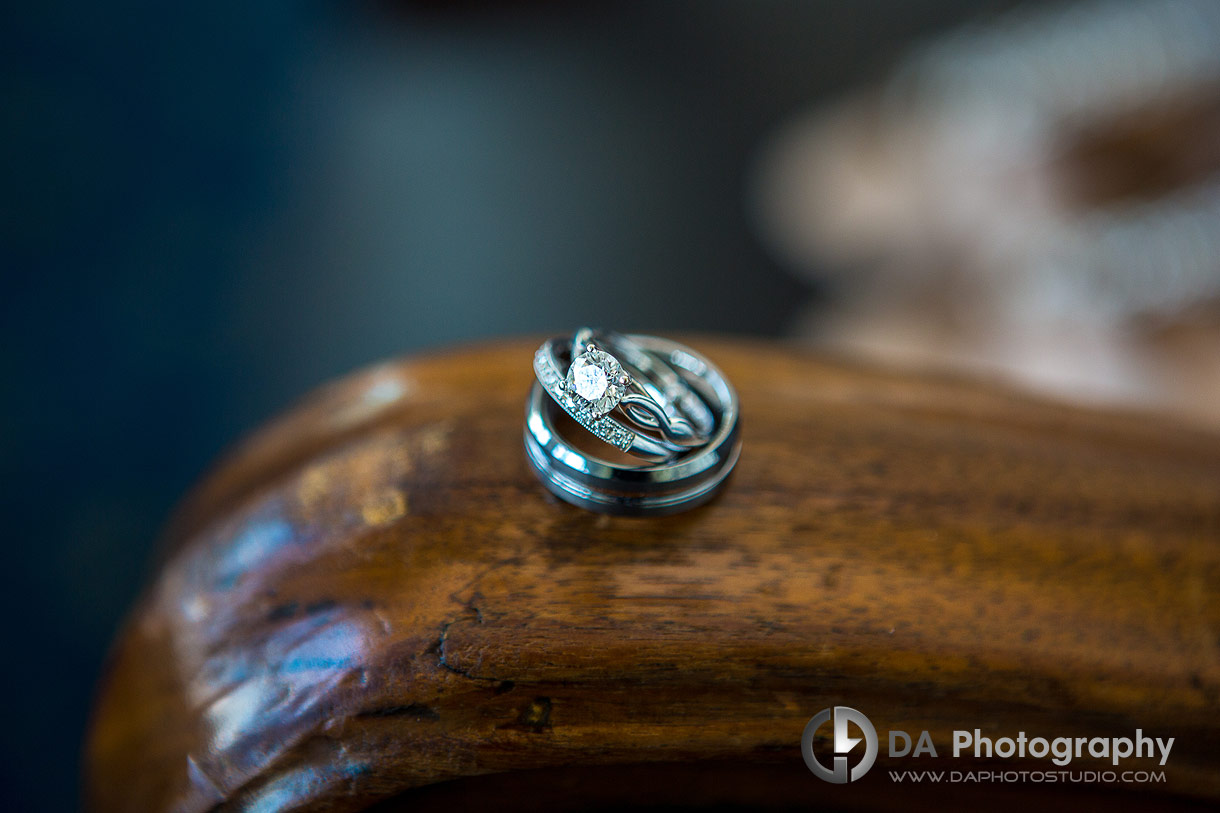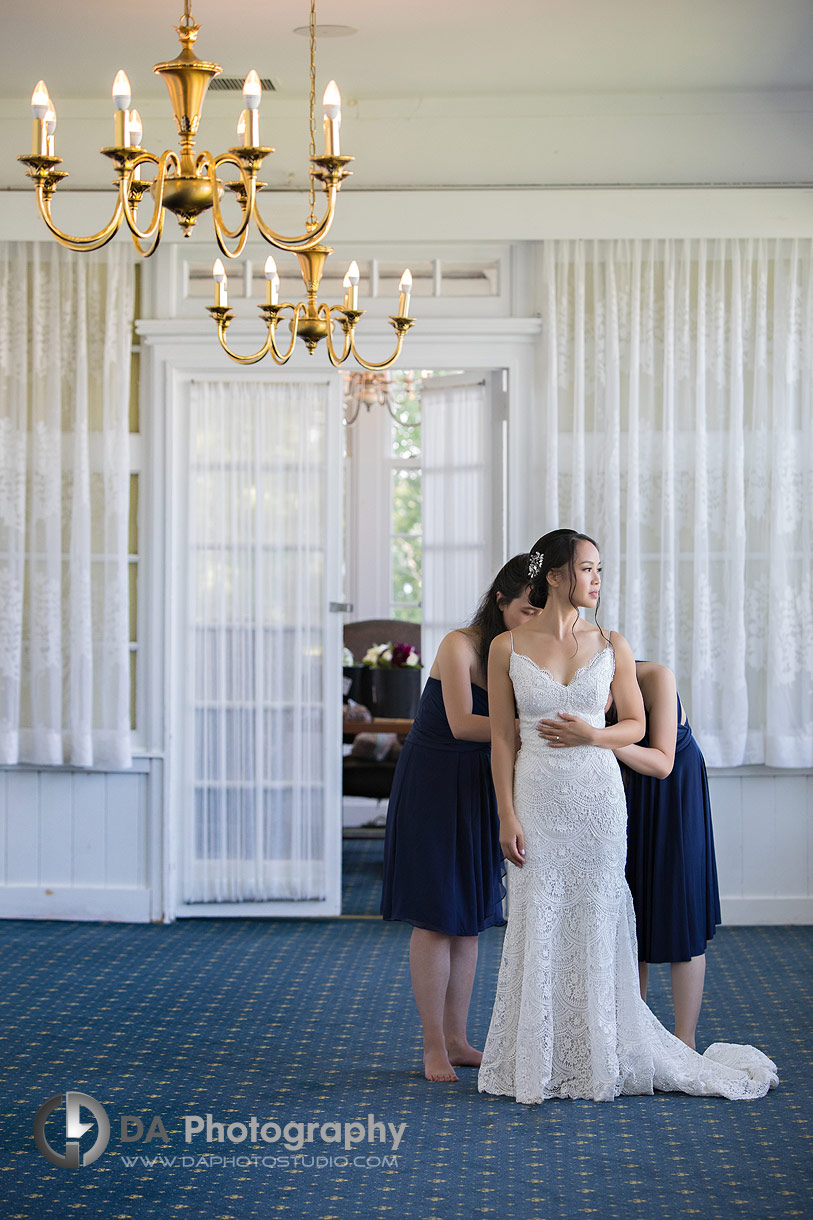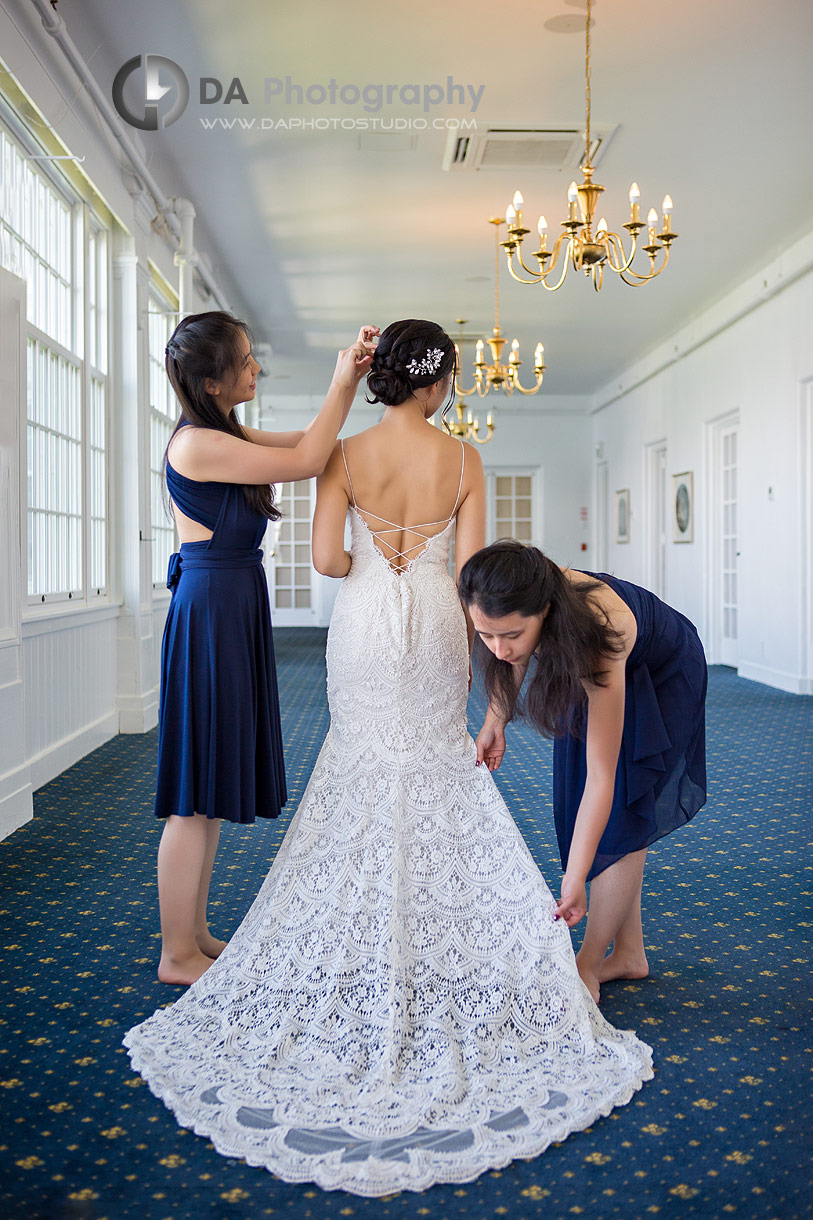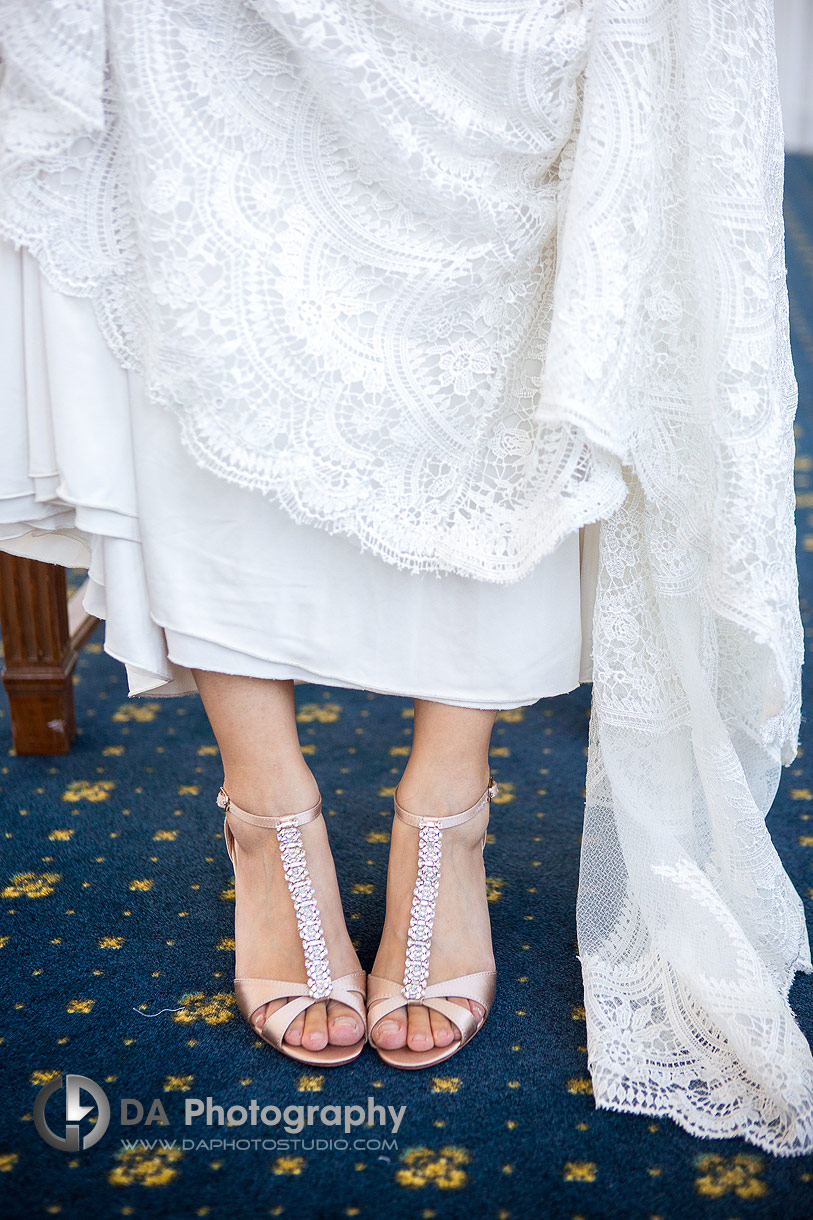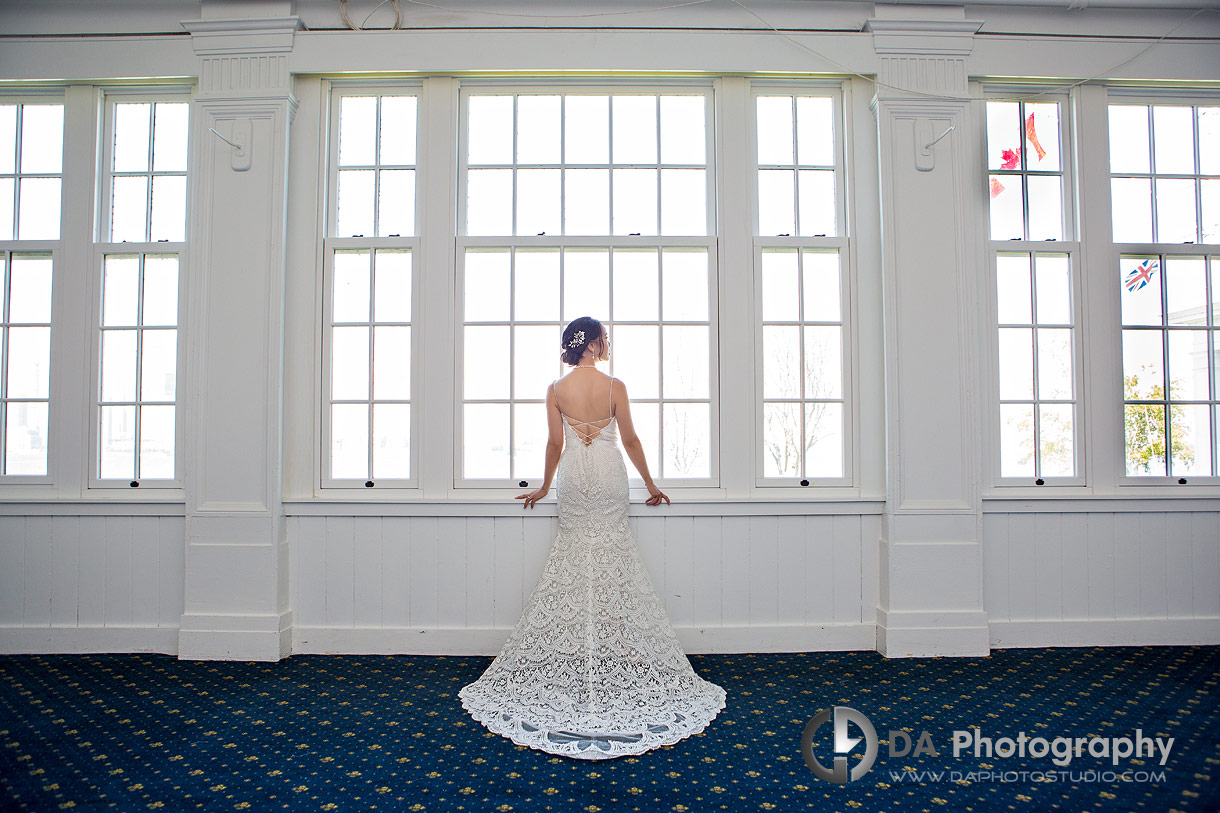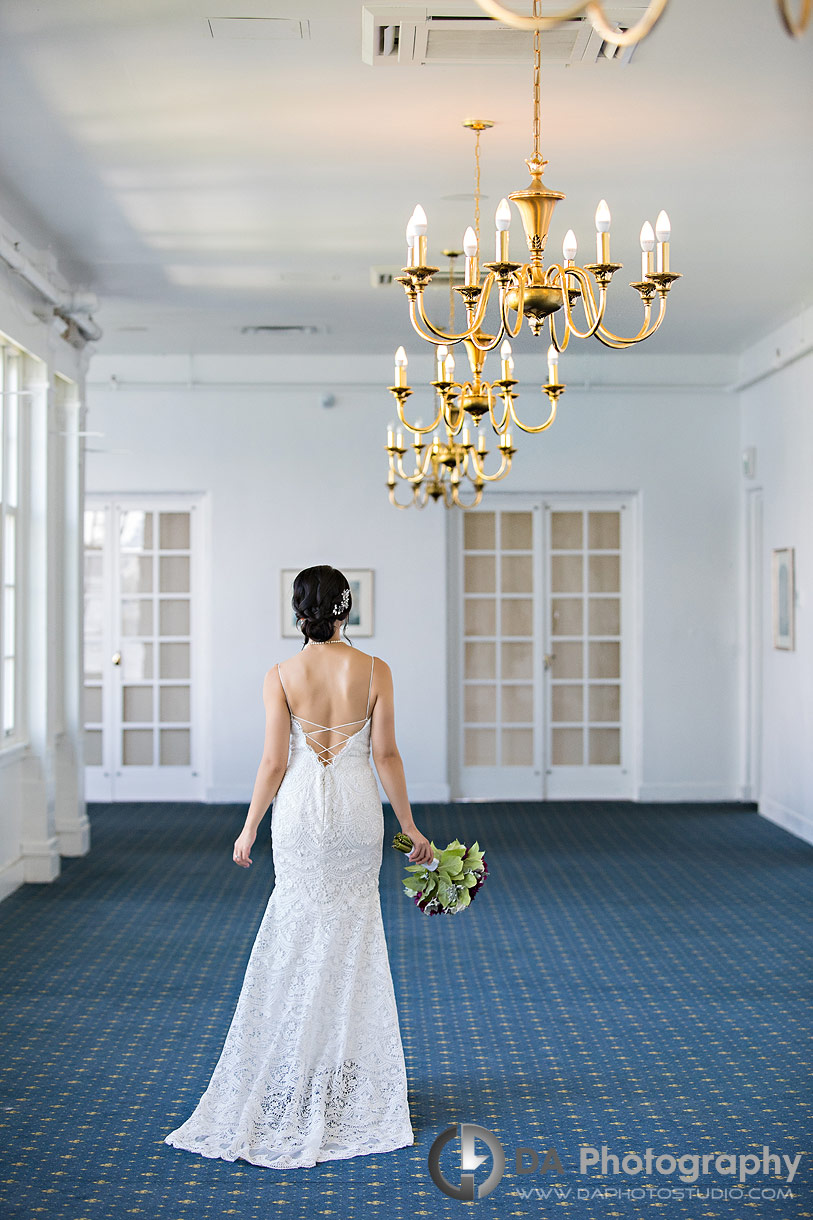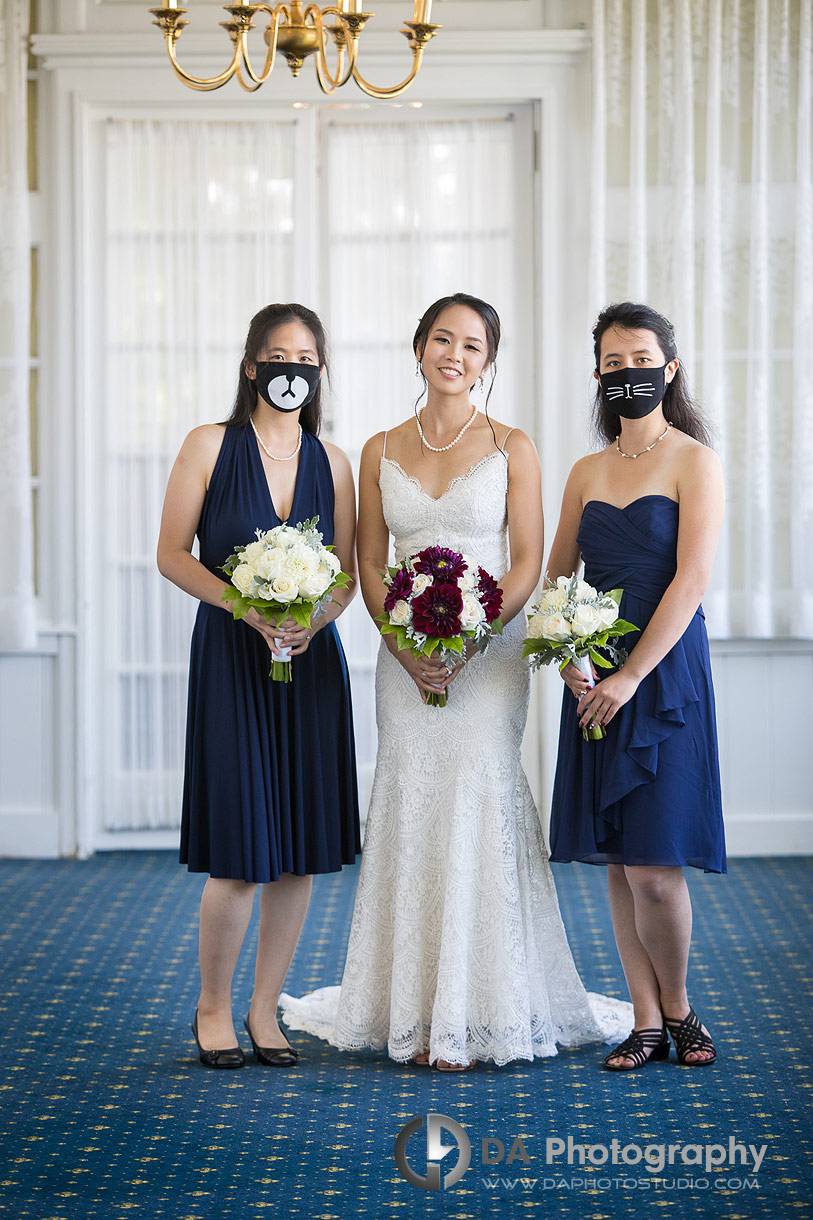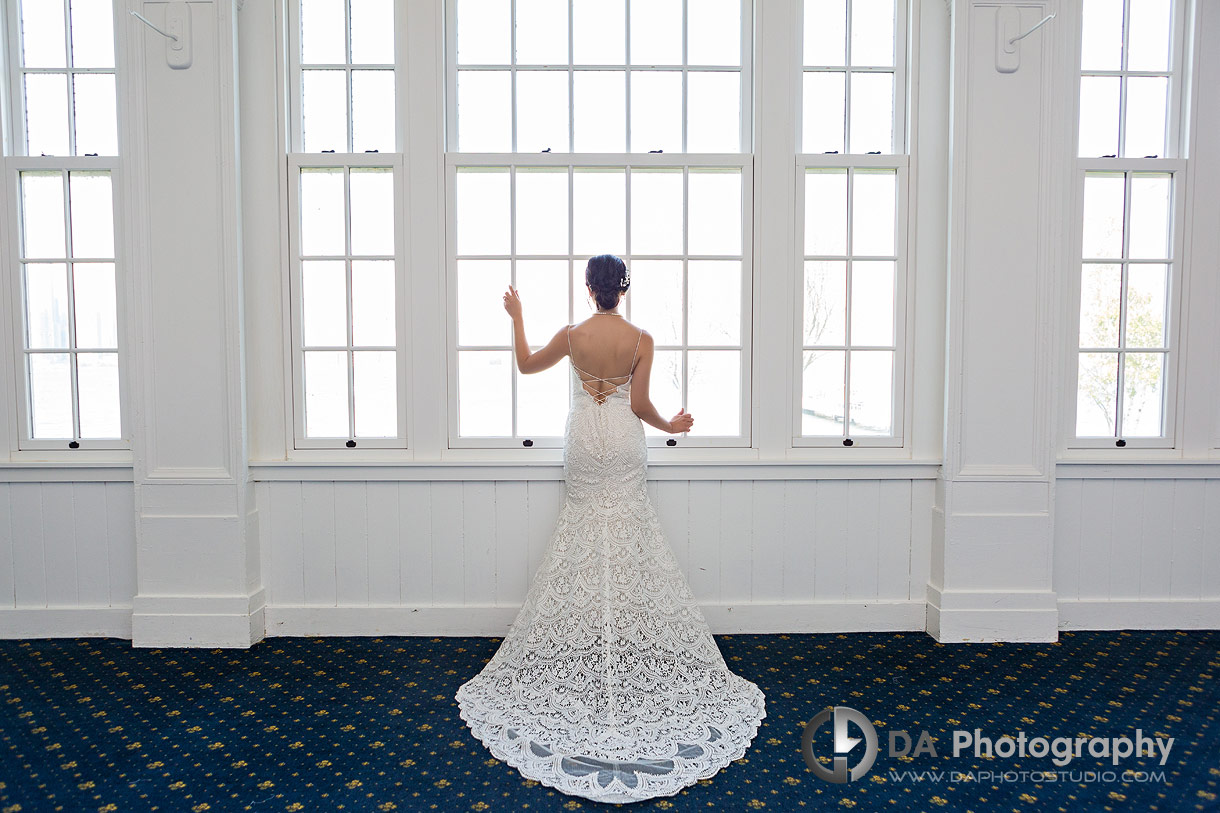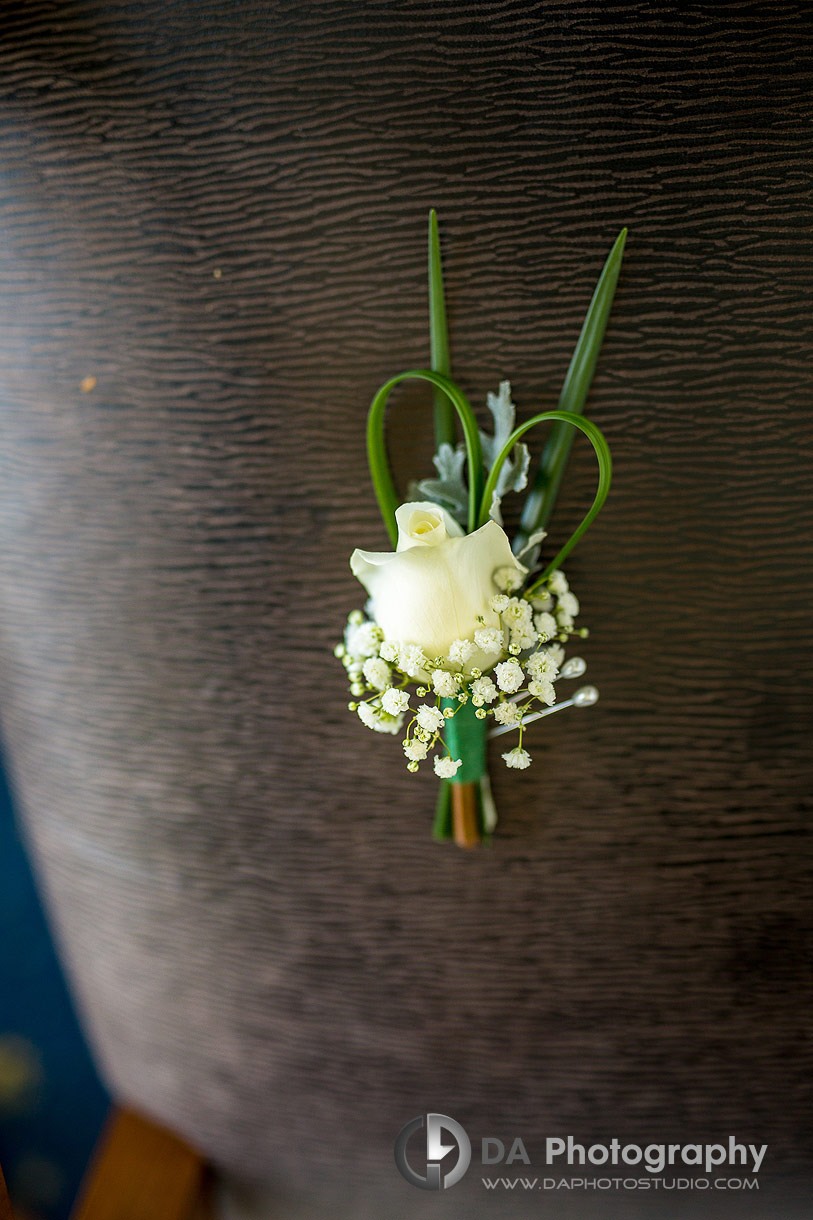 The ferry ride to the Royal Canadian Yacht Club
If you have never been to the Royal Canadian Yacht Club before, you simply must go! This club has such a rich history. Situated on Toronto Island, it is only accessible by boat. This has the potential to be tricky as a photographer. I had to make sure that my equipment was ready and with me on two boats prior to Jess' arrival. I went early and met with the person in charge of weddings at the Royal Canadian Yacht Club, Vivien. One of the staff members took me on a tour of where the wedding would take place. They let me know where I could walk, talk and take photos. They went over the strict rules that were in place to ensure the experience of the members of the yacht club was not ruined on this beautiful summer day.
After leaving my equipment, I went back on the ferry to pick up the bride and her entourage. During that voyage, I was able to take numerous photos of the city's skyline with the CN Tower from a viewpoint you don't get everyday – the ferry! I took a bunch of photos before arriving at the tender station where Jess and her bridesmaids were waiting.
During the ferry ride back over to the club, I gave the girls some space to adjust to the ride and to take a breath. I could just sense their excitement. Upon our arrival, Vivien was waiting for them at the pier to escort them to their bridal suite.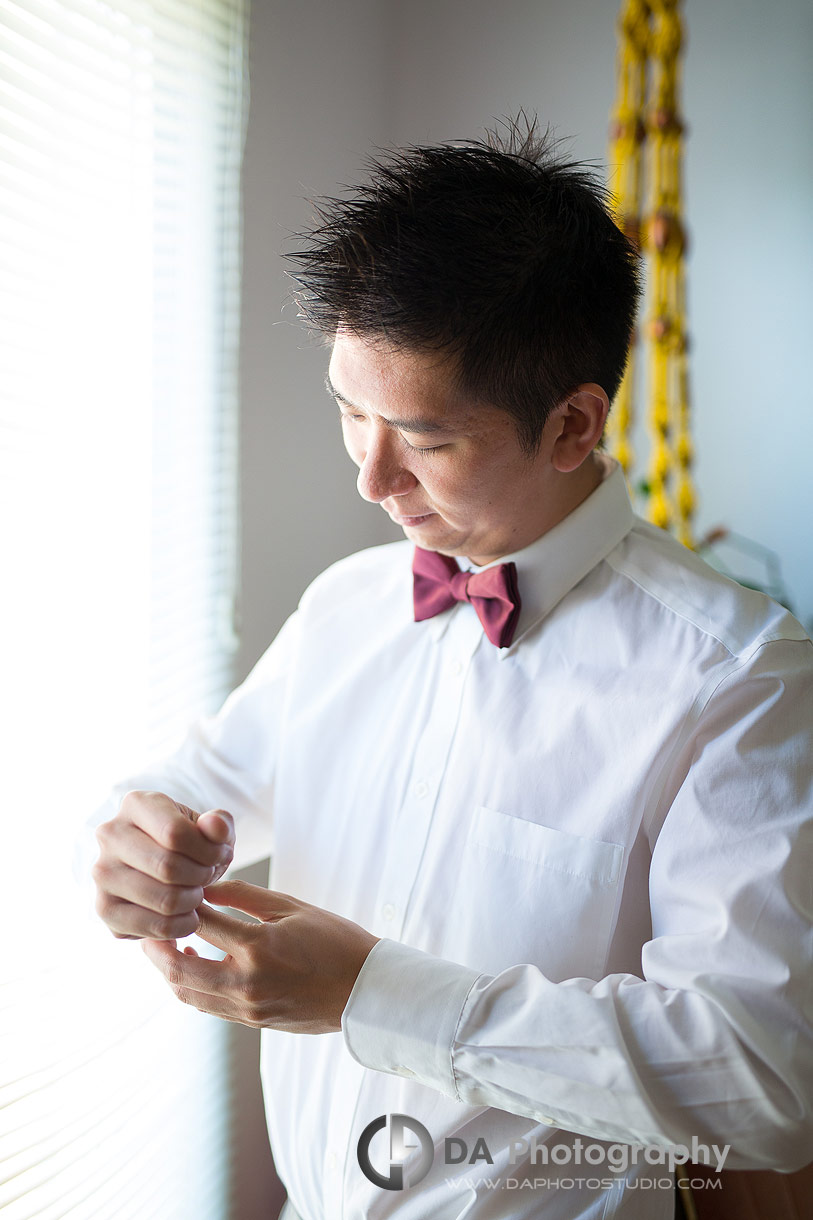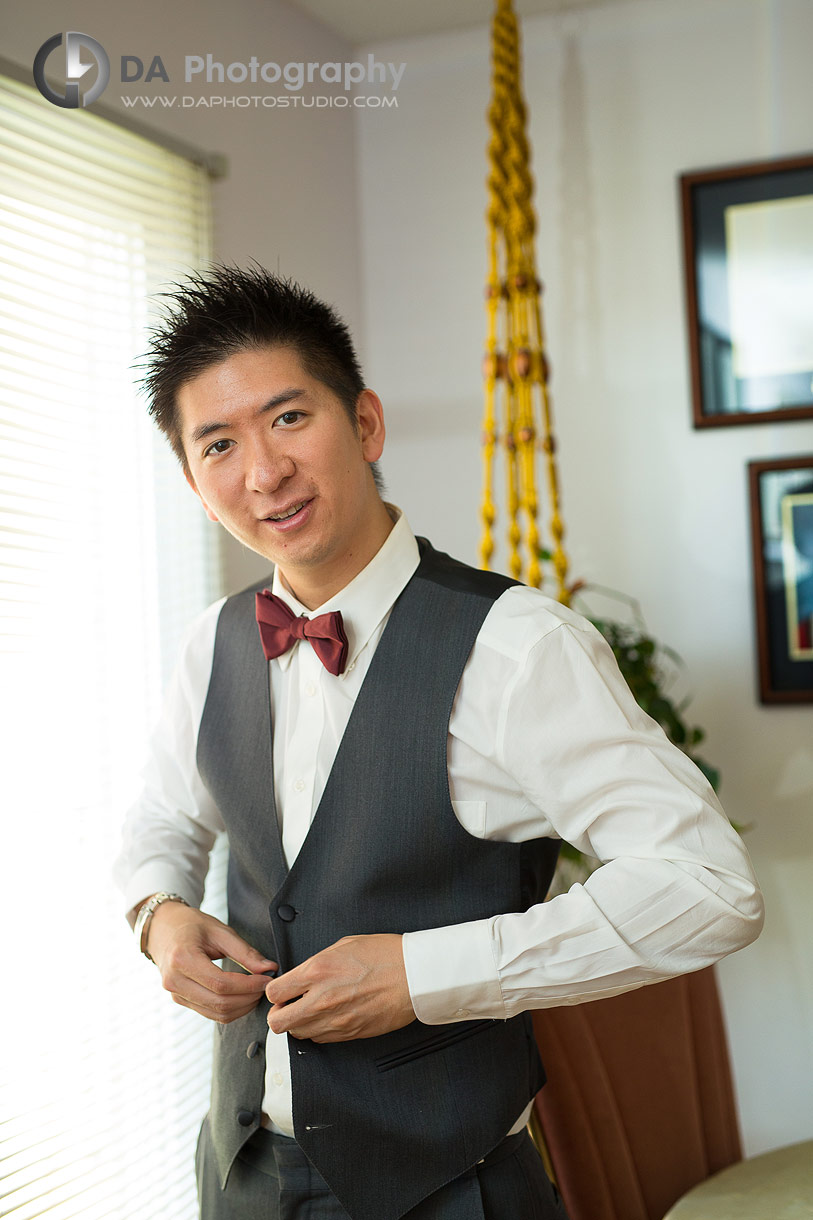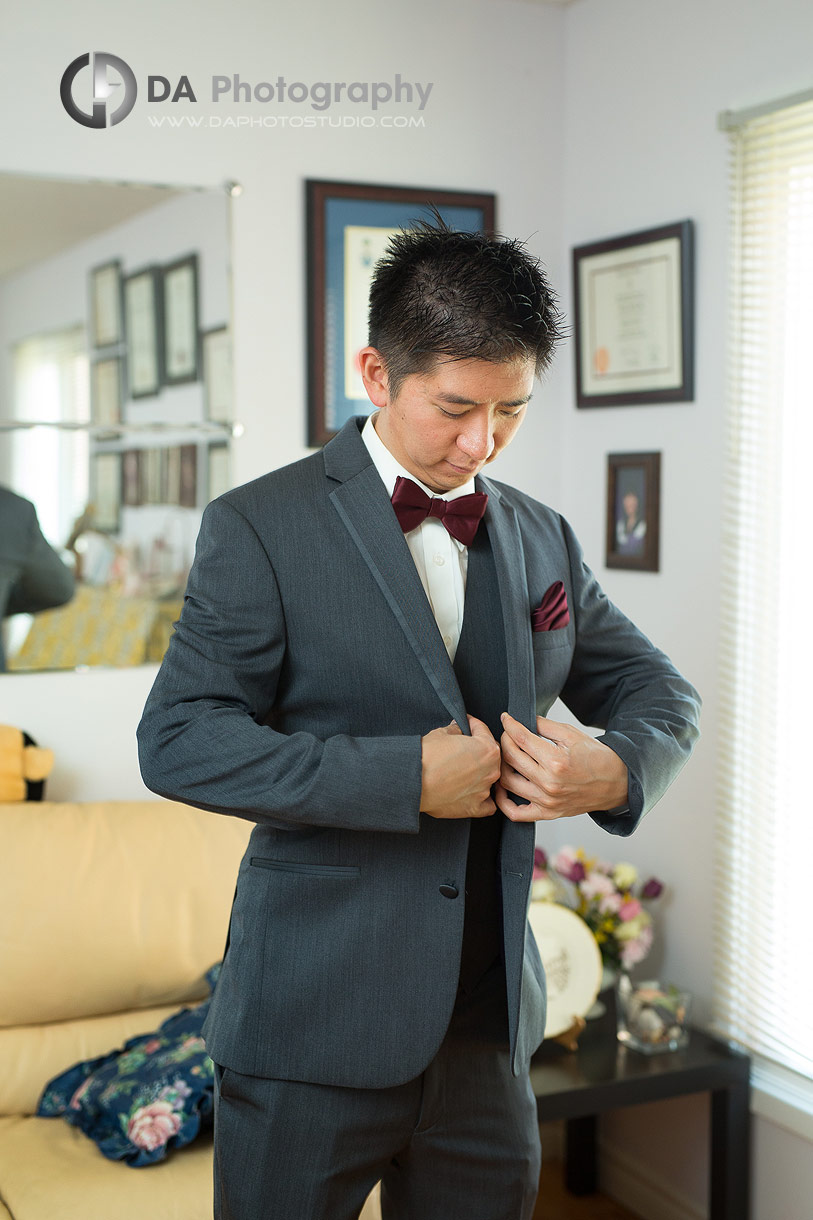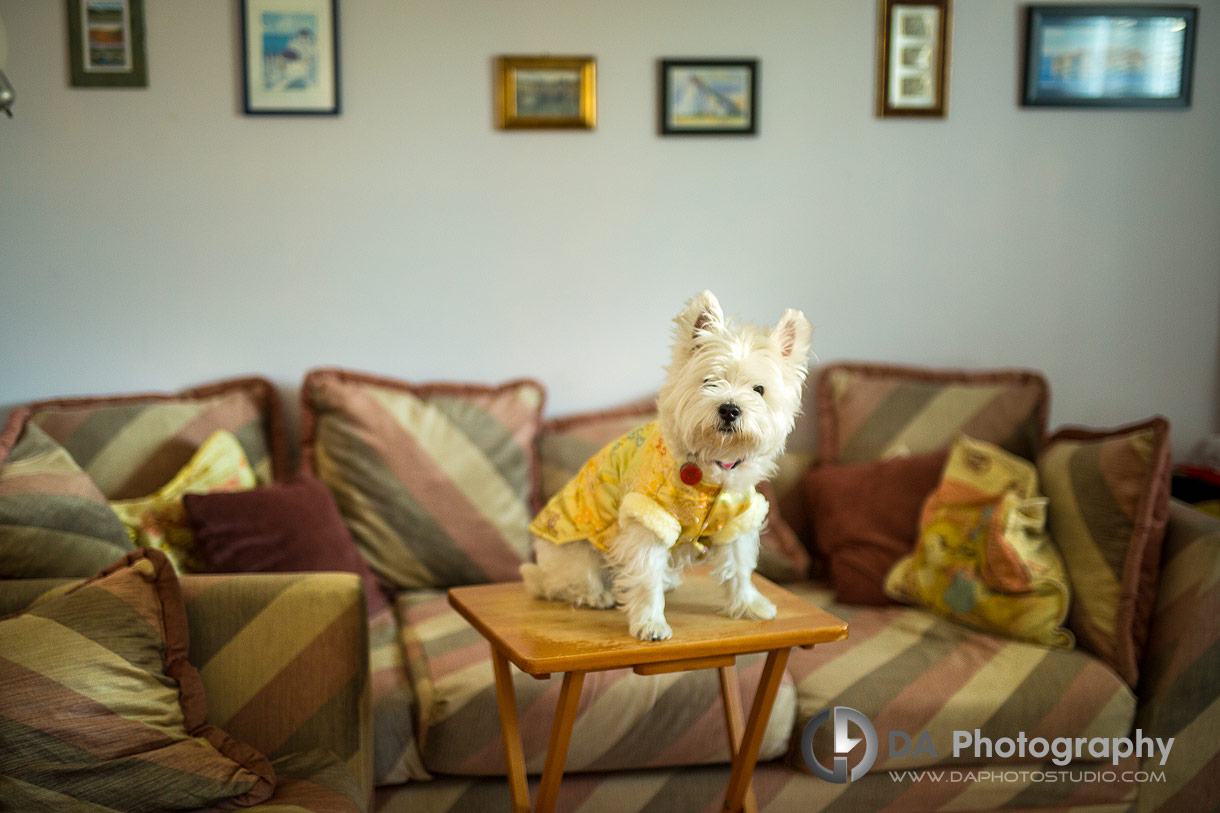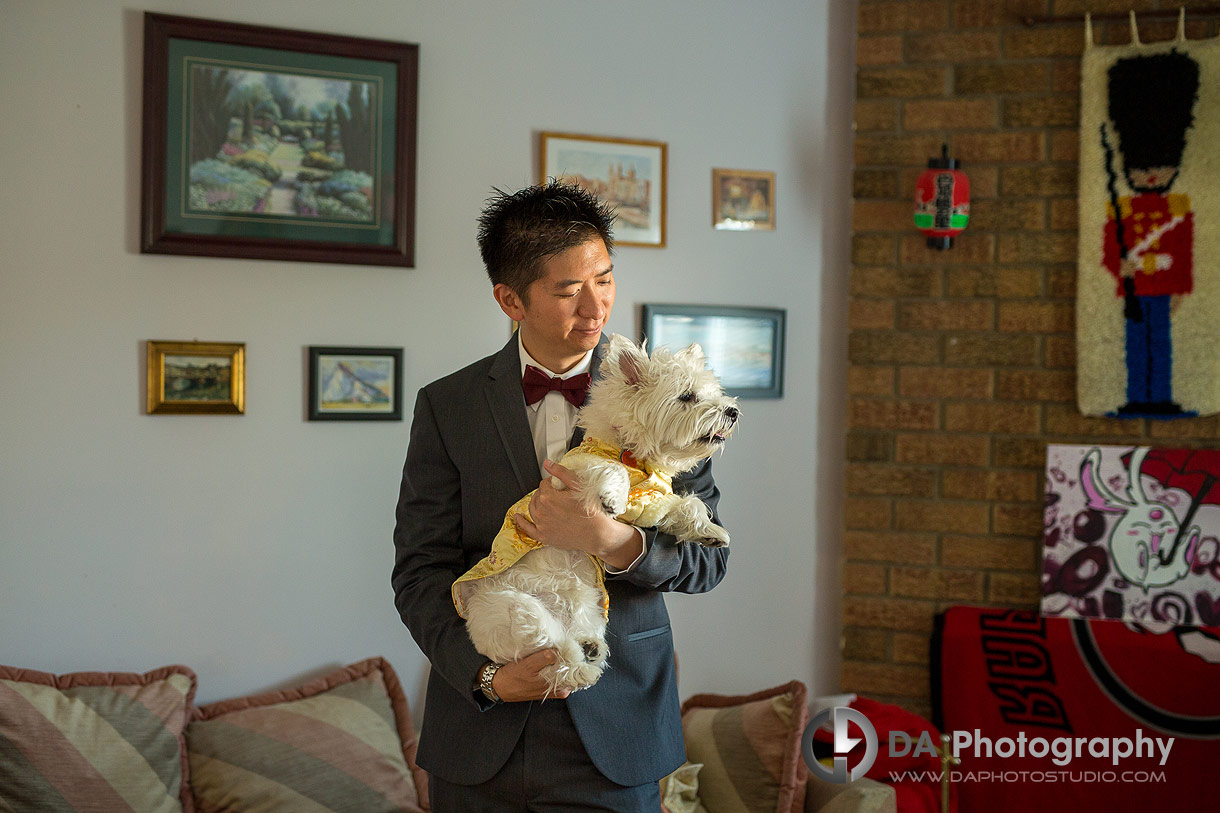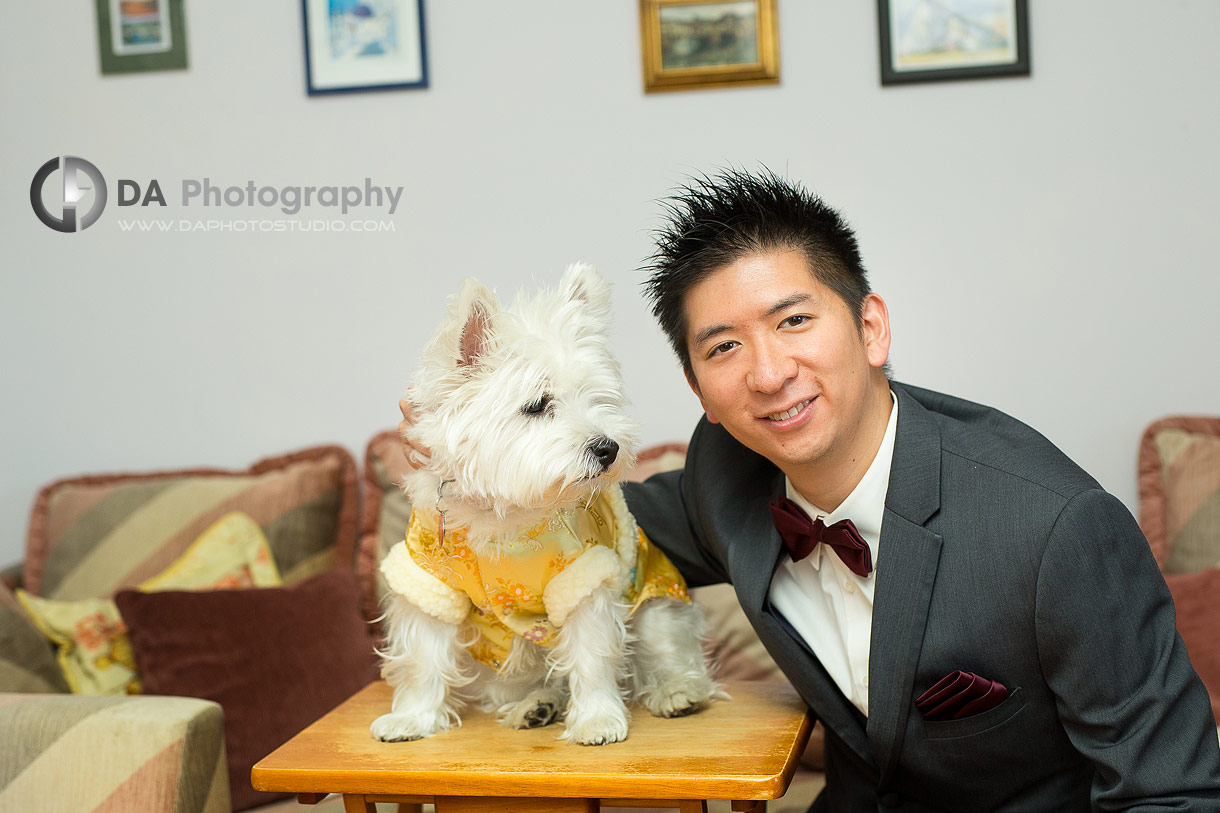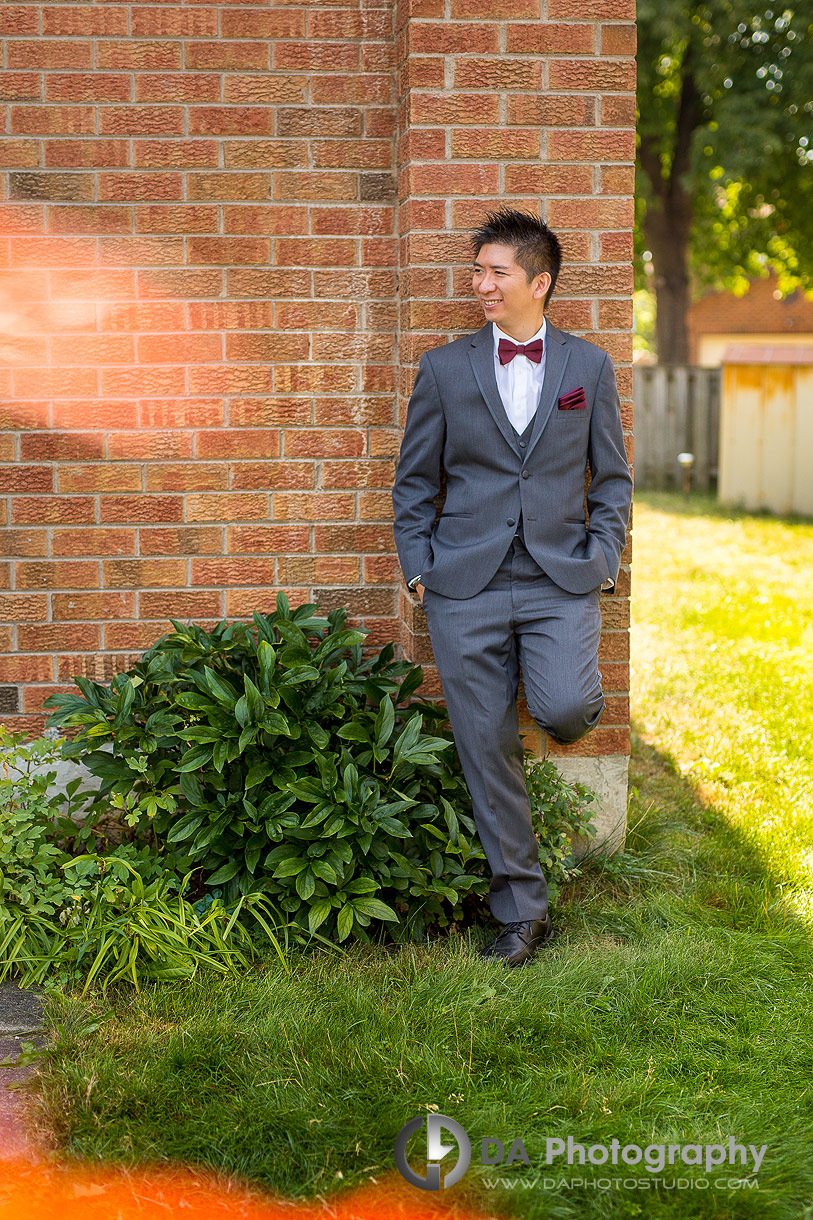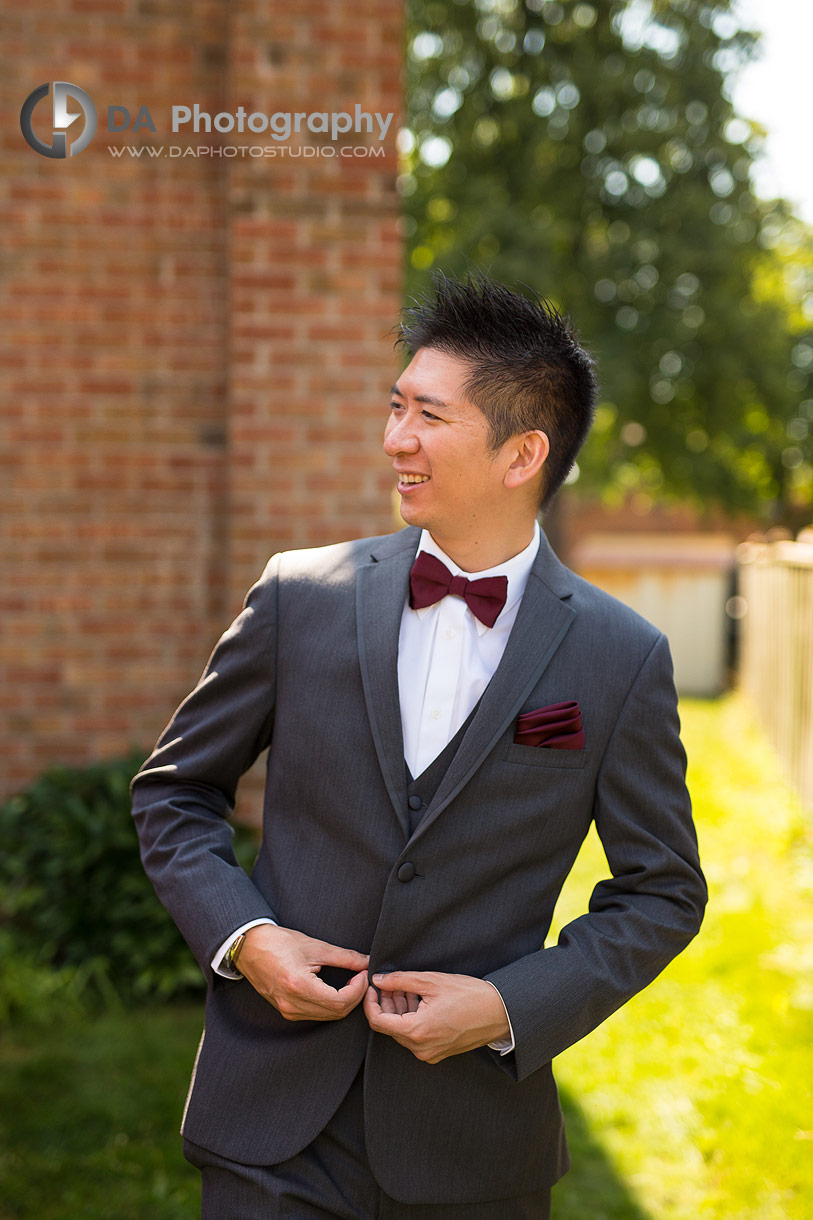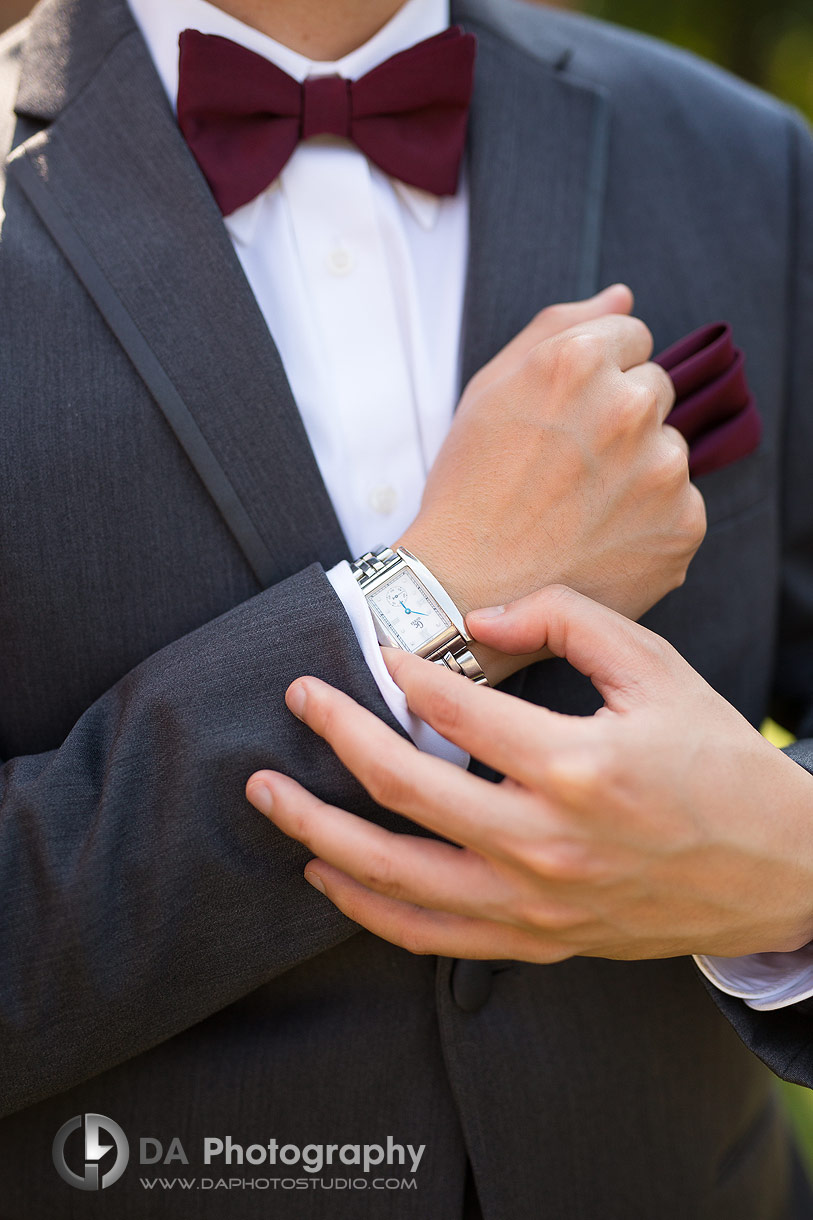 Getting ready
After arriving at the bridal suite, I could see signs that the group was beginning to relax and get settled. This was the indication that I could start taking the getting ready photos. My aim was to capture the moments with a documentary approach for the entire getting ready portion of the day. Jess and her bridesmaids interacted so well and were so entertaining, that I didn't really need to direct them at all. My role was simply to make sure that I captured the true atmosphere.
On the other side of the city, Erika was taking photos of Monty, his groomsmen and his immediate family in Markham. After finishing there, they drove downtown to the pier station. Only one boat after Jess', they made their way over to the island. The men seemed much more at ease. Erika wisely used that to her advantage, taking as many photos as she could.
I witnessed their arrival from the window of Jess' bridal suite and knew that it was time to start the magic. I turned my focus to capture the last touches of Jess getting ready. Her wedding dress was absolutely stunning. But most importantly, her incredible smile truly outperformed her gorgeous outfit.
Lastly, we finished the photos of Jess' bridesmaids and we got ready for the reveal and the first look between Jess and Monty.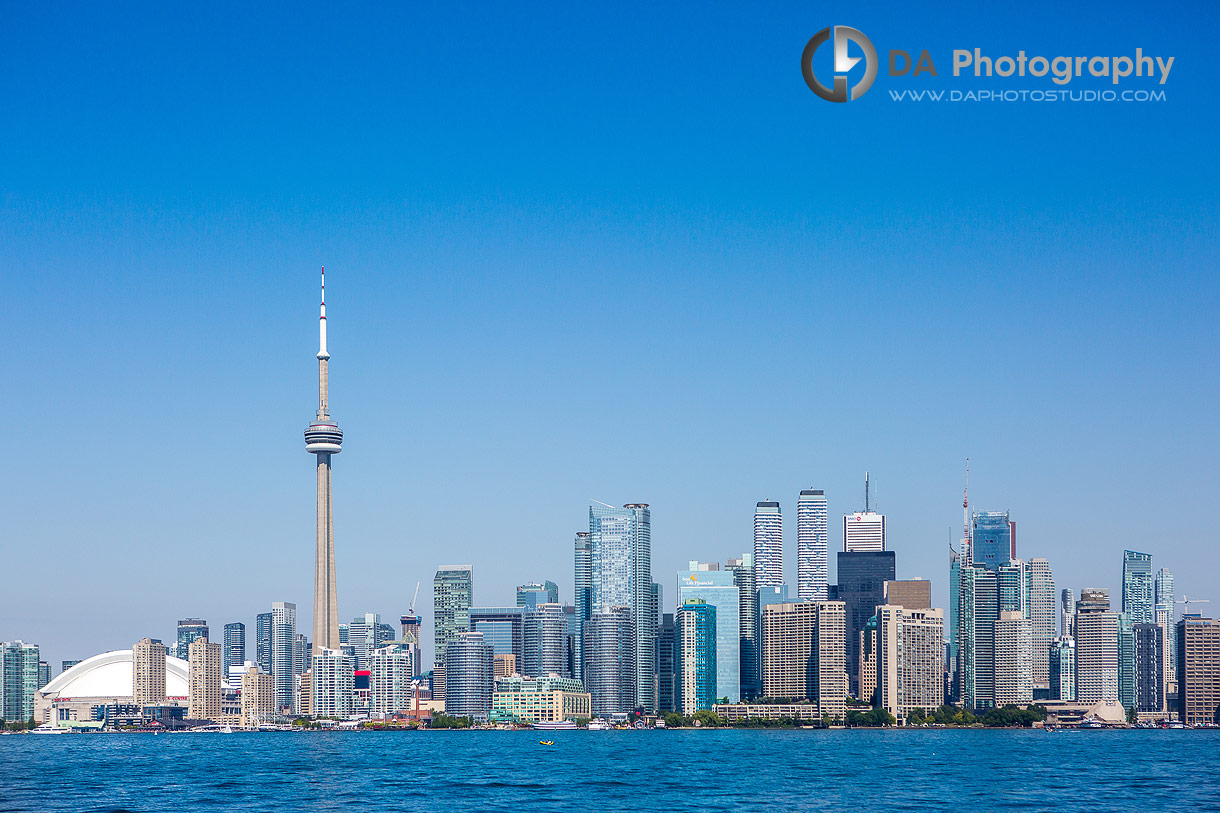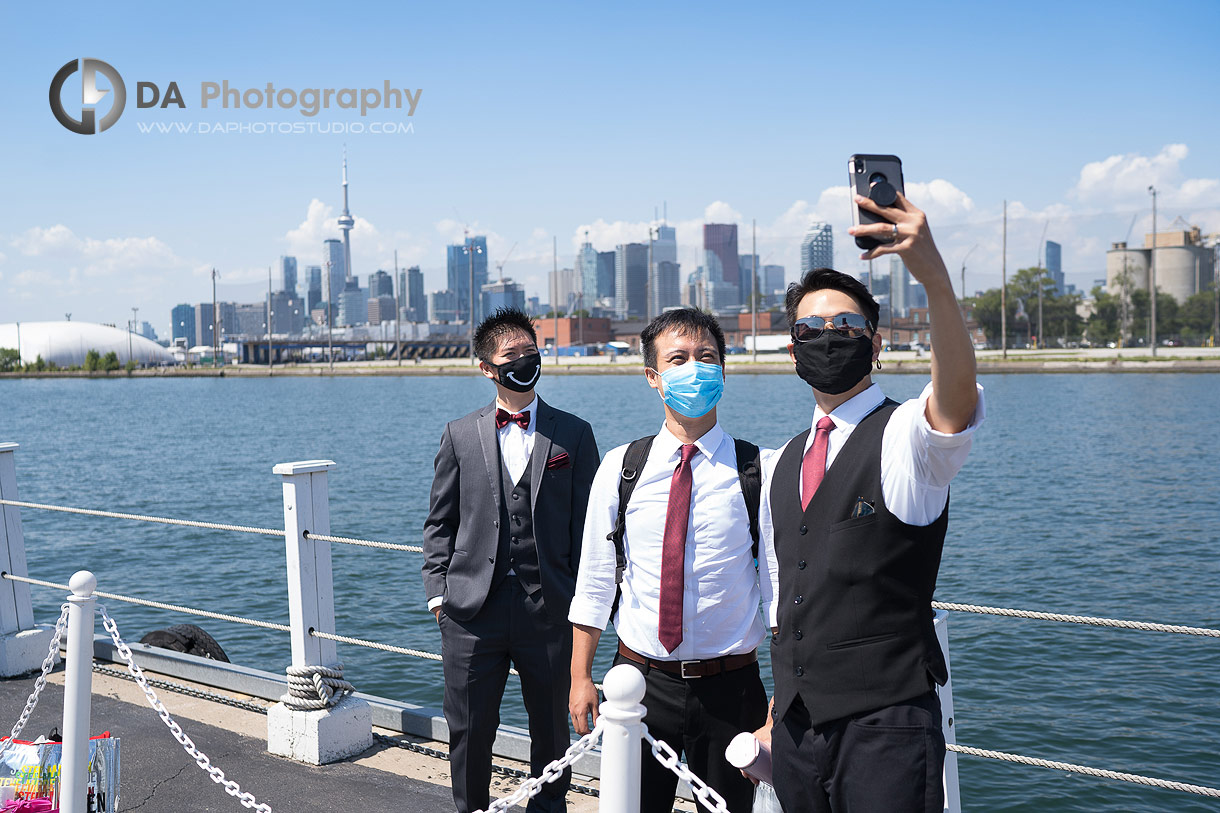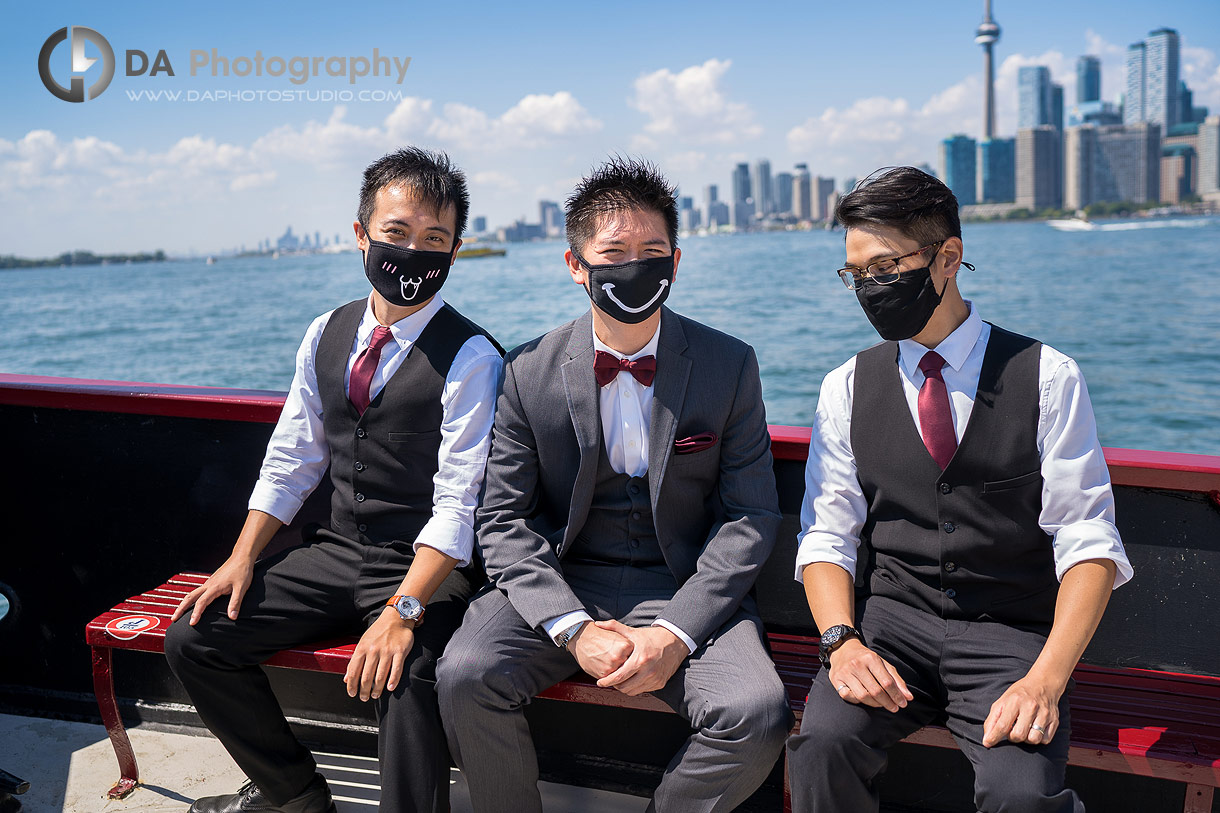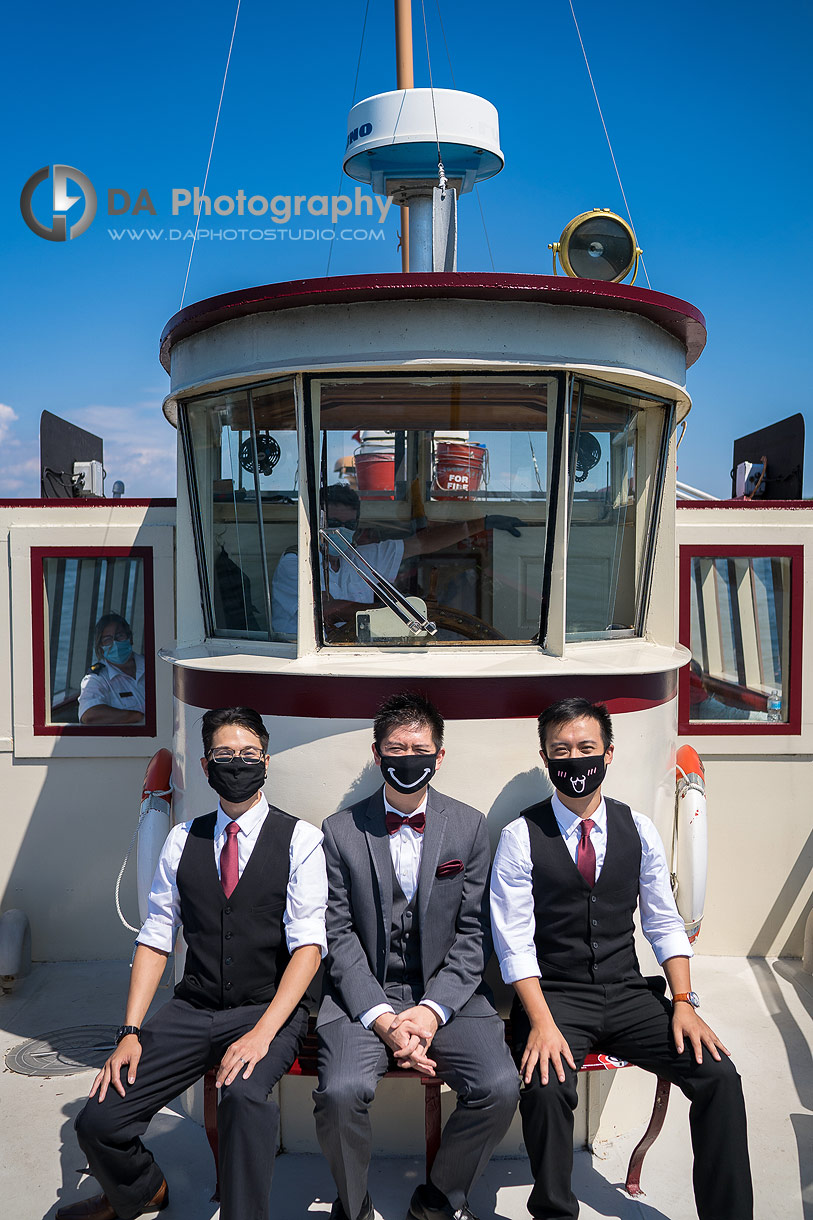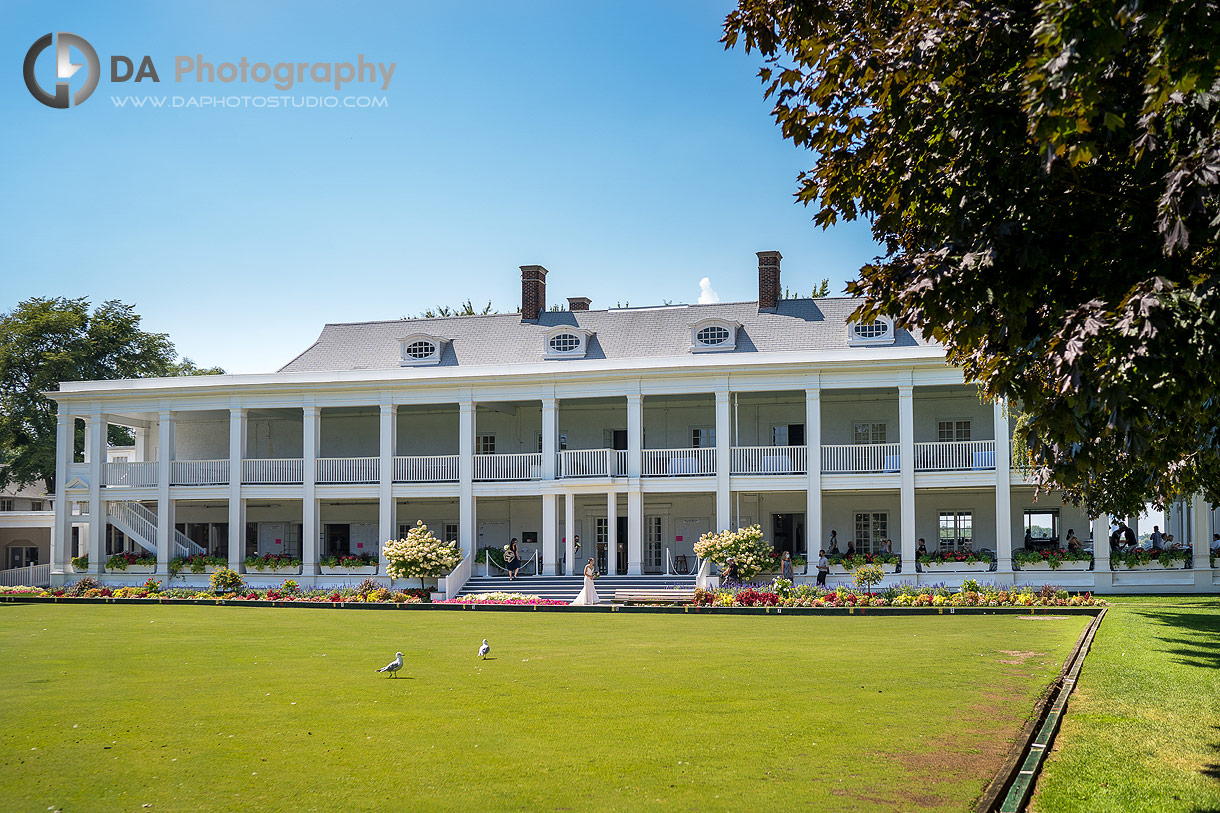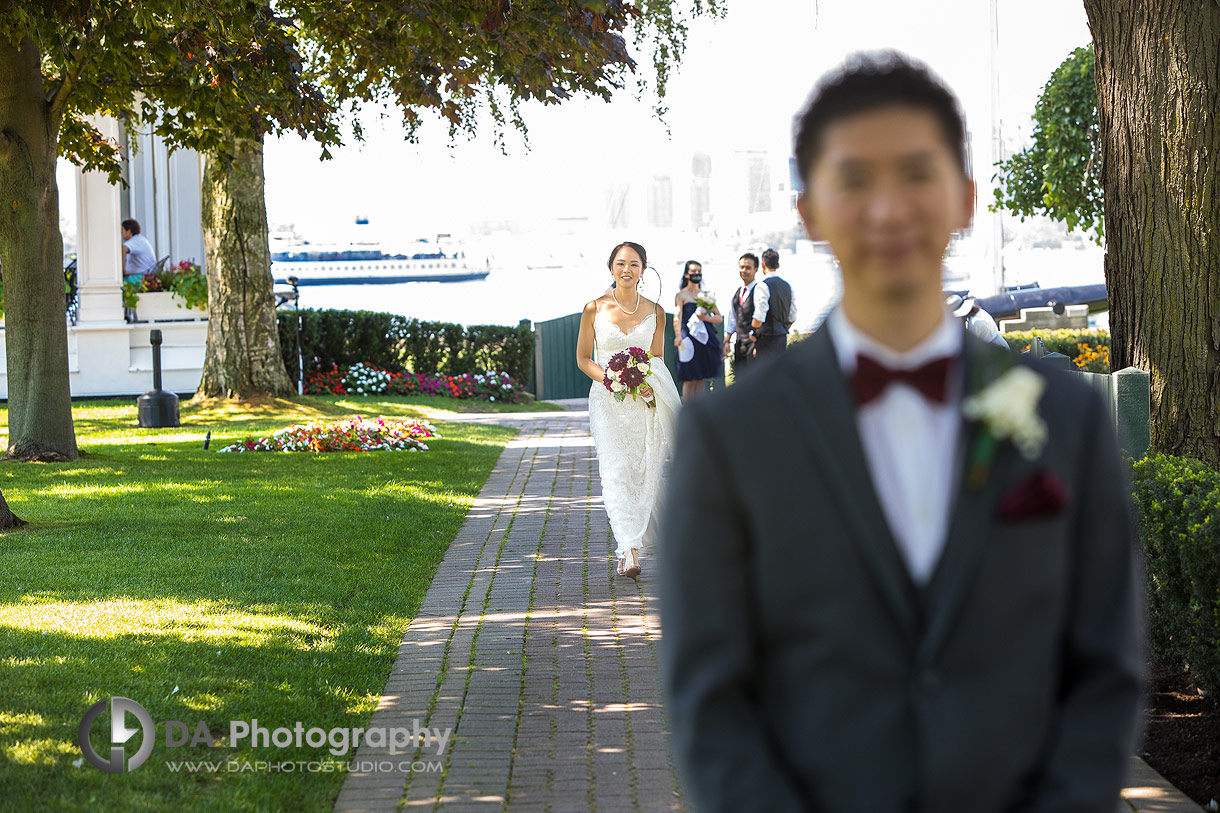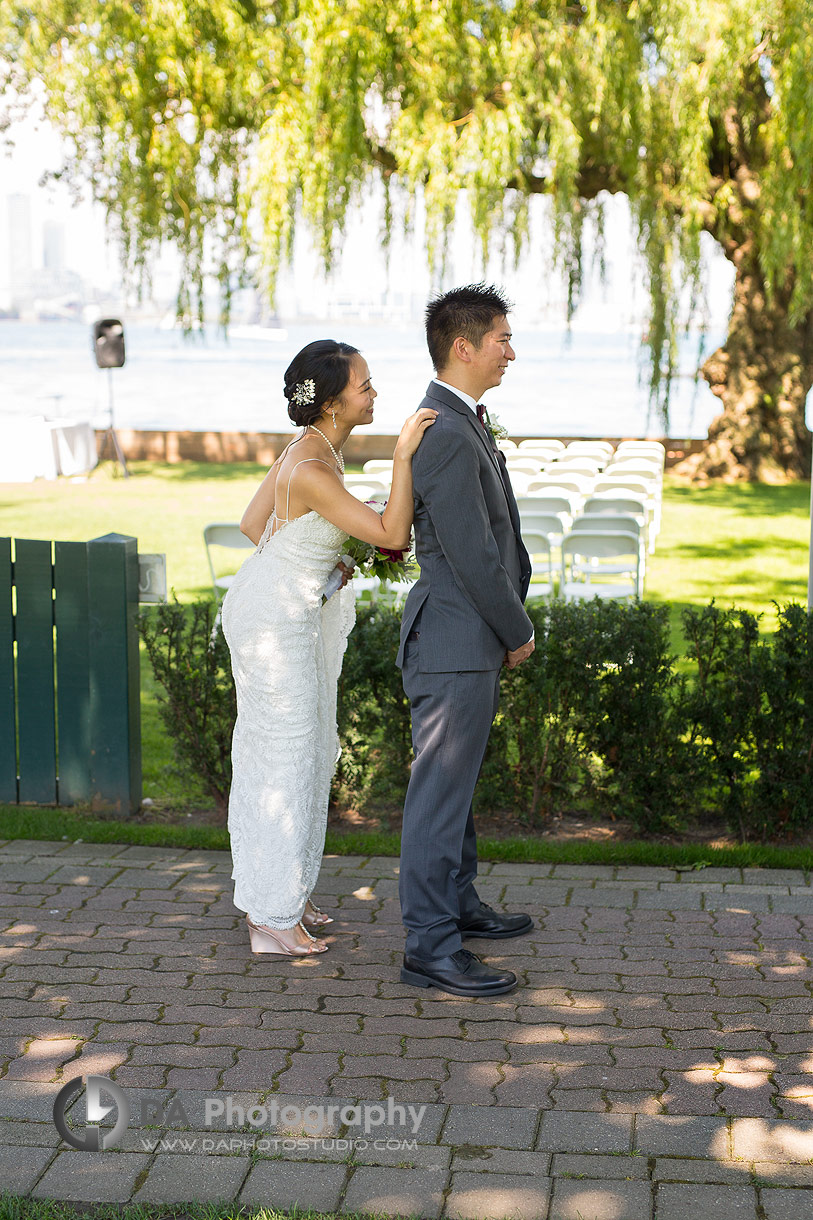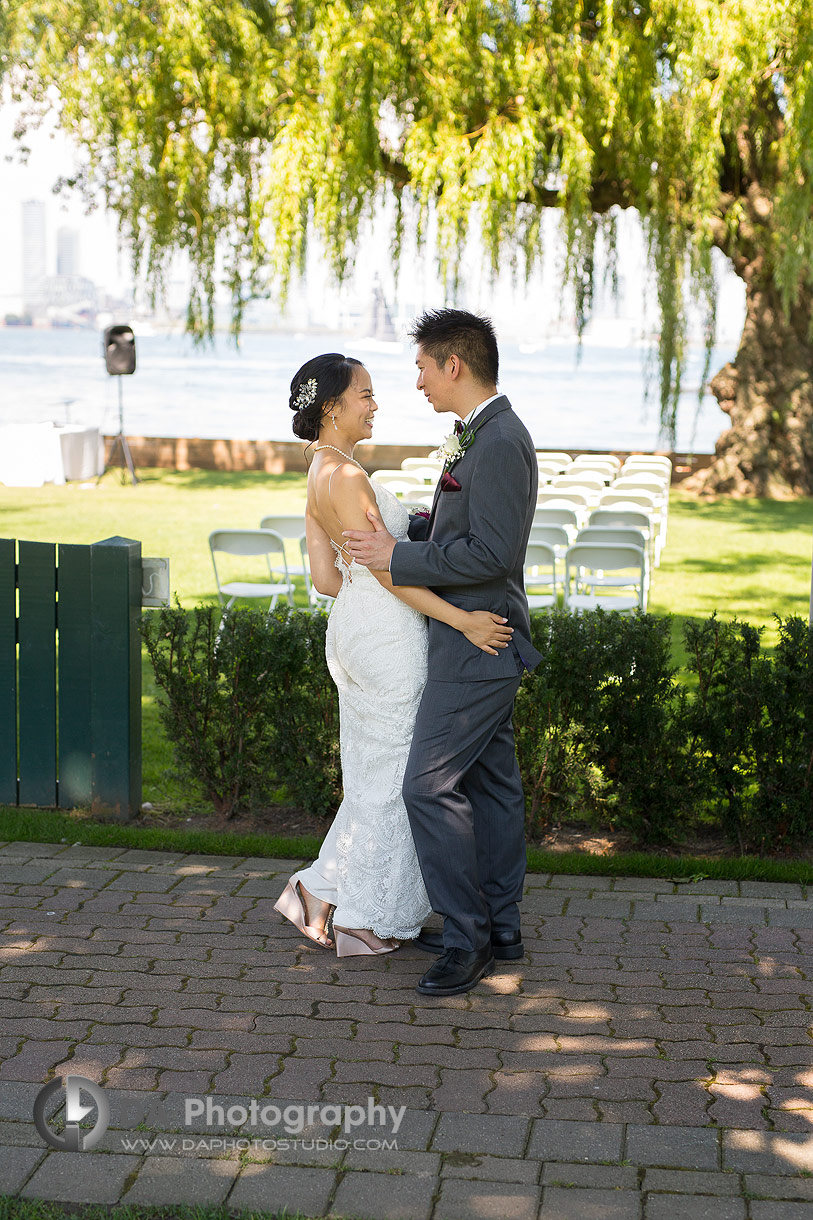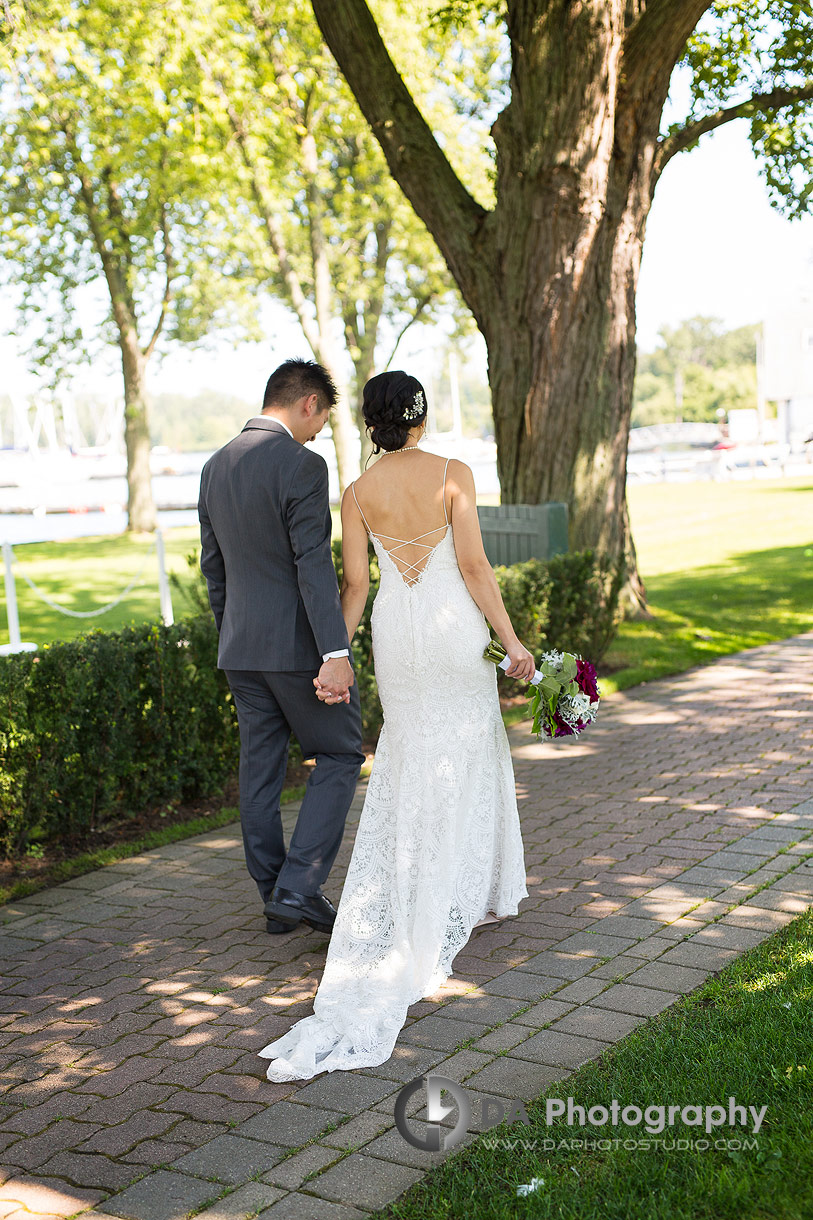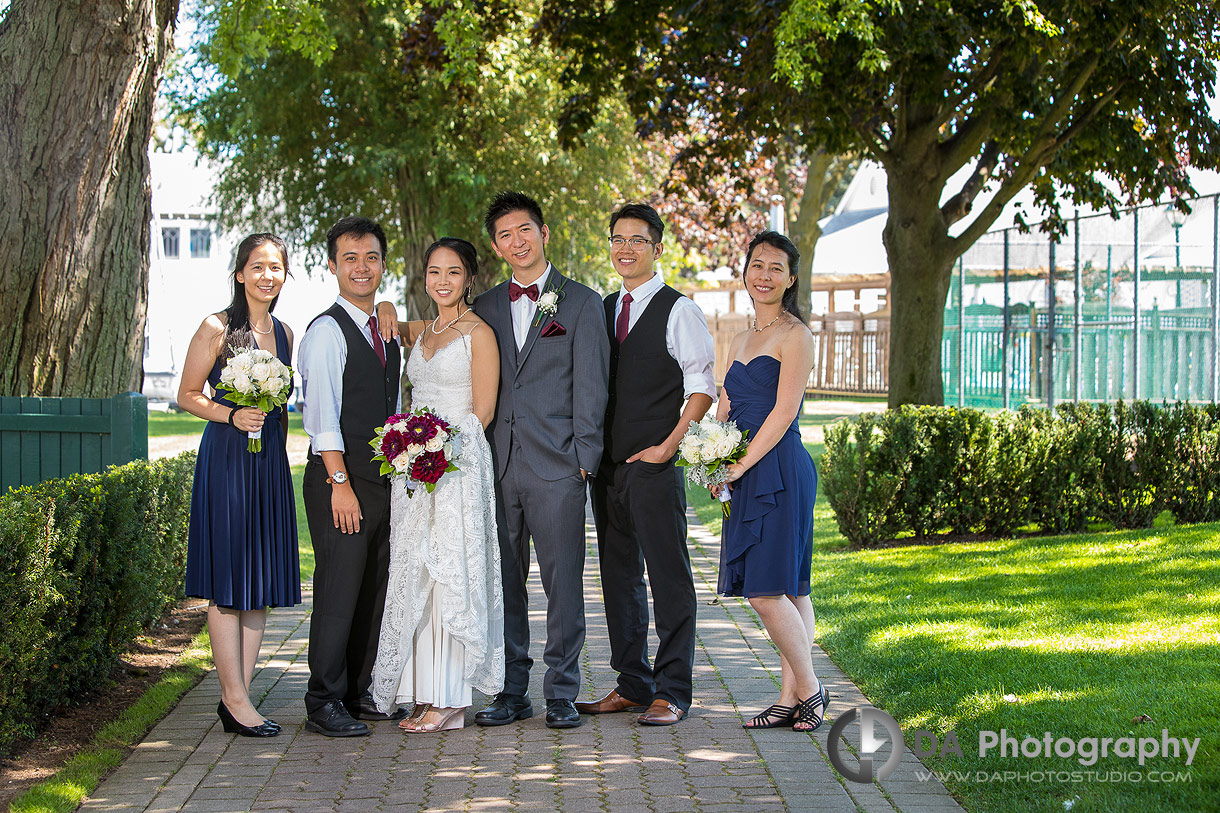 Outdoor wedding at the Yacht Club
Jess and Monty made the decision to have first look photos done before their ceremony. This way, they could spend as much time as possible celebrating with their friends and family.
COVID-19 restrictions required that their guests leave the island shortly after the ceremony was over. By reducing the amount of time the newly married couple was away from their guests for pictures, they gained the much-valued extra moments with their loved ones.
The first look reminded me of a fairy tale. A smiling Jess nervously approached her groom. Monty waited patiently at the end of the walkway that was just opposite to the place where they were getting married.
Once they saw each other, you could see Monty visibly relax a bit and mentally prepare himself for the photo session. Amazed by the beauty of the location, I had a hard time deciding where to start. There were so many inspiring spots that I was like a kid in a candy store!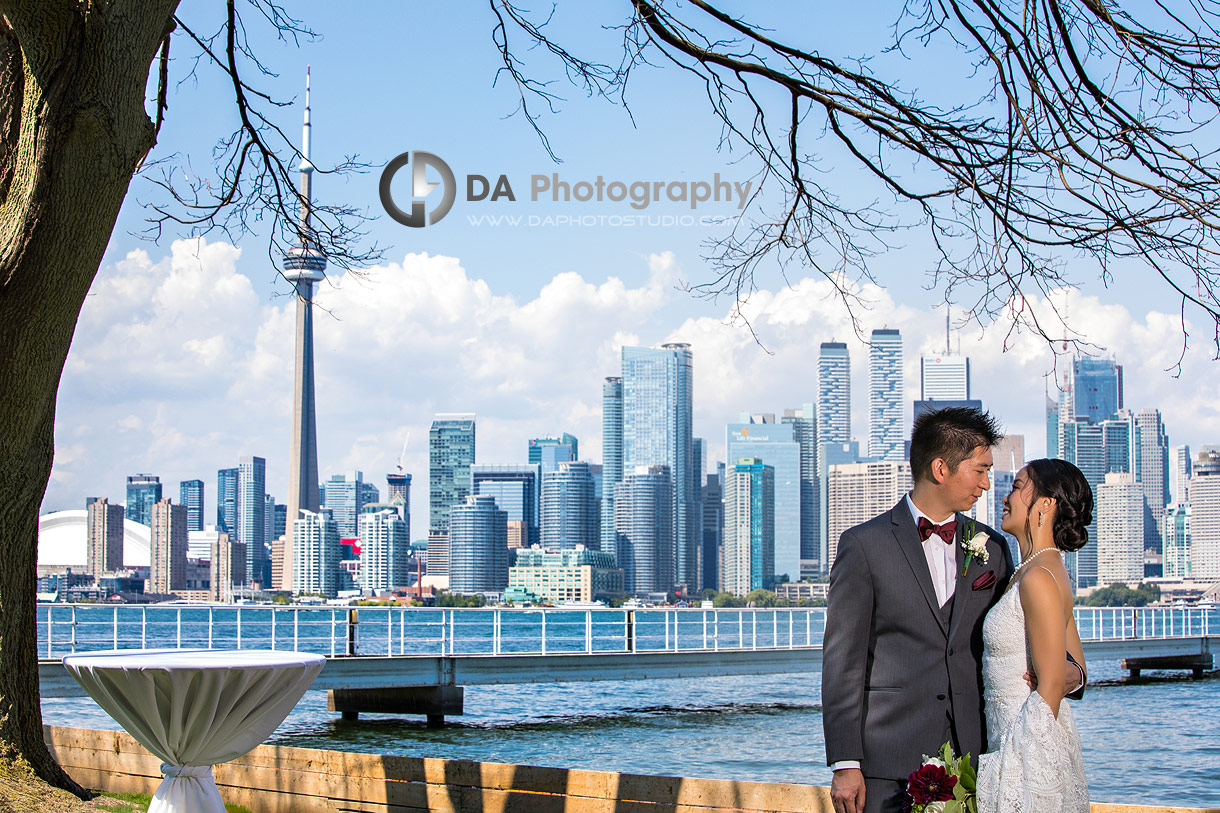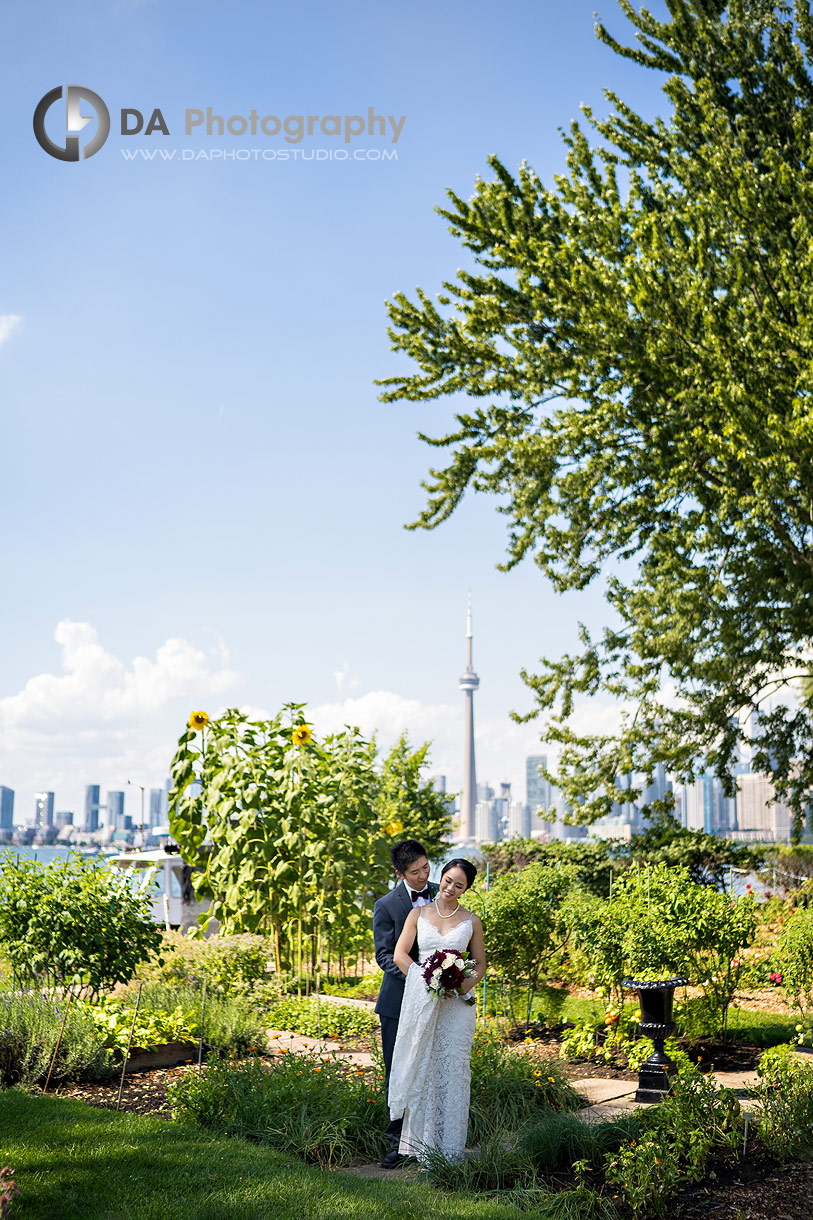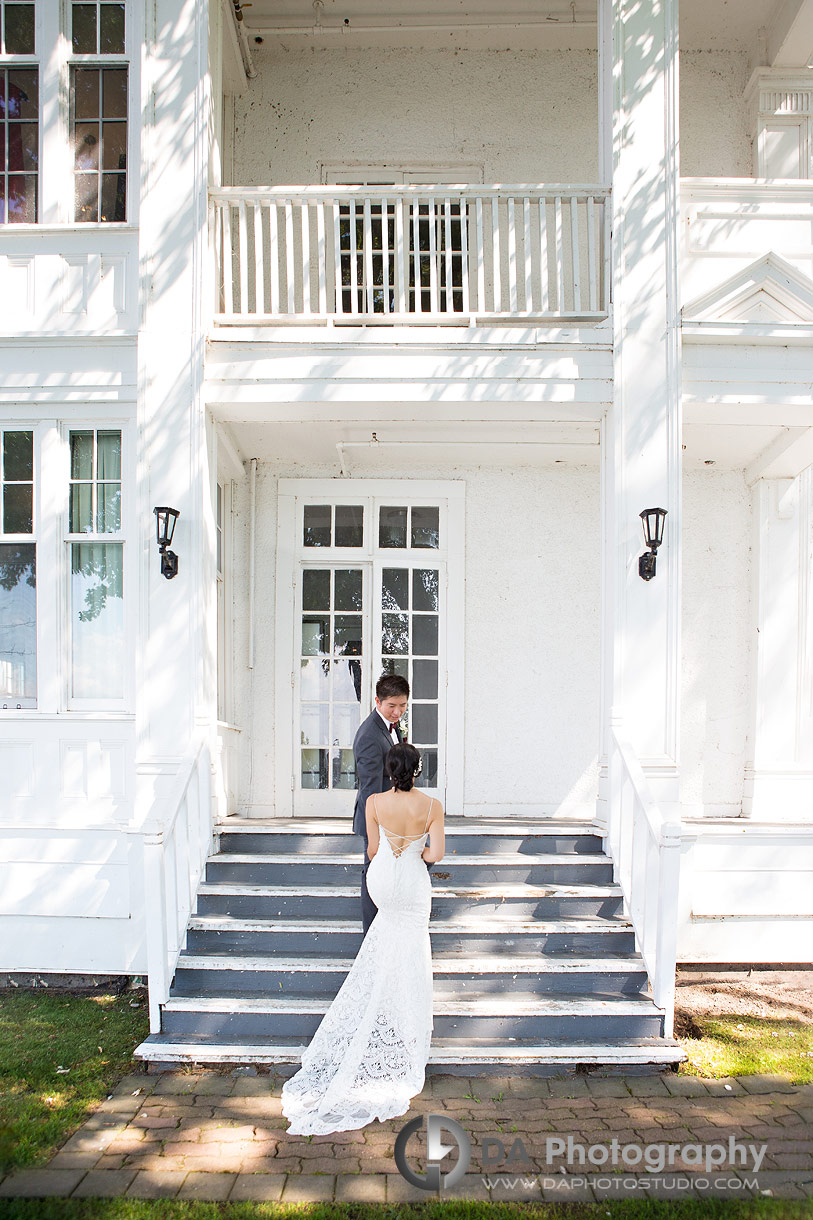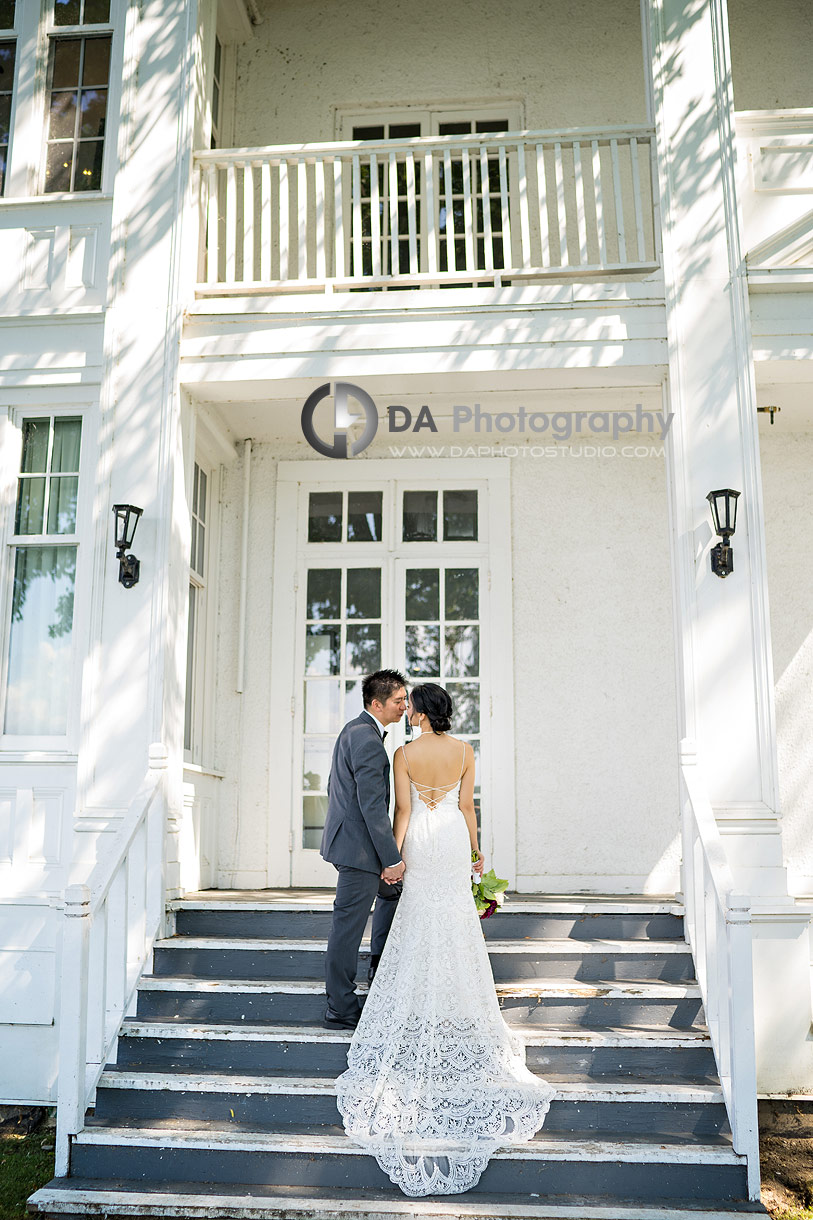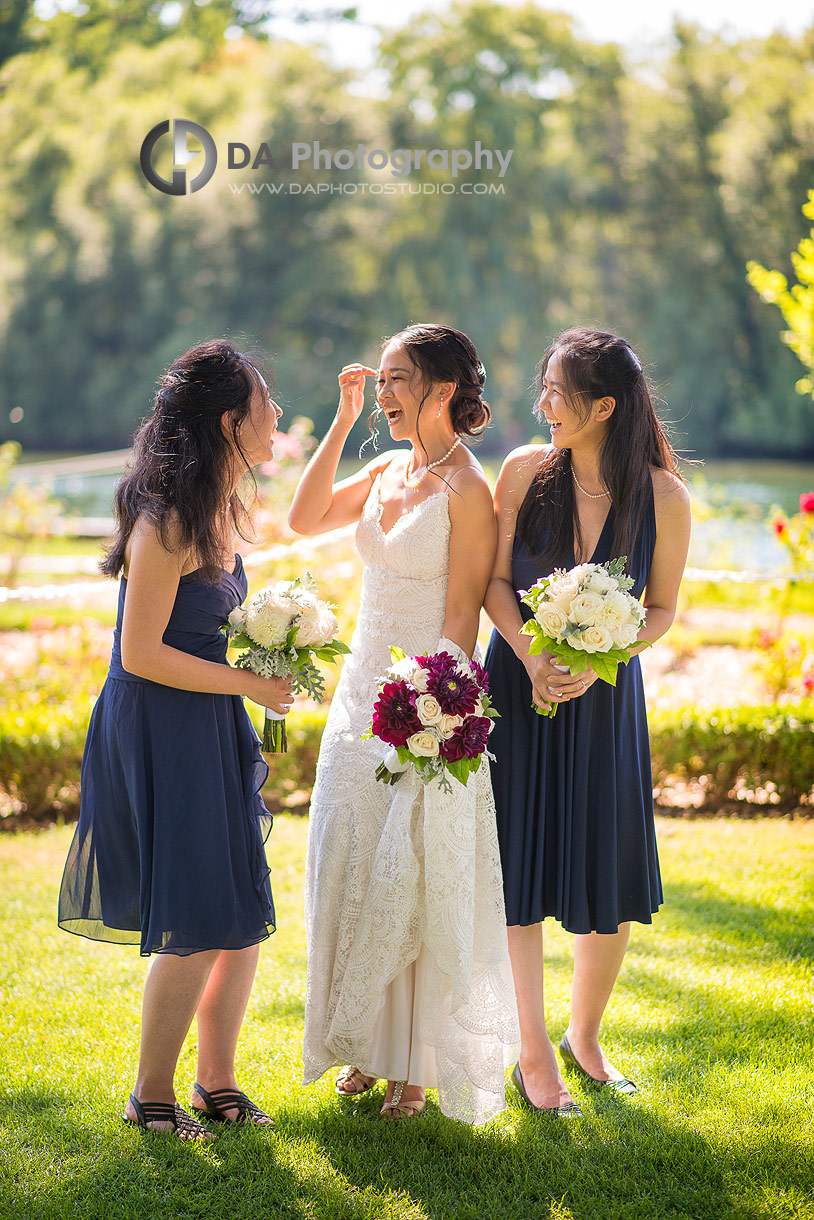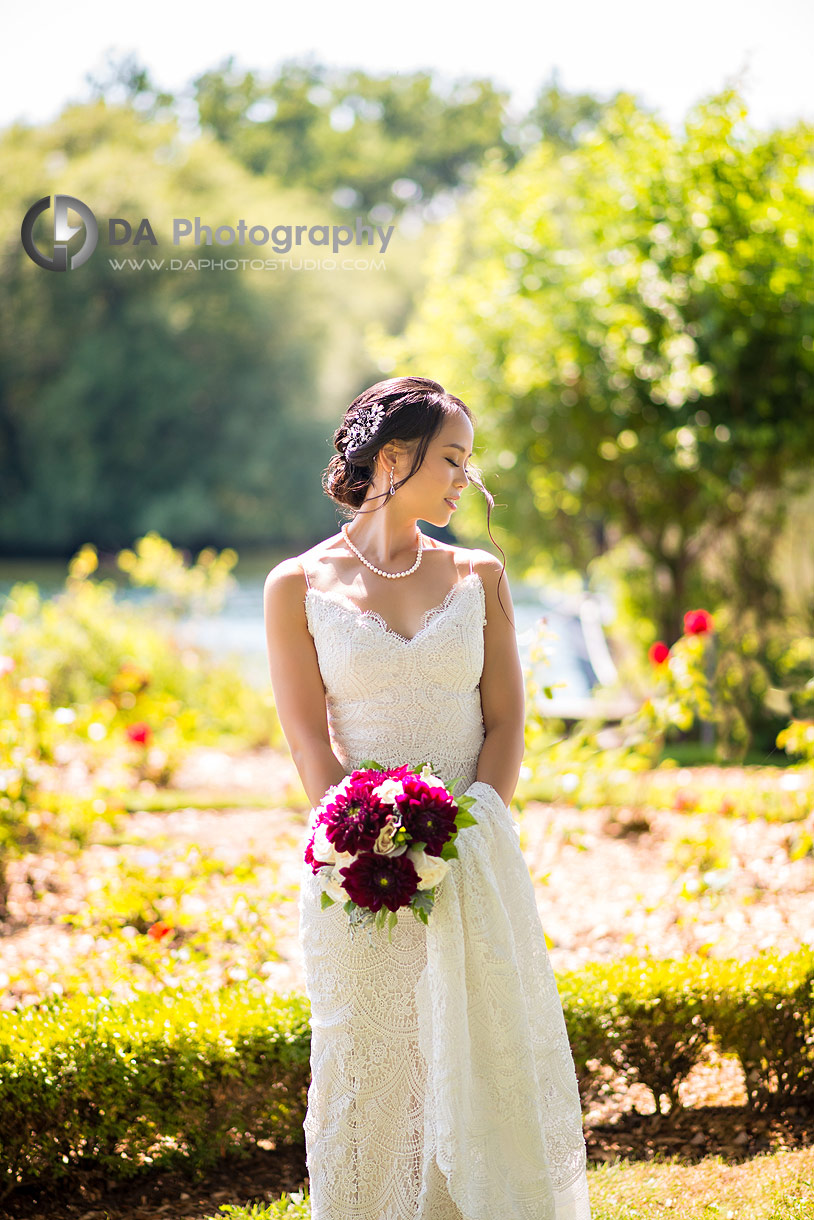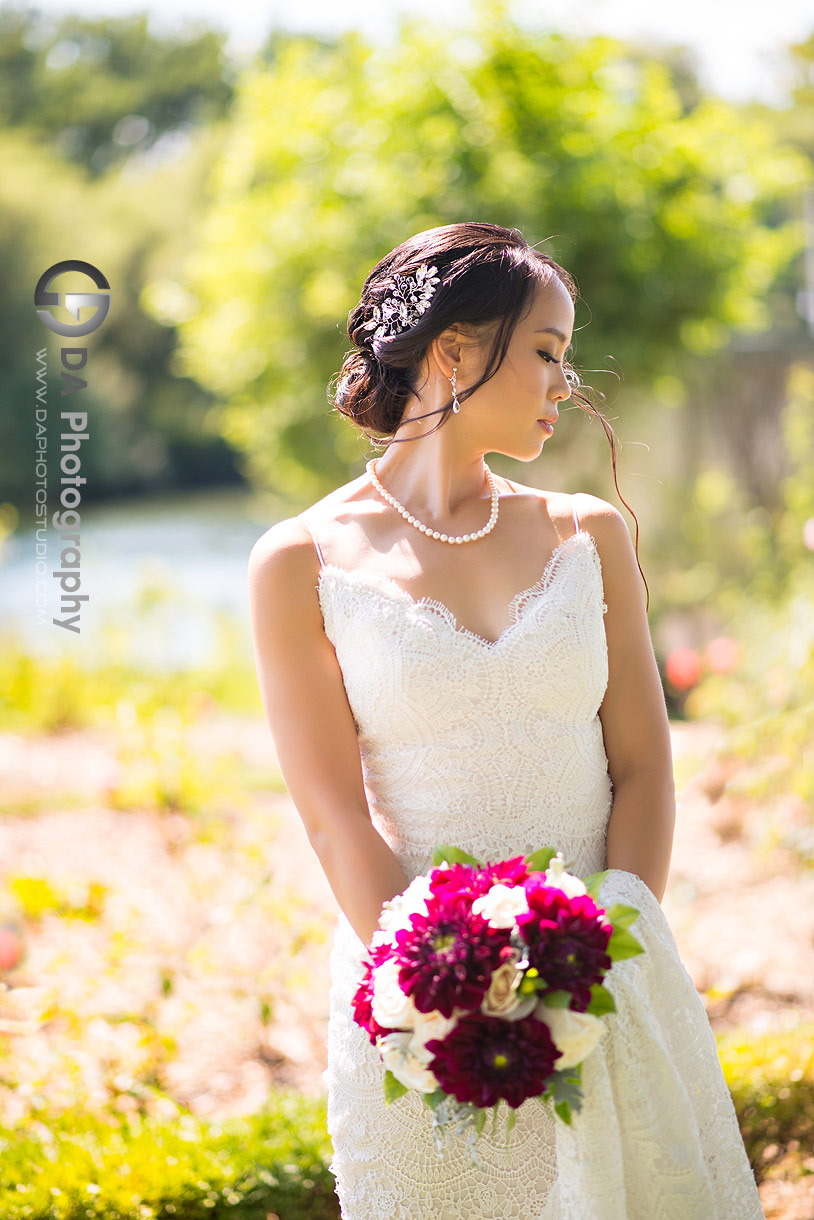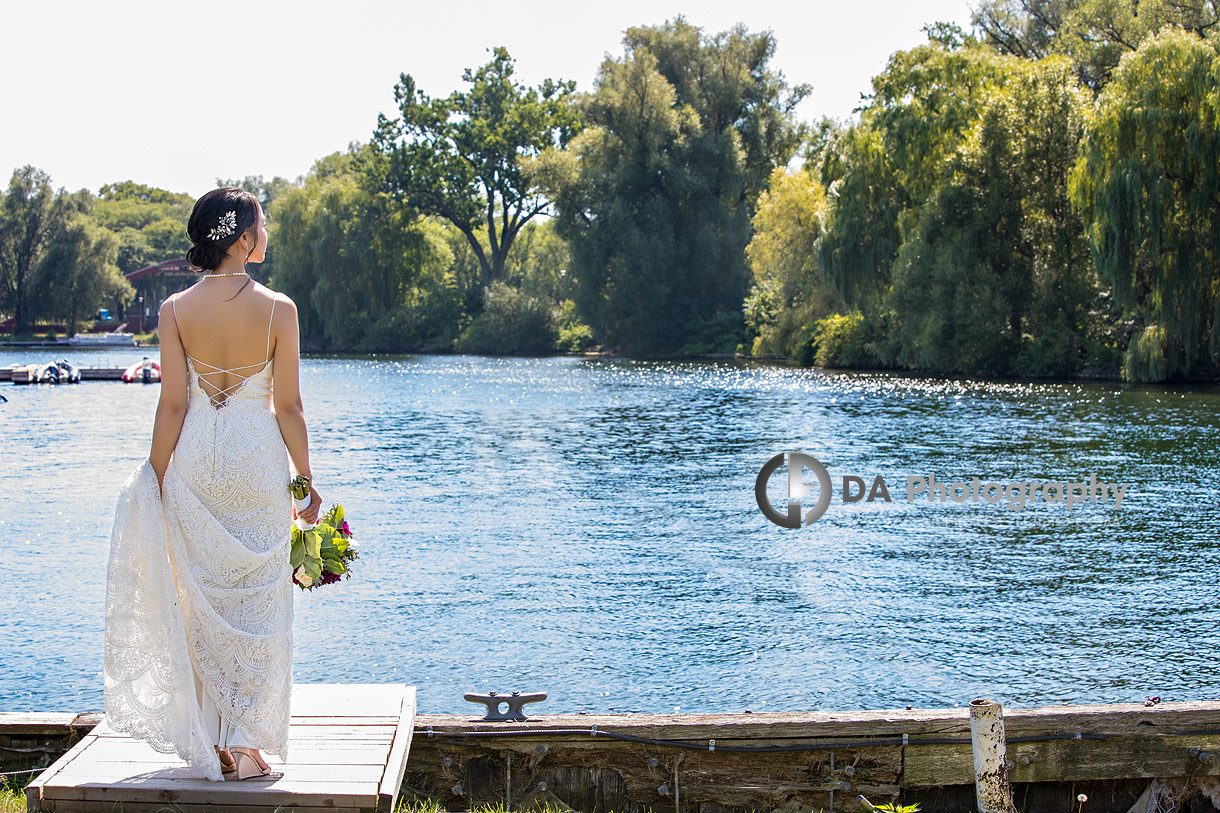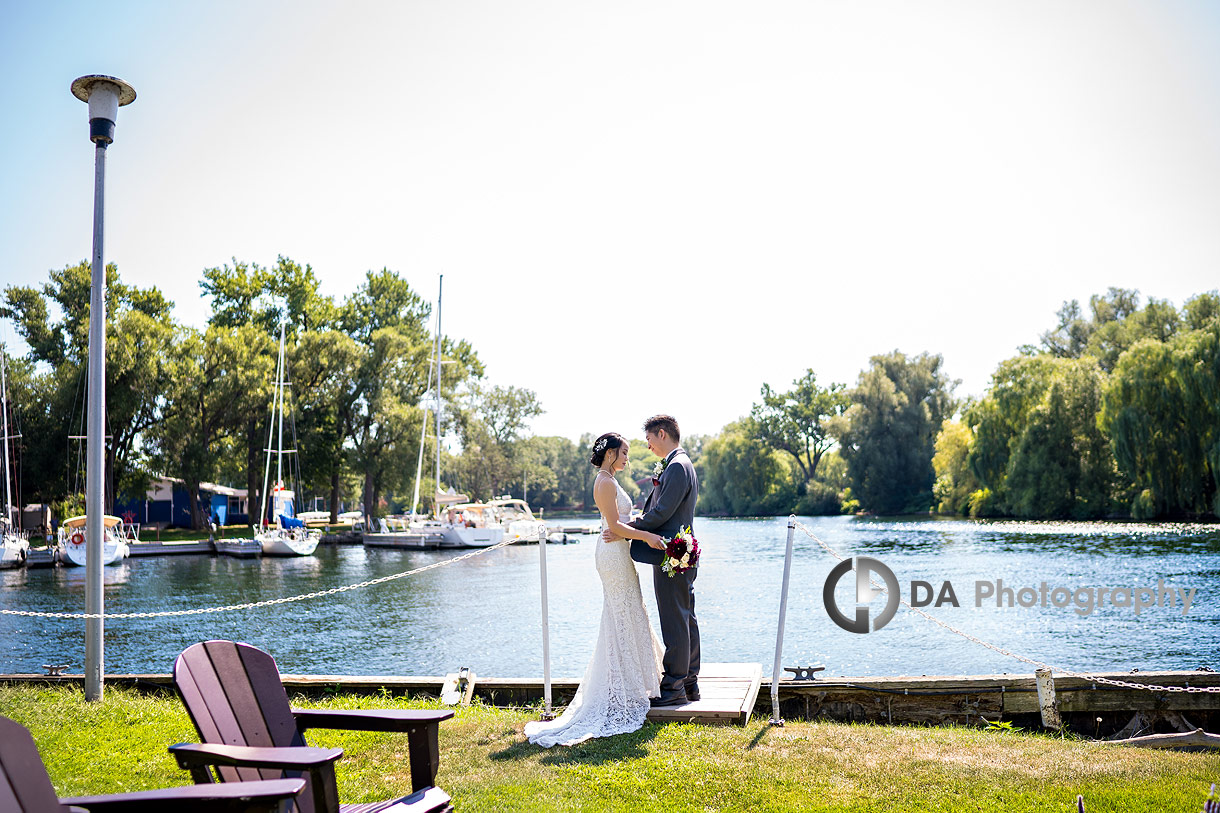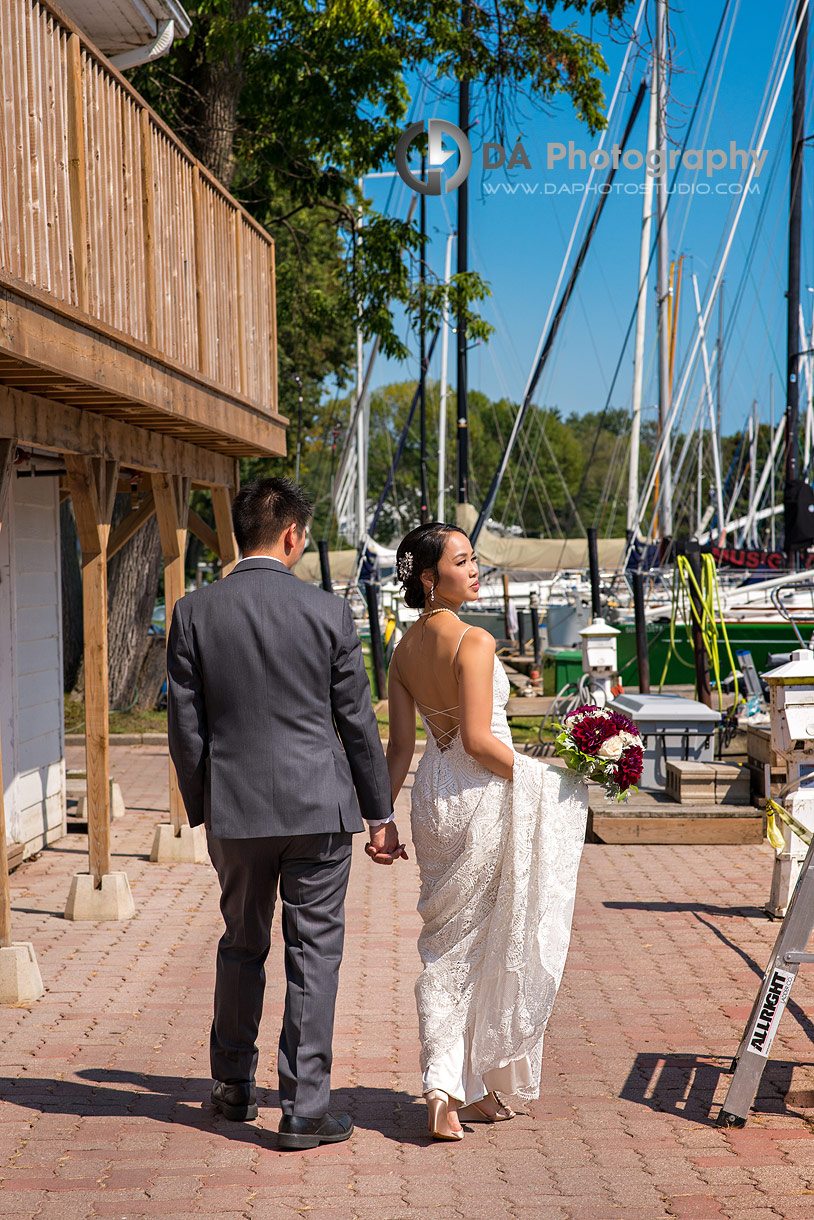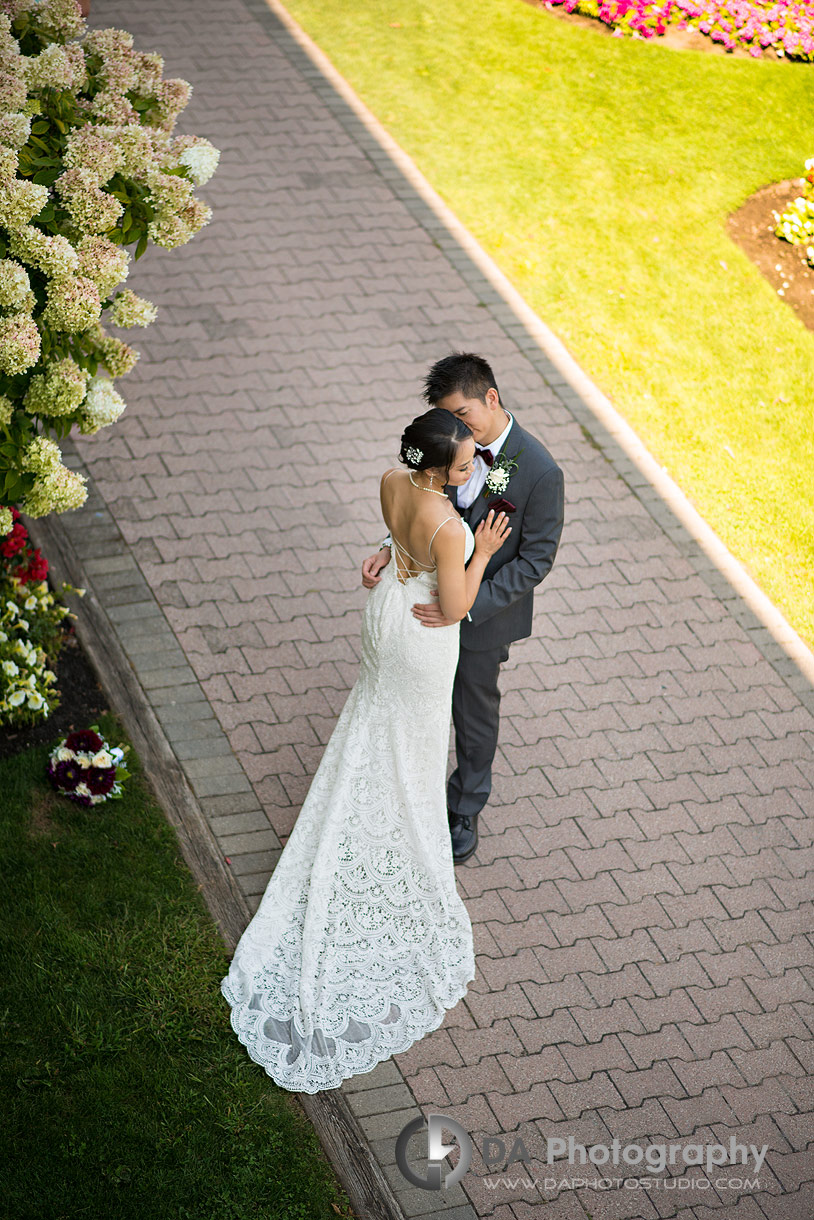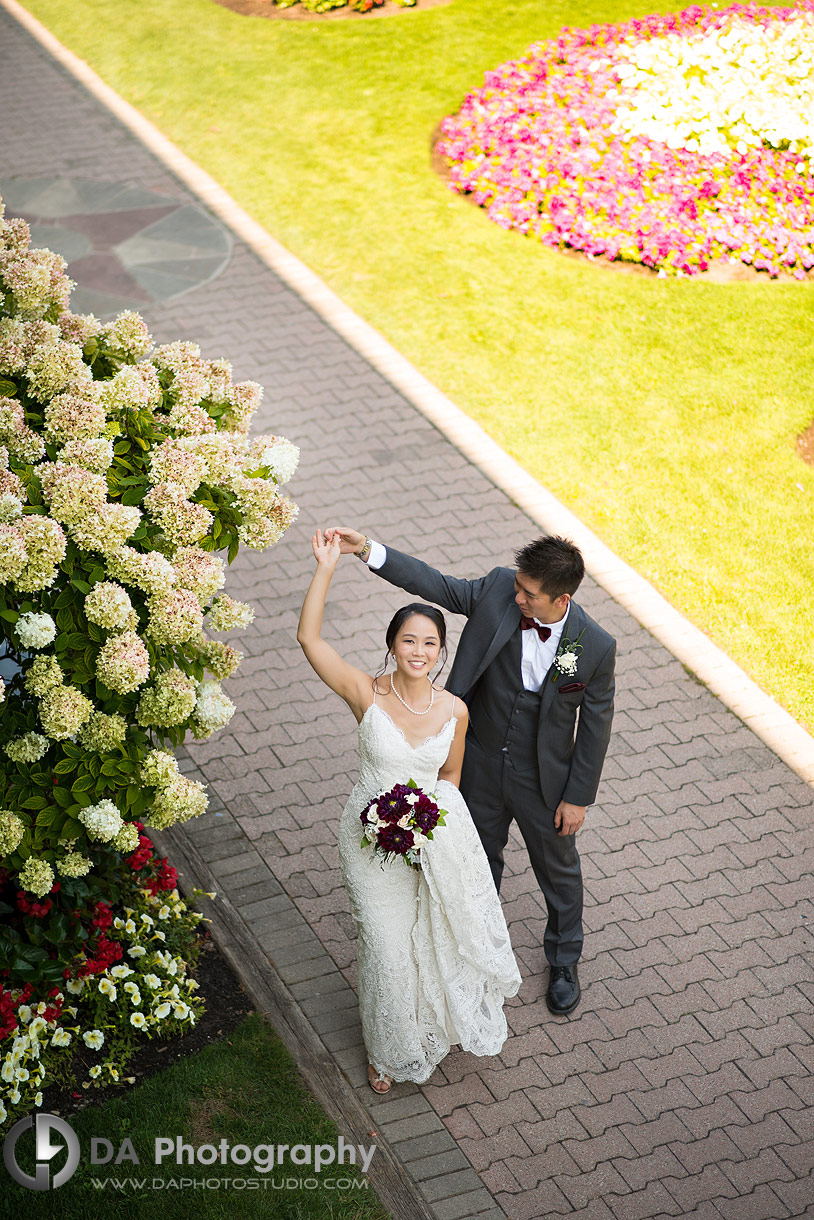 Looking at Toronto skyline from a different point of view
Keeping a level head, I began with reasoning. When the guests arrived, we would not be able to take the photos in the open areas that oversee the city skyline. Therefore, this is where we needed to start from while we could. We began at the front of the yacht club where we were most visible to their guests that would be arriving shortly.
We worked the yacht club grounds for almost 2 hours non-stop. Our landscape was constantly changing and we were making new memories per second. Erika was shooting with me constantly with her not one, not two, but with her three cameras. Working simultaneously gave us great images with a multitude of viewpoints.
If you asked me to pick my favourite photo of the day, I would be stumped. I am not exaggerating when I say that all 3,000 images are dear to me and are my absolute favourites!
The outdoor wedding ceremony was set-up at one of the most picturesque areas of the yacht club. Under a weeping willow, they had great shade along with a perfect view. The ceremony was full of laughter, smiles and happy faces and went by in a heartbeat. This was one of my first 3 weddings after COVID-19 restrictions were in place. I amazed me how much all of us seemed to miss human interaction. You could see that everyone was happy to be a part of the day and were enjoying the moments together. Starting with Erika and me and working all the way through the guests to the bride and groom themselves.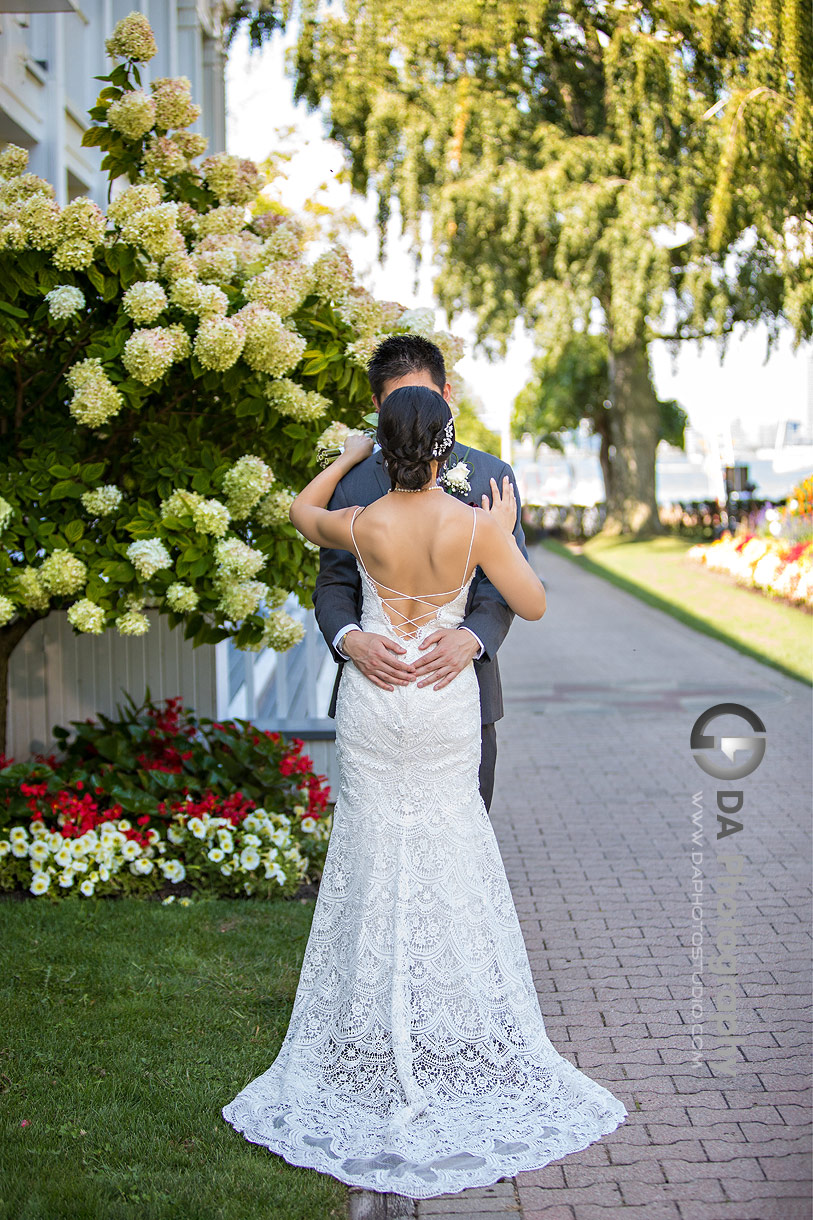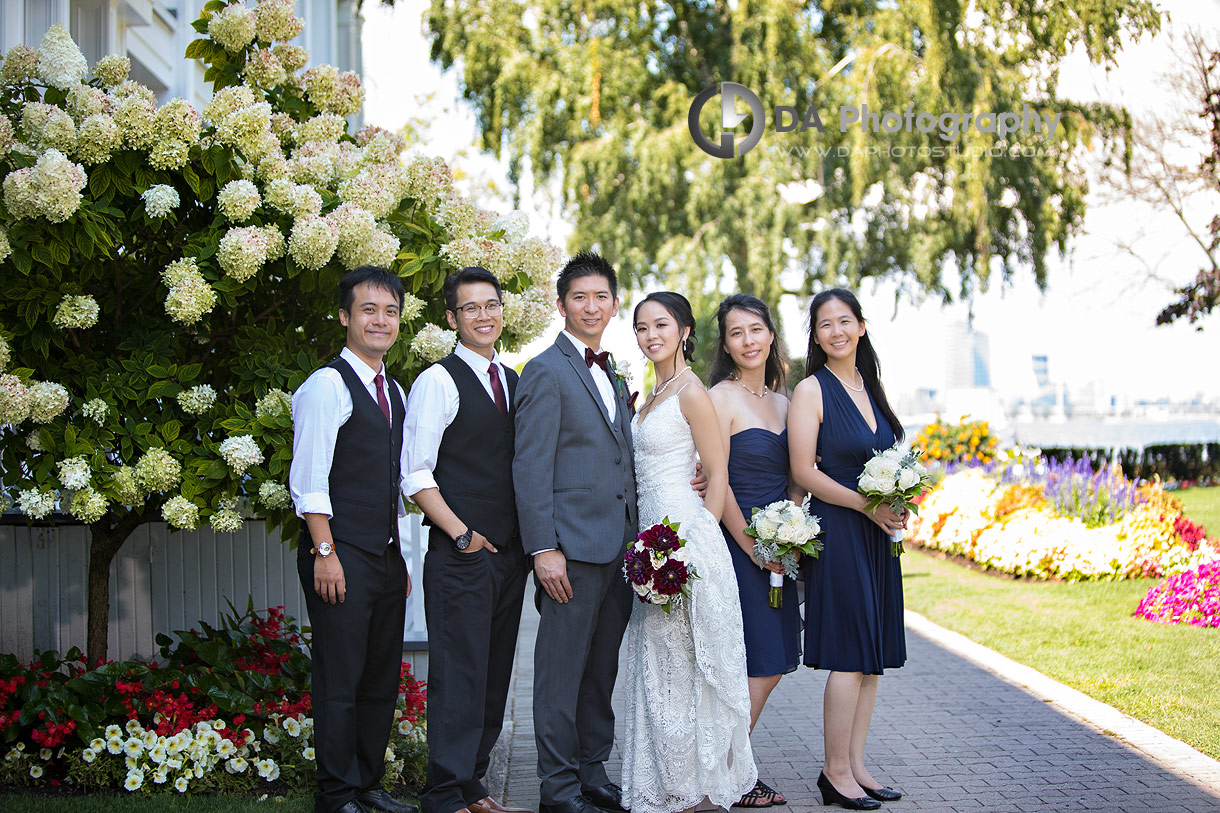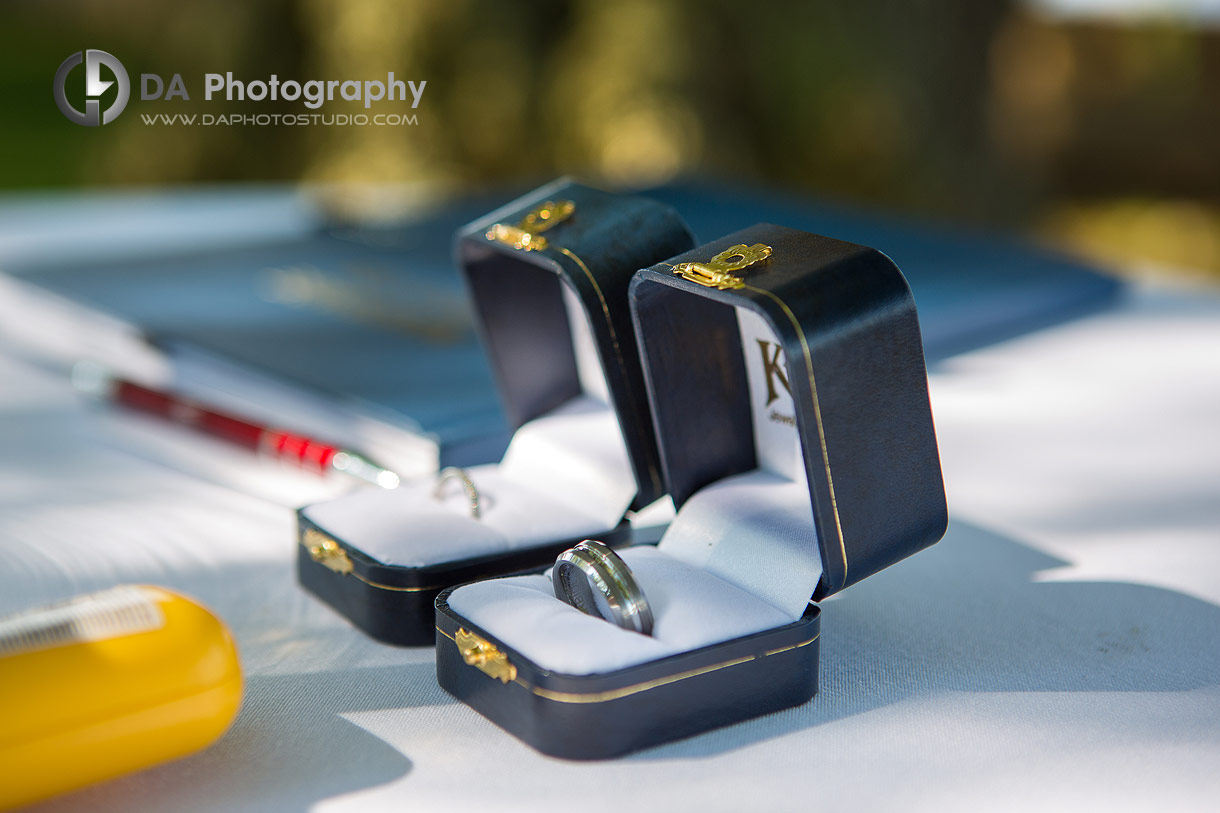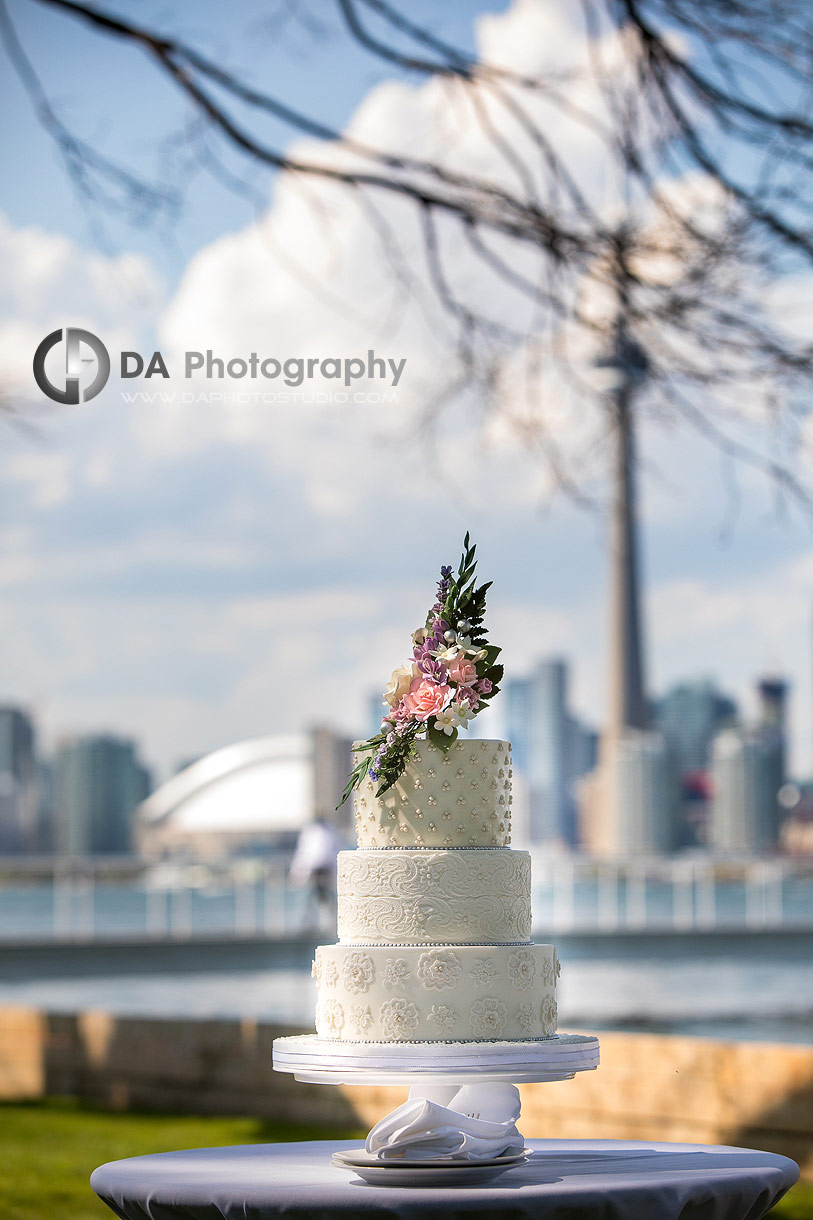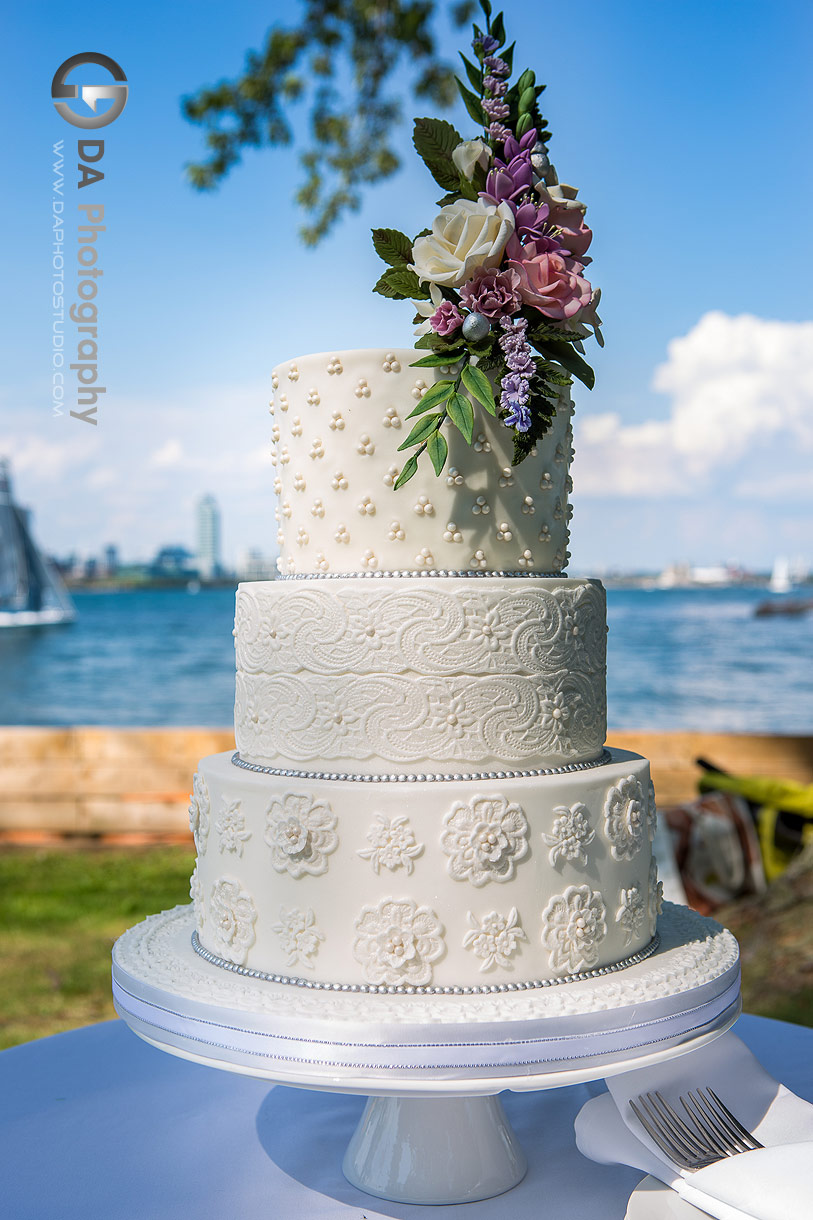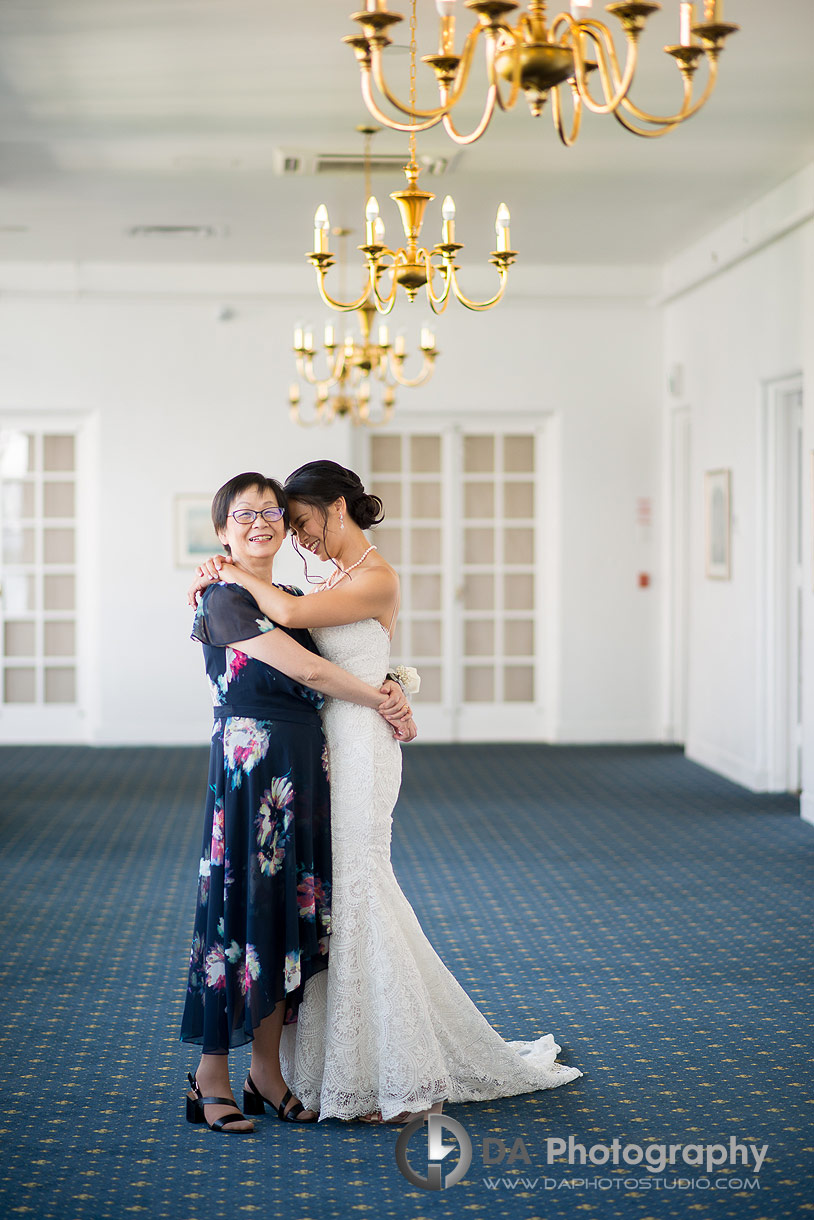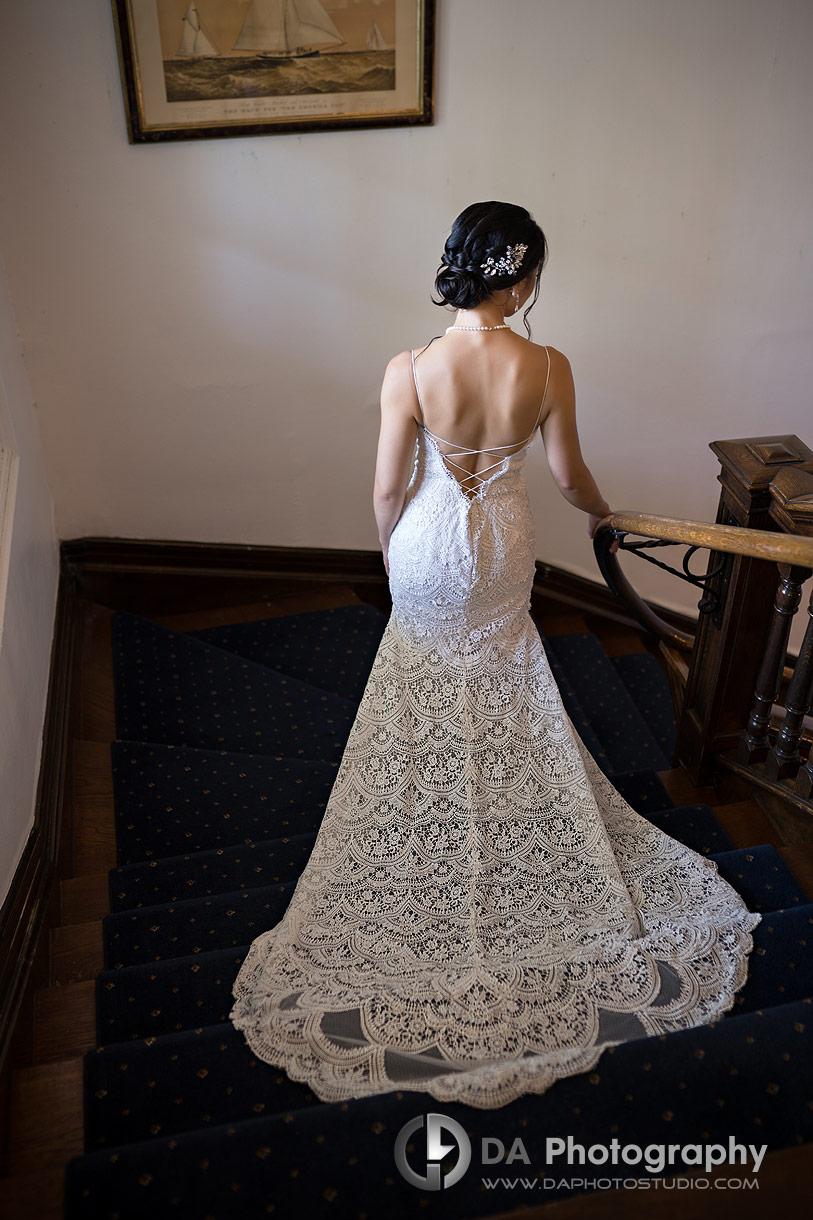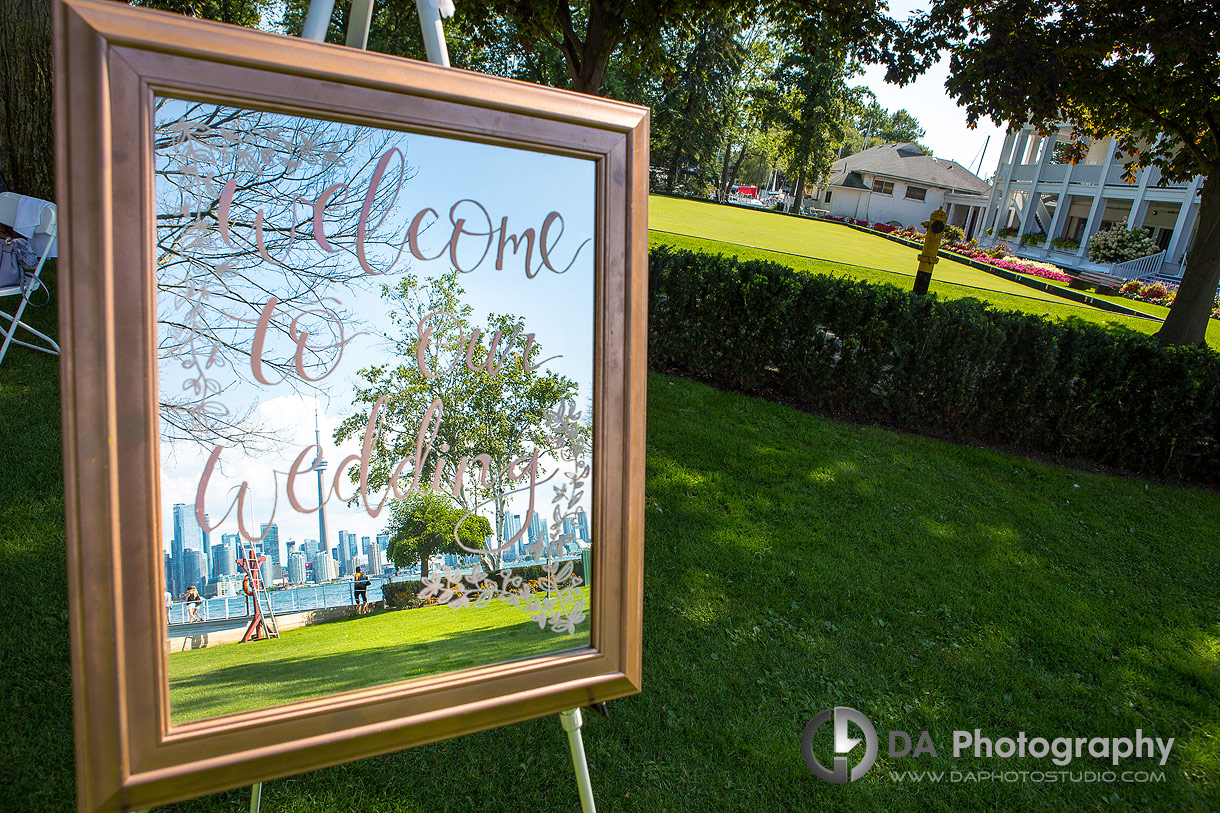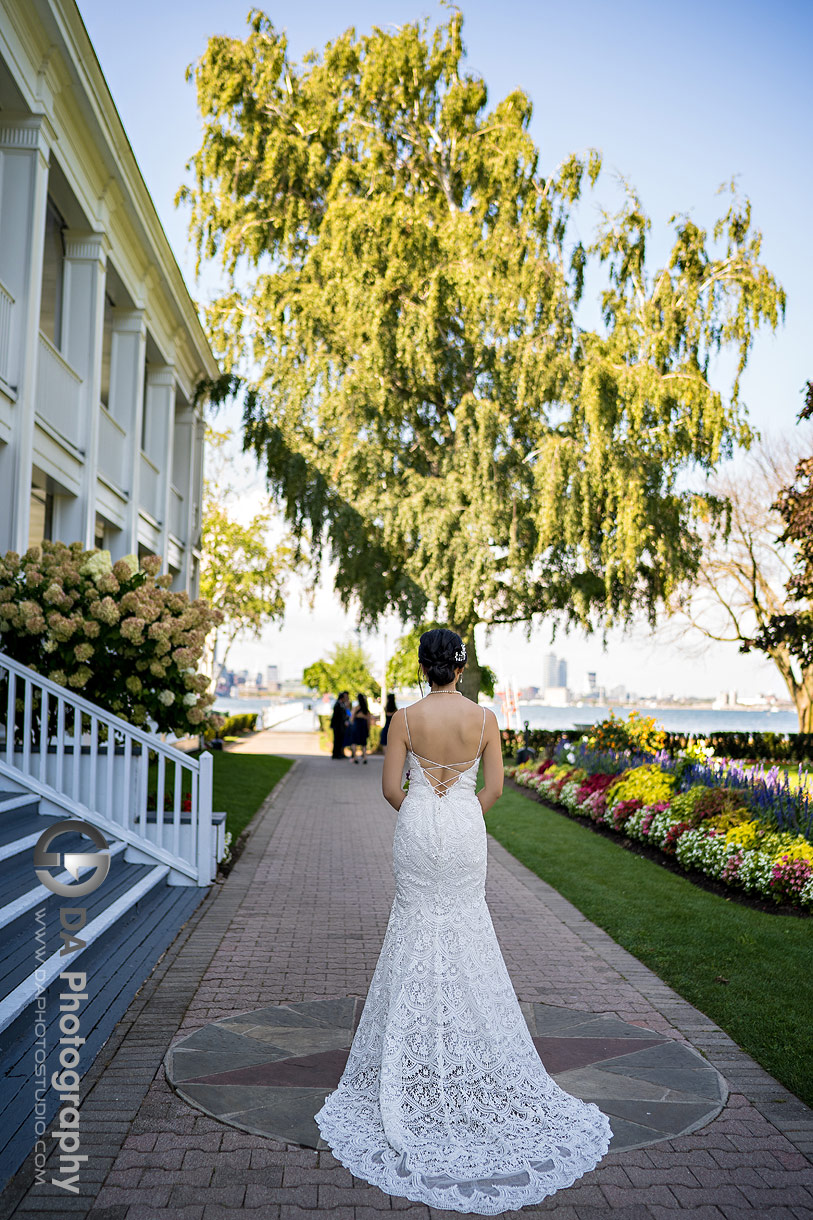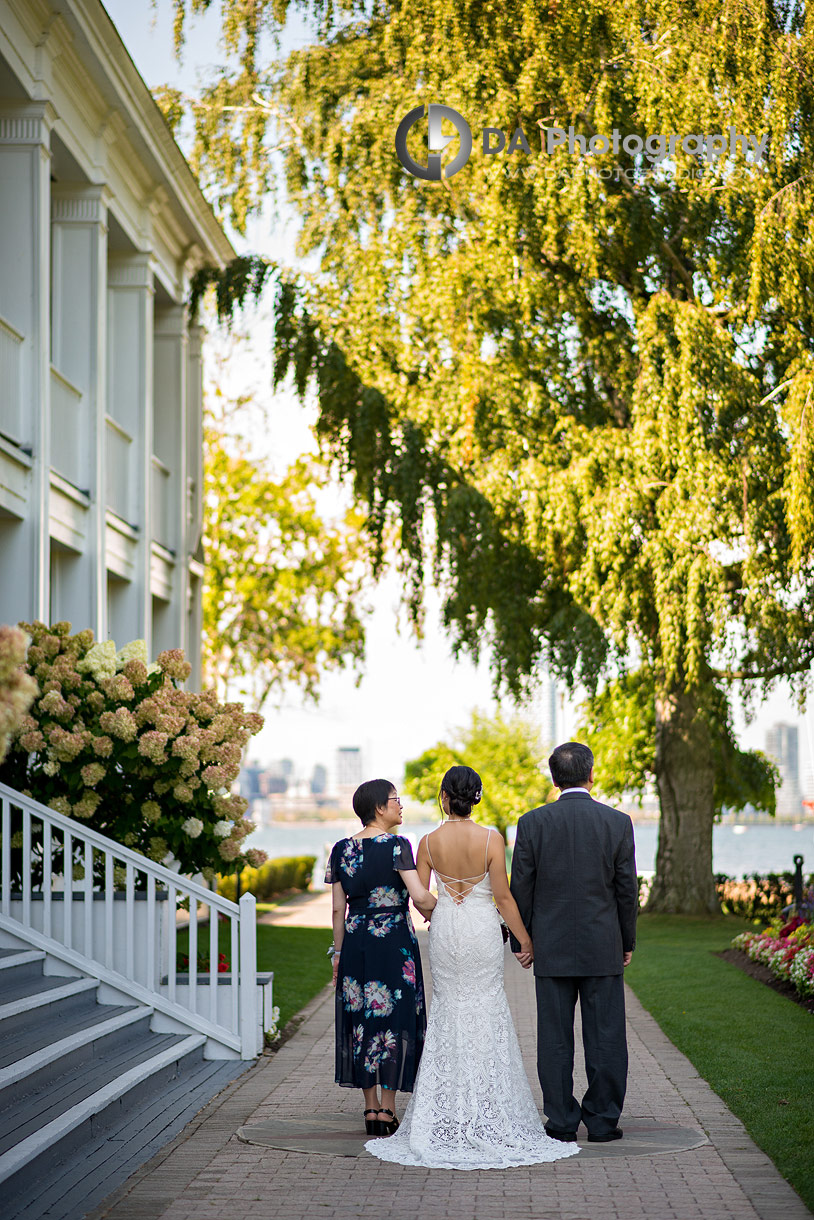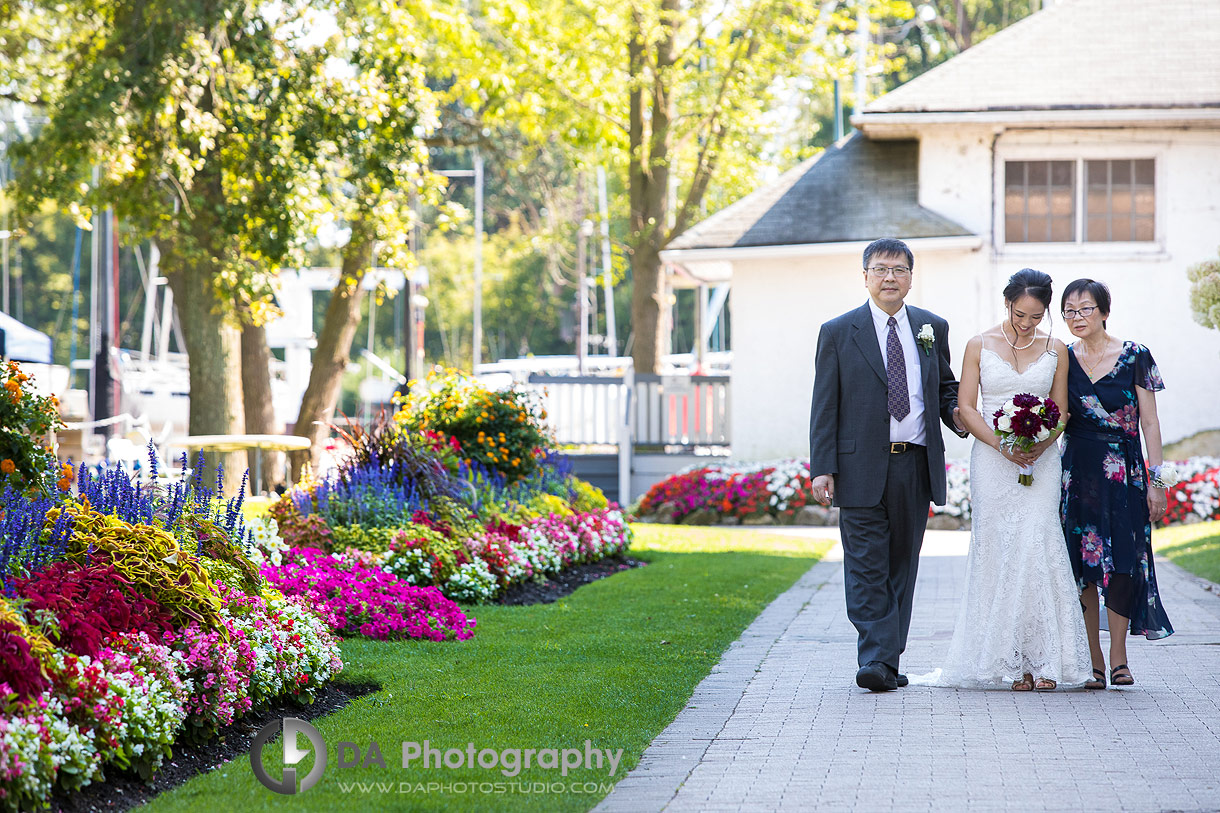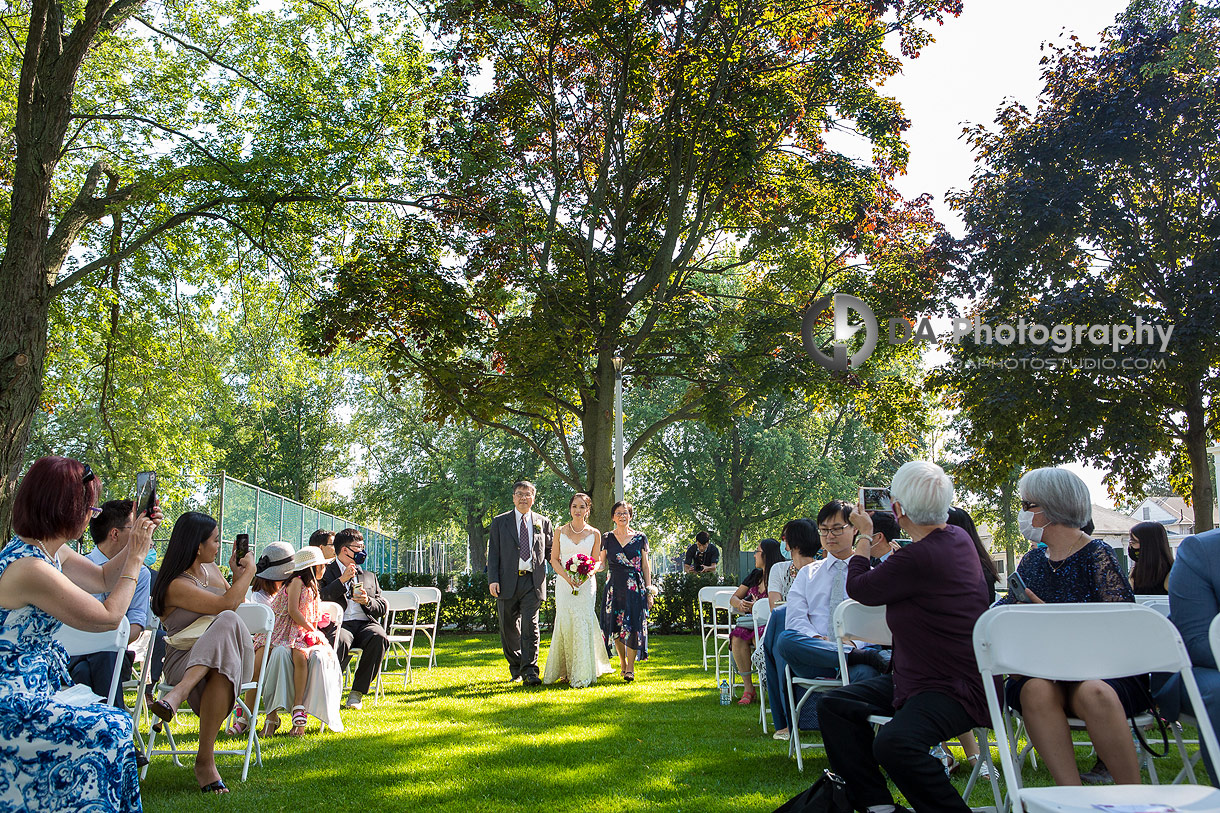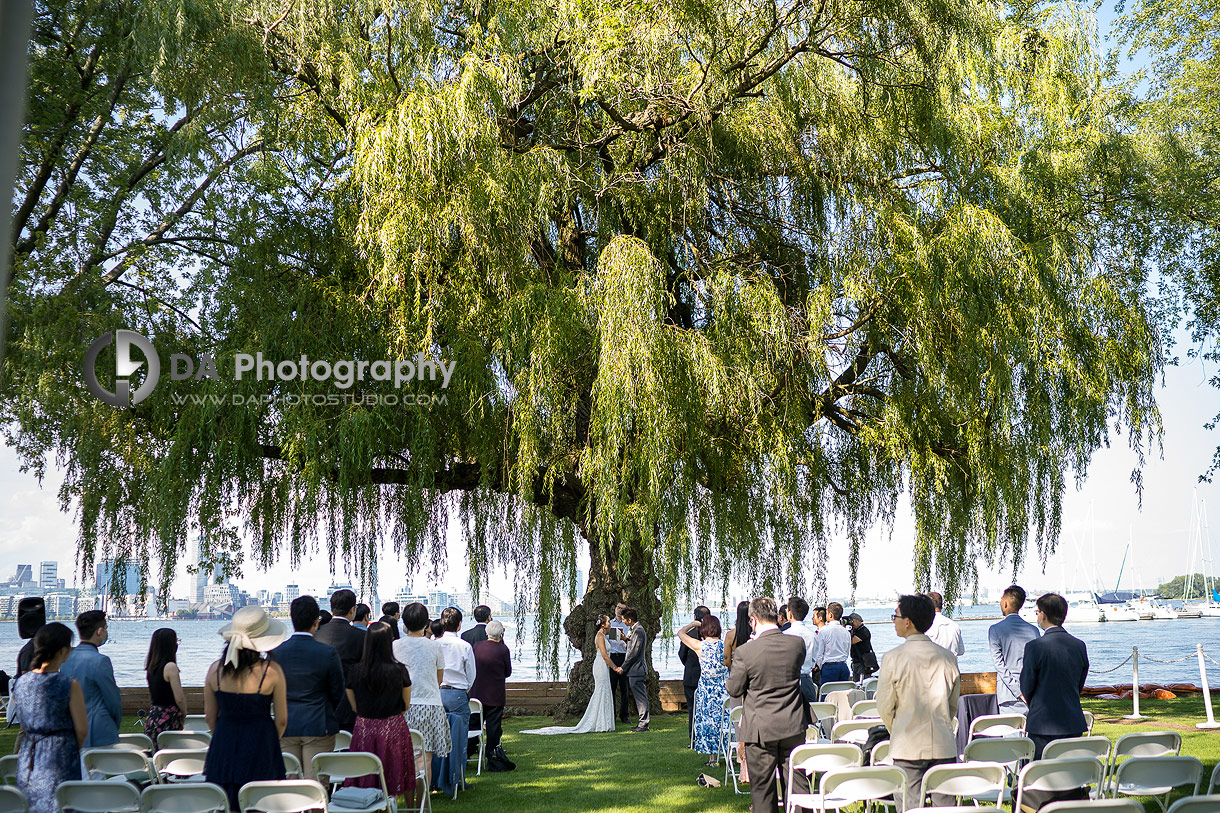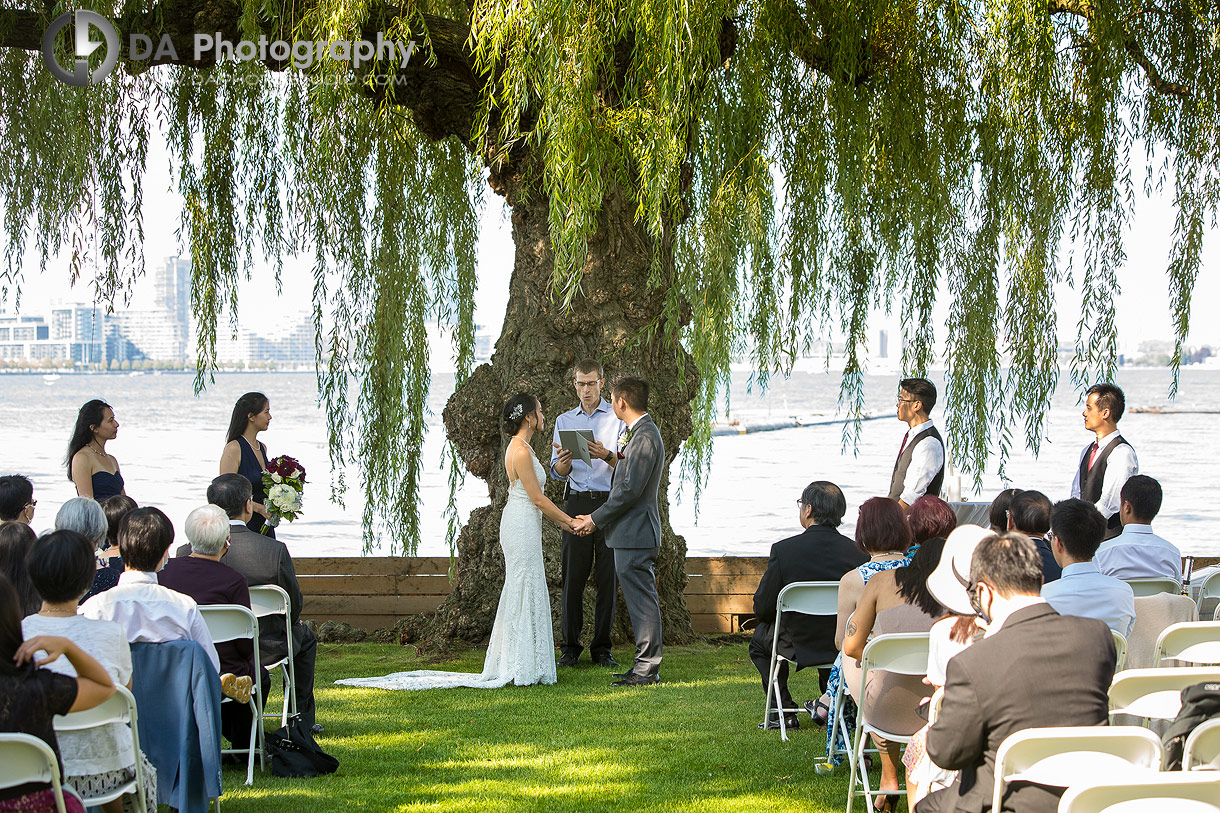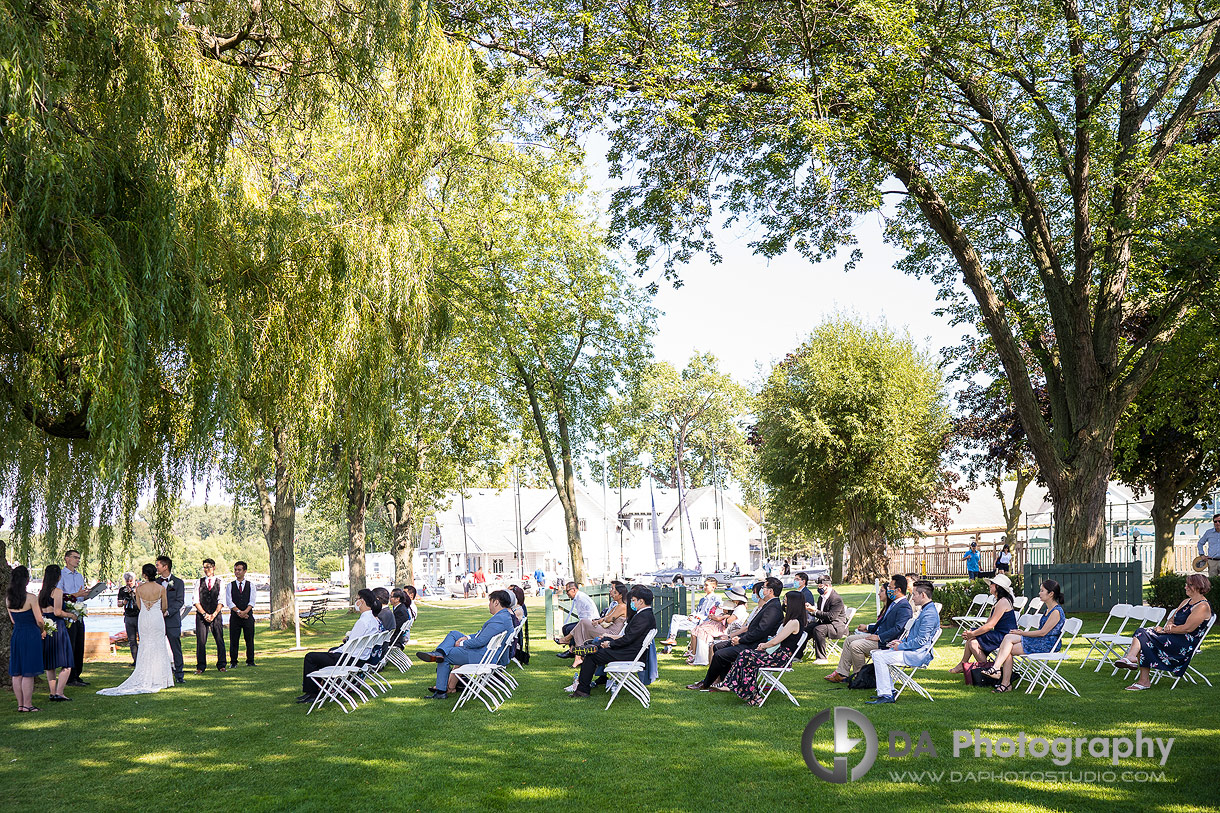 The time was flying
I don't know if I have ever witnessed a more stunning backdrop for cake cutting than at Jess and Monty's wedding. The beautiful cake was displayed against a gorgeous backdrop of the lake and the city of Toronto in the background. Jess and Monty cut their cake and gave a heartfelt speech that was perfect for the occasion. After thanking their guests for coming, they invited them to take some photos and enjoy the drinks with the wedding cake.
The next 30 minutes was spent taking photos of everyone who attended. With physical distancing in mind, I was trying to respect everyone's space. I was watching my couple for cues to see what was important to them in the moment. Already having established a tight connection, I was fully paying attention to their body language so I could make sure not to miss anything and anticipate their needs.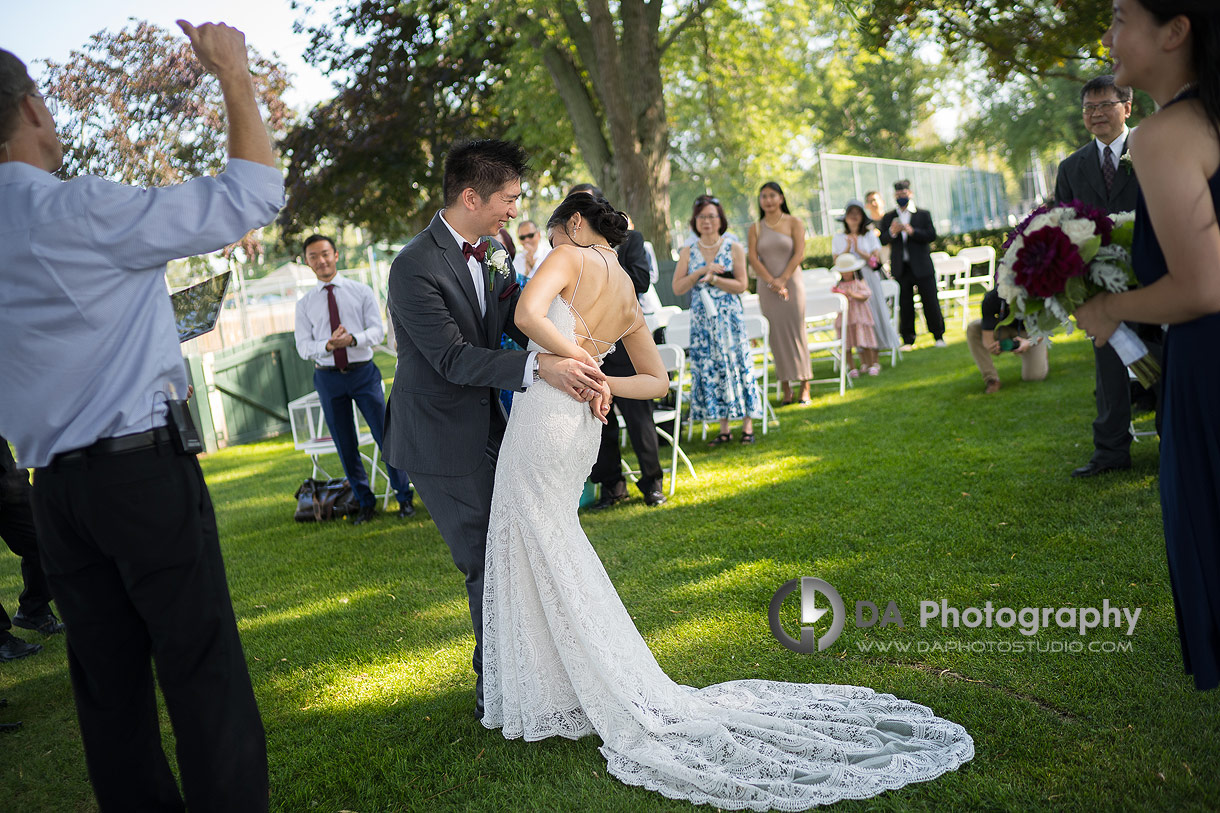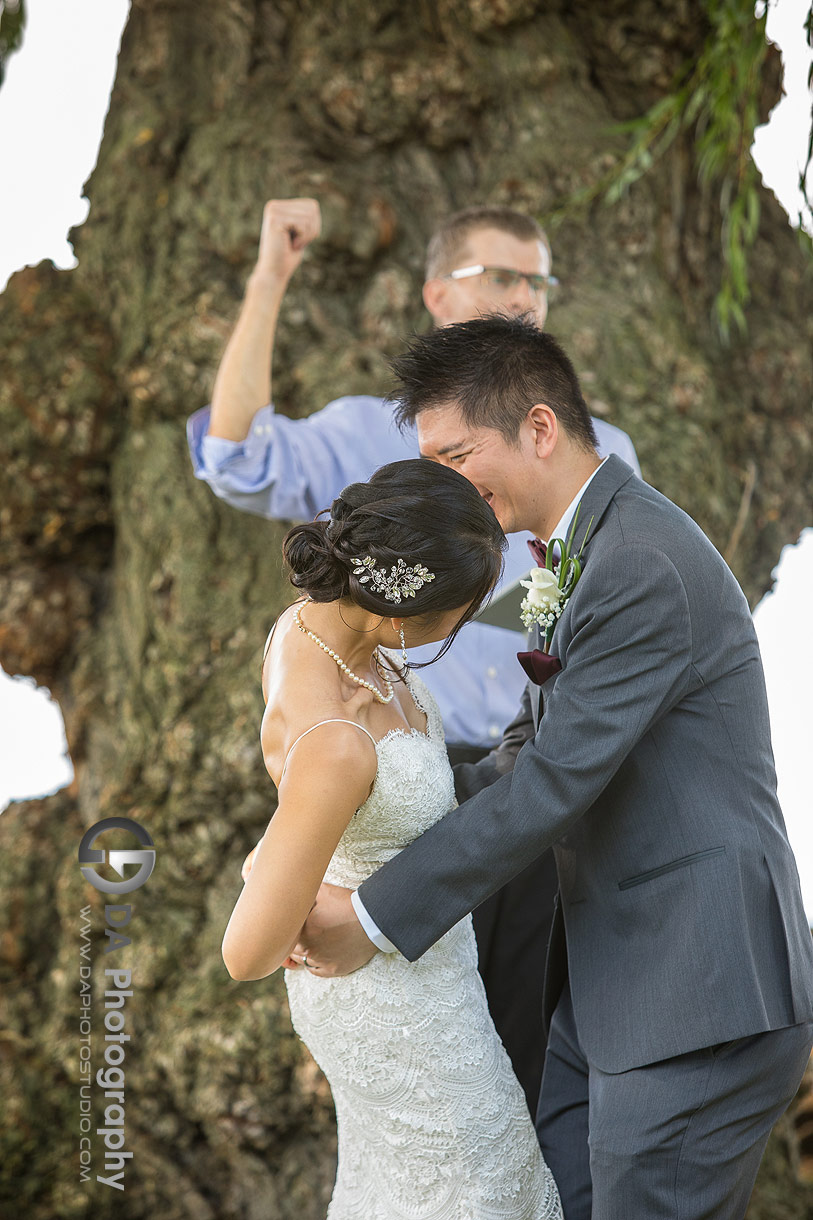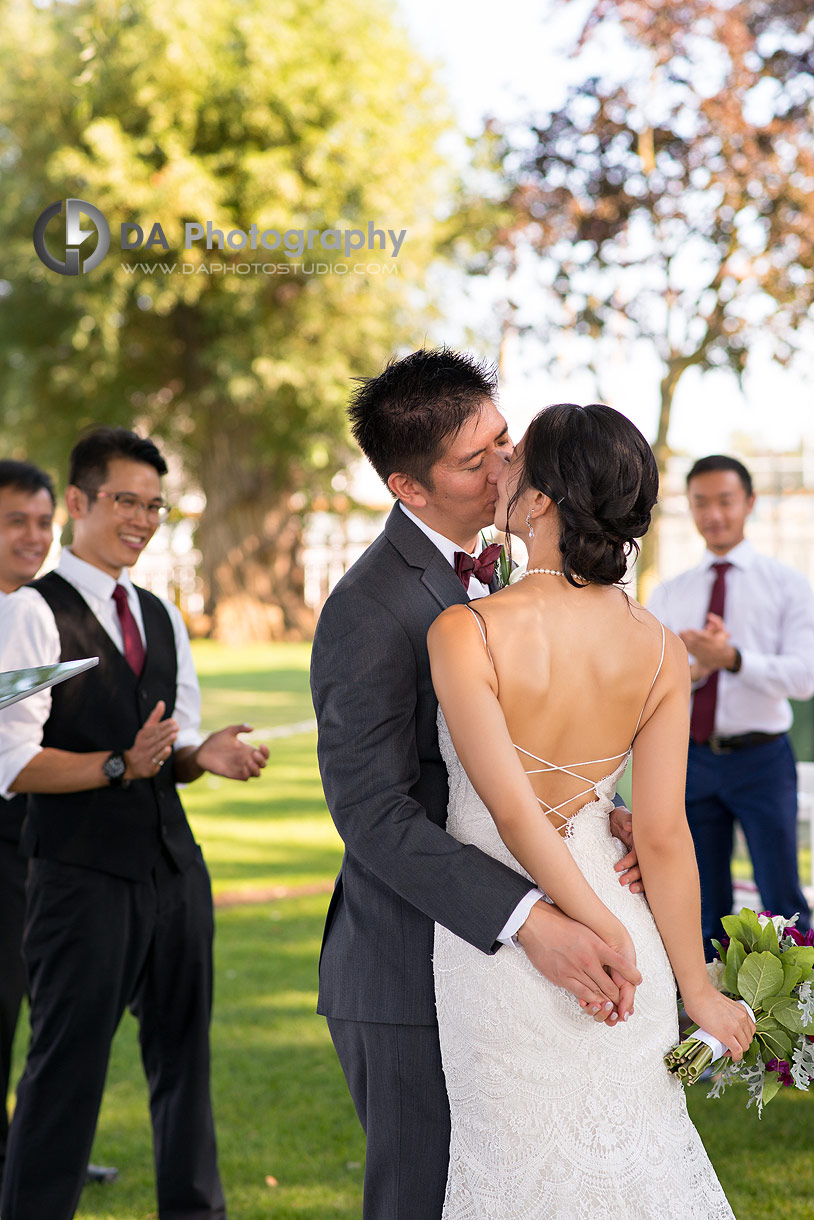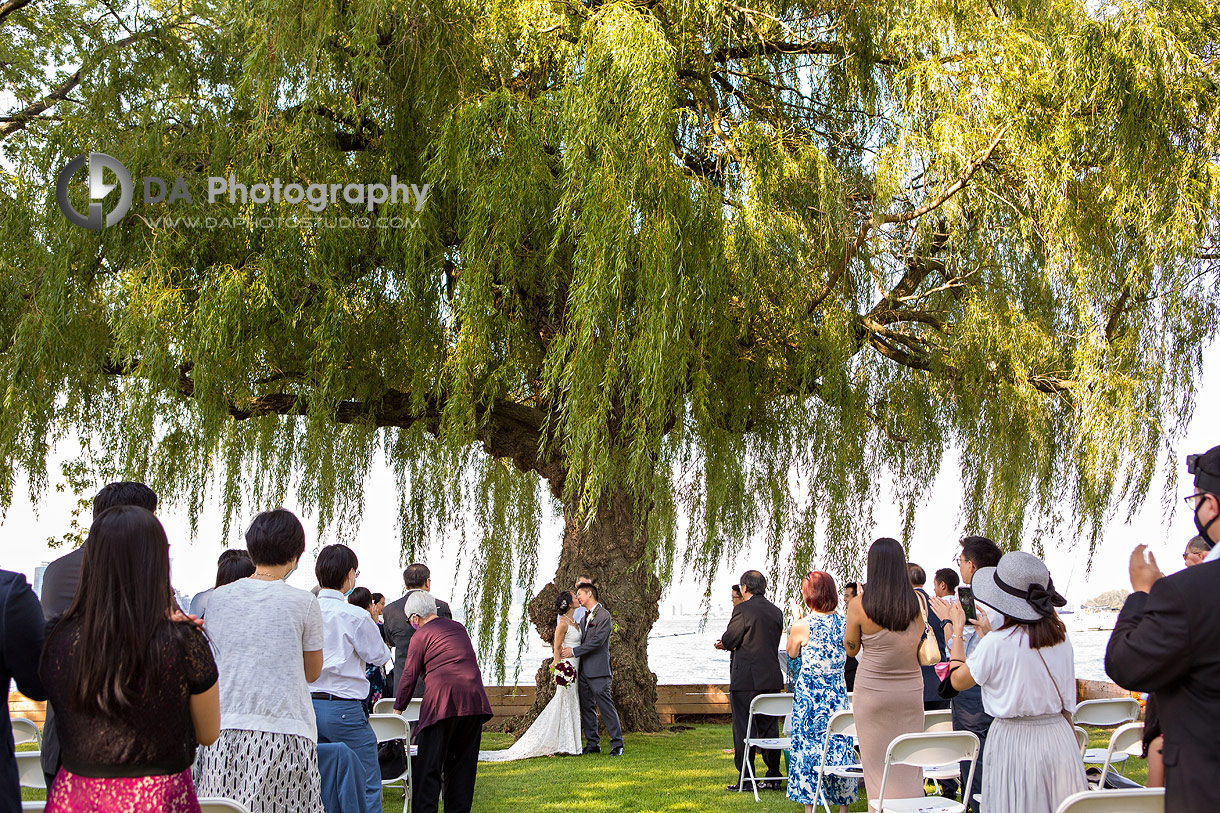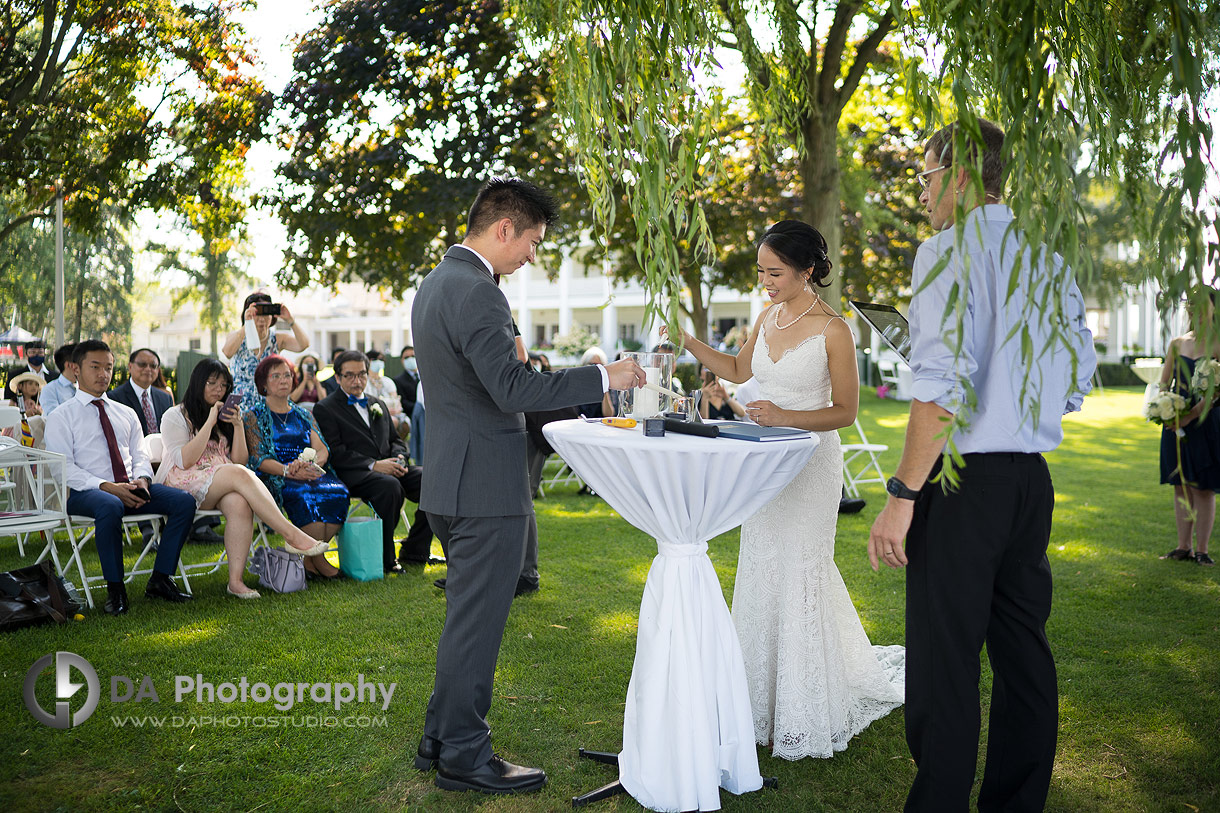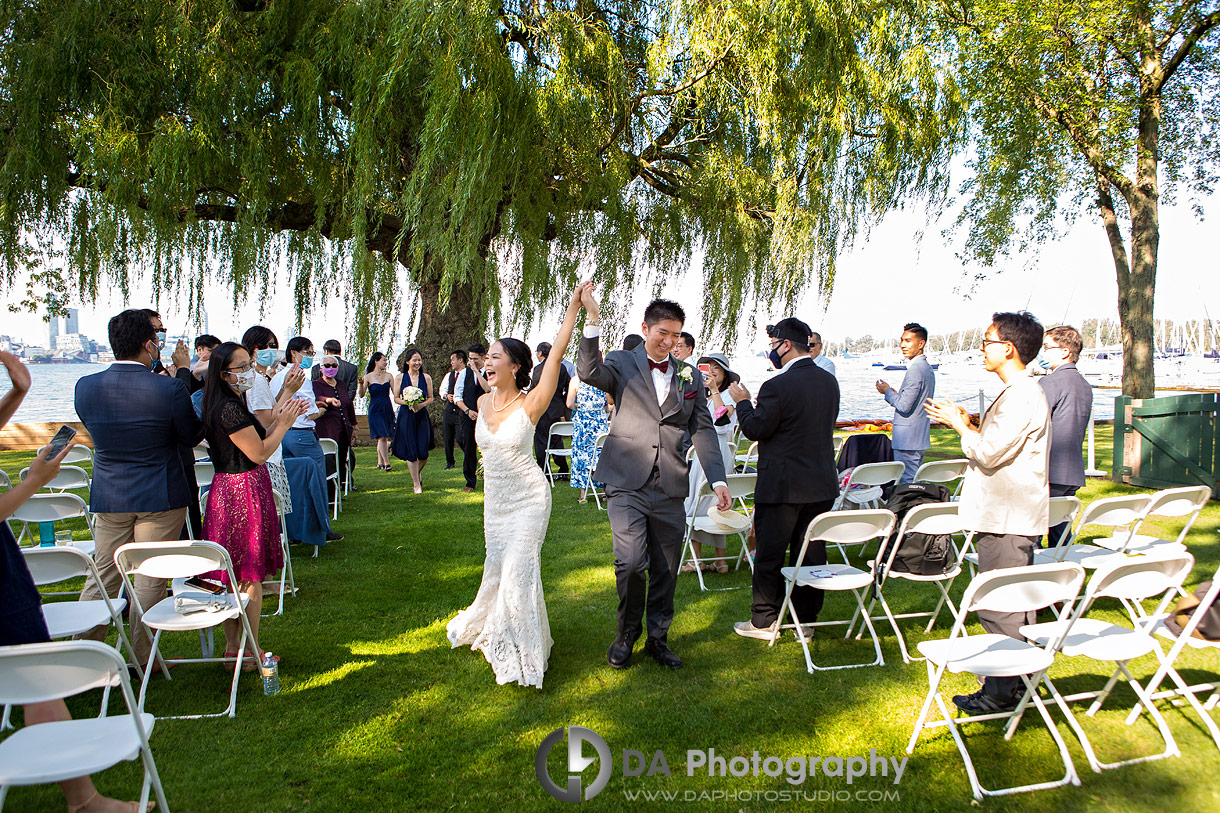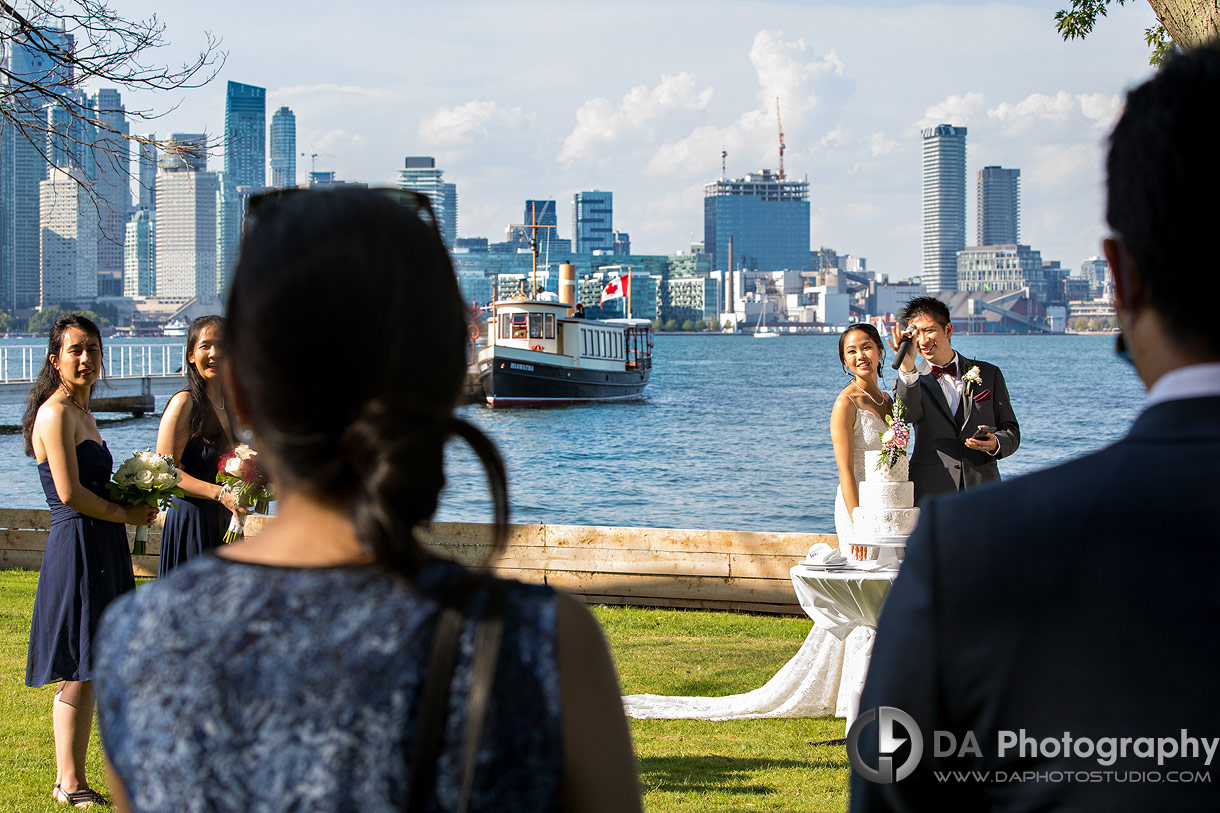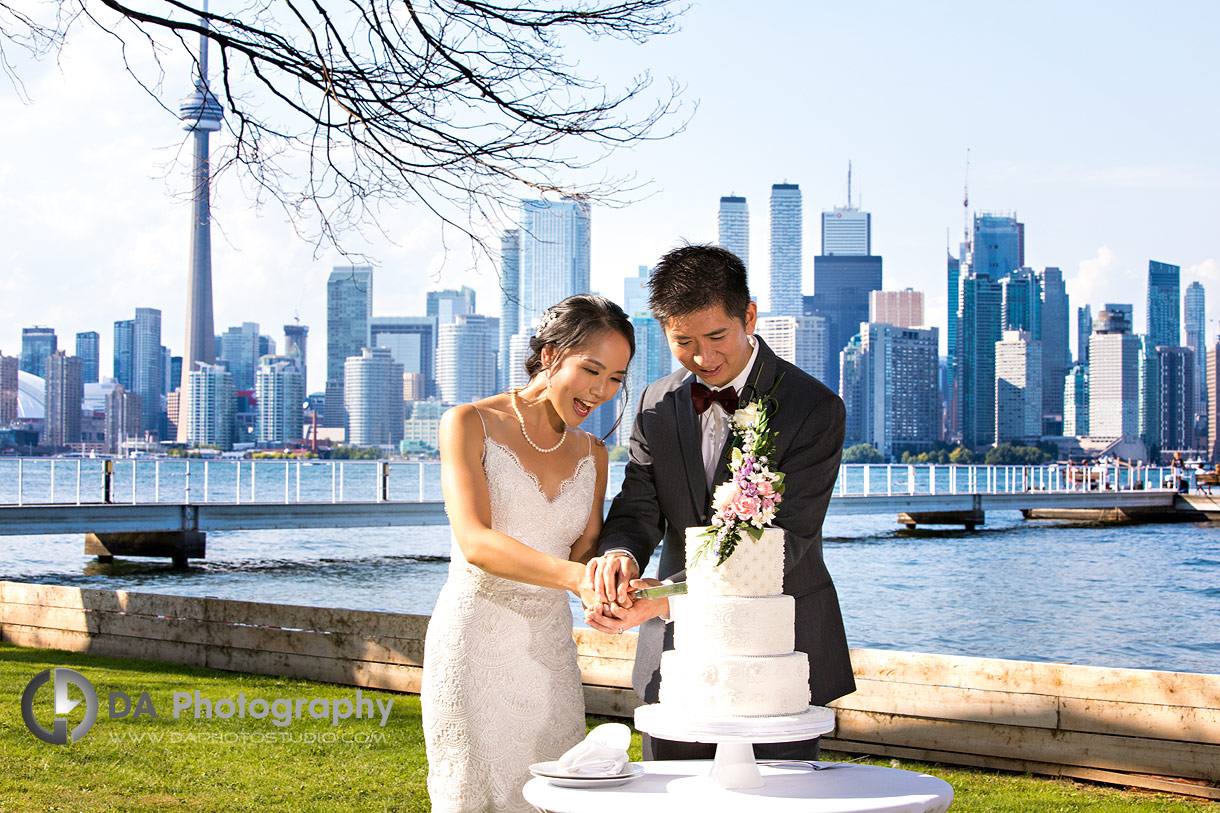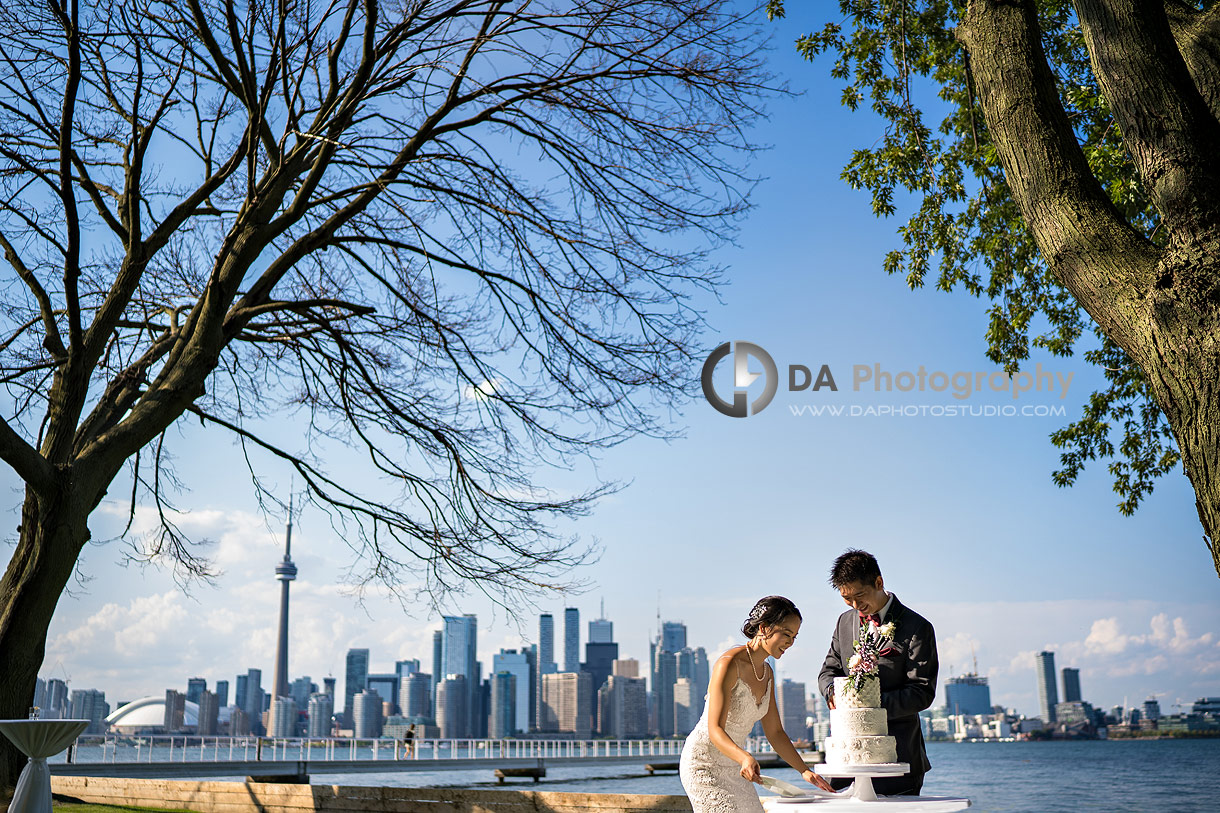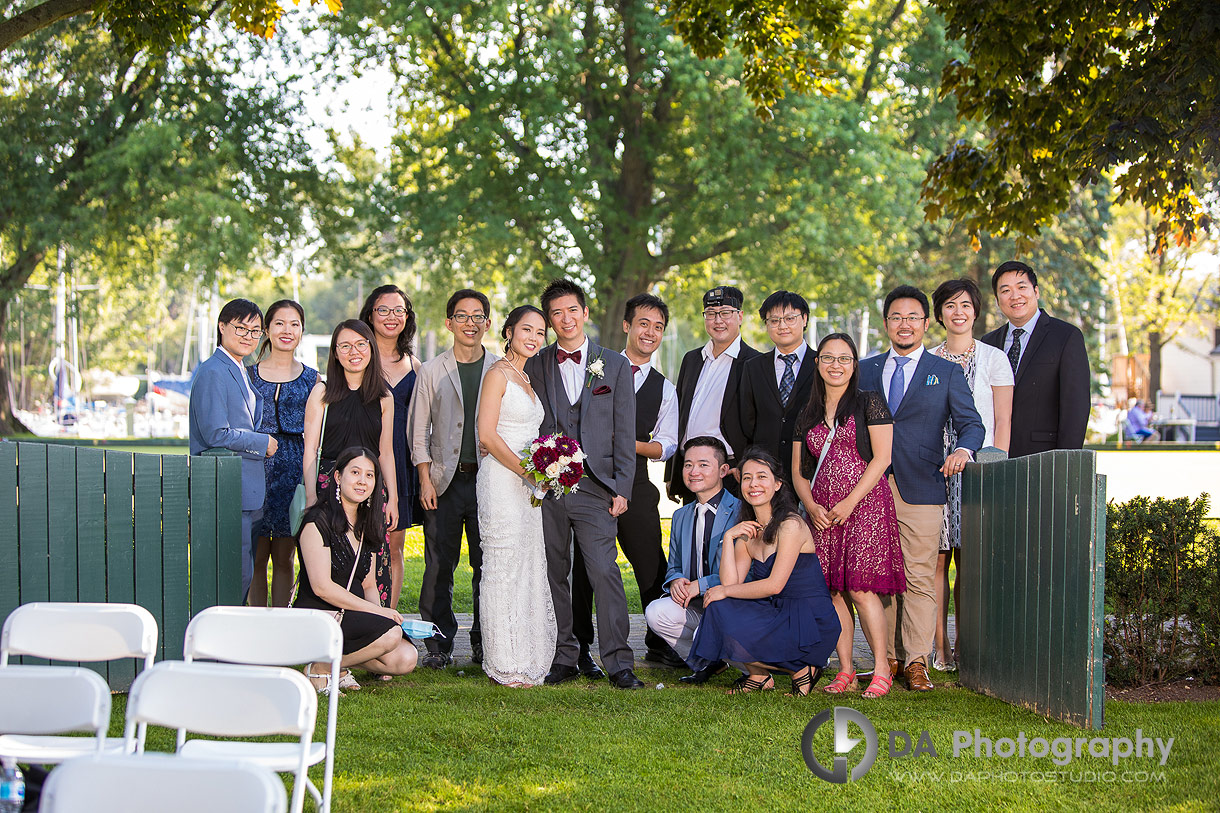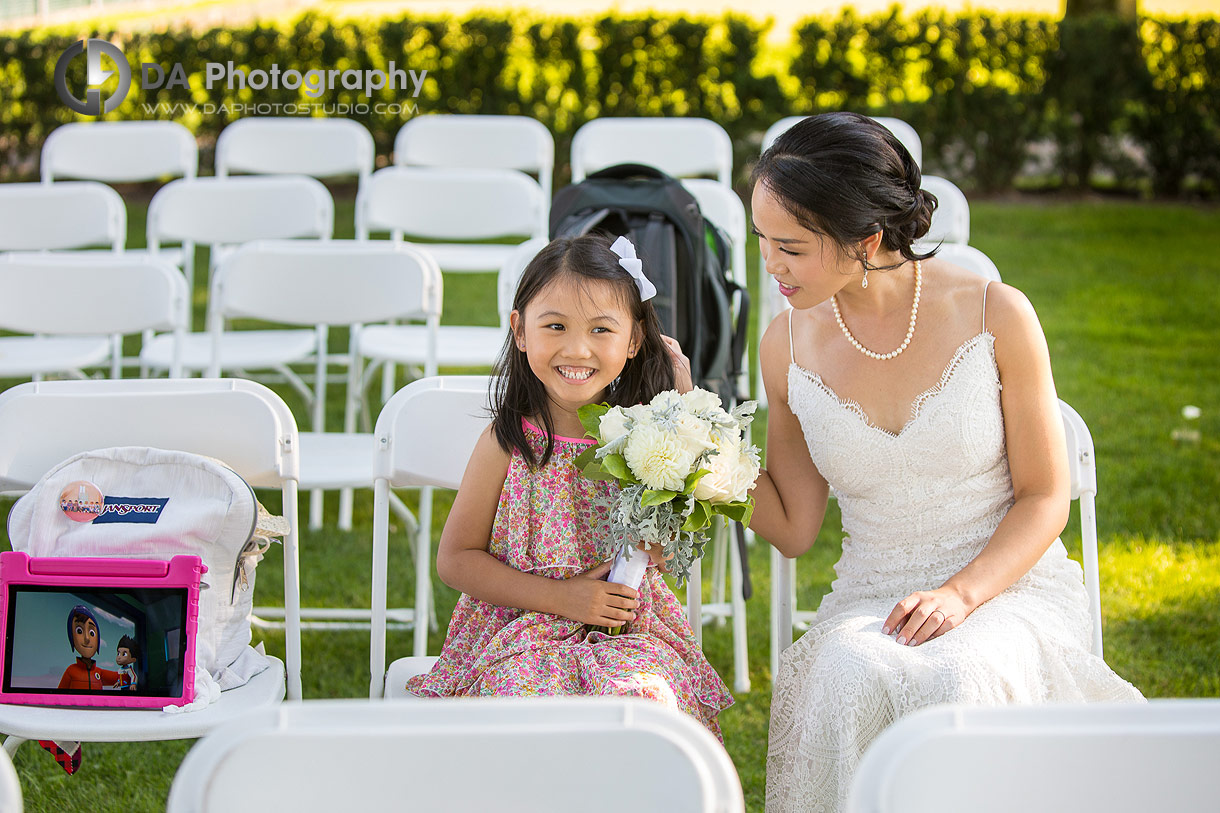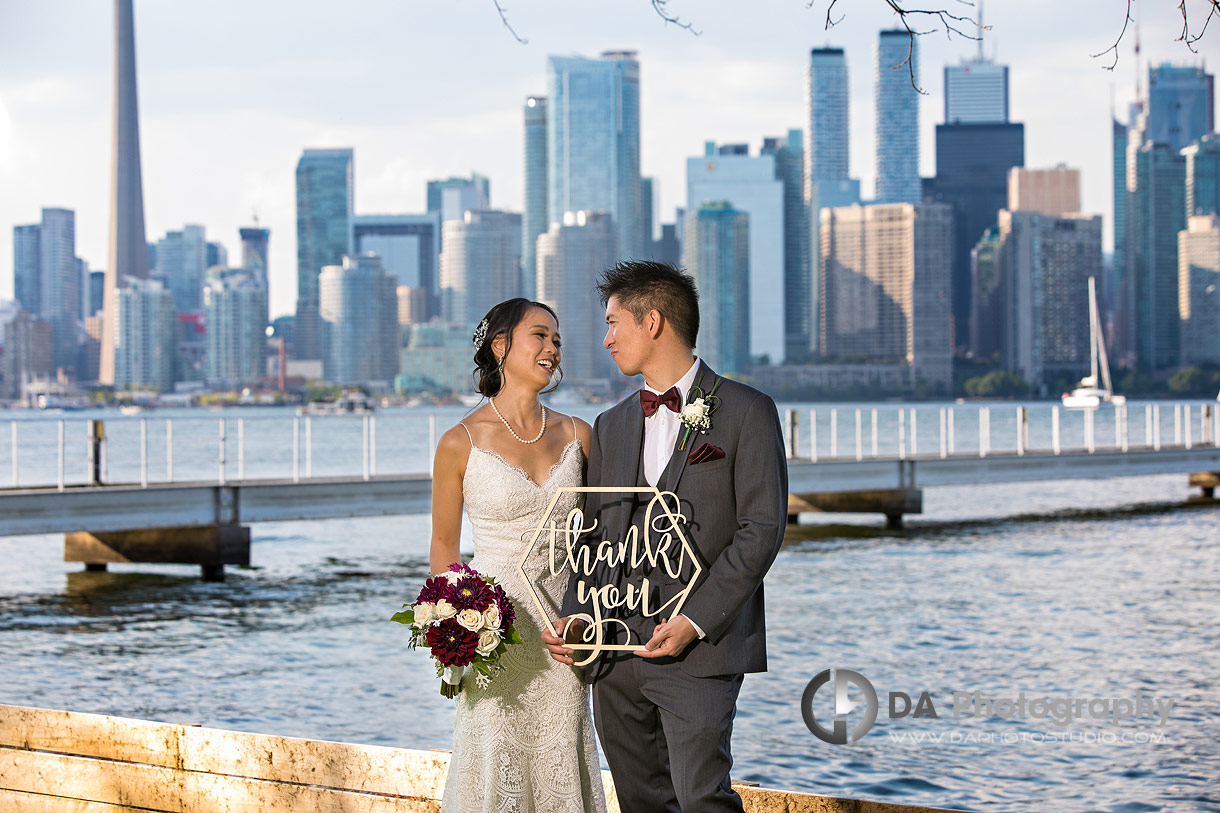 Chinese Tea Ceremony
After the time came for the guests to leave, the very immediate part of their families stayed on. Jess, Monty and their families went to the 2nd floor of the Royal Canadian Yacht Club for the reception dinner and the Chinese Tea Ceremony.
Jess changed out of her white dress and donned the red traditional Chinese dress.
Although short and sweet, the ceremony was beautifully done. In a little corner of the balcony on the 2nd floor, Jess and Monty honoured the tradition and the elder family members while receiving the traditional red envelopes of money in return for cups of tea. It's amazing to see how they interacted with each of the family members in front of them.
While we were finishing the tea ceremony, we were able to capture some great details of the food display and the beautifully arranged plates.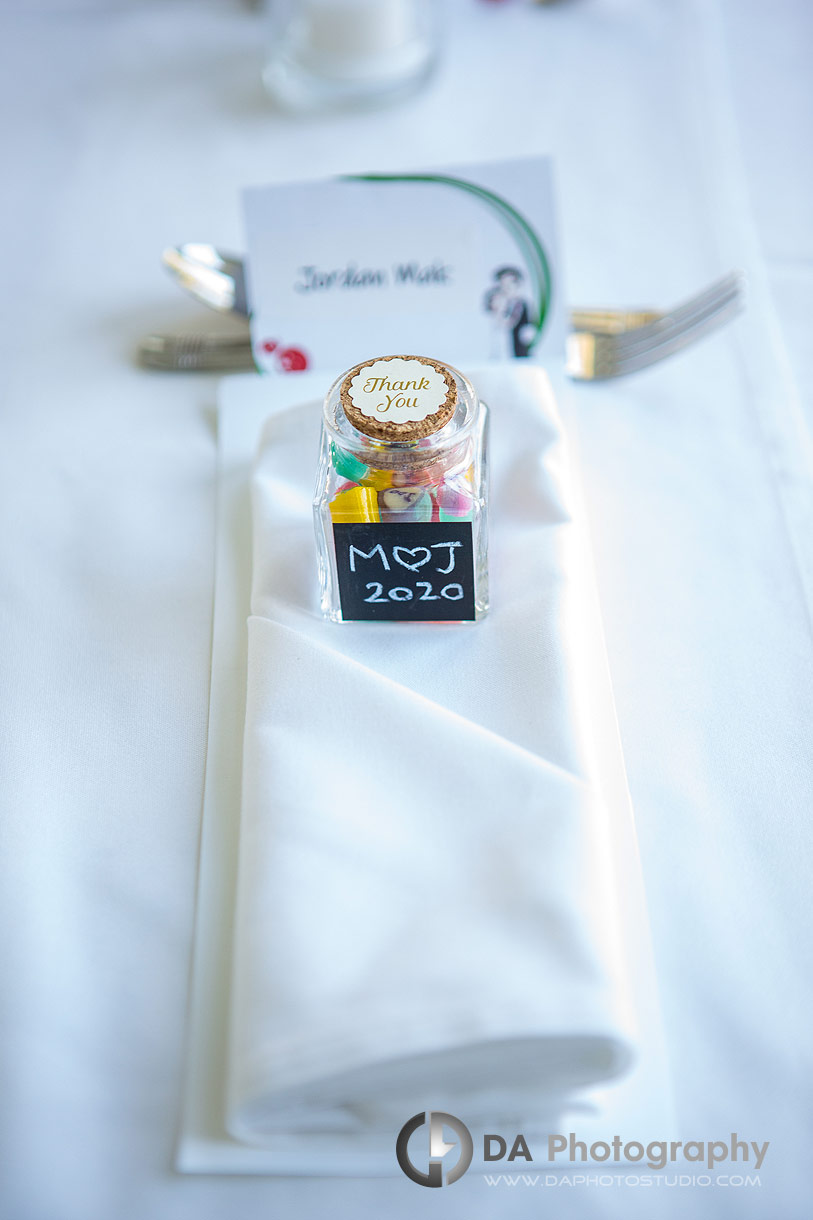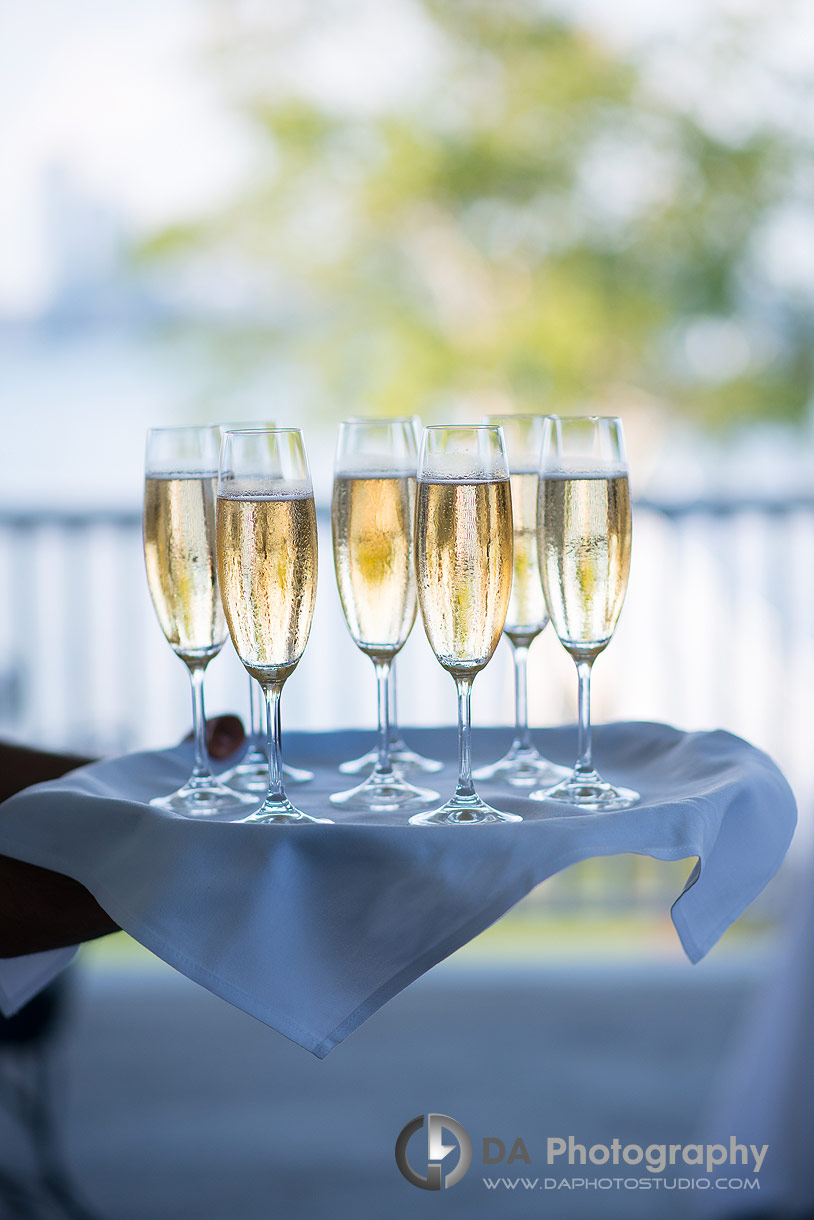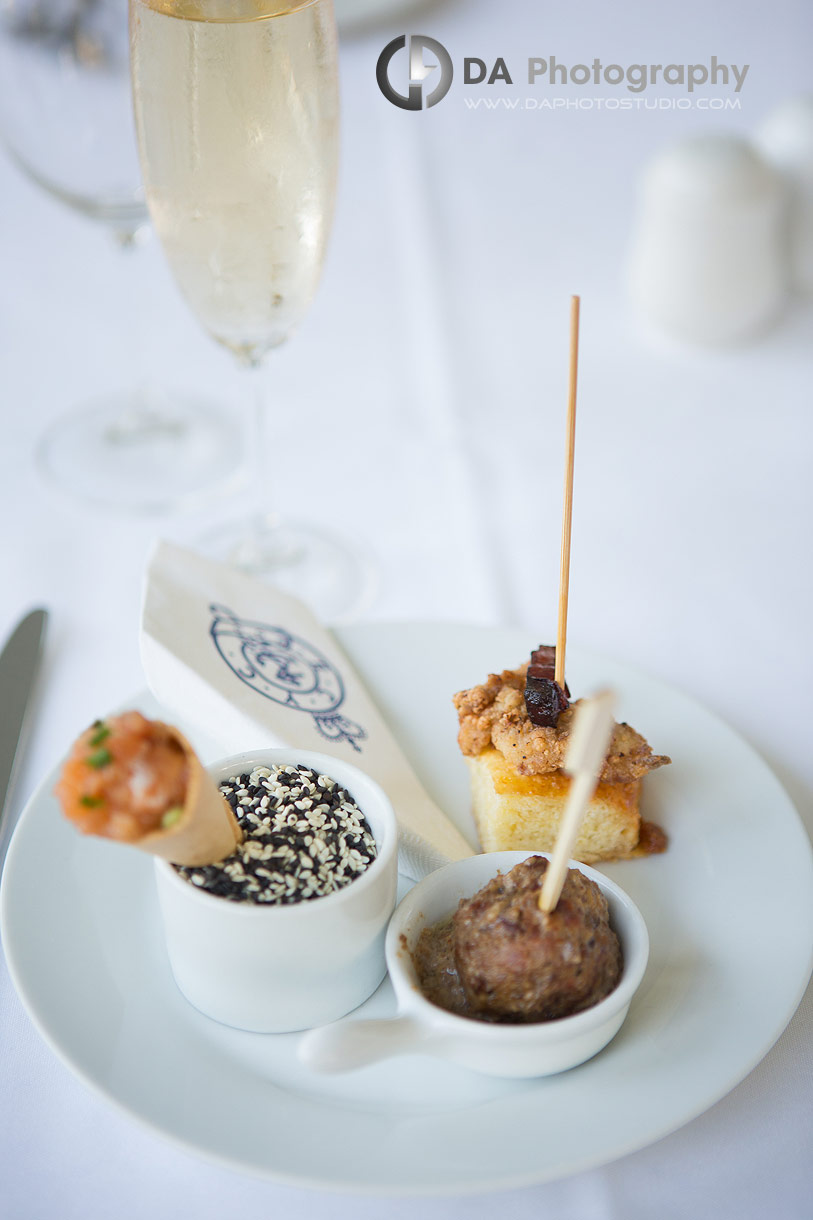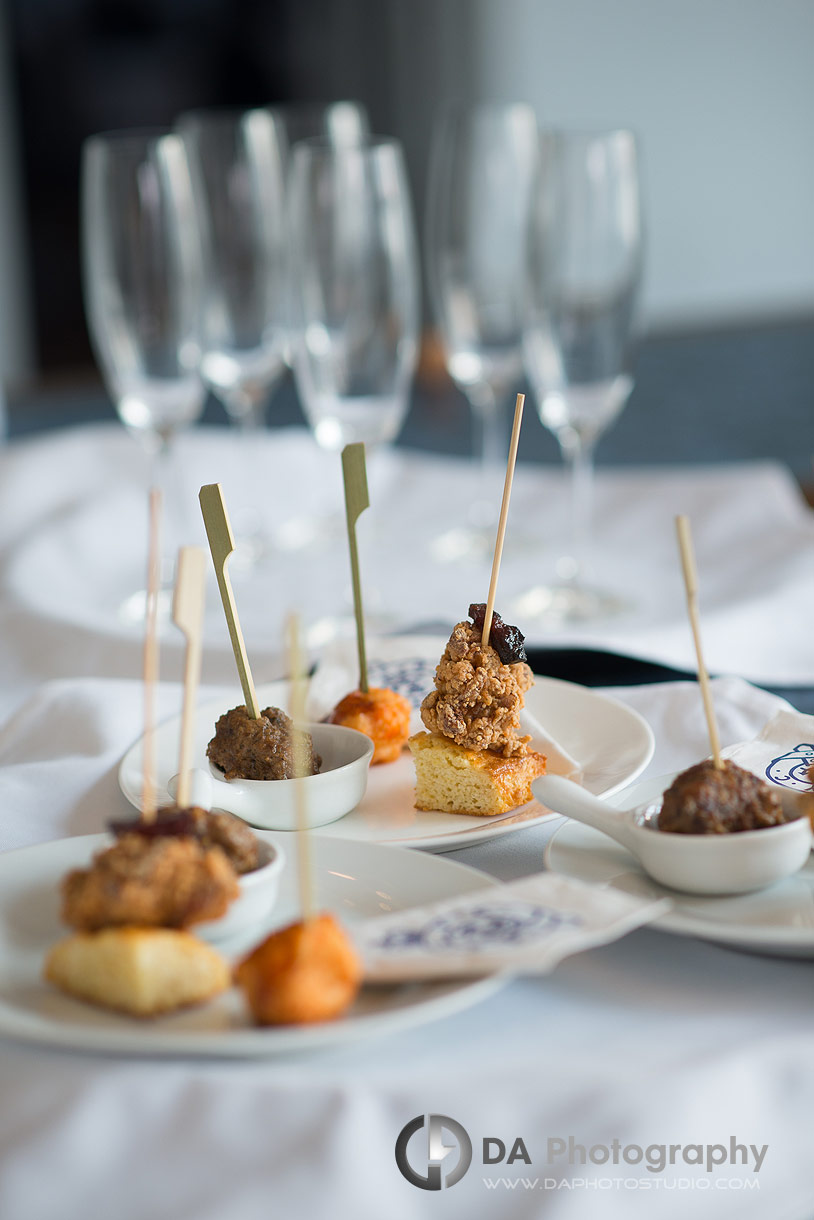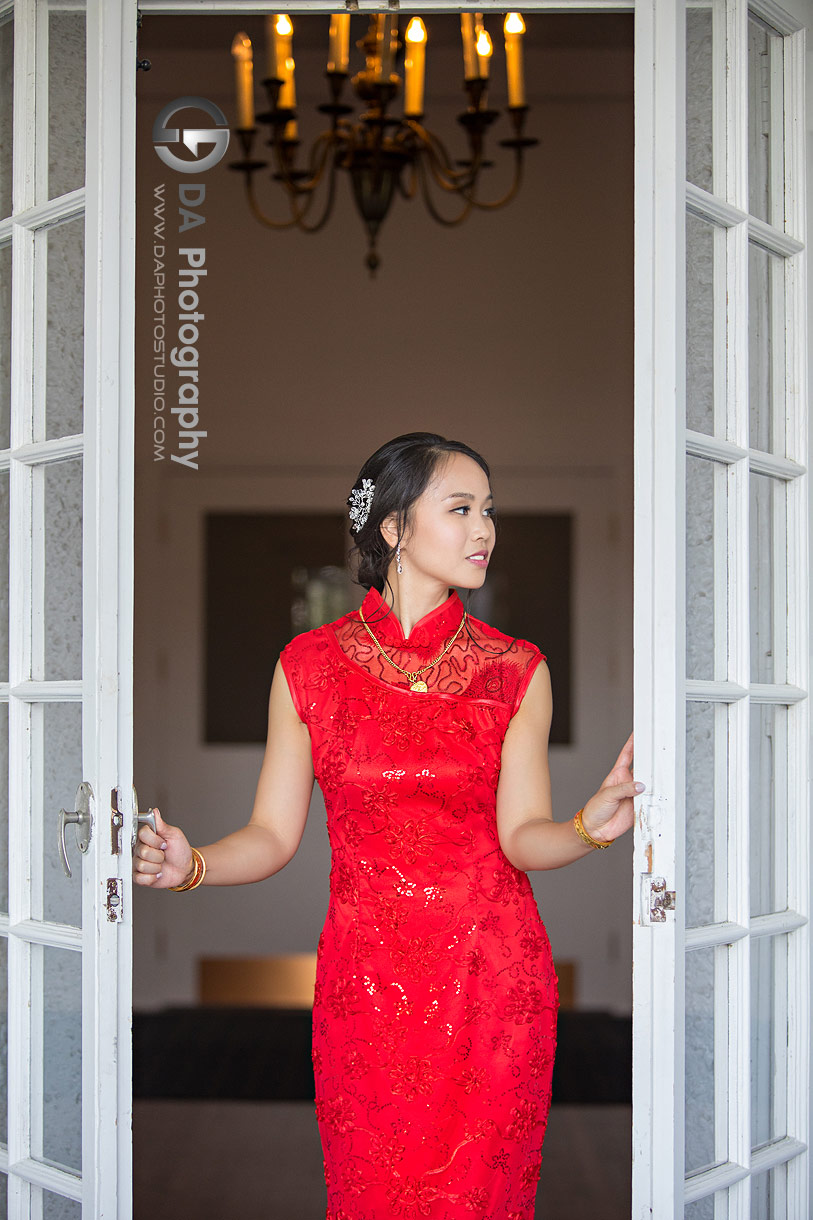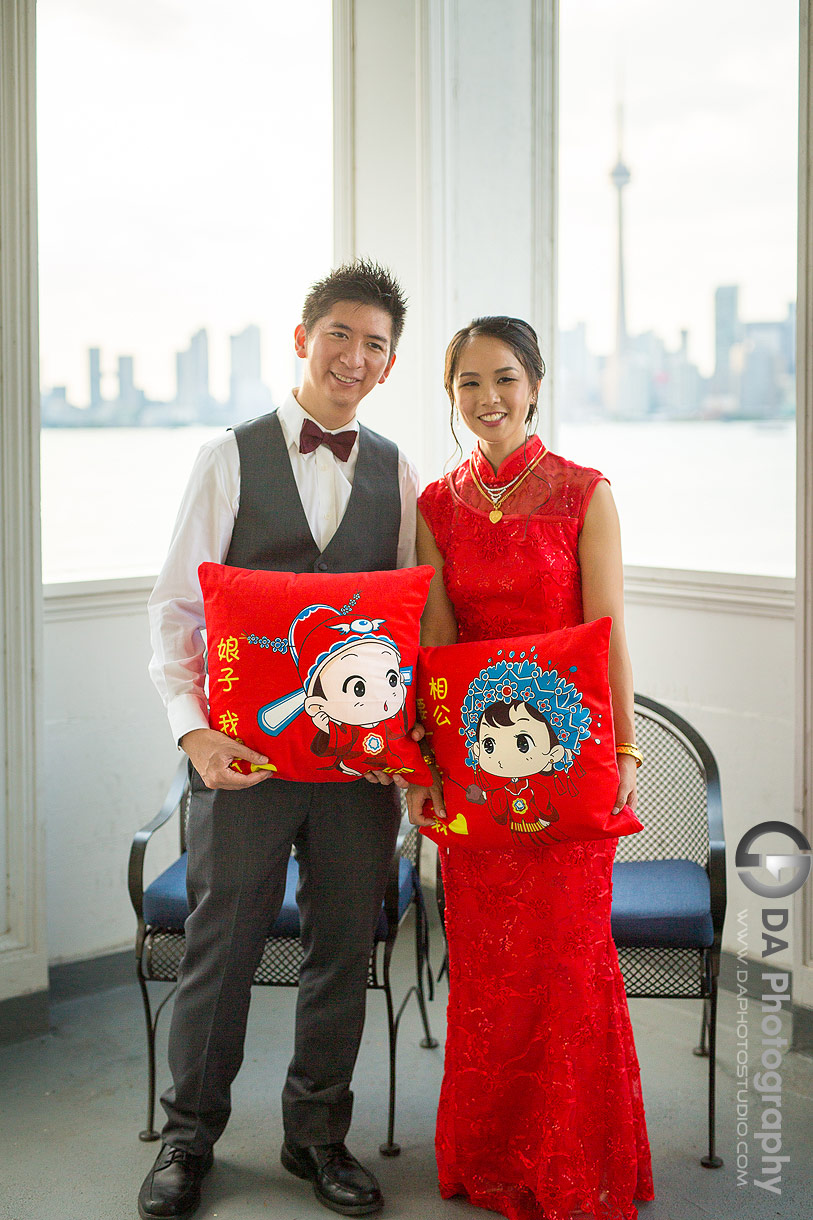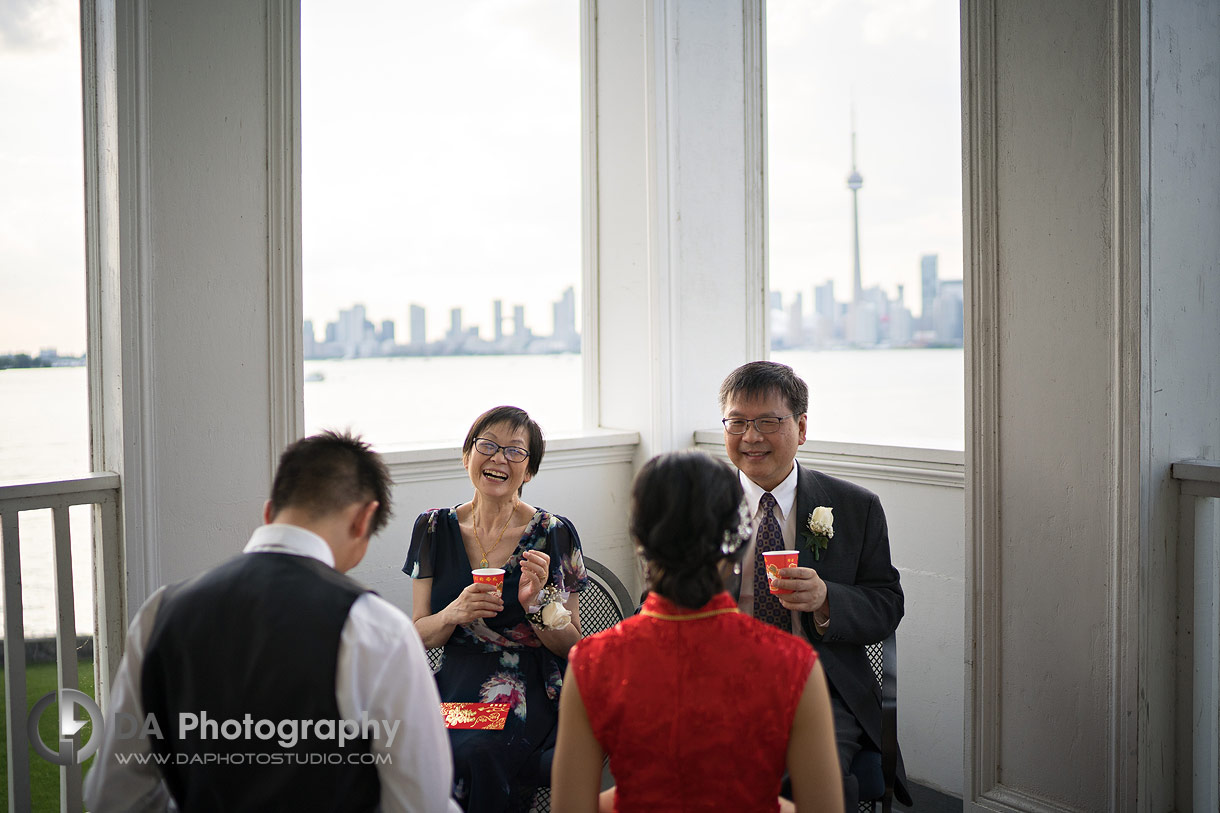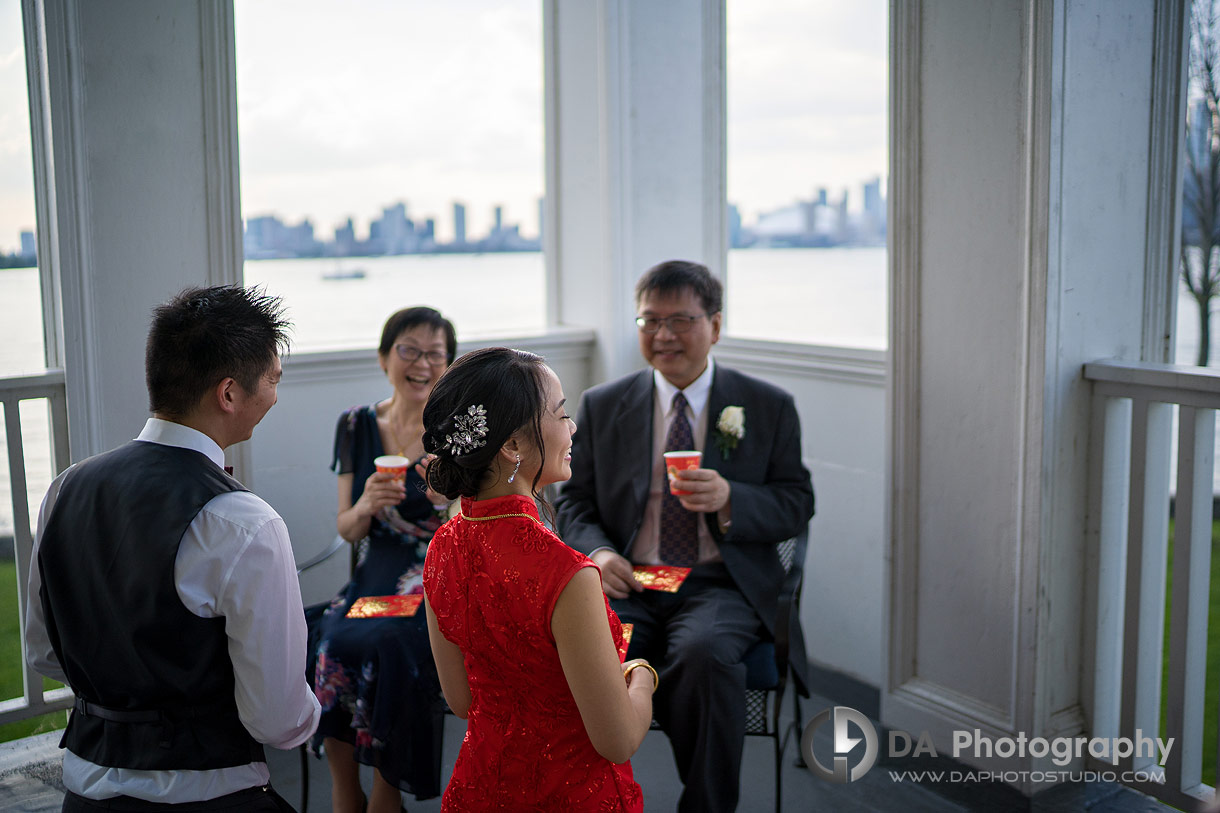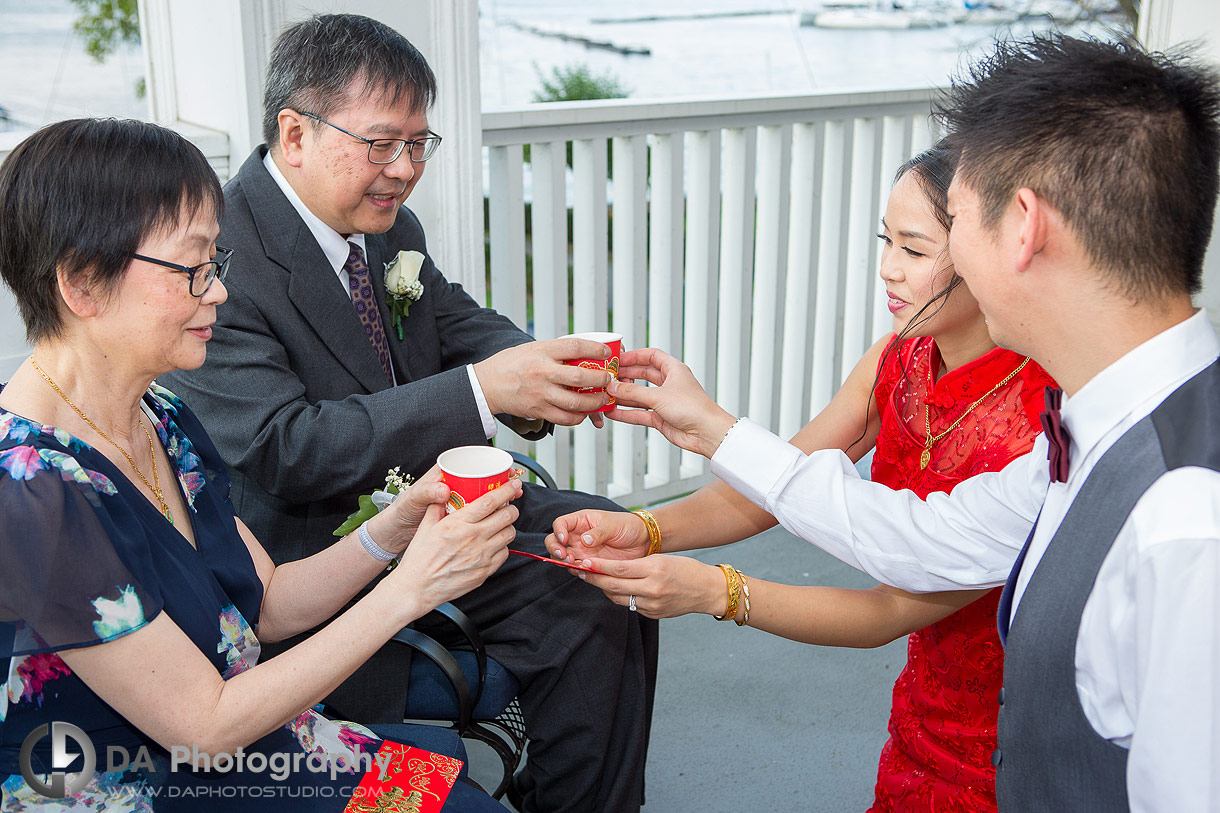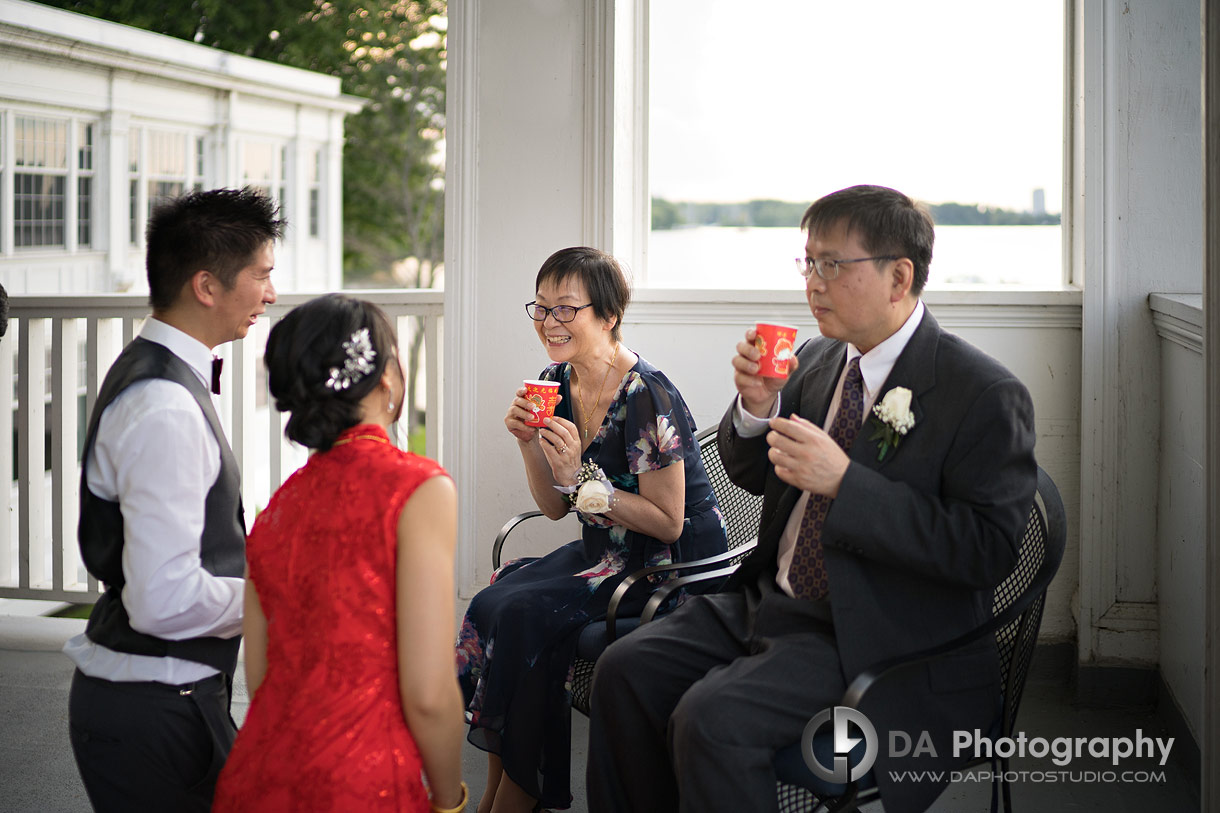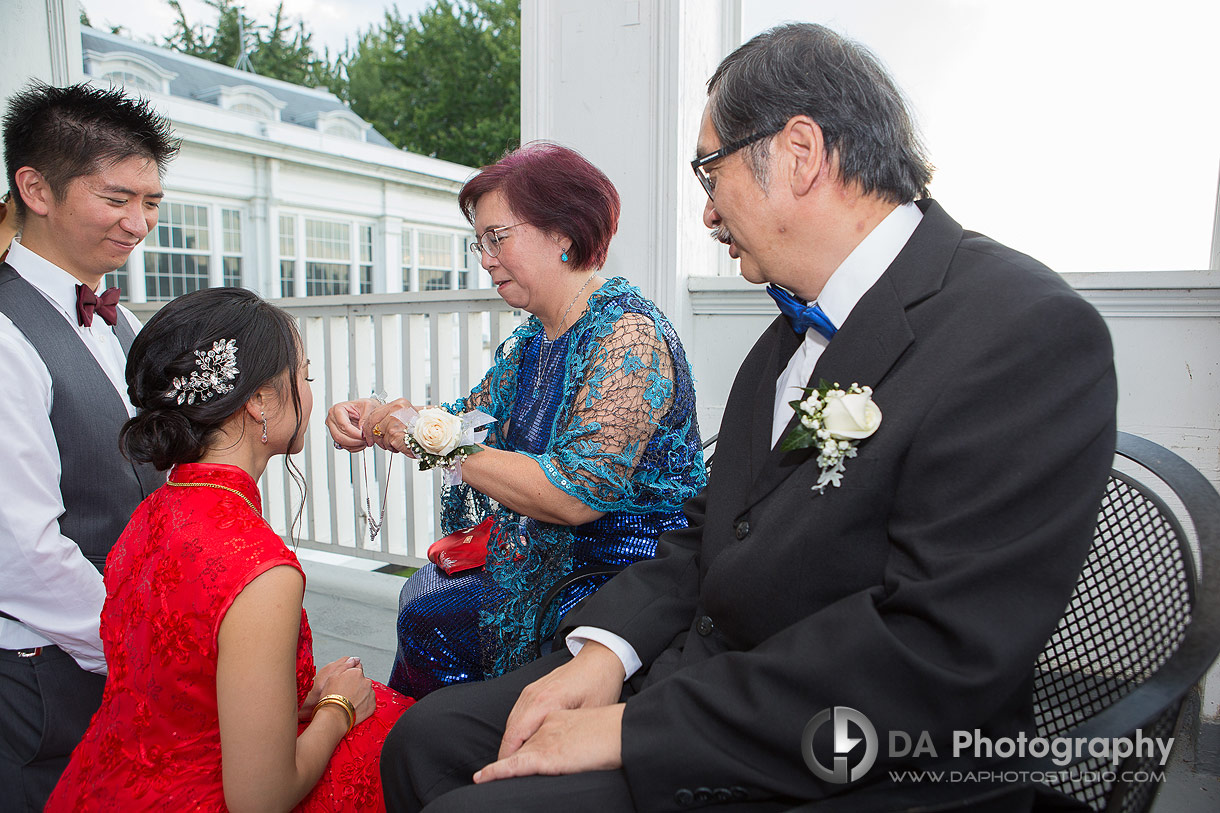 Sunset photos at The Royal Canadian Yacht Club
Before our day ended, we caught a bit more magic. Usually, Toronto's skyline blocks the view of the sun dipping into the lake at sunset. However, with our perspective from the island, I noticed how the sun was coming very close to the horizon but beside the city's skyline. We took off with Jess and Monty to get some breathtaking photos. My viewpoint was down at the lake while Erika took photos from the 2nd floor of the Royal Canadian Yacht Club. I could have stayed there longer, but I remembered that I stole them away from their dinner.
After saying our good-byes, we headed towards the boat pier. Again, I saw that amazing sunset. I also couldn't help but notice that the entire party was looking too. We captured some photos of them and then ran off towards the boat that was waiting for us.
No word of a lie, as soon as we stepped onto the boat, the sky opened and it started raining. Erika and I said, "Perfect ending!"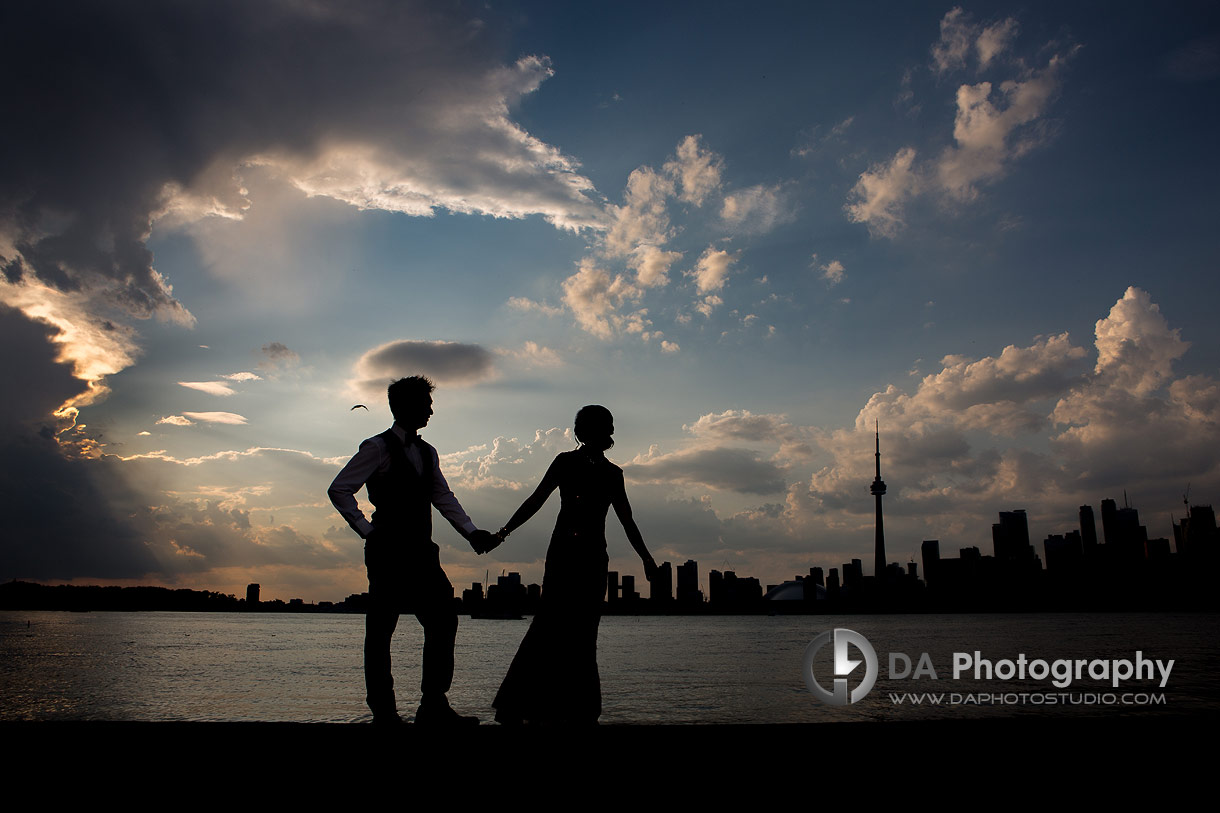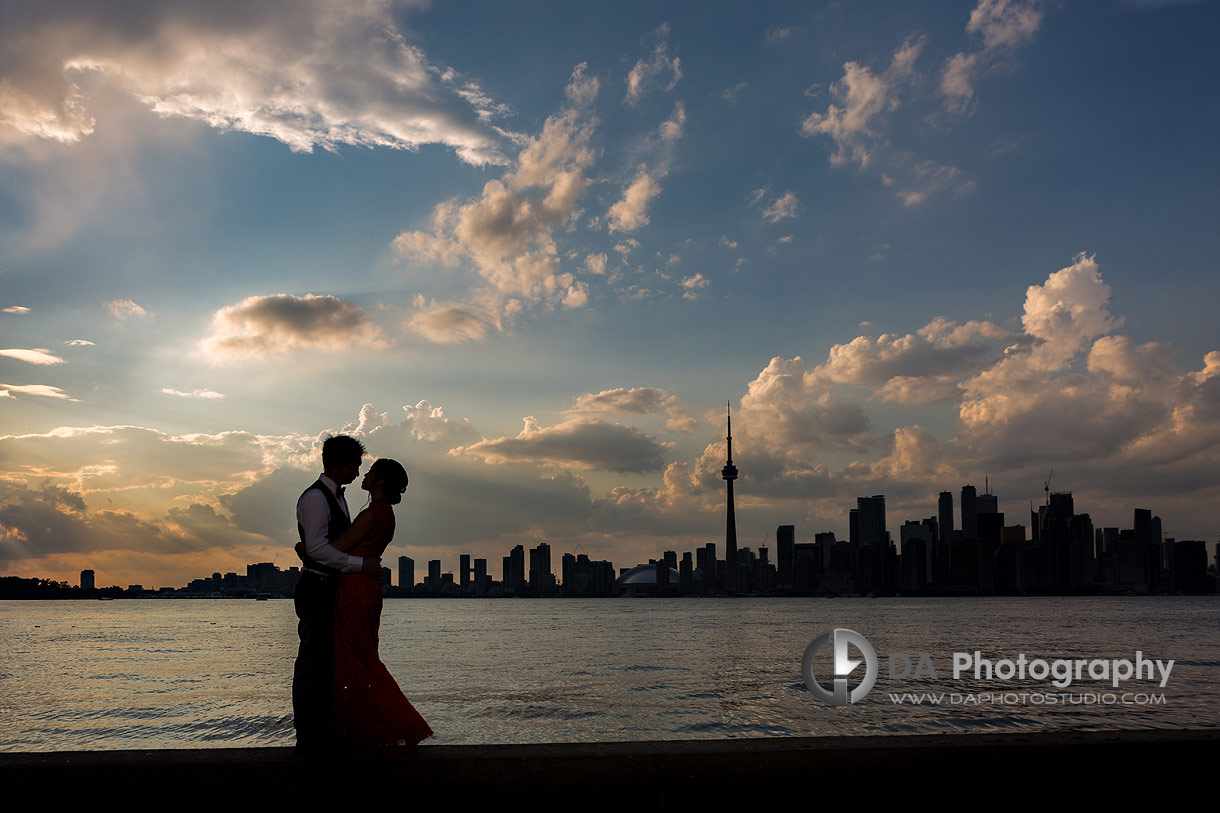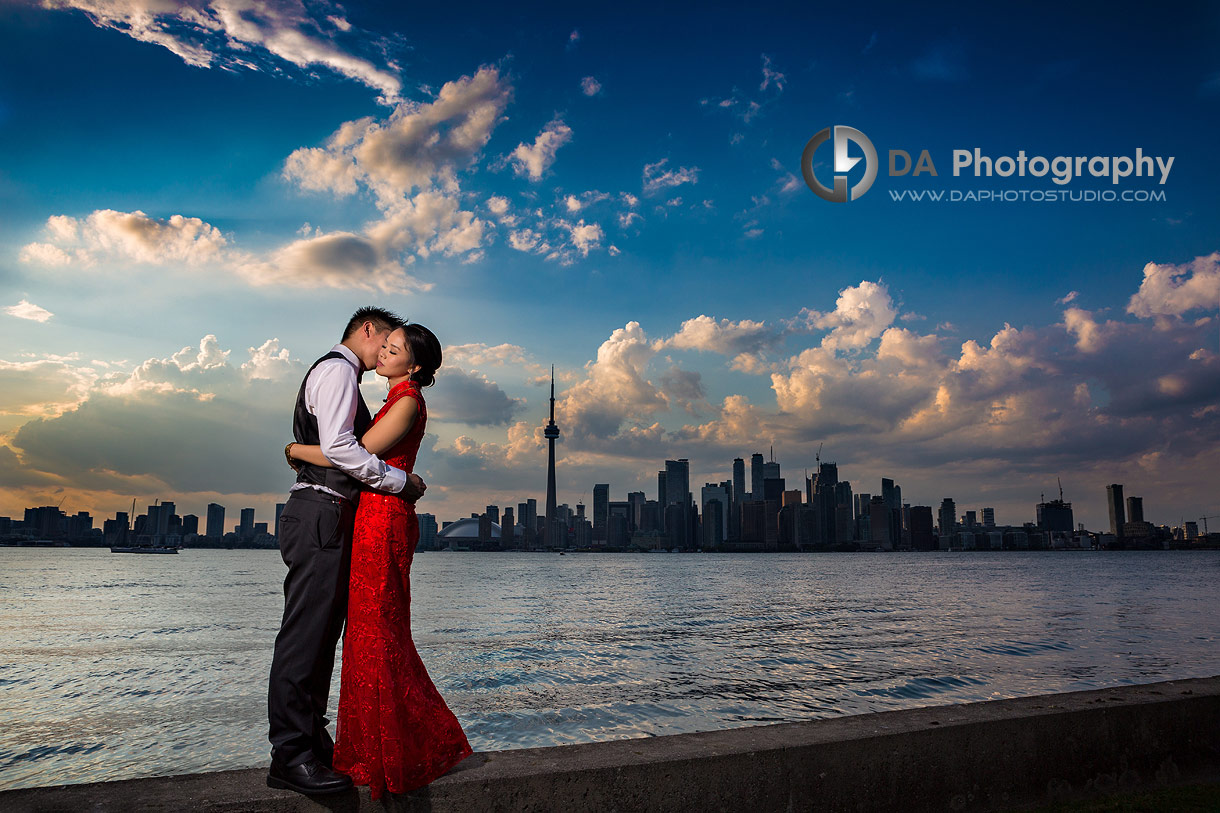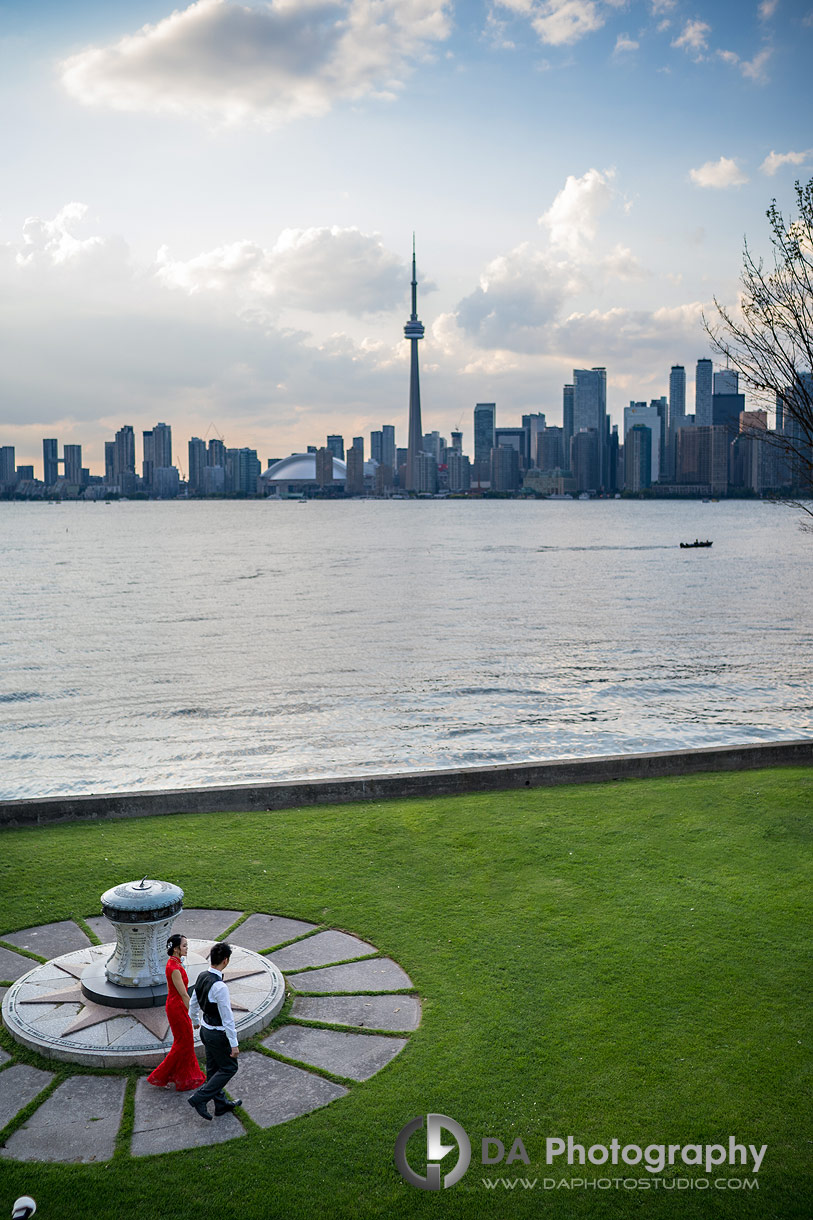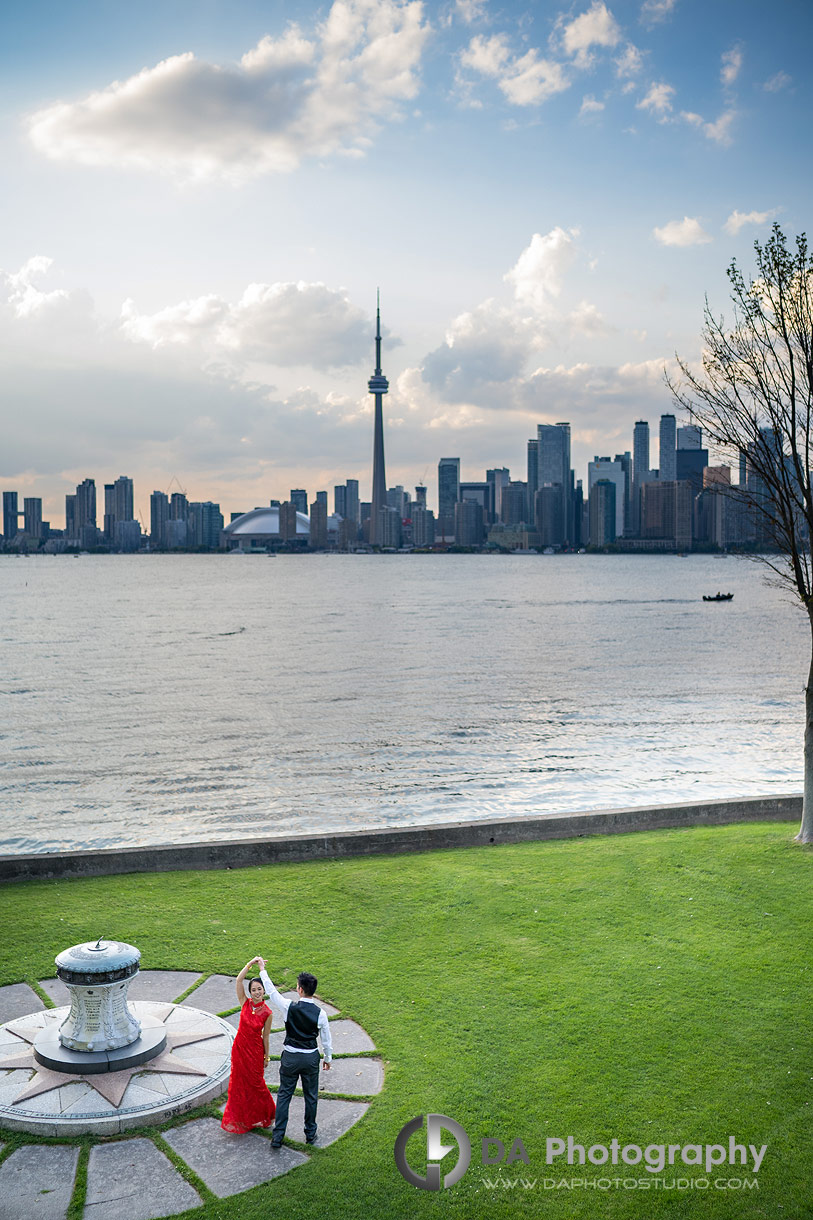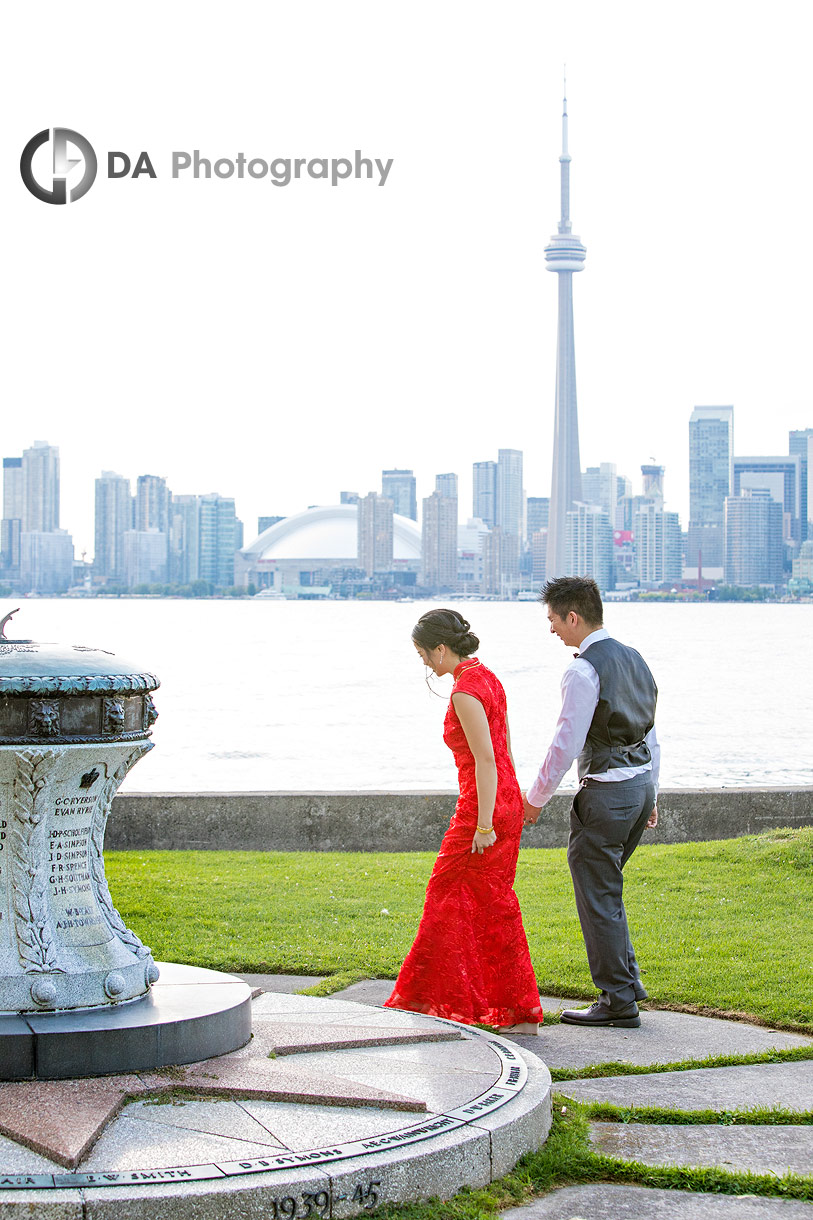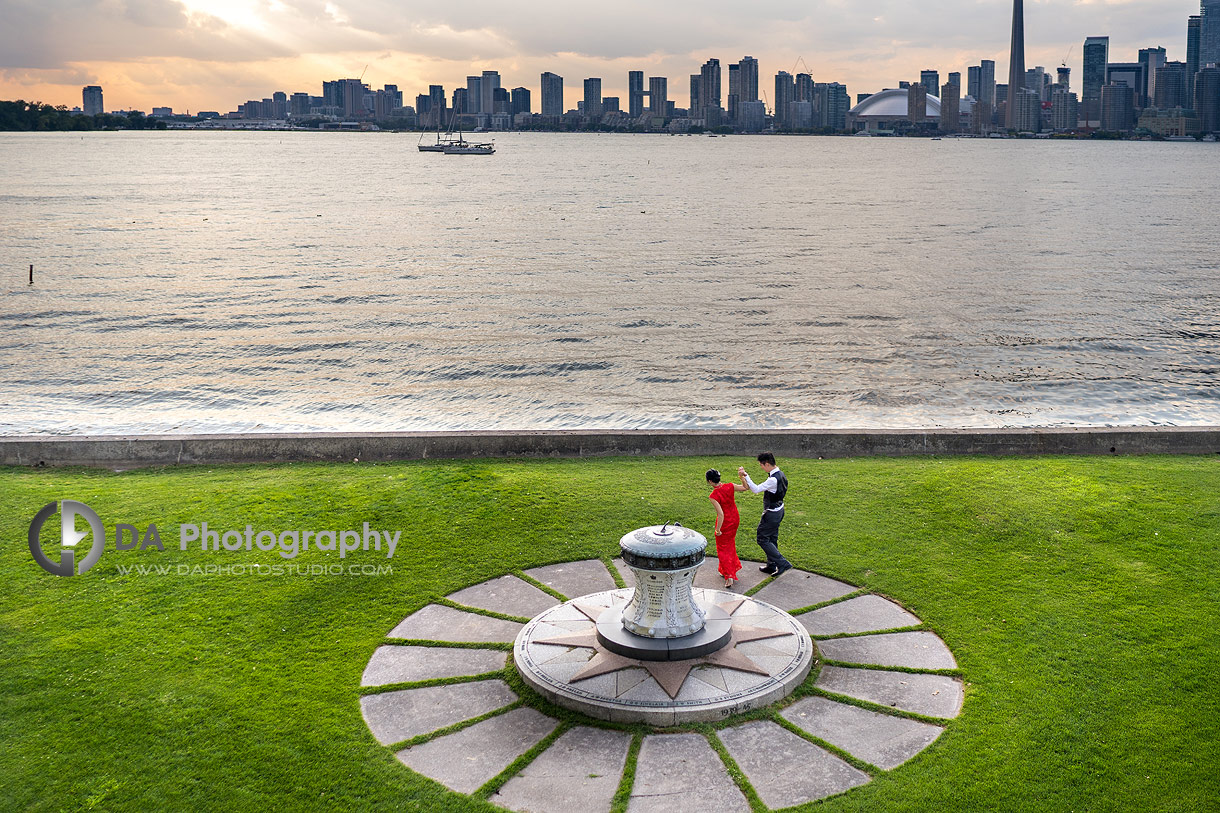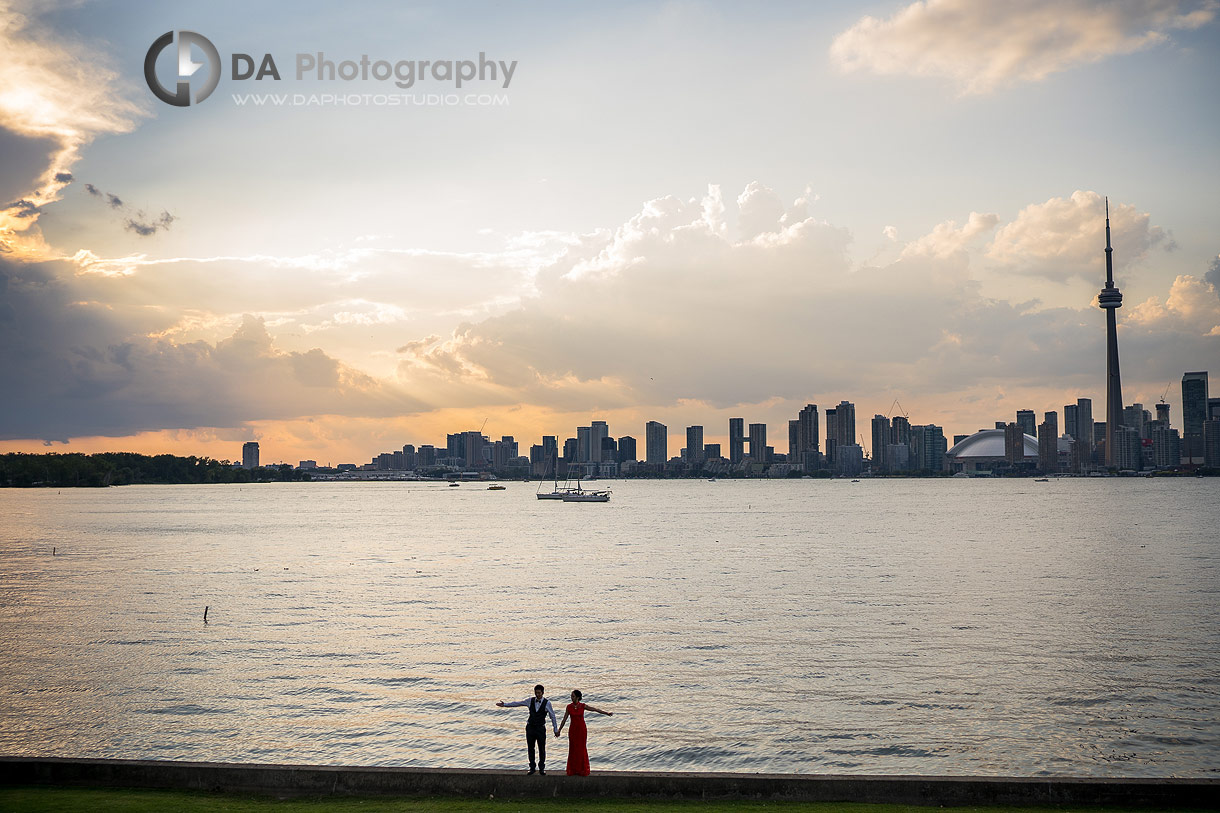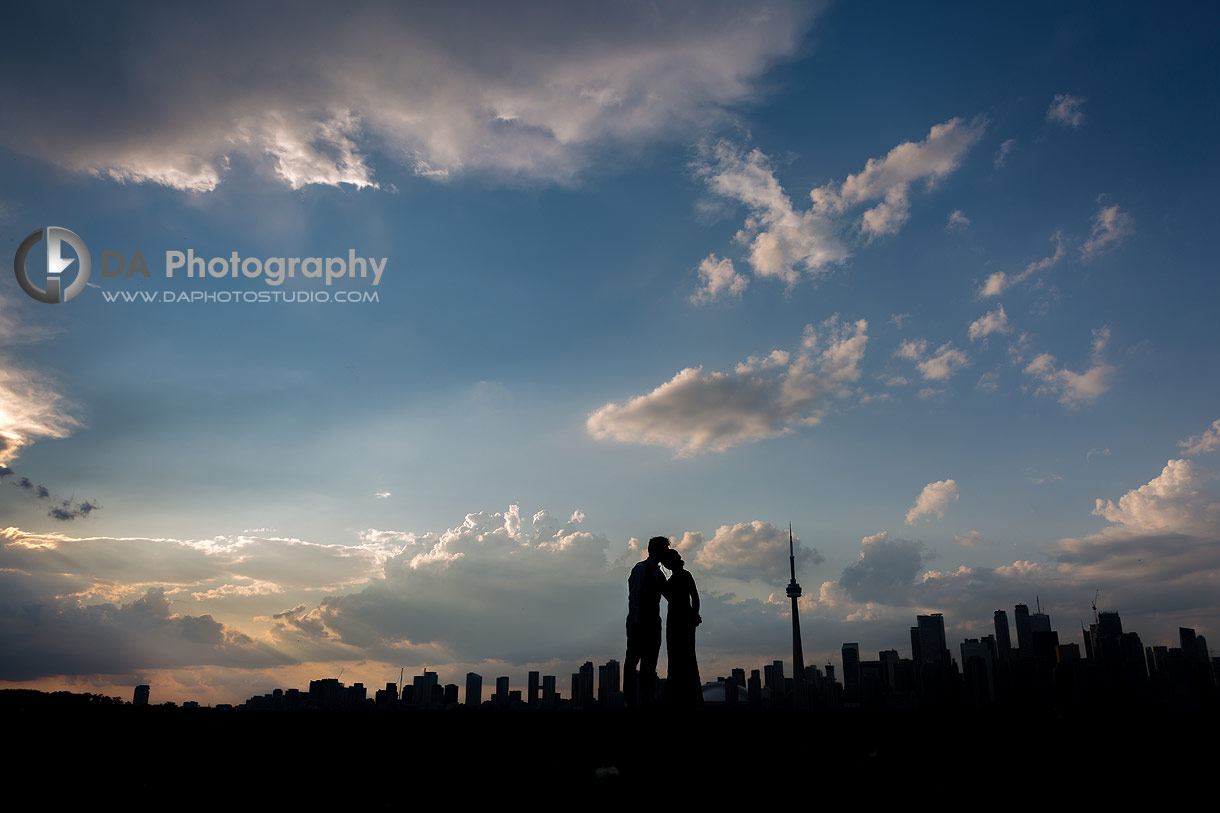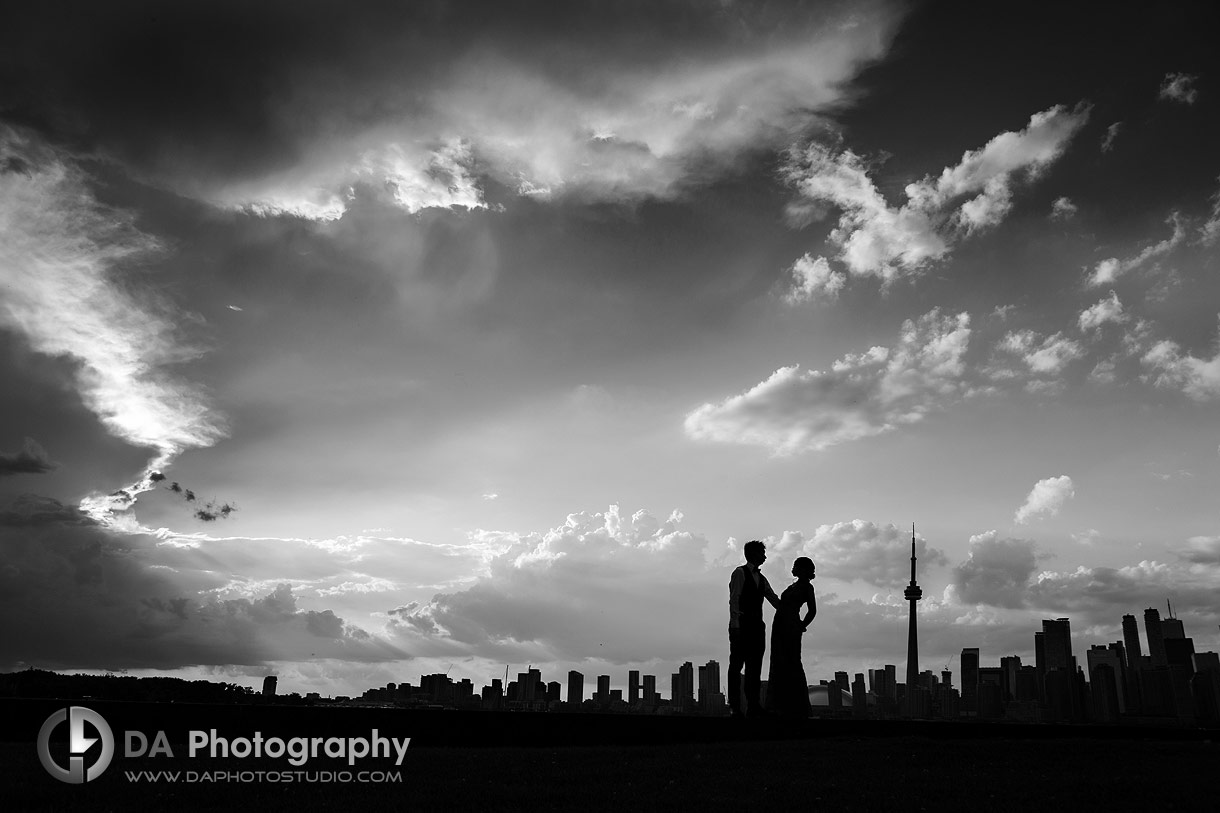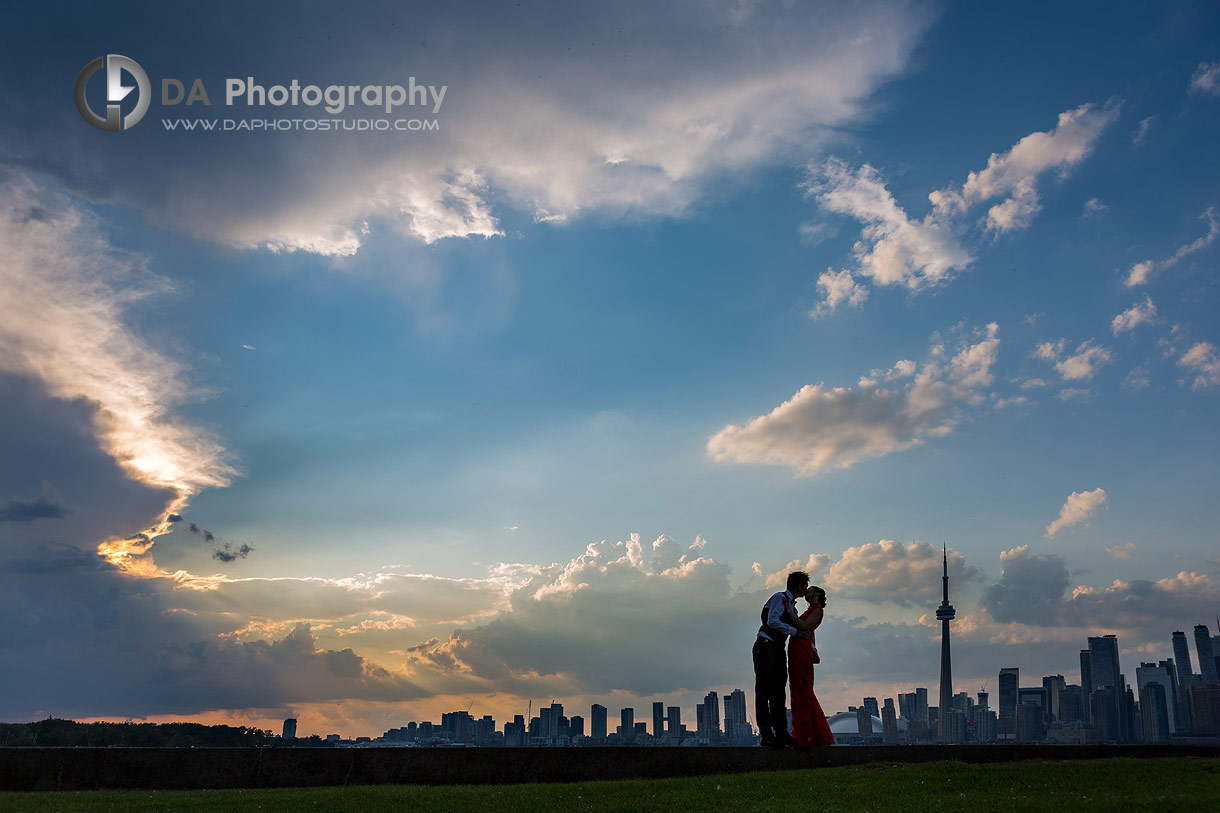 Wedding Collections customization | Babies, business, etc, etc.
Jess and Monty's wedding at the Royal Canadian Yacht Club was truly one of a kind. The photos illustrate their amazing day and how happy everyone was.
While we were customizing the photo collection after COVID-19 had them shortening their wedding day, we ended up adding another session for their future plans versus the original long reception party.
Jess and Monty loved the idea that we could use some of their photo credit towards a future session. Perhaps this might be a baby session in the future? Who knows when fate will bring us back to working together! But when it does, I'll be excited to get the chance to work with these two wonderful people again on their next chapter.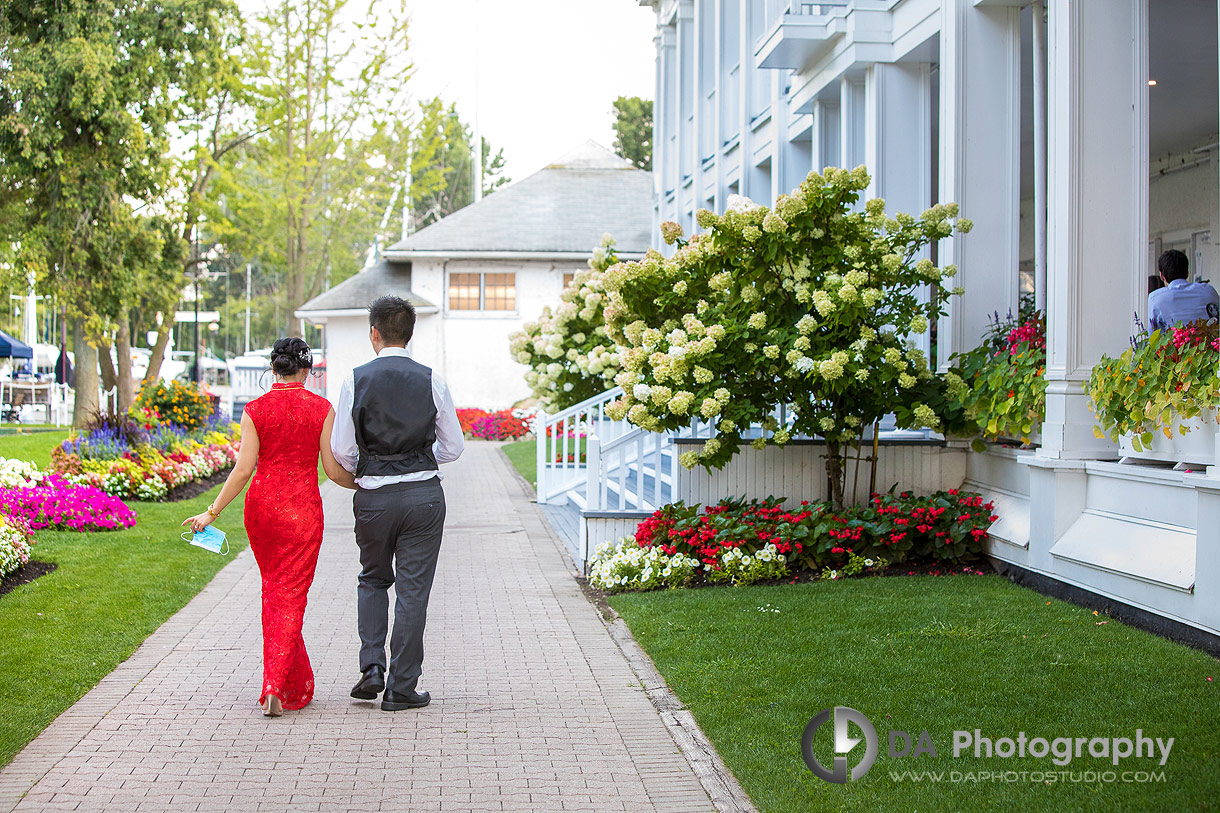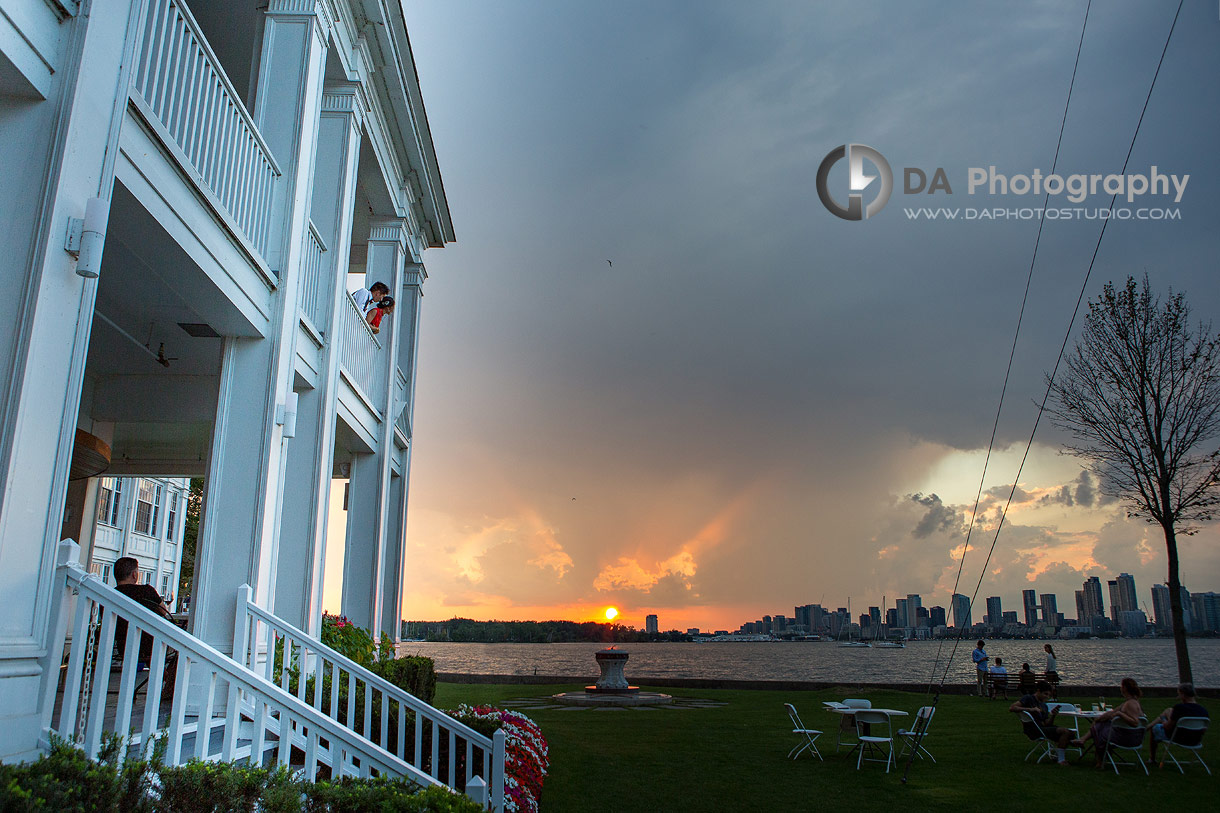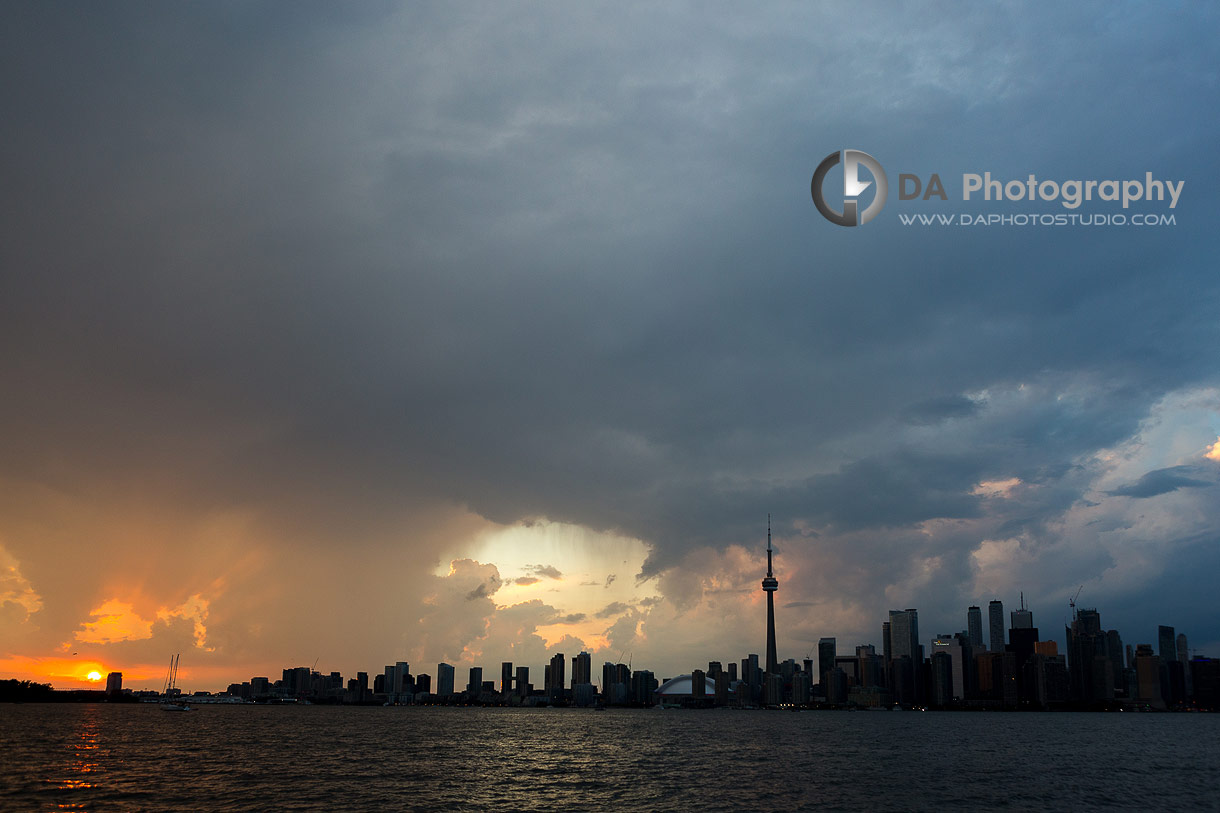 Credits to below wedding professionals and locations that helped Jessica and Monty's wedding to be one of a kind.
Wedding Ceremony, Reception and Tea Ceremony: Royal Canadian Yacht Club, Toronto, ON
Officiant: Eric Schultz
Photo session(s): Royal Canadian Yacht Club, Toronto, ON
Makeup and Hair Artist: Karen Richardson
If you like to see another wedding with Chinese Tea Ceremony click
here.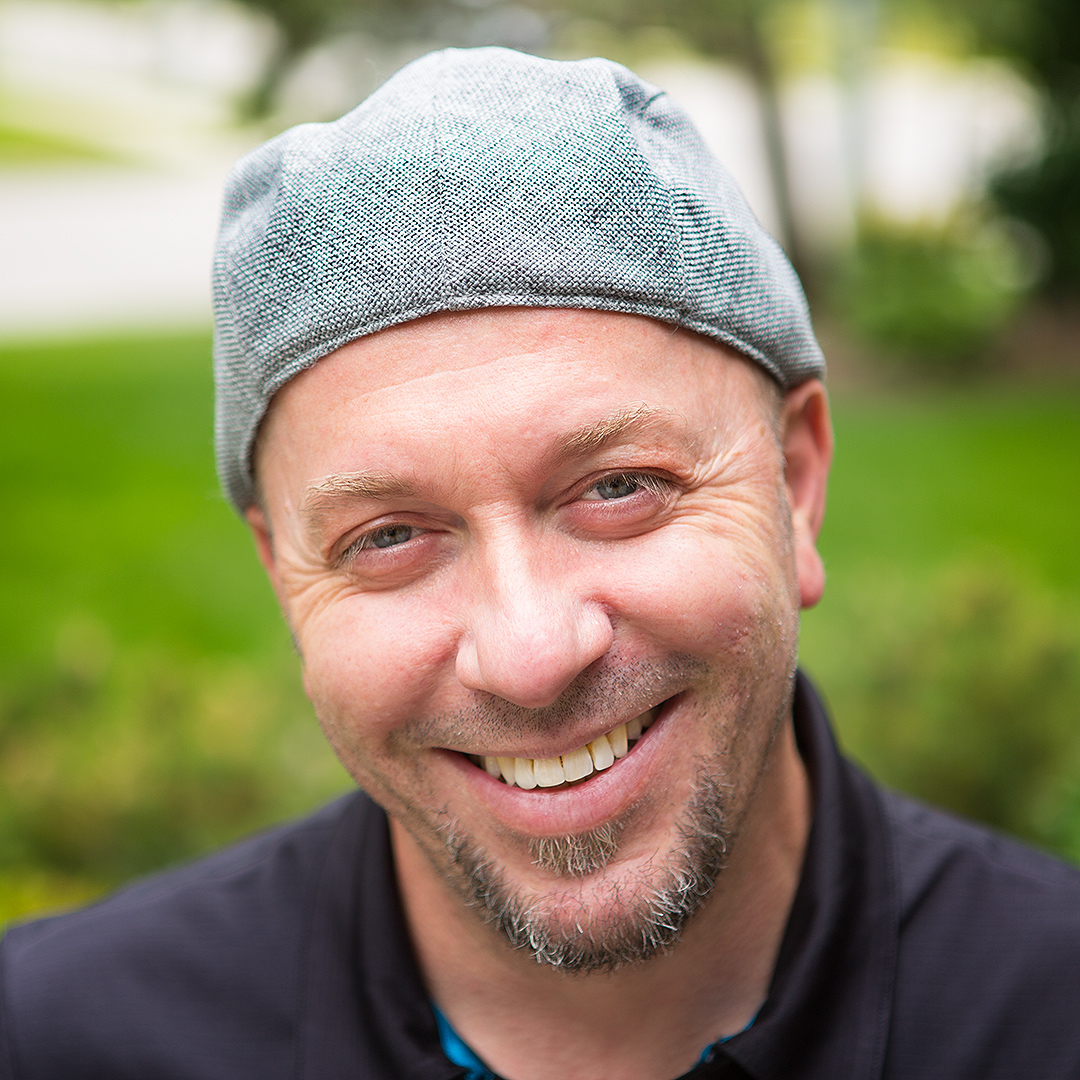 My passion and biggest asset is taking the time to make every client comfortable and relaxed before I even pick up the camera. The result? Photos of you that actually look like you at your best! I can prove to you how much you can enjoy having your picture taken. Lifestyle photography is about the experience that happens to be served up along side of some great photos.
Specialties:
Family Photography for families that like to move around and enjoy their photo time, Wedding Photography for couples looking for a mixture of photojournalistic, contemporary and traditional images and Professional Corporate headshots that are far from cheesy and stiff.