There is no doubt that destination weddings are absolutely dreamy. Warm sun (especially in contrast to the dark Canadian winters), all-inclusive food and drinks, only the dearest friends and family and a vacation all in one! However, as many couples soon learn, there are also other aspects too. The couple must decide what their priorities are when planning and organizing the event. Some family members won't be able to attend for various reasons, the couple will not have as many options to customize their day and a few things may actually be more expensive. All that being said, it is totally the answer for many as well.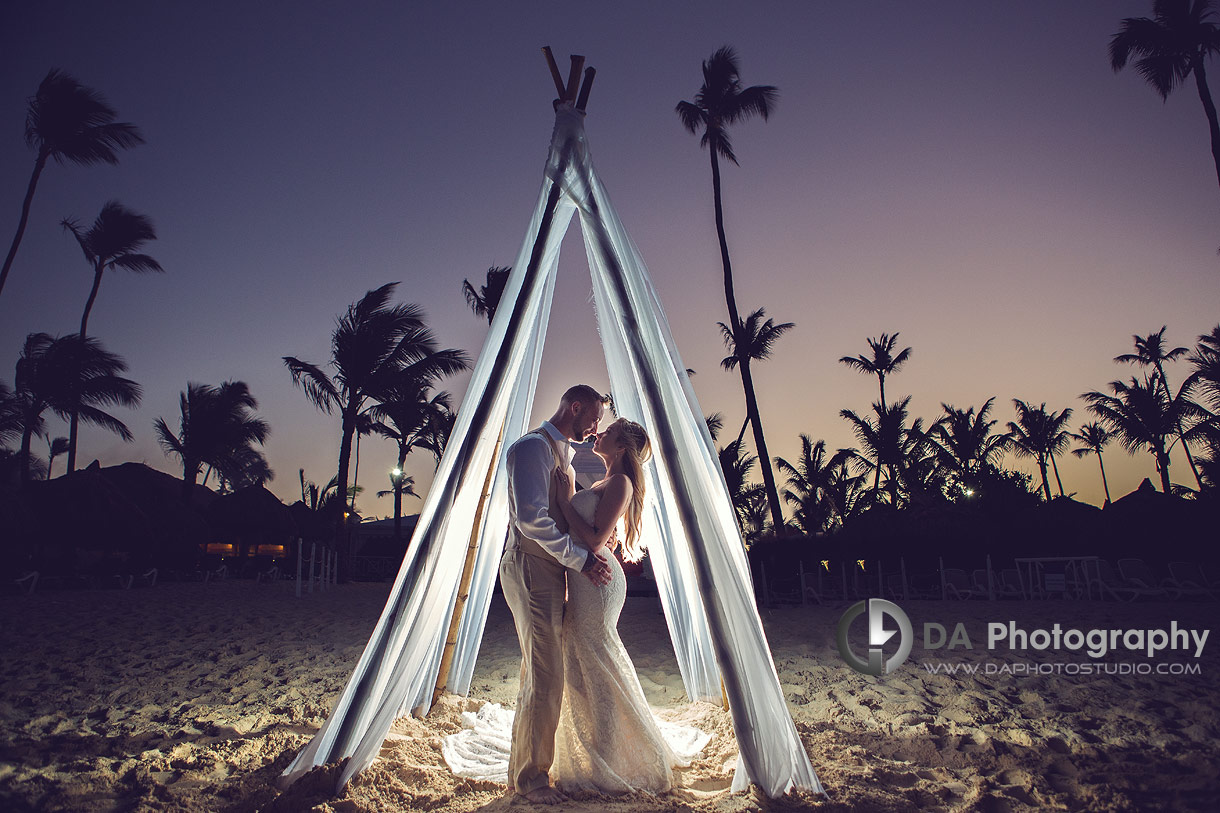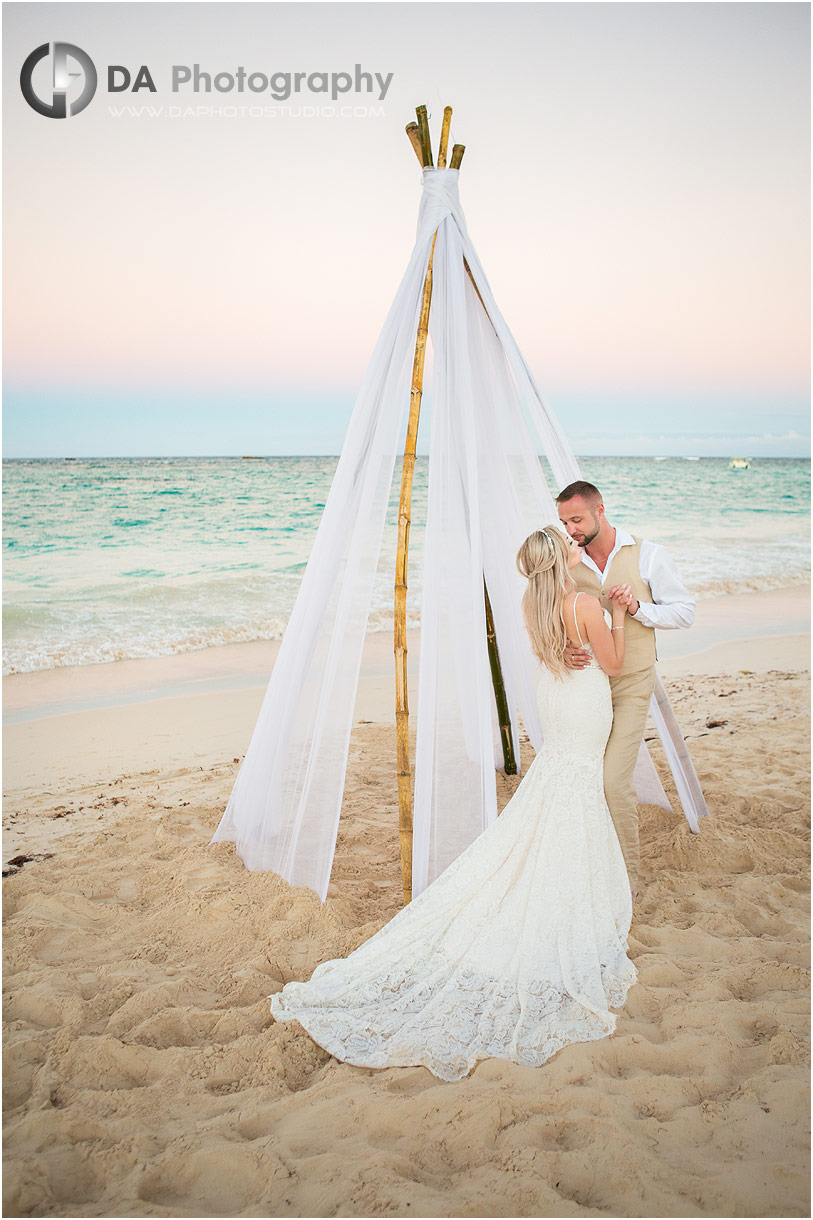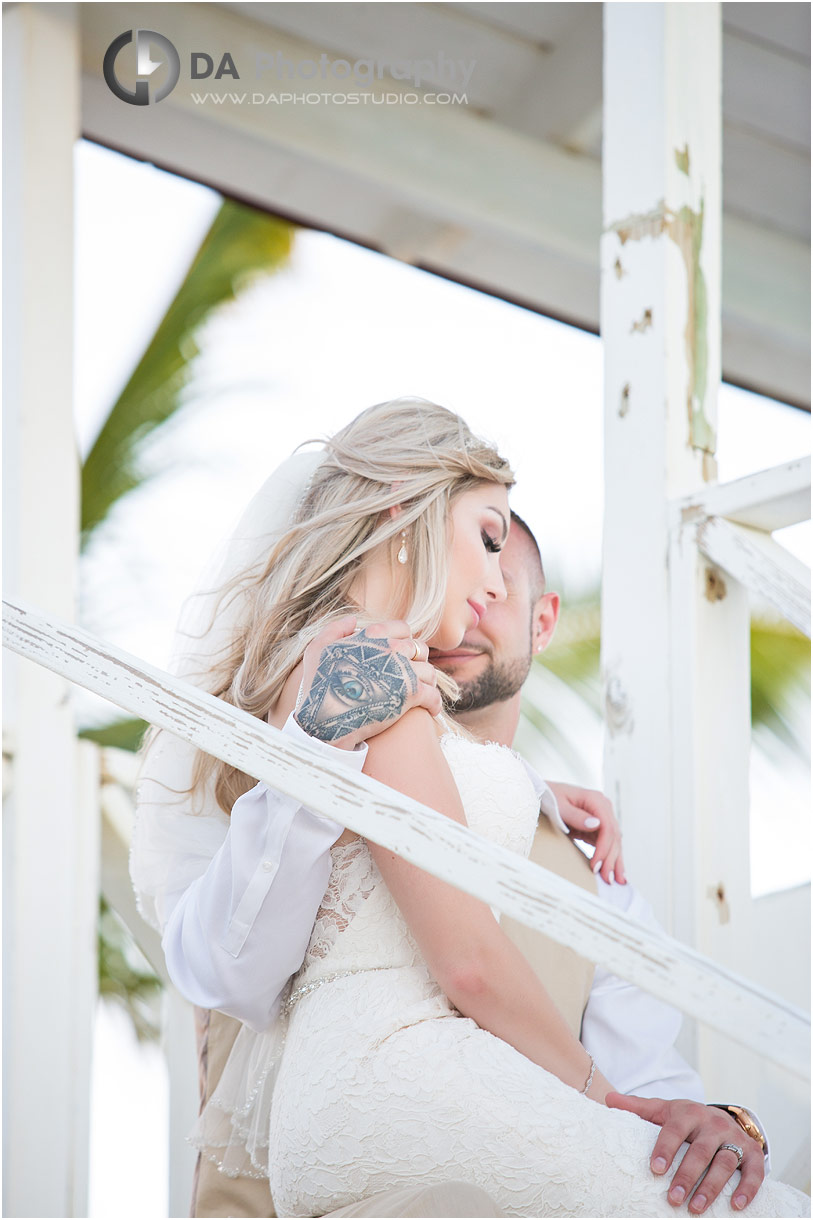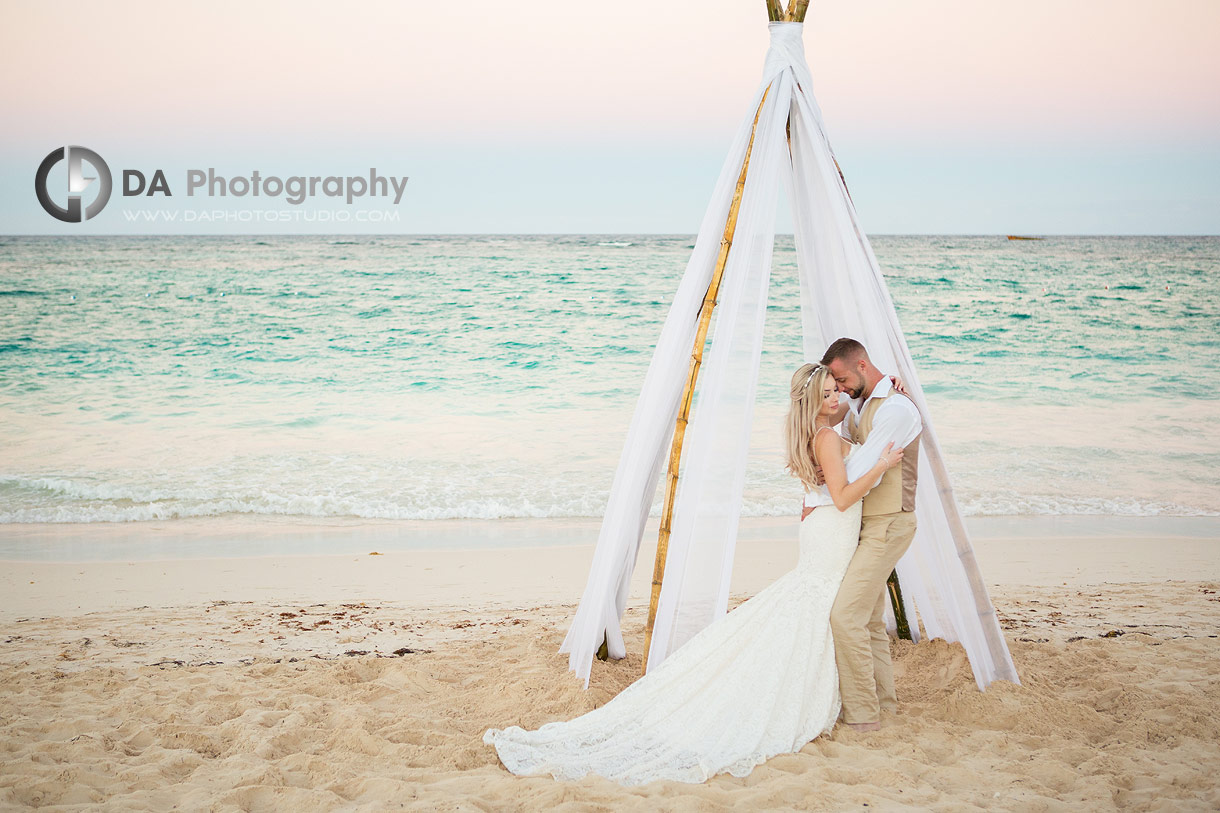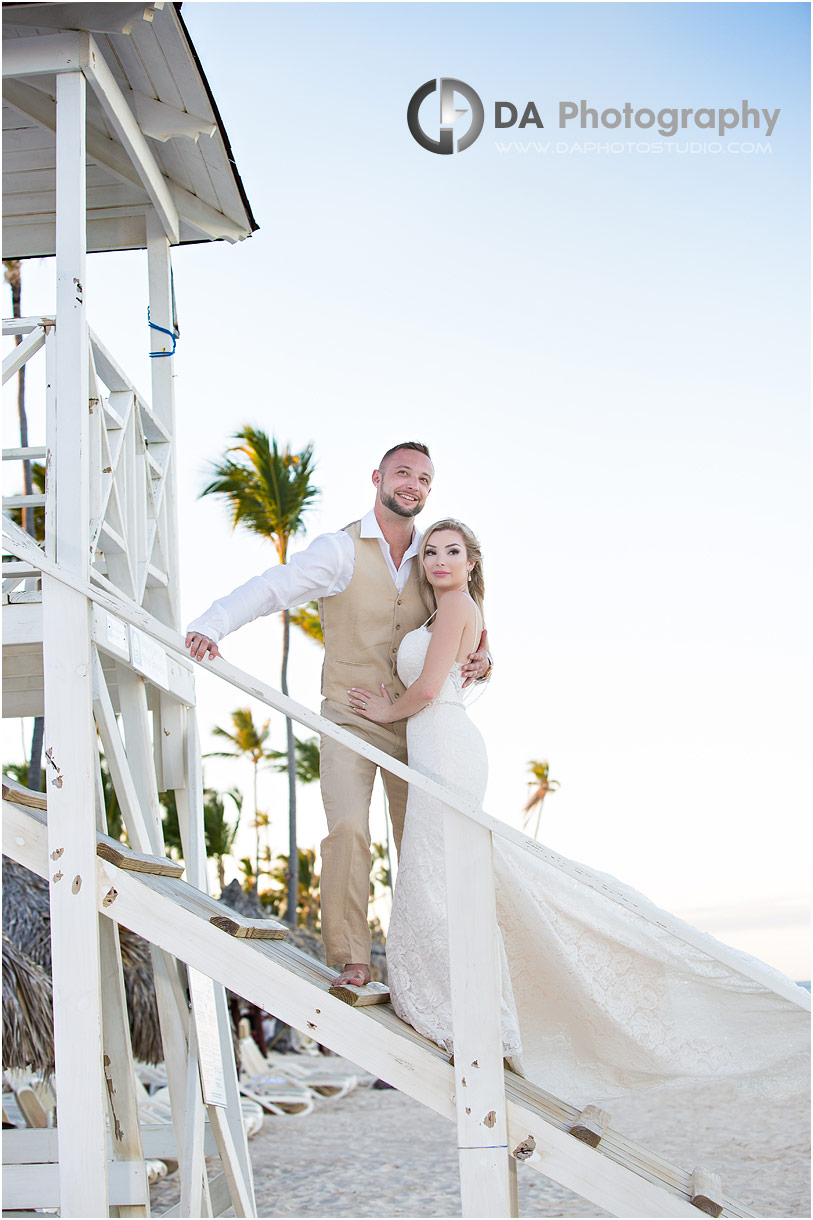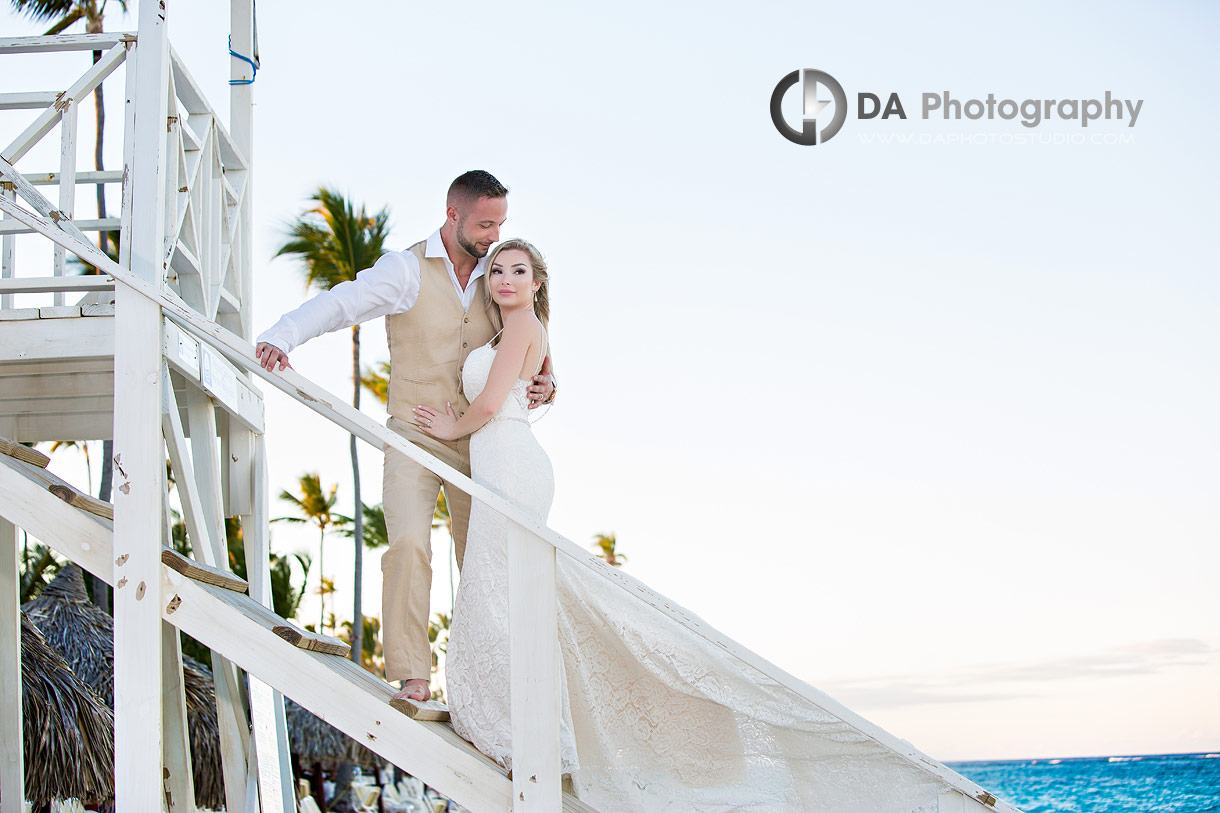 To be honest, couples choosing destination weddings are not my usual clients. Destinations offering wedding packages most often include onsite photography. Even if a couple wants to bring their own, they must pay the local photography fee as well. This along with one of my photography packages plus accommodations and travel adds up quickly. If quality photography is still top priority for them, it then also needs to work for me and my business. A local wedding may take one or two days for me to shoot. However, a destination wedding means a longer period of time away from my family, studio and other clients. Lots of factors have to work together in order for it to work for everyone involved!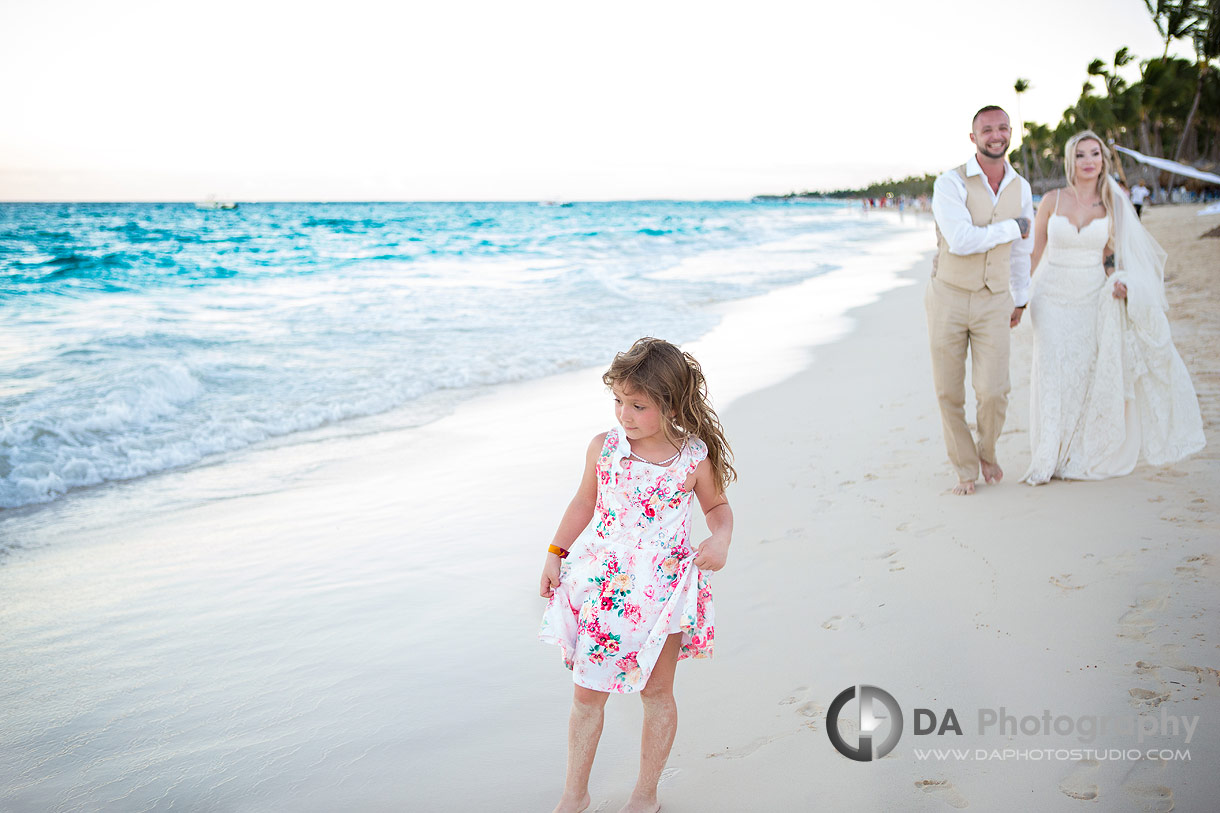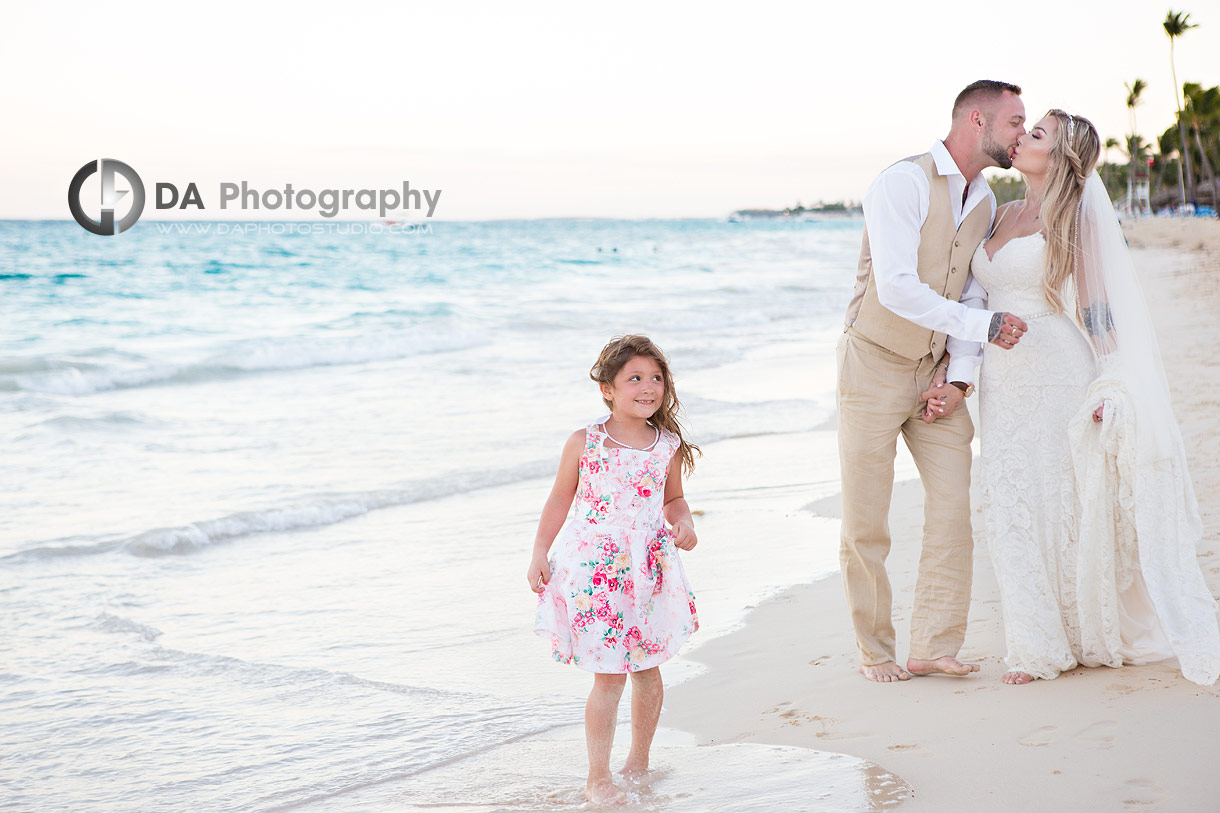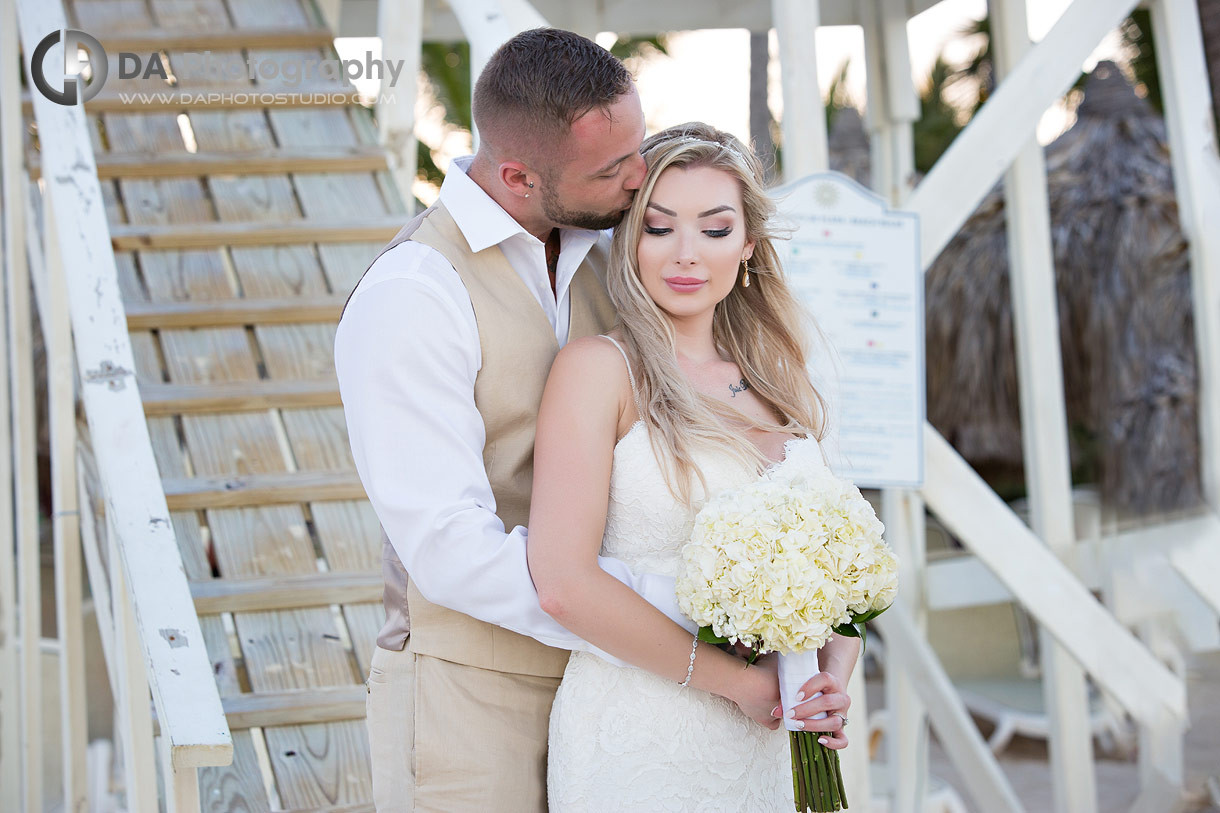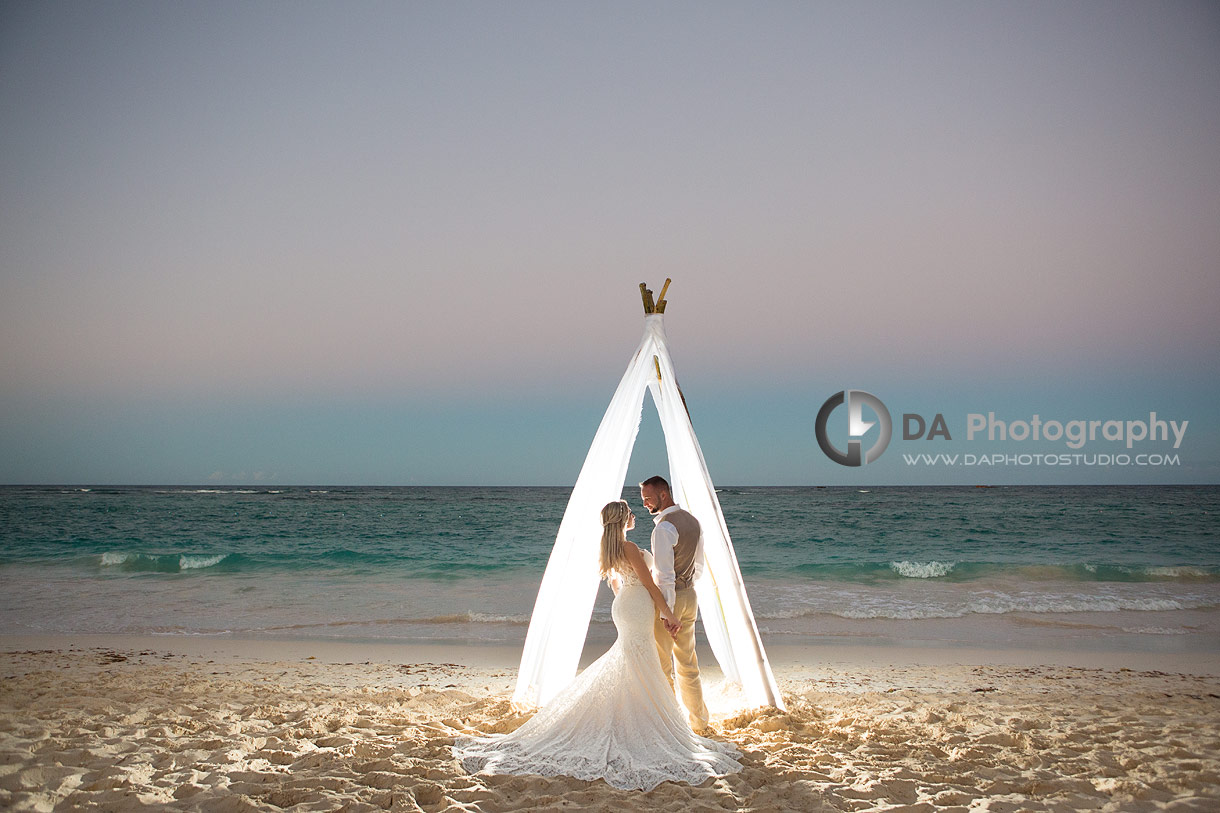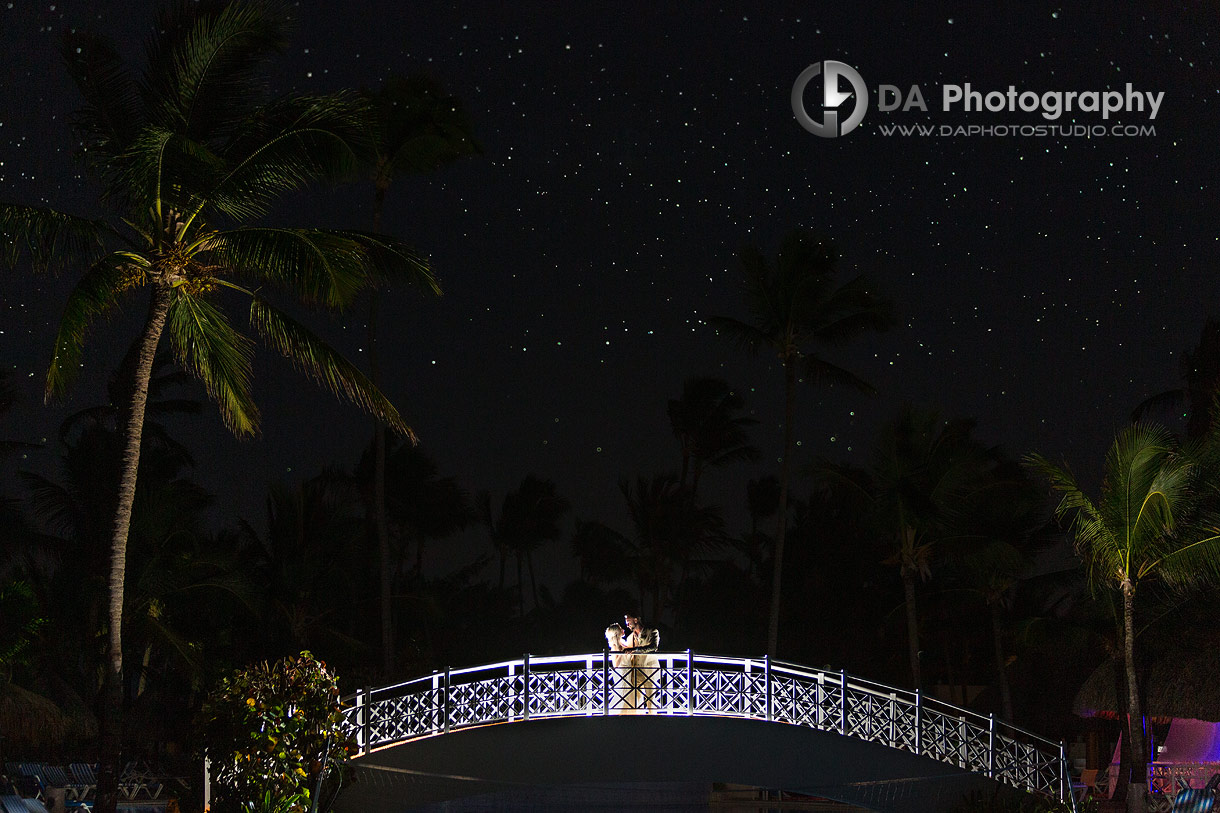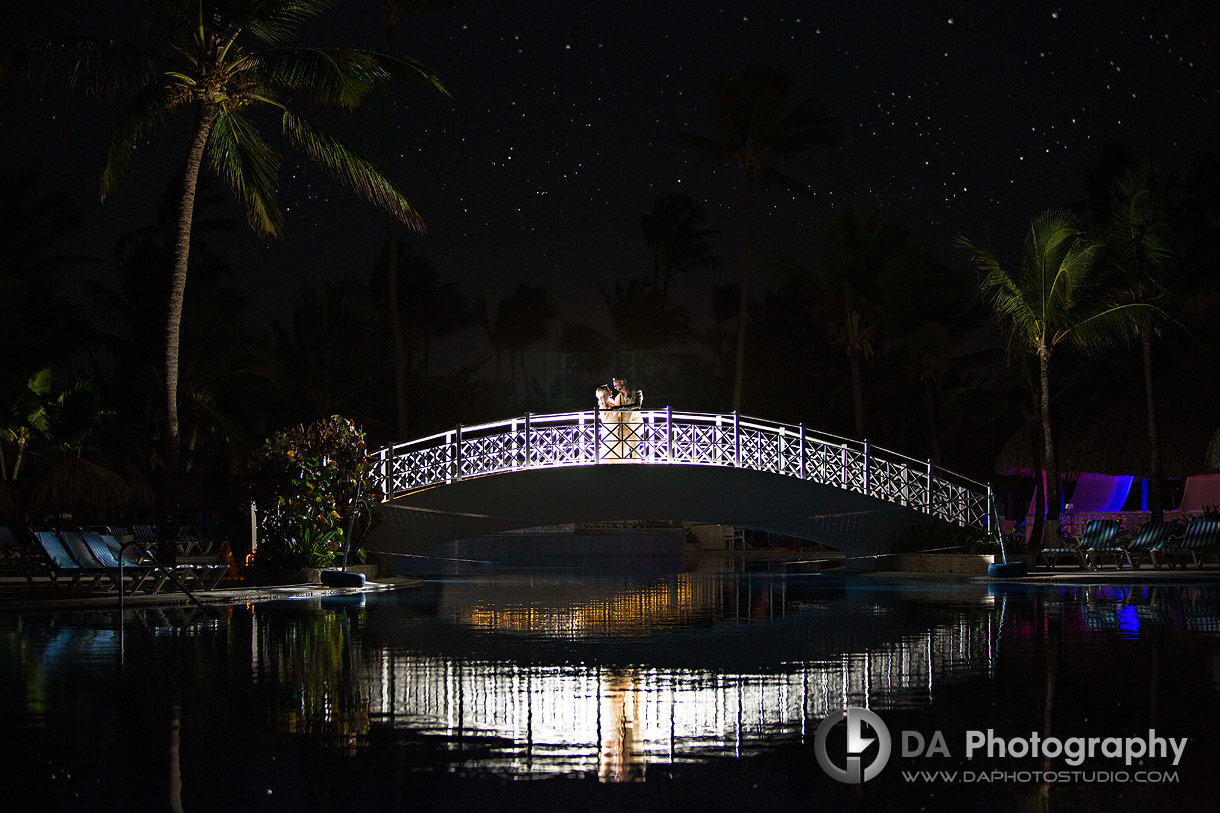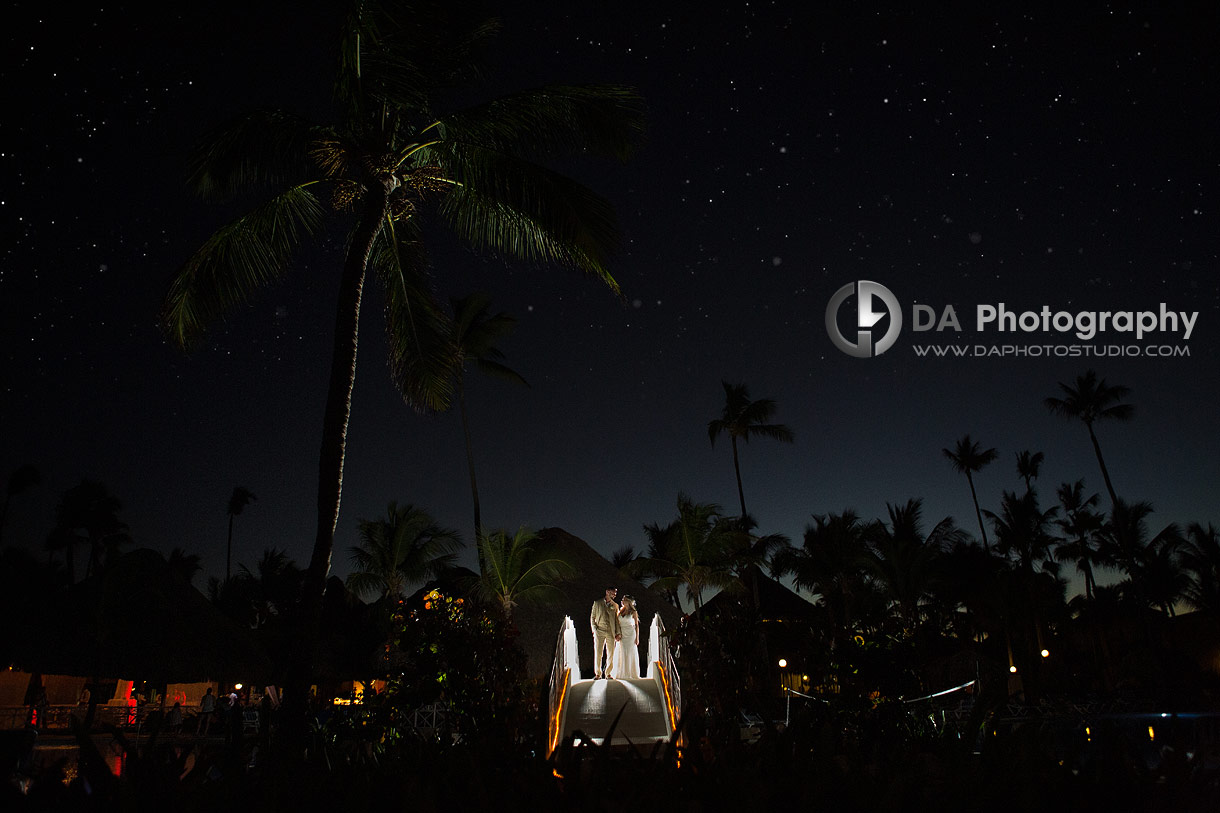 How I became Victoria and Alex's destination photographer
All this considered, Victoria and Alex decided that a destination wedding was going to be perfect for them. Their fall engagement session with me in Burlington was the perfect contrast to a powdery, white sandy beach for the ceremony. When they asked me to work with them, I knew that I would do my absolute best to help make their destination wedding attainable for us. After all, Victoria's father is my cousin and family means a lot to me.
We flew out from Toronto where it was -38C and arrived in Punta Cana to a sweltering +37C degrees. Clearly, this meant our bodies needed some adjustment time. Victoria and Alex's wedding plans had garnered a lot of interest from the Luxury Bahia Principe Esmeralda Resort. The location asked if their corporate team could fly out from Majorca to document it for their marketing material. As a gorgeous couple inside and out, it was a great move from the company. On the other hand, I knew that it would present its own challenges for me.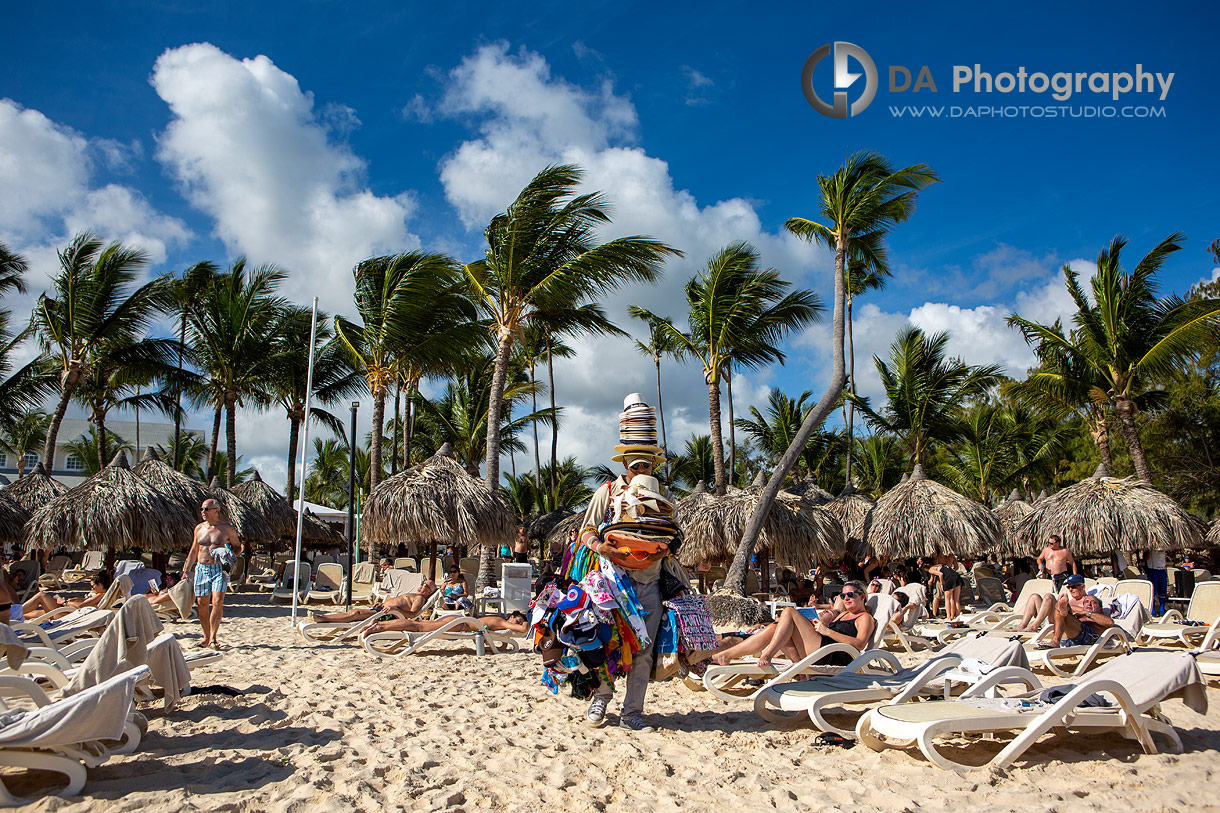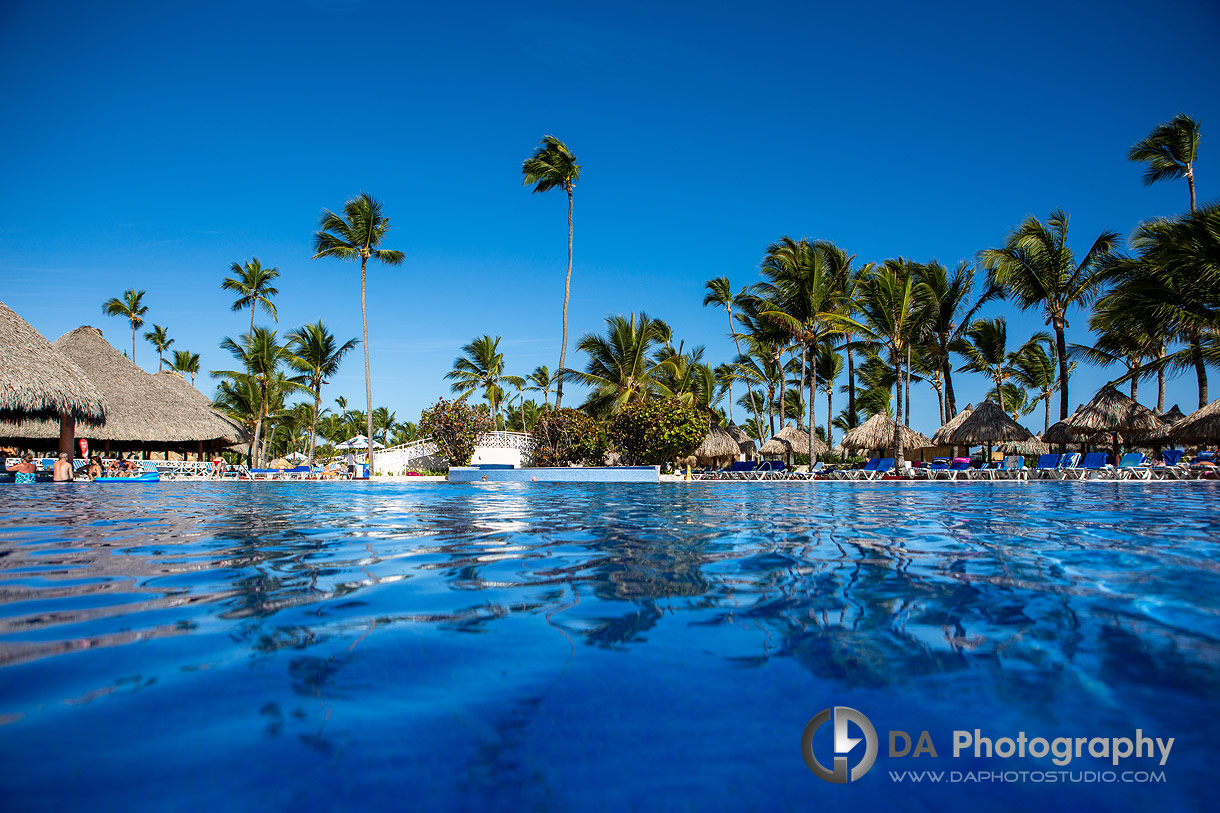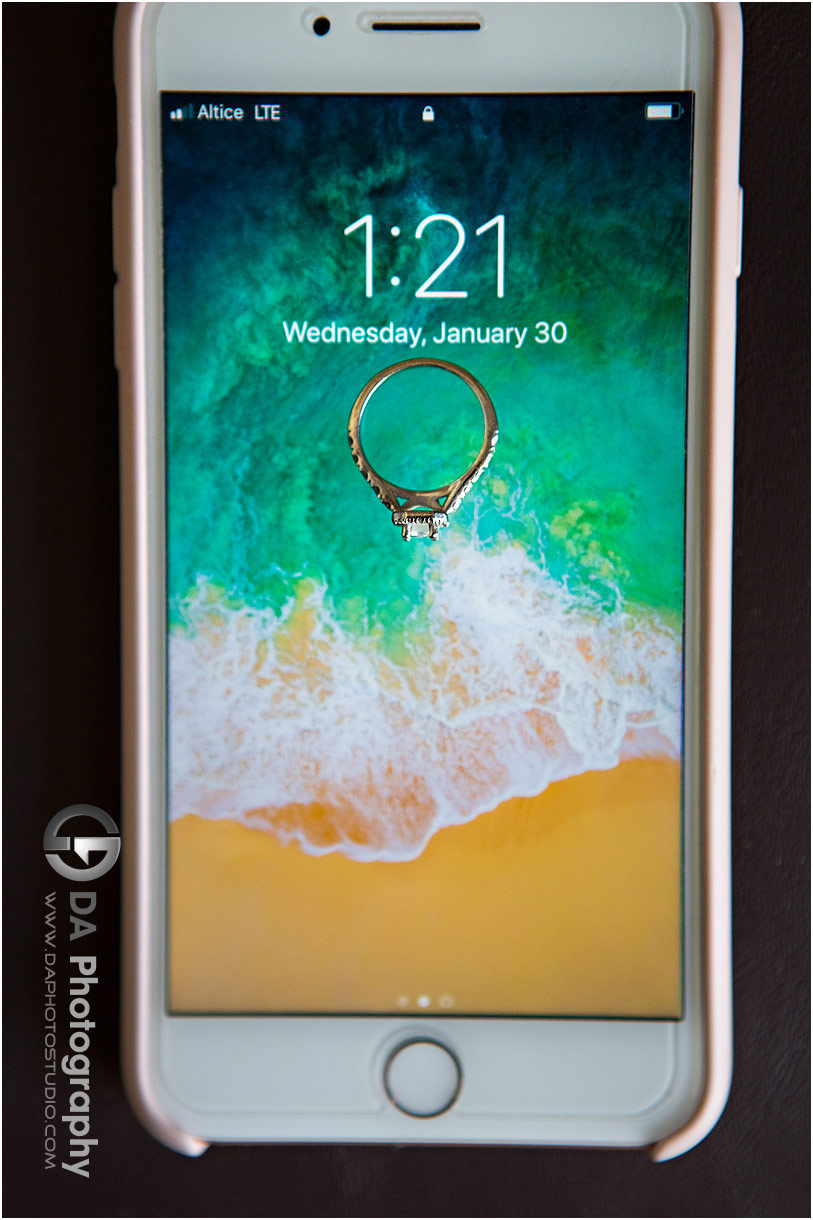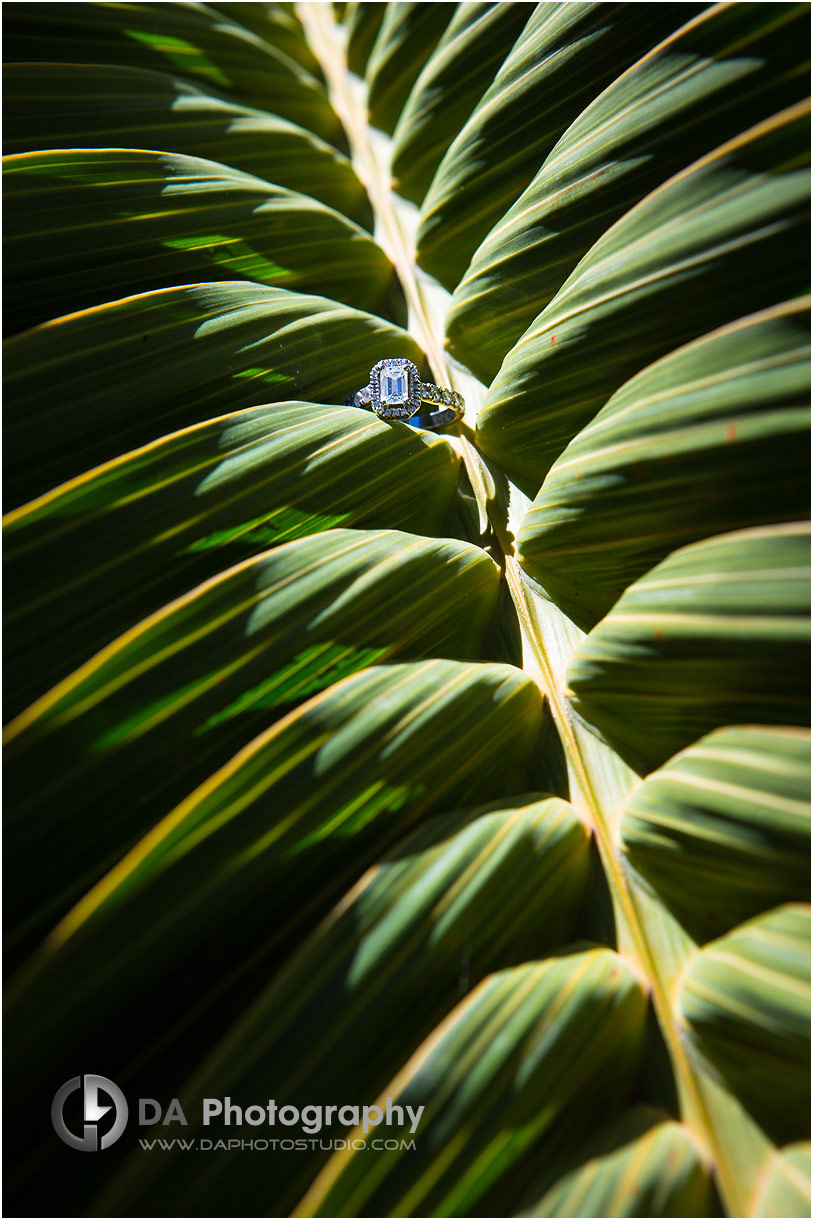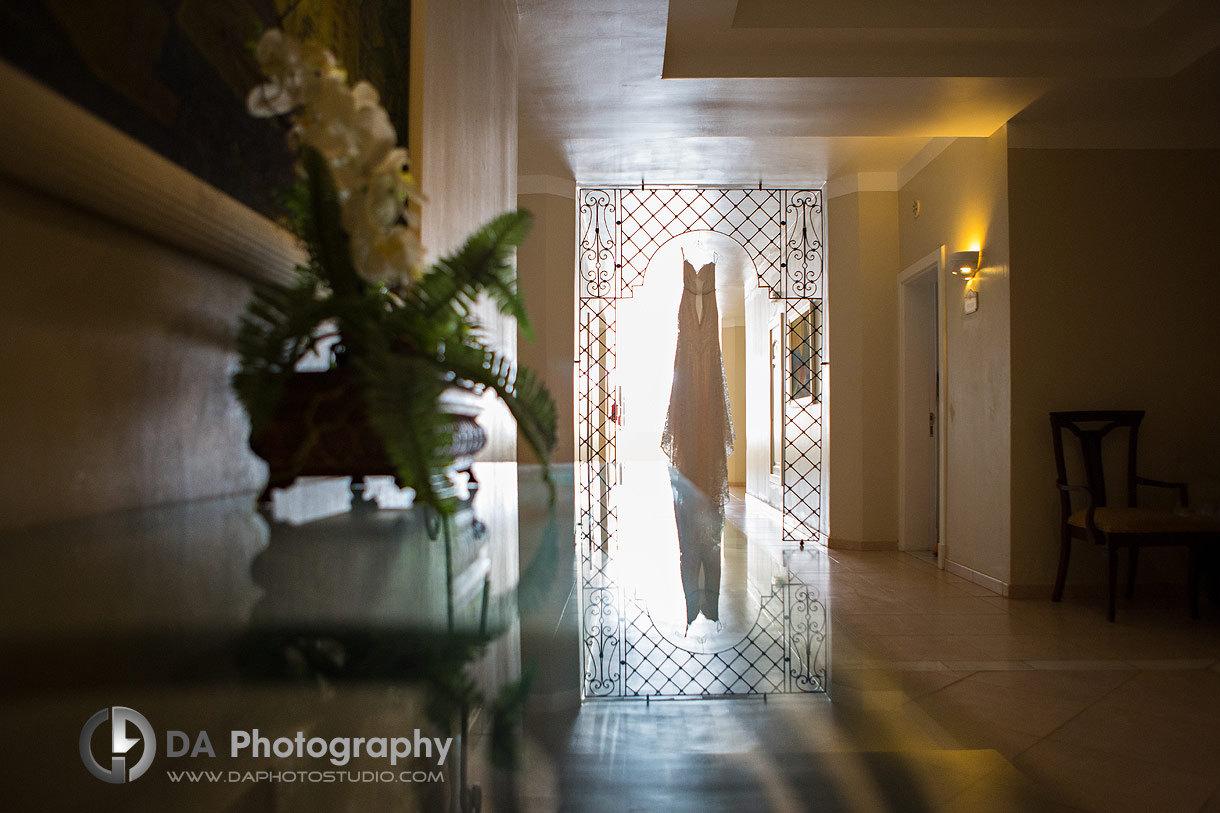 How my experience helped capture the best of the wedding day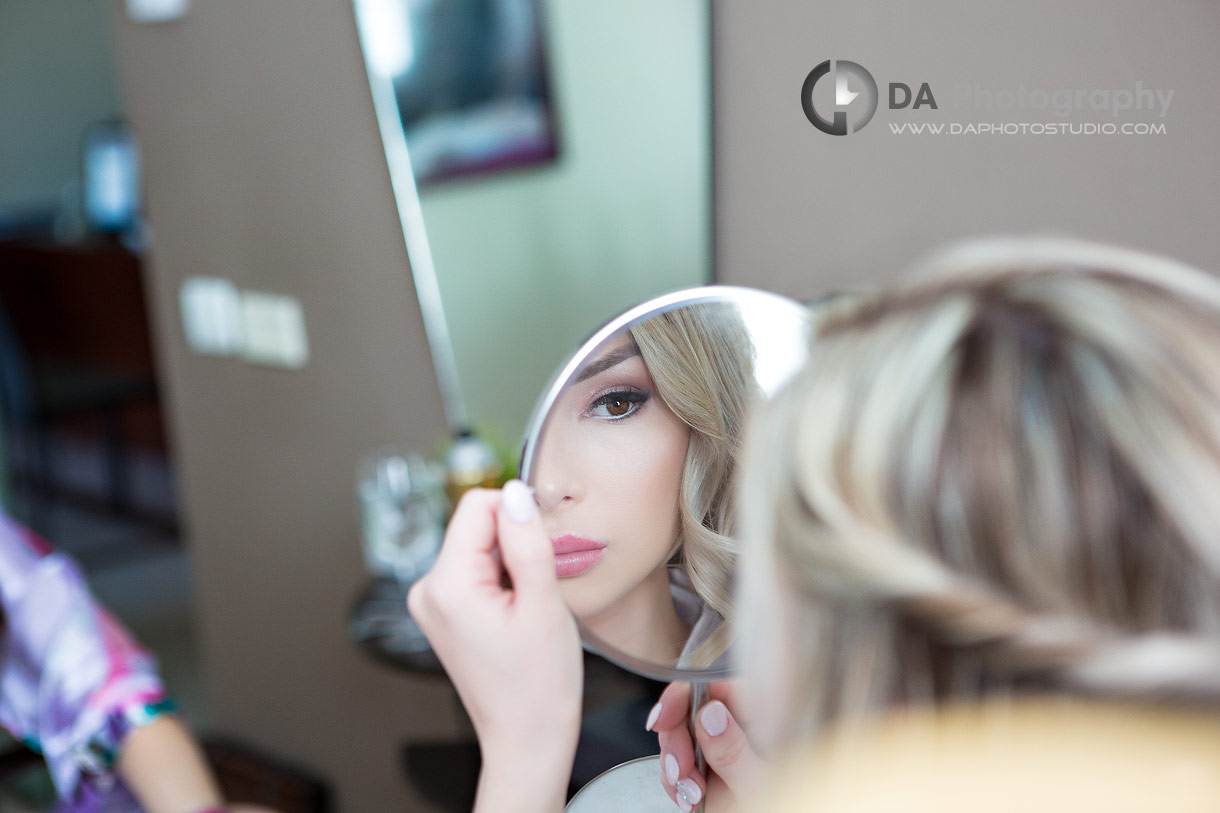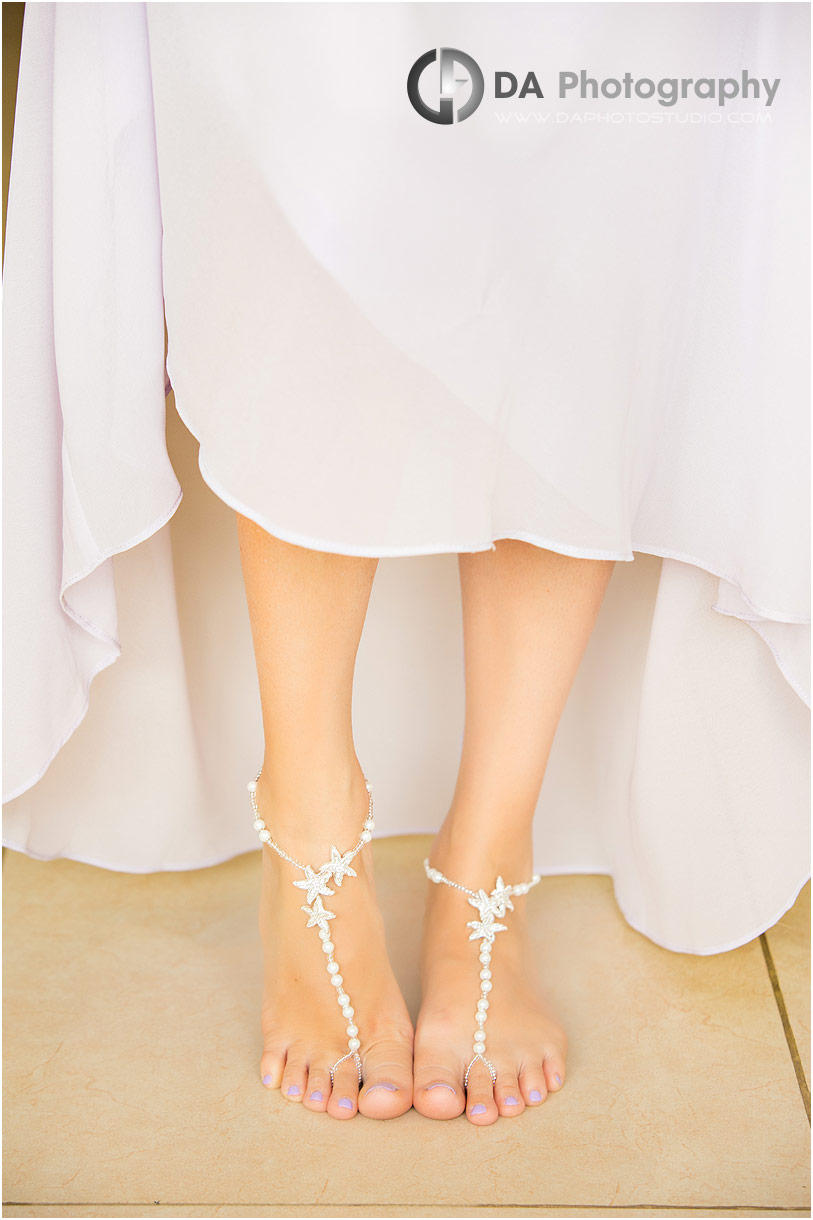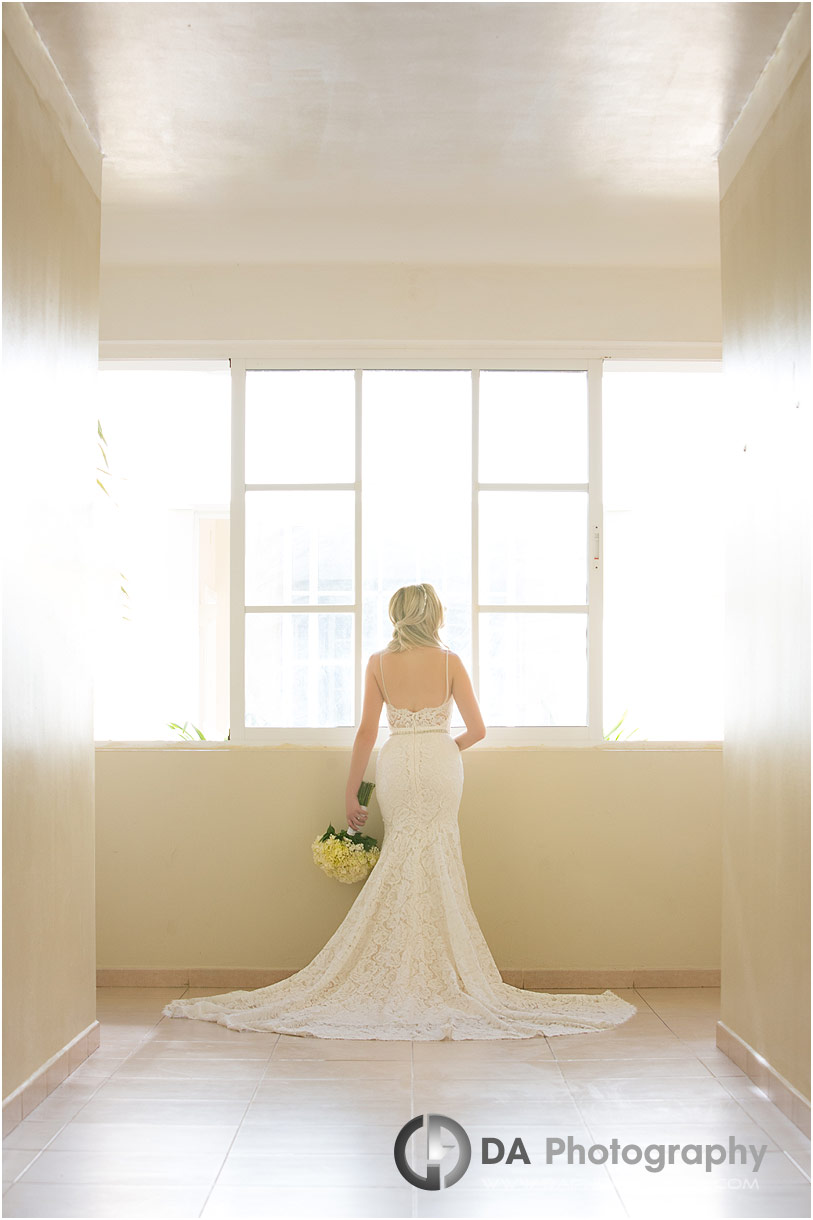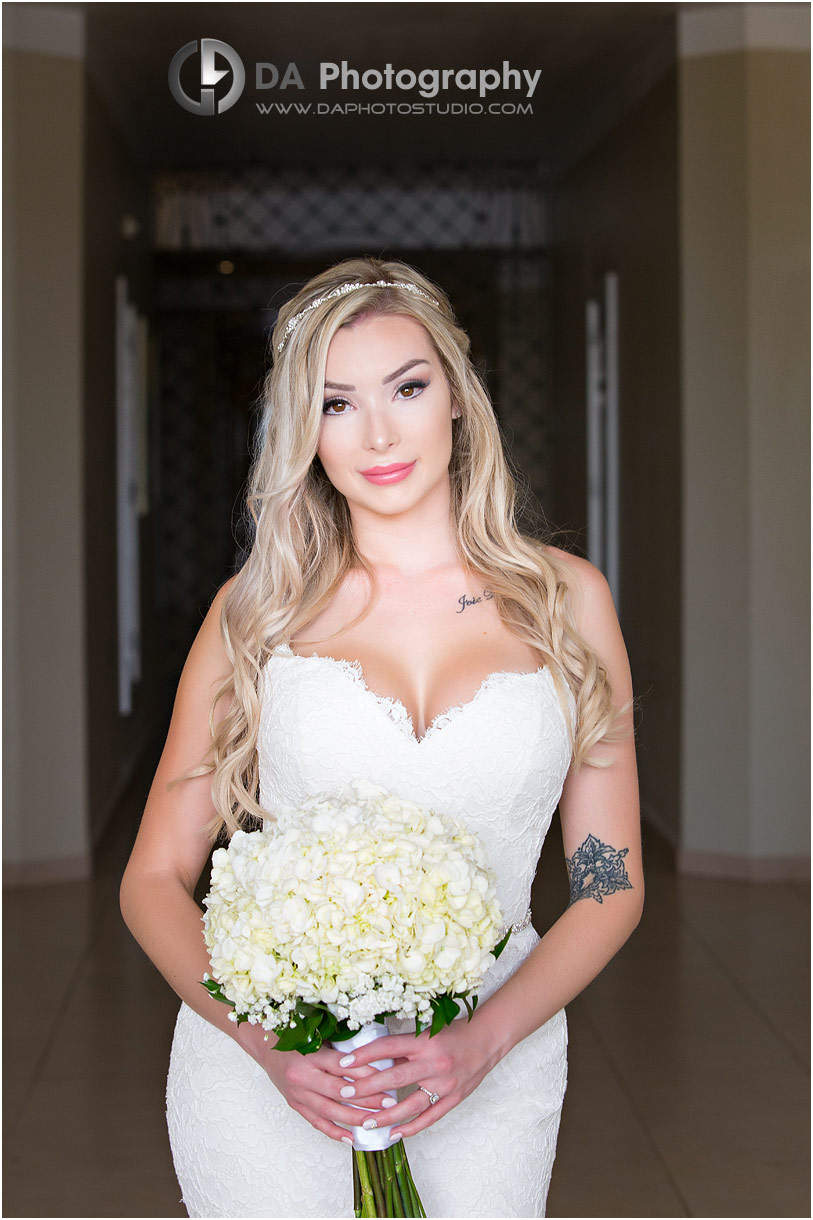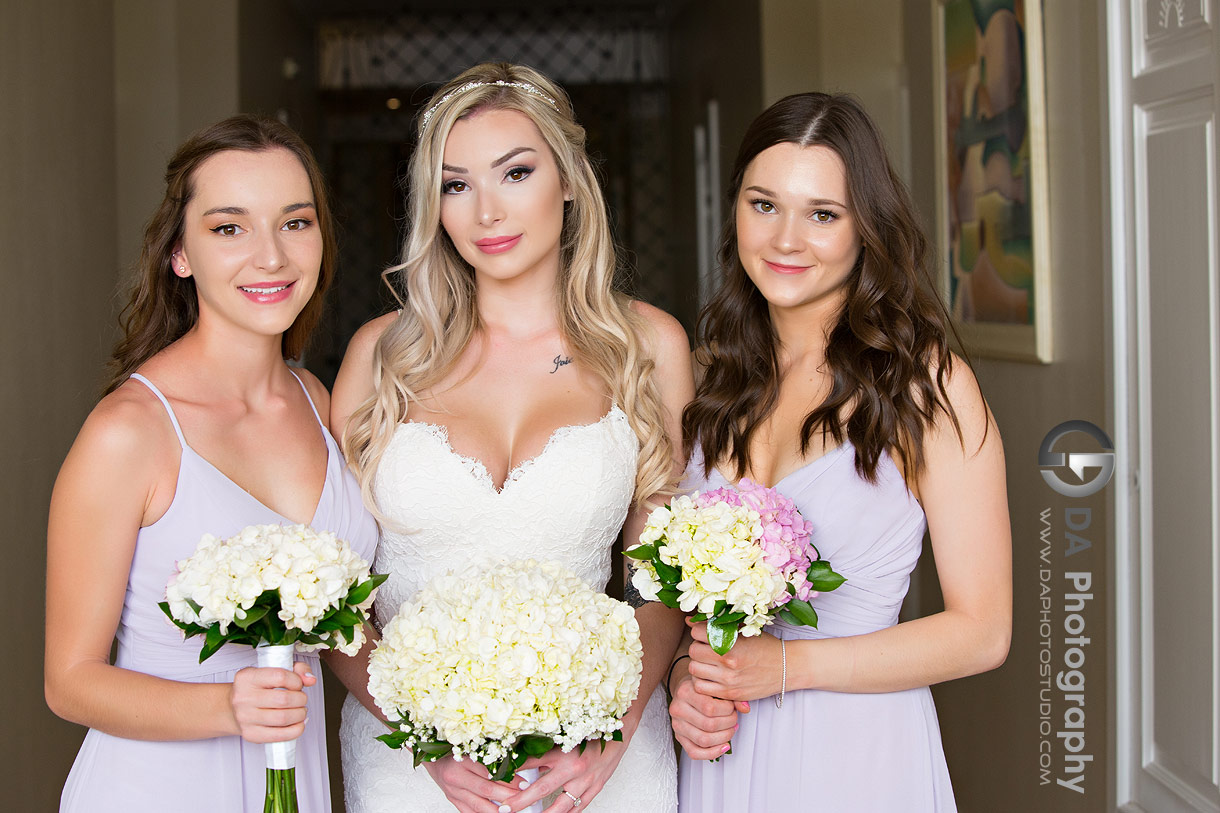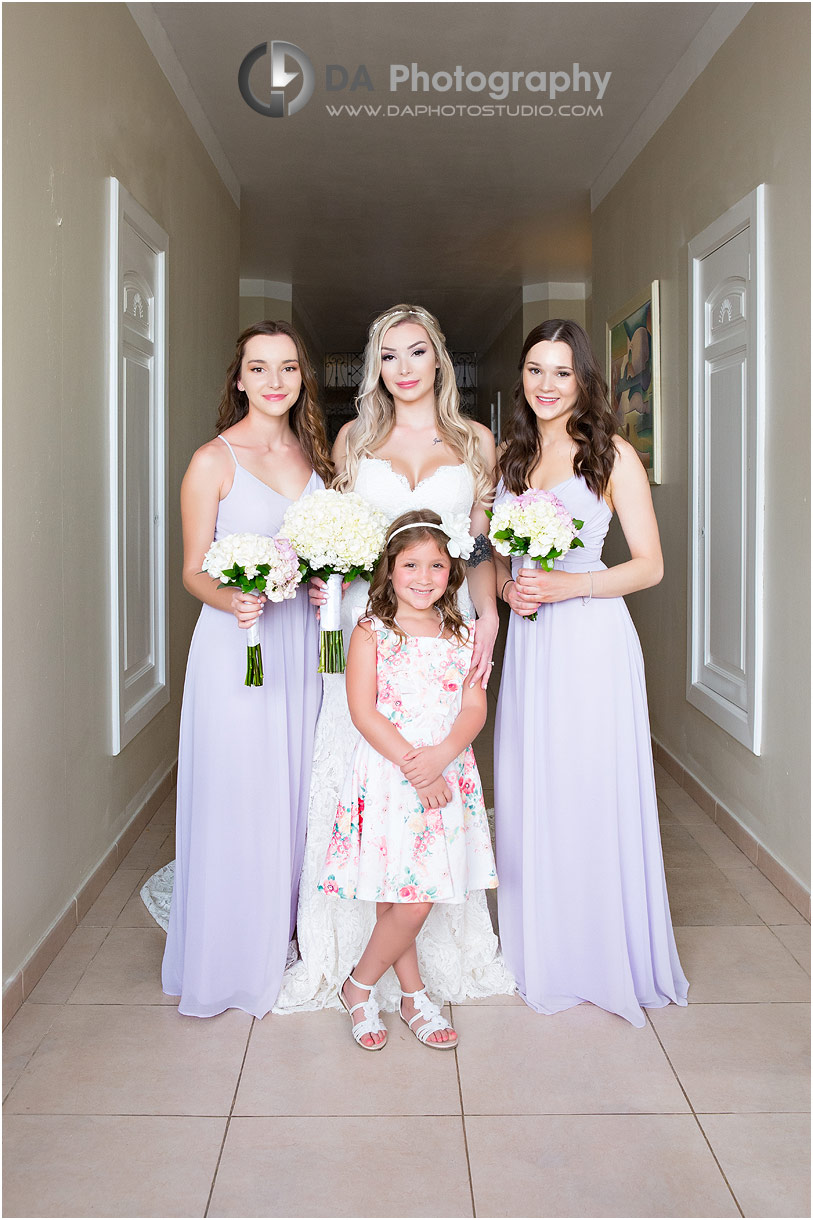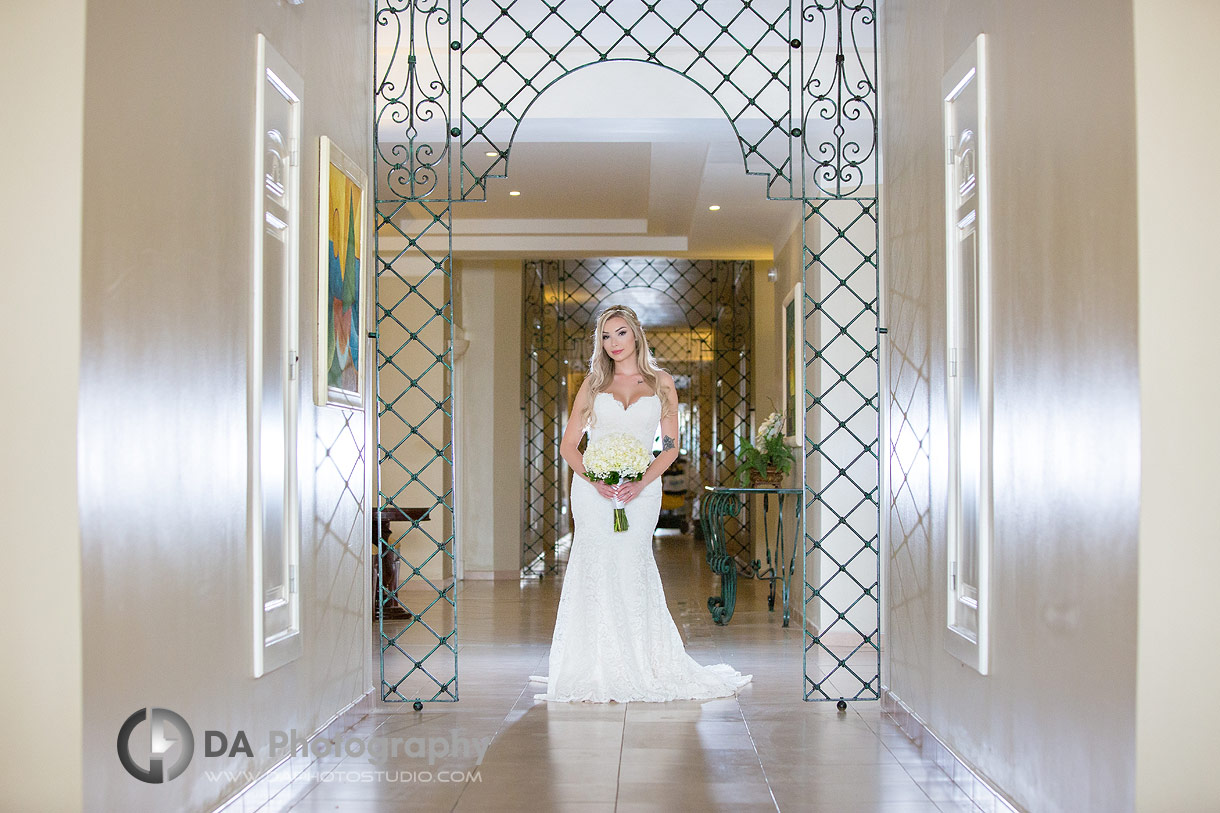 I ended up working alongside a total of six photographers and videographers. This meant I needed to bring something extra to the table to shine and prove that I was worth flying over. Having trained resort photographers for over a decade during my time as regional Director of Photography for Carnival cruises, I knew where their focus would be. The two elements that they focus on are the reception and the sunset. Alternatively, I decided to capture the emotional side of their day and the retelling of their story.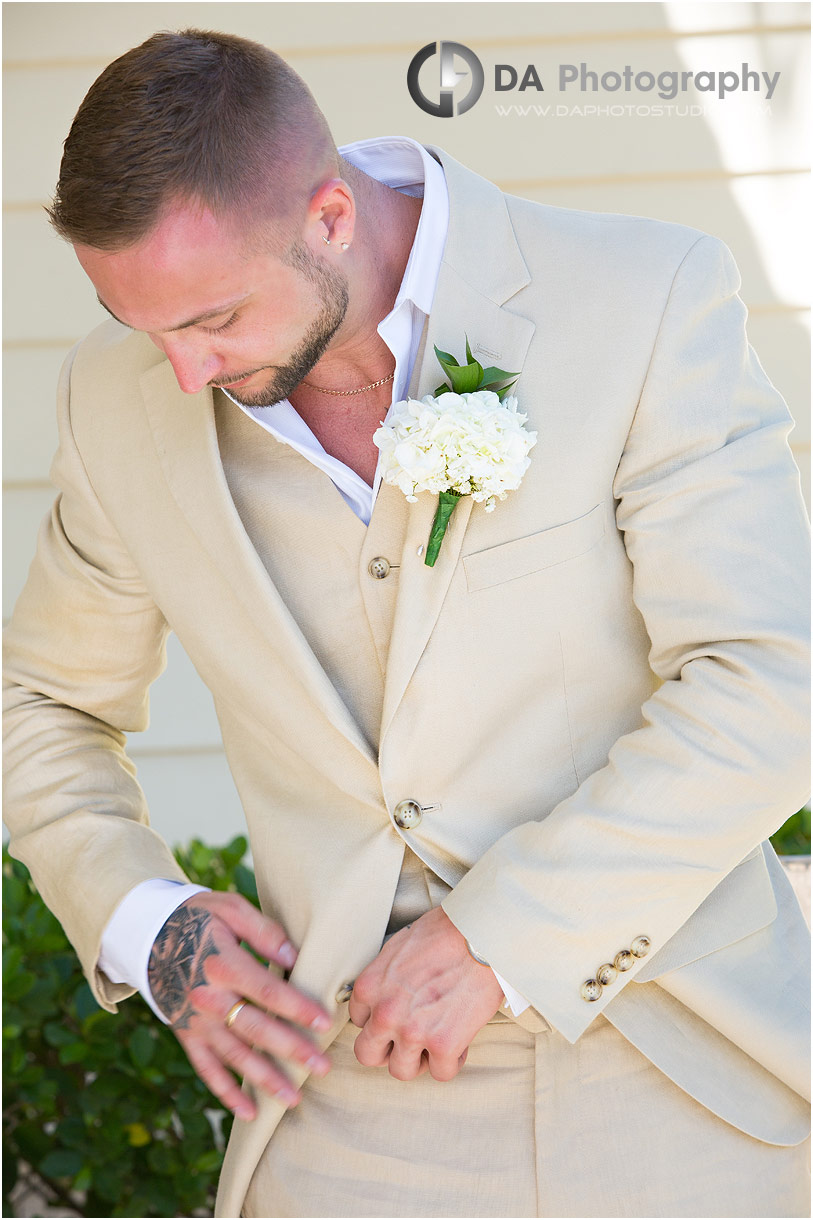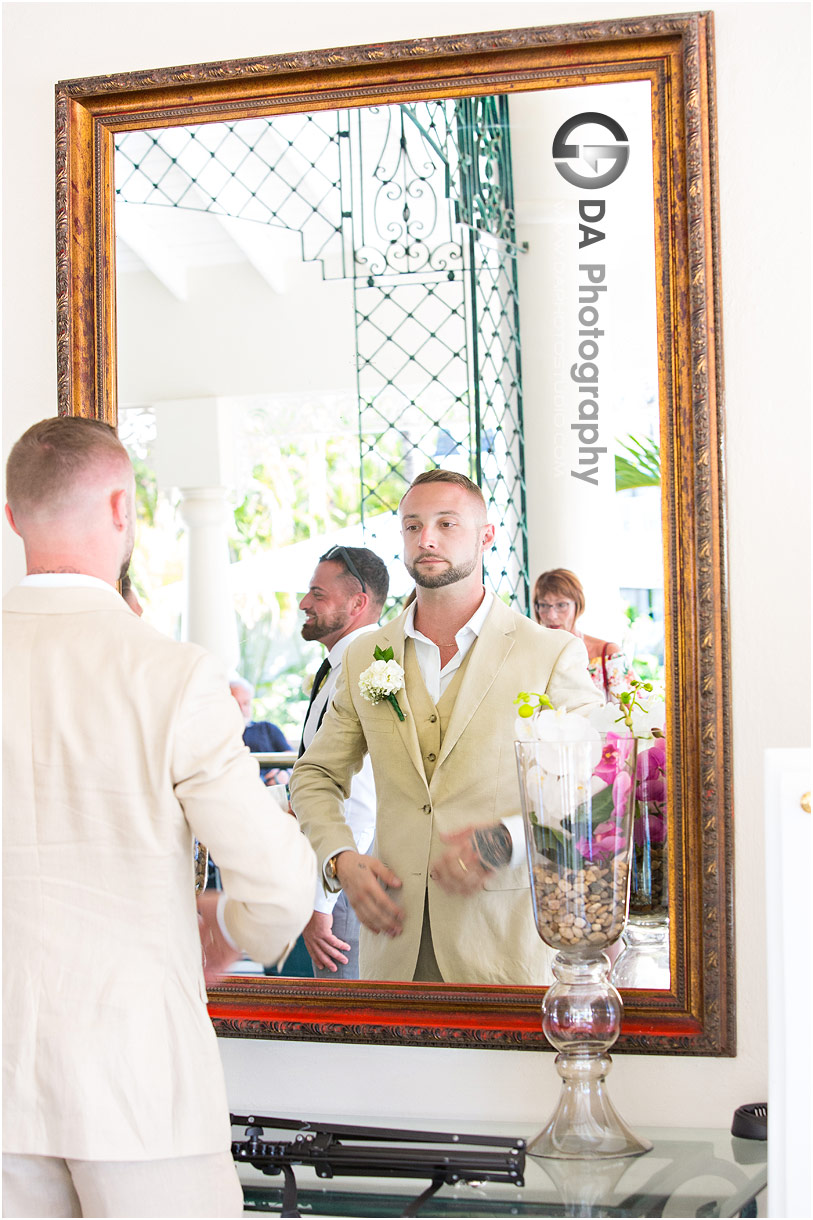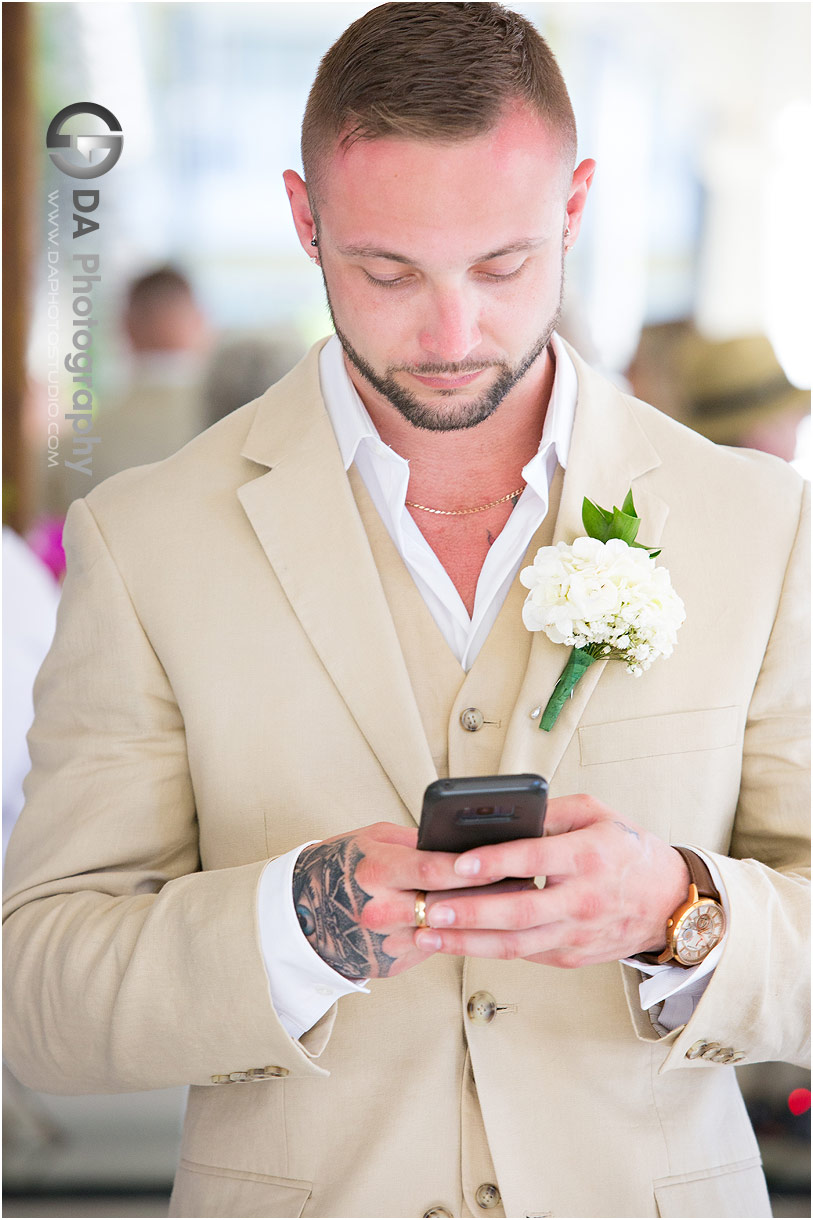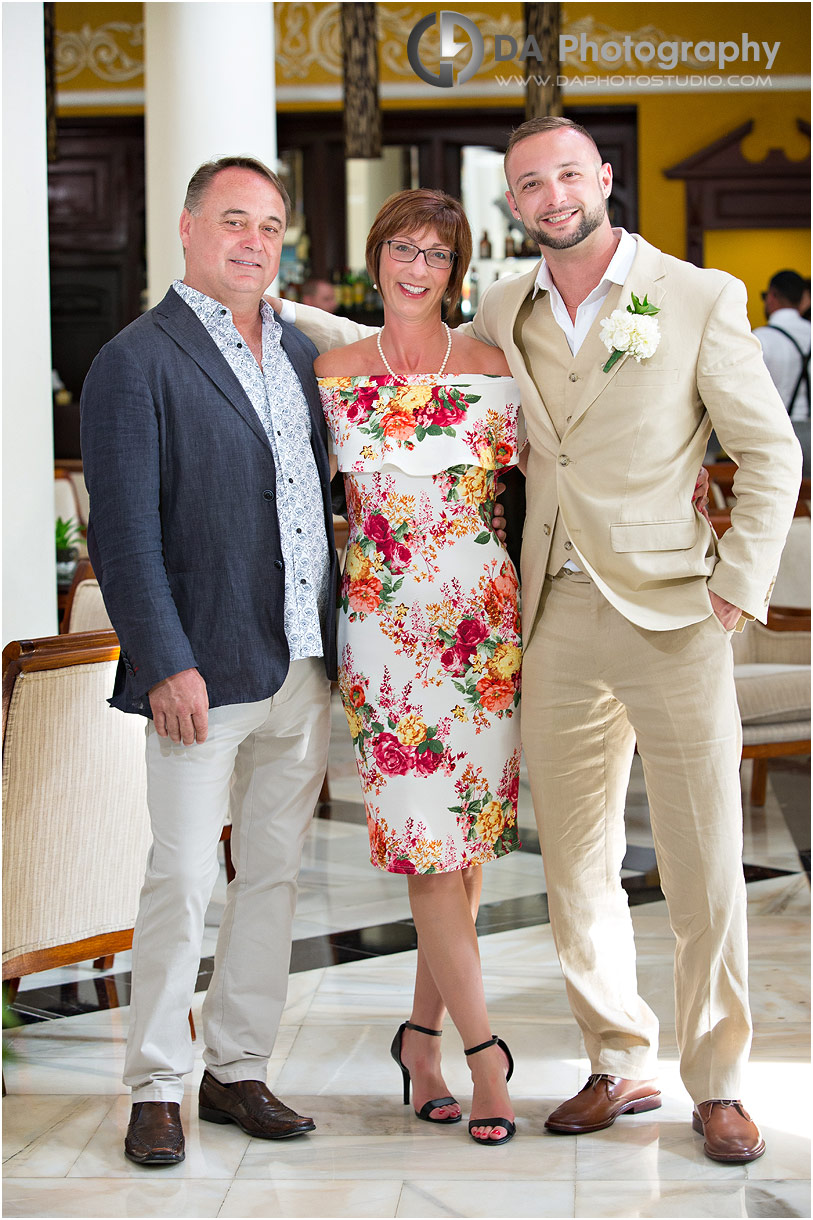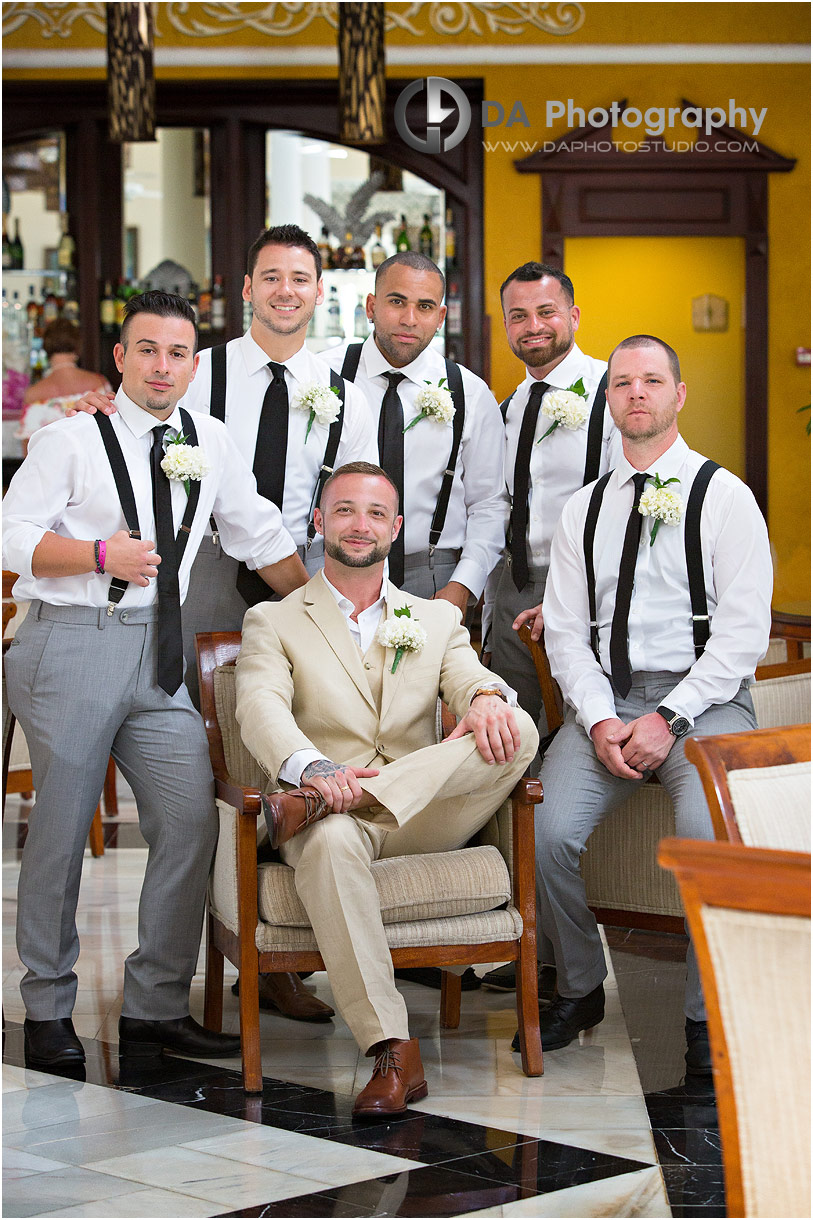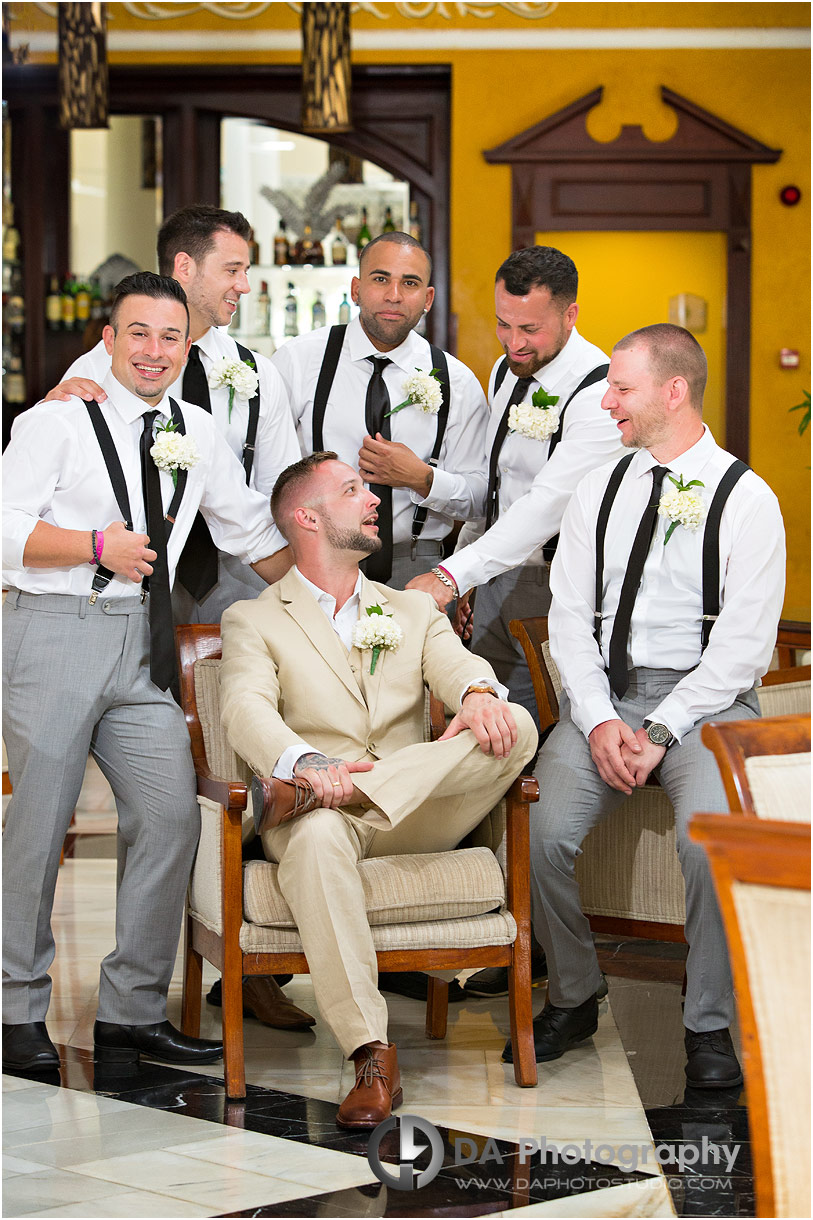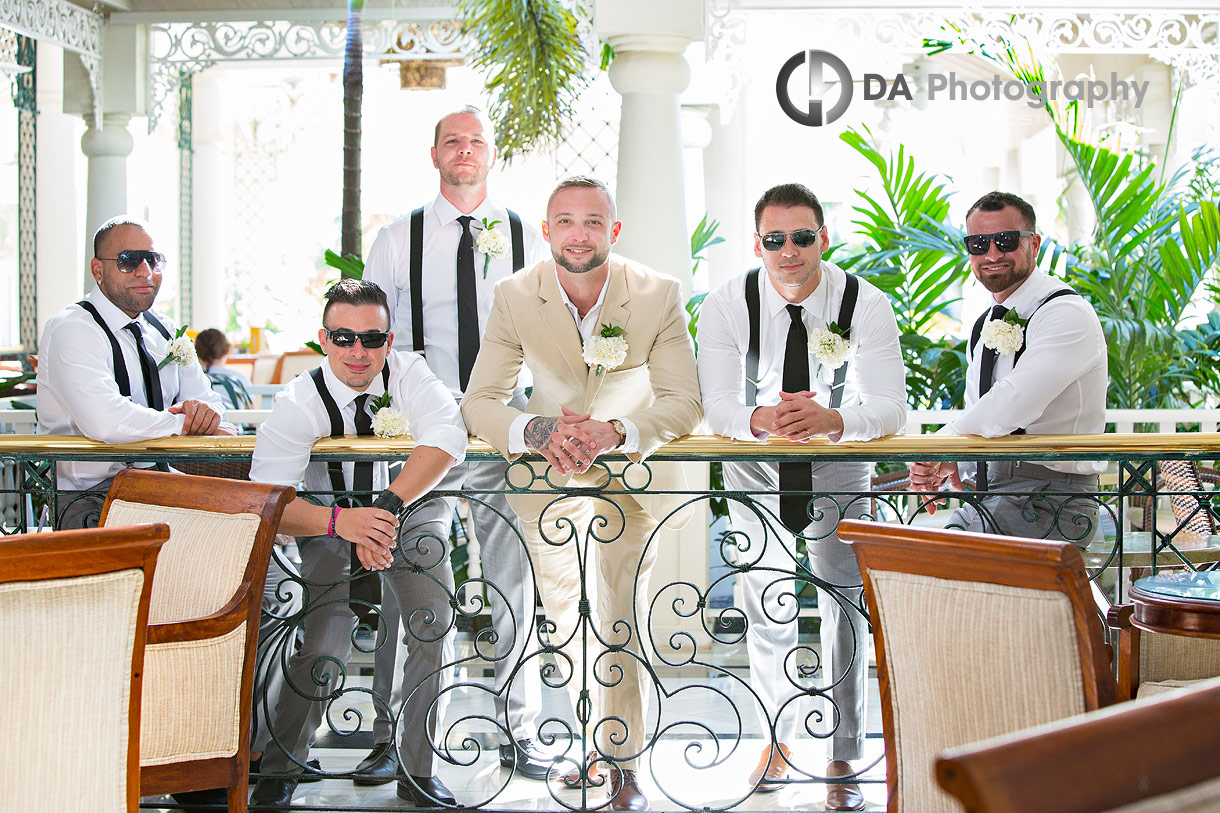 Fast forward to recently, when Wedding Rings Magazine invited me to submit some of my favourite weddings that I had photographed. Of course, this would be one of the weddings I chose to be featured! Victoria and Alex's multiple destination wedding in Punta Cana and Toronto was selected from some fierce competition; so look out for the January 2020 edition.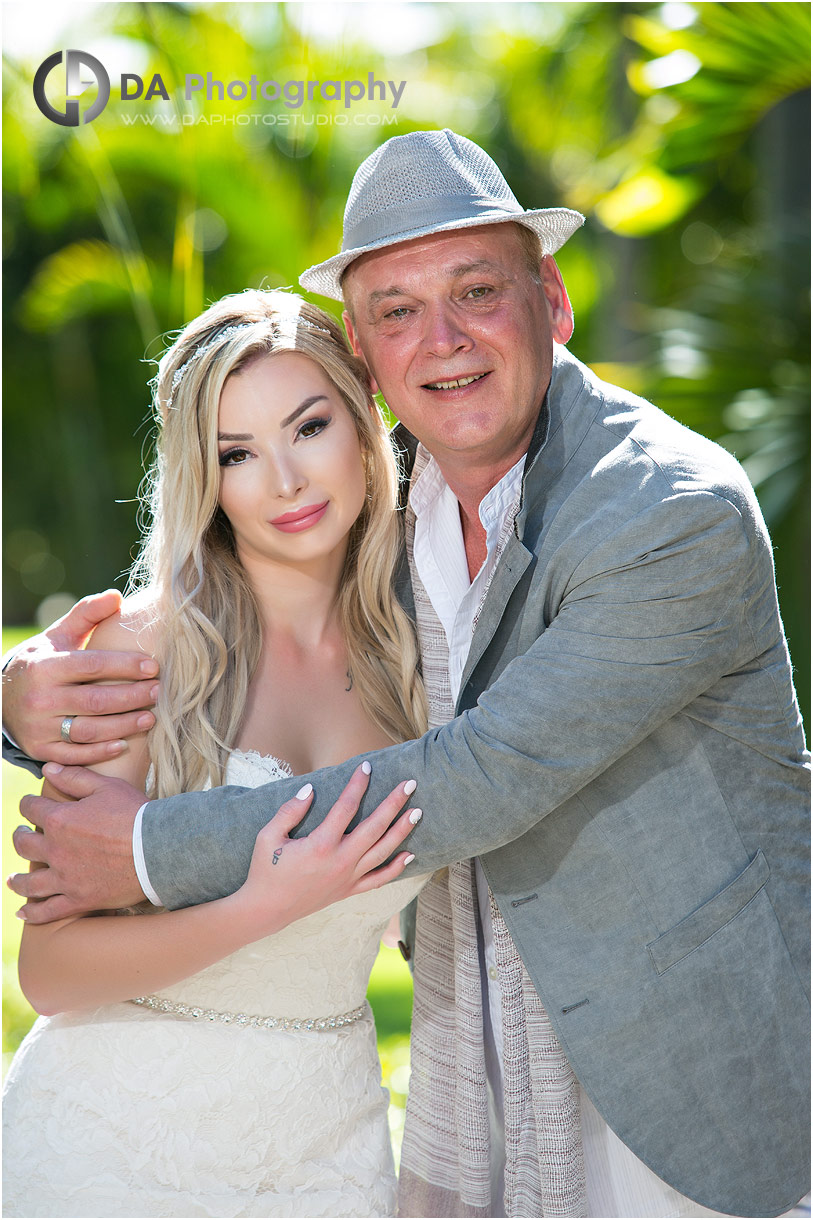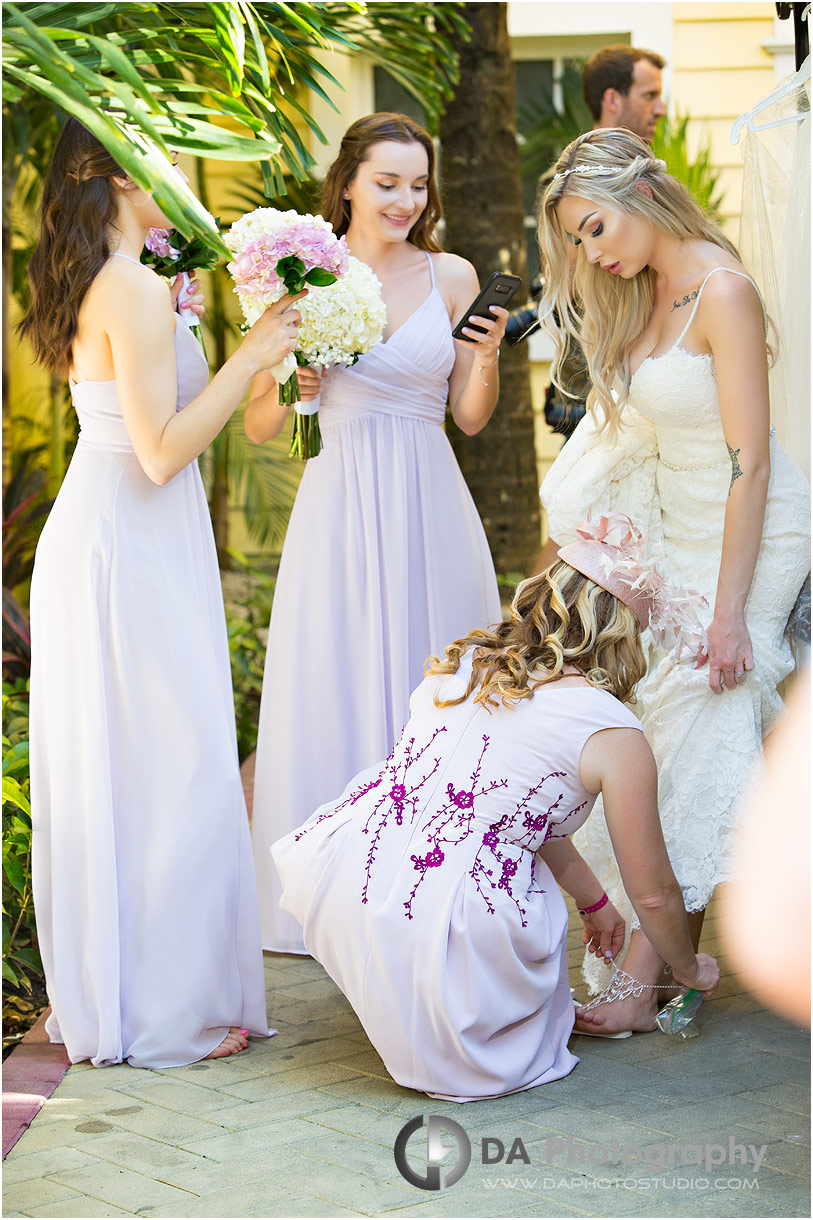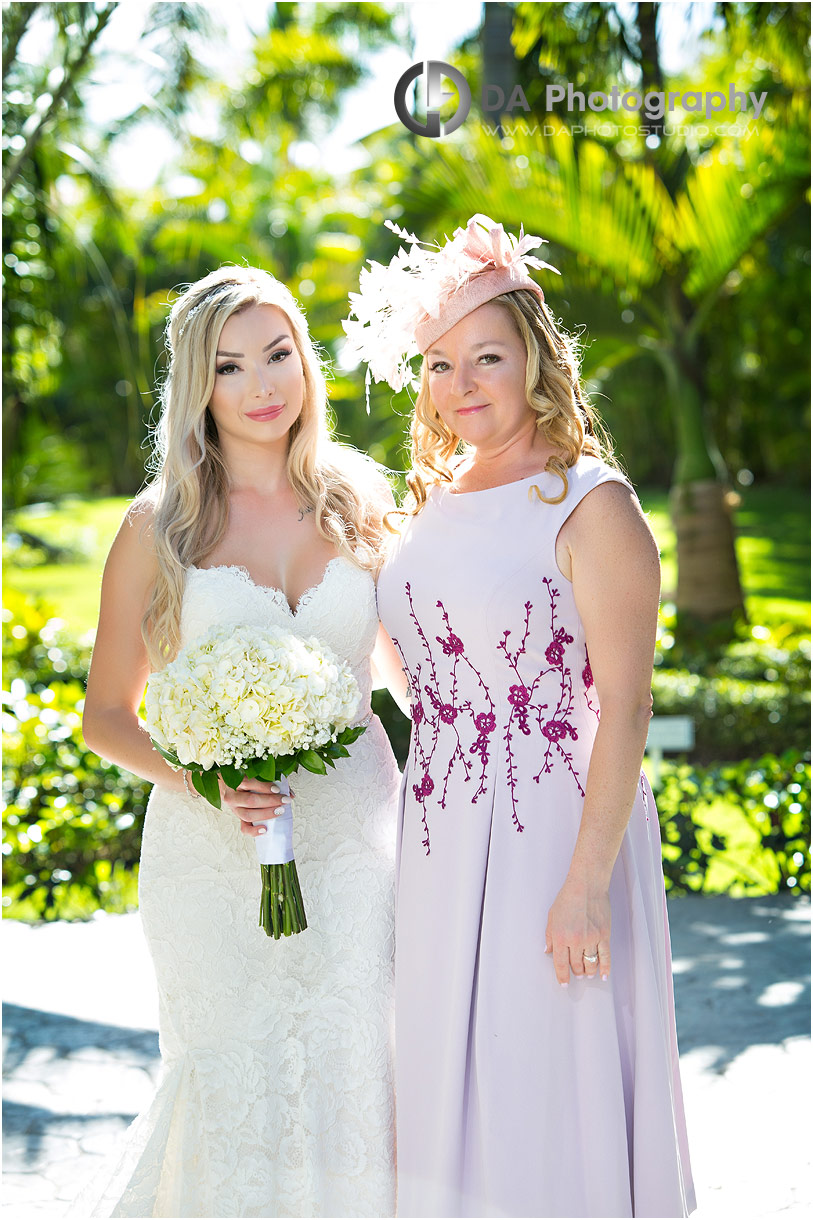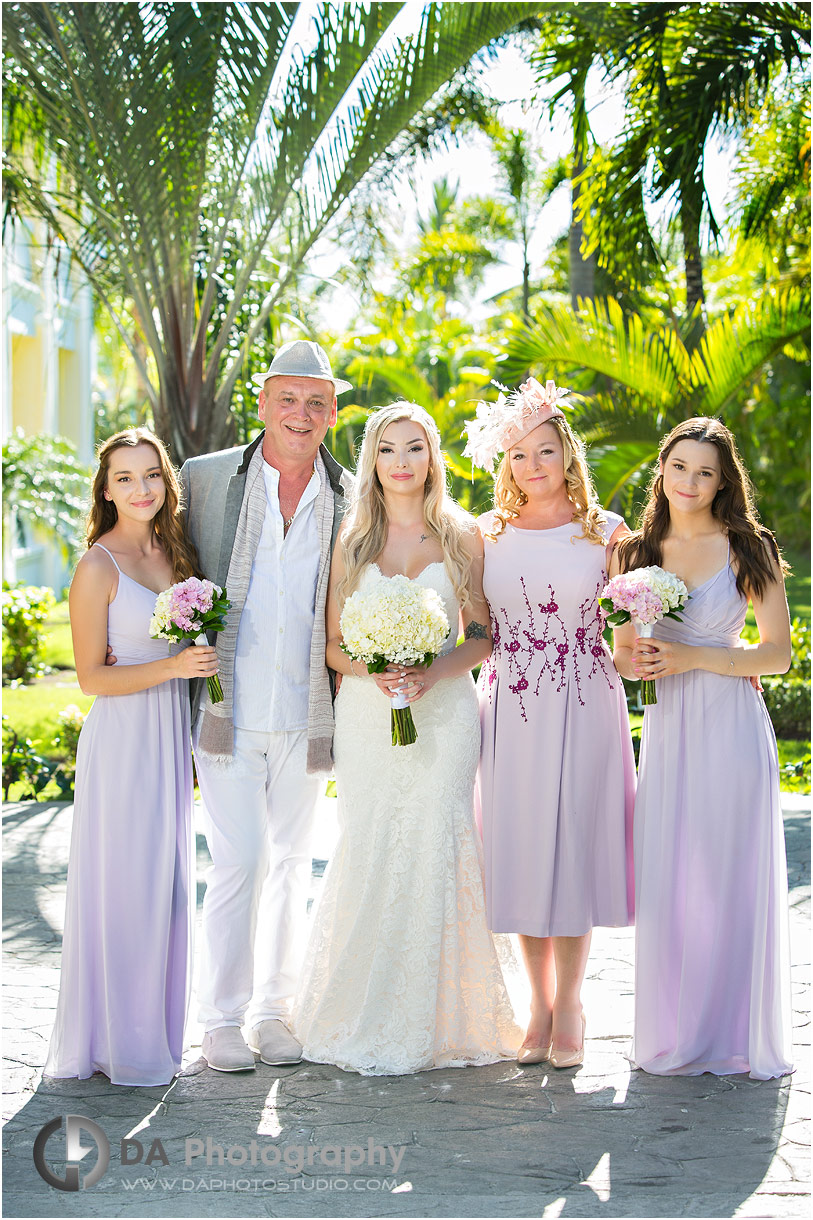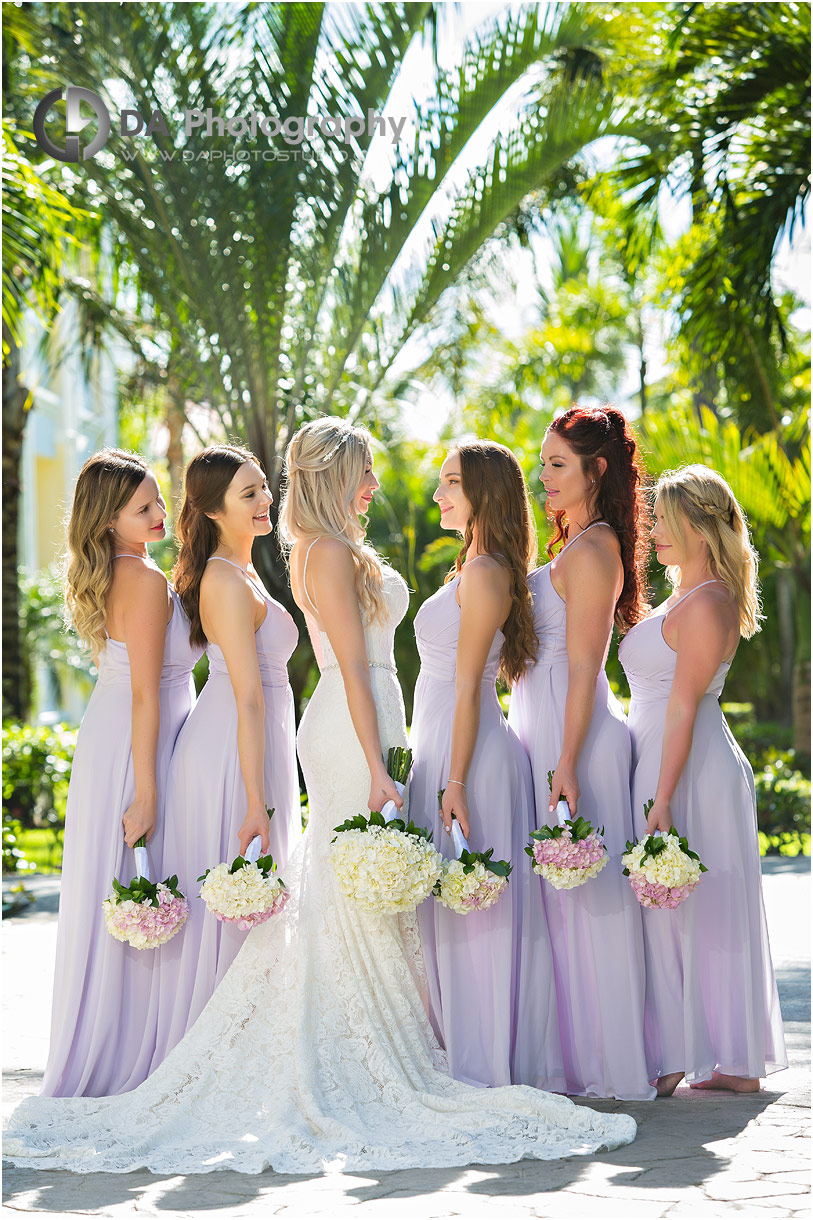 This incredible couple pushed my 20 years of photography skills to the limit in their multiple destination wedding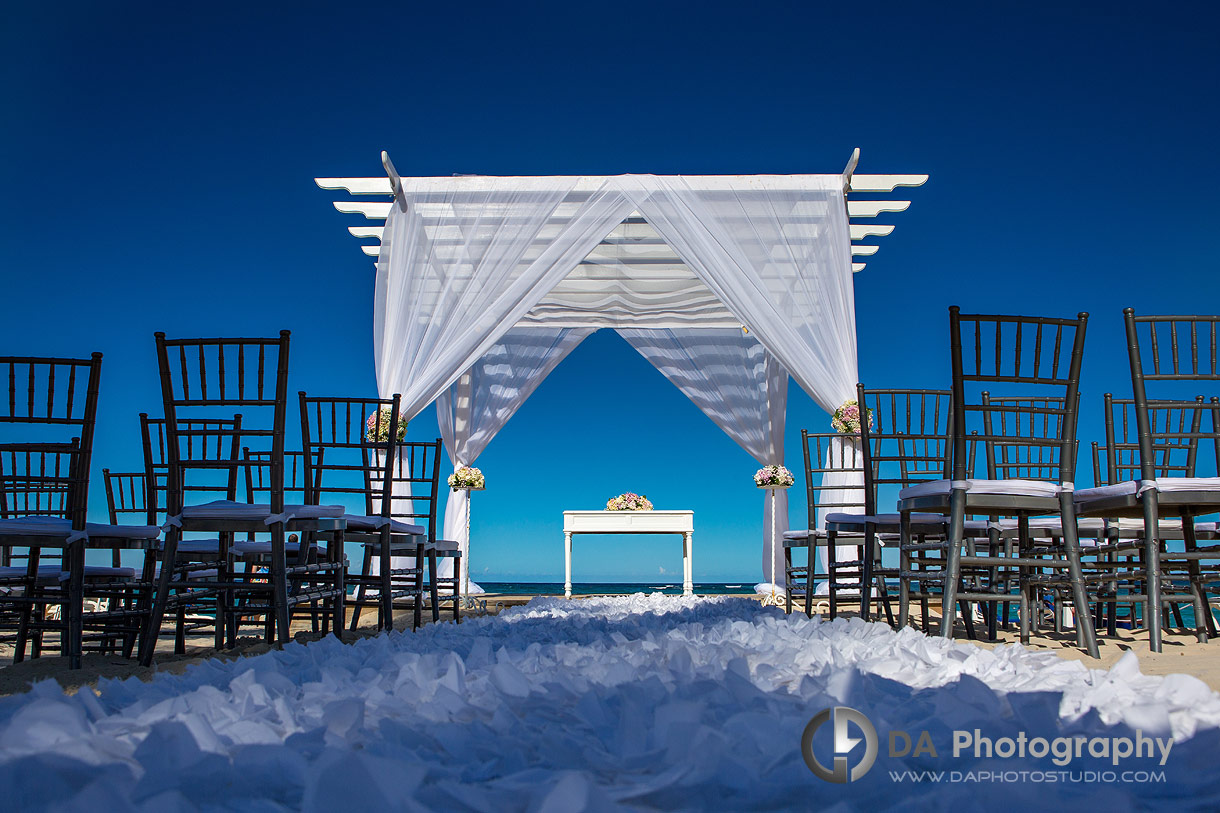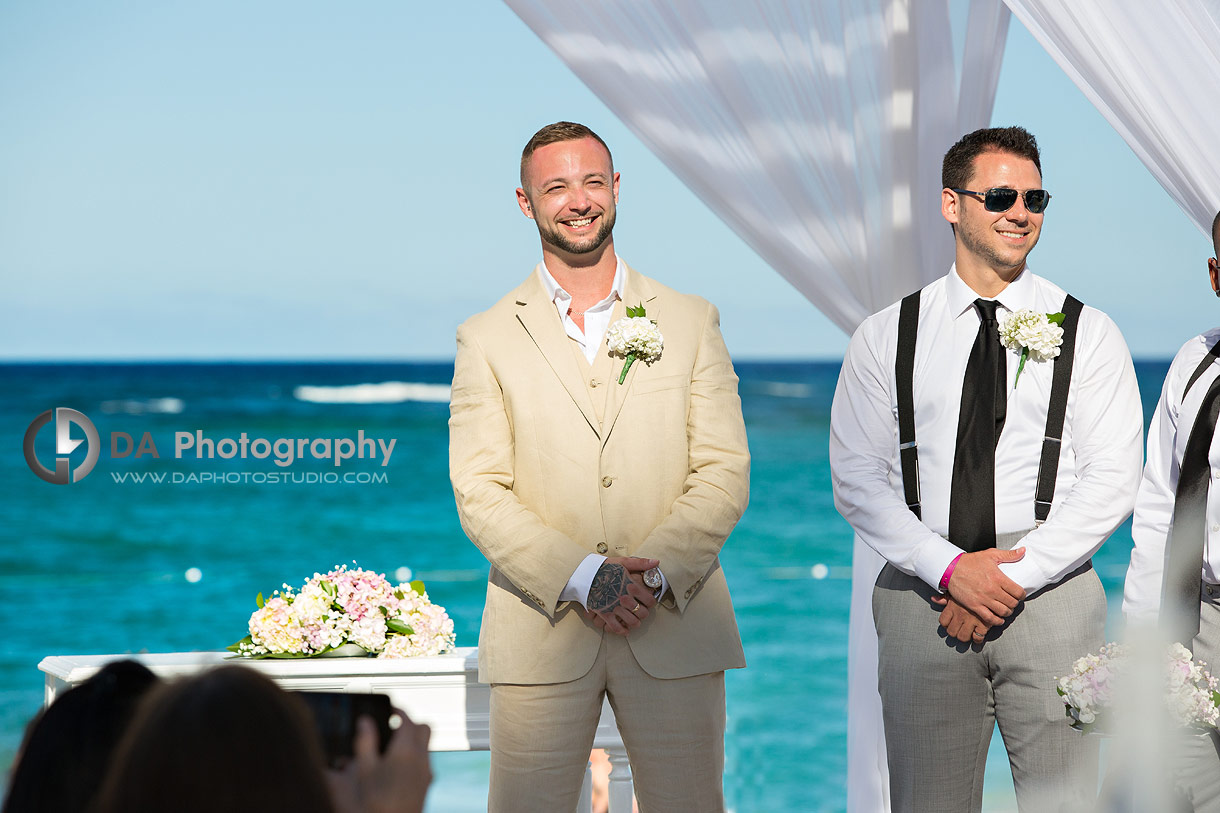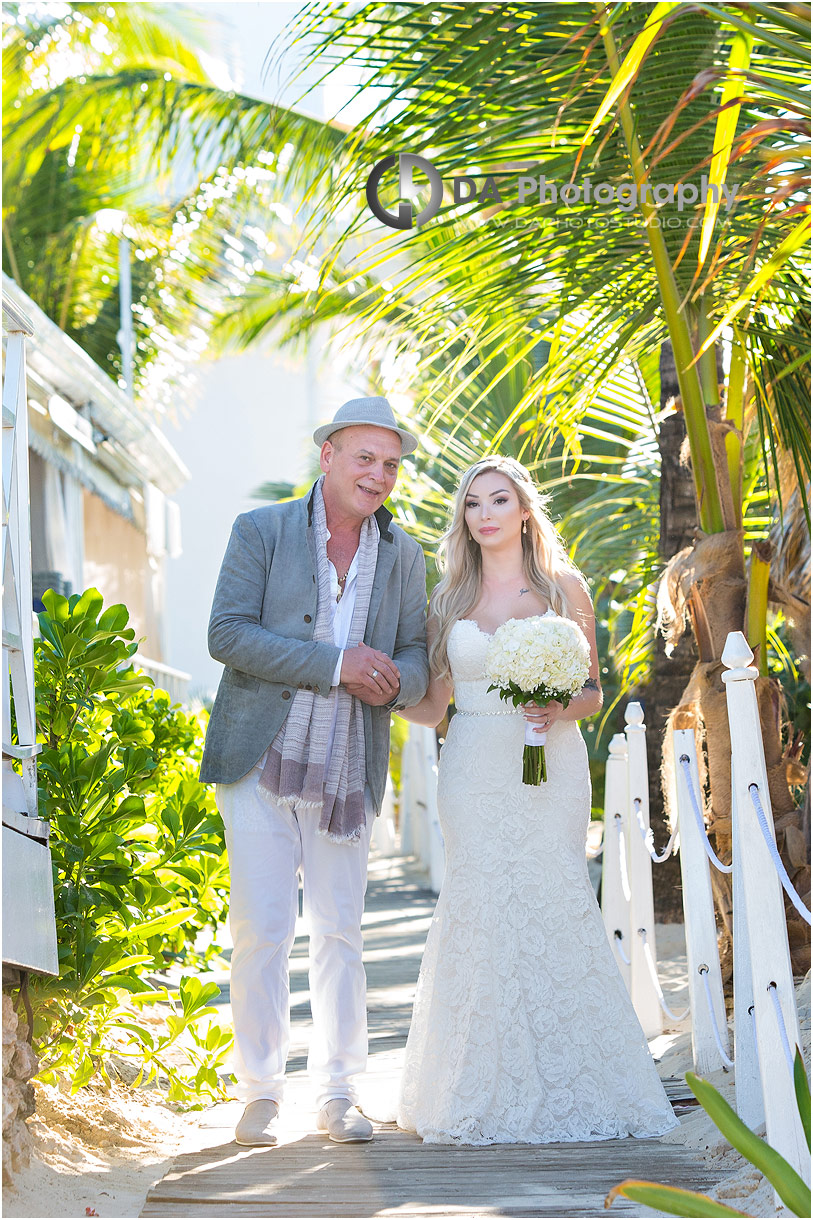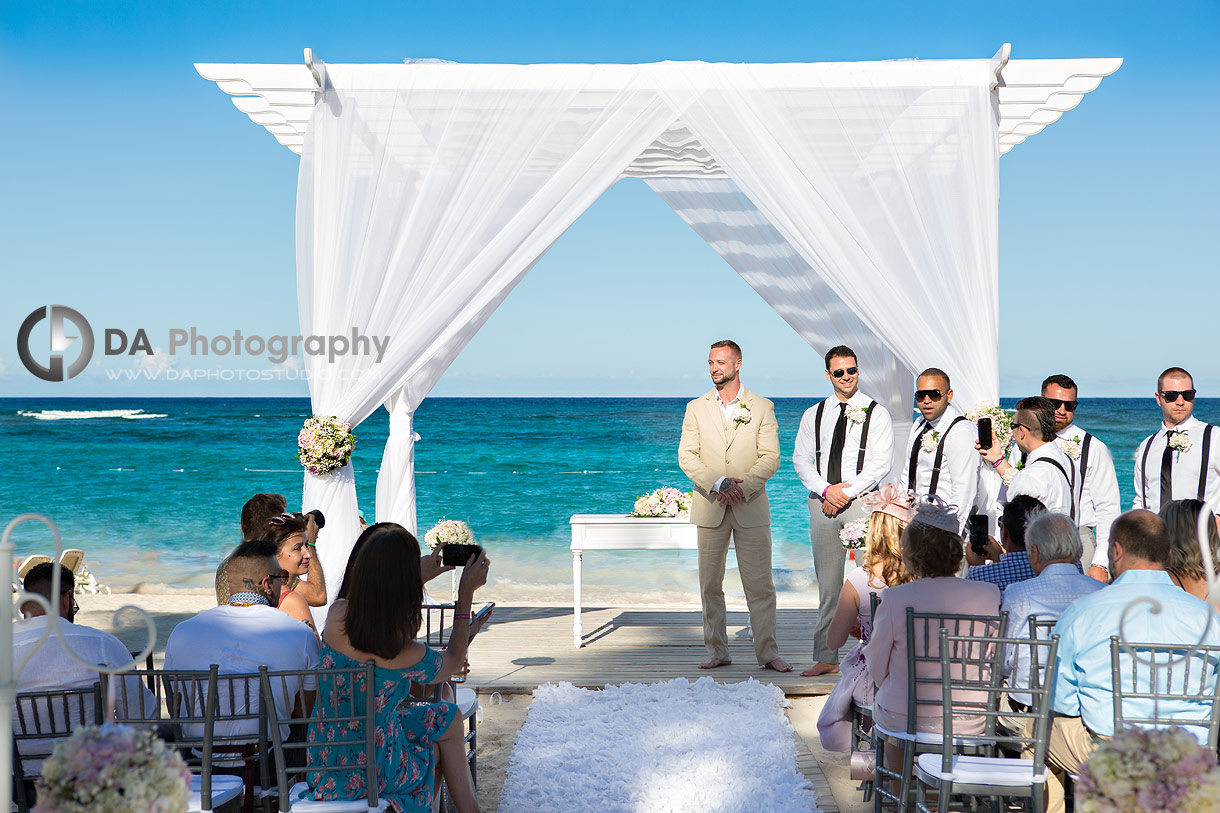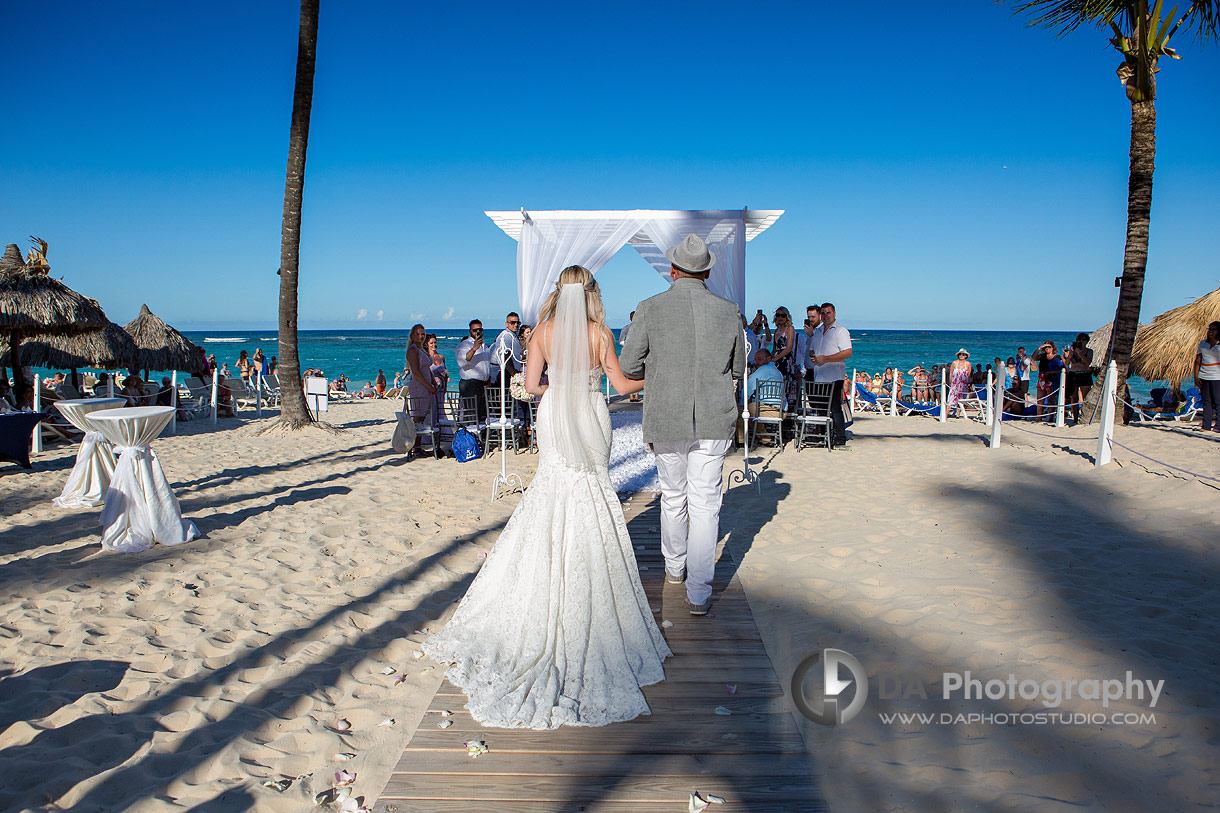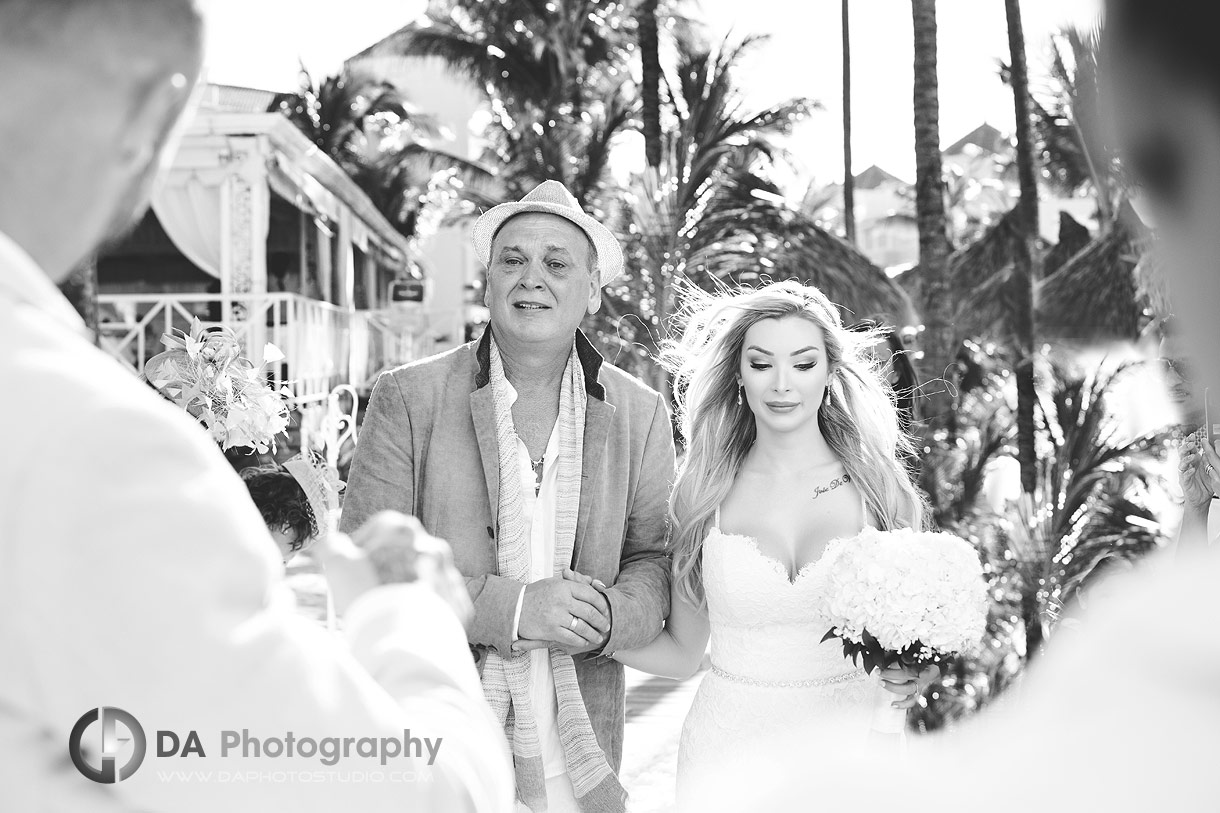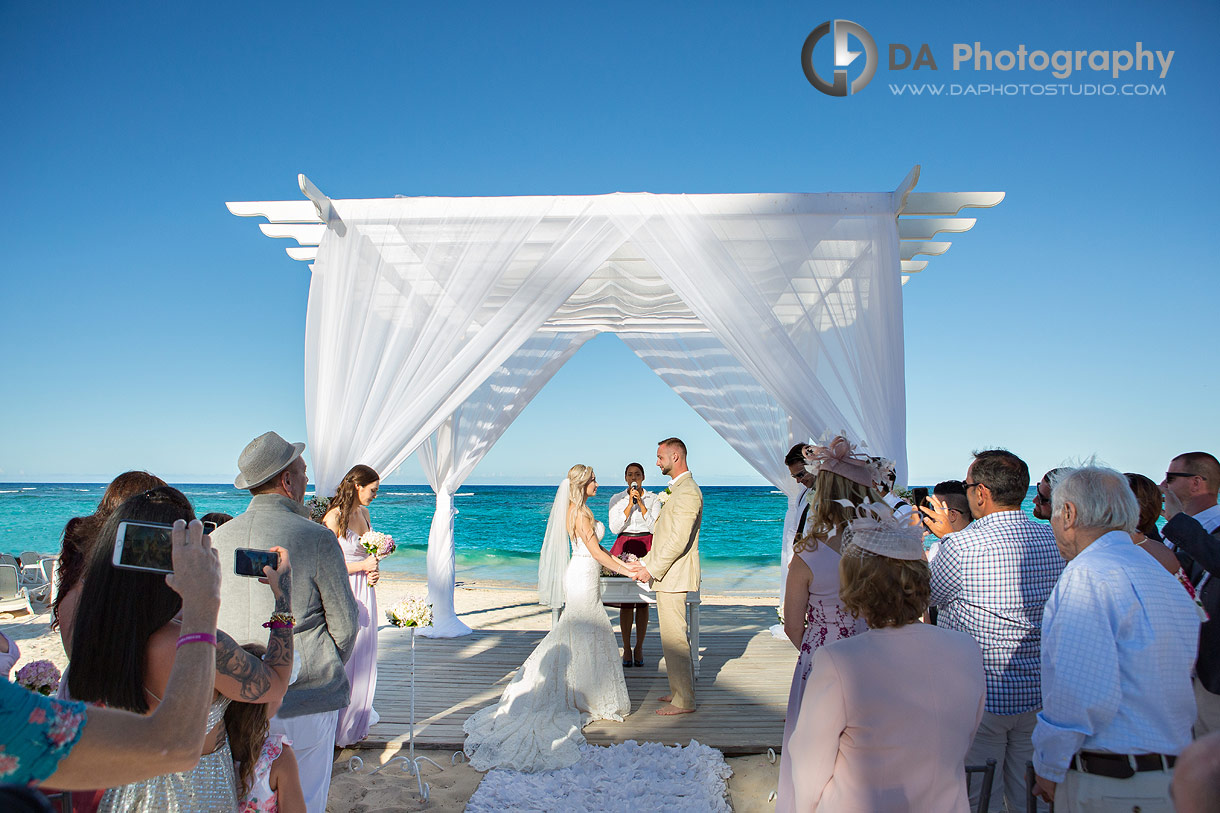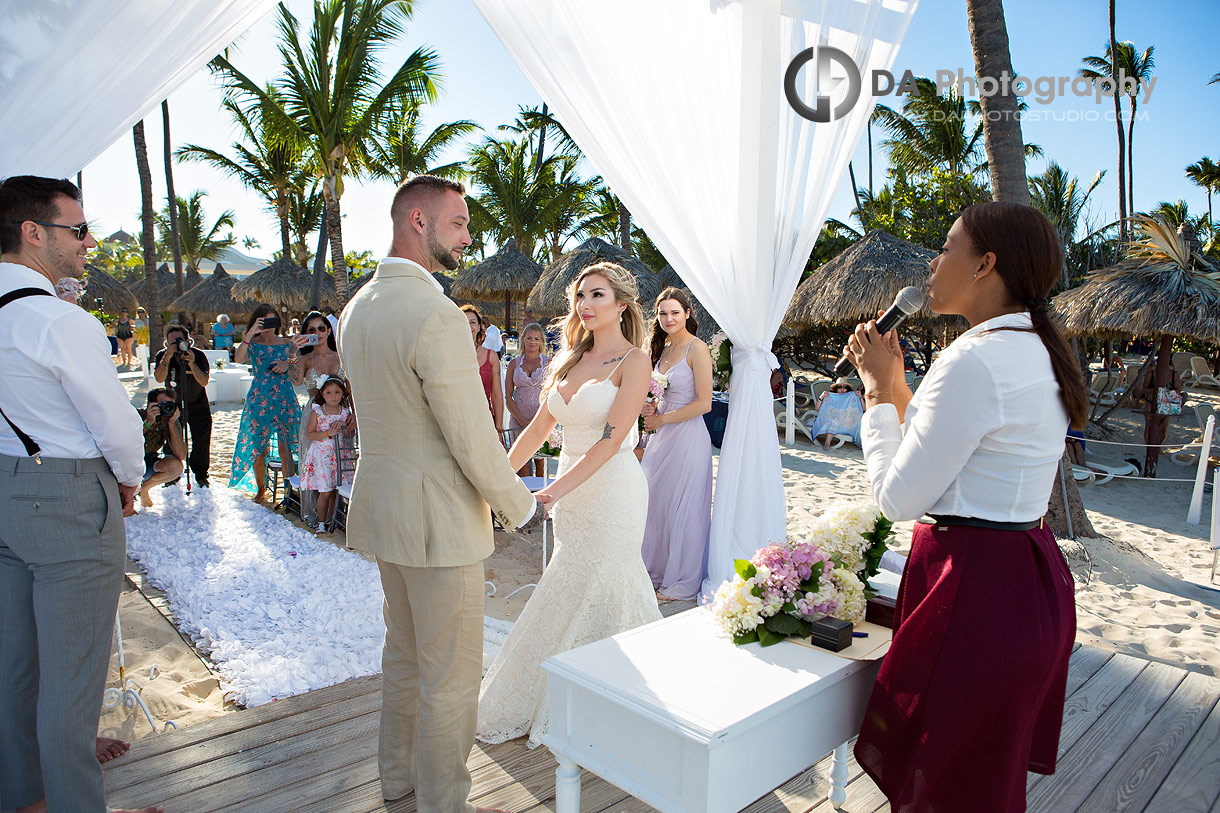 I had the opportunity to document the rehearsal day to get a feel for what I was working with. It allowed me to know exactly where the sun would position itself; gaining an advantage in terms of knowing where and how it would set. It also allowed me to see who would naturally take the lead in the portraits, with Alex allowing Victoria to shine in centre stage.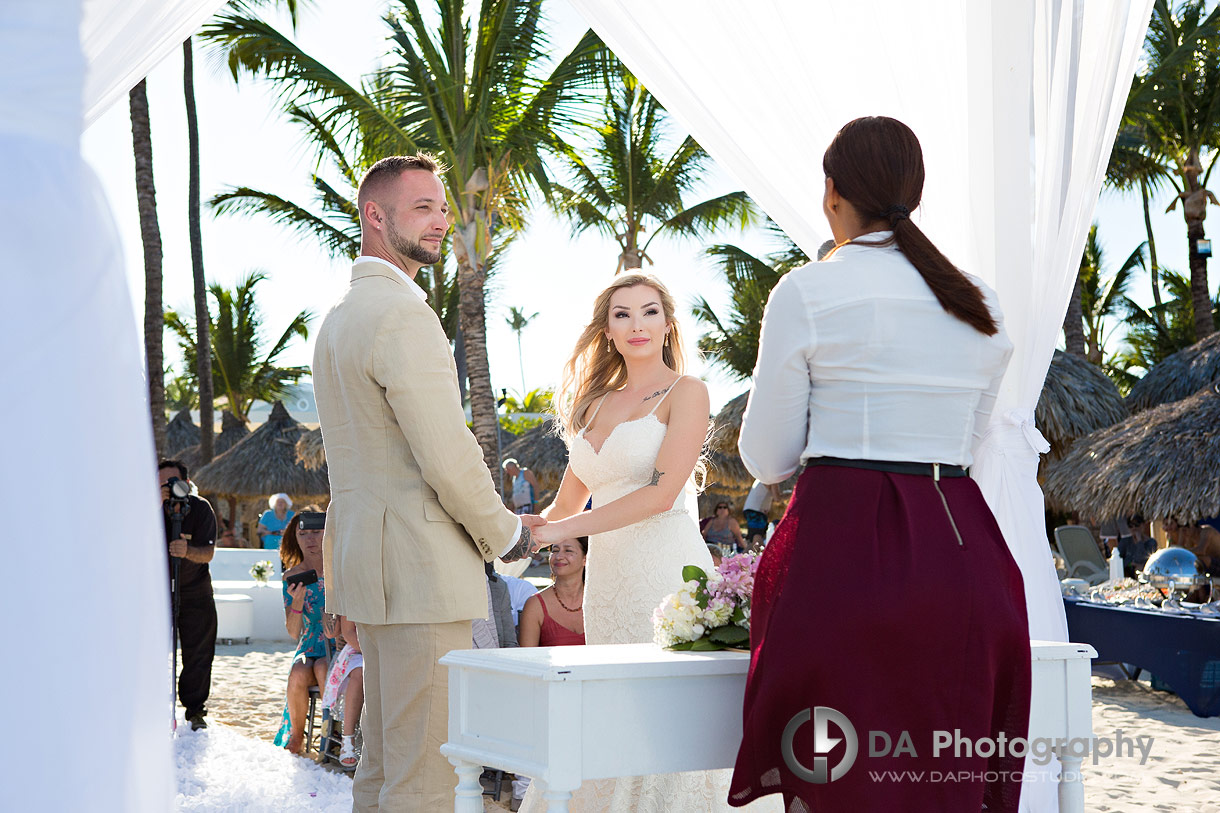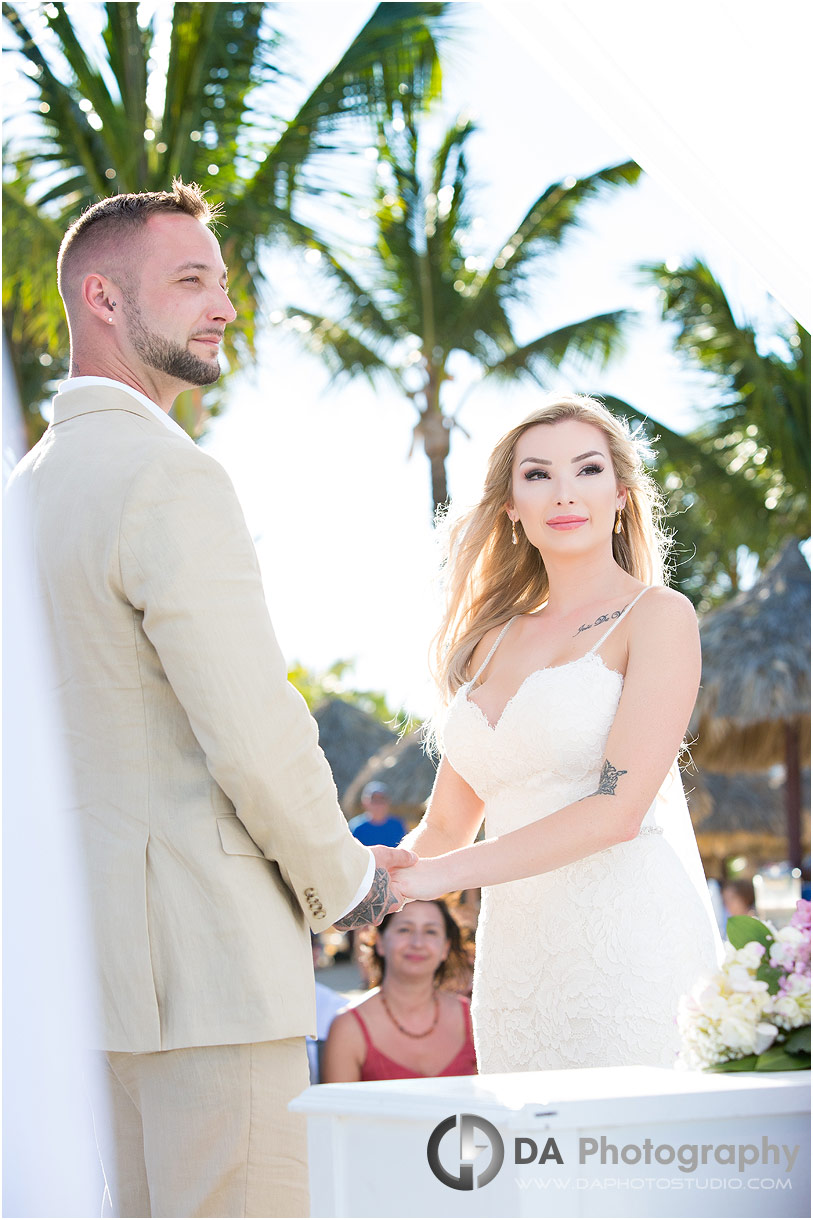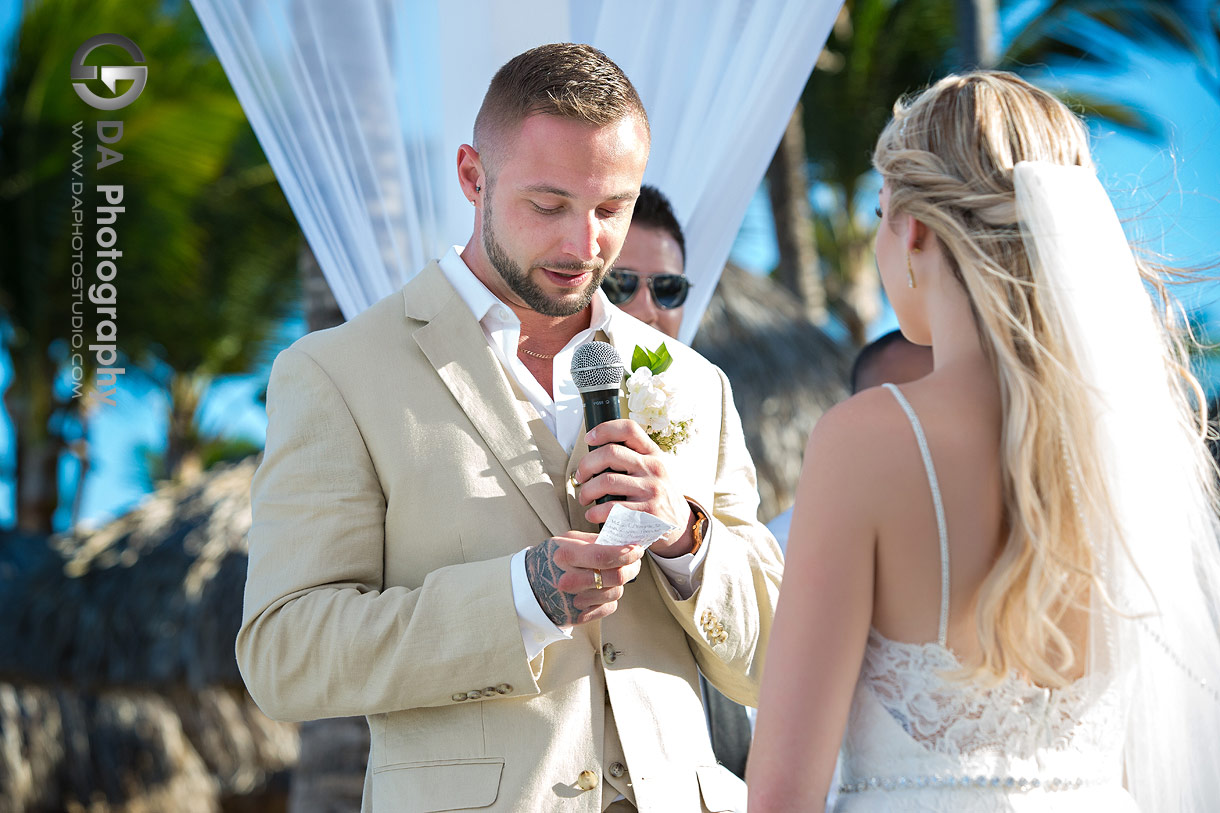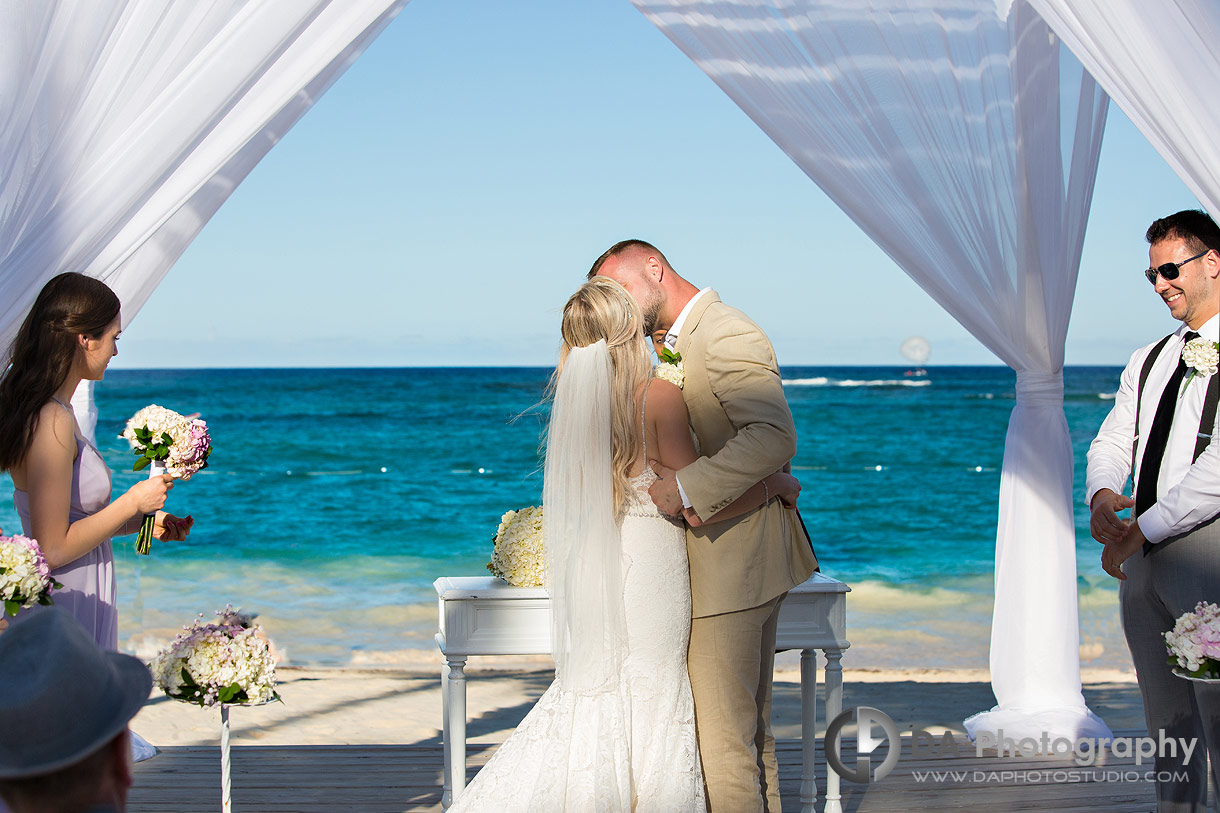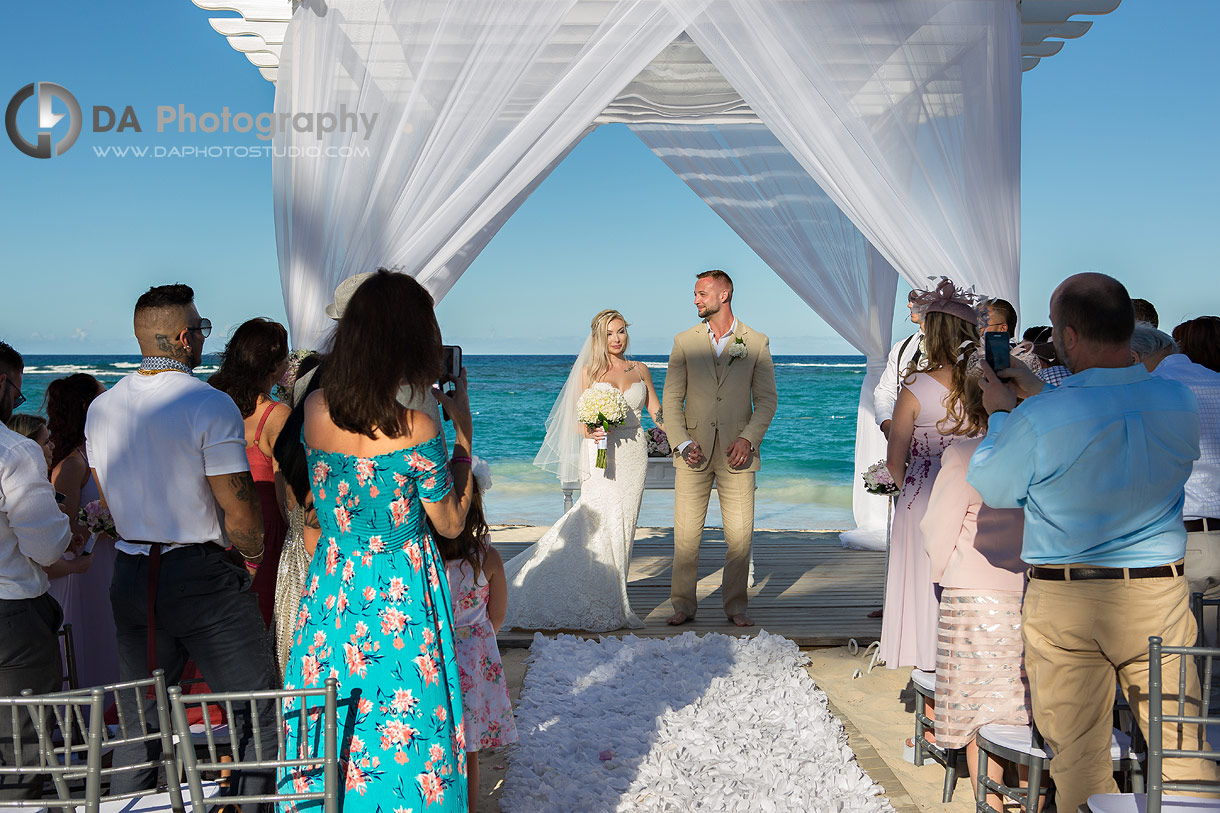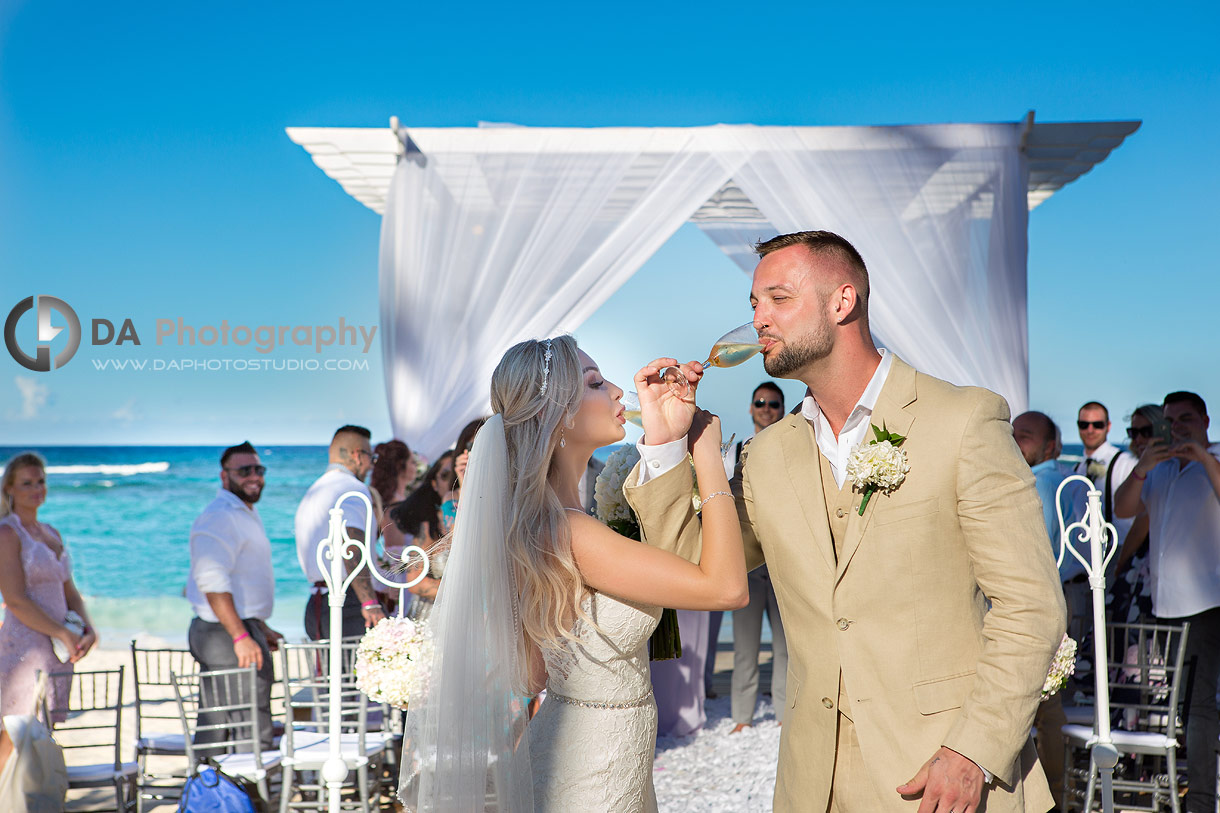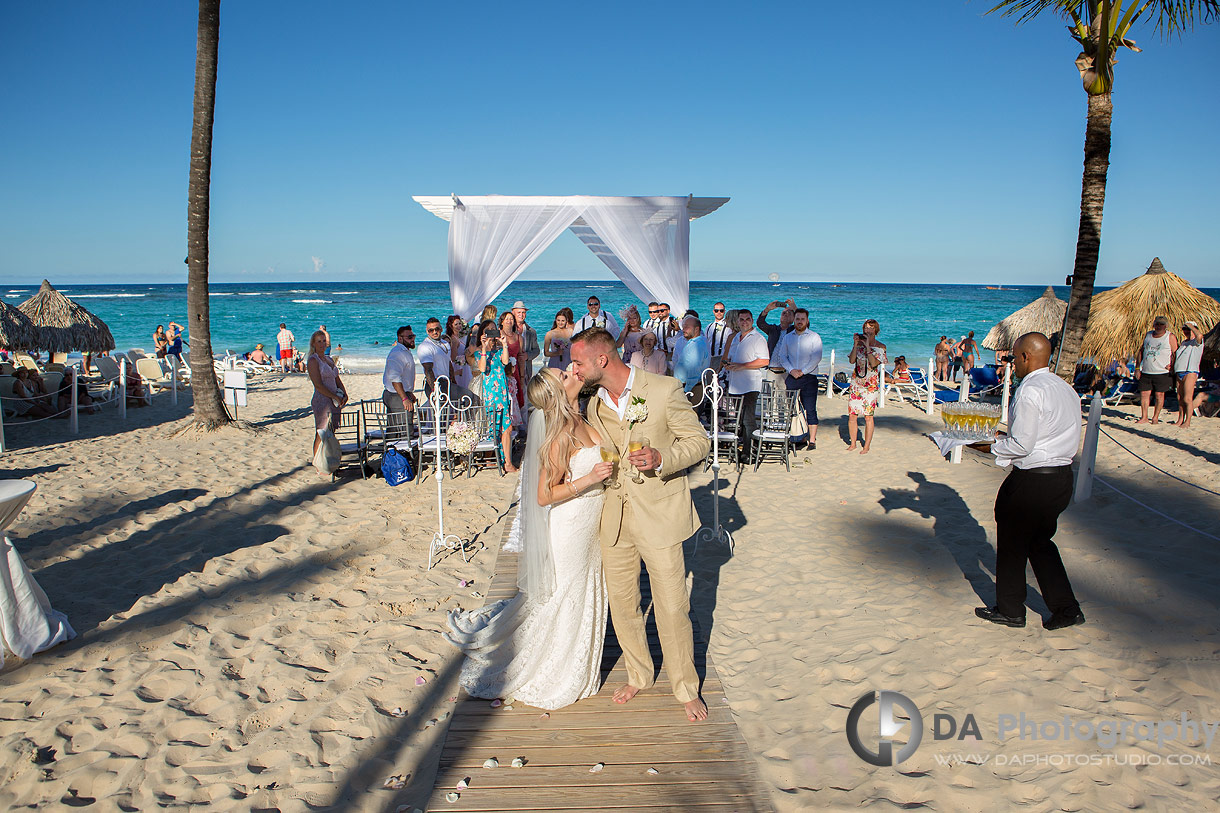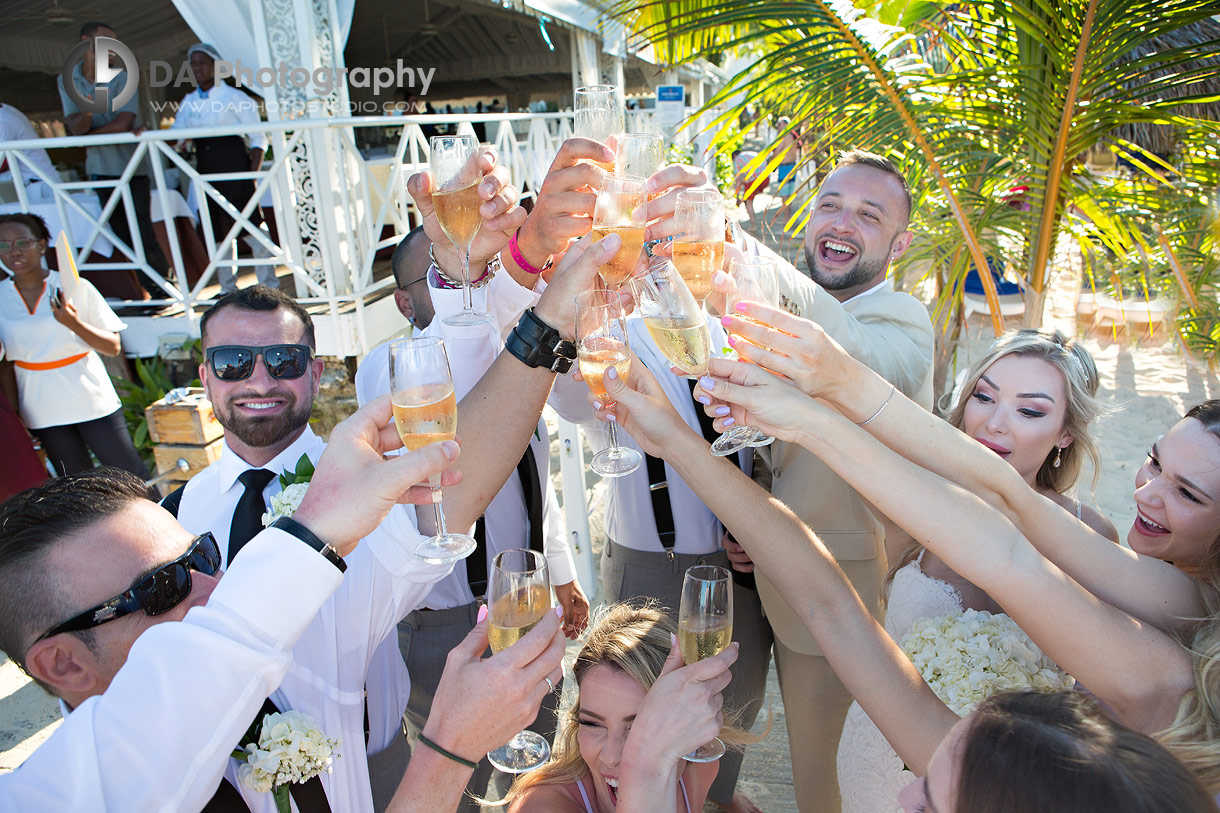 We woke up early, with our bodies having had a little more time to acclimatize. First, Victoria set off to the spa with the bridesmaids to begin their preparations. We used various backdrops to have fun with some creative twists on the details. The soft hues of the girls dresses complimented Victoria's gown. They were light and flowy and the perfect attire under the hot sun. Alex's daughter beamed from ear to ear as she joined in the preparations. Once the marketing team came to take their photos I zipped over to the boys who were relaxed and ready to go after having finished the resort photo session moments before. I admired the couple's ability to stay focused and relaxed. Surely, it couldn't have been easy with the constant flow of photographers demanding their attention, especially in the heat.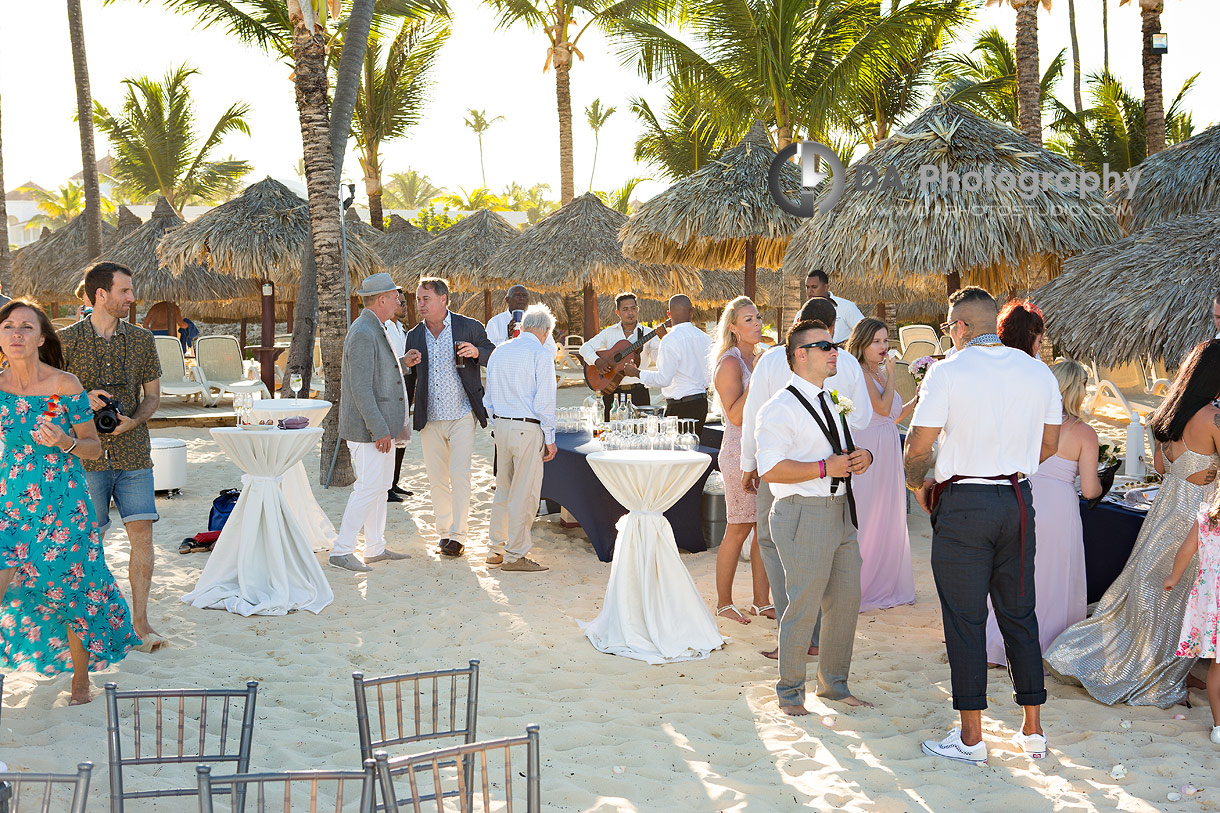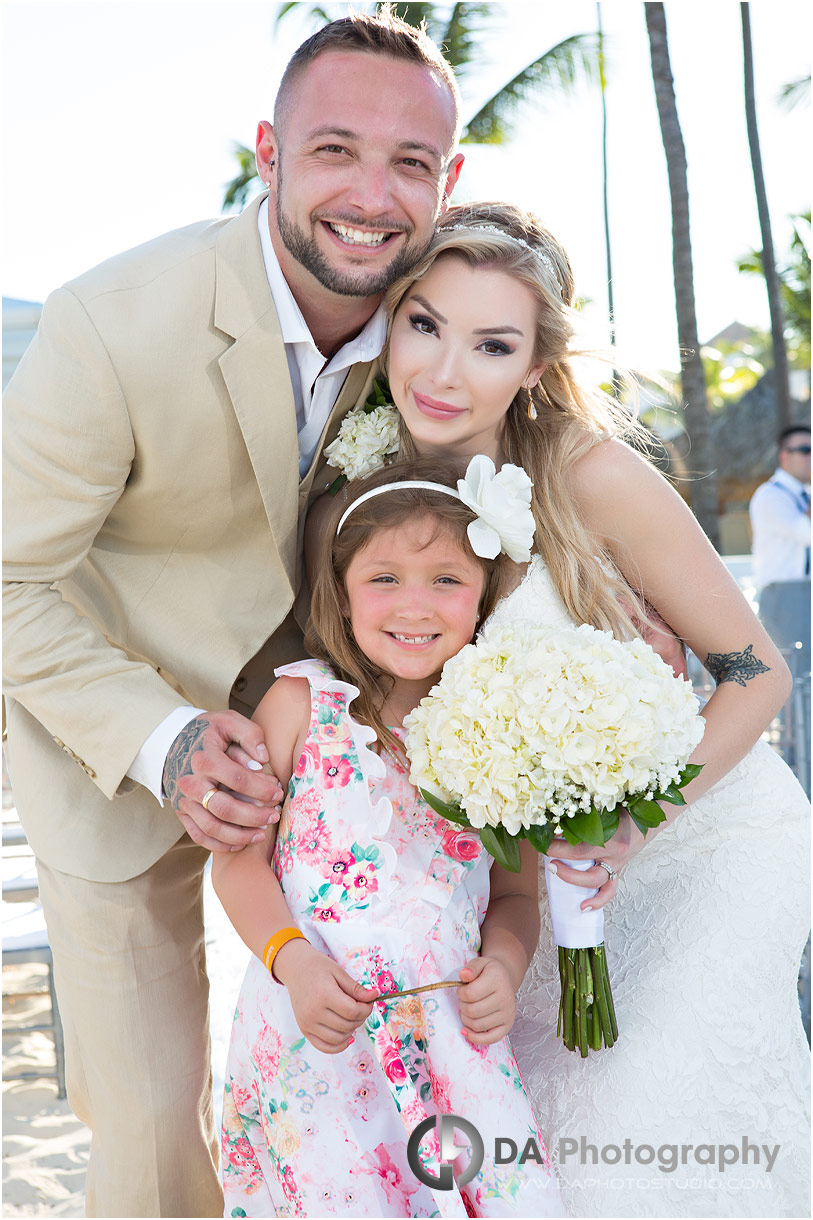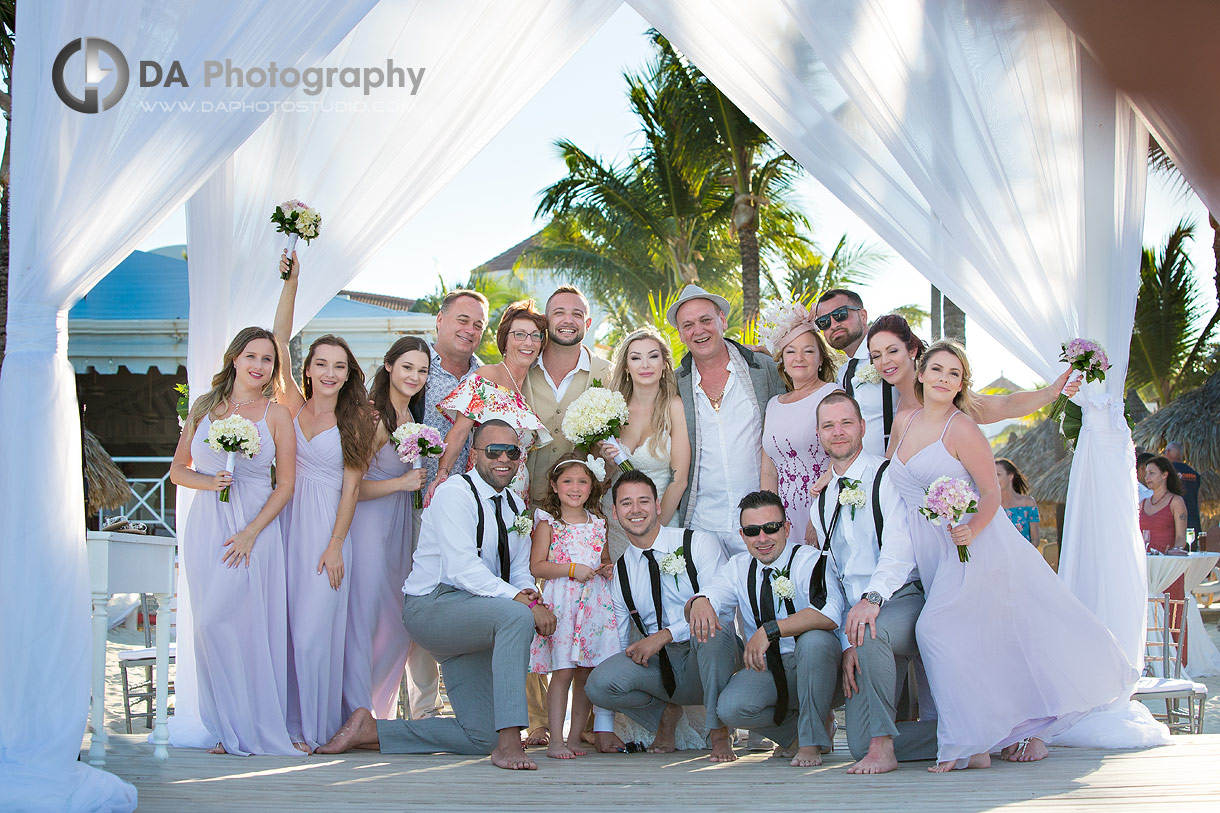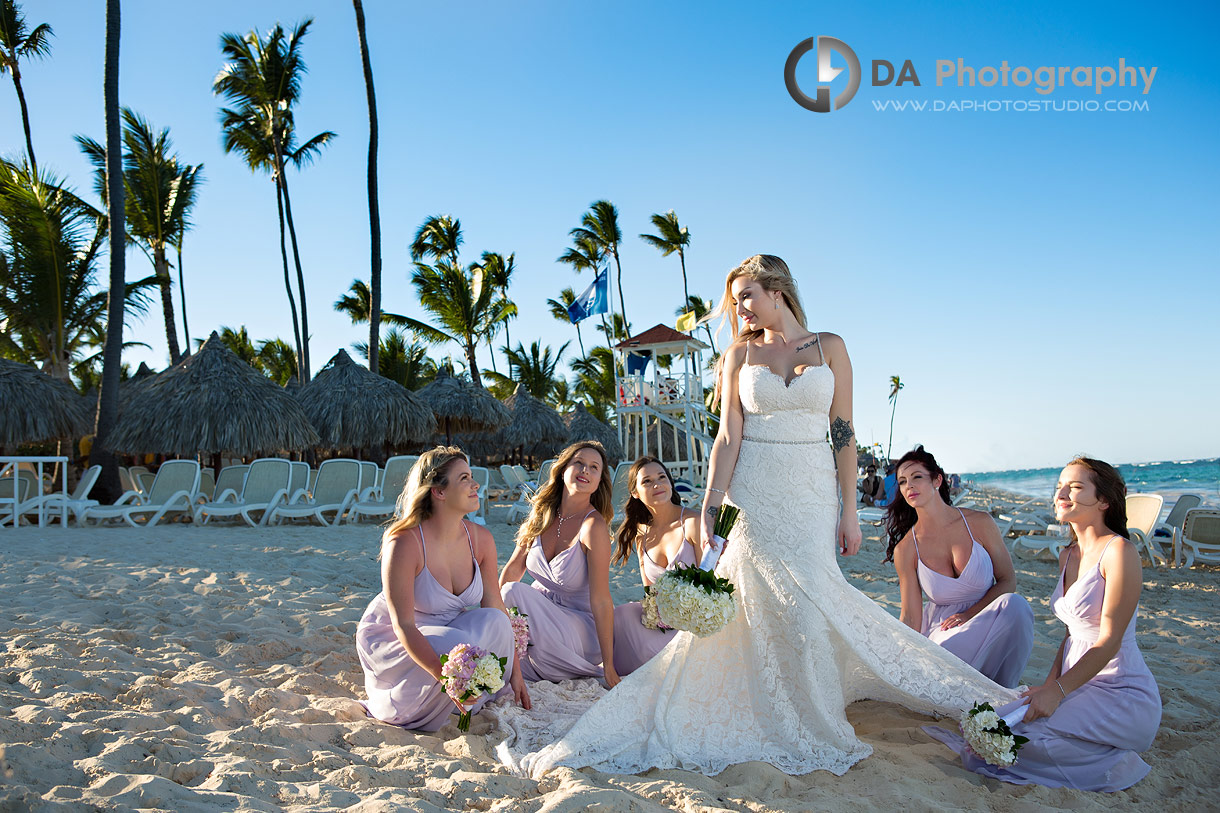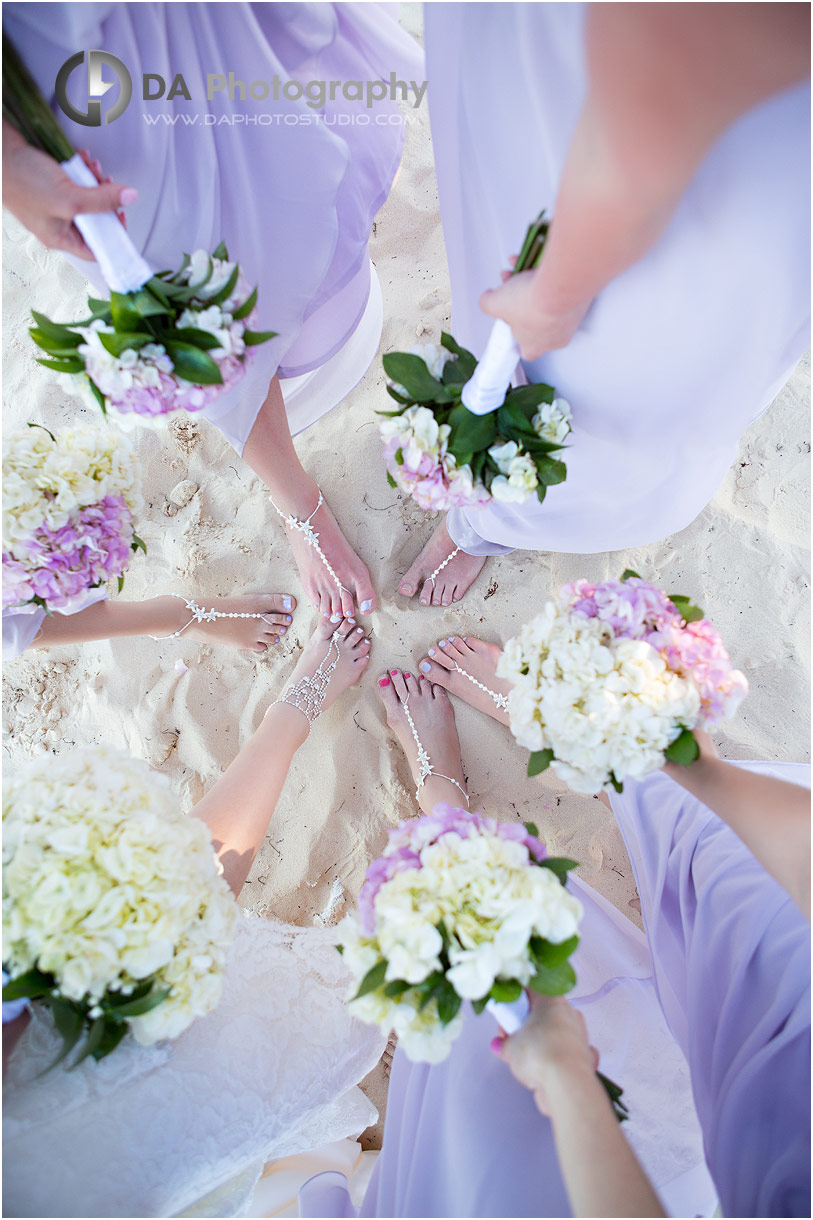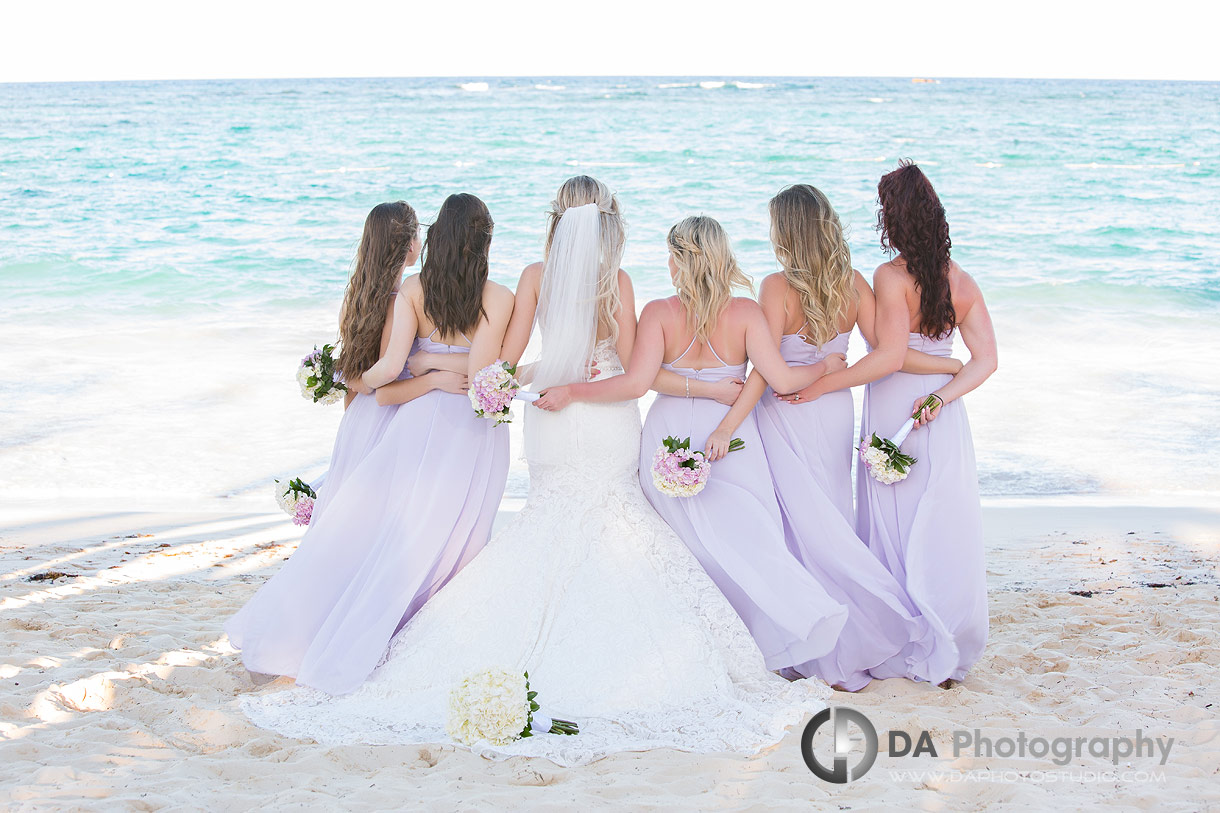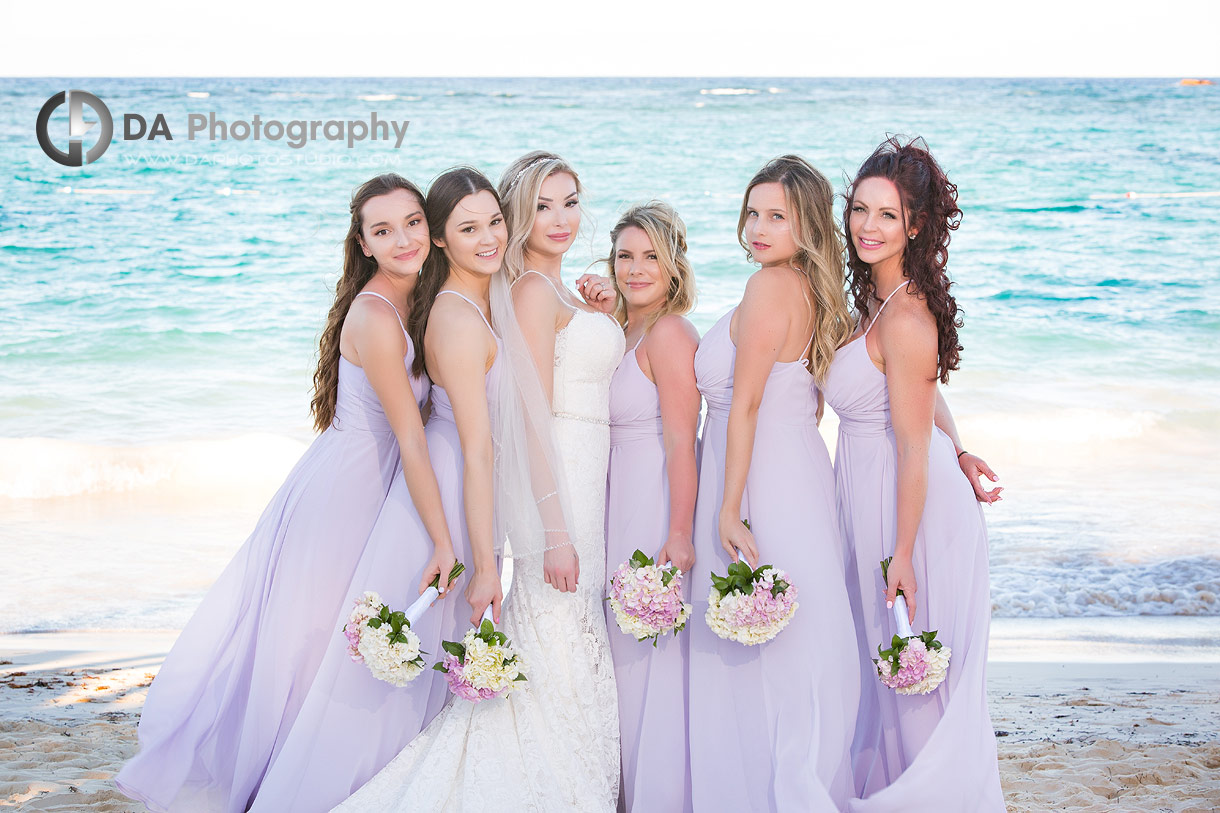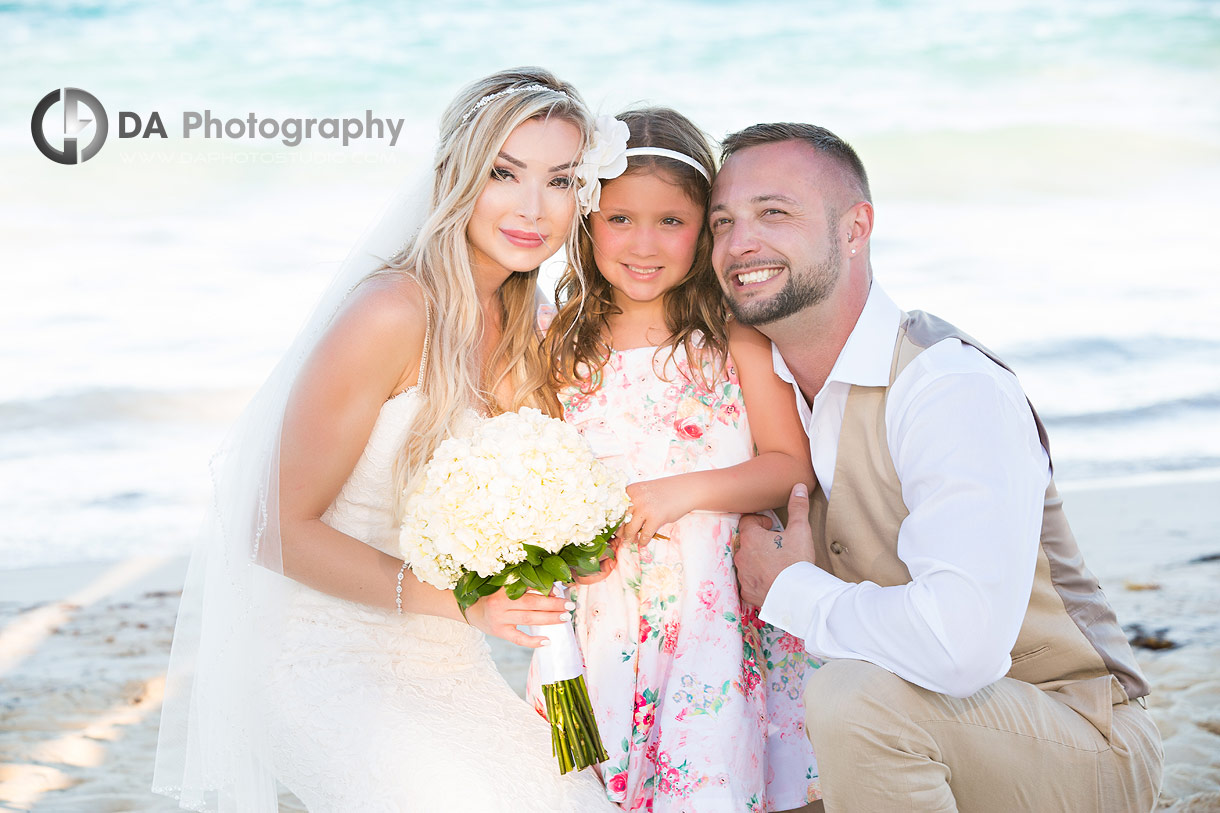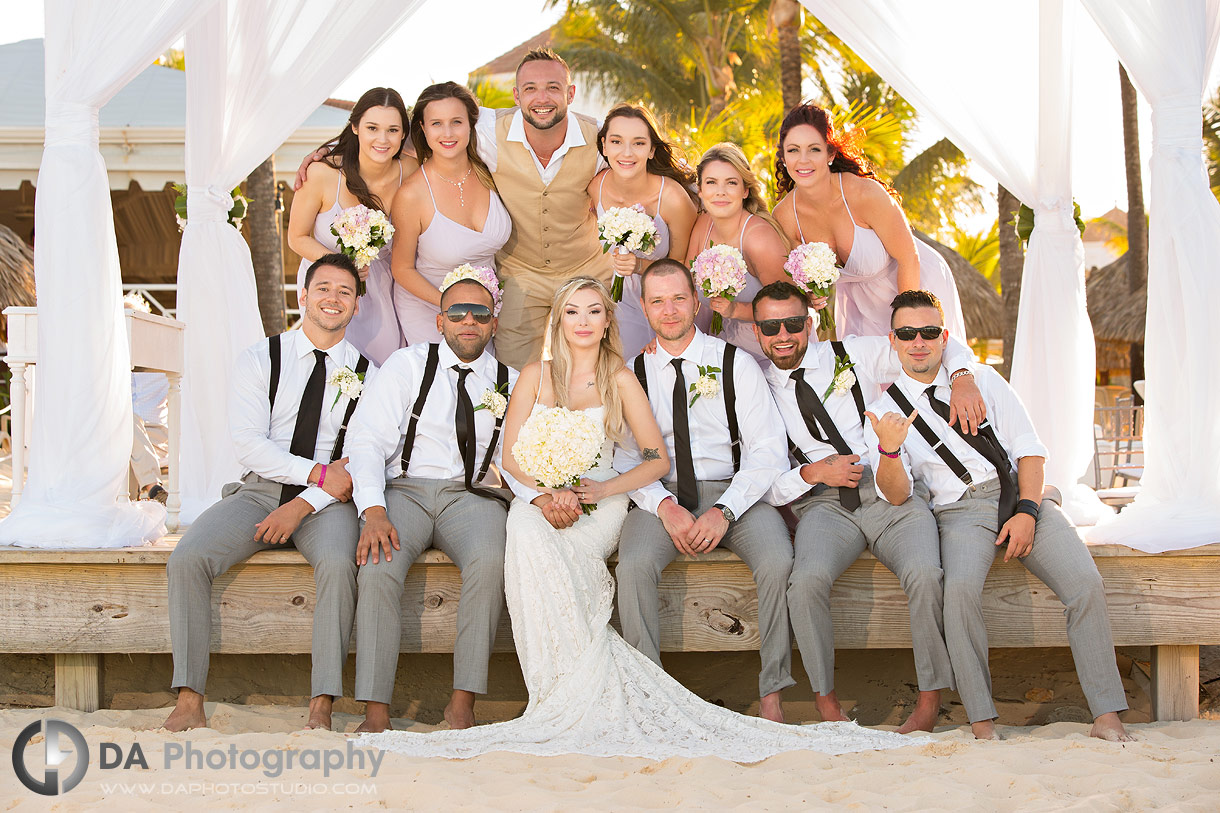 One of the hardest things about photographing a destination wedding is that it is rare you have the beach to yourselves. Undoubtedly, it takes either careful placement or a lot of editing to remove the onlookers, other beach goers and boats from the background. It certainly doesn't have the same feel if you can see people sunbathing topless while saying your vows!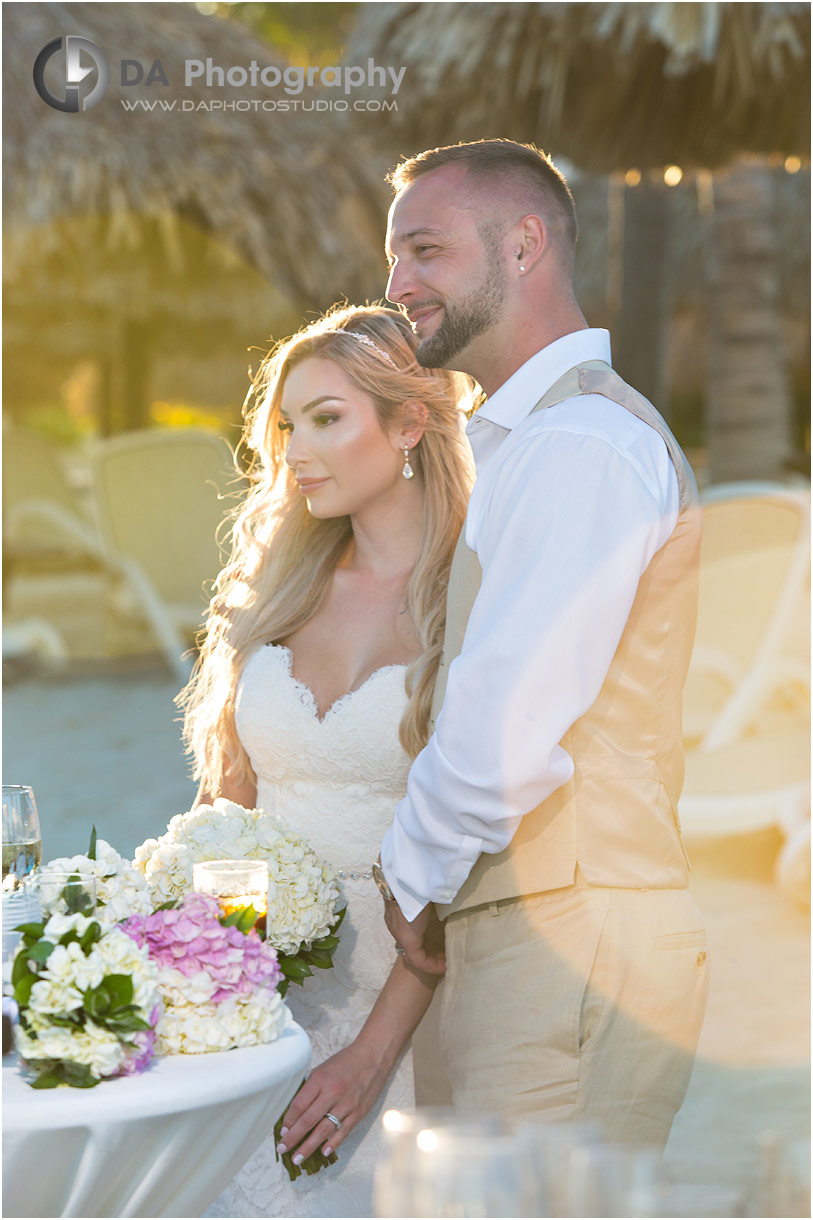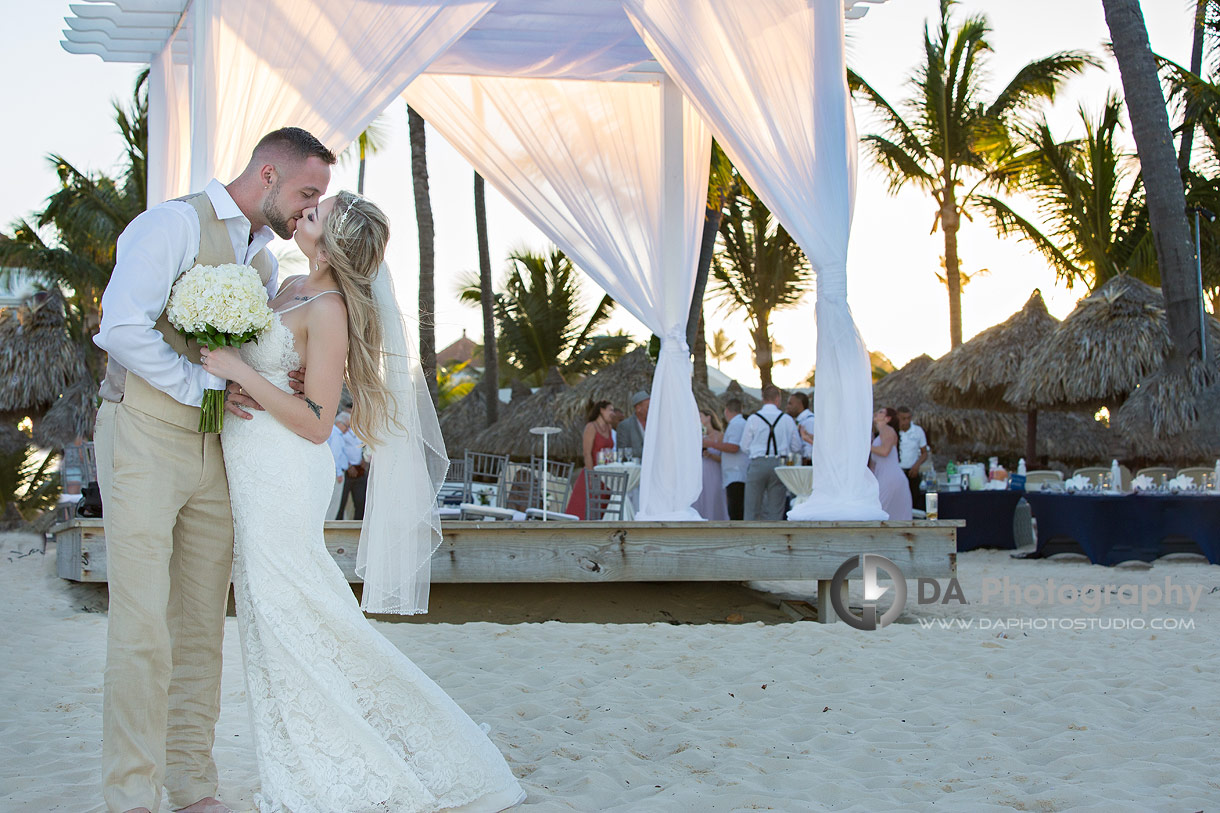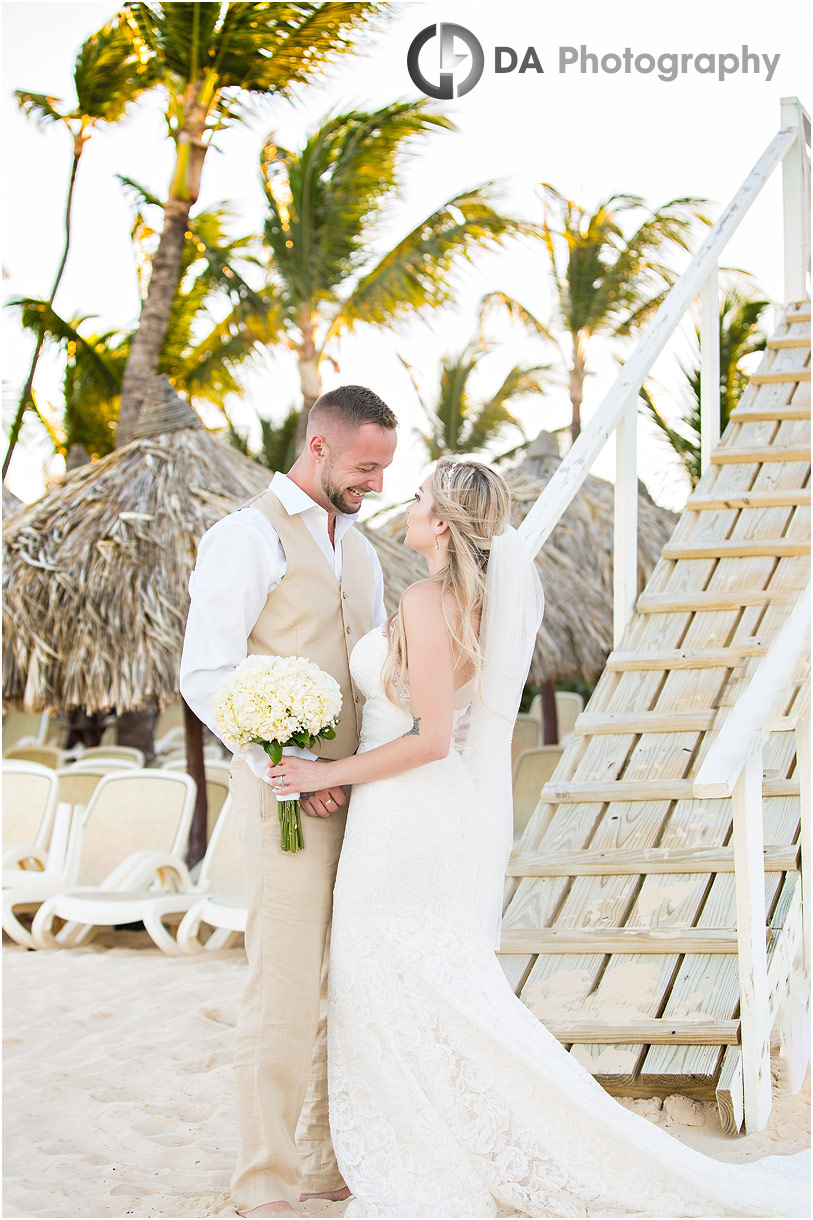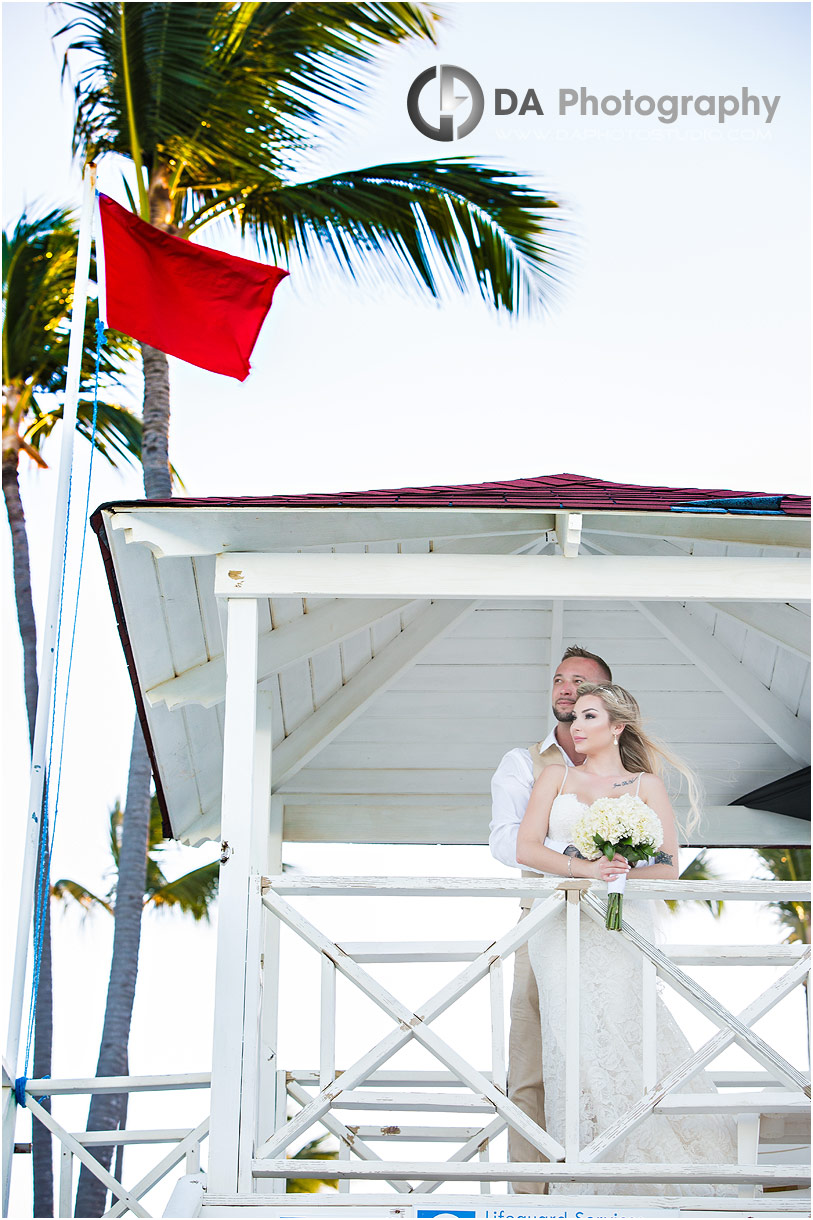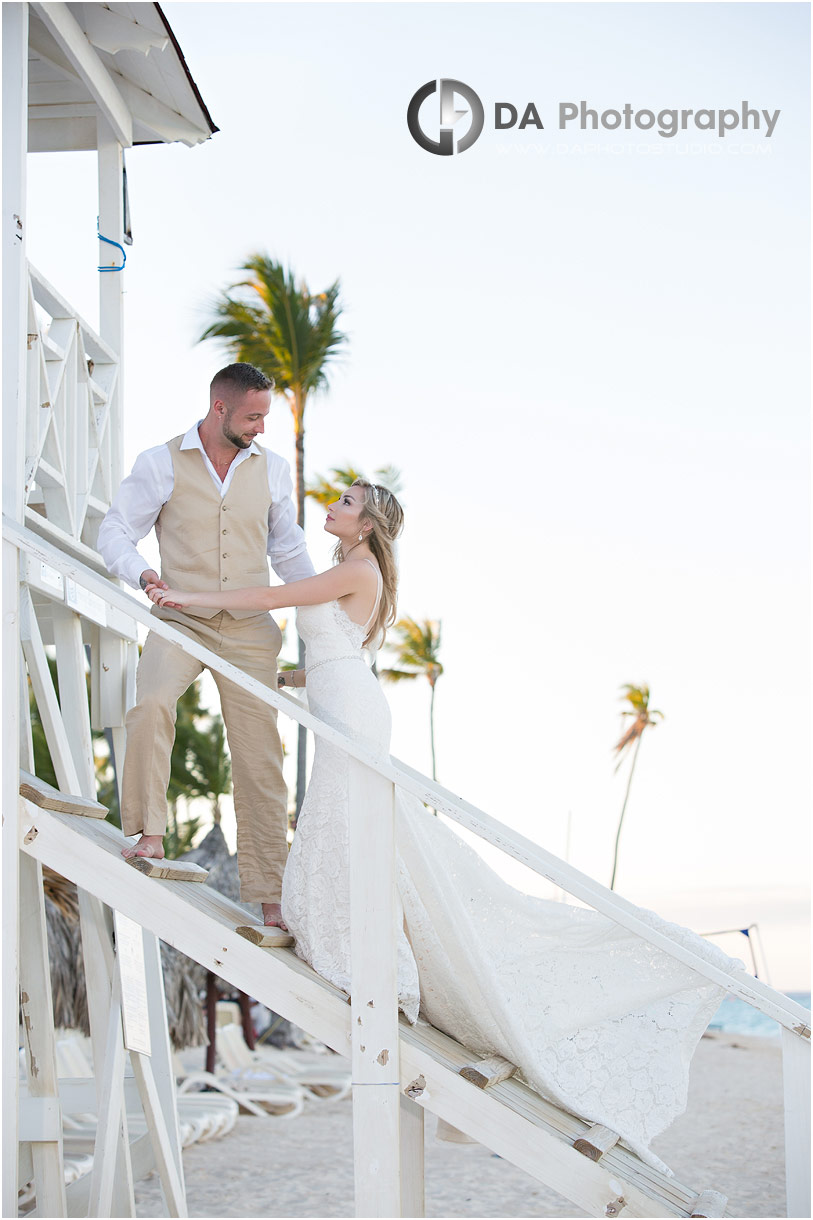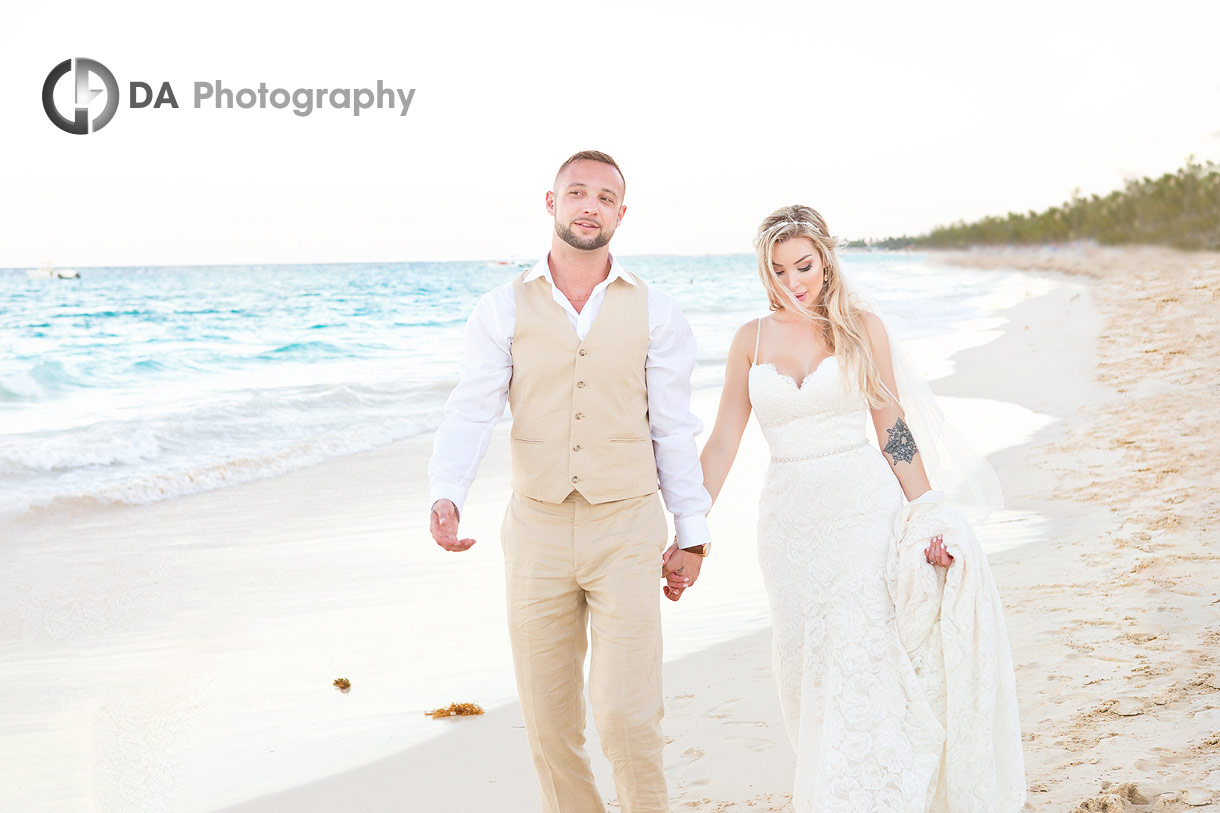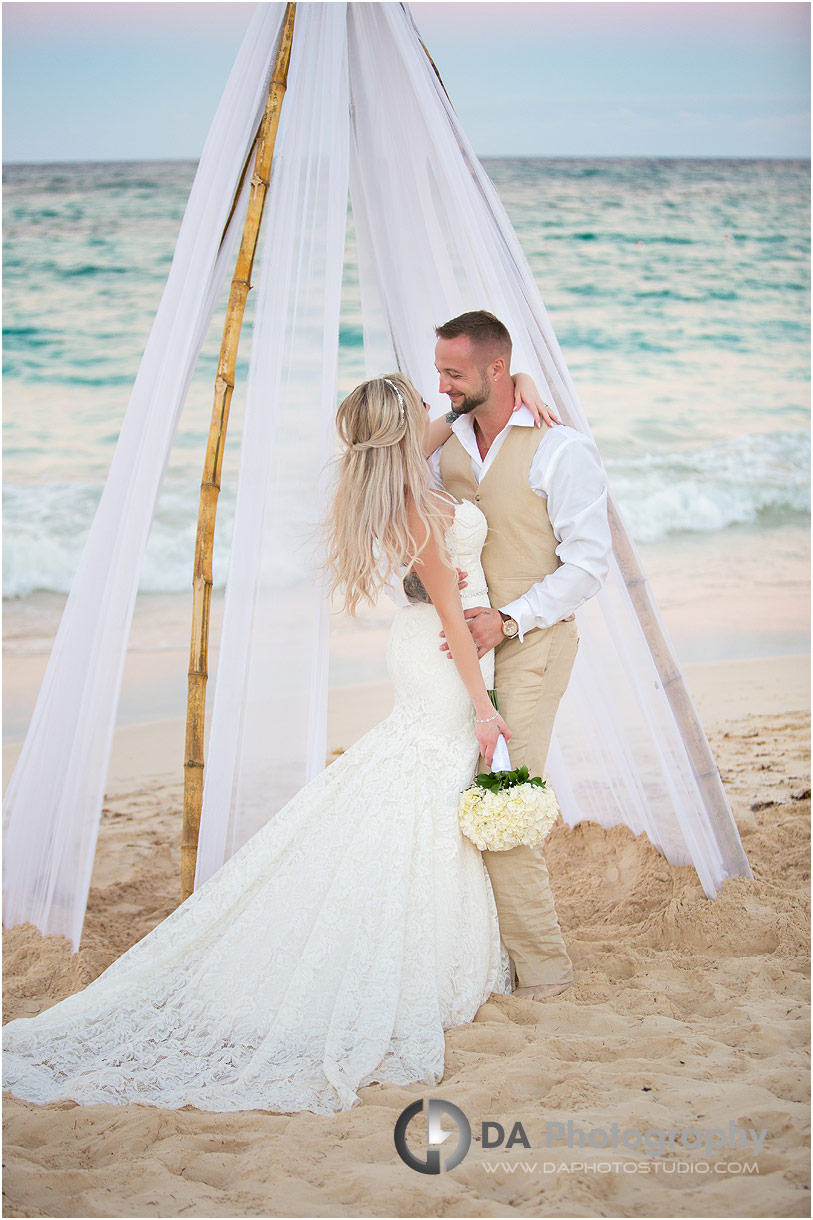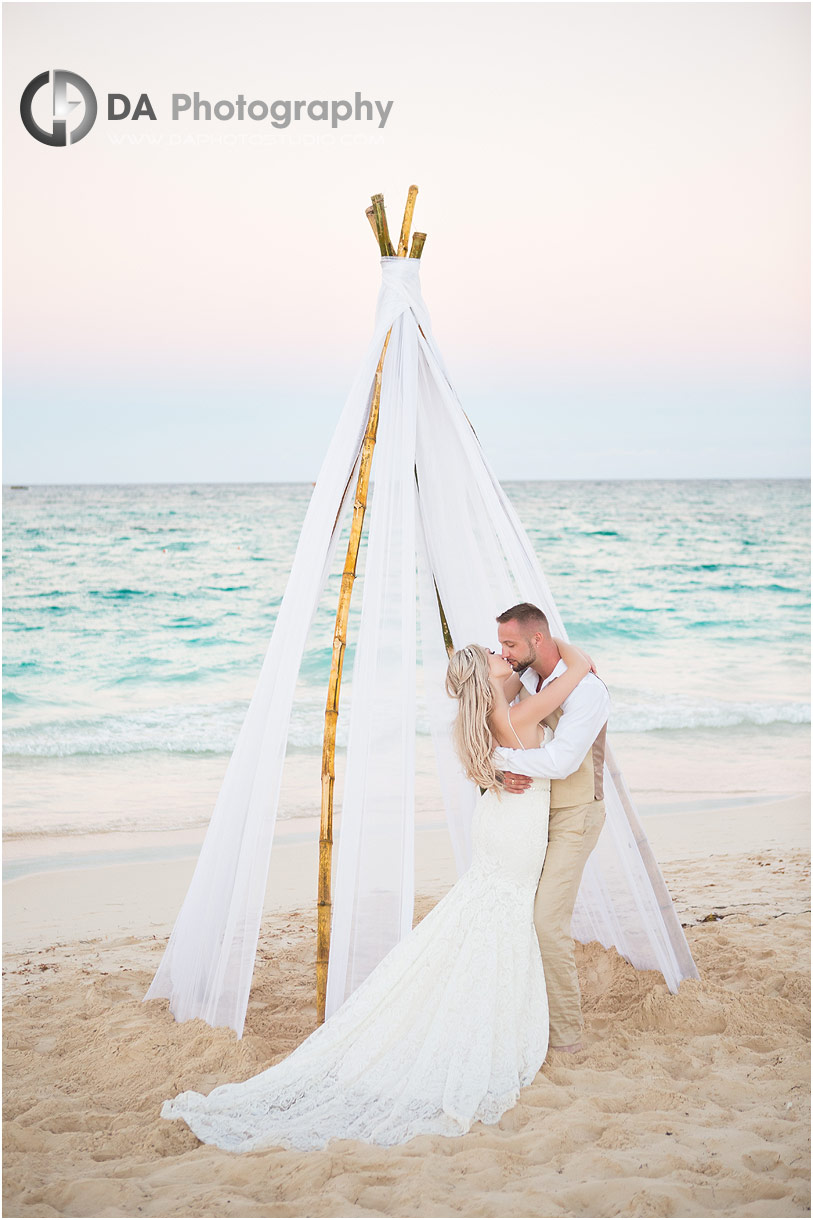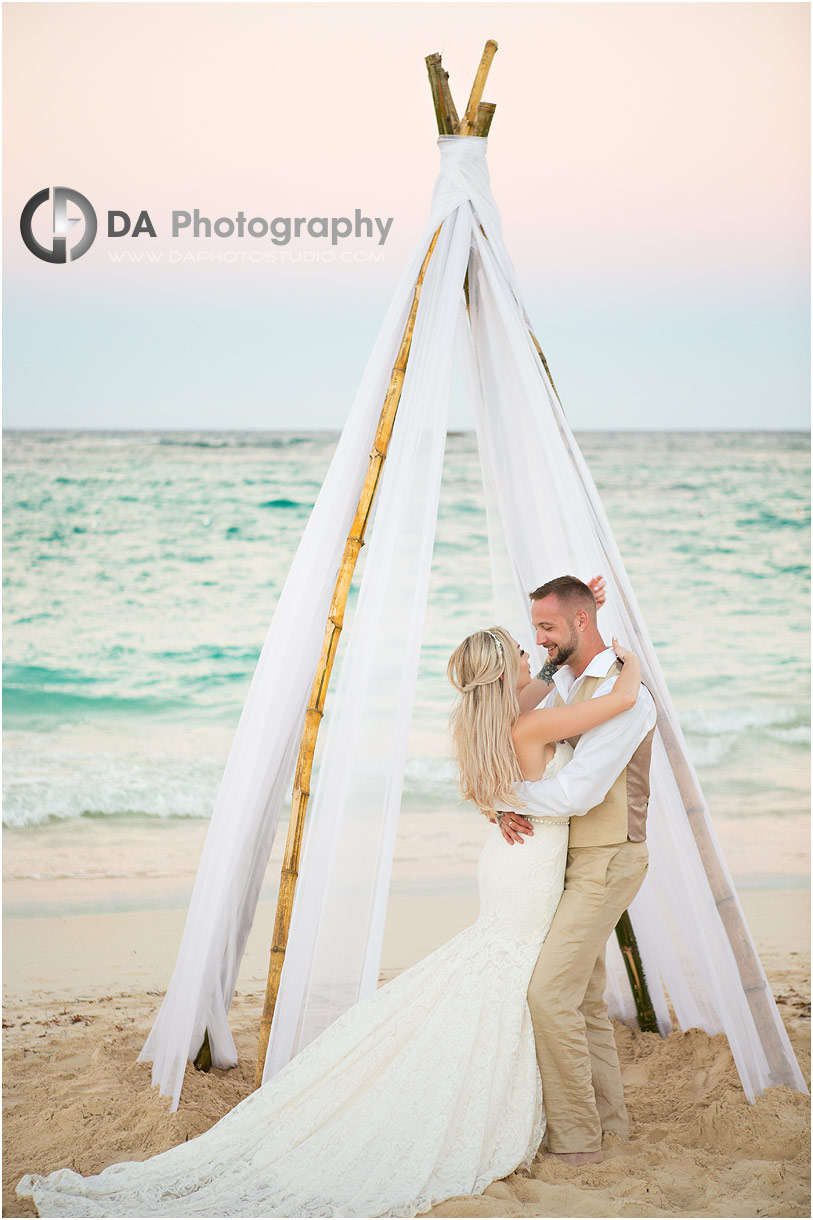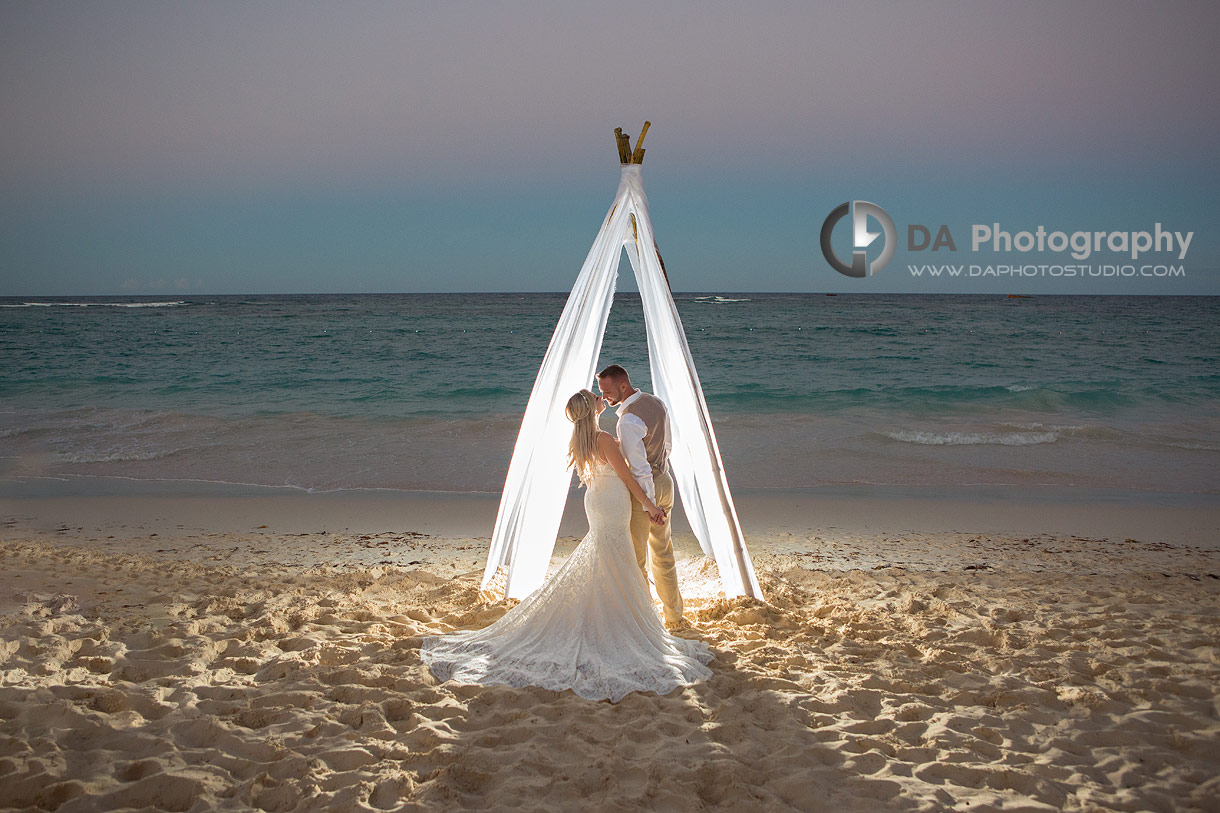 How this couple had six photographers battling to take photos of their stunning destination wedding
I got what I could of the ceremony. Most importantly I focused on capturing the connections with Victoria's father as he walked down her the aisle and the ambience as they toasted with champagne. There was some downtime to mingle on the beach. I was told the marketing team had scheduled them in for a twenty minute session at sunset. This meant I had to have a plan! Having missed that golden hour soft light, I knew the lighting wouldn't be in my favour and I'd just have to work around everyone. Nighttime photography is my forte and here is where my experience shone through. I tapped into my knowledge to set up some beautiful shots, knowing the other team would have got those priceless sunset images. Working in harmony is a far better solution than against each other, so I didn't want to try to compete with the other photographers.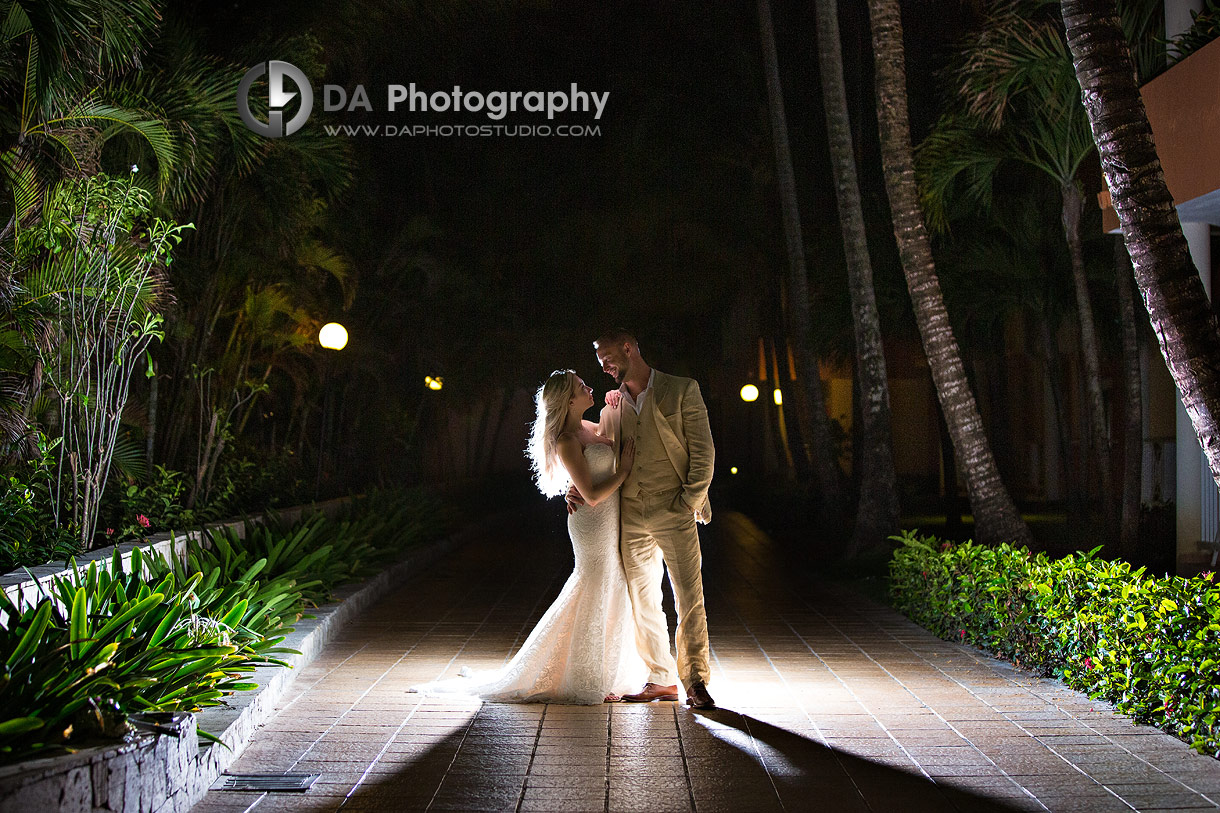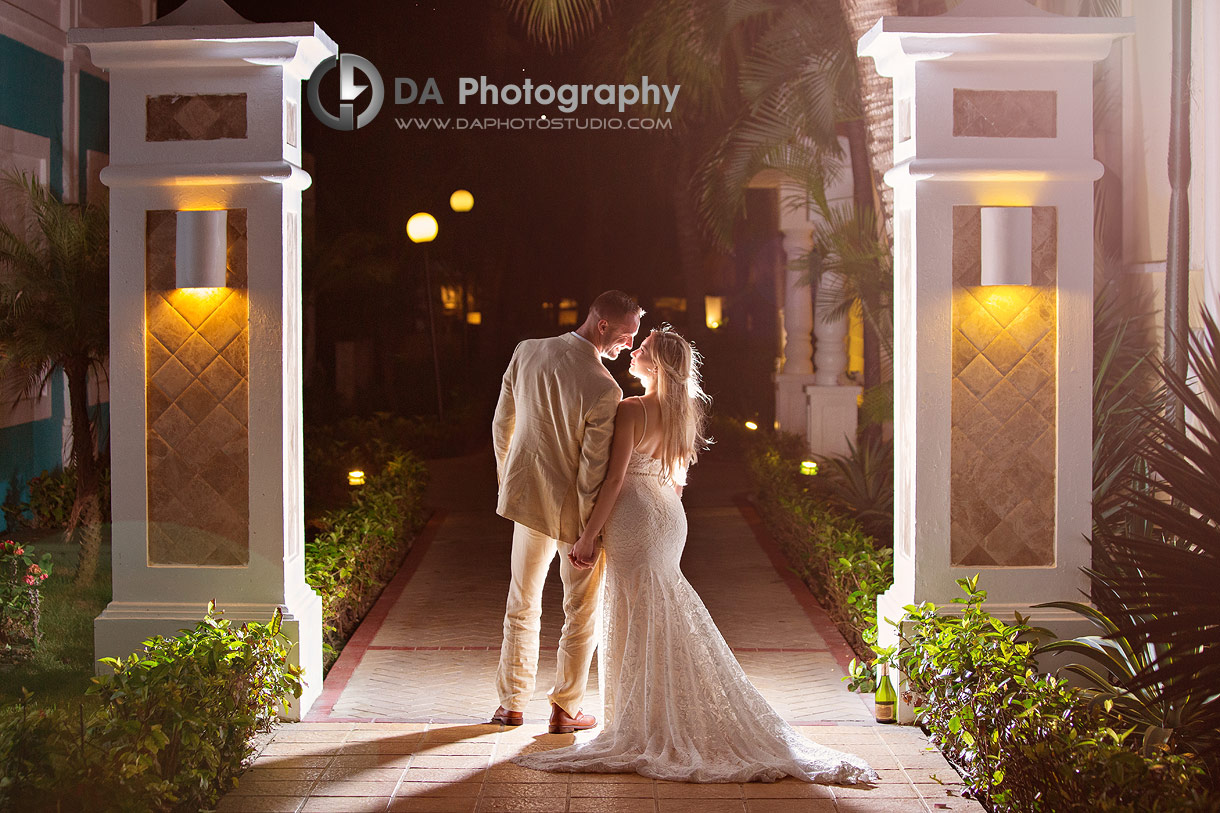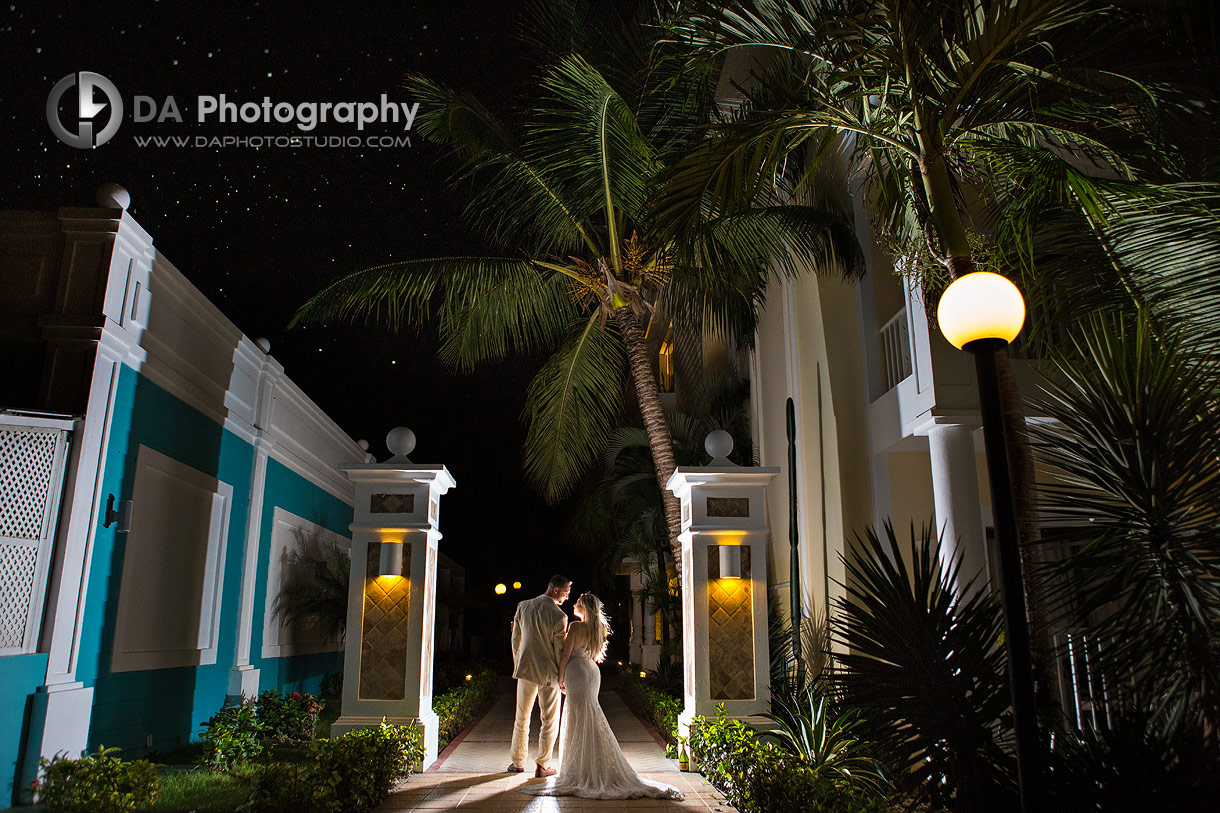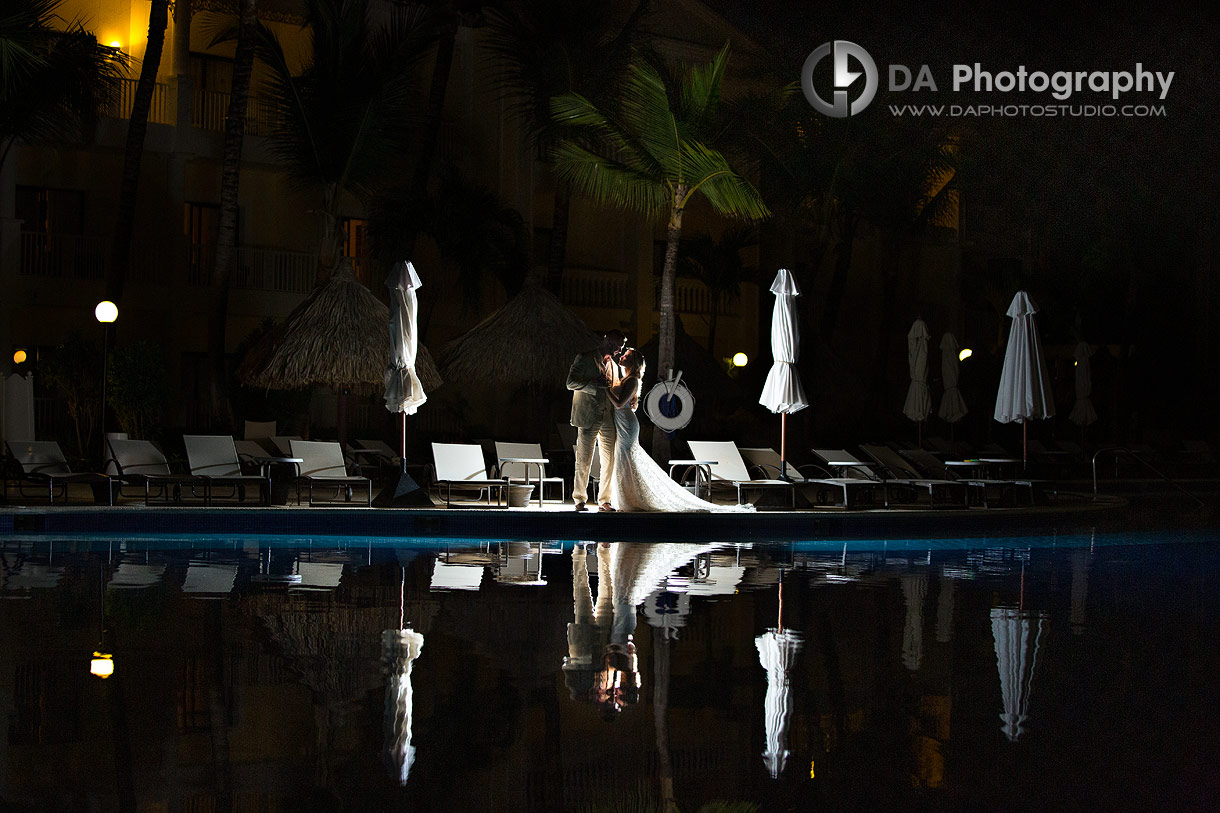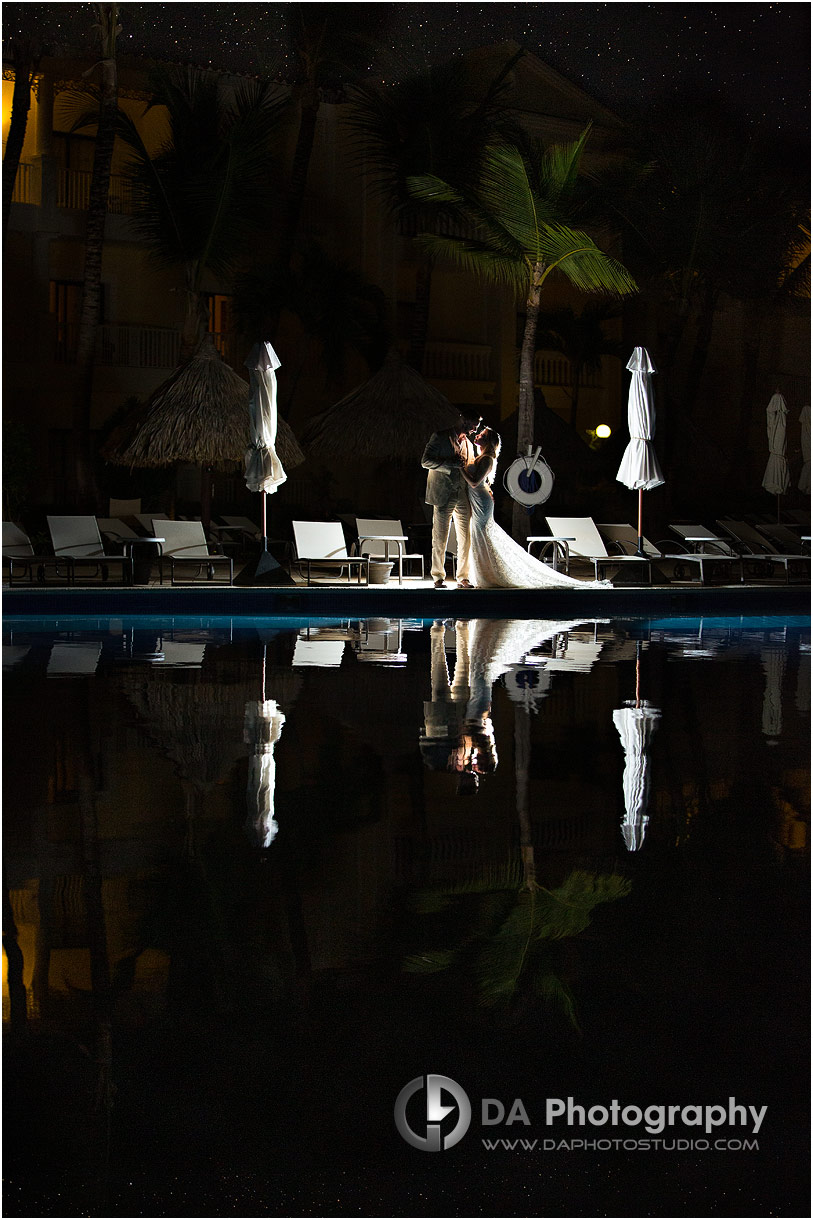 The evening wrapped up with a fun reception full of entertainment, games, dancing and everyone letting loose on the dance floor. We did sneak back outside for some more signature nighttime portraits and also giving them a chance to change attire for the disco. Then, I got ready to jump back on a plane and brave the cold.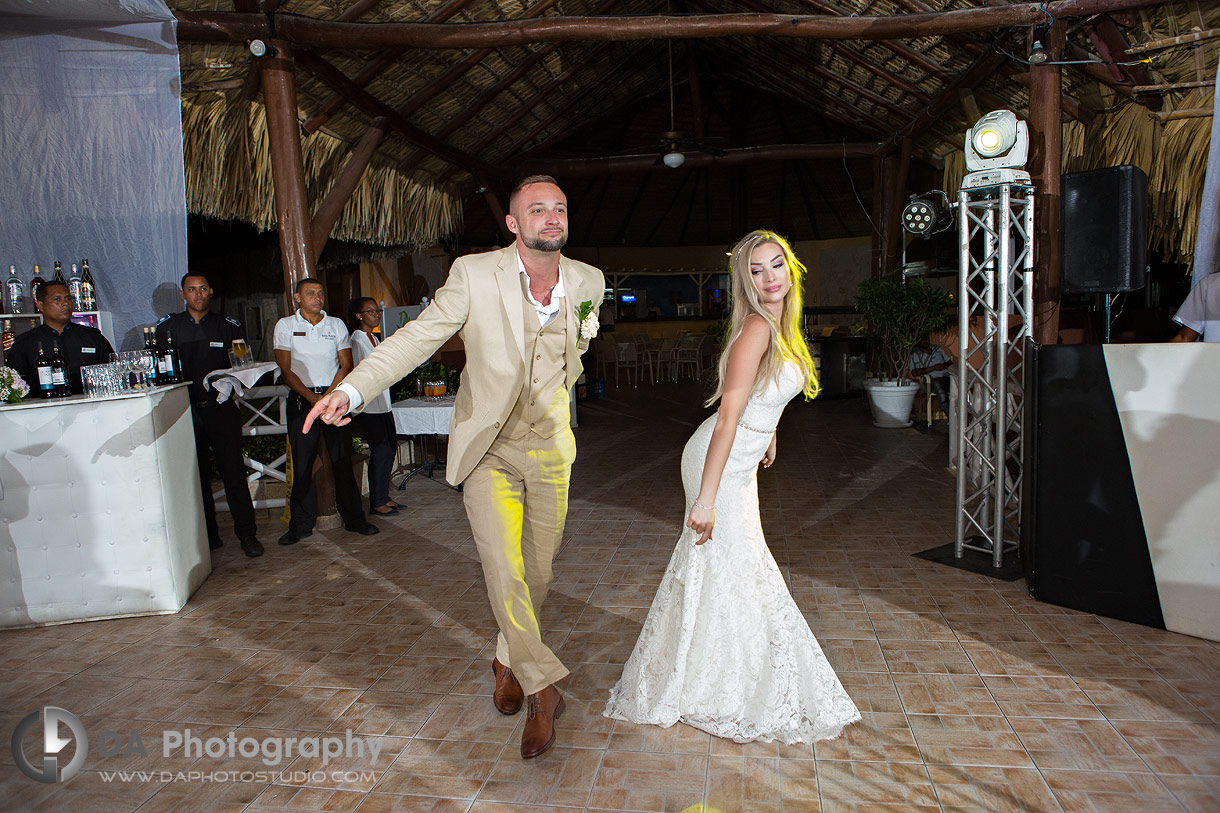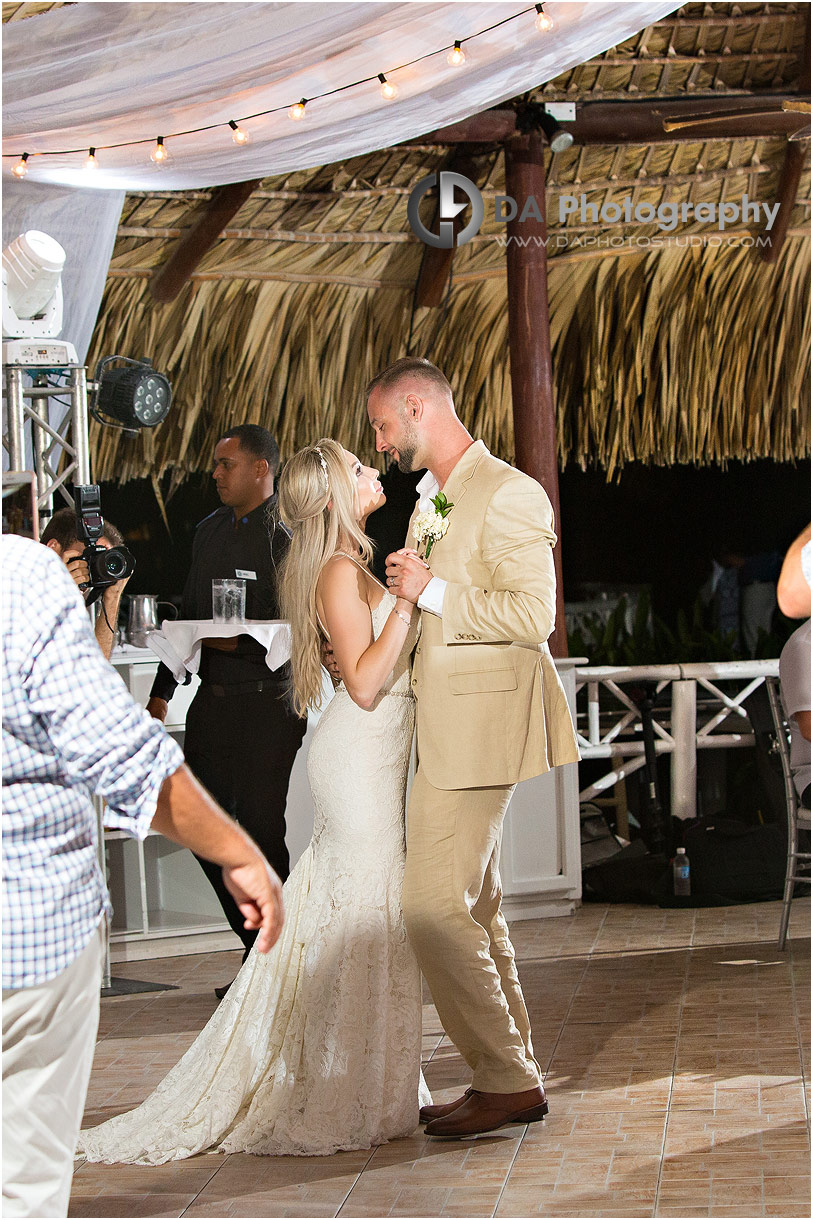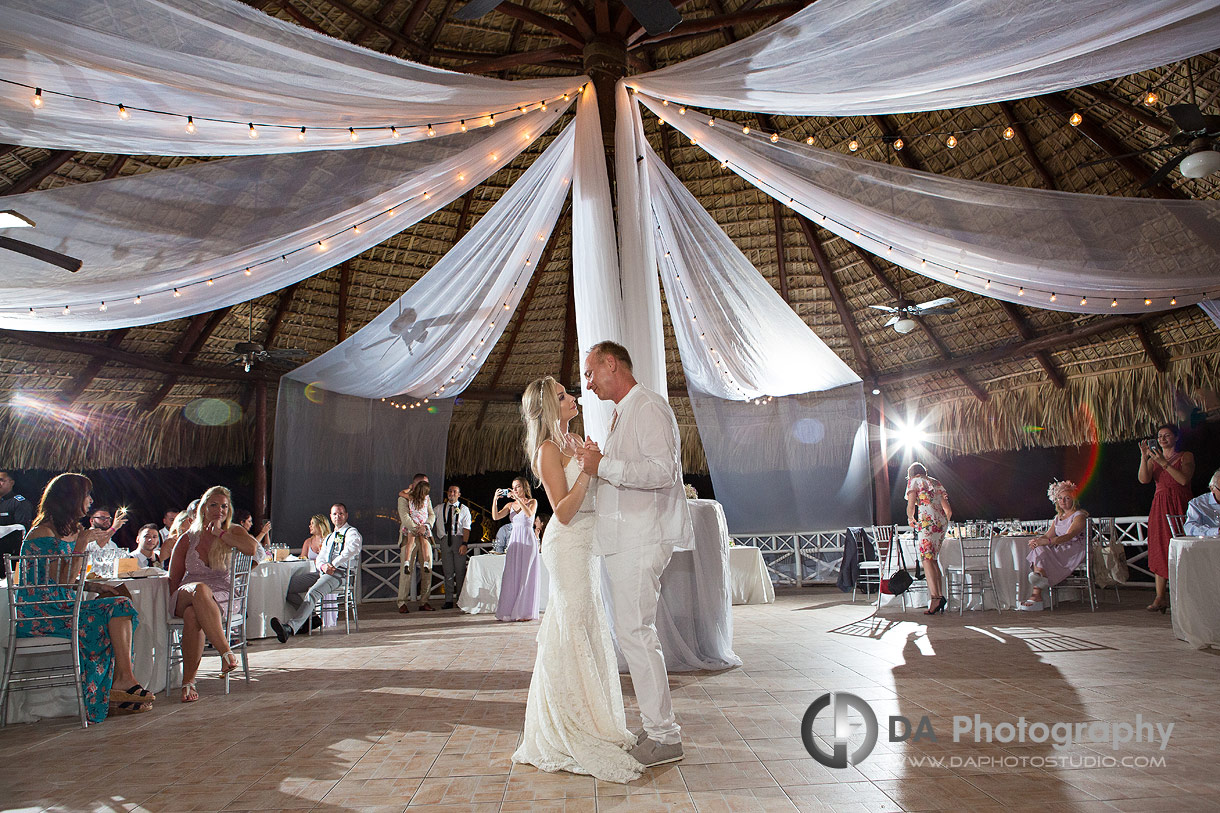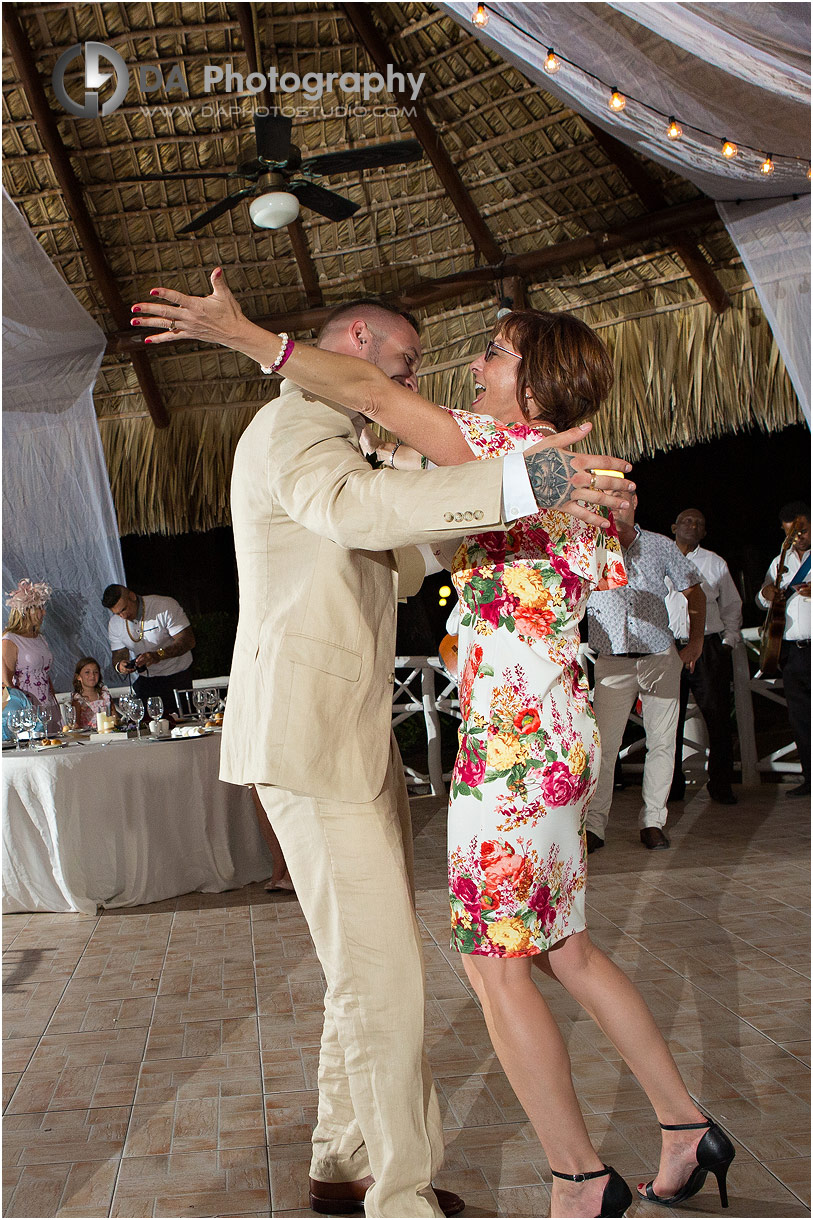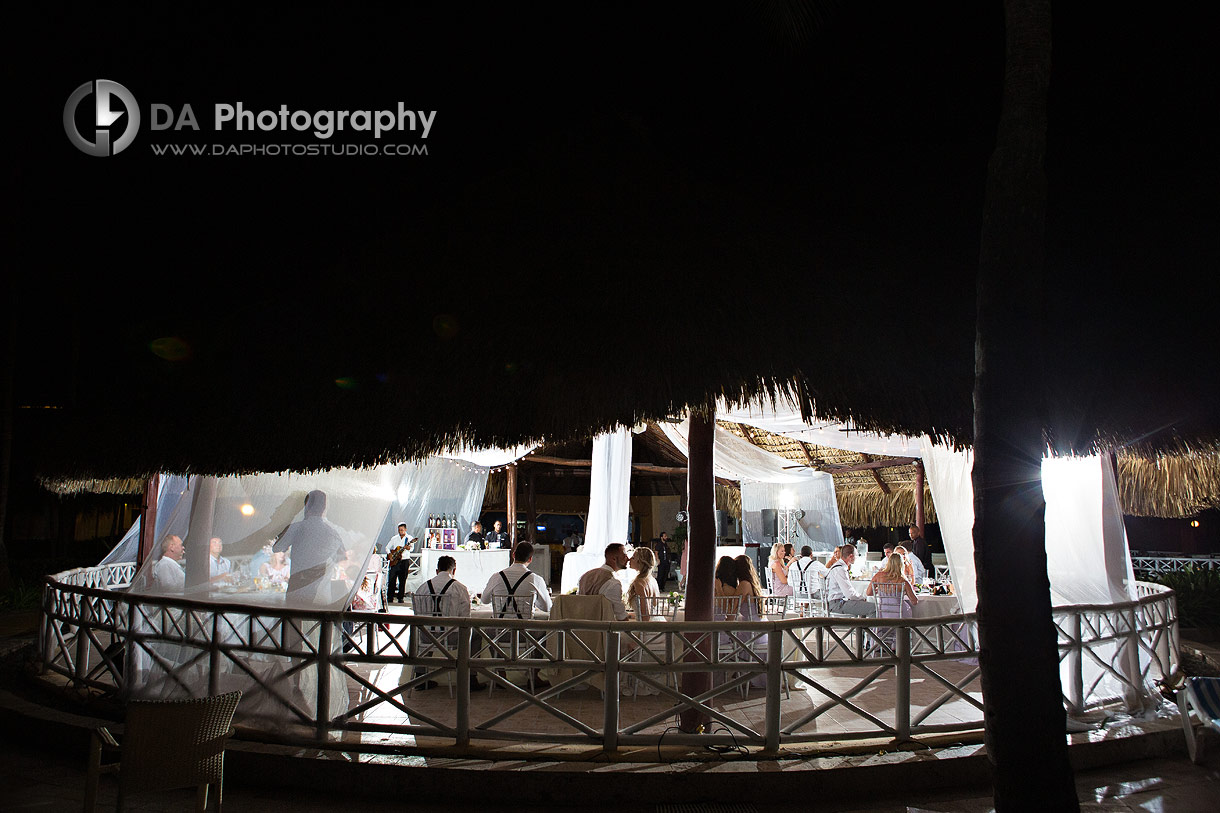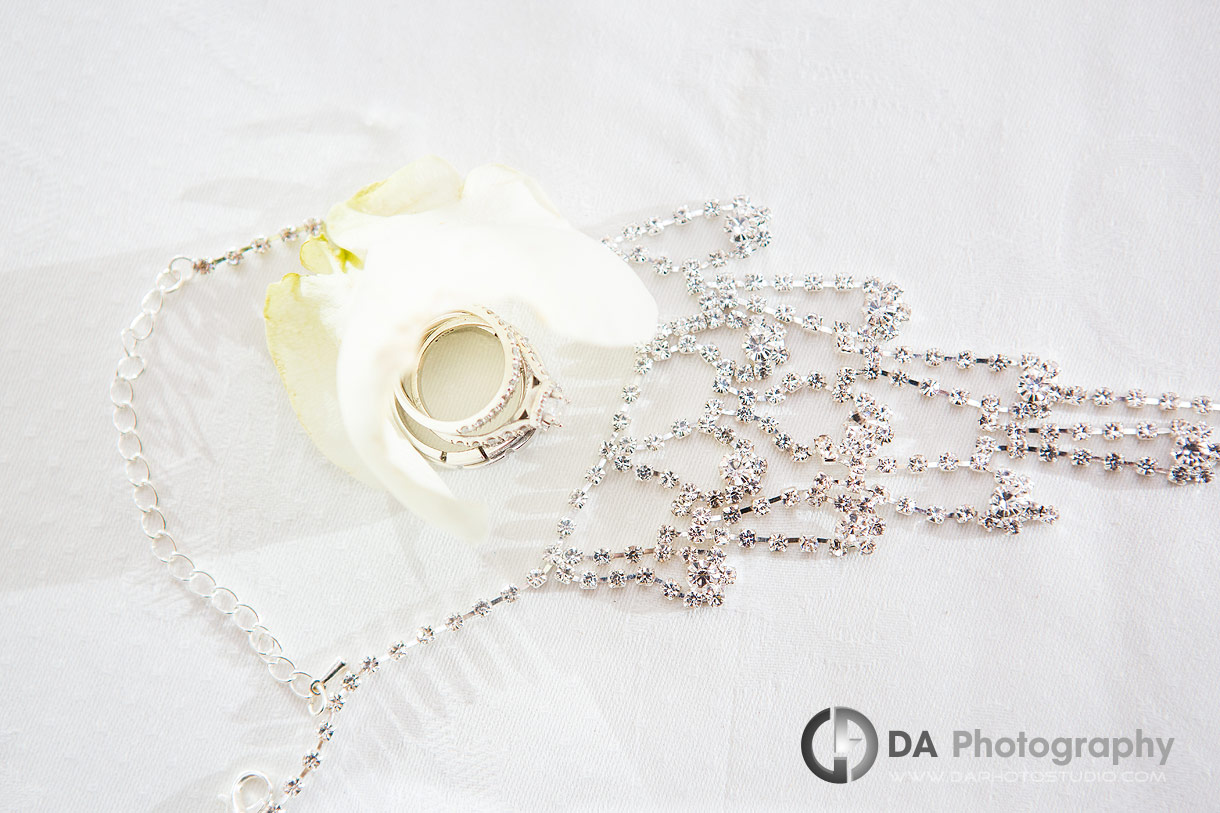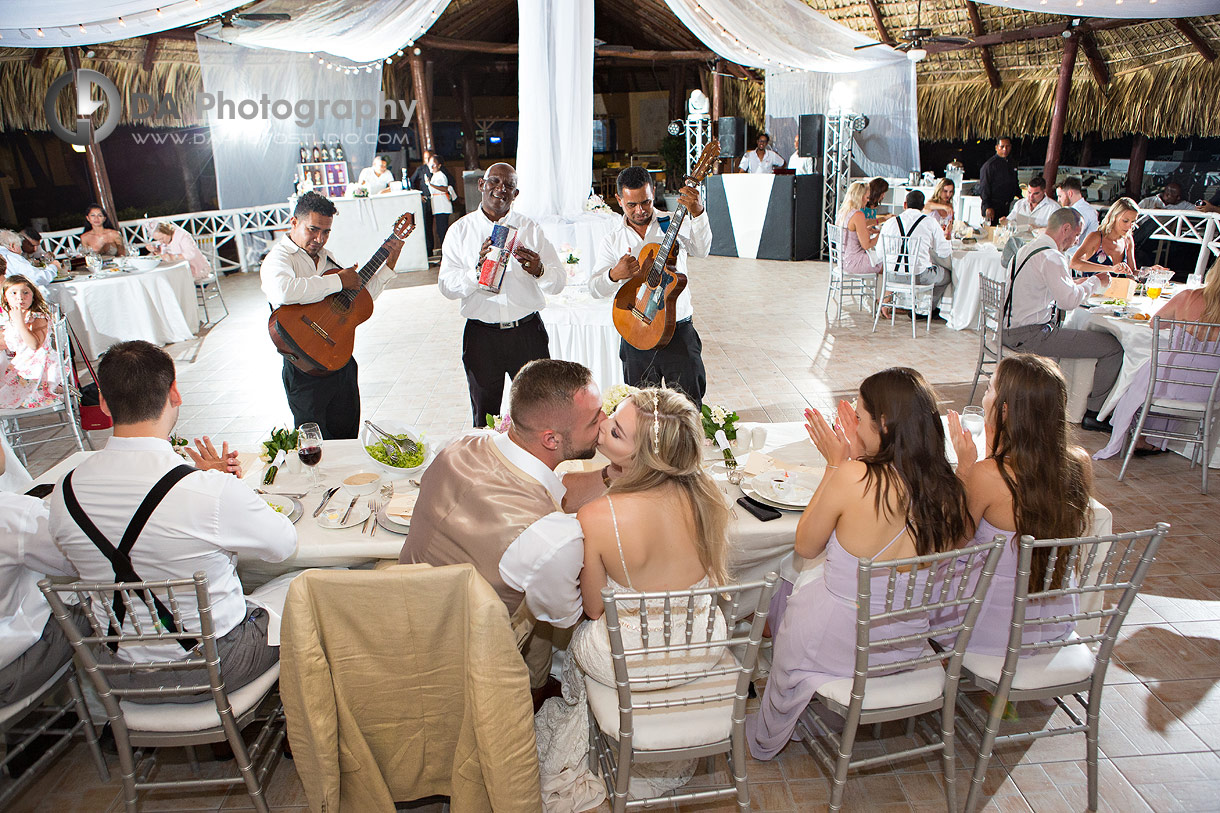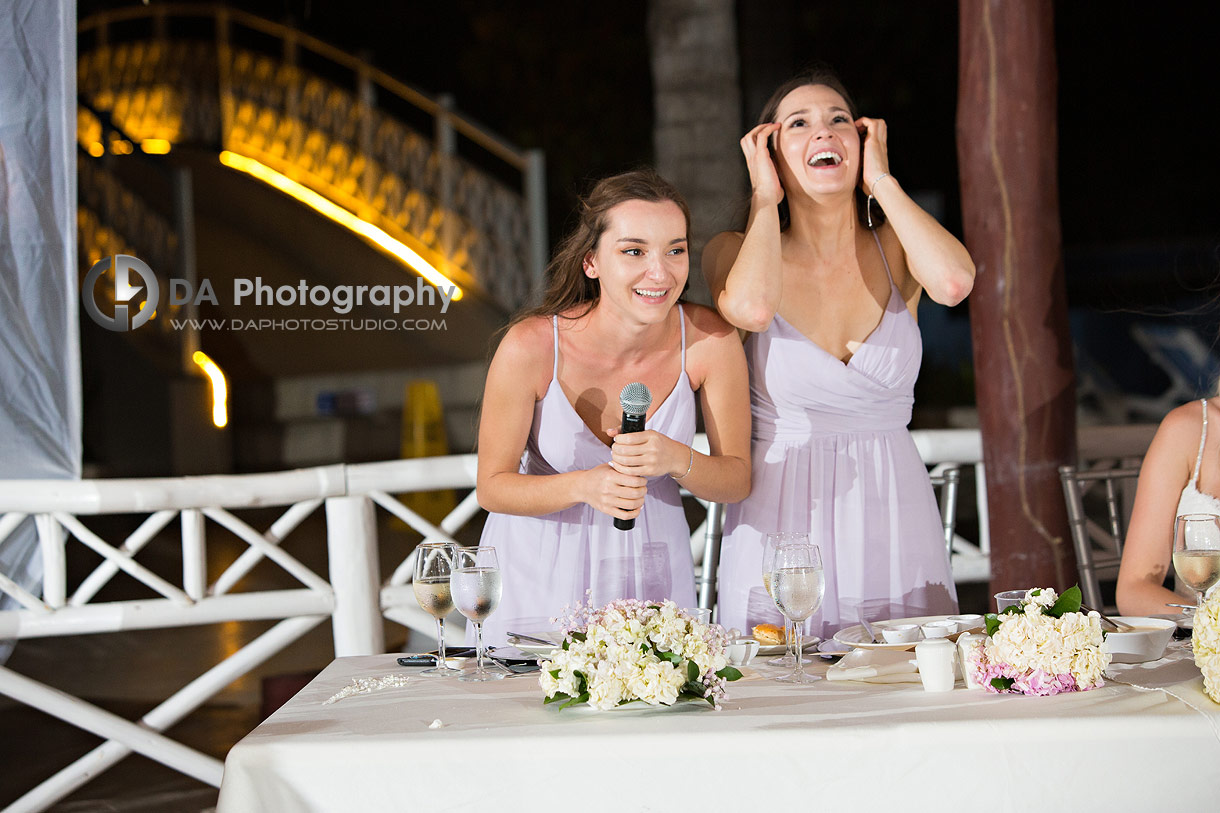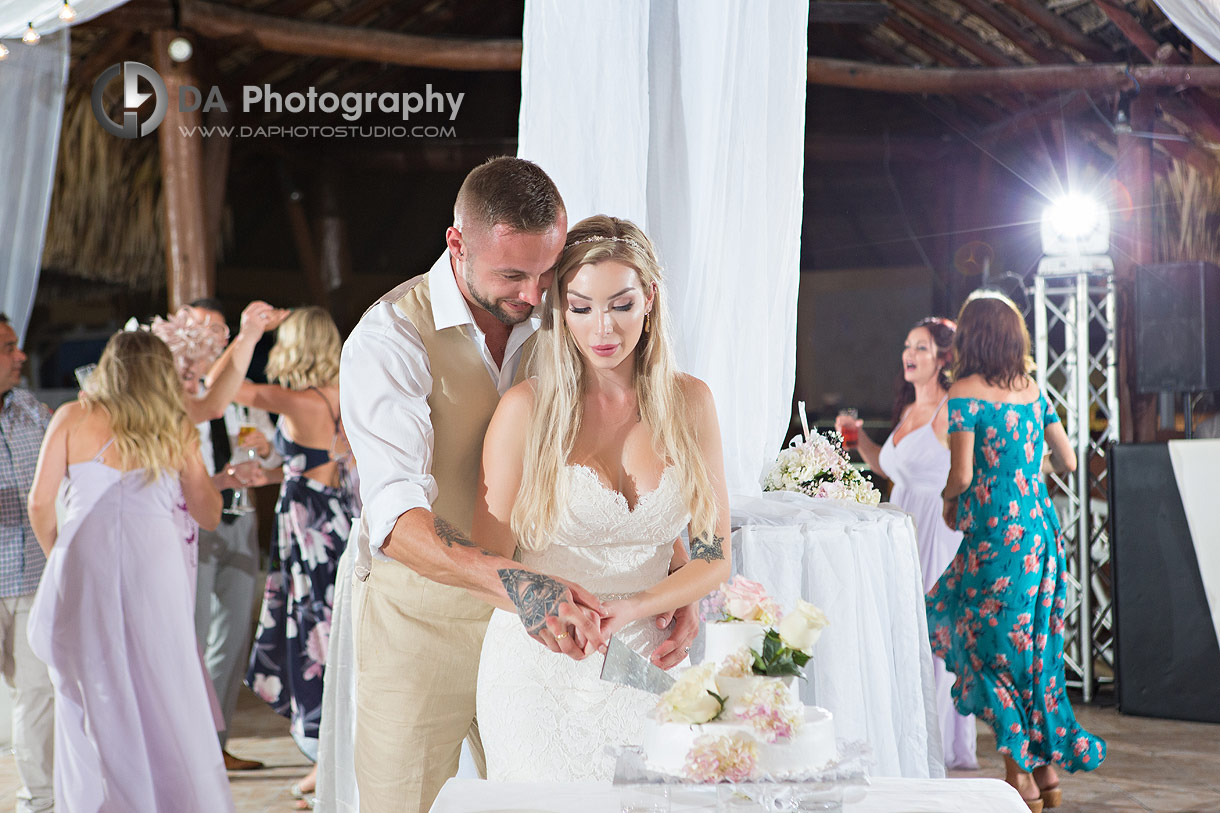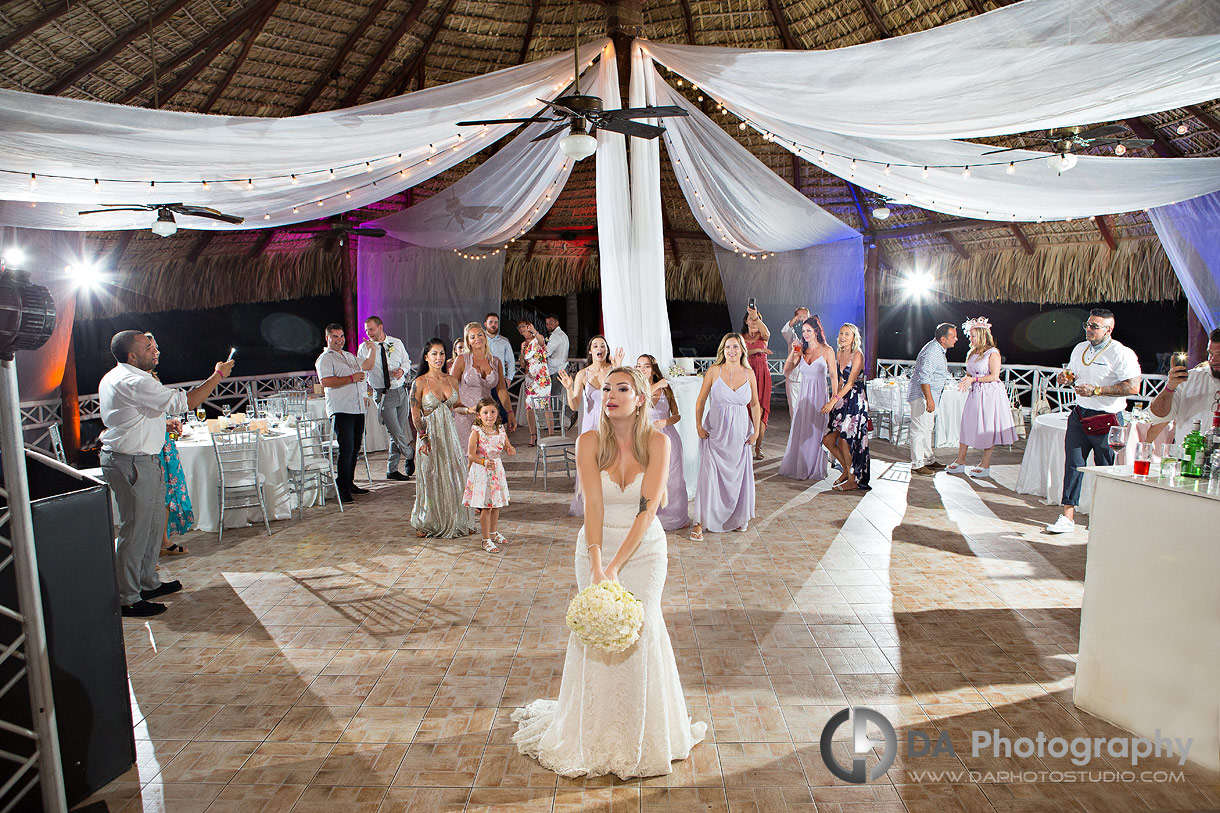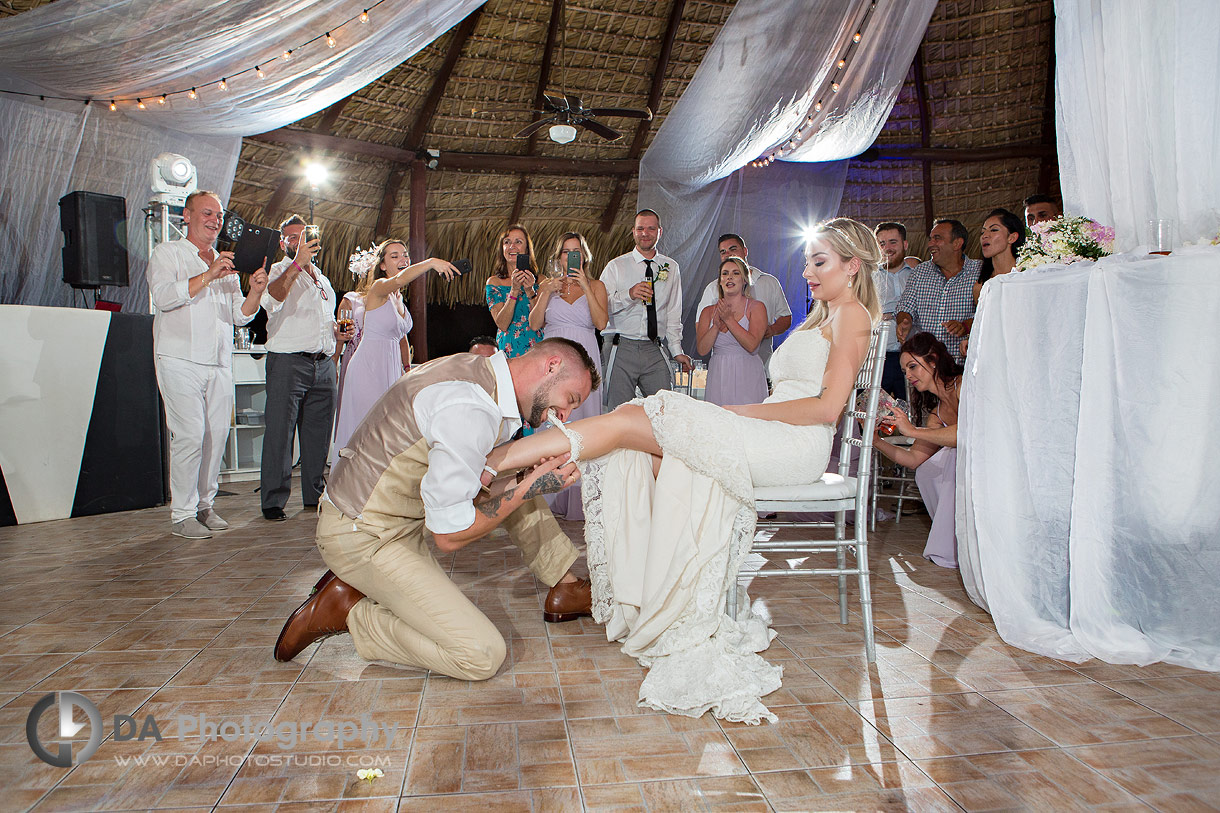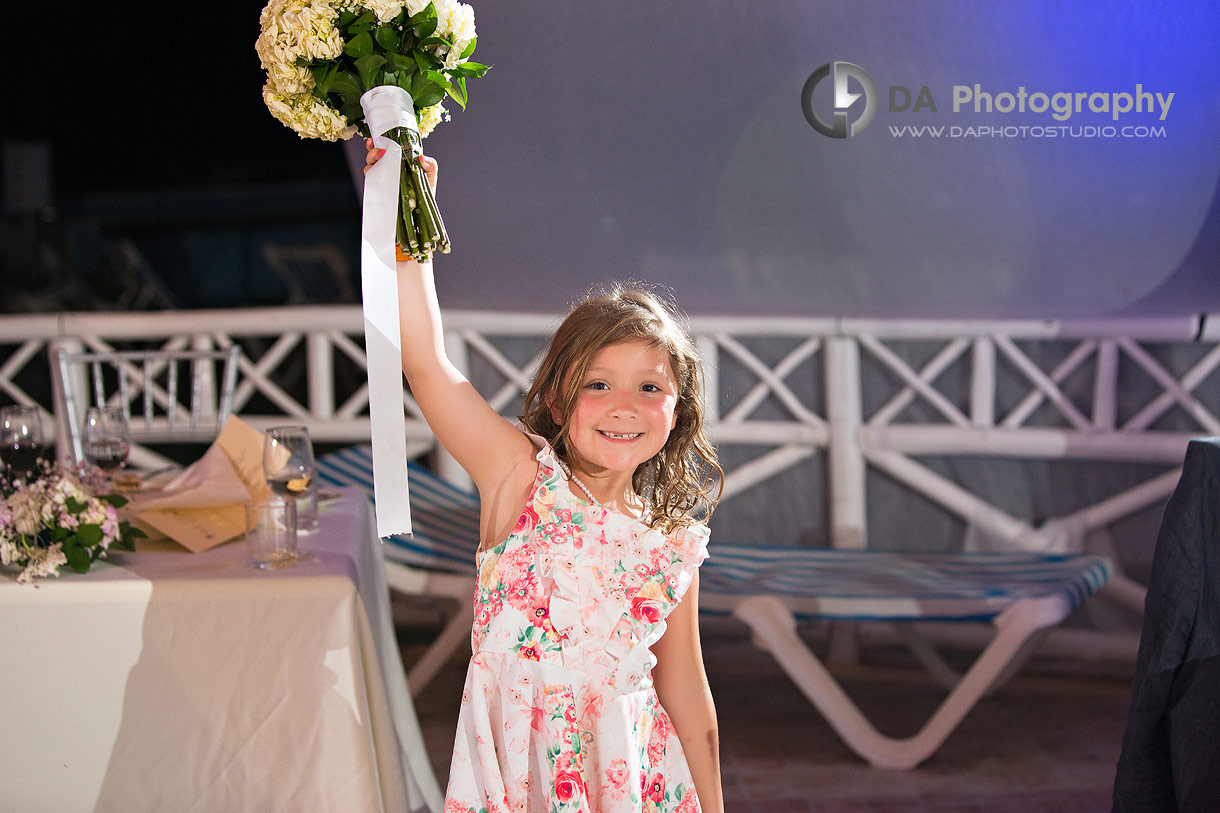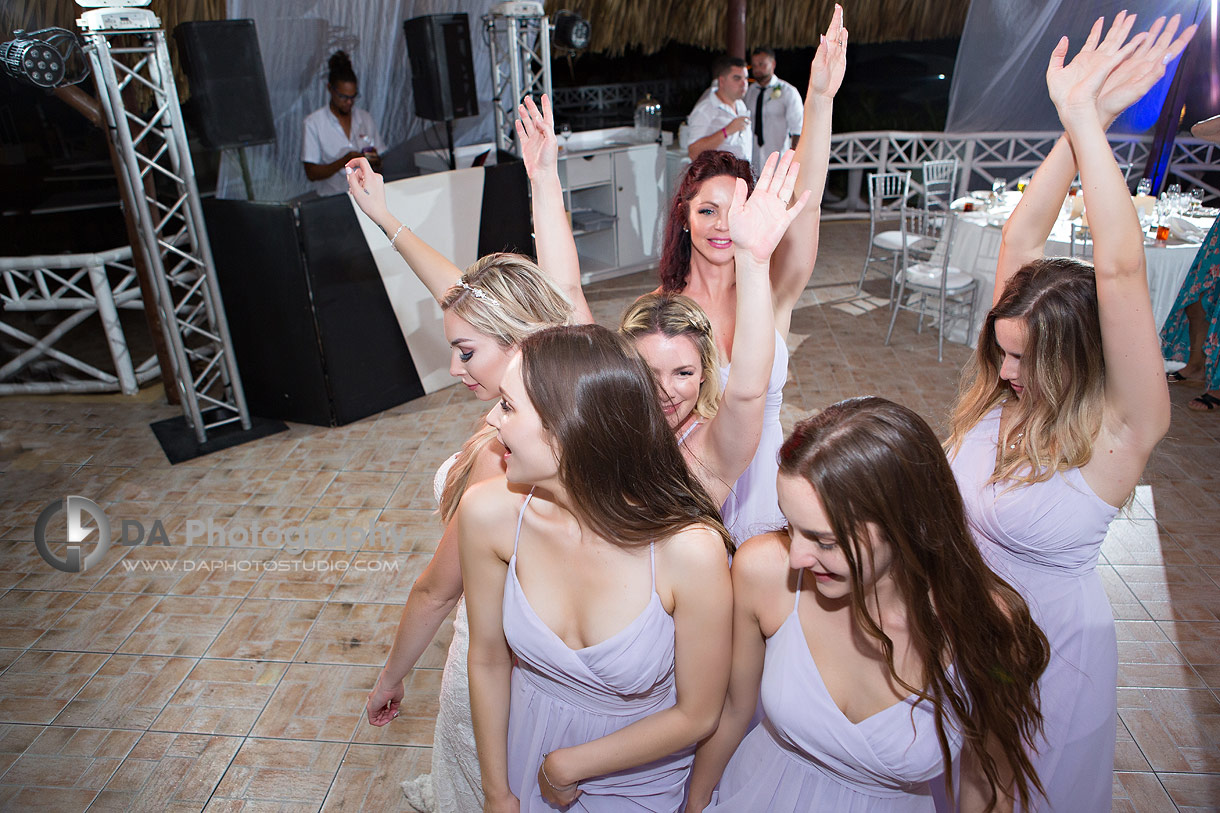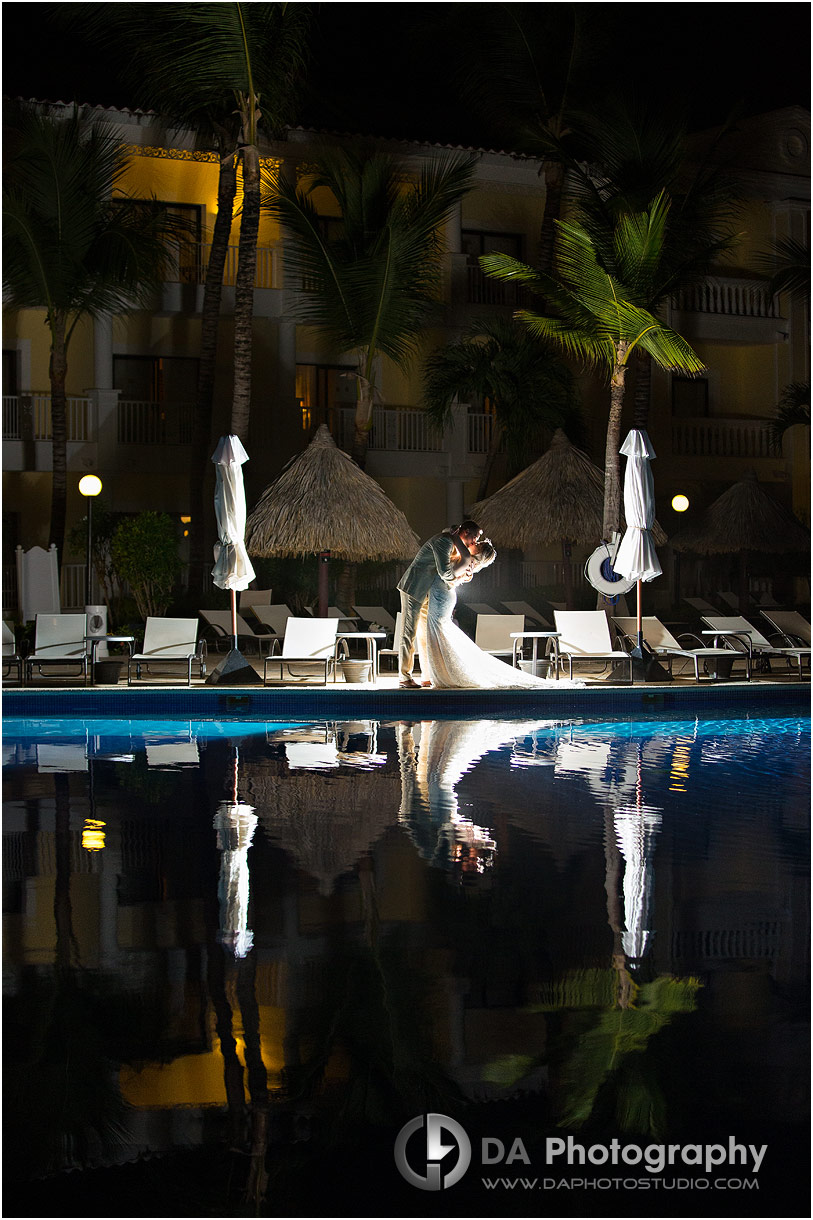 Winter reception ceremony at The Vue
It was important to Victoria and Alex to have a reception back in Toronto. This allows those who could not make the destination wedding an opportunity to celebrate their new life together. They had booked an evening reception at the Vue Event Venue by Peter and Paul. Unquestionably, they wowed their friends and family once again. The nighttime portraits this time around had a much different feel. I tapped into the sparkling lights to compliment their classy attire and surroundings.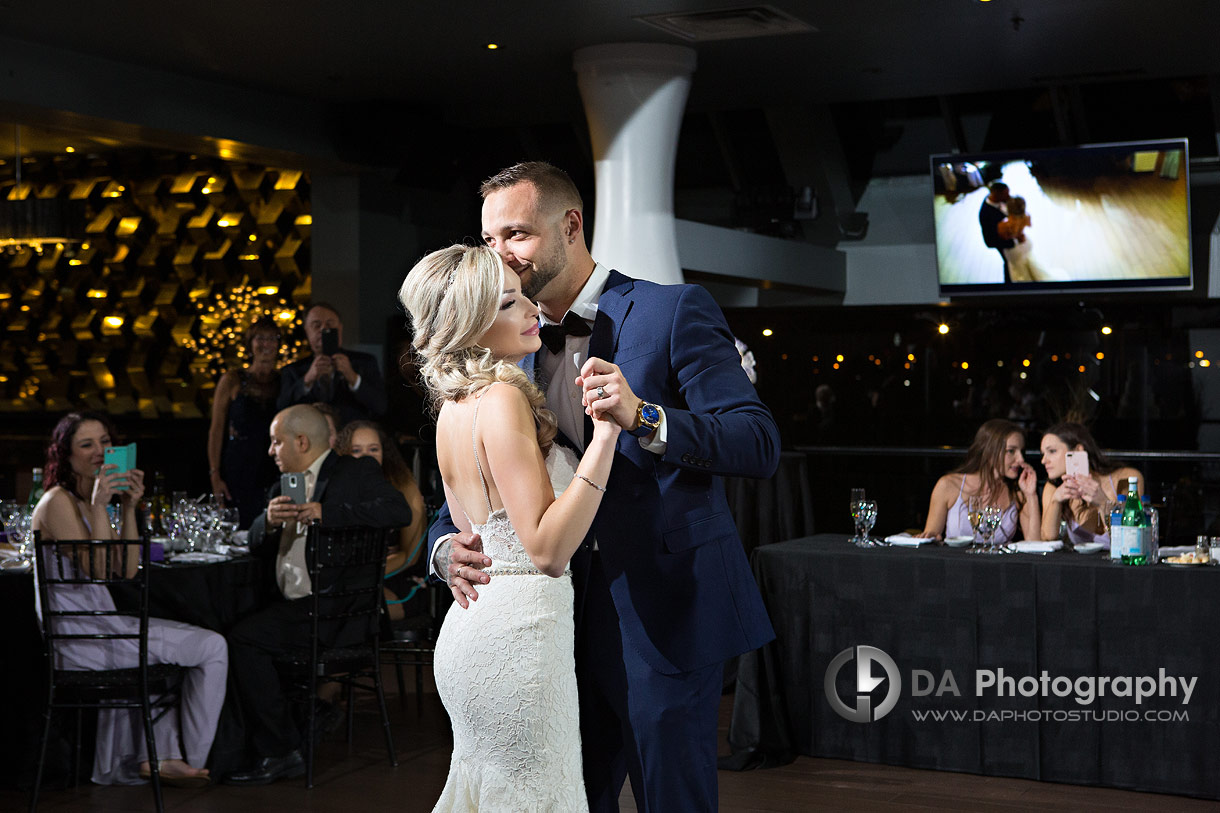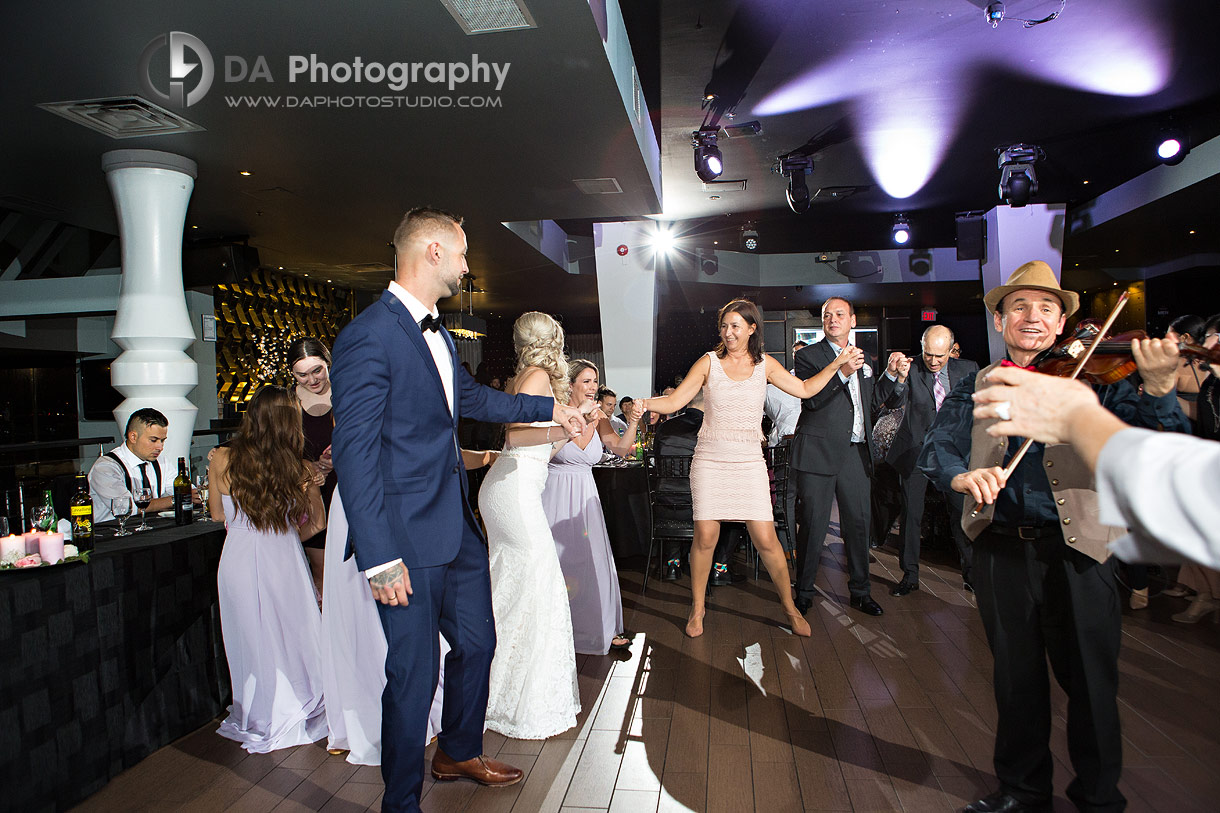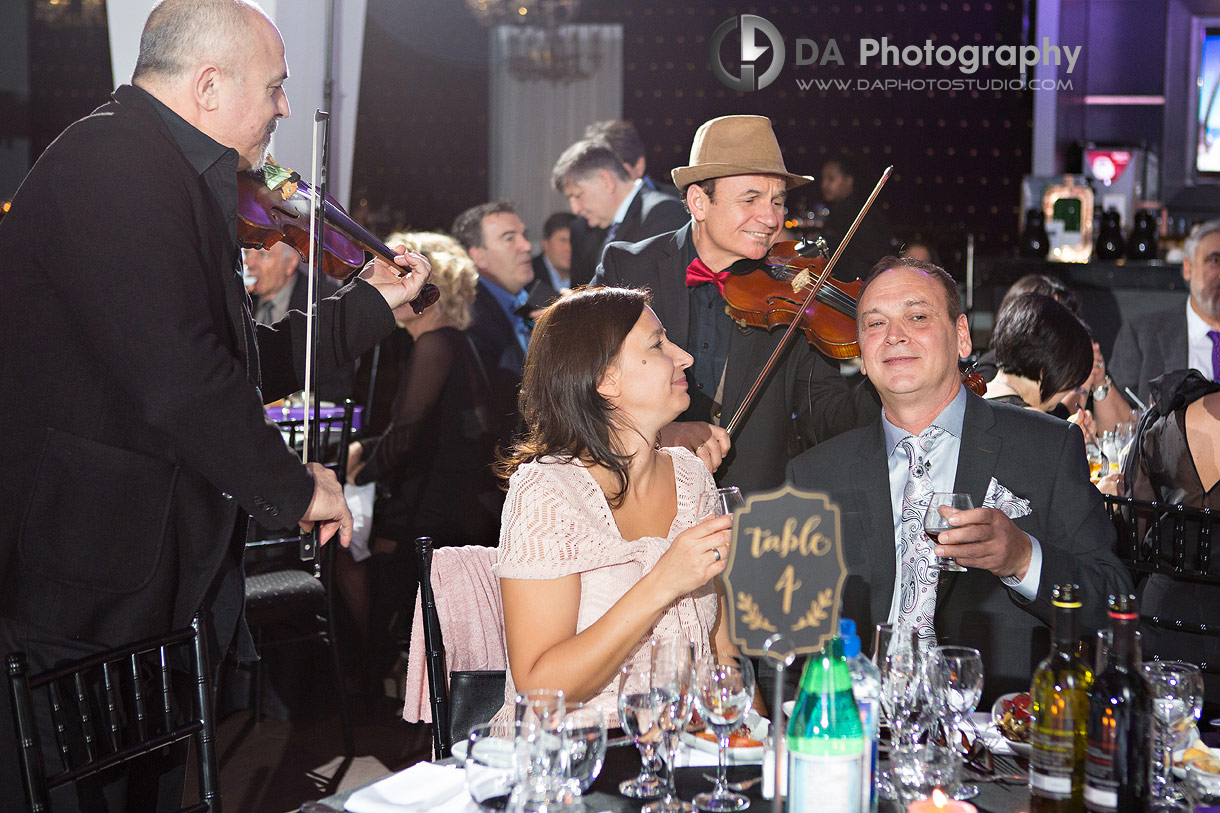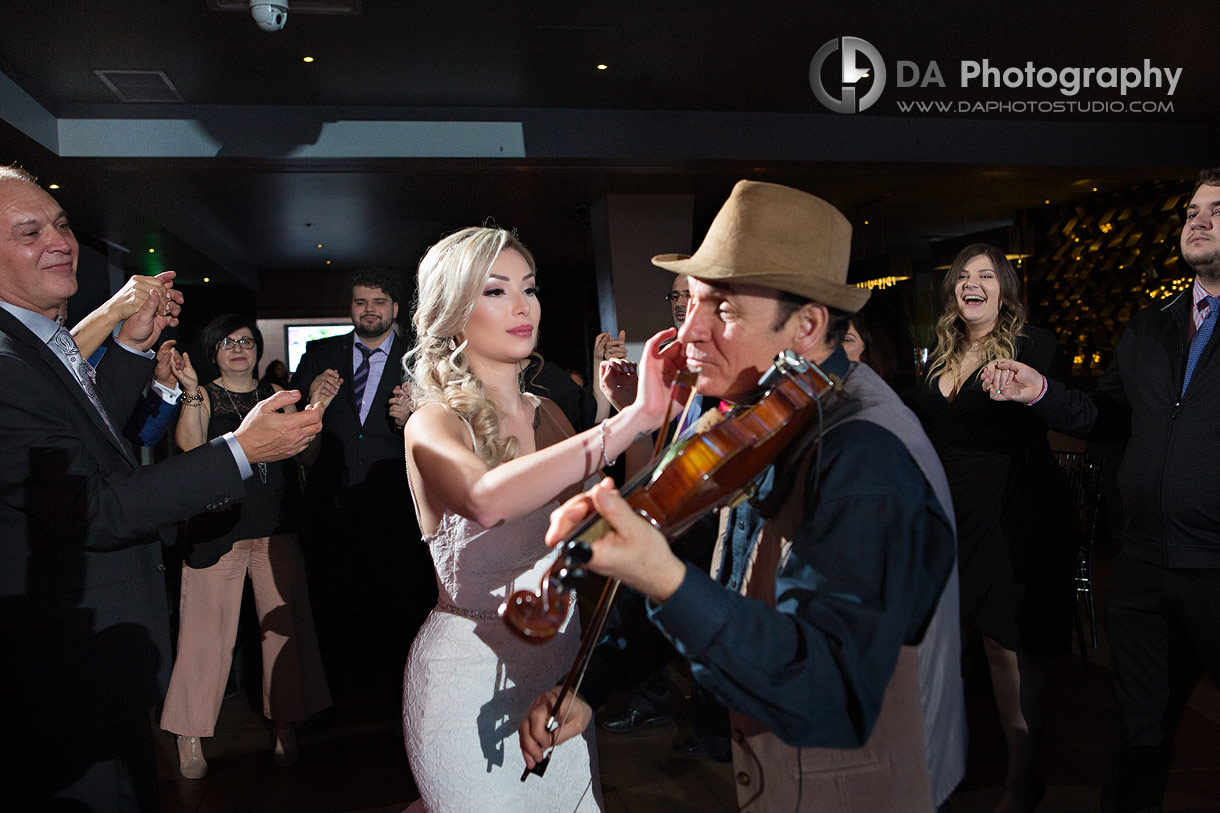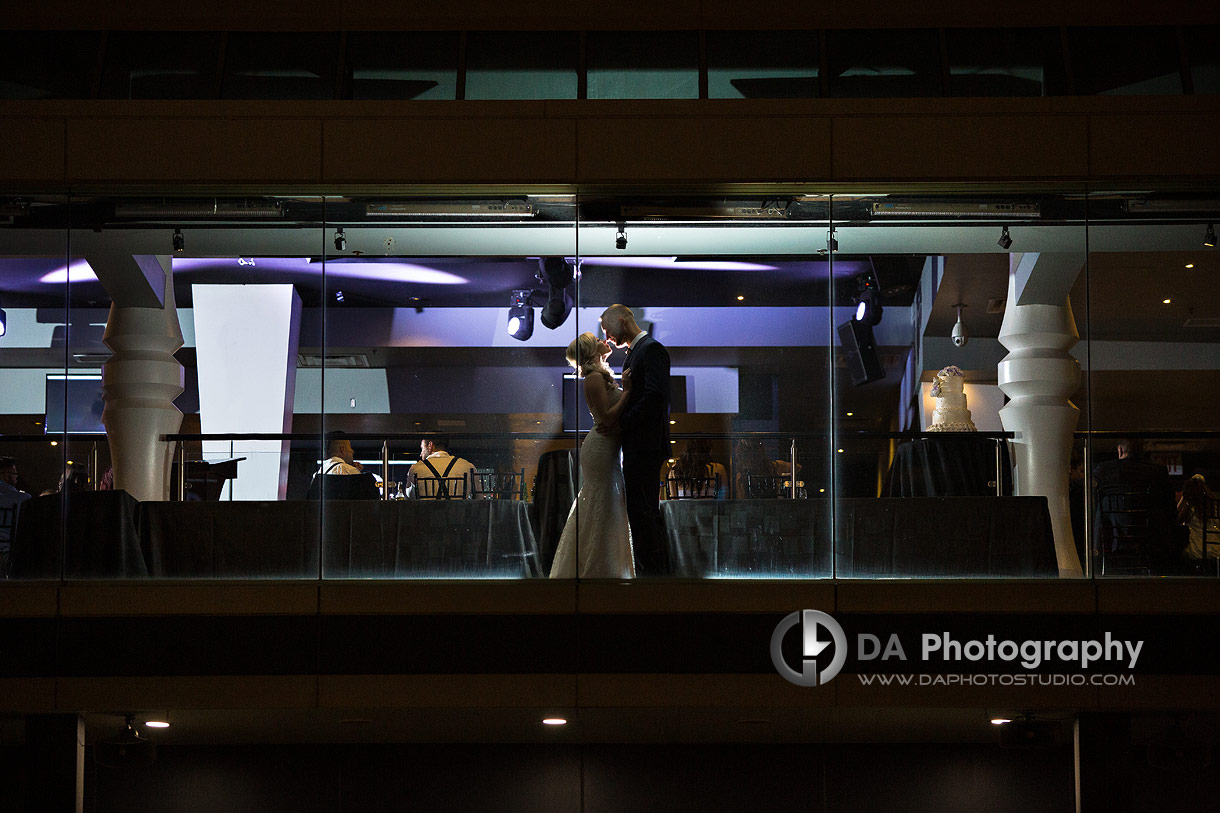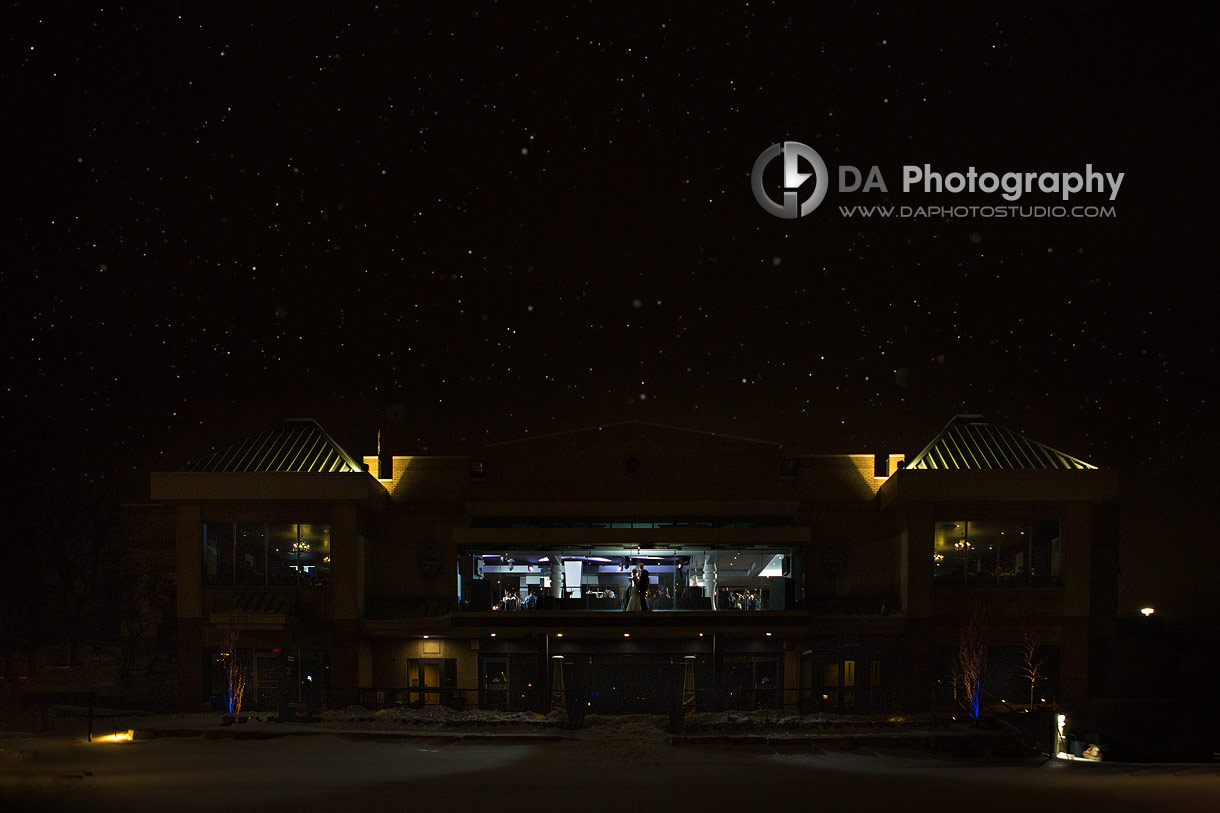 Victoria and Alex could have easily gotten away with the photography from both the resort and the corporate marketing team. However, by bringing a different style to the table, I was able to enhance their coverage. It is so important to know what your couple wants. My experience at their Punta Cana destination wedding proved that jumping in on those milliseconds of opportunities between the teams, resulted in validating my presence.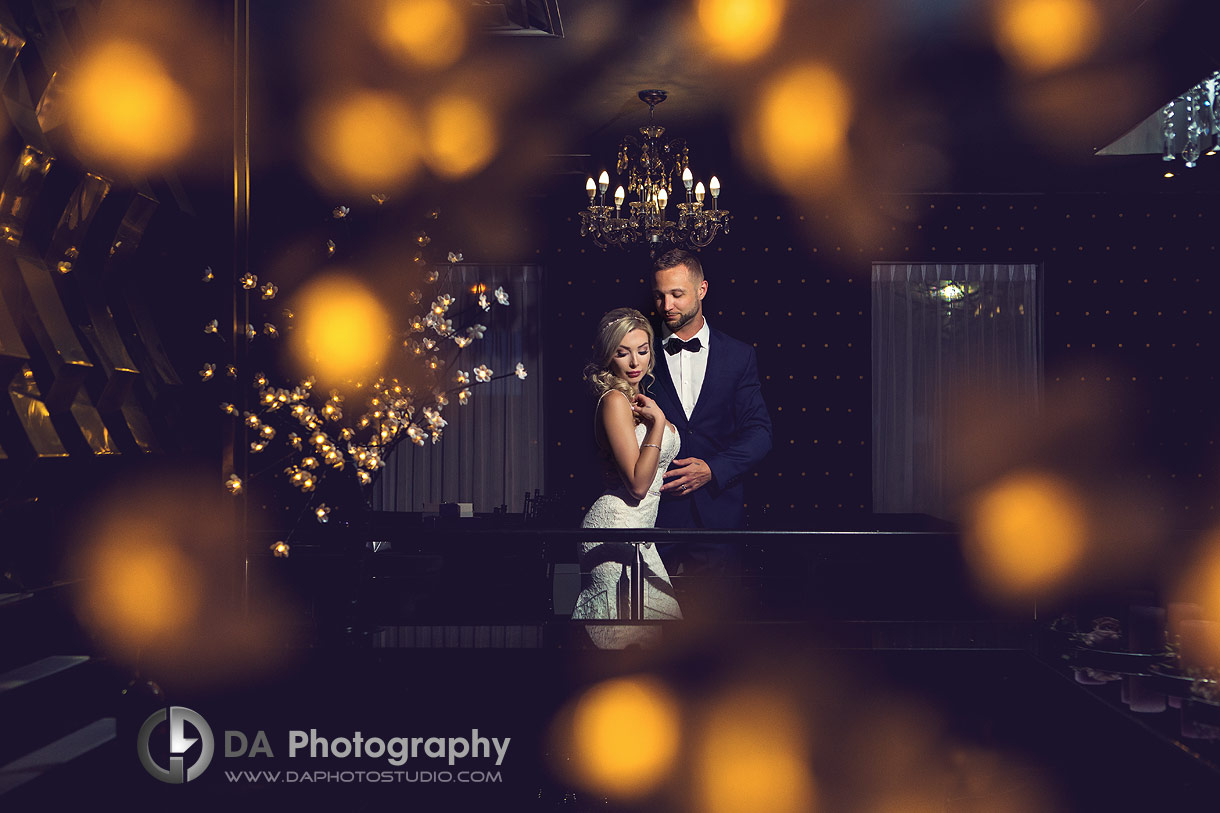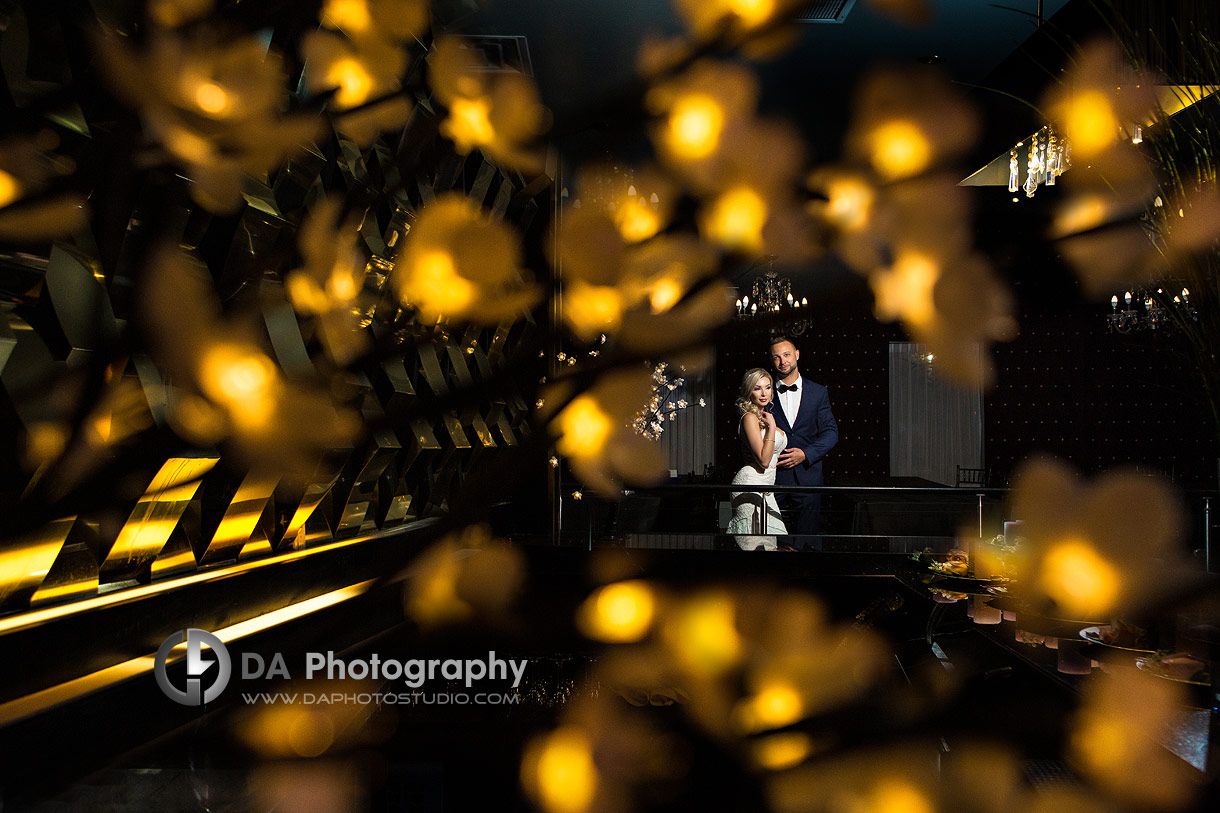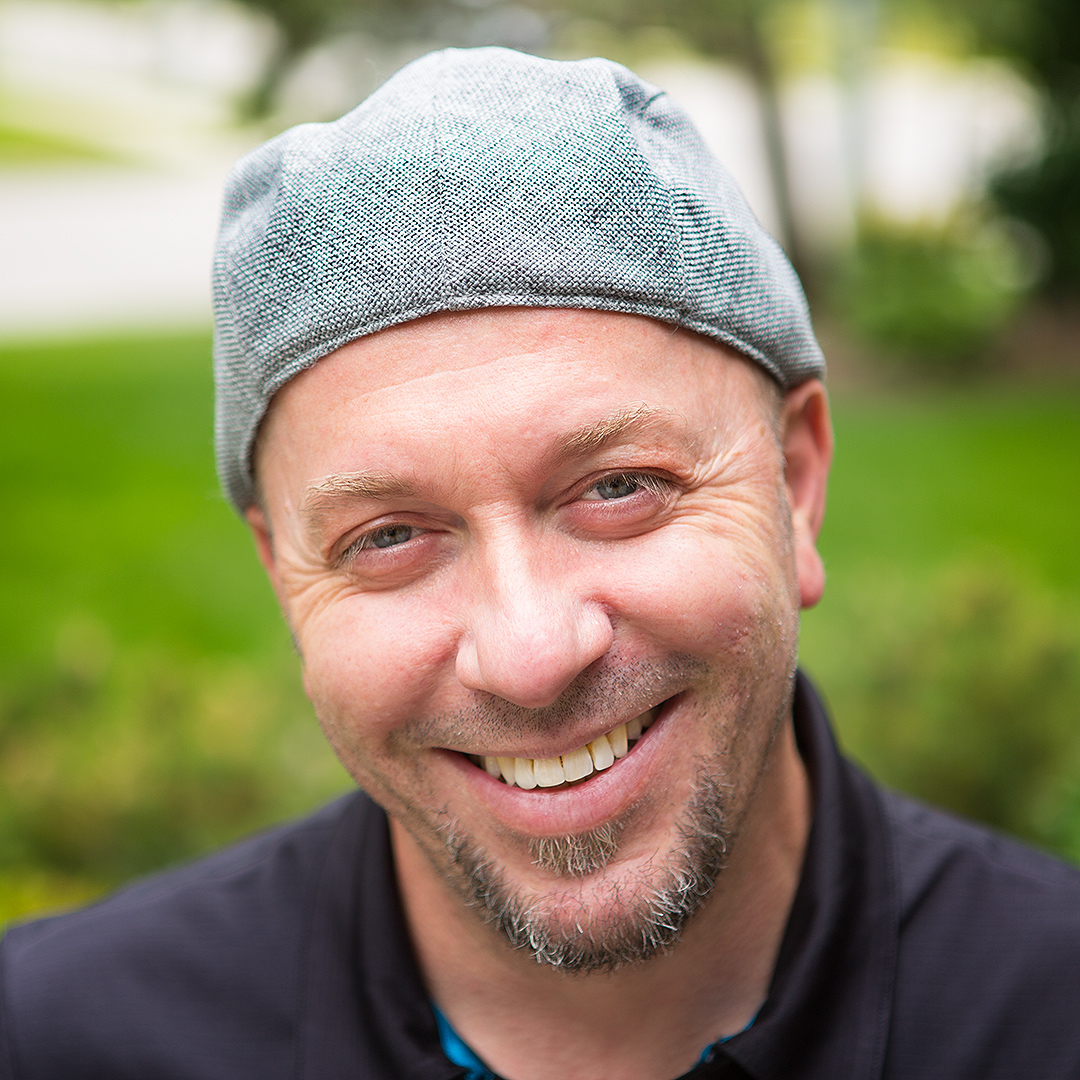 My passion and biggest asset is taking the time to make every client comfortable and relaxed before I even pick up the camera. The result? Photos of you that actually look like you at your best! I can prove to you how much you can enjoy having your picture taken. Lifestyle photography is about the experience that happens to be served up along side of some great photos.
Specialties:
Family Photography for families that like to move around and enjoy their photo time, Wedding Photography for couples looking for a mixture of photojournalistic, contemporary and traditional images and Professional Corporate headshots that are far from cheesy and stiff.