I've photographed wedding anniversaries quite often. To me, they are the sweetest things to experience. A wedding photographer experiences a lot of stress throughout the wedding day. The expectations are high and everything needs to work perfectly in order for the experience to be great. It is sometimes quite difficult to slow down and take pictures that really celebrate the couple and their unique love for each other. For that reason, taking photos before, after the wedding day or at the wedding anniversary you will be able to experience the real couple connection.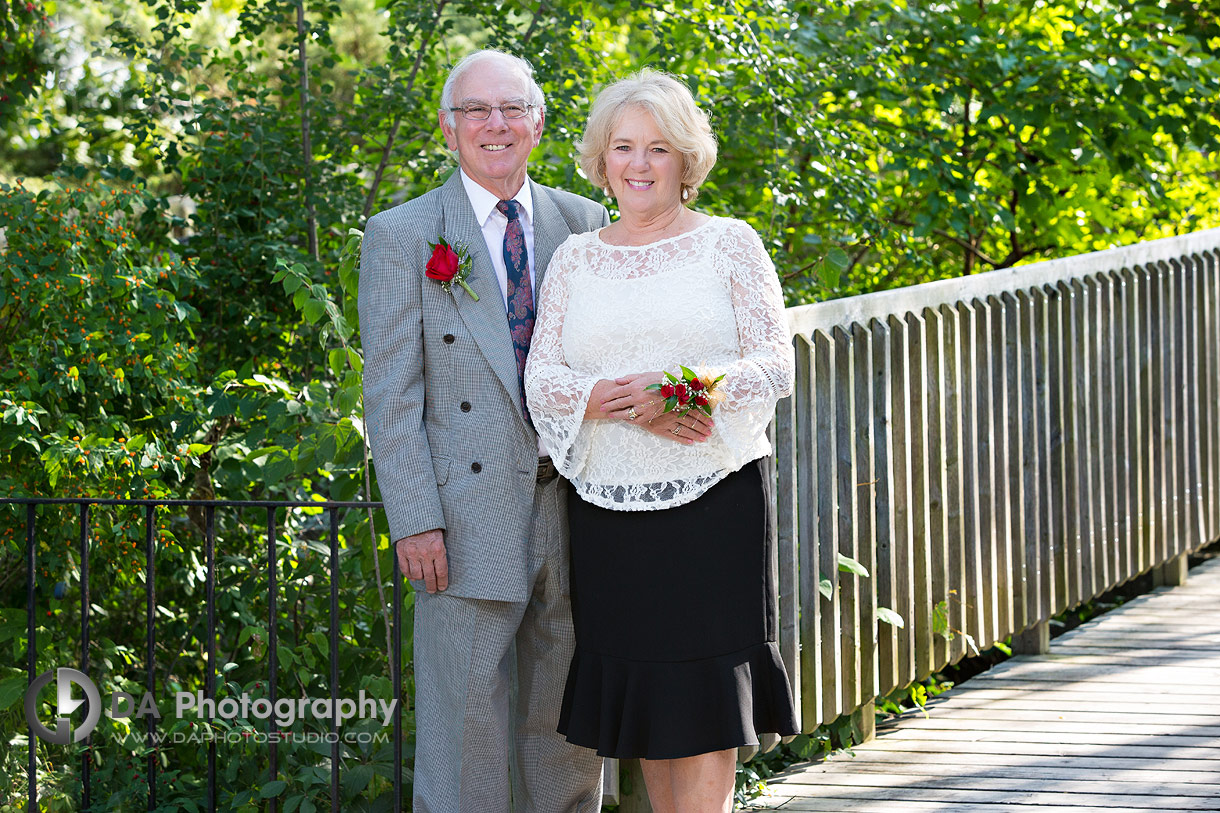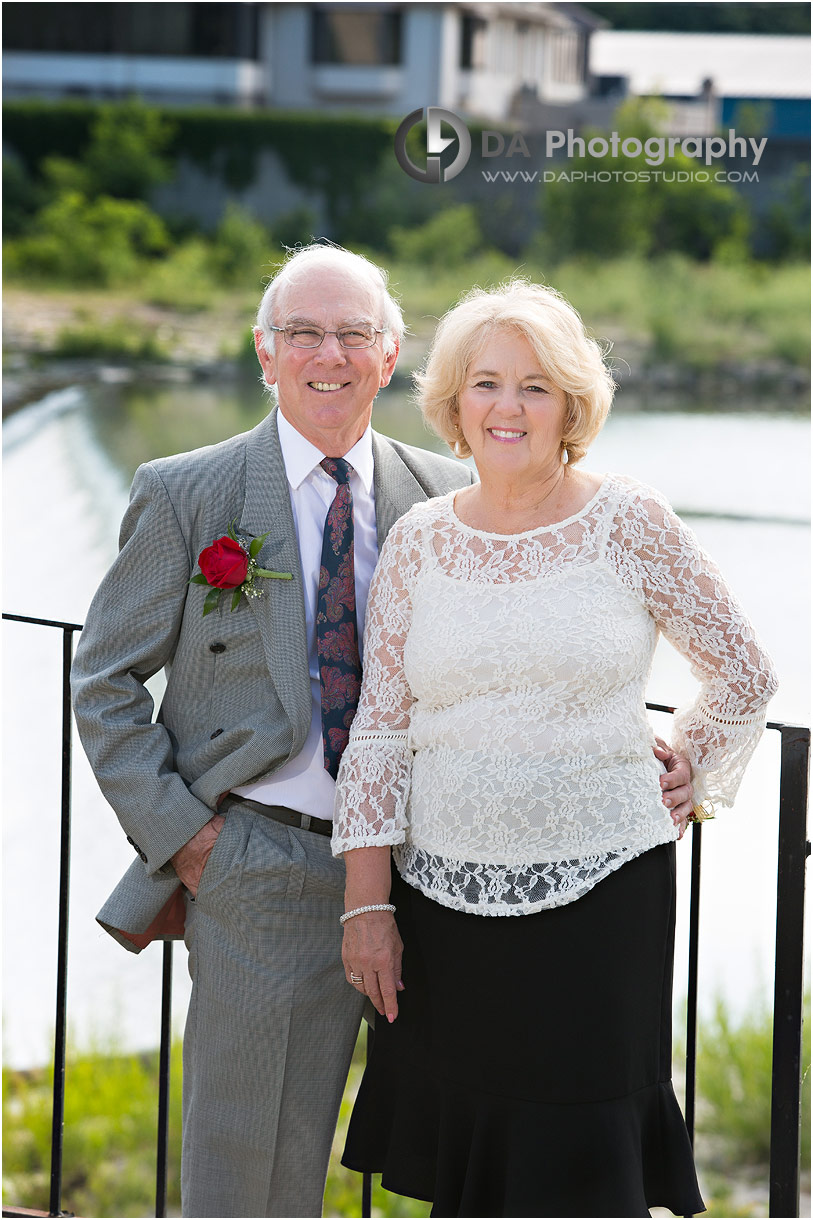 Wedding photo pose reenacted on the wedding anniversary
Carol contacted me requesting if I could take their wedding anniversary photos. Of course, I was totally in! She explained that they had booked a dinner at Cambridge Mill for themselves and their kids and was interested in taking some portraits before. Because Carol had a few questions and was looking for more information prior to the session, we decided that planning would be best if we met in person. Carol and her husband Karl lived only 3 minutes from my Guelph home and studio. Swinging over for a quick meeting was almost too easy!
Within the first few minutes of meeting the couple, I just knew that they would be great to work with. Carol showed me a framed photo in the family room of a photo taken 50 years ago on their wedding day. (the attached image was taken from my phone so that i could study it) Karl told me that this photo had been through a restoration process in order to reprint it. Carol then asked me, "Can you take the same photo of us?" I didn't hesitate to say,  "My pleasure!" These two people have been together for 50 years and it was obvious that they still loved each other very much. I felt it was truly an honour to show the world what true love looks like.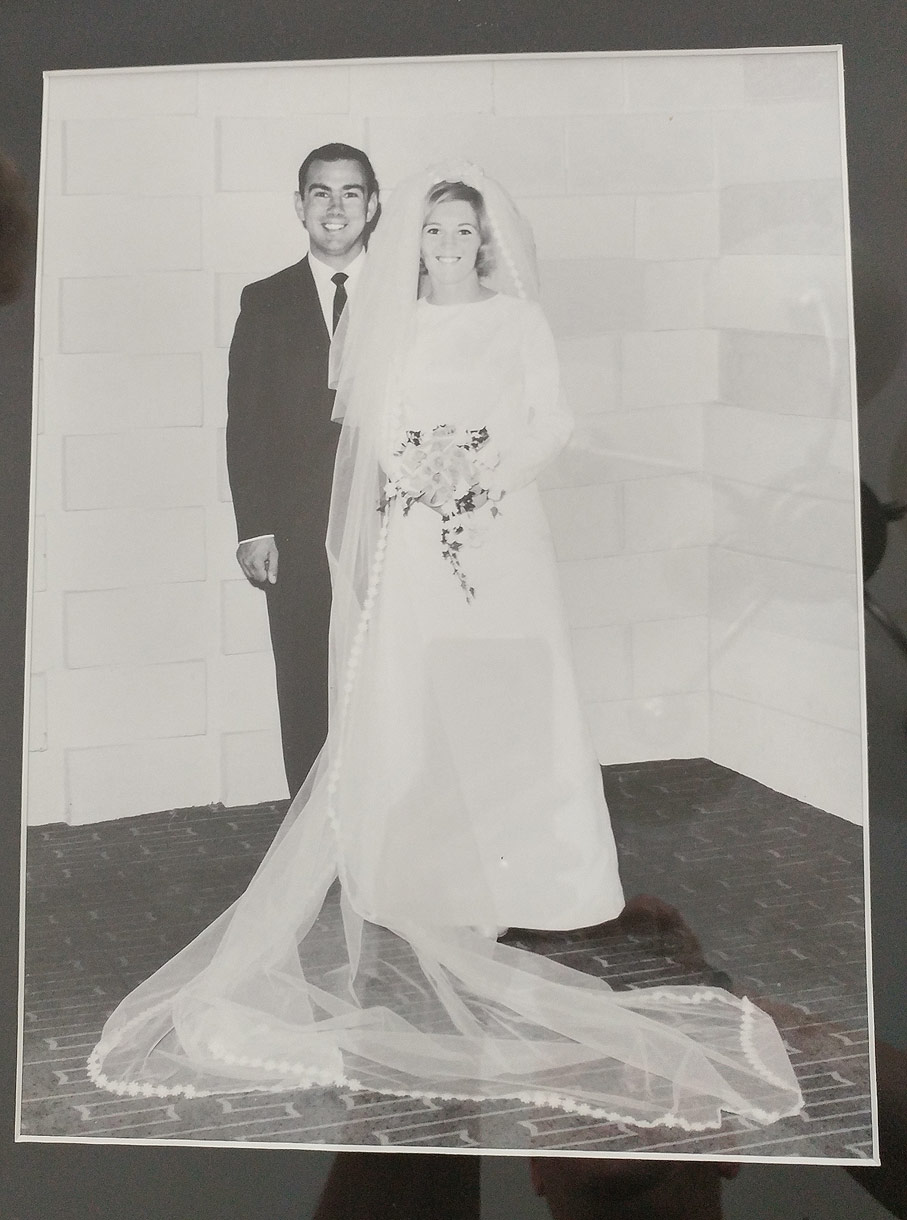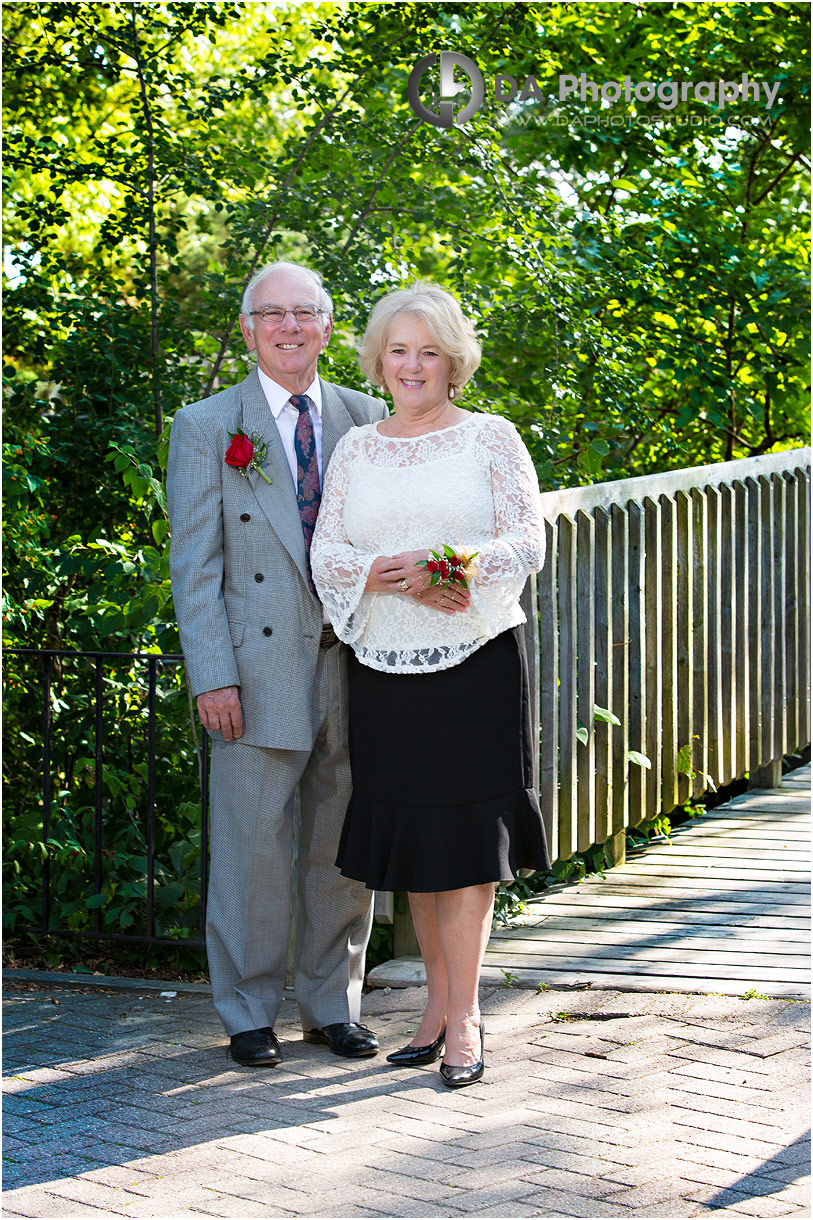 Wedding Anniversary photos at Cambridge Mill
Karl was under the impression that the photo session would be complete within 3-5 minutes and then the dinner would start. However, Carol had planned a much grander occasion for them to celebrate. She had organized everything from the dinner, to the boutonnieres and flower corsage, etc. and she also had found me to document it all. Arriving before the Cambridge Mill wedding anniversary dinner time, we went across the street to Mill Race Park where we did most of the photos. I made sure we had images taken with the entire family. Carol and Karl had three children, two boys and a girl. Now adults themselves, there was the addition of a daughter-in-law and two grandchildren too.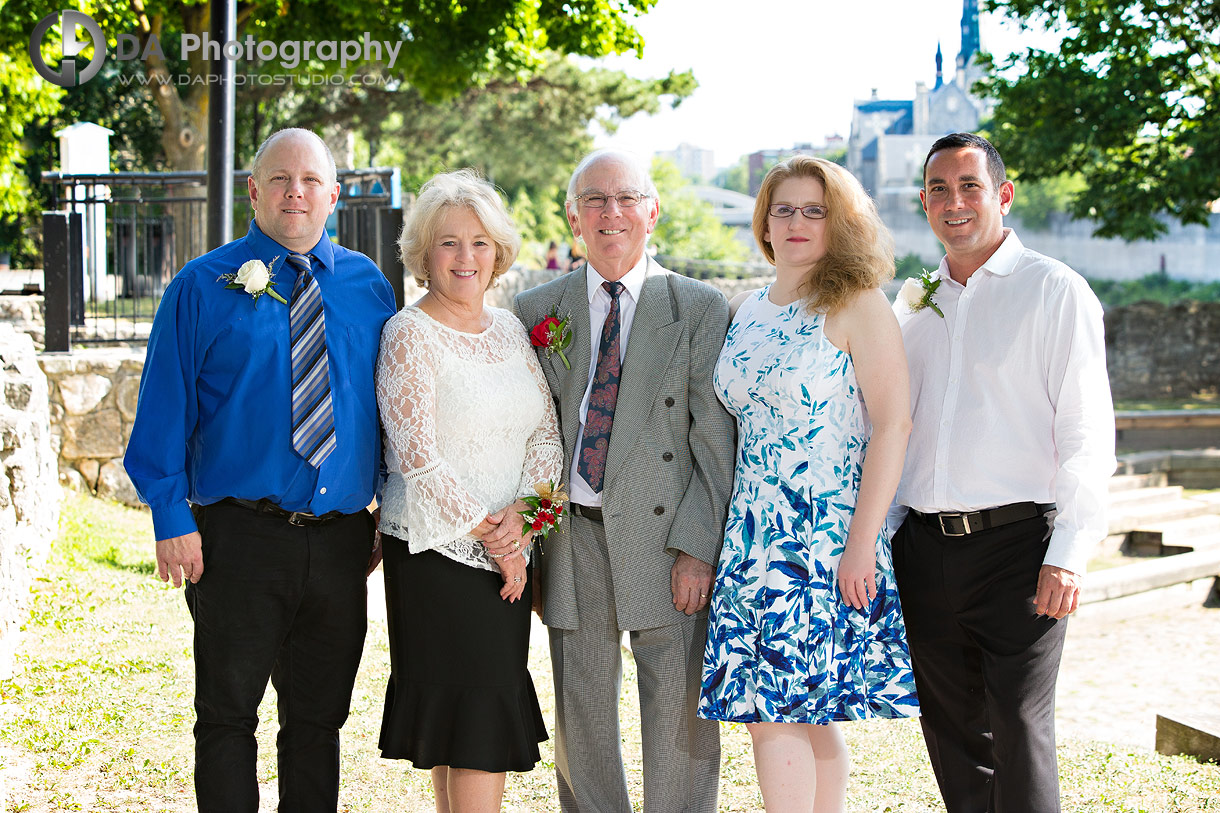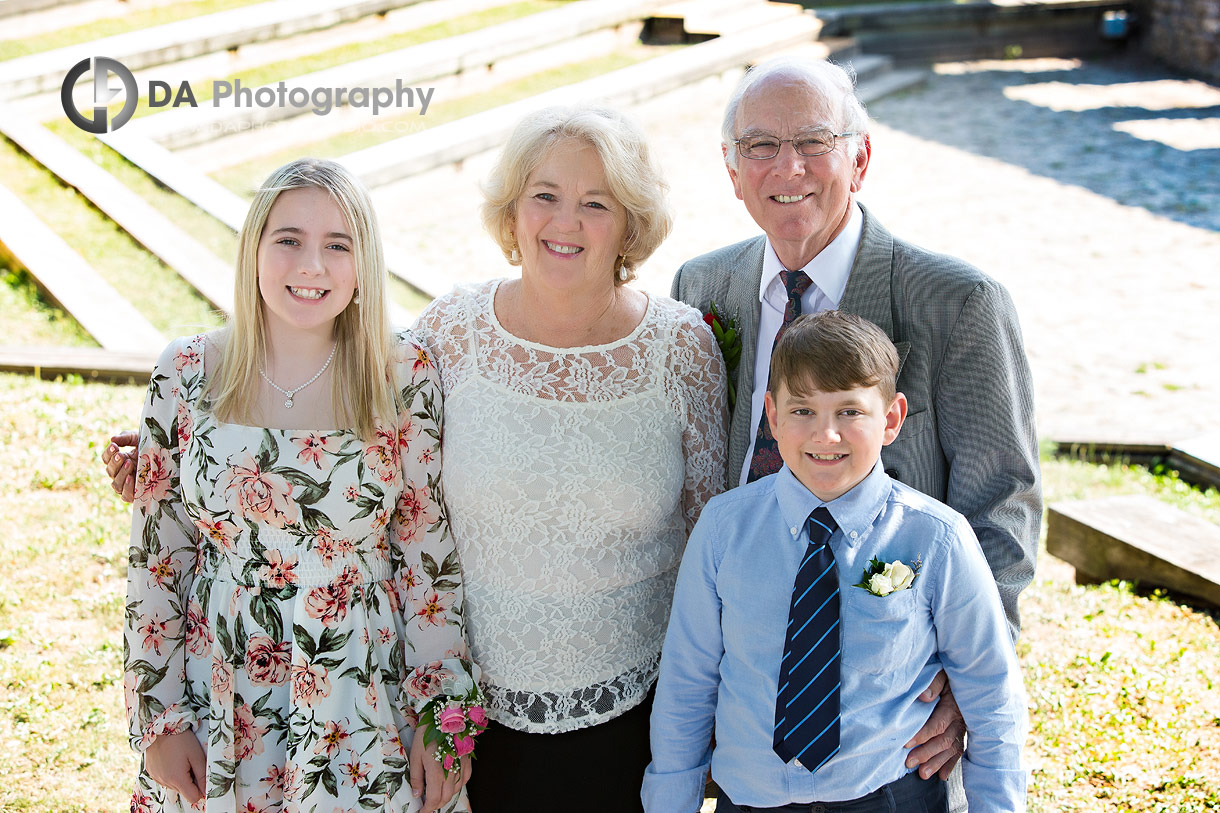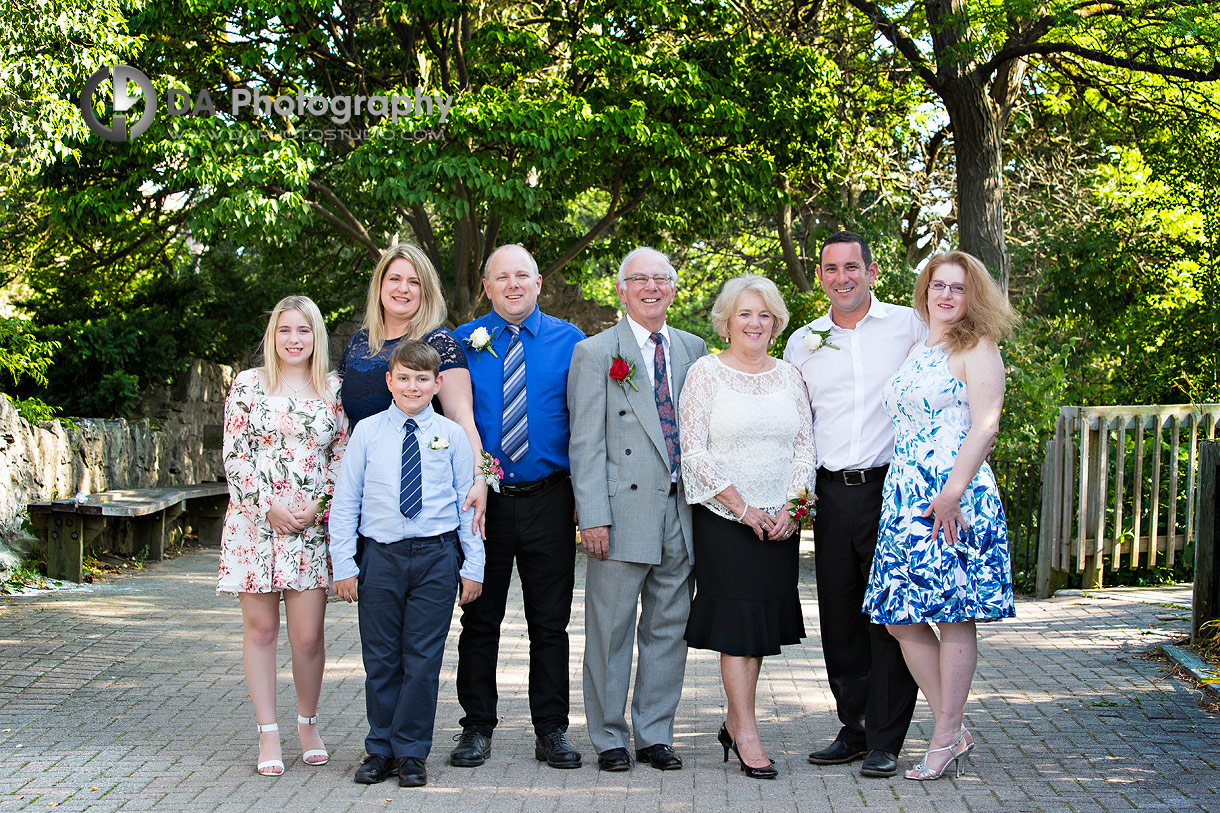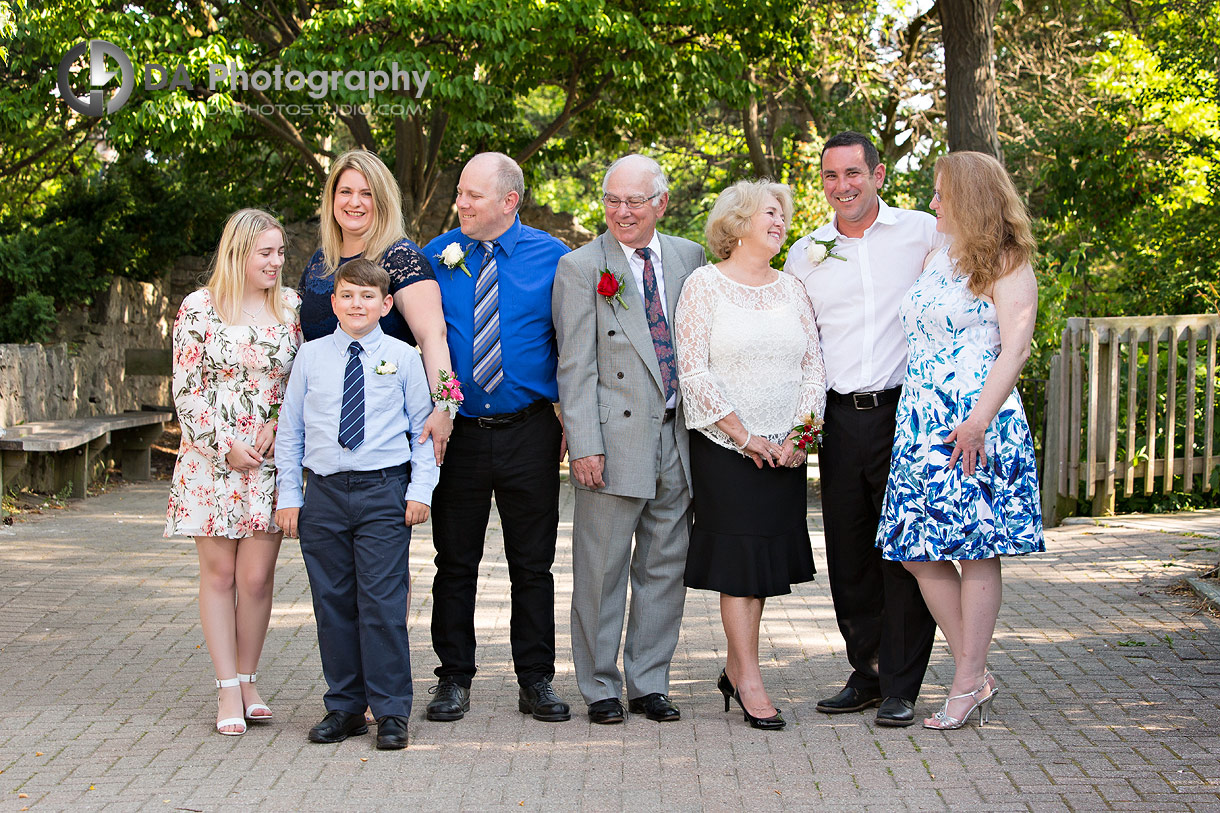 It was a hot day and I could see that the heat was understandably starting to affect the mood from the family. Once we did most of the photos with the groups and other combinations, I went in wedding photography mode. This is usually the point where the family can rest while I whisk away the couple in love. I asked Carol and Karl, "Would you like to take a 10-15 minutes walk with me so I can photograph your 50th wedding anniversary?" Carol and Karl were more than pleased for some time away to celebrate each other and away we went.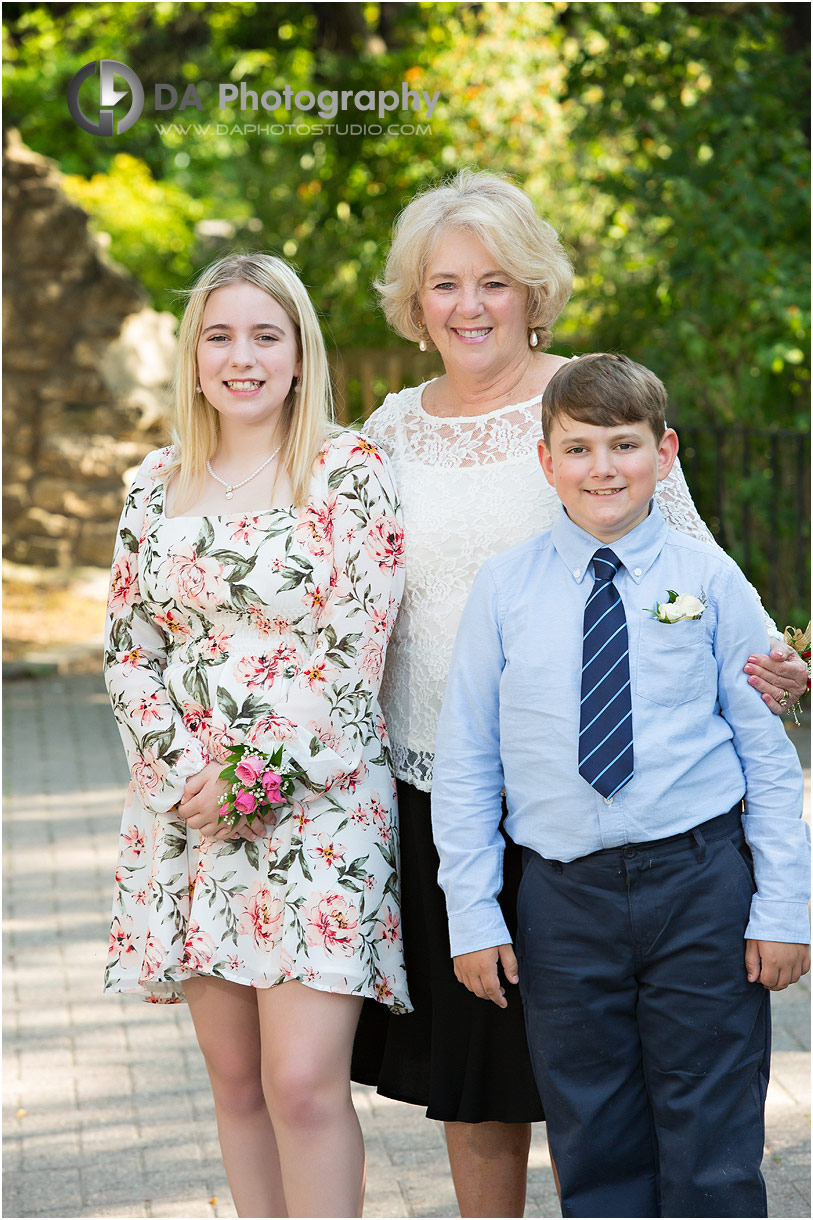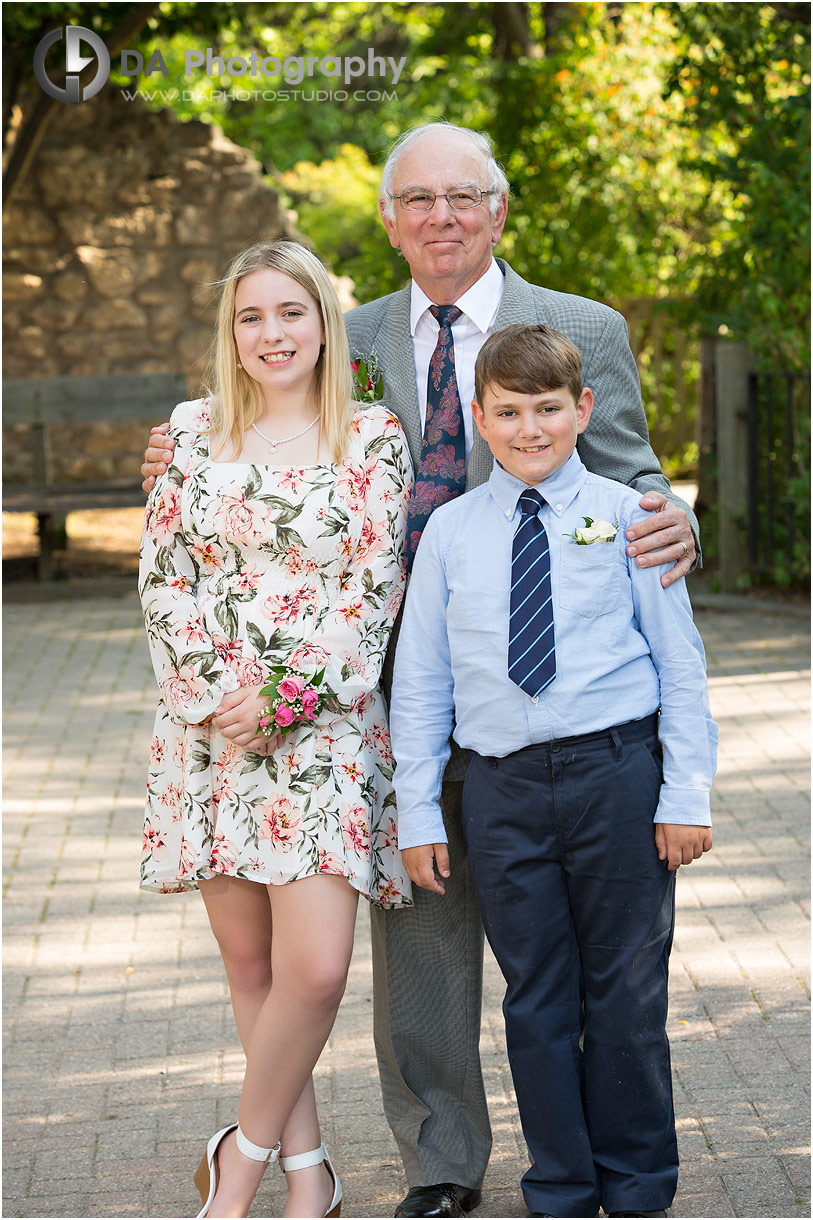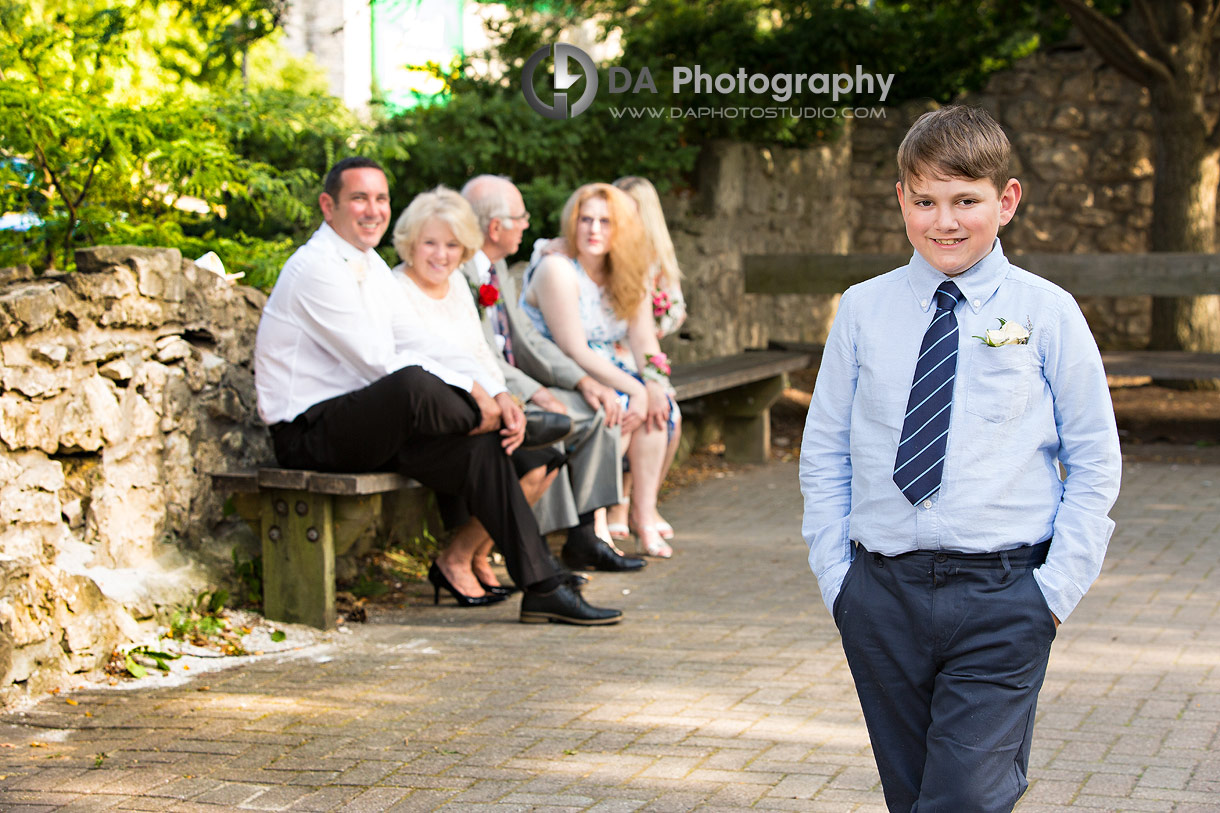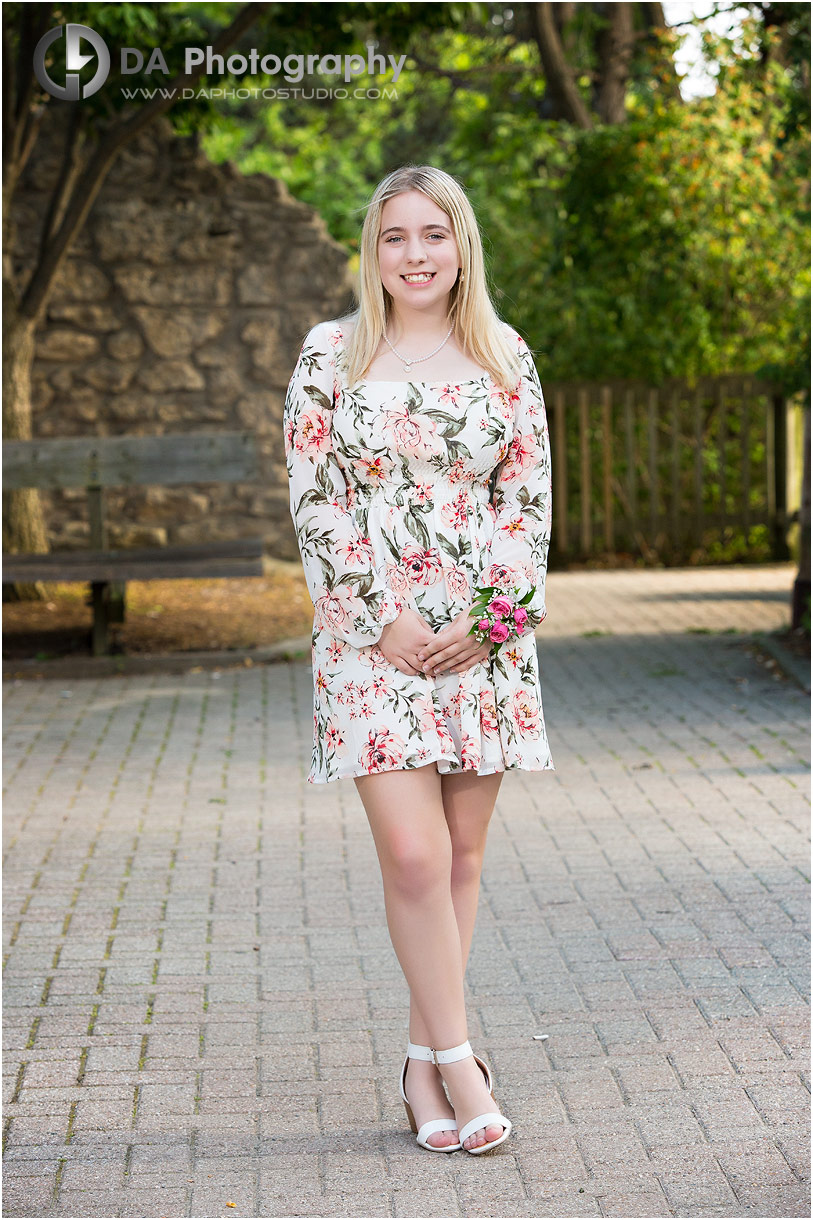 Why age is only a number when there is true love
This private moment on their wedding anniversary was my chance to reenact that photograph from their wedding day 50 years ago. We were absolutely successful and now my print is hanging proud in their living room next to the first photo. Once I saw that they became more relaxed, I started to work with them in the same way as my 25 year old brides and grooms. I was blessed to be able to witness firsthand that age is just a number. It was so unlike the many photos that we are bombarded with today; posed and filtered selfies with smiles that don't quite meet their eyes. Carol and Karl smiled to each other and to the happiness and life journey that they experienced together. Working with them, I could not have been more thrilled then witnessing such a lovely and genuine photo session.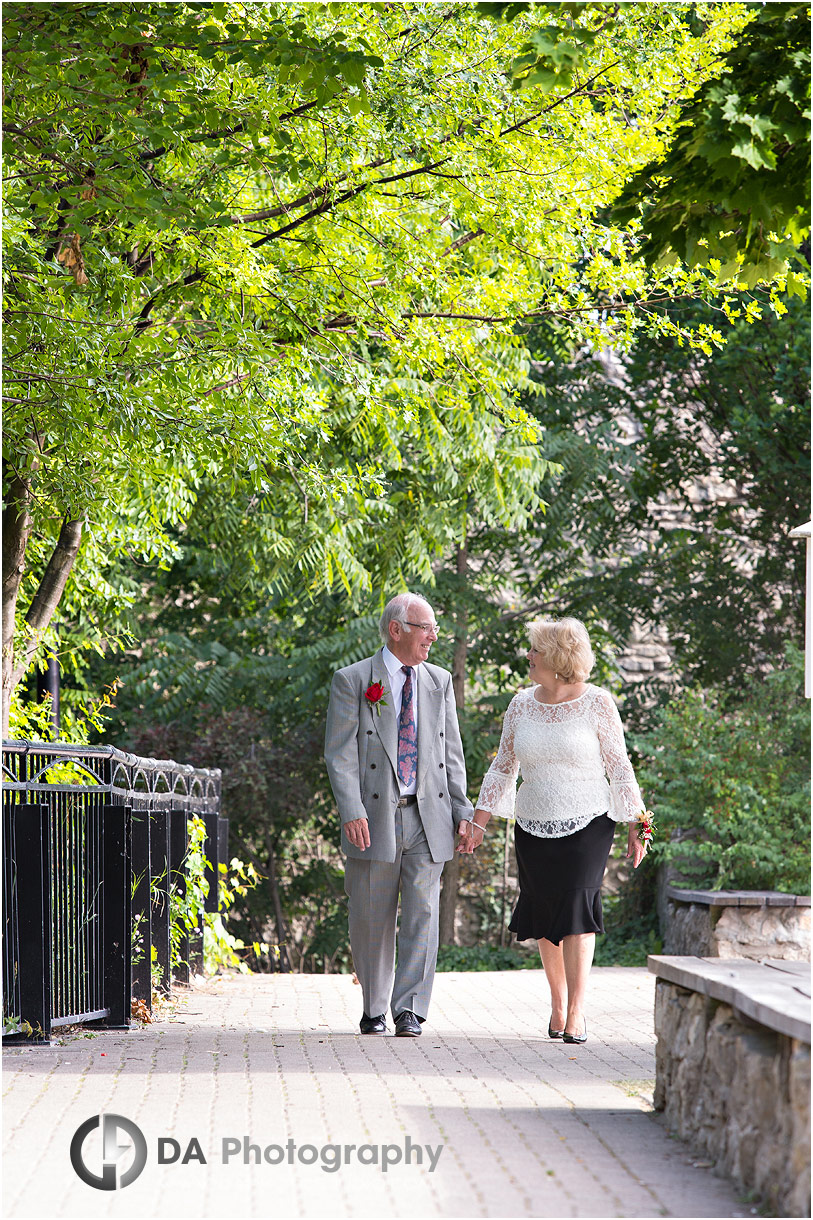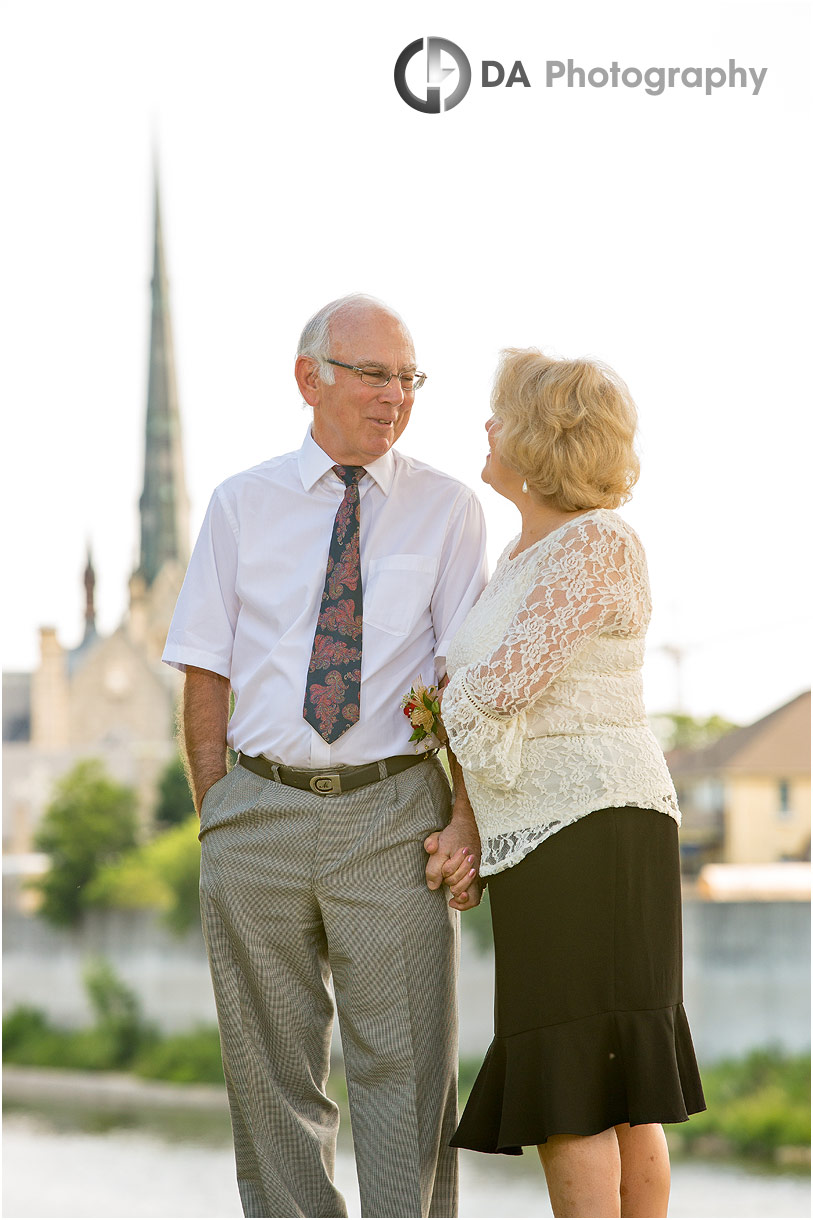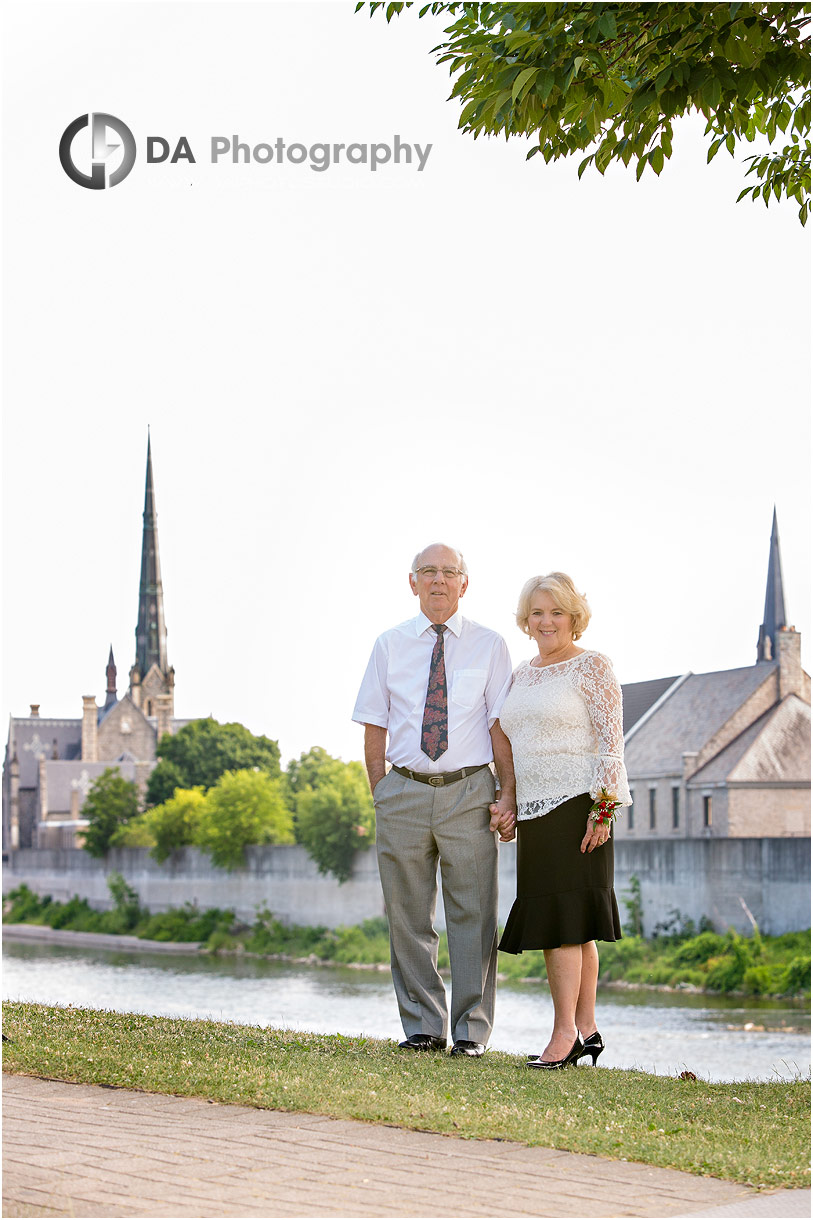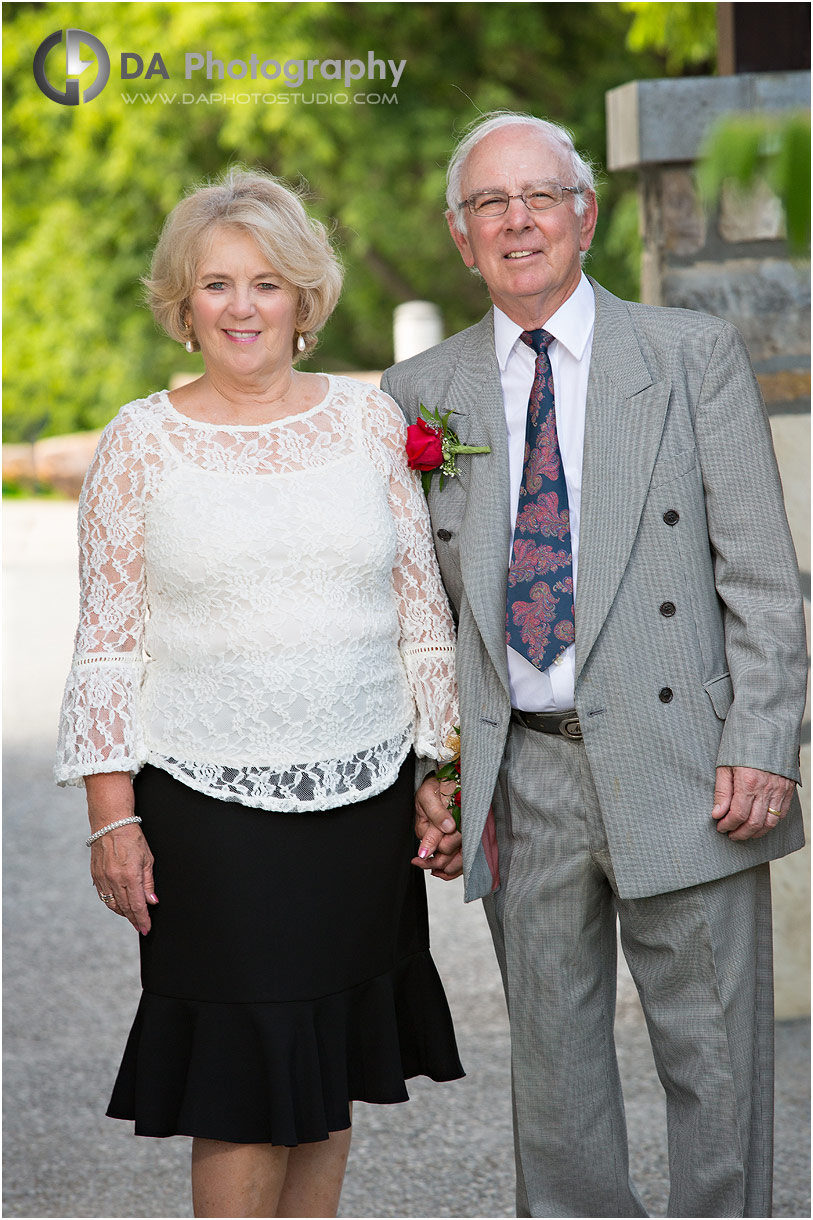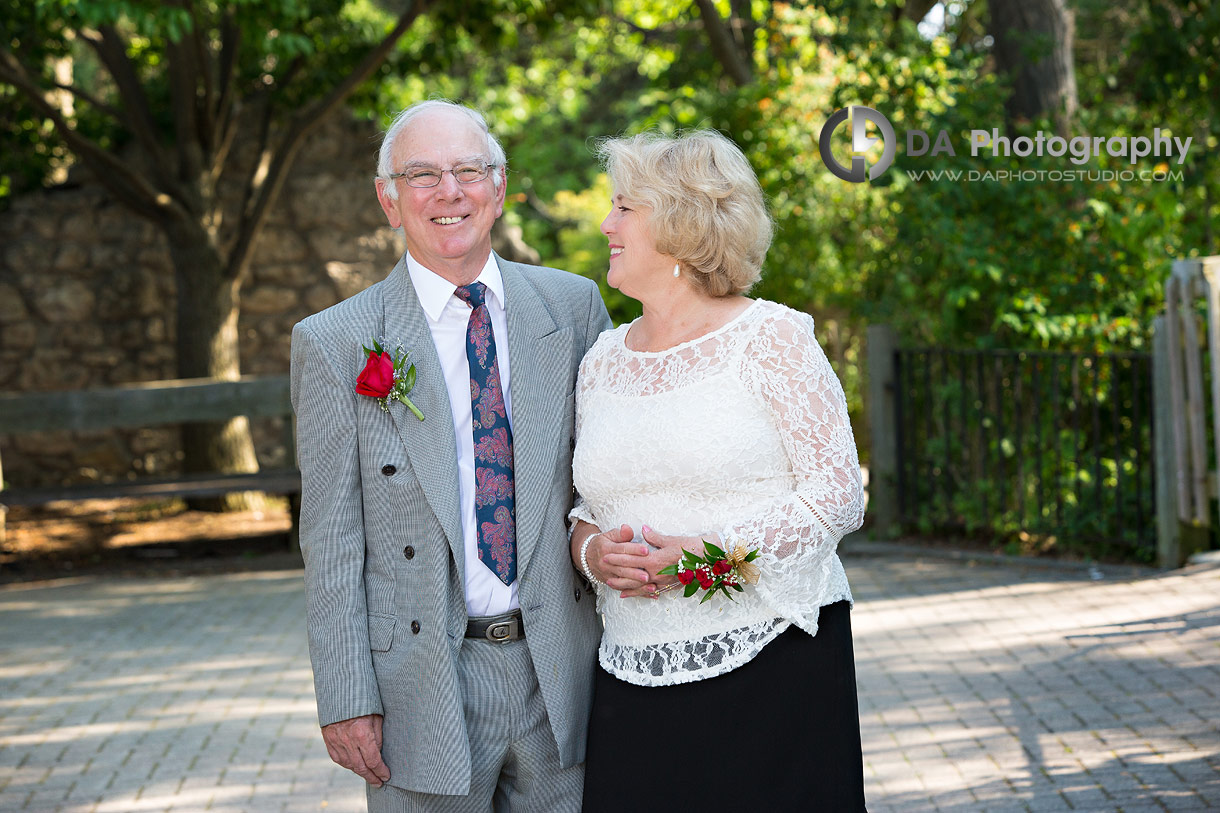 Wedding Anniversary Photo of the Day
We had been working for maybe half an hour when some of the family reminded us about dinner. It was then that I caught Carol leaning into Karl's shoulder while waiting for me to begin again. It was such a relaxed and beautiful pose from people married over half a century and probably one of my most favourite from this session. It's not about a unique technique or how the image was taken. It had everything to do with their emotions attached to it. We did two more group photos after that and I left my couple to enjoy the long awaited wedding anniversary dinner.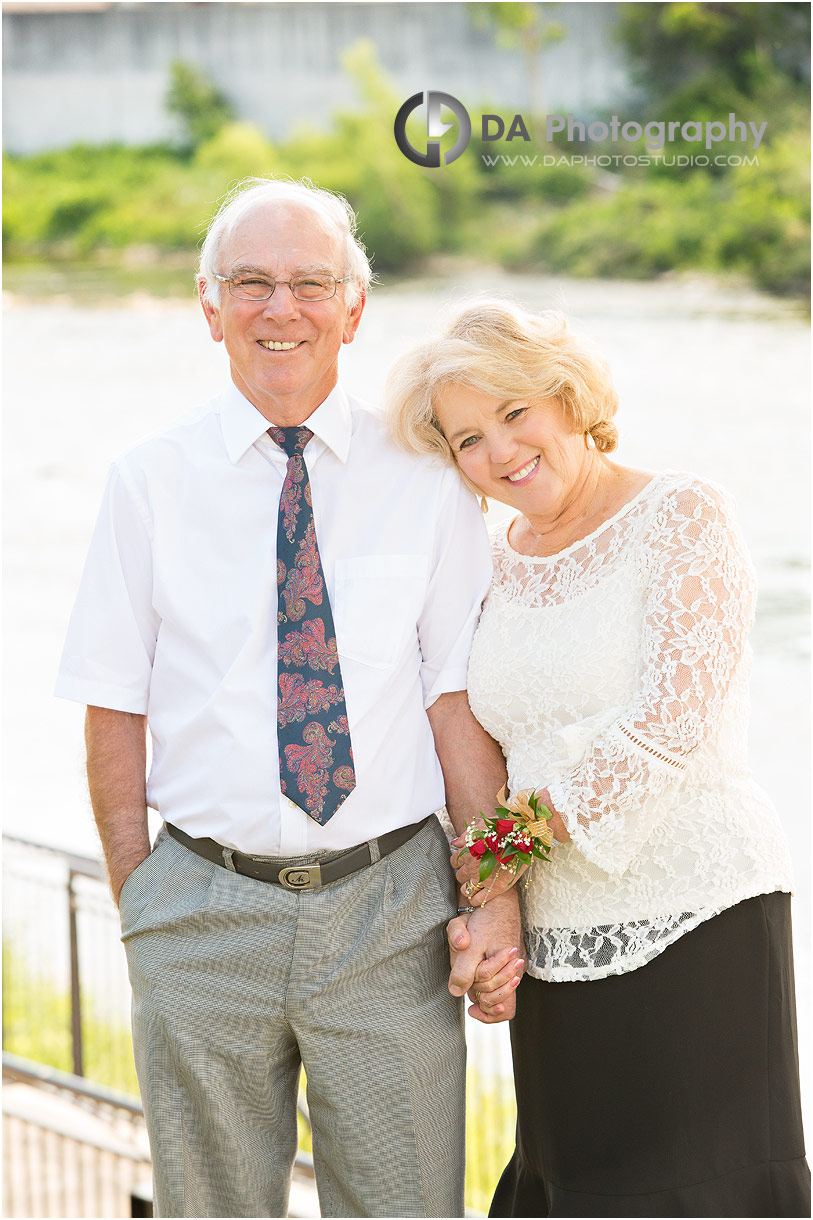 Since then I have met with Carol and Karl a couple times while delivering their prints and other things. I'm so proud and happy that they trusted me with their memories. Thank you so much to both of you for this gift and the lifetime marriage lesson I learnt through this session.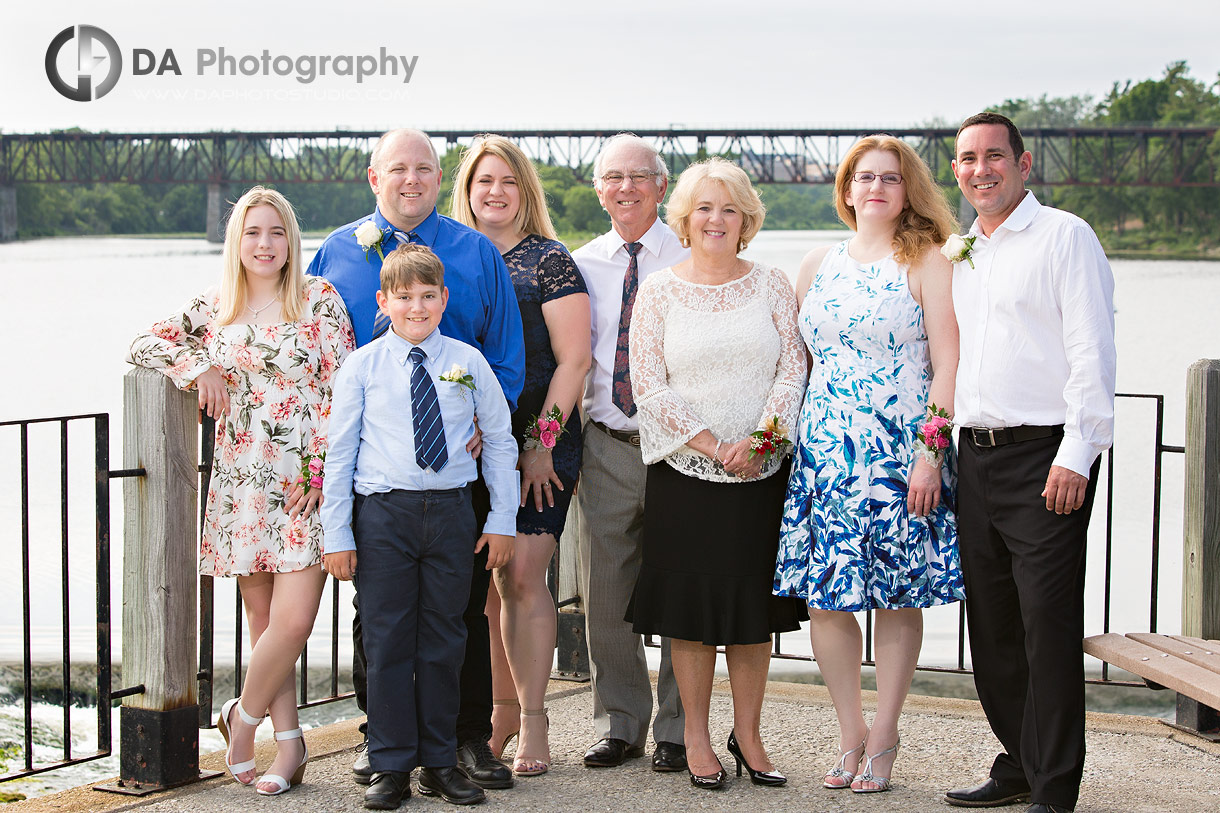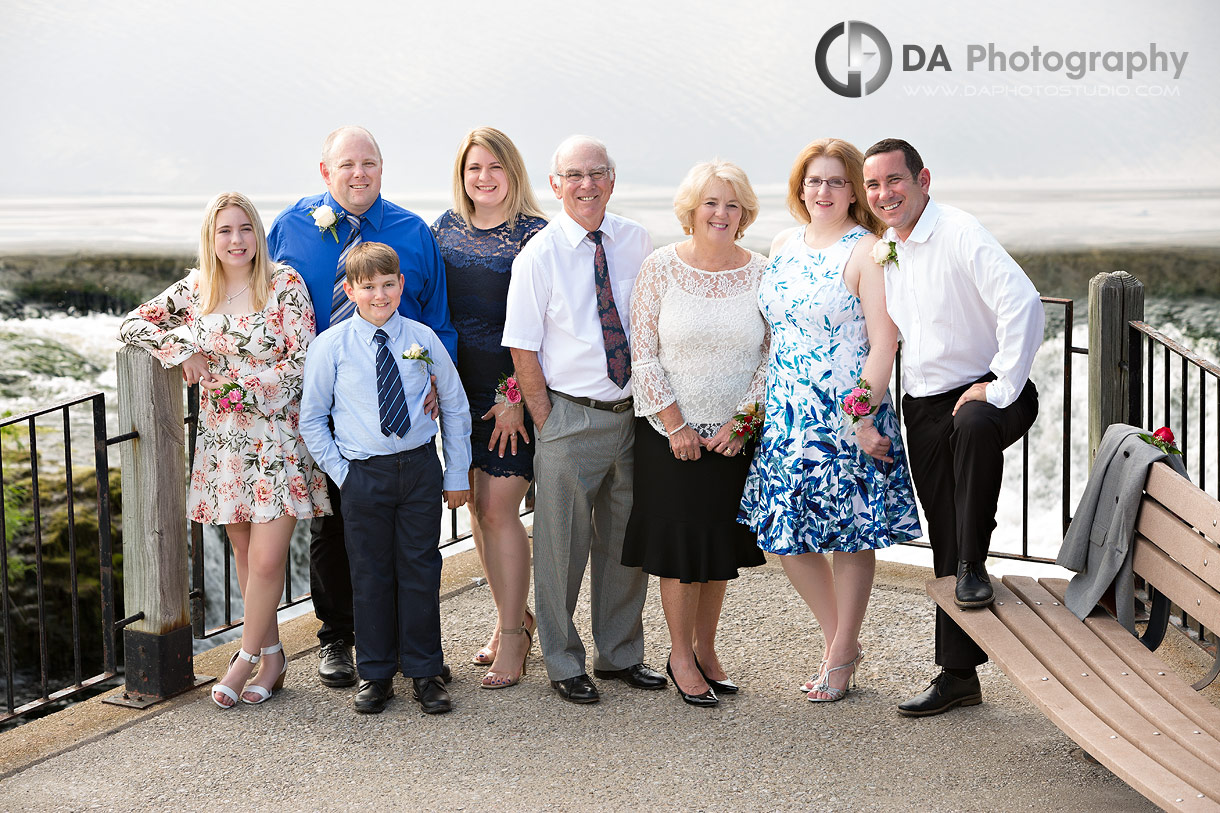 It is also a subtle reminder for all of us that images of love are not only for the "young"; new families, new couples, new beginnings. There is so much more to life to document. The images of the strength in long relationships are just as breath taking and important to display and cherish. They are also just as fun to take and be a part of.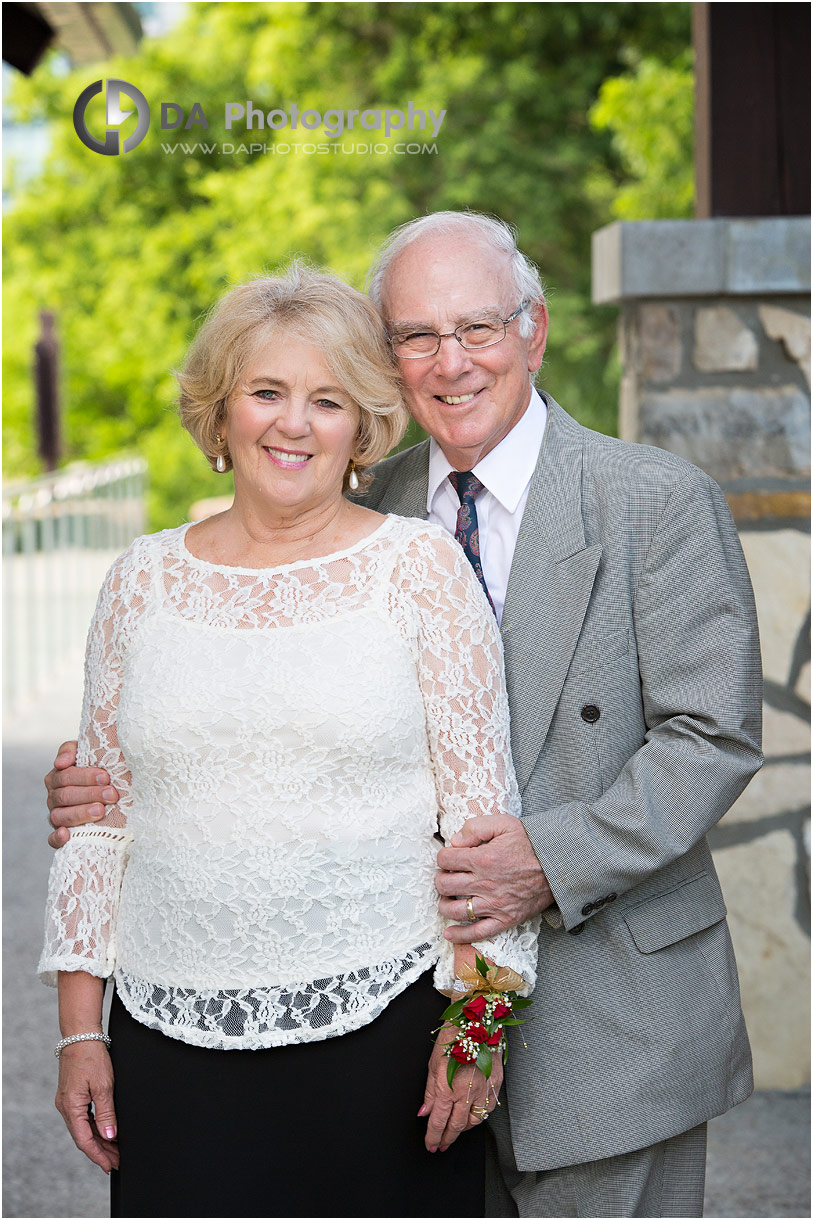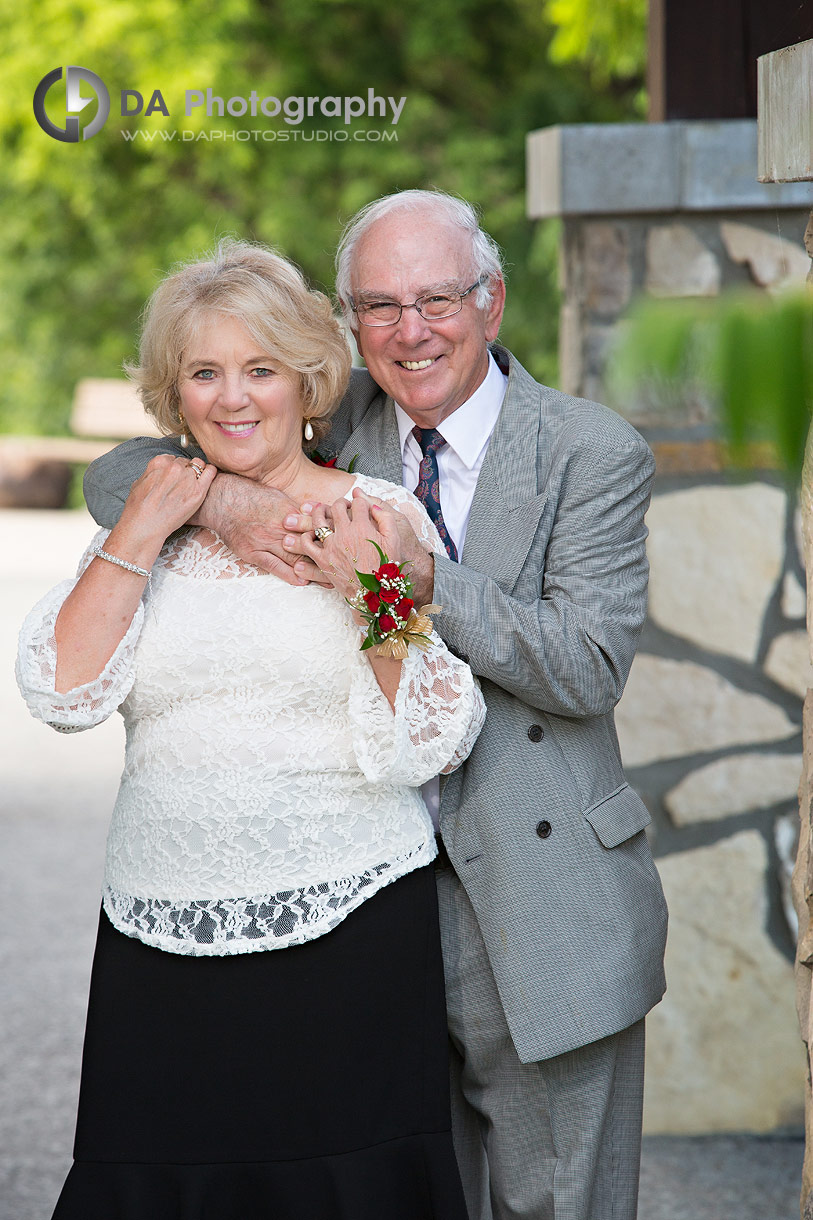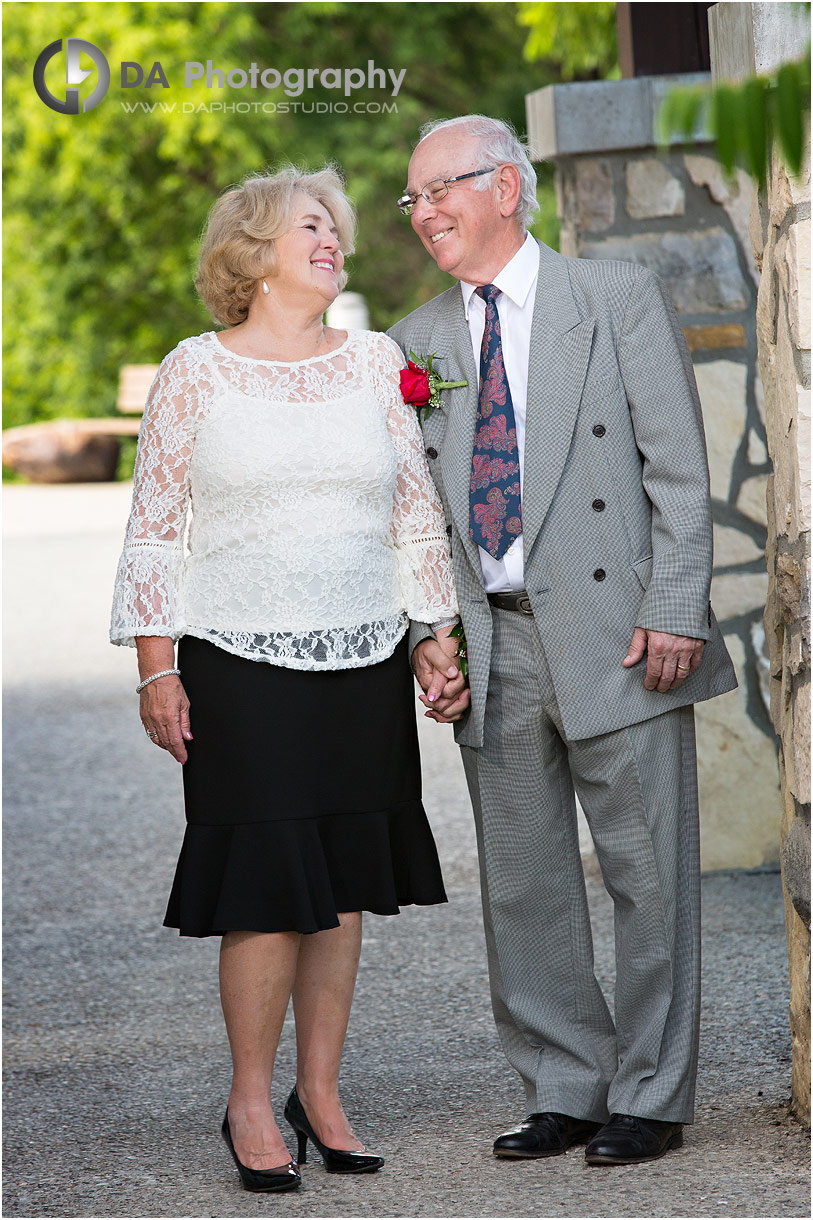 If you like what you have seen here, please contact me to document your lifestyle session.
Here you can see full wedding photographed at this very same locations.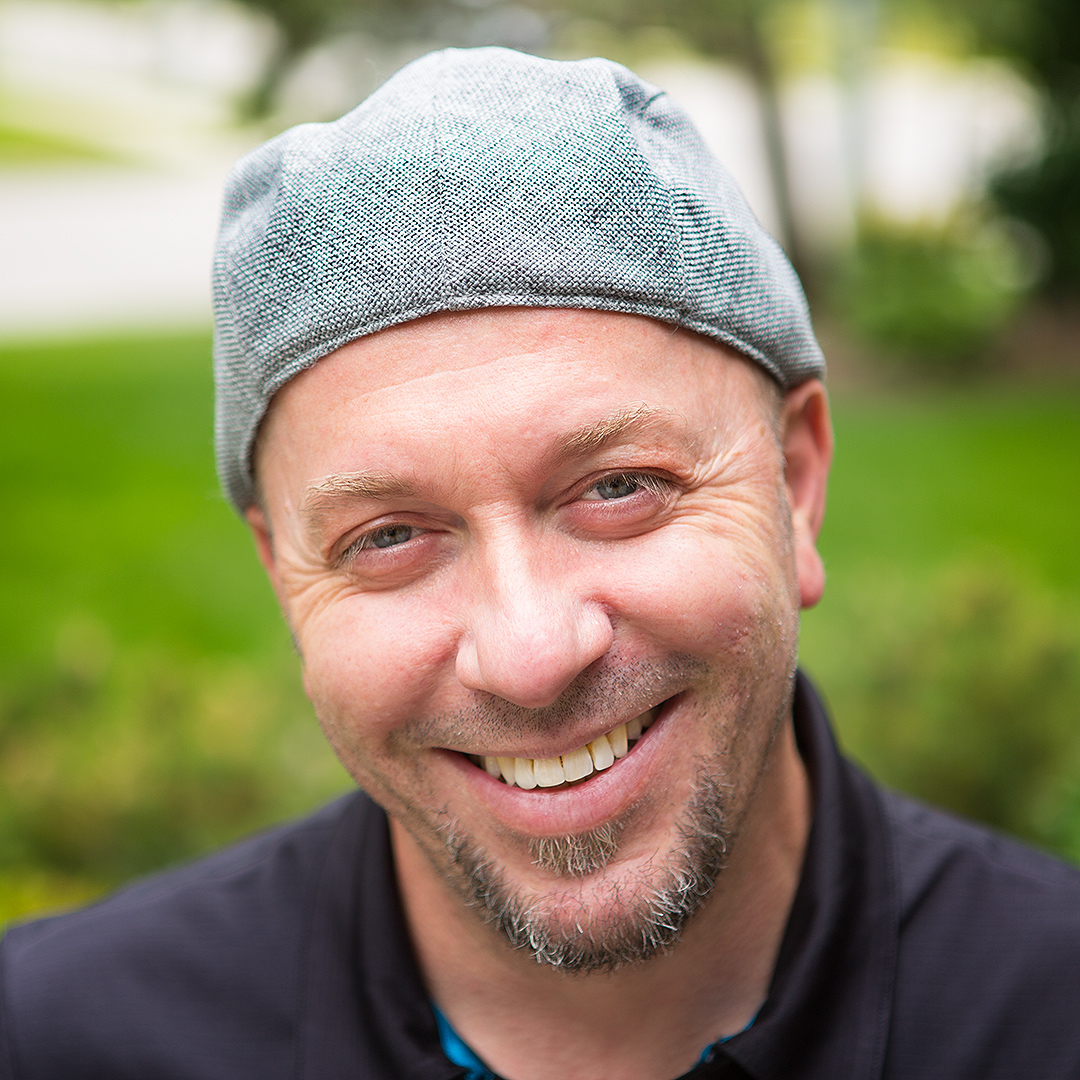 My passion and biggest asset is taking the time to make every client comfortable and relaxed before I even pick up the camera. The result? Photos of you that actually look like you at your best! I can prove to you how much you can enjoy having your picture taken. Lifestyle photography is about the experience that happens to be served up along side of some great photos.
Specialties:
Family Photography for families that like to move around and enjoy their photo time, Wedding Photography for couples looking for a mixture of photojournalistic, contemporary and traditional images and Professional Corporate headshots that are far from cheesy and stiff.