I never thought that my first time as a Guild Inn Estate photographer would be with Tim and Soo's family. I had always assumed that one of my wedding couples would be the ones to introduce me to all this beautiful venue has to offer. However, as their long-time family photographer, Tim and Soo were up to conquer it with me. Because we already knew each other well, there was no added pressure and tension. We had more time to explore and experience this site while we updated their family photos.
How we met and what kept us working together?
It began 5 years ago with a photo session of Tim's young family at a park near their house. I vividly remember just how little they were then! Tim and Soo amazed me with how calm they were with their kids and how much love radiated in their little family. It was very easy to relax and enjoy while working with them. The images taken had a very natural representation of they interacted with each other. You would never know that the park we were working in had only a green field and a small play structure. There was nothing else; just me and them. And it was gorgeous! Since that first time, I have also photographed Soo's part of the family during as a group family reunion and Tim's father with his partner near my place in Guelph.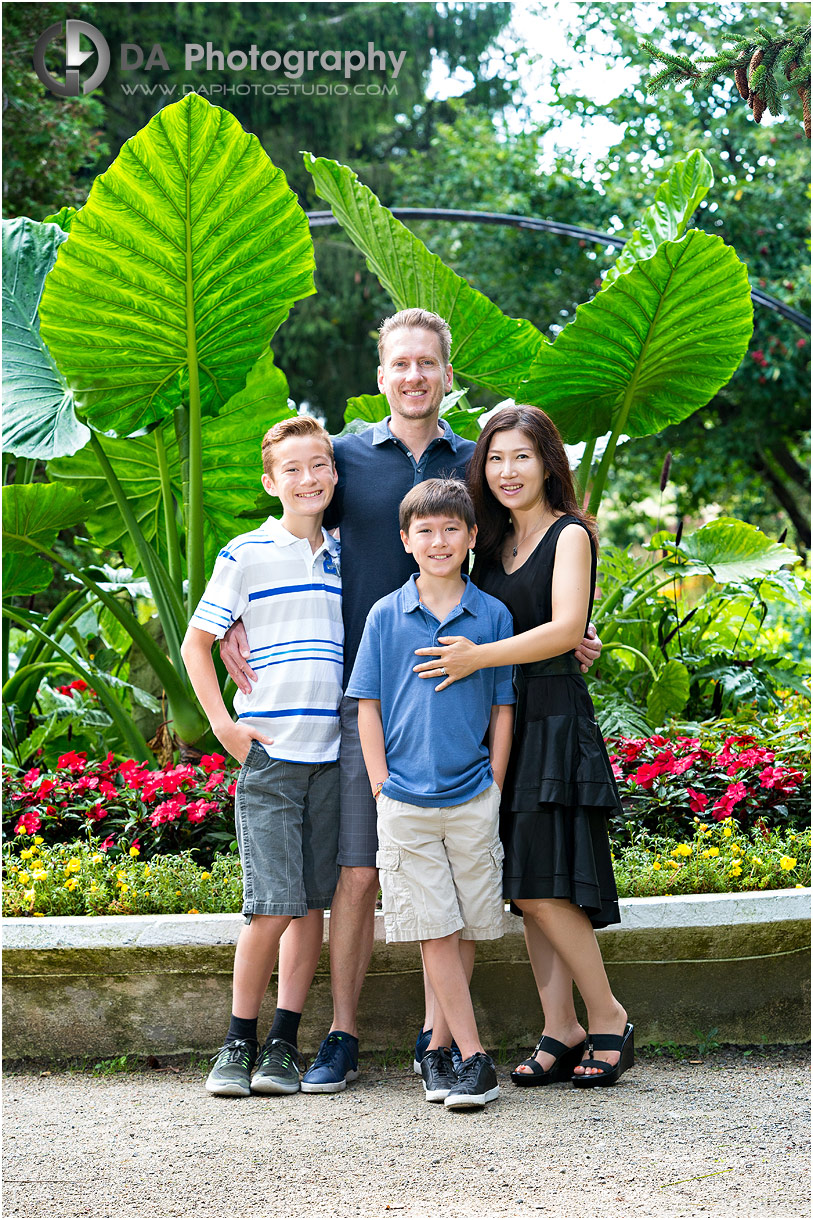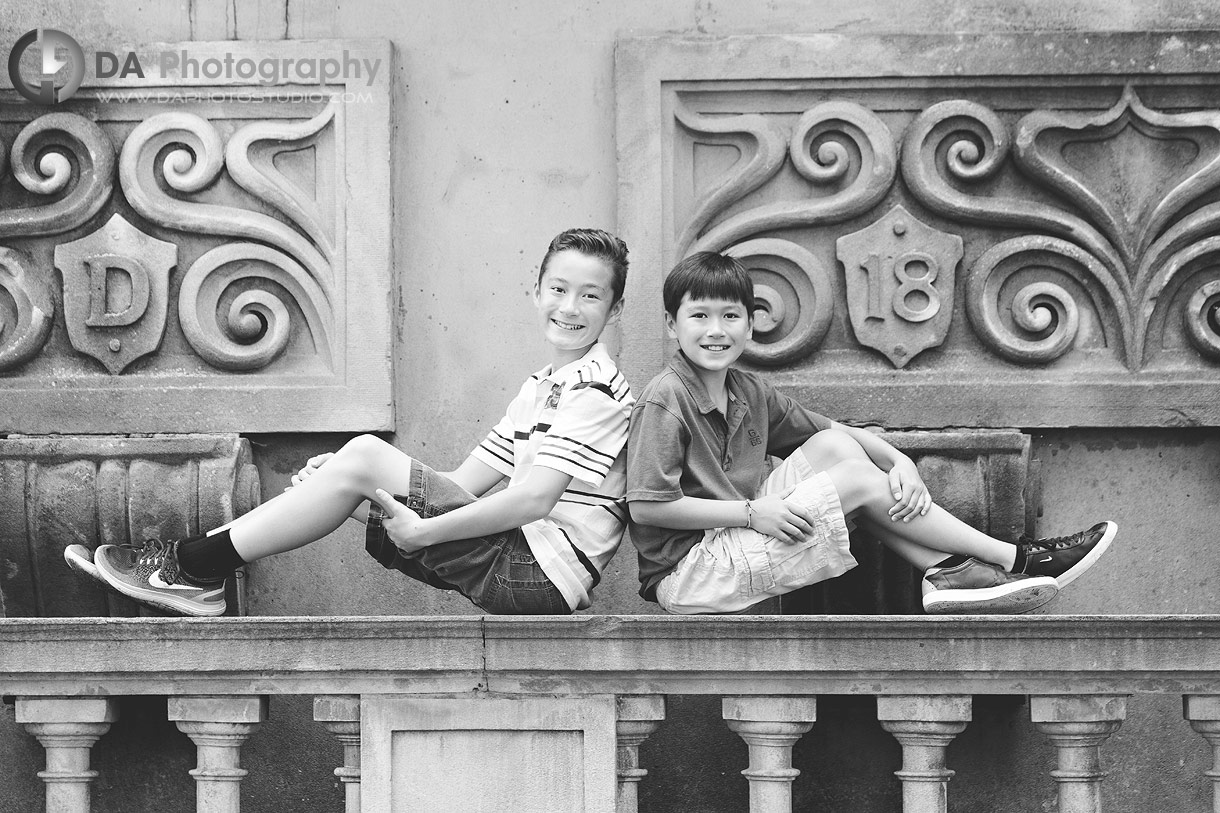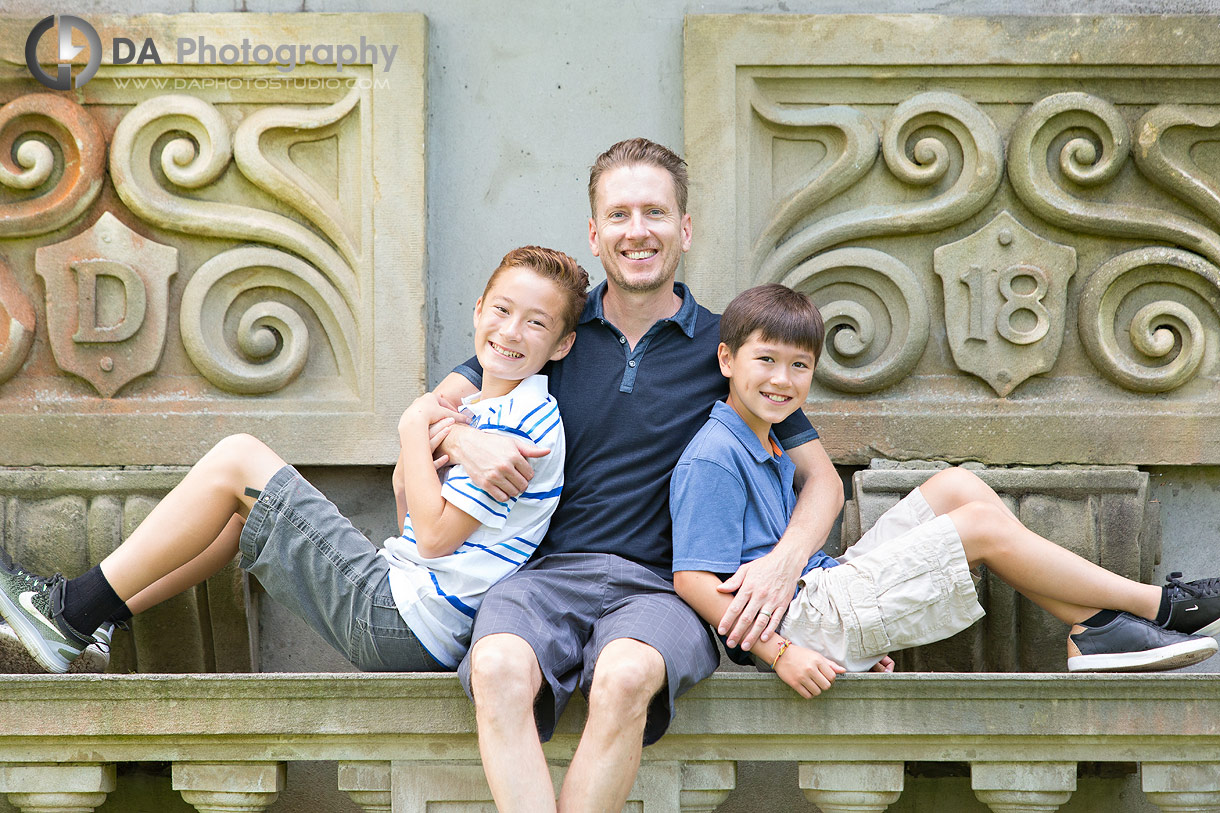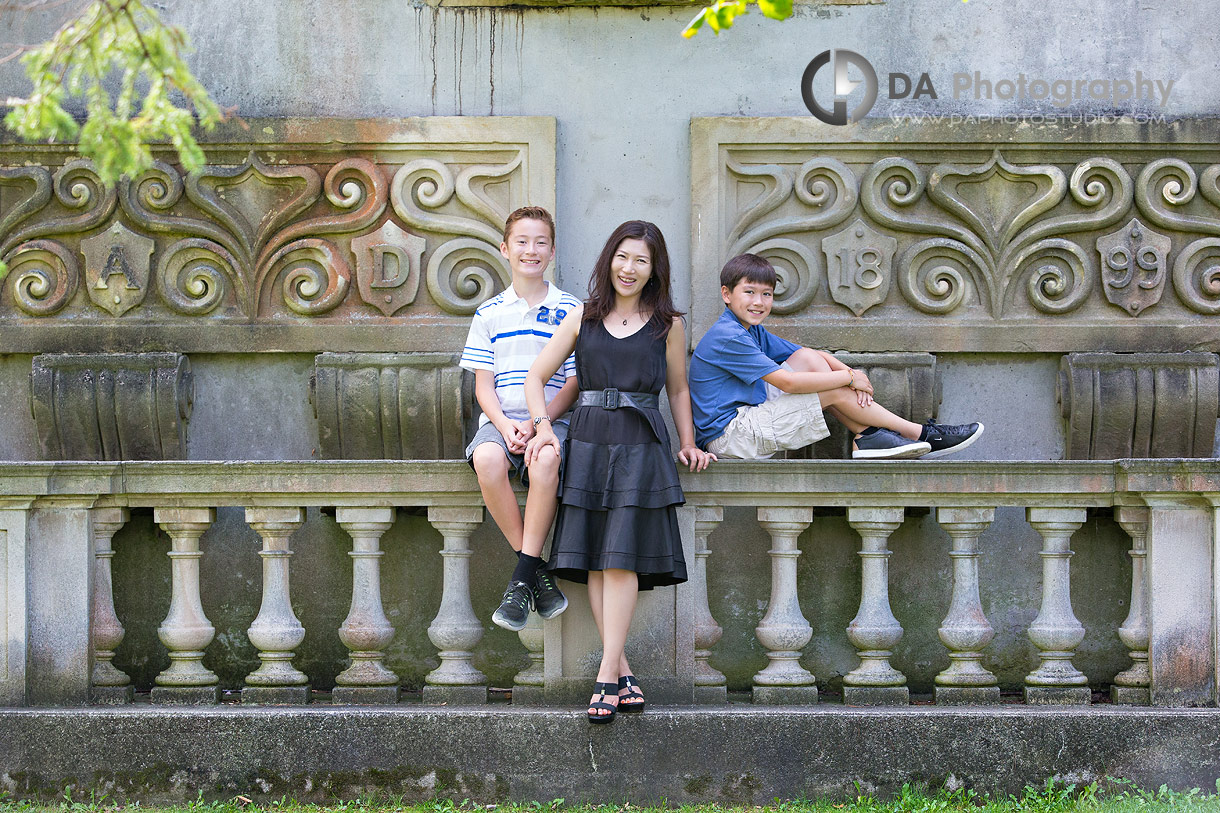 How I become their Guild Inn Estate photographer?
When Tim contacted me for this session, he mentioned that he would like to have photos taken at The Guild Inn Estate. He had seen his friends photos and thought that would be a great place for them as well. I had always wanted to photograph at the Guild Inn Estate but had not yet had the chance. But I was absolutely up for the new challenge! We managed to schedule a date for just before the school year, at the end of the summer. We were looking for the best possible weather, of course. It so happened that this day had to be one of the hottest and most humid days of that summer. The photo shoot was to start at 9am. Even at that time of the morning, you could still feel the heat and moisture in the air. Thank heavens we hadn't planned to start later!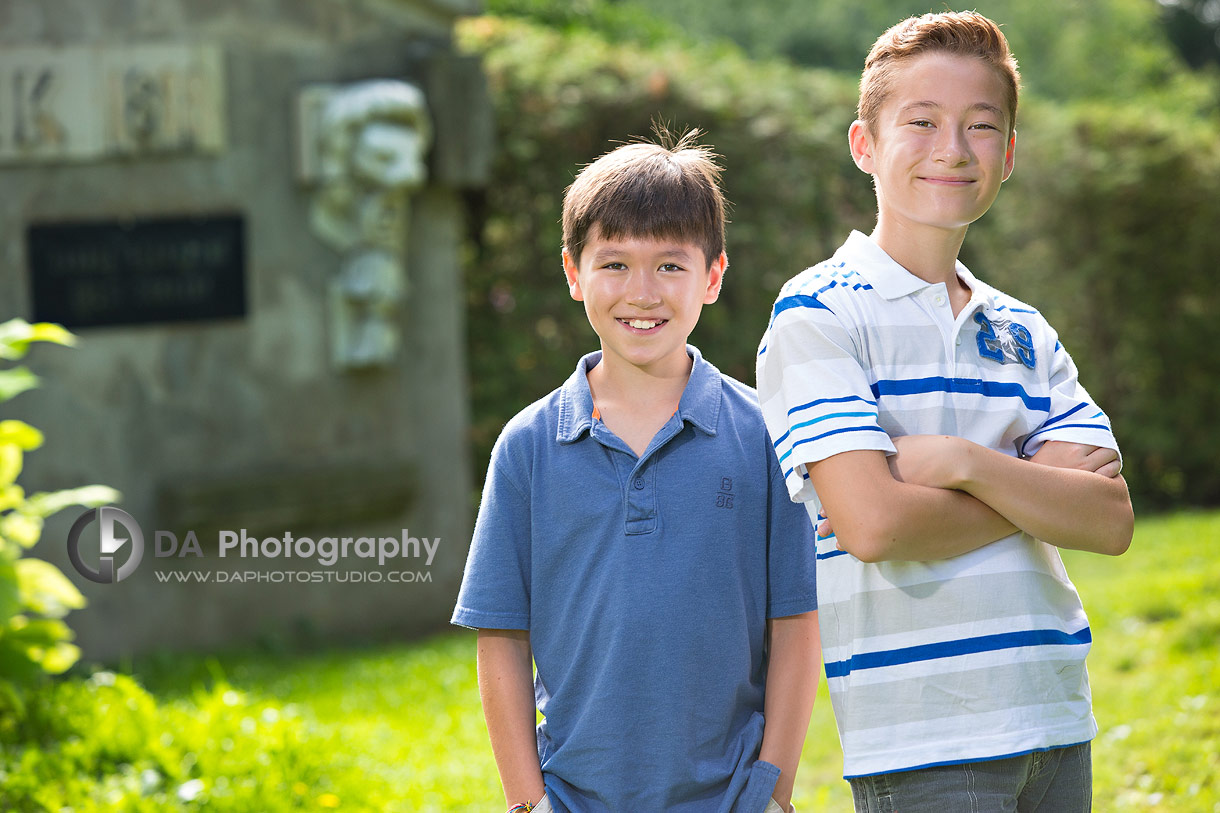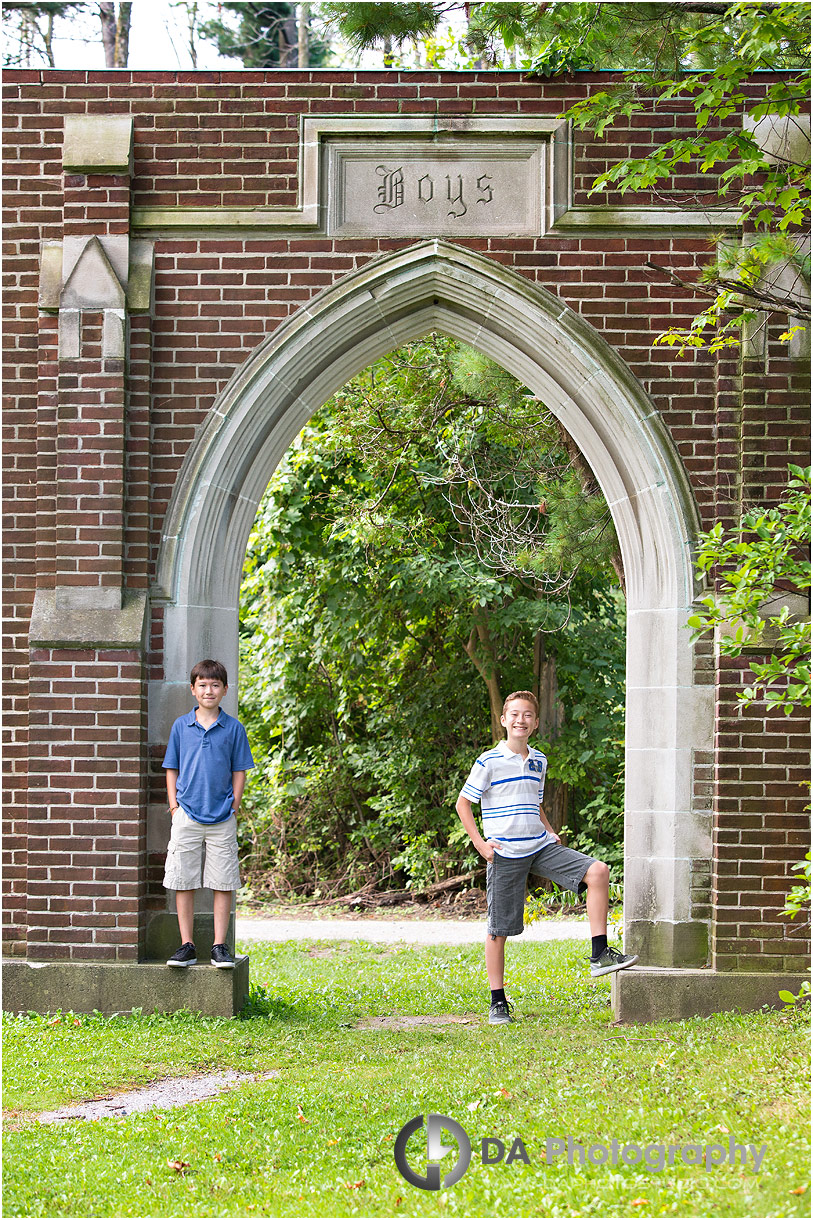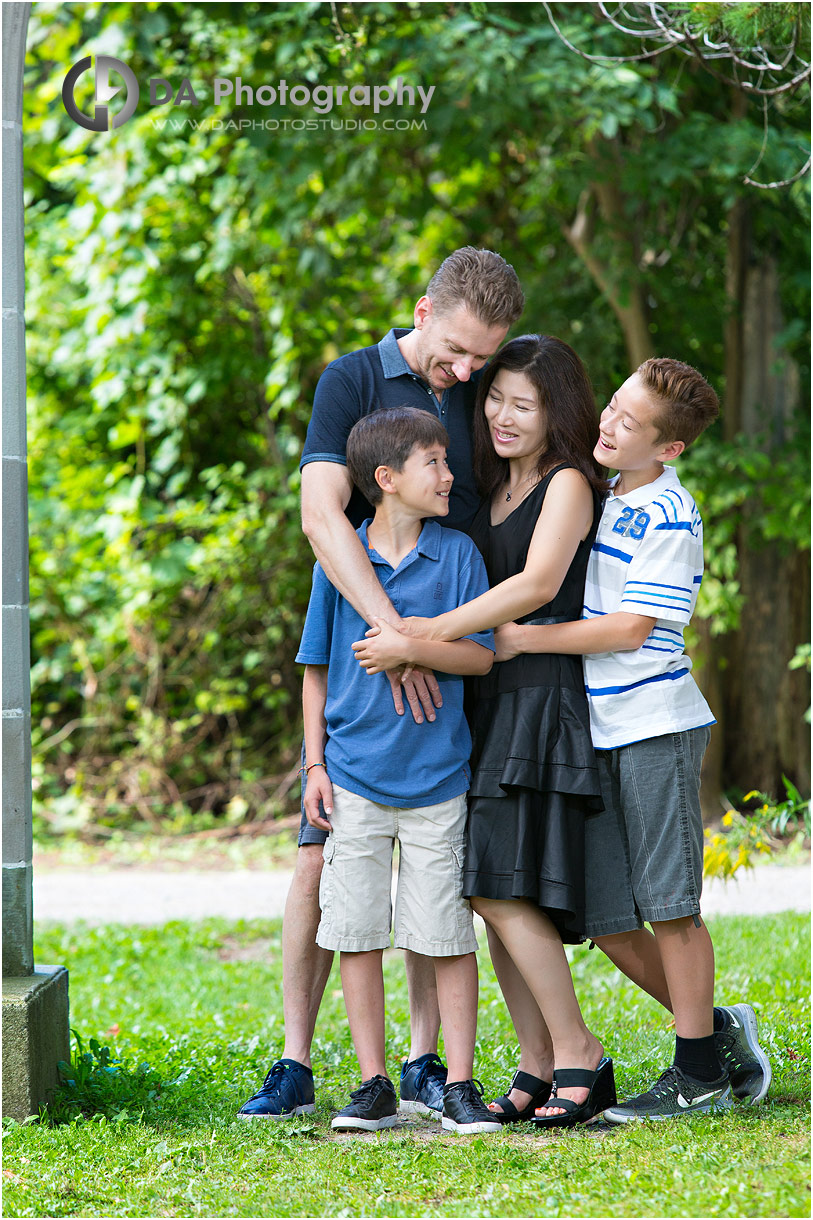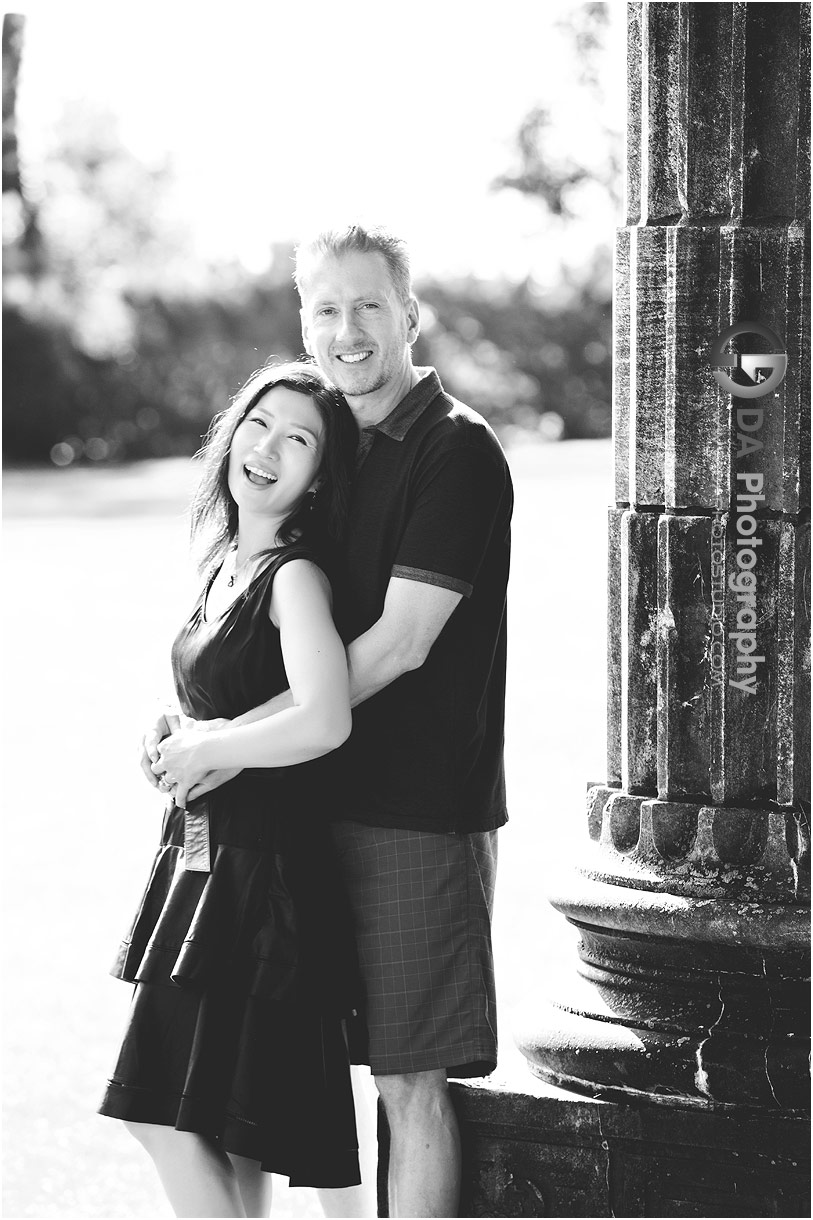 Why I love what I do?
You would think that arriving that early at the Guild Inn Estate would allow us some time for pictures without the crowds. However, instead of being one of the first groups there, it was already a full house! It was amazing really. Like a local watering hole for photographers and their clients. One specific engagement session caught our attention. The group spent over an hour at one particular location trying to get the perfect picture. I felt a little sorry for the couple as you could see they were uncomfortable to be posed that long and it appeared so unnatural. Another group had an over-the-top set up with 7-8 foot umbrellas and huge posed family groups. Tim, Soo and I looked at each other in amazement. They knew what kind of great images we could achieve with a trained eye,  minimal equipment and without the grandiose setups.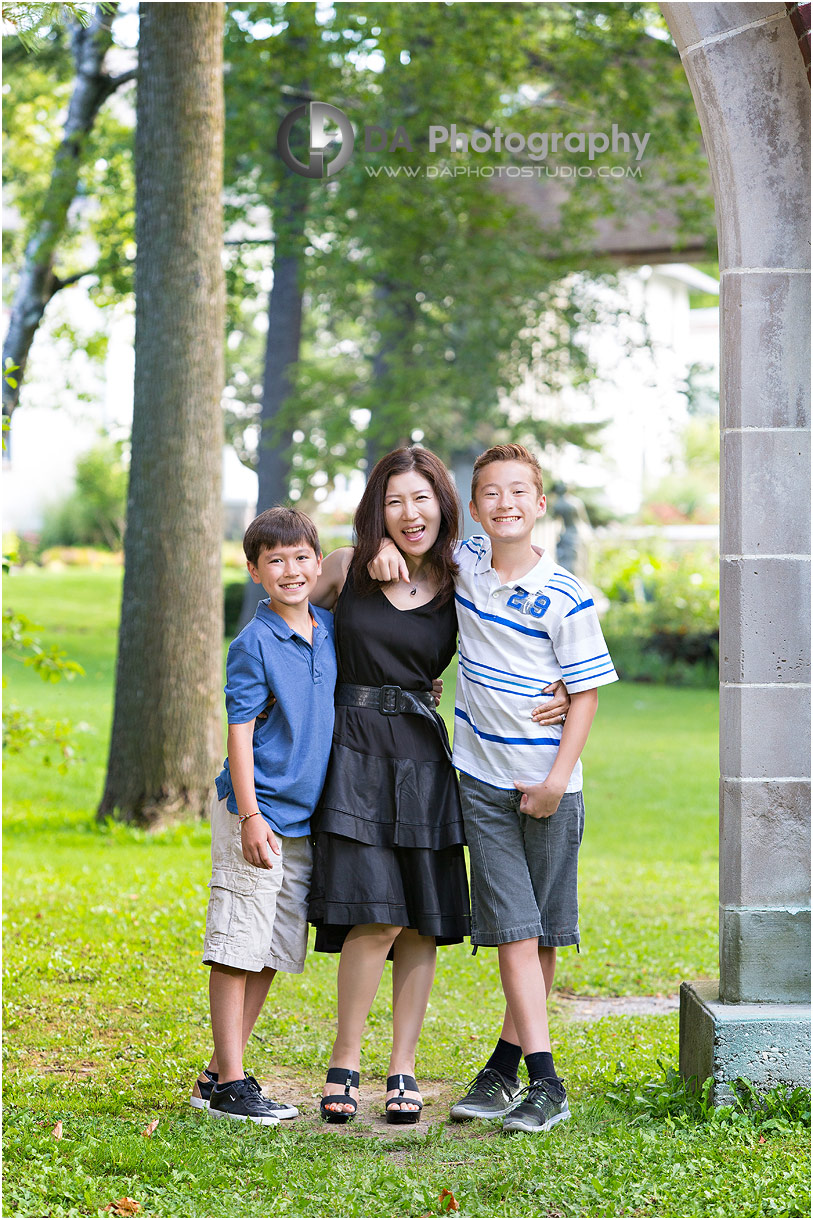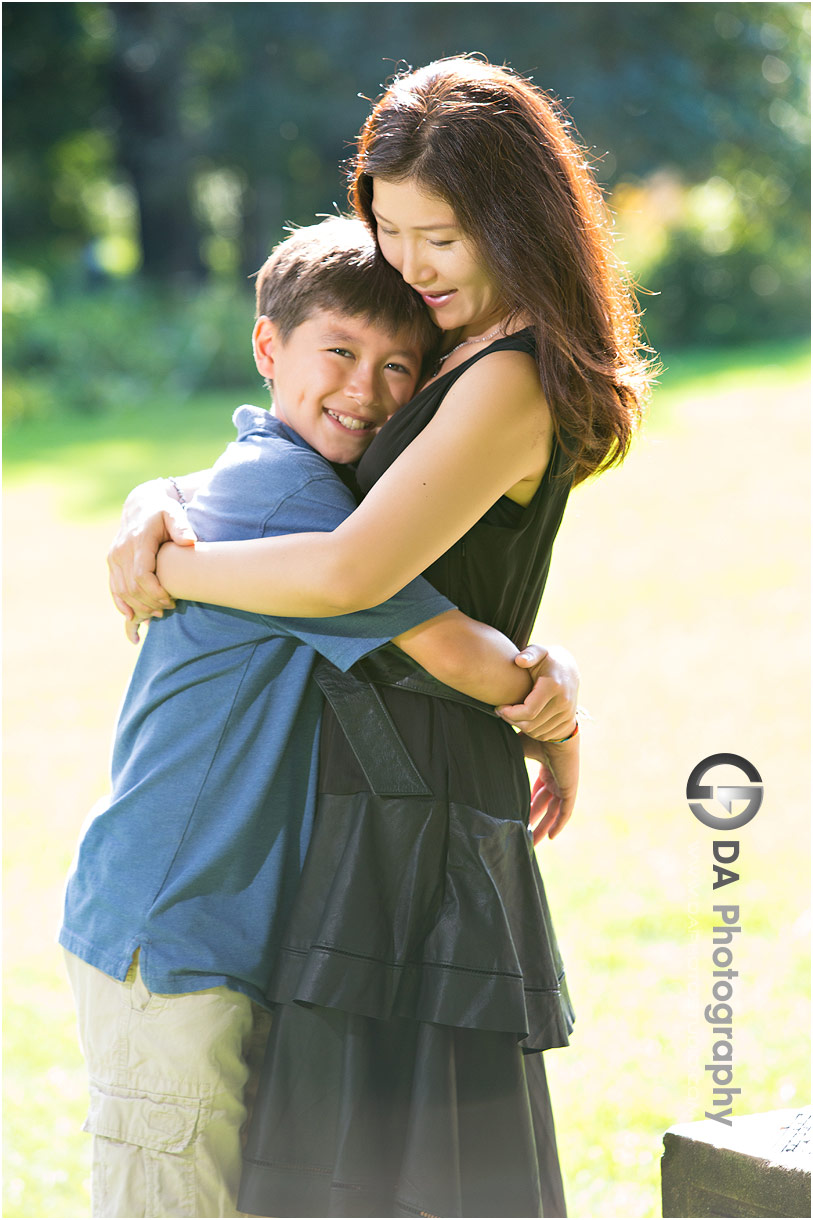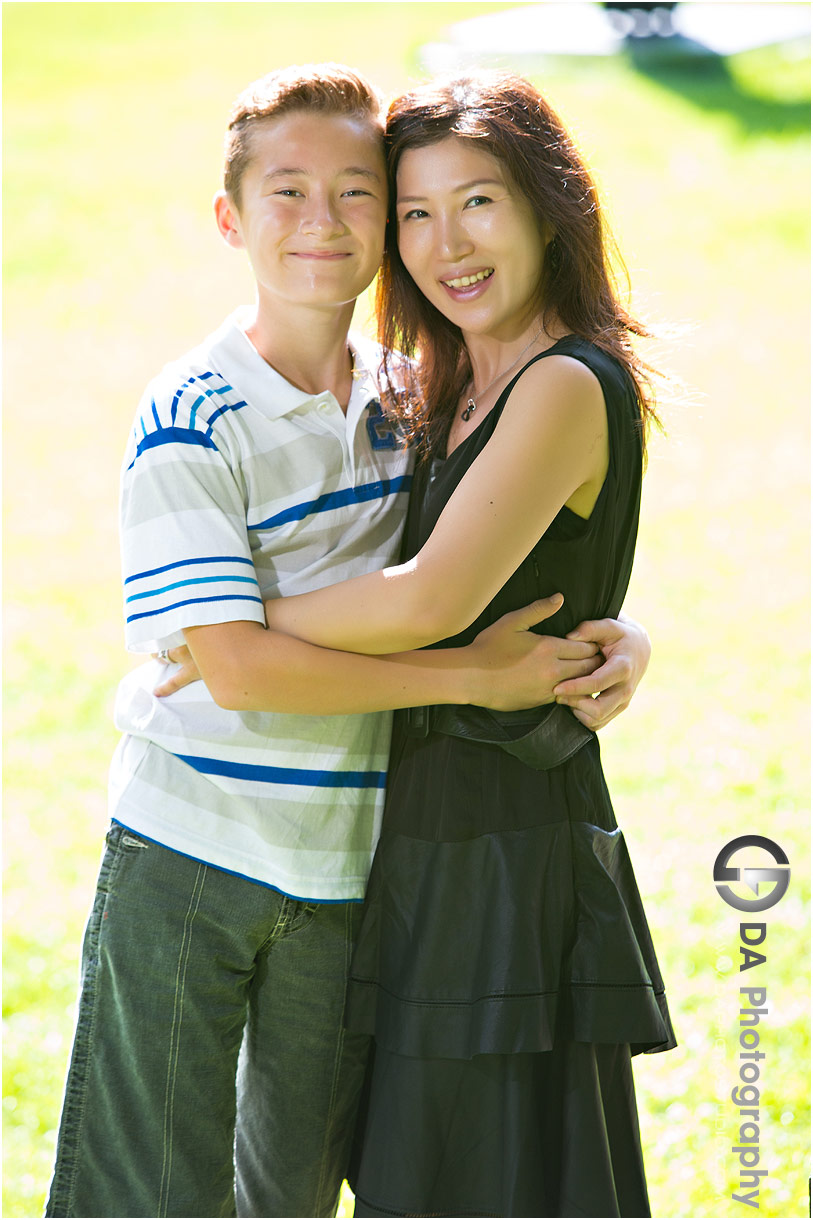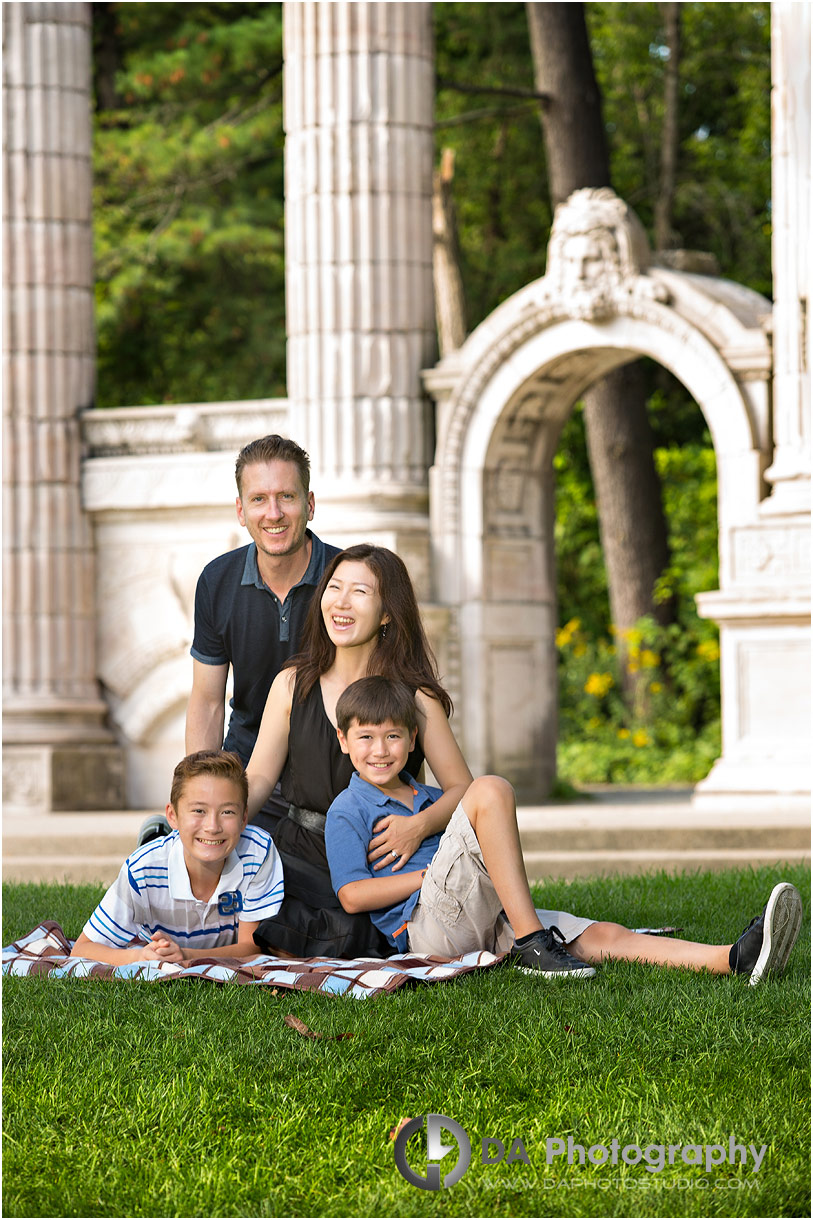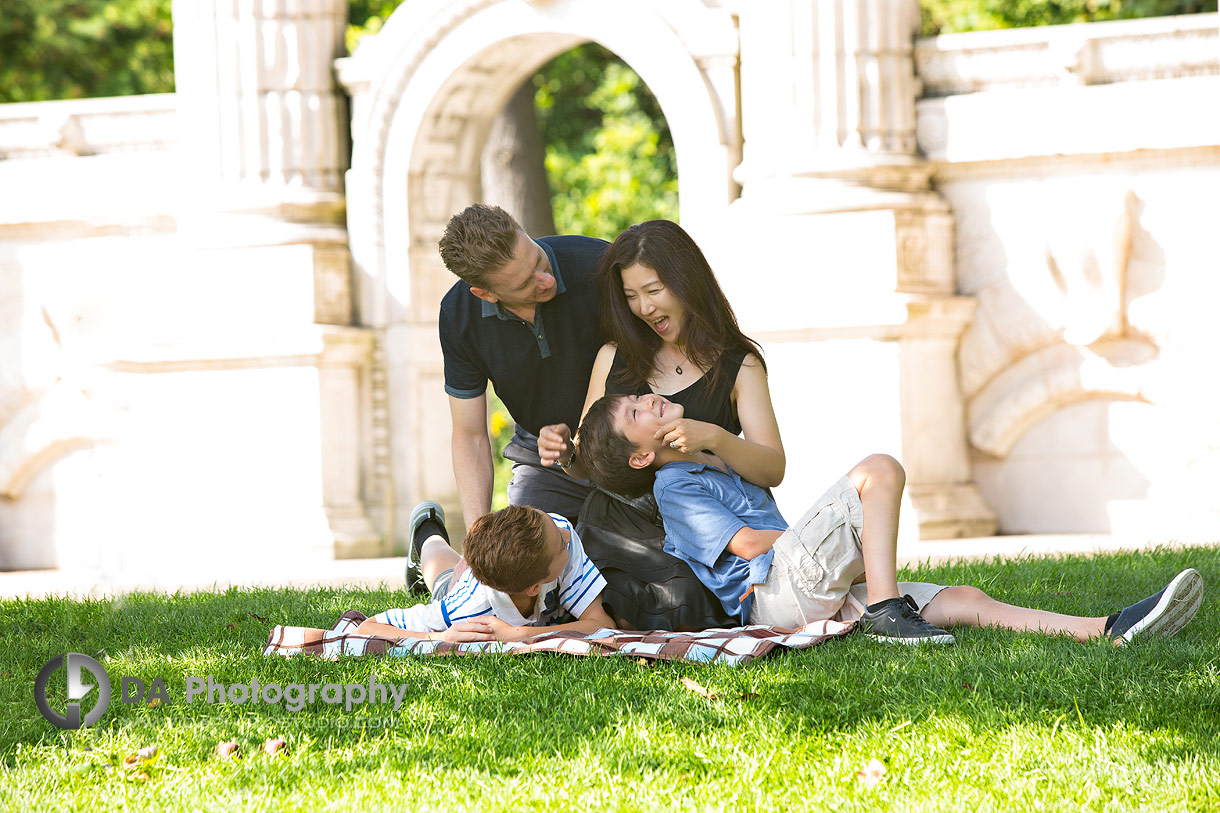 We were not looking to wait around for the locations that these photographers were occupying. Tim and Soo understood from experience with my photography that amazing images can be created in some of the most unusual spaces. Therefore, we began our session at some of the least occupied places and enjoyed being away from the crowd. As always, we were focusing on the family's emotions and happiness and not paying much attention to the background. Of course, I made sure that the background was pleasing to the eye, was not distracting and did not have obstructing objects, etc. However, having a "wowing" setup was not our goal. I knew what Tim and Soo wanted and I focused exactly on that: Capturing happiness in real people in their best light.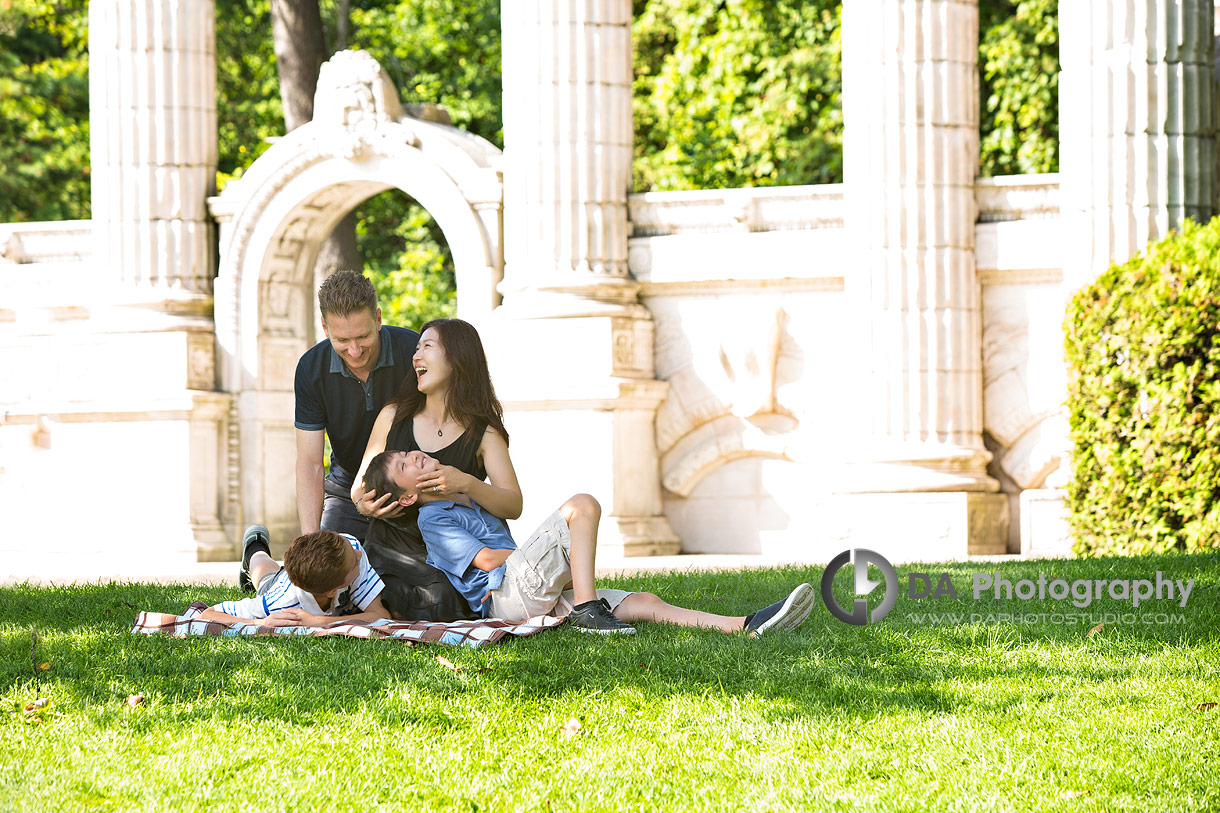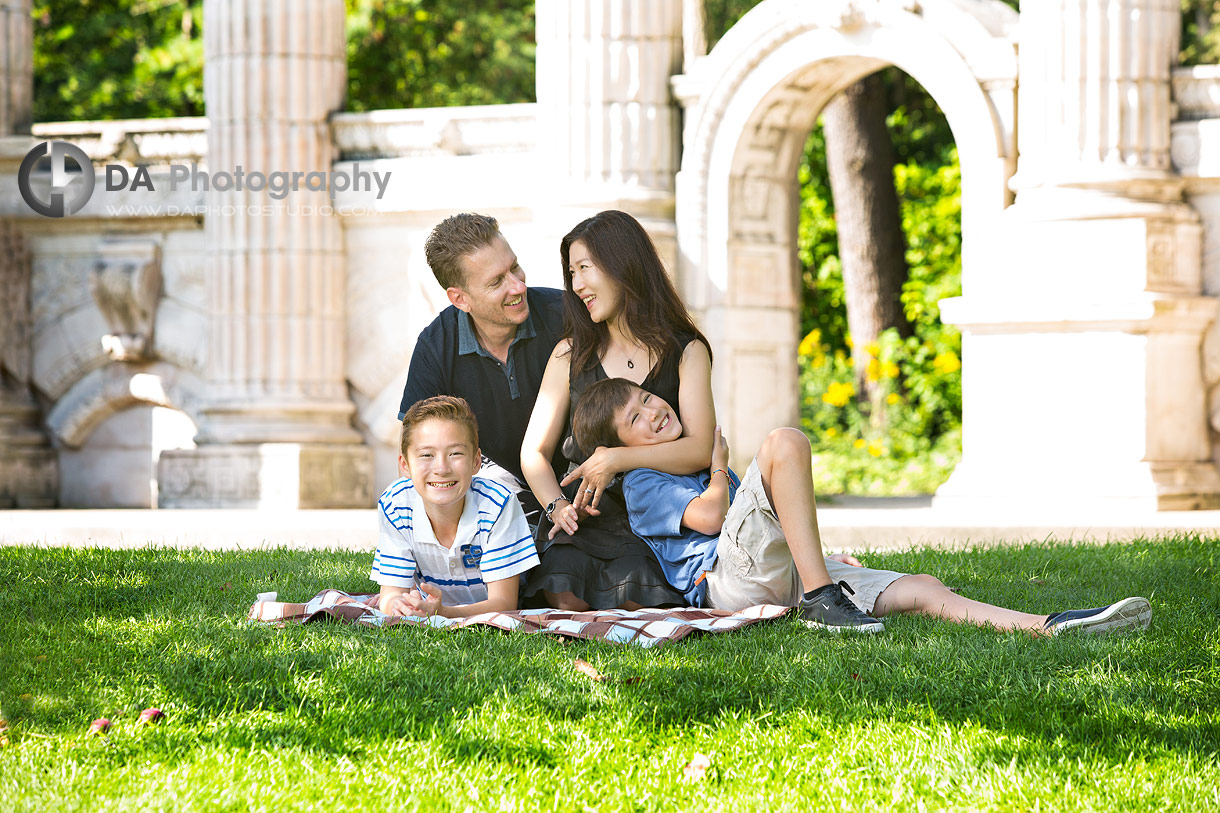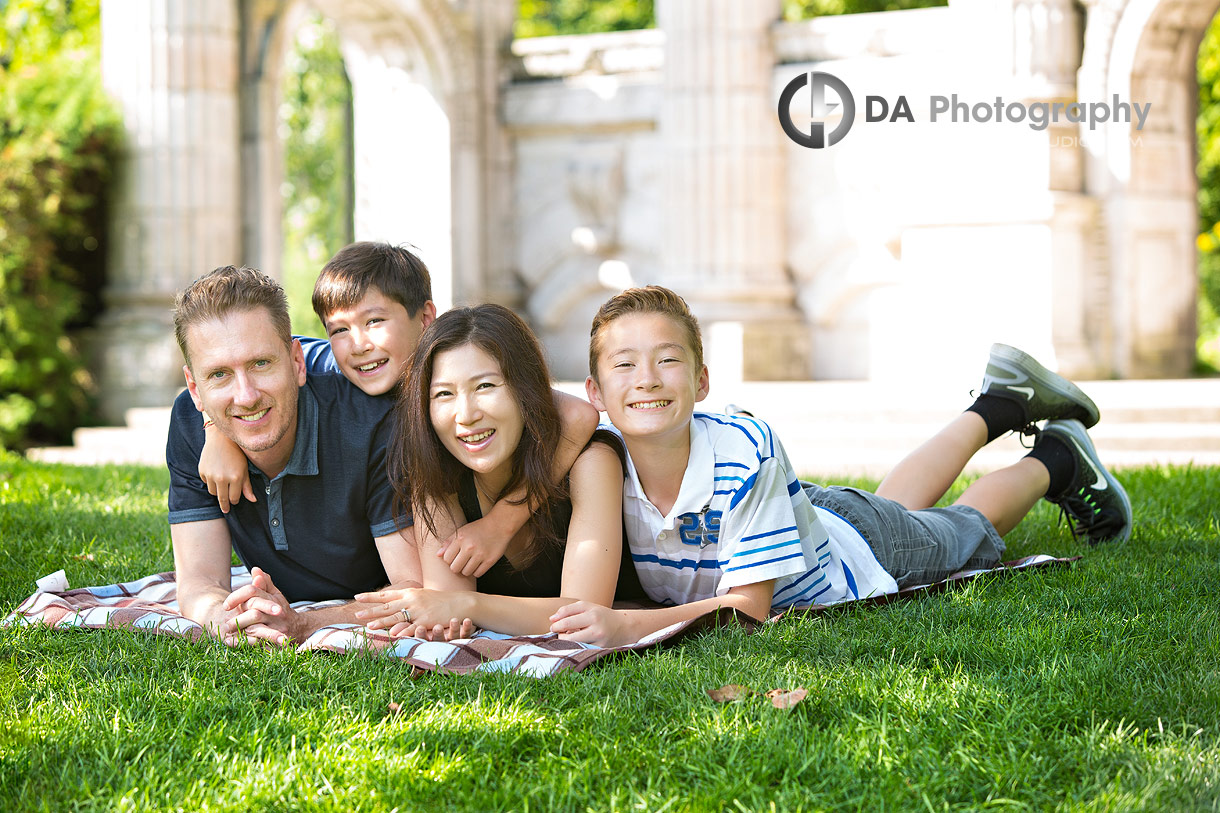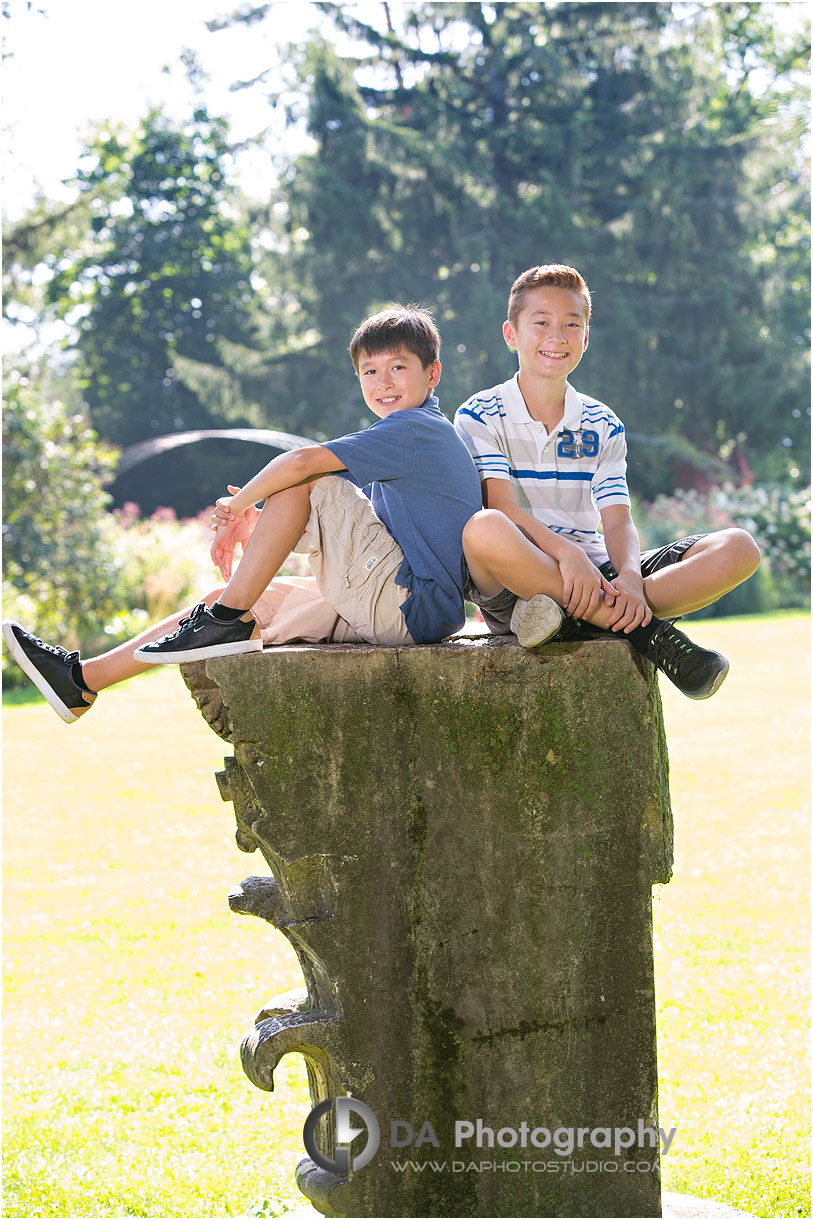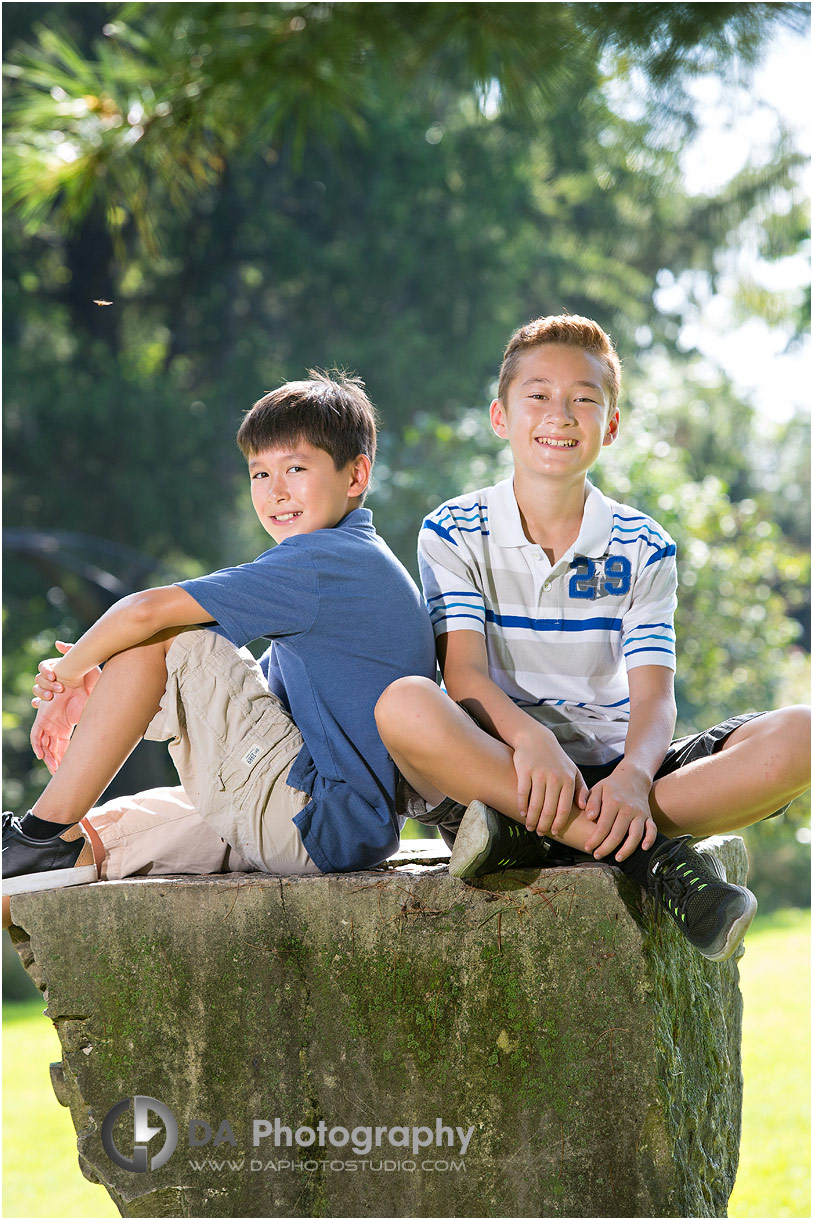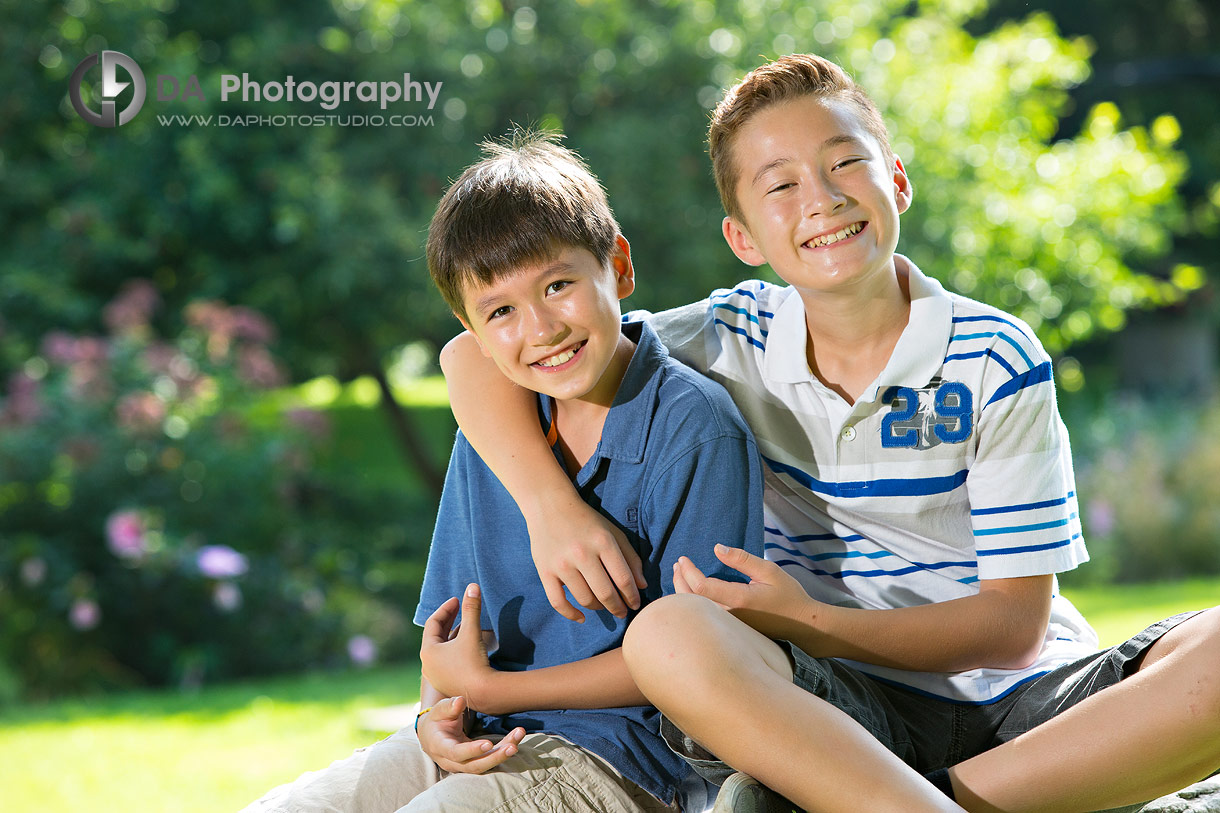 Why was this photo session at Guild Inn Estate important to them?
Tim and Soo understand the importance of documenting the "now". They needed to ensure they had real representation of their children at this stage in their life. Every photo session is so important to them. As this is a personal and individual goal, they also needed to do it in a way that is especially unique to them. Because of our aligned focus, this is a win-win for all of us. My style of photography is exactly what they are looking for. We found each other and have been working together with the same values over the last 5 years.
In the end, we were able to capture images in all of the Estate's beautiful spots. To achieve this, we worked backwards and avoided the crowds! We went close to the cliffs were you can see the bluffs but we worked from higher elevations. In one image, I managed to capture an almost silhouette photo where you can see how tall the kids are in comparison to their parents. It will be fun to compare this image with one I take the next time to see how much they have grown over the year.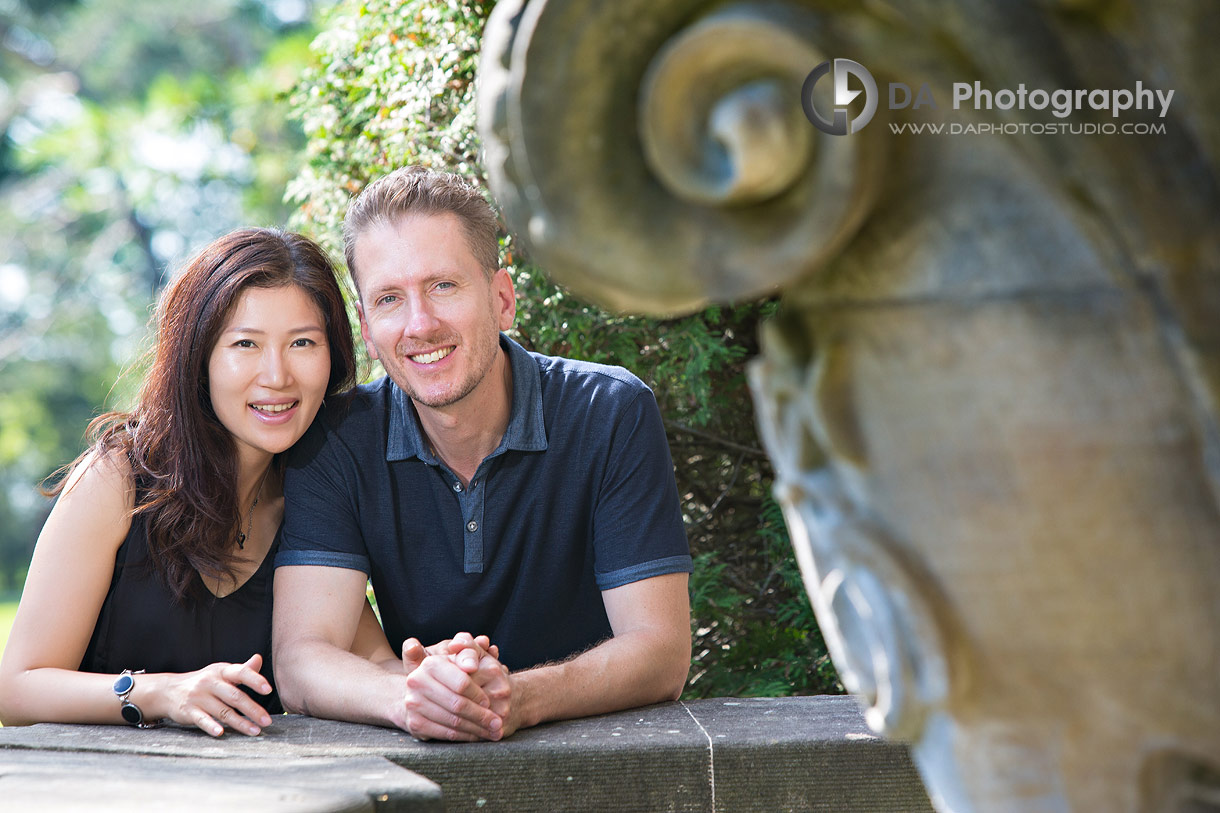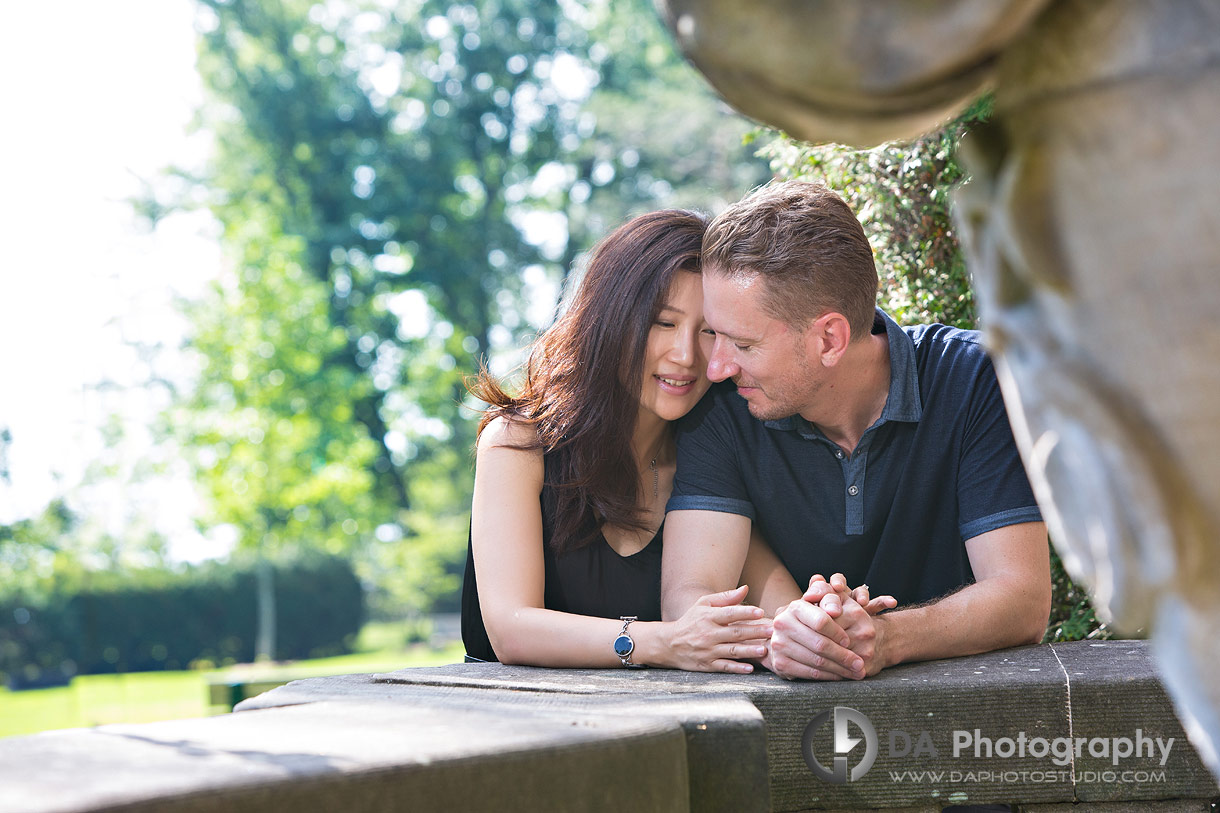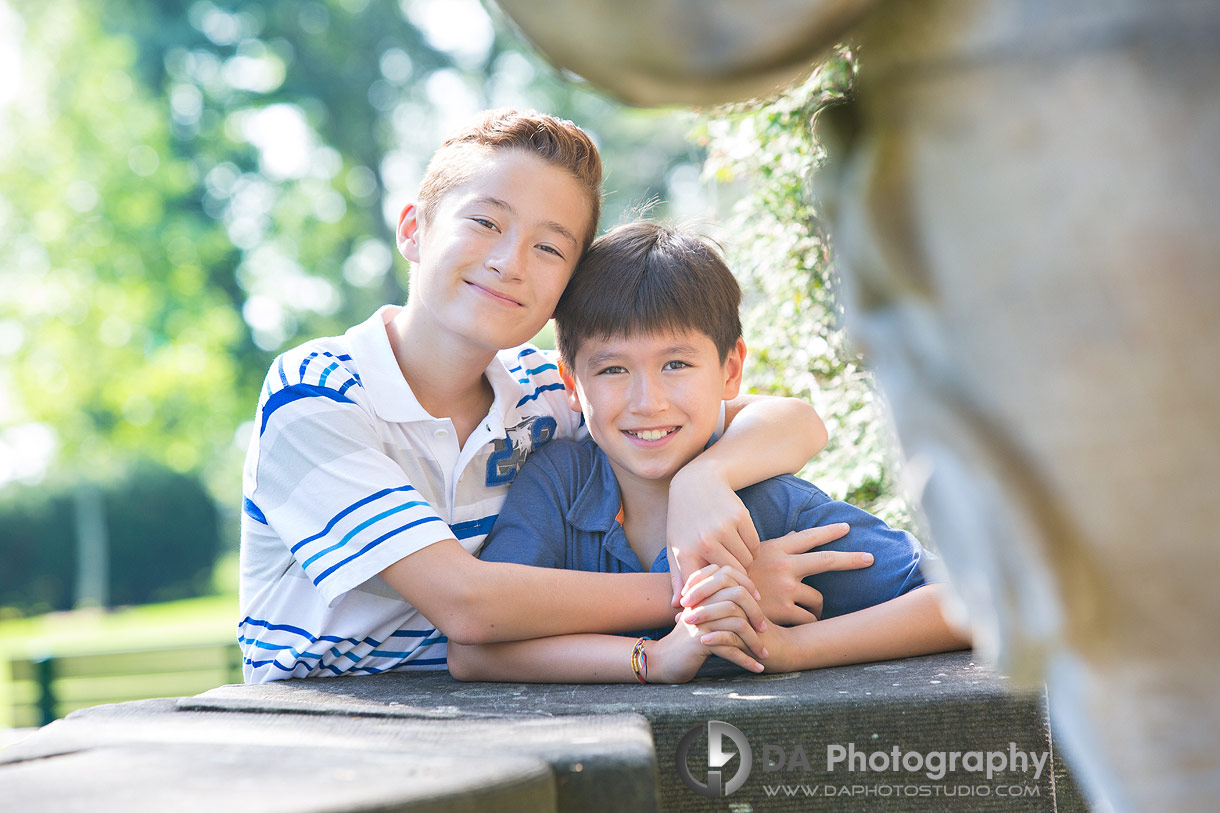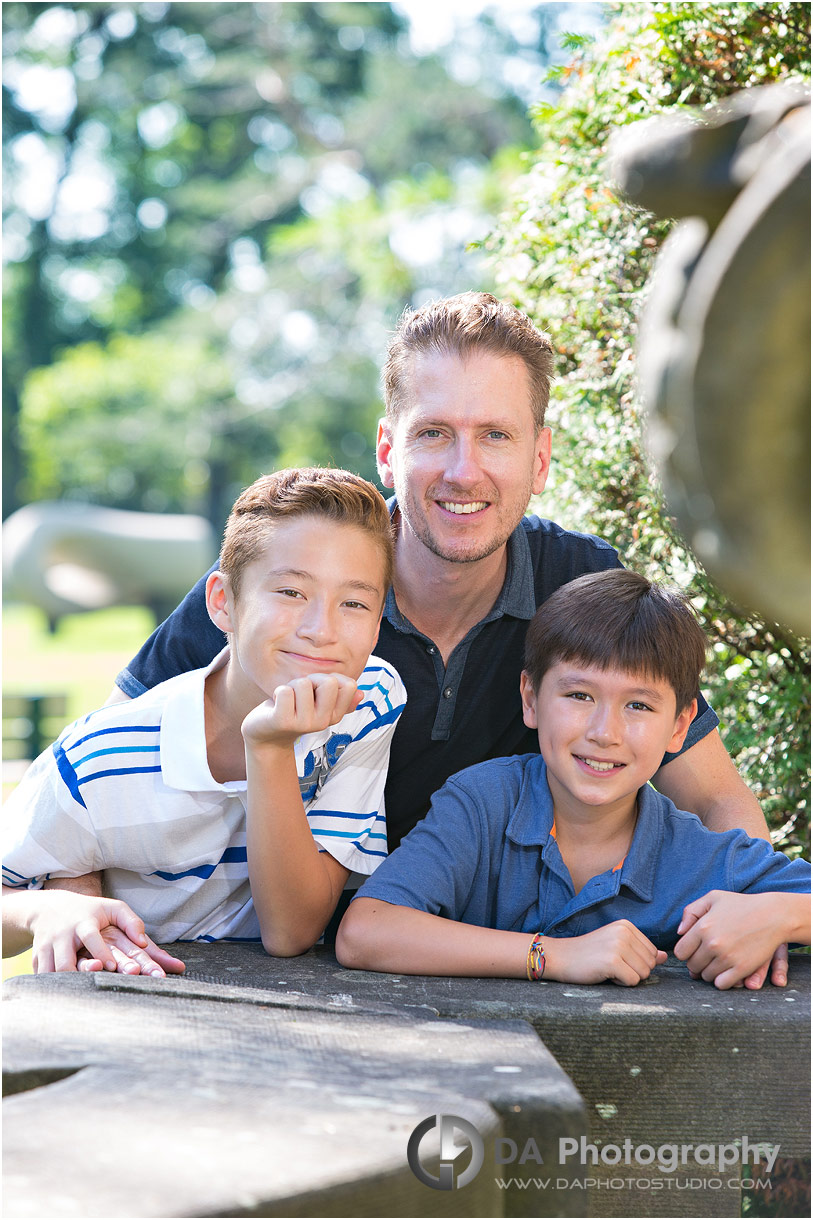 Until next time in the project of documenting this family story
While we were working together, I mentioned to Tim and Soo that one day I would blog about this session. They were proud that they would be part of the story of the day I first photographed at the Guild Inn Estate and that it wasn't for a wedding! It was such a fun and relaxed family session with my long-time clients. Great memories. So far we have worked together in the Fall, Summer and Spring. Perhaps a Winter session is next!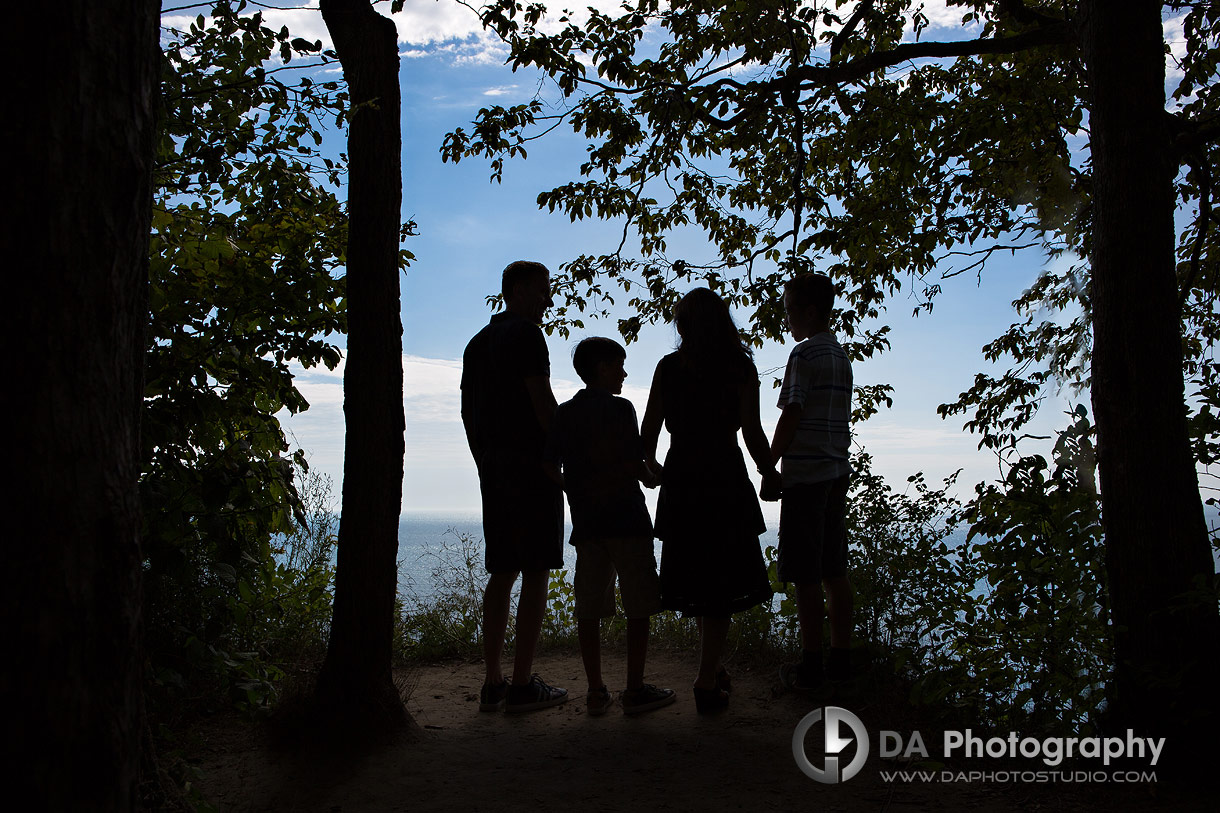 With this Early Fall Photo session Tim and Soo made sure to dedicate some time for this photo session that captured their family fun. It was such a smart move to plan this before the school year began! Then, to find 1-2 hours during the week around work, sports and other activities is nearly impossible. If you accomplish the timing during the September or October months, there is then the unpredictable Fall weather that can quickly muddle your plans. Planning ahead and scheduling an early fall session is the best way to ensure that you have the best options for family photography. The weather, natural colours and time scheduled is the best aligned at this time.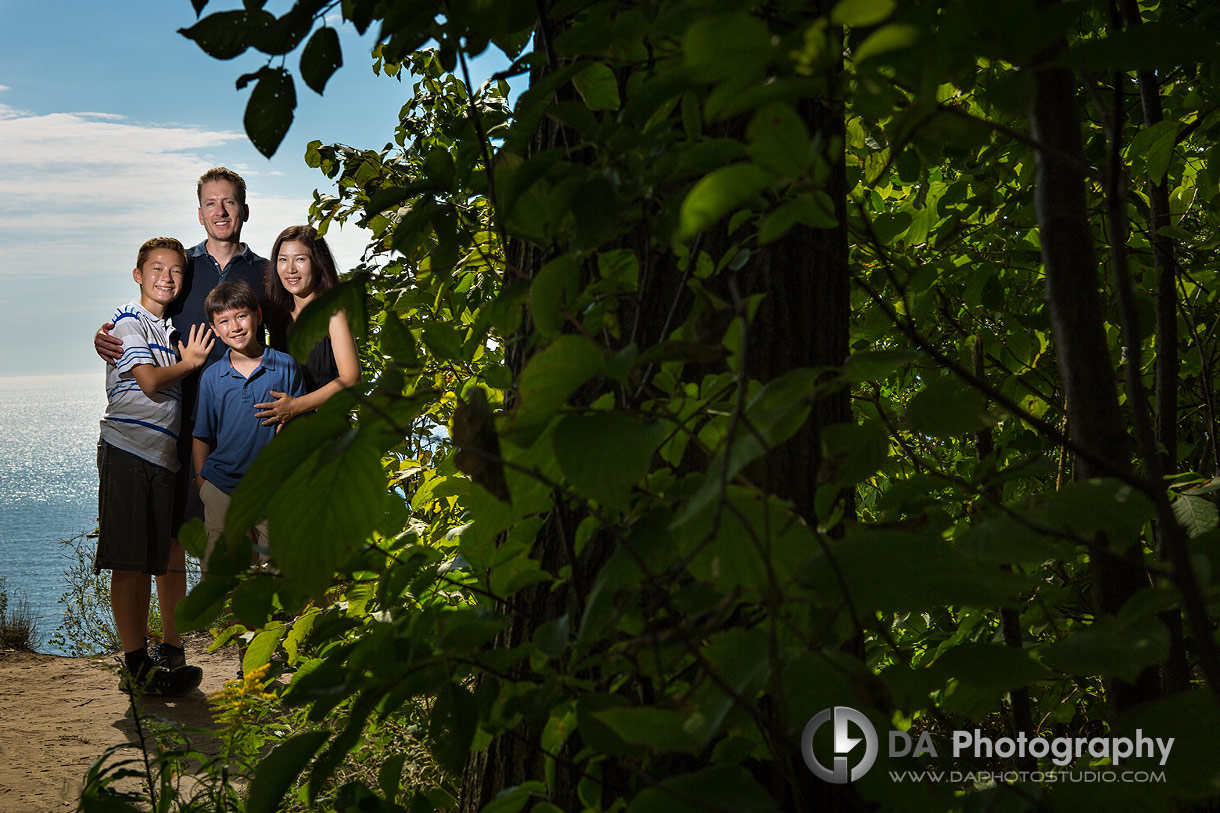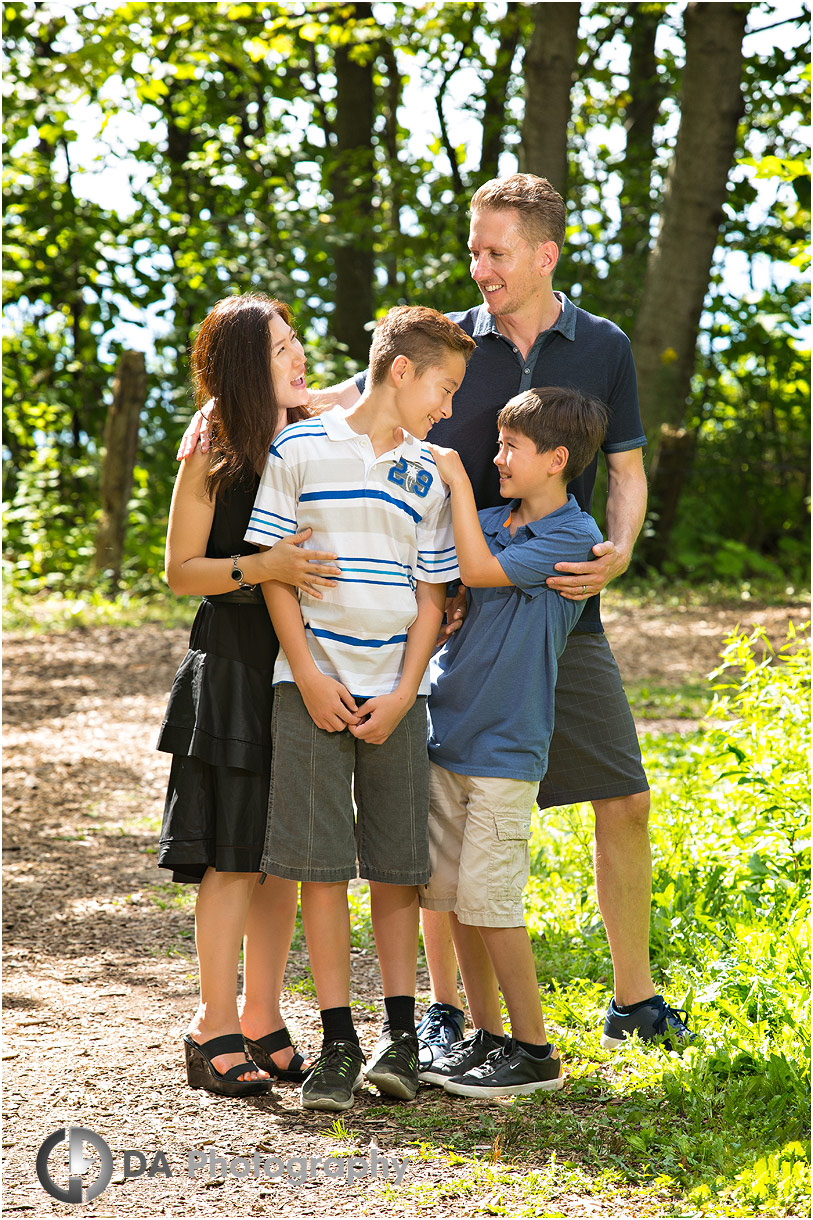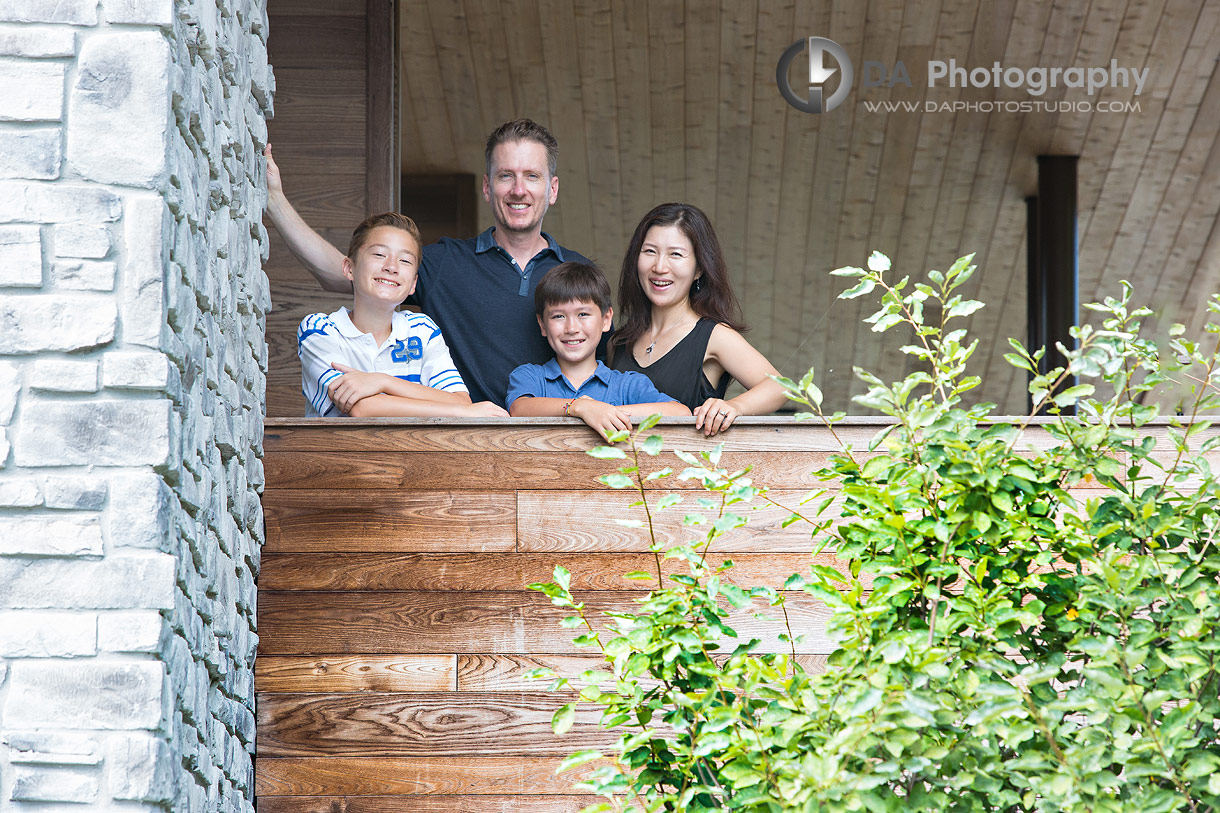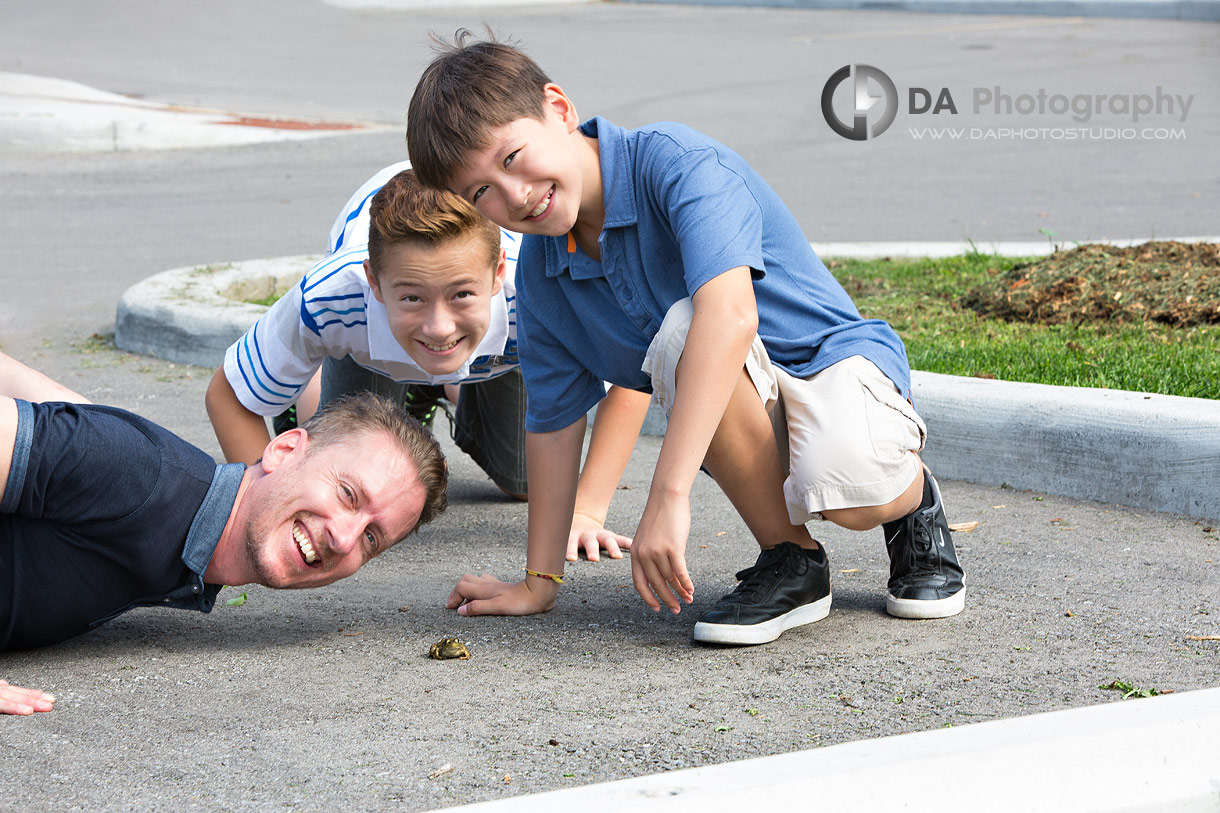 Have you done your early fall session already? If you haven't please feel free to reach out, we may be able to create some magic for you.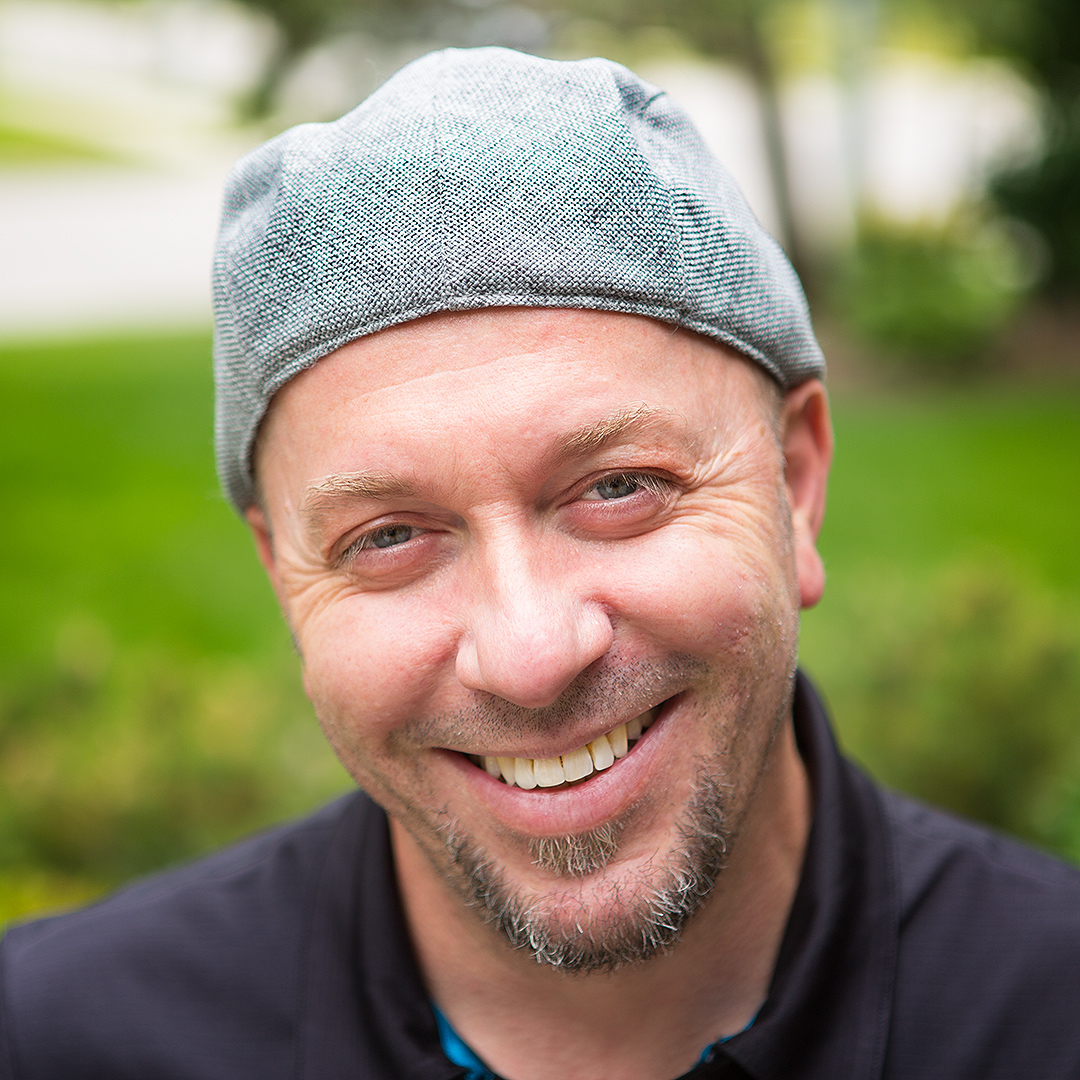 My passion and biggest asset is taking the time to make every client comfortable and relaxed before I even pick up the camera. The result? Photos of you that actually look like you at your best! I can prove to you how much you can enjoy having your picture taken. Lifestyle photography is about the experience that happens to be served up along side of some great photos.
Specialties:
Family Photography for families that like to move around and enjoy their photo time, Wedding Photography for couples looking for a mixture of photojournalistic, contemporary and traditional images and Professional Corporate headshots that are far from cheesy and stiff.