When Diana and Sebastian were part of Claire and Gary's wedding party, little did they know how our lives would connect on a deeper level. Having seen how I operated to keep everyone calm amidst the chaos of a wedding, I had unknowingly secured their trust. After shopping around for a Cambridge engagement photographer, they reached out to see if I would travel to them. As fate would have it, I'd recently opened up a second location in Guelph, so Cambridge was on my doorstep!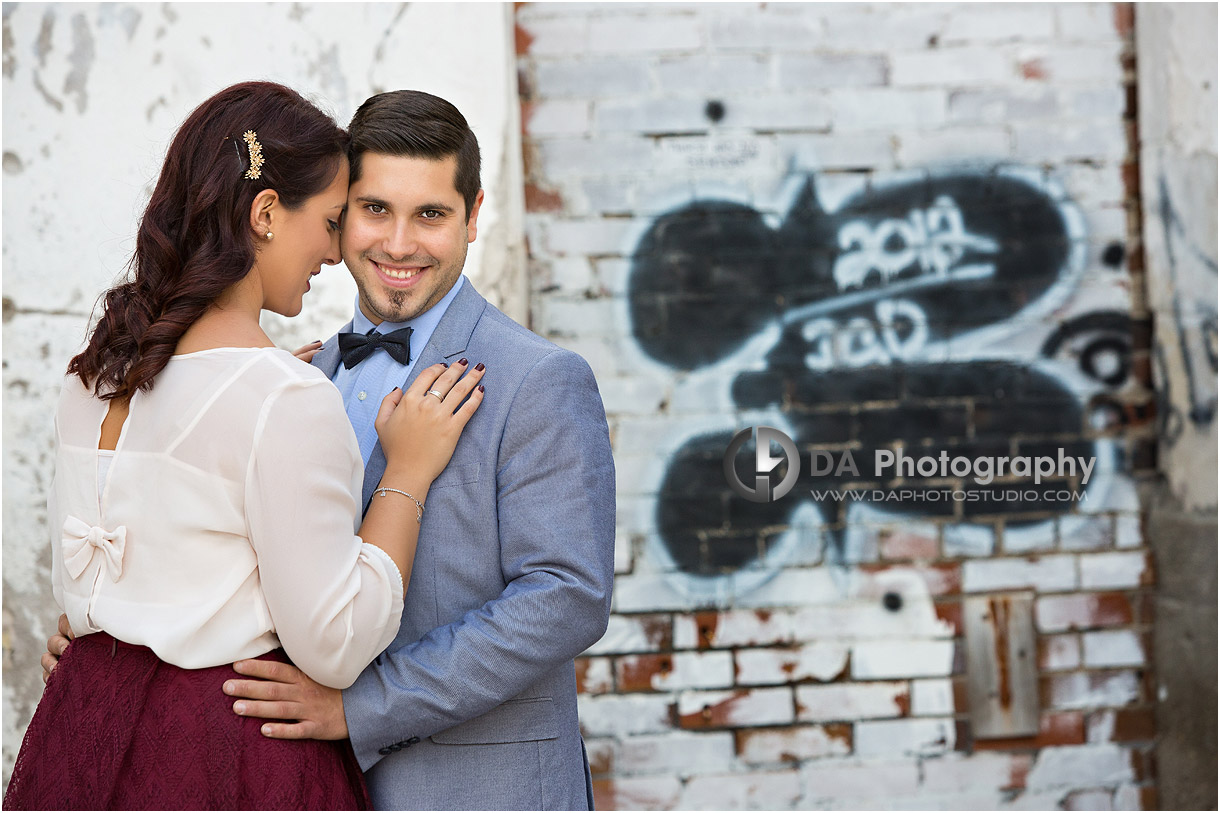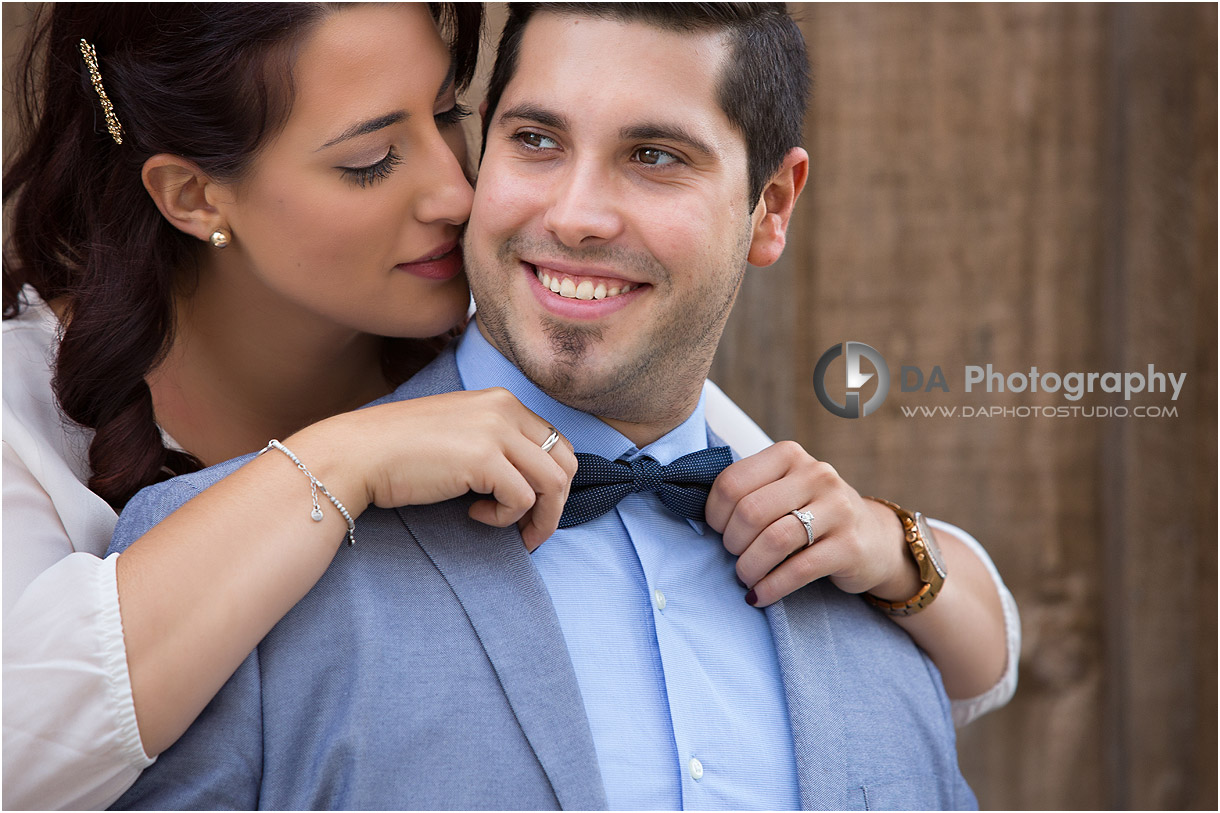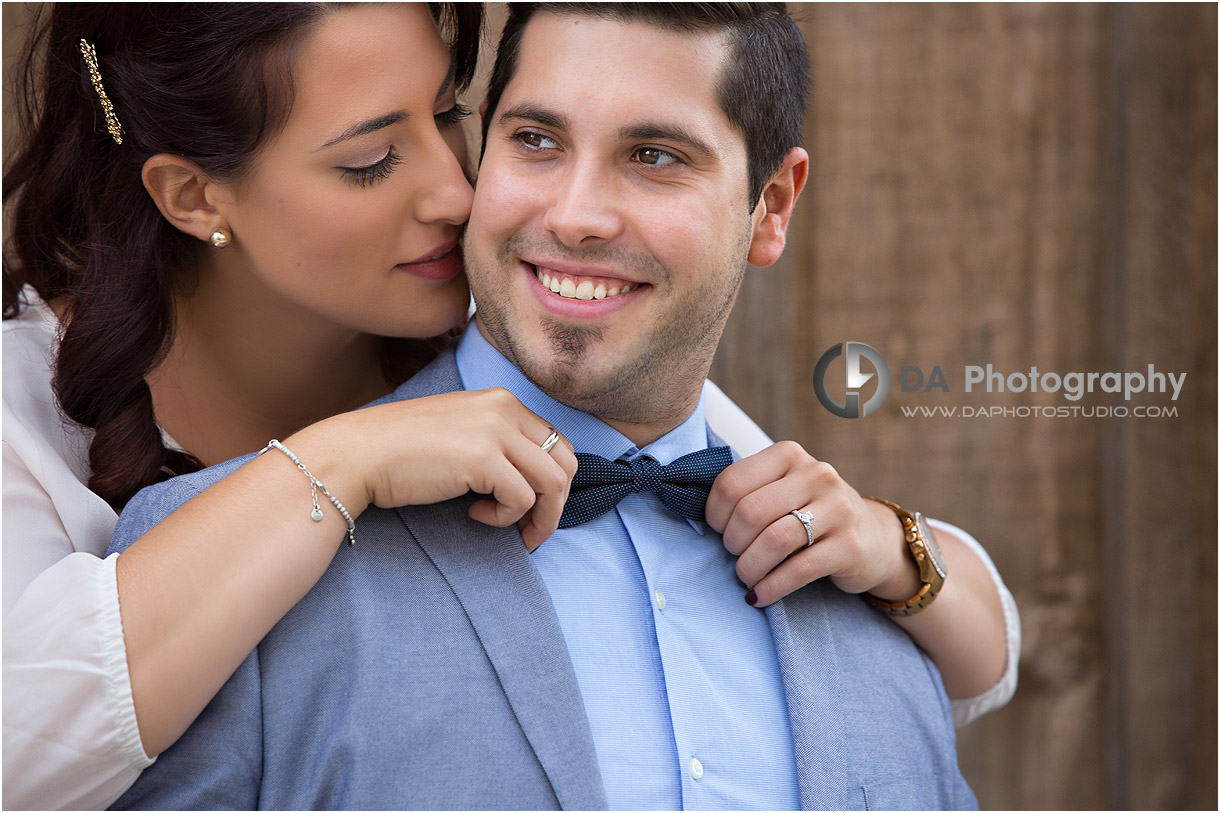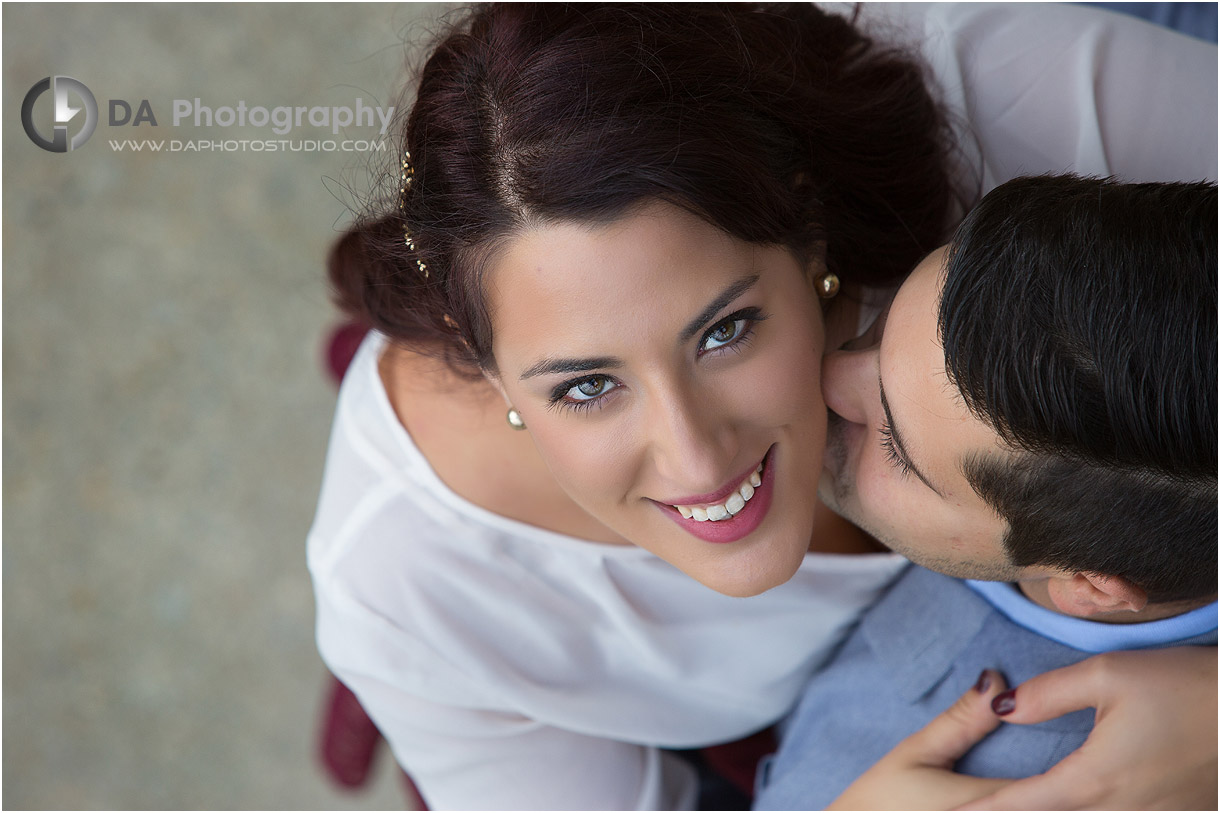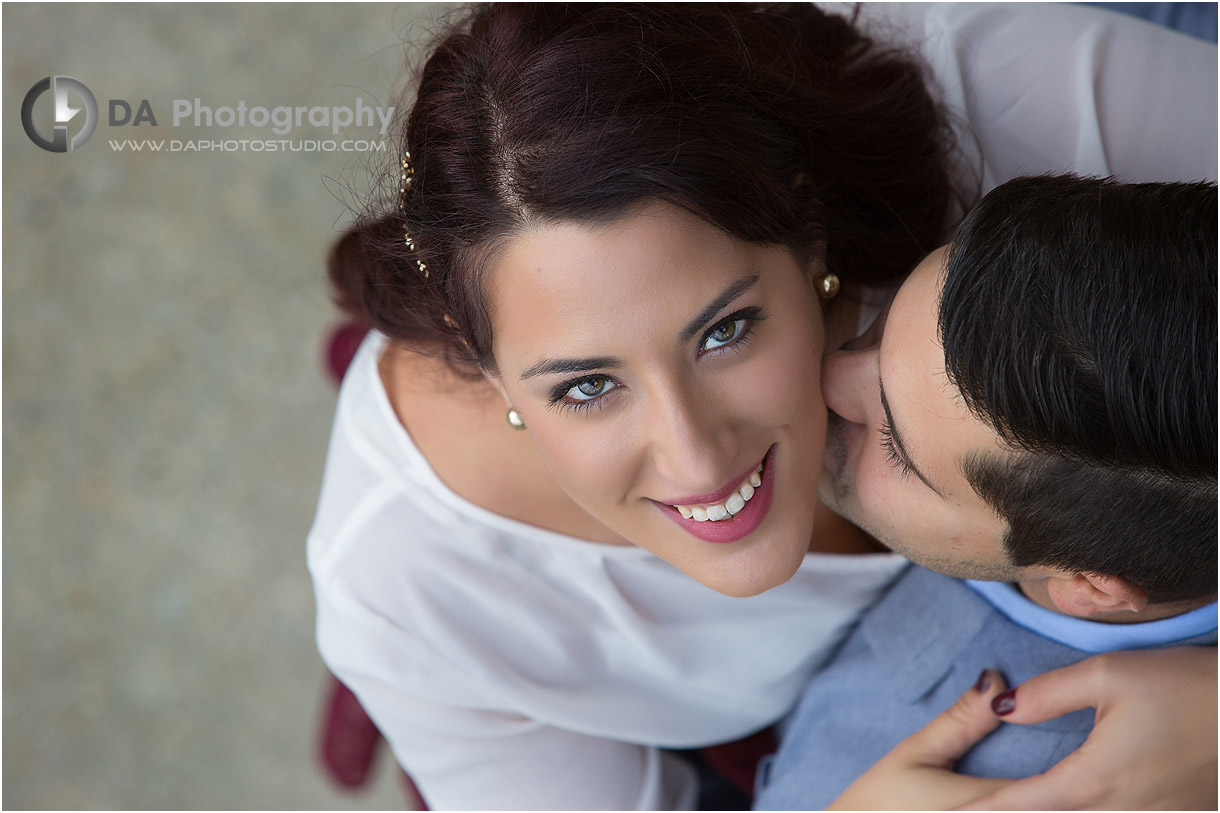 Although a shopping mall doesn't sound like the most romantic of locations for an engagement shoot, I had a plan. Not being one to shy away from a challenge, I wanted to utilize the potential I saw in the location.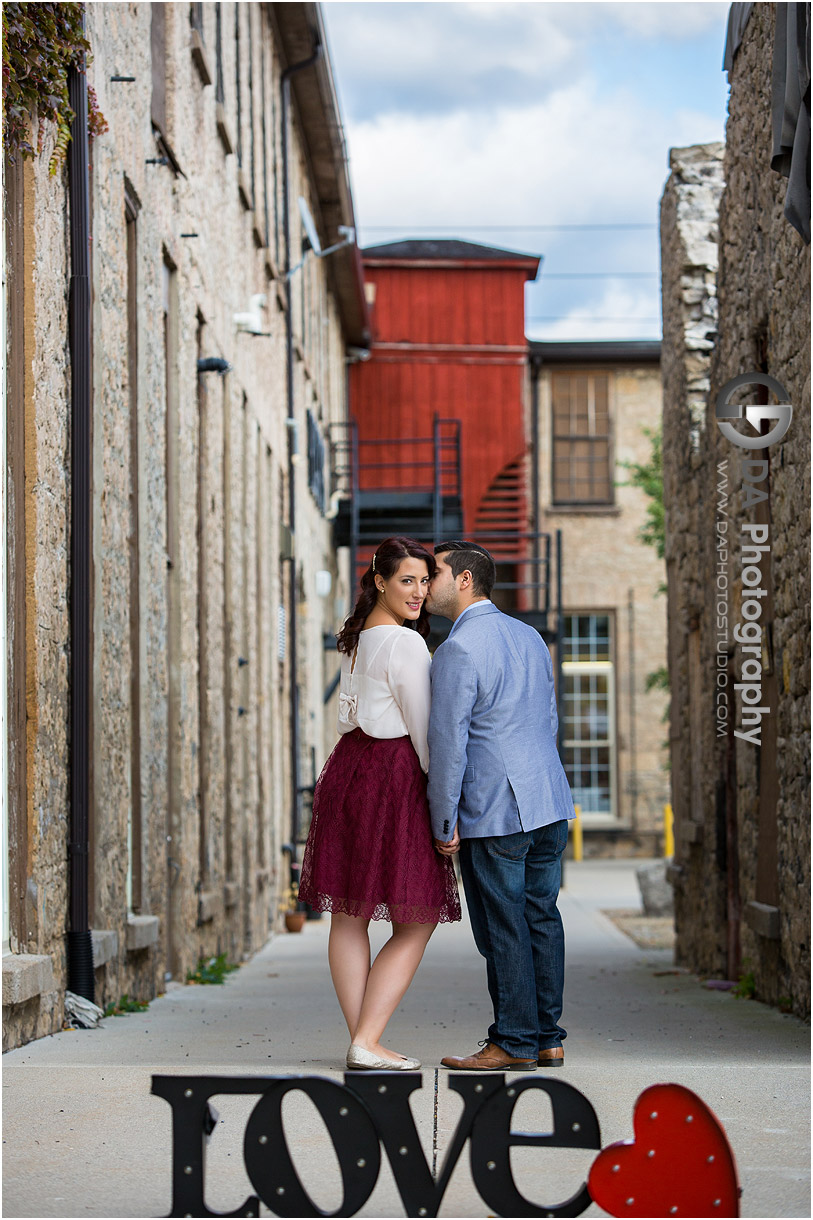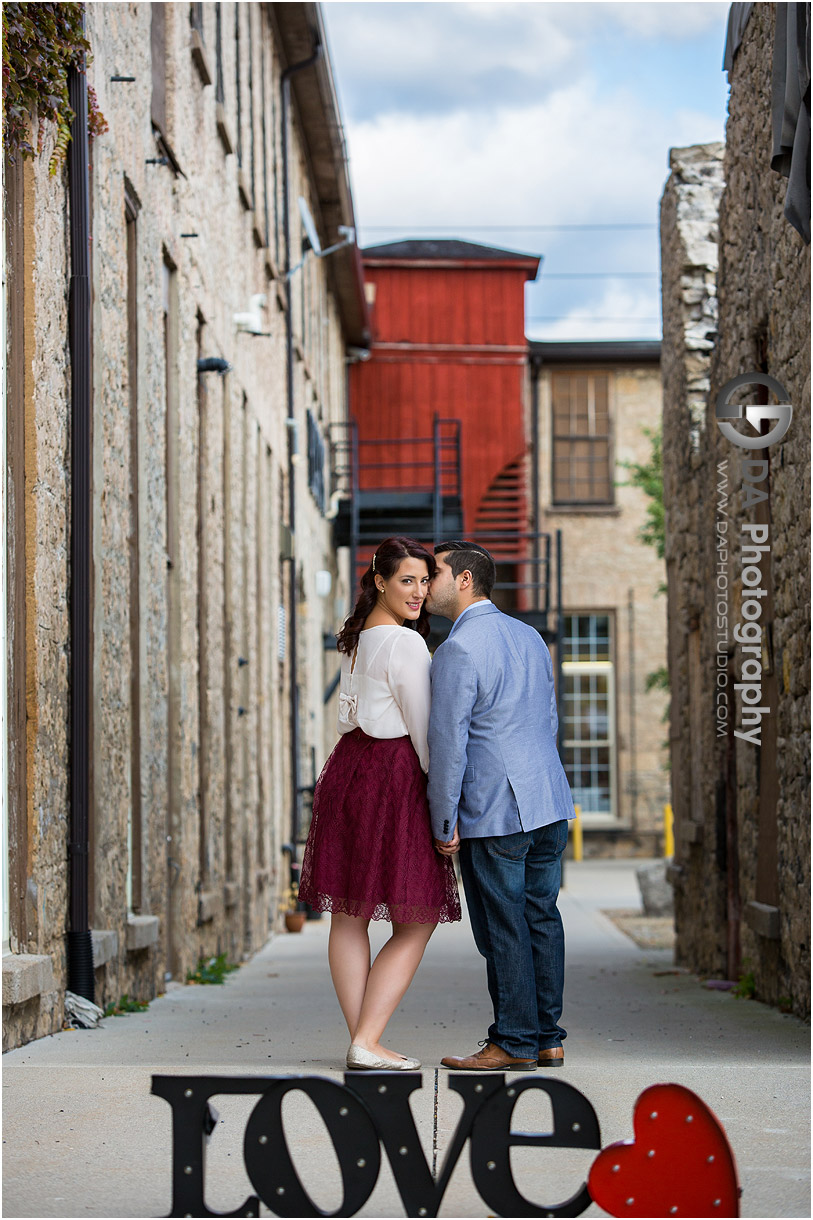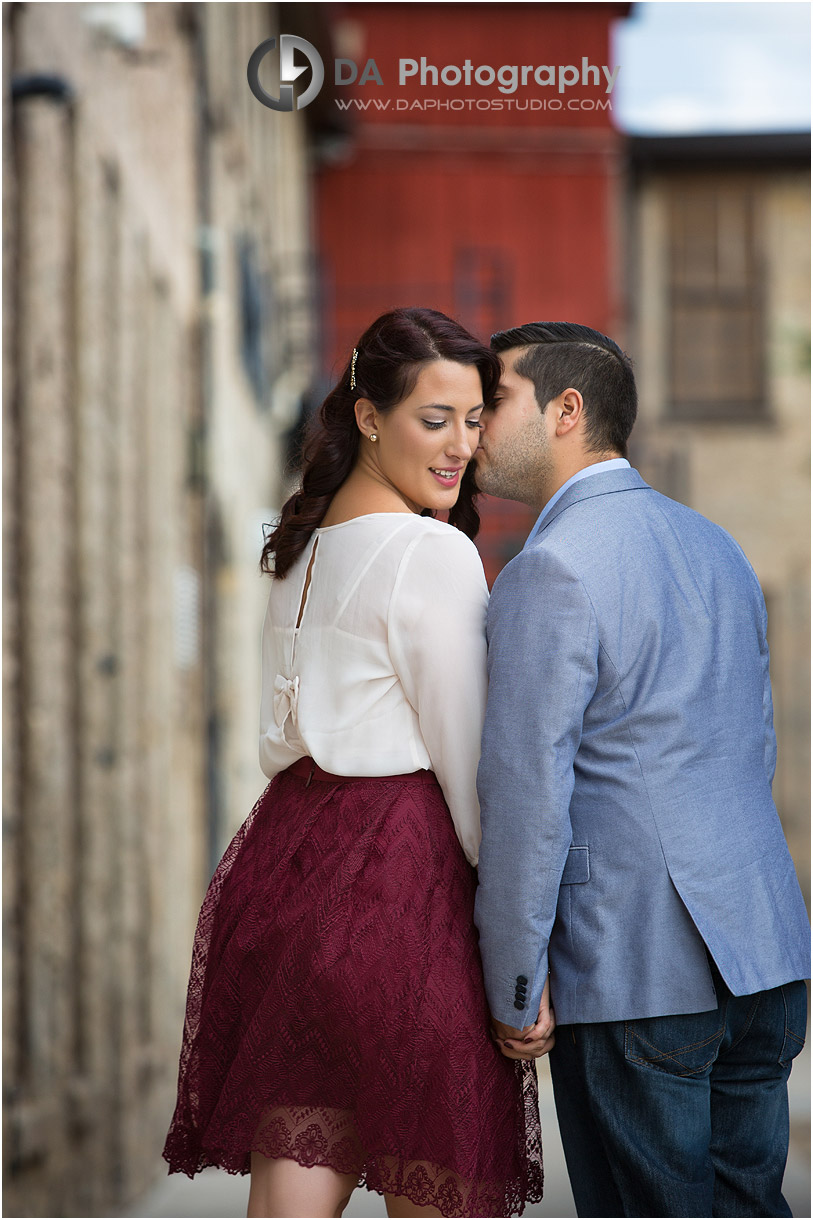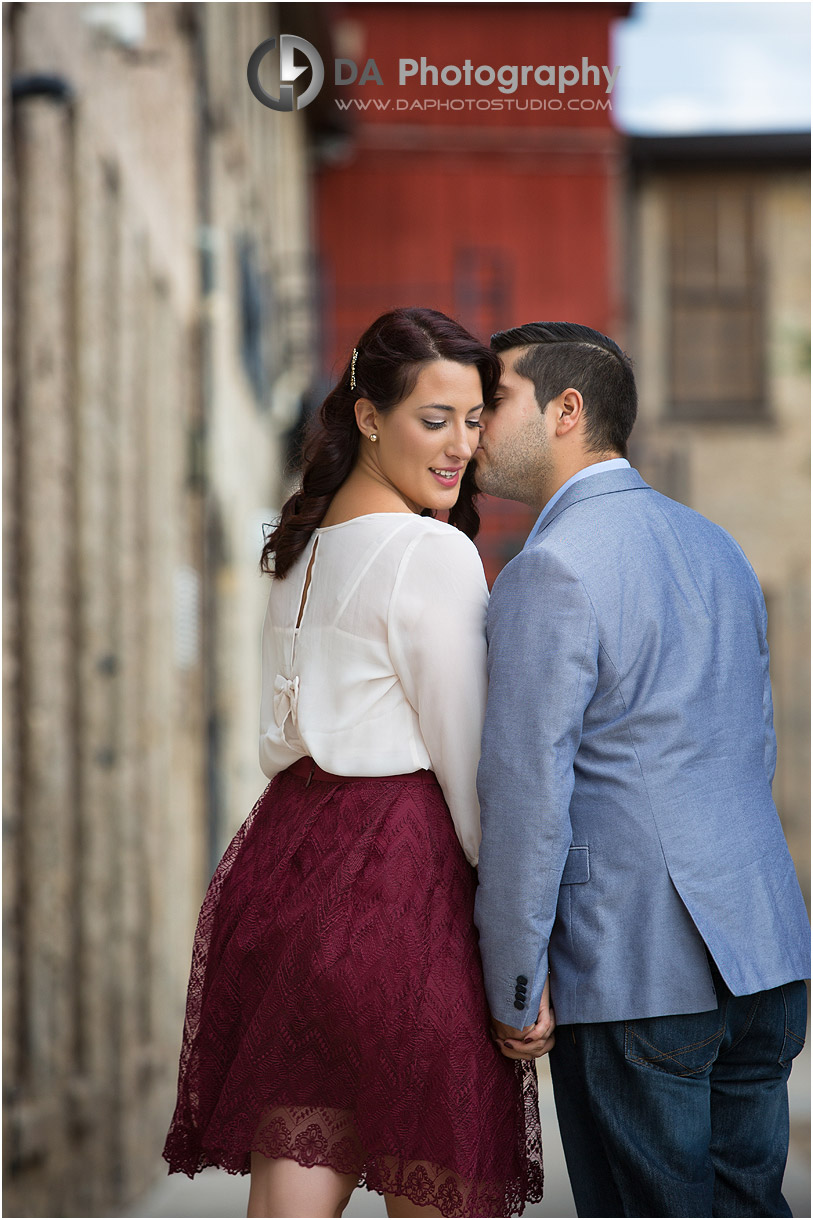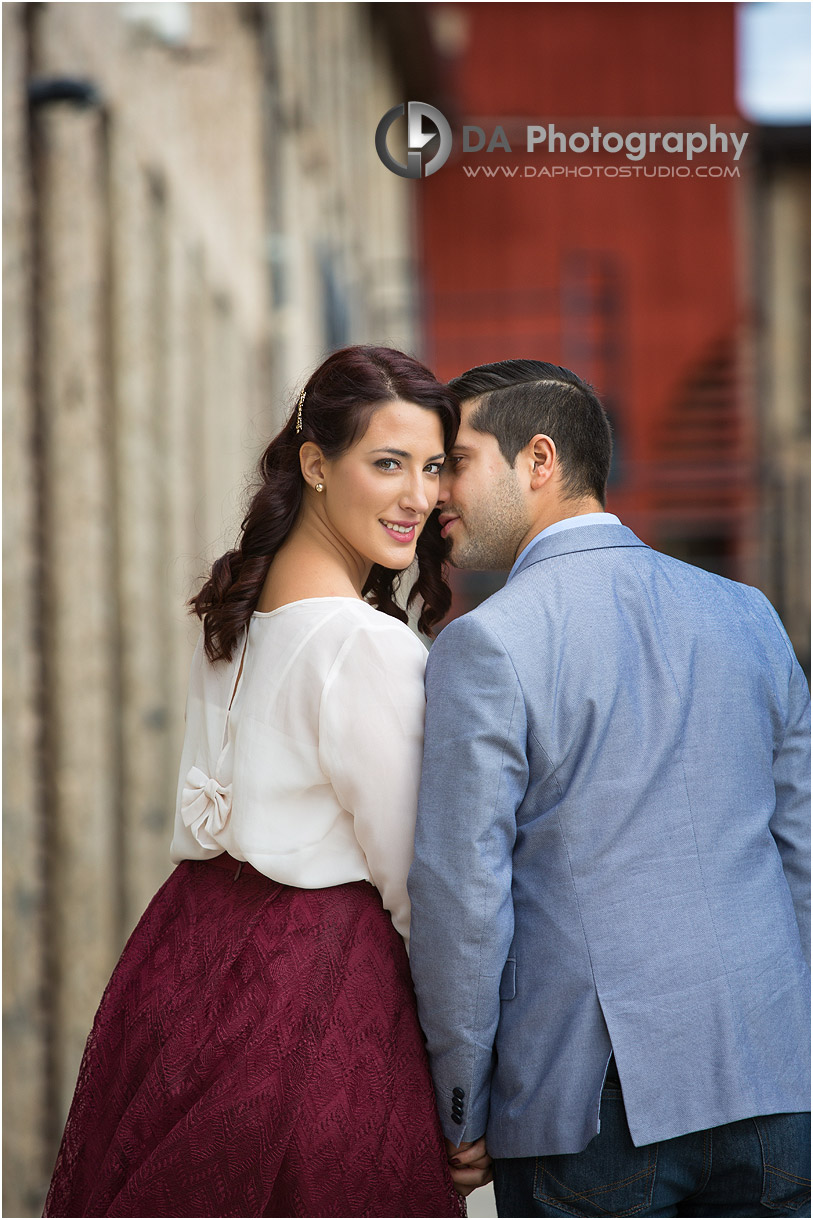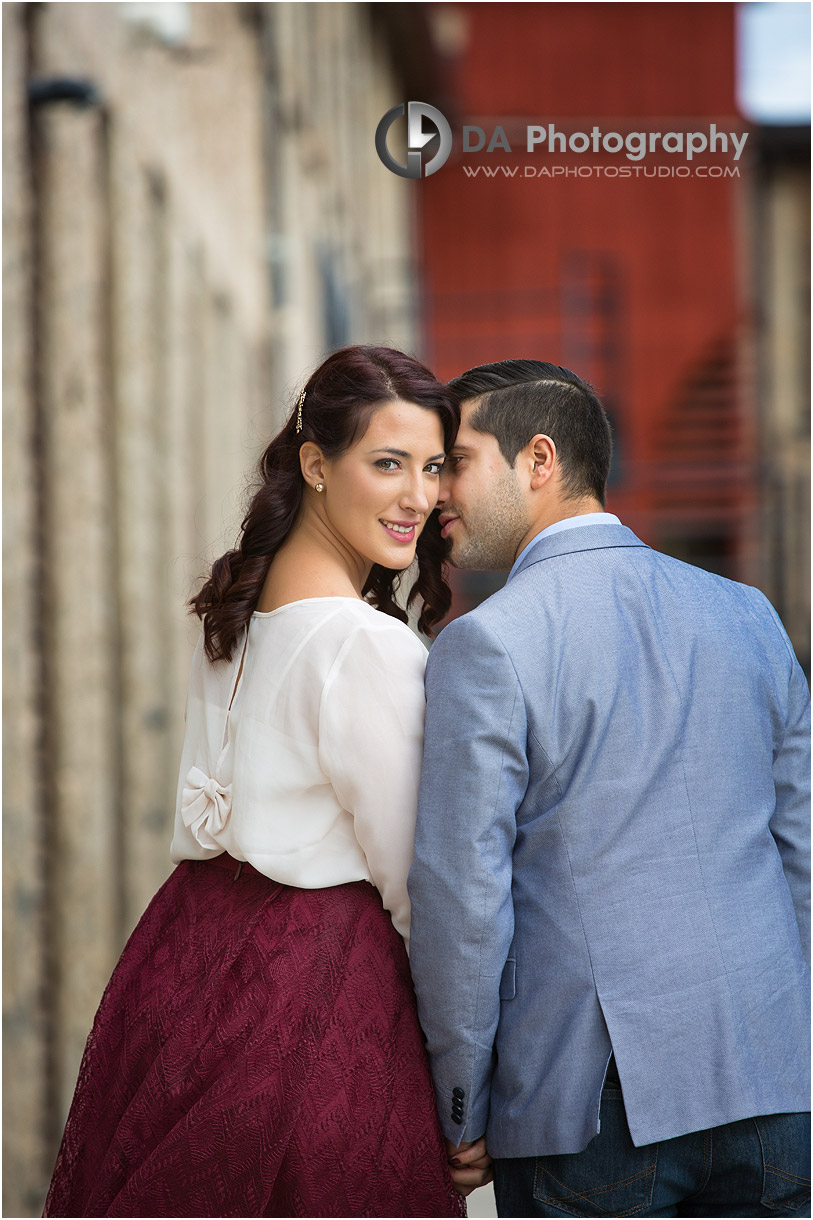 The rear of the Southworks Mall rarely sees much pedestrian traffic but offers a stylized, industrial look full of character. Historic brick walls, metal staircases and long alleys offered interesting lines and textured backdrops. These raw and quirky details add depth and content as well as showcasing the natural beauty found in everyday surroundings.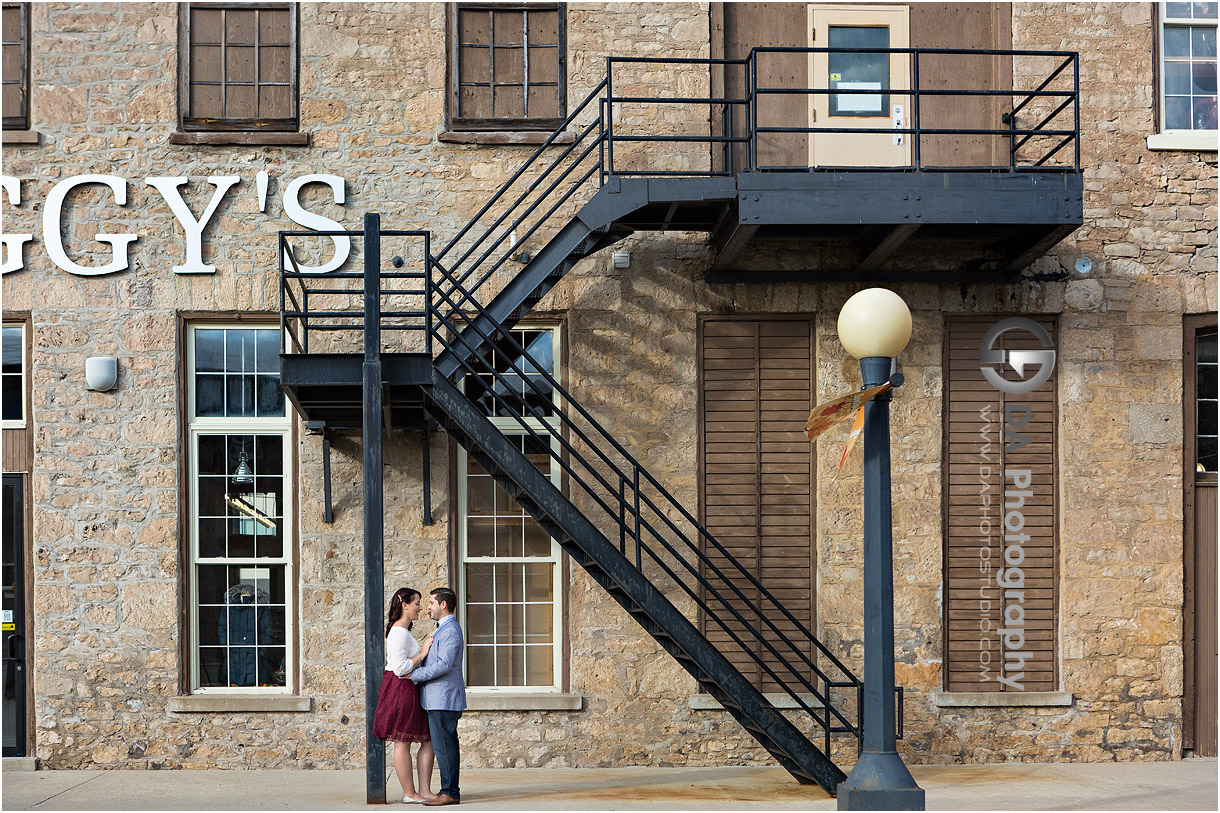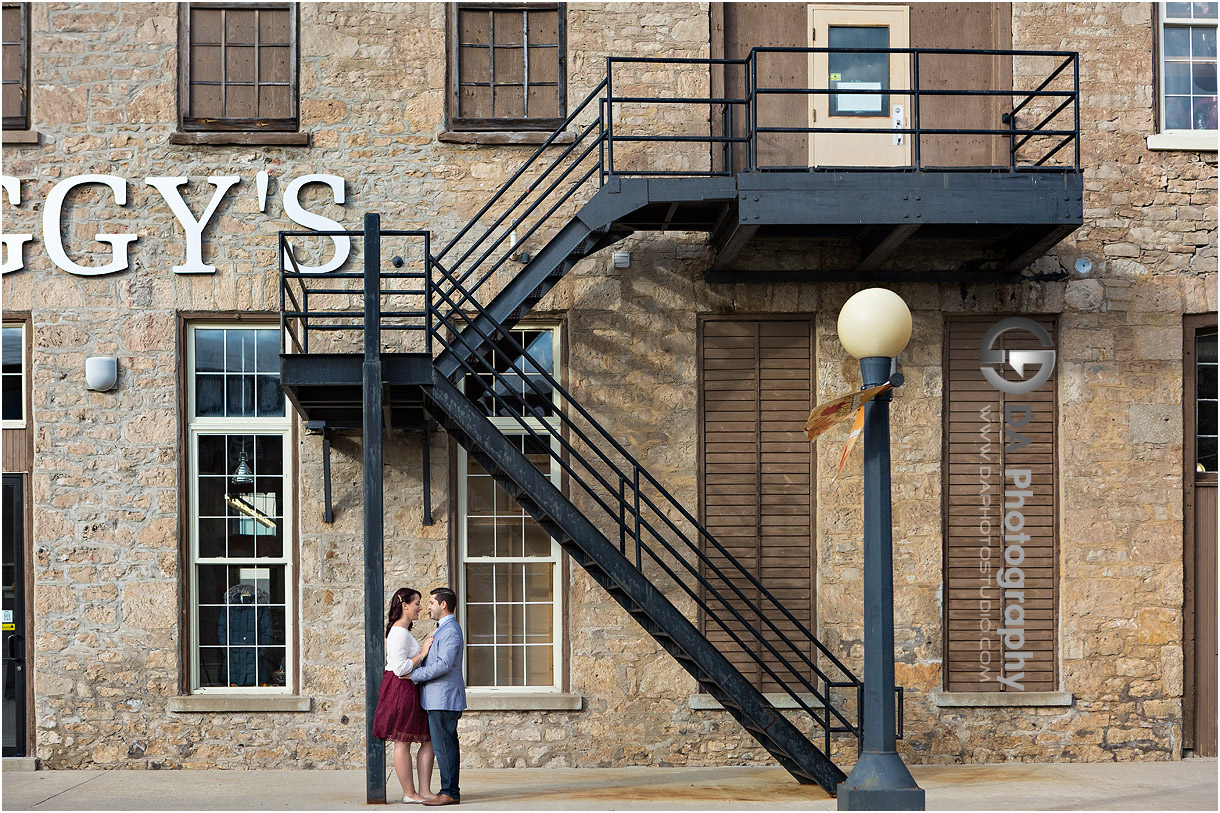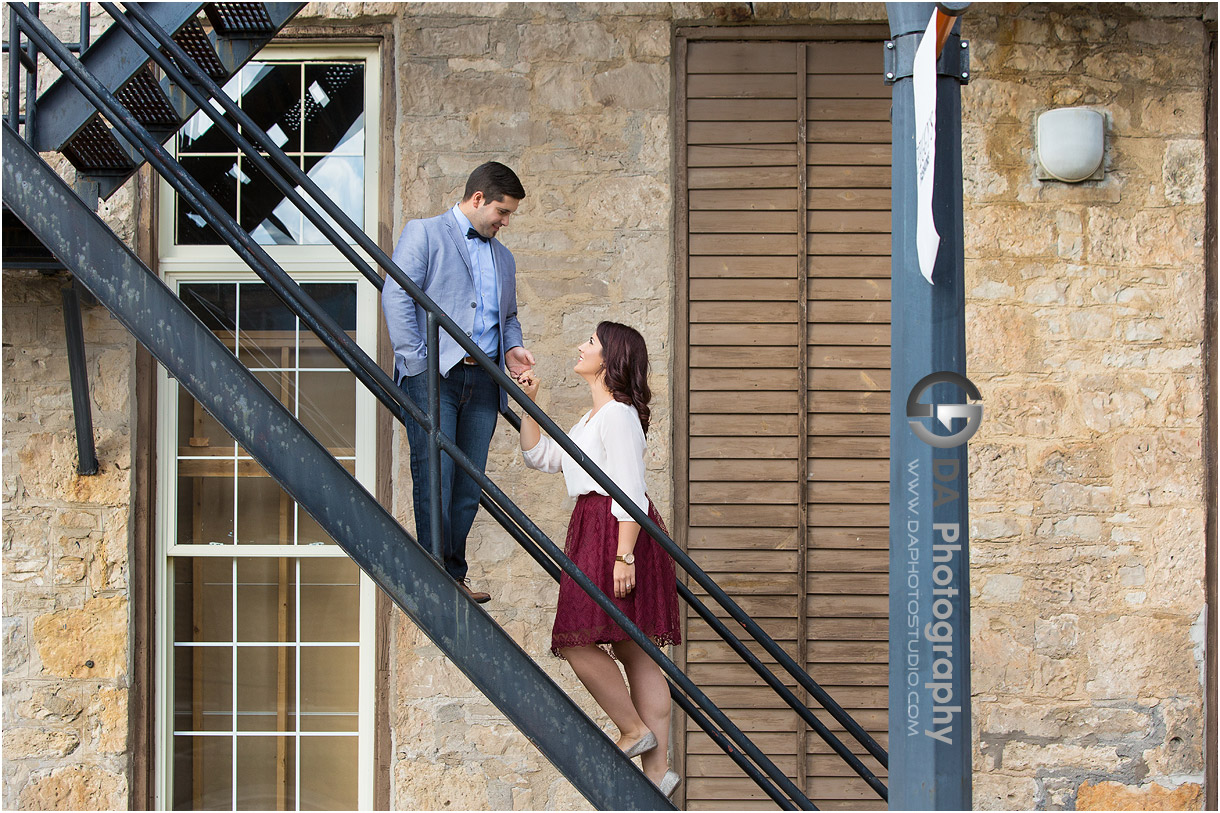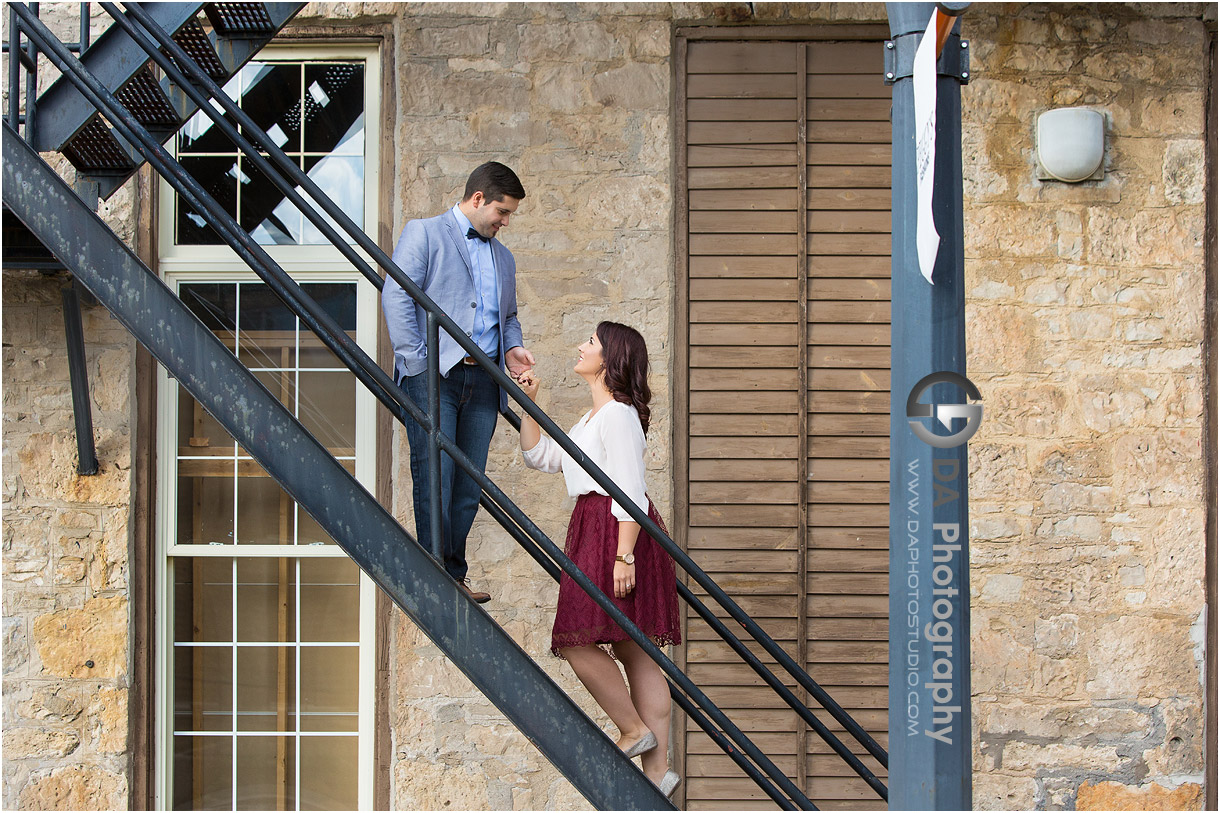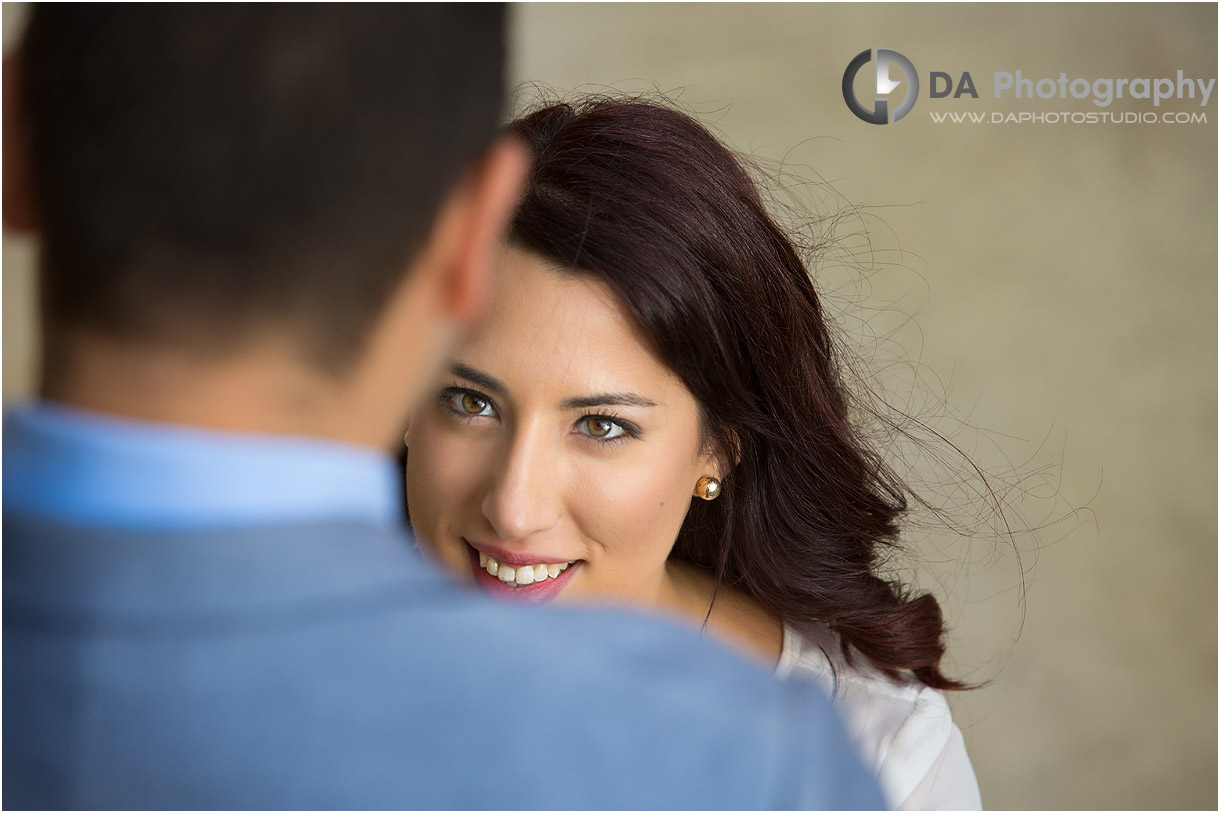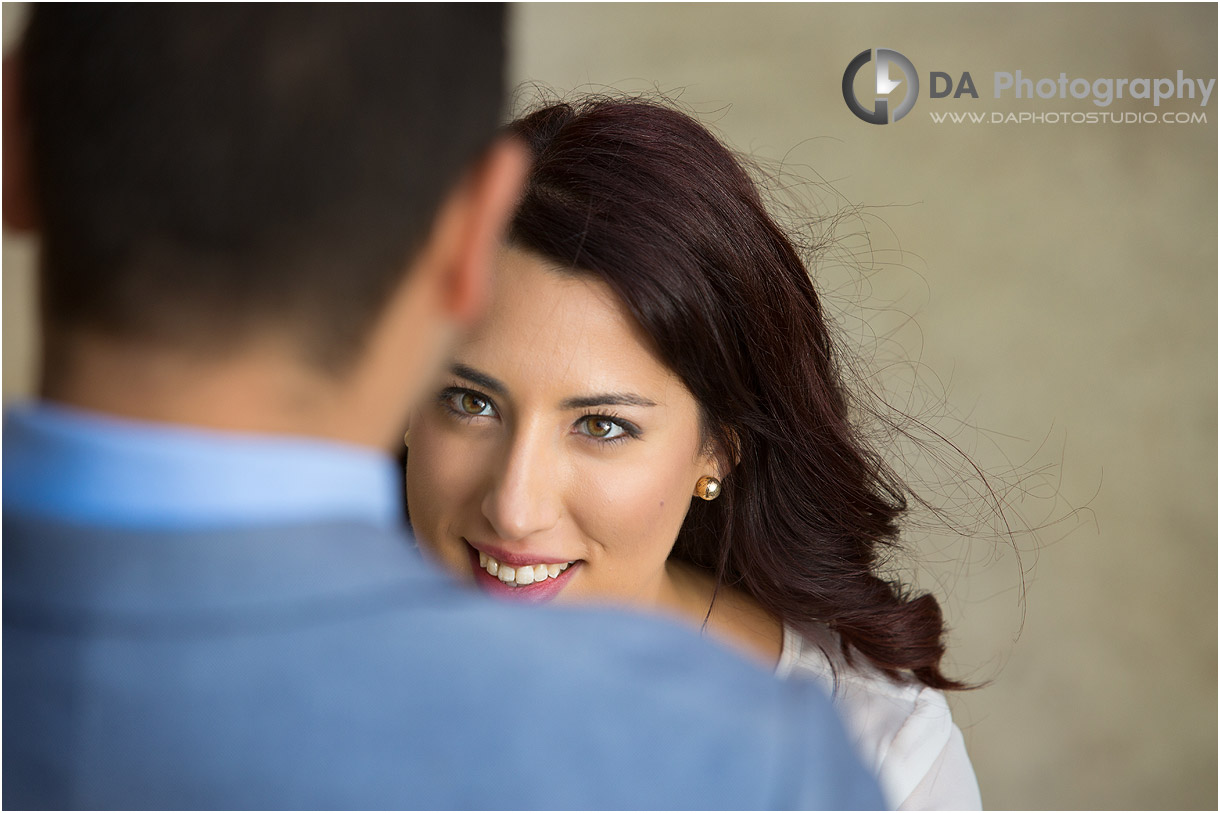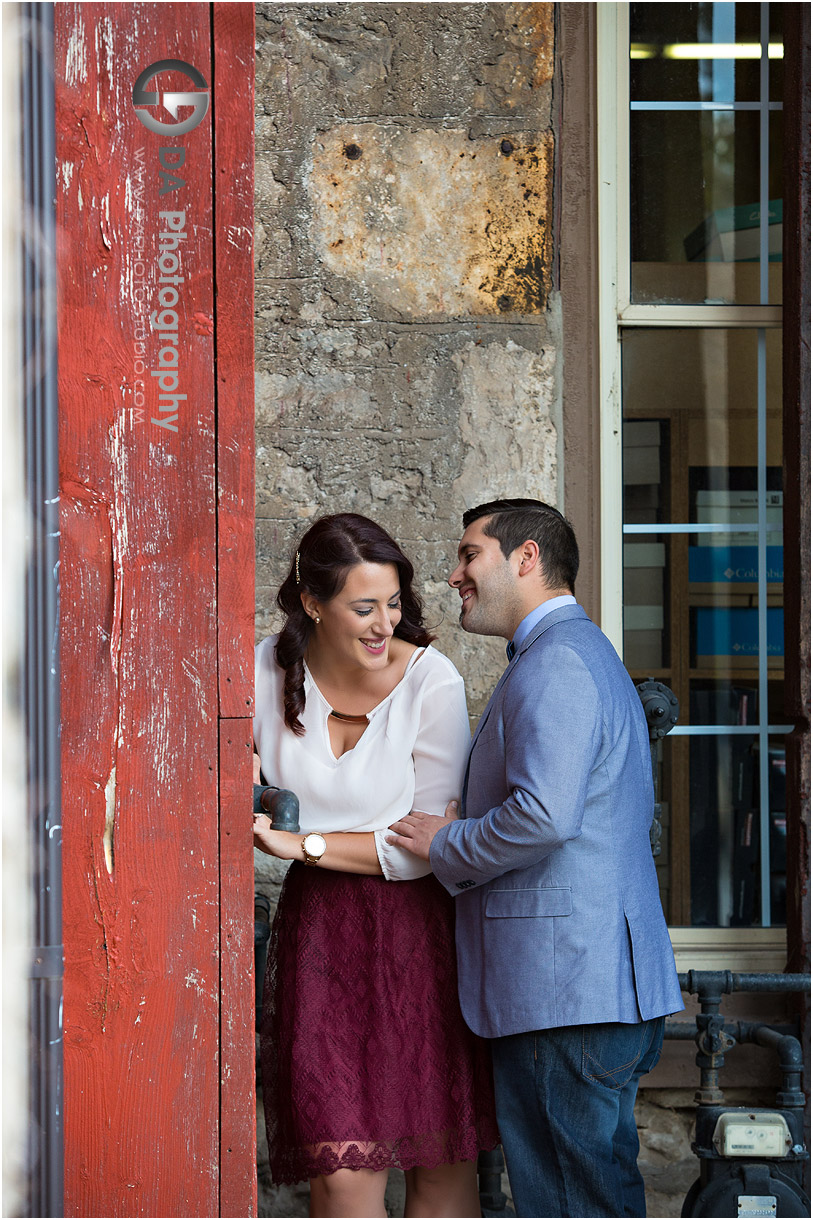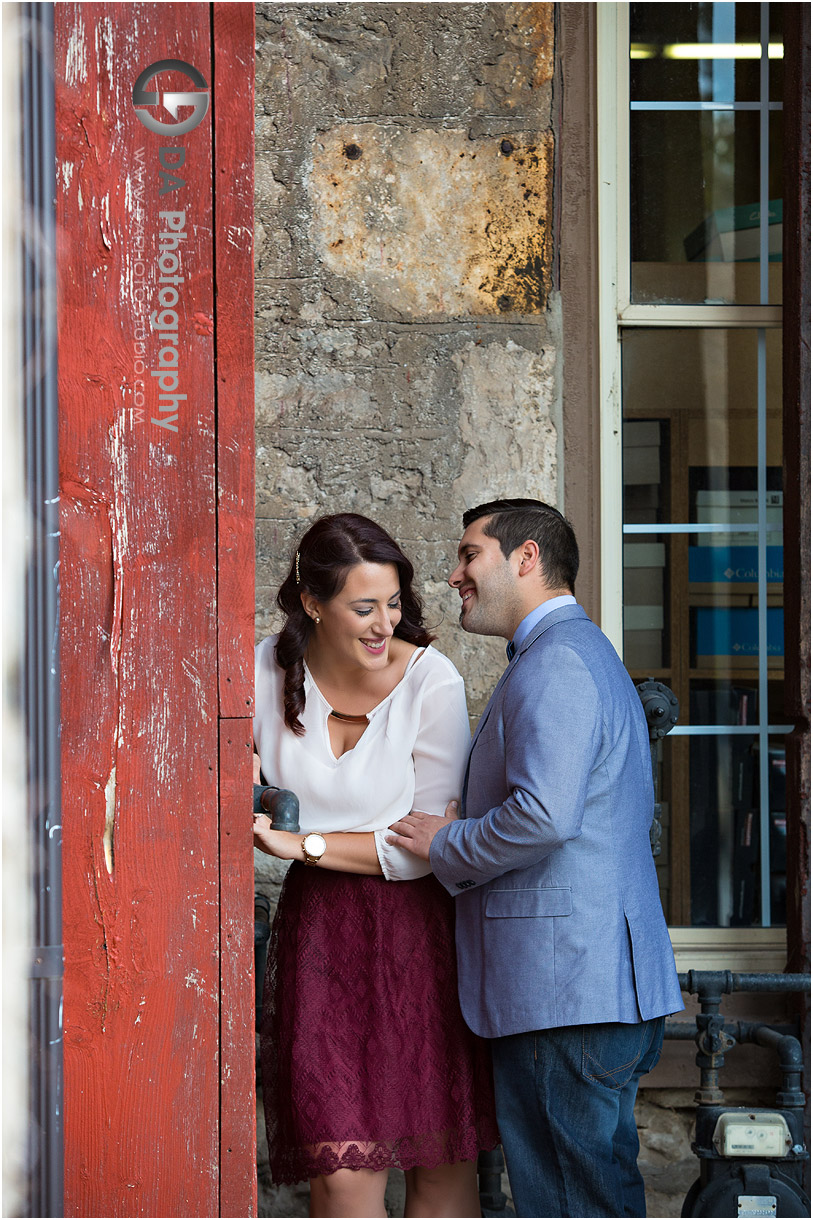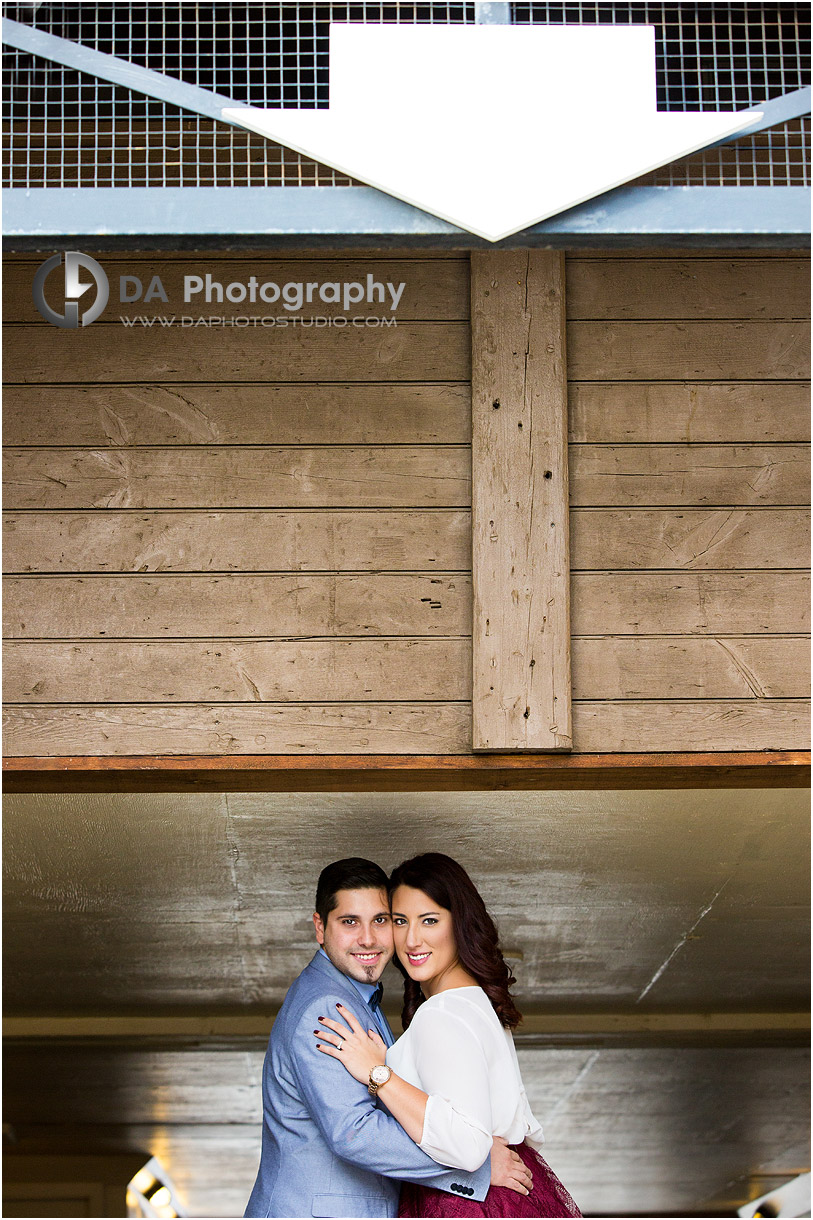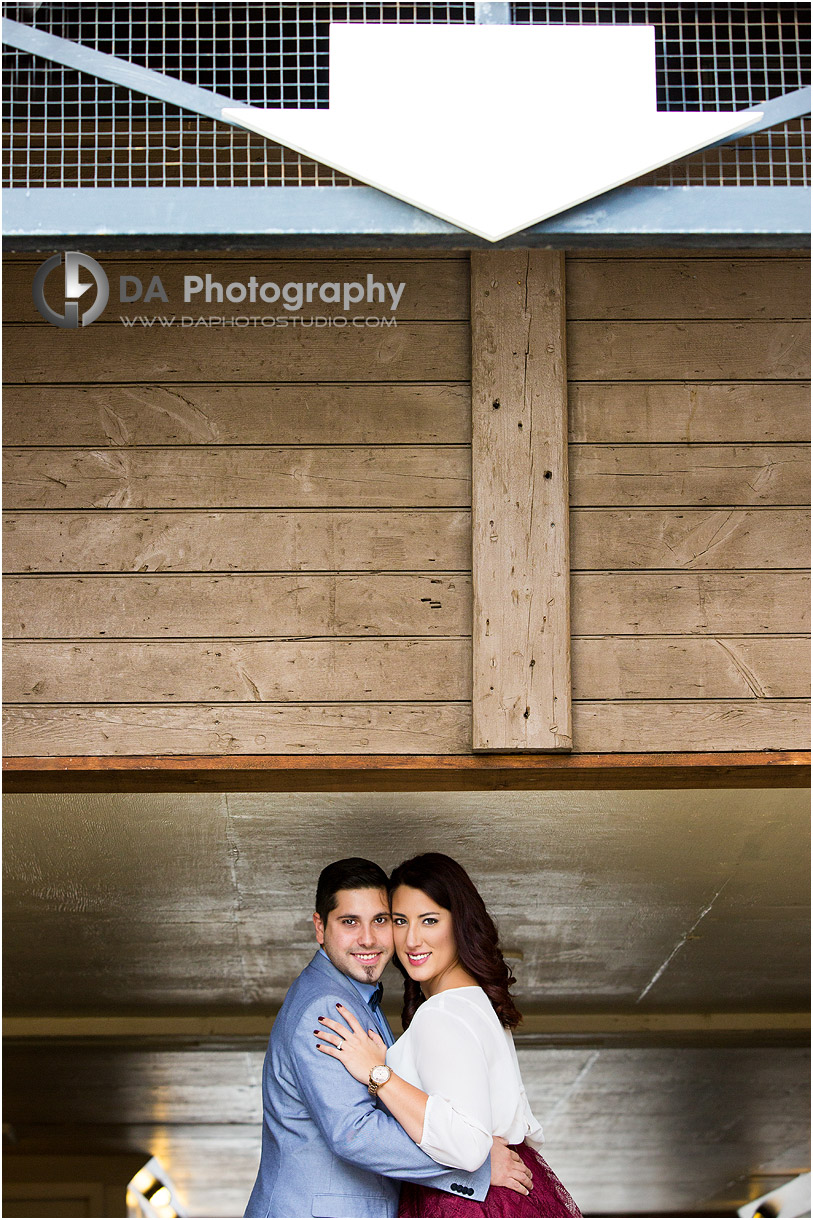 Diana and Sebastian had coordinated their outfits to compliment their fall engagement shoot with burgundy and blue. As you can see, block colours and clean lines work really well versus something with a lot of detail or patterns. Our eyes are drawn to the couple and their facial expressions rather than being distracted by busy attire.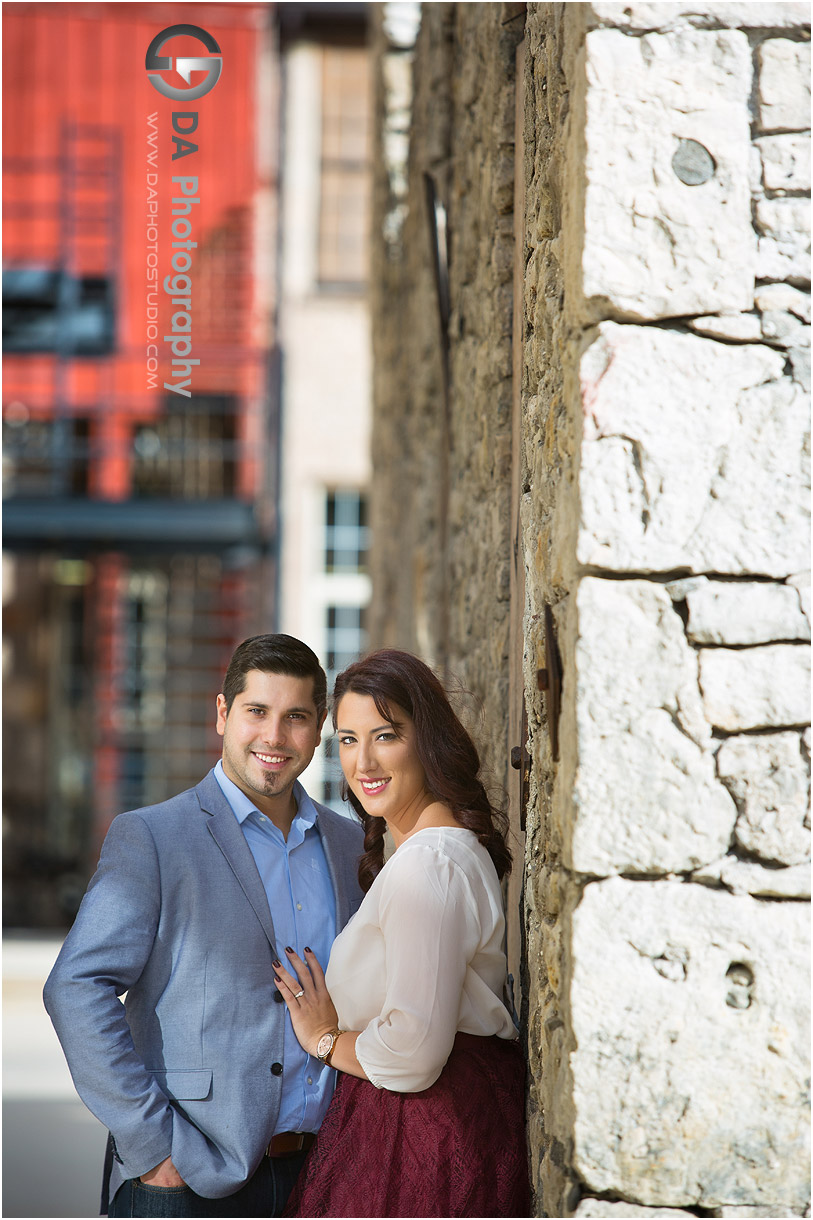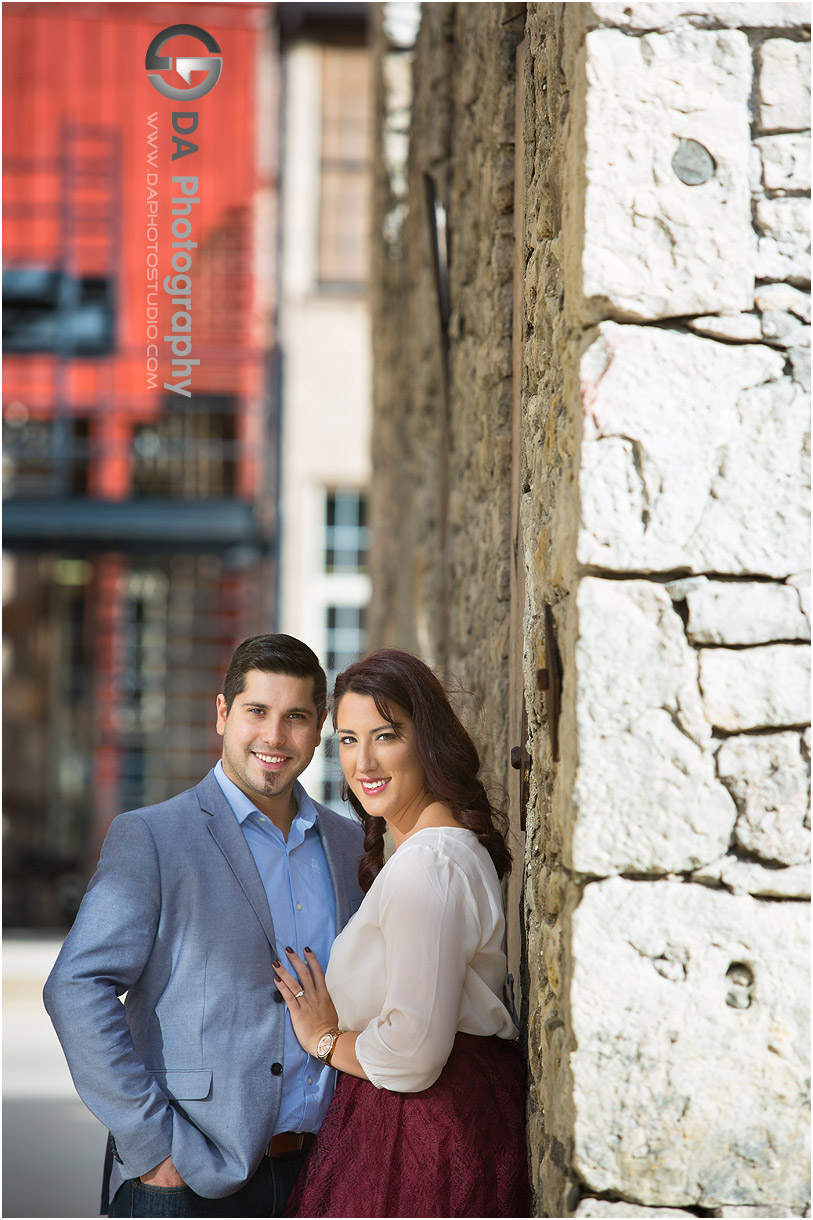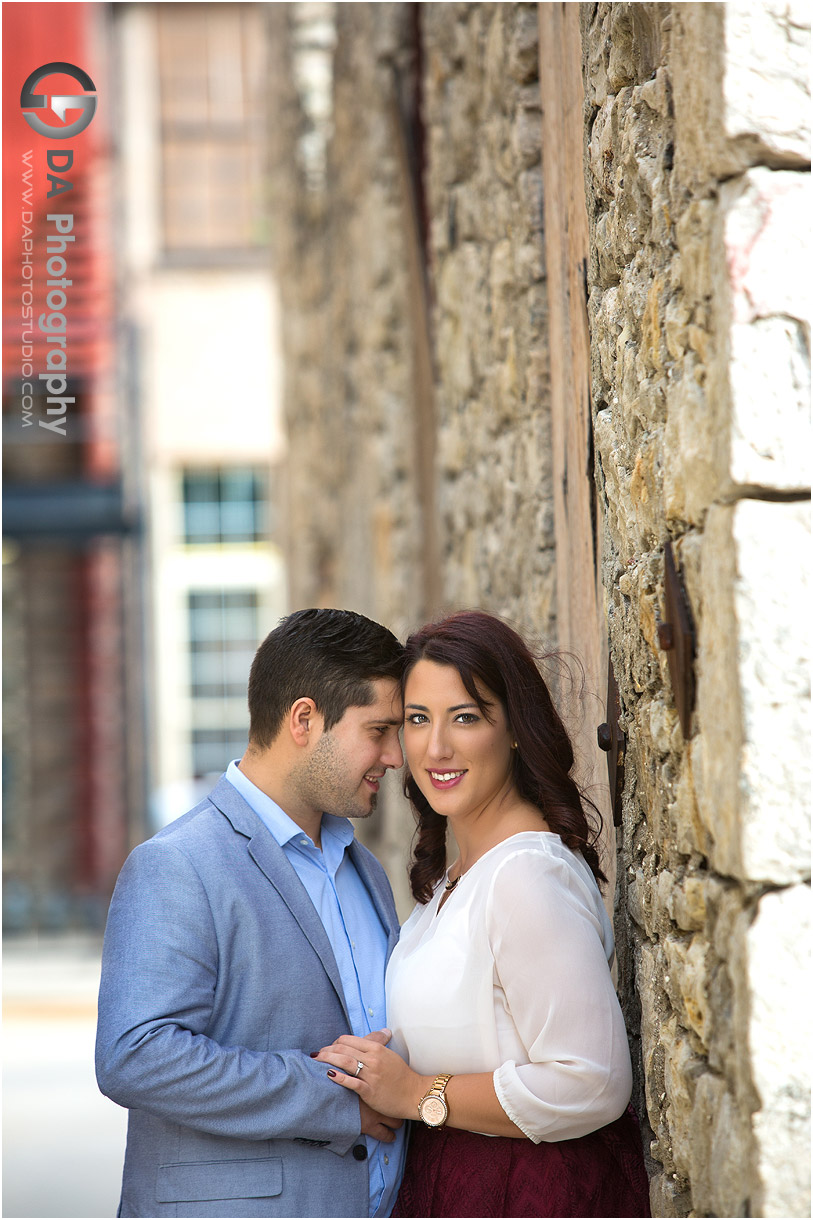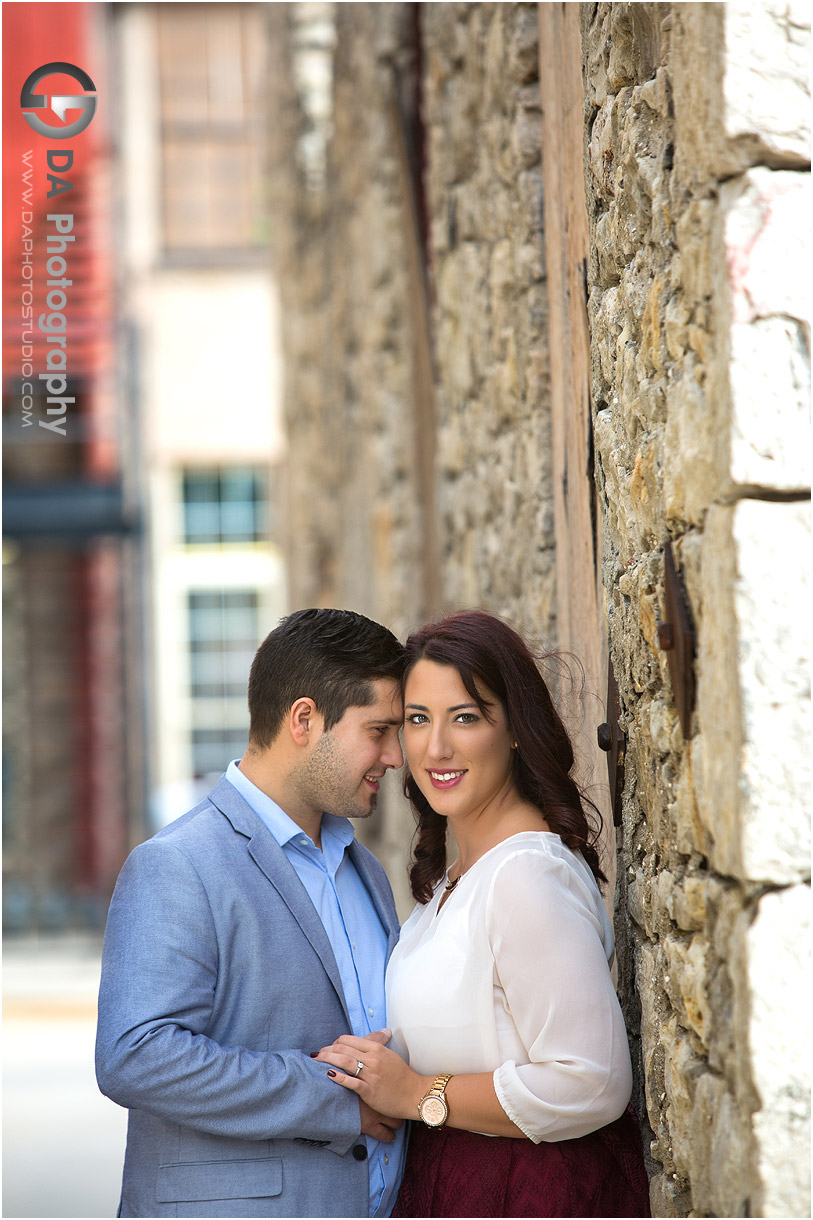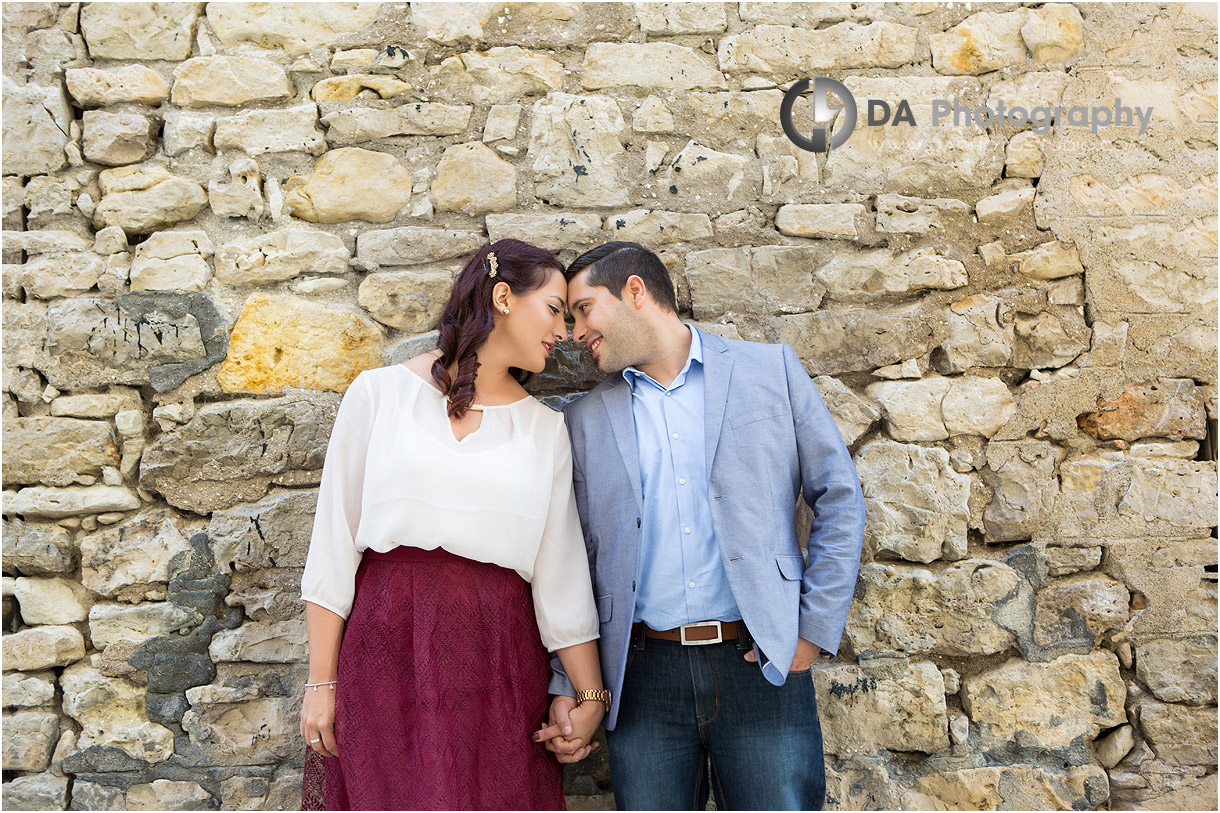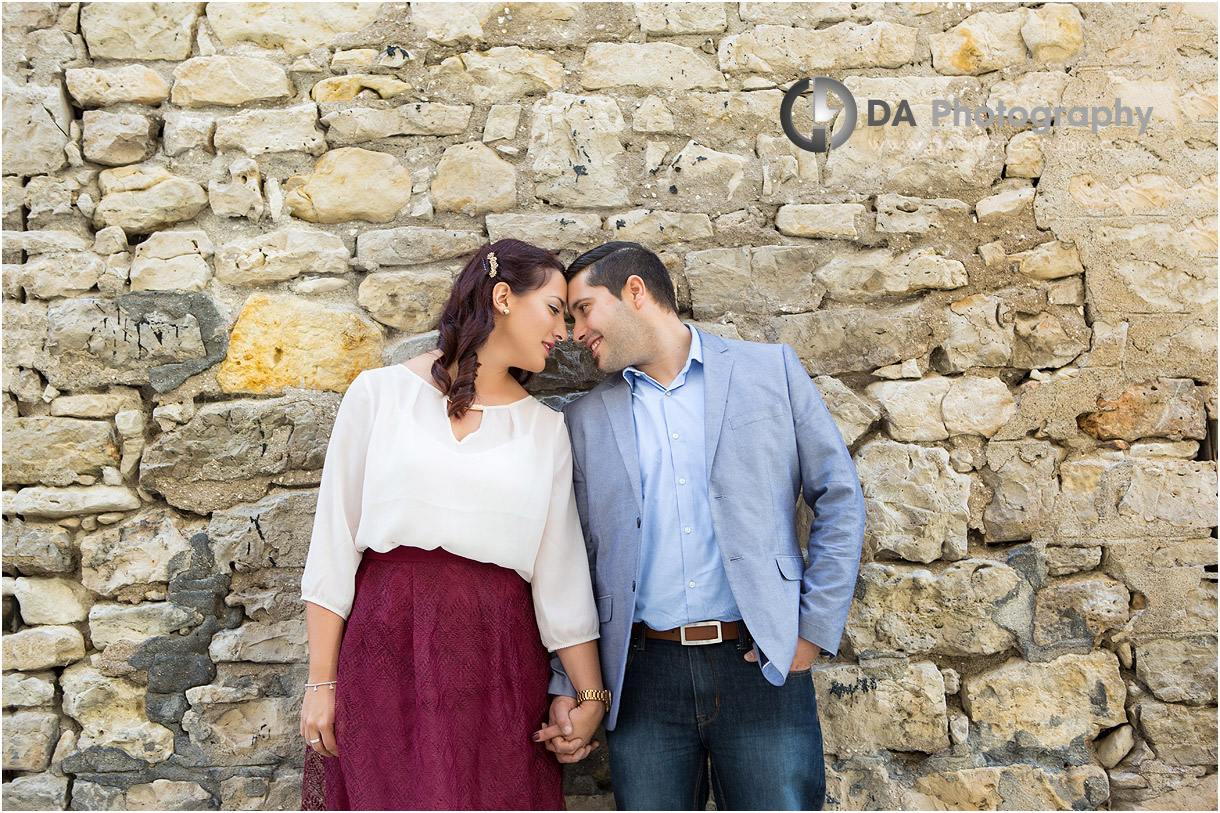 As a Cambridge engagement photographer; find out how I can capture a true representation of your love whilst showcasing the beauty Cambridge has to offer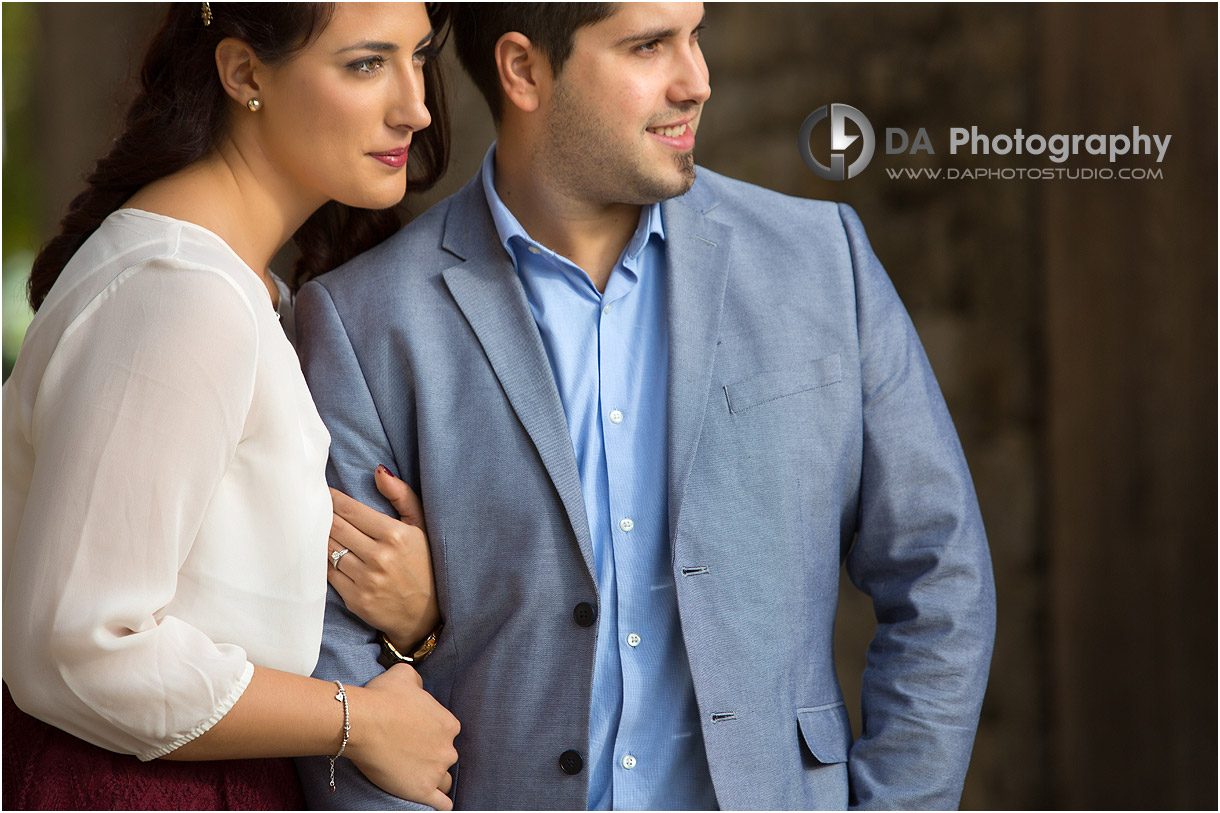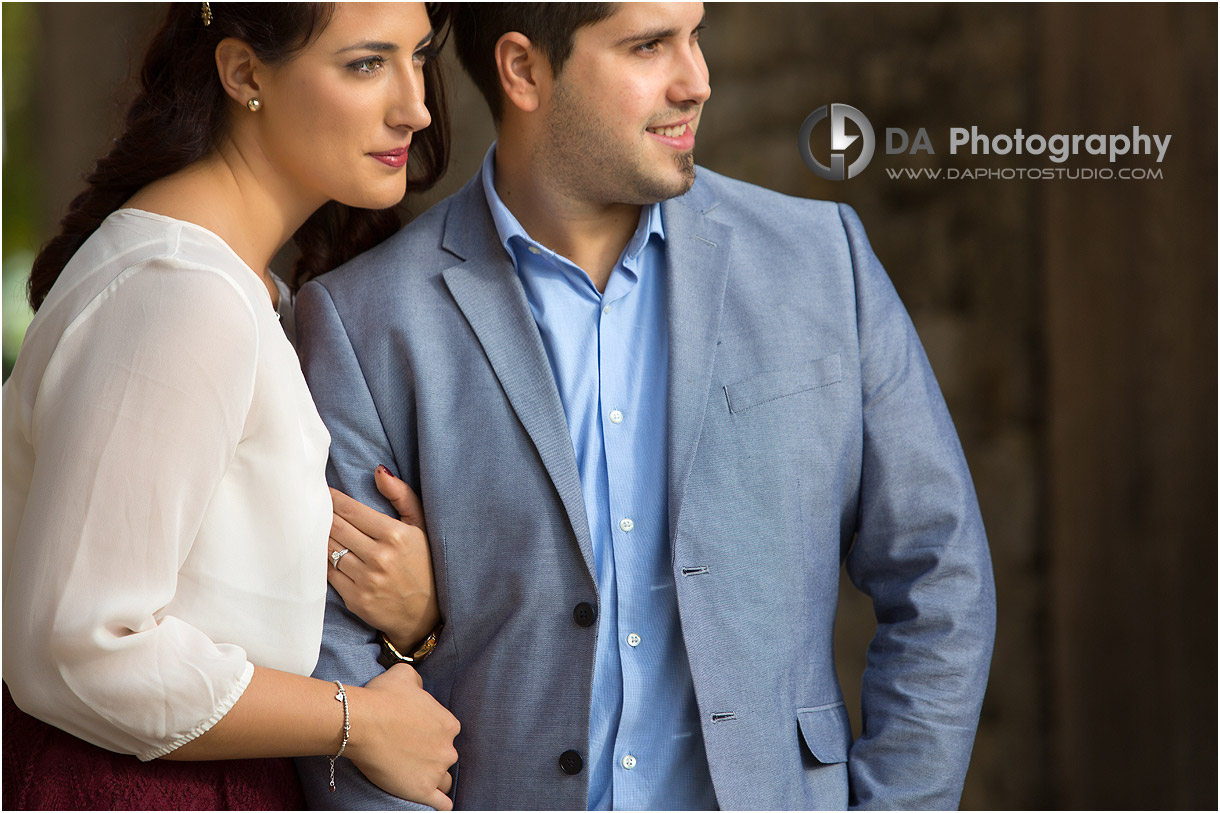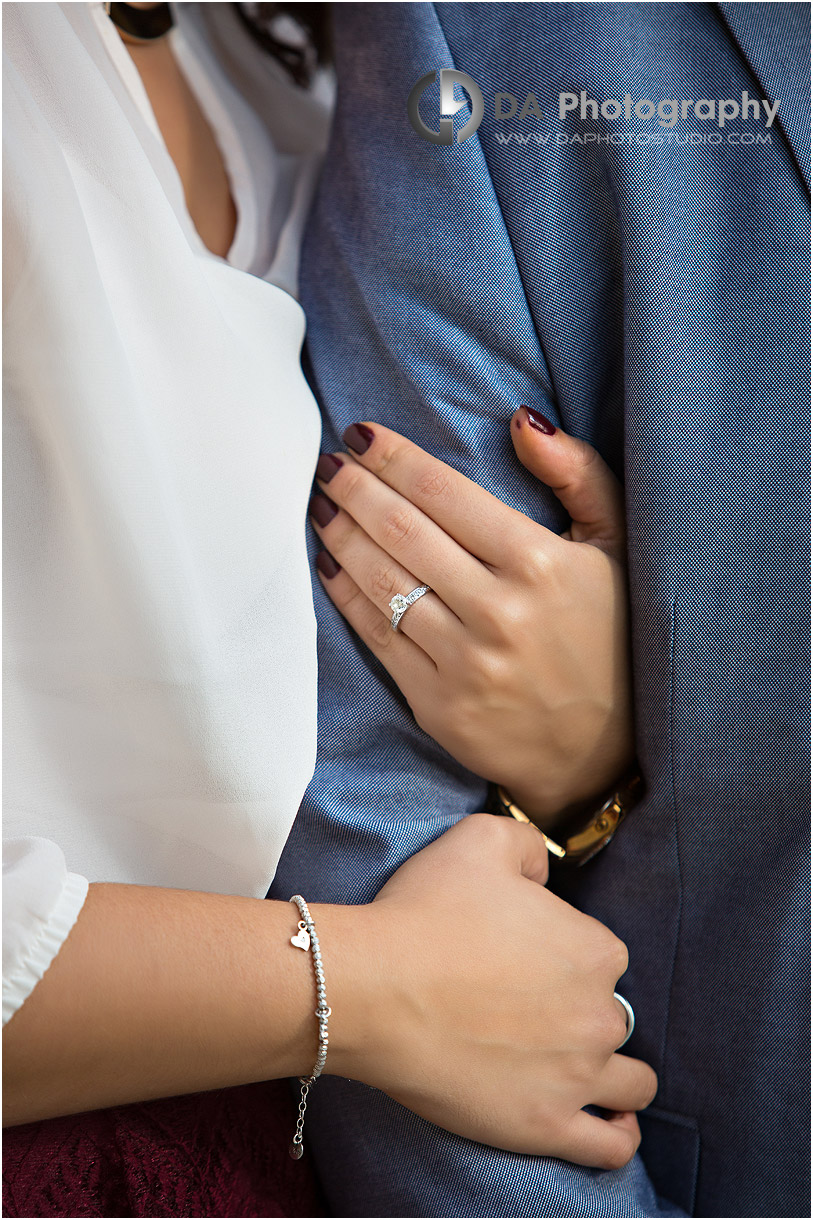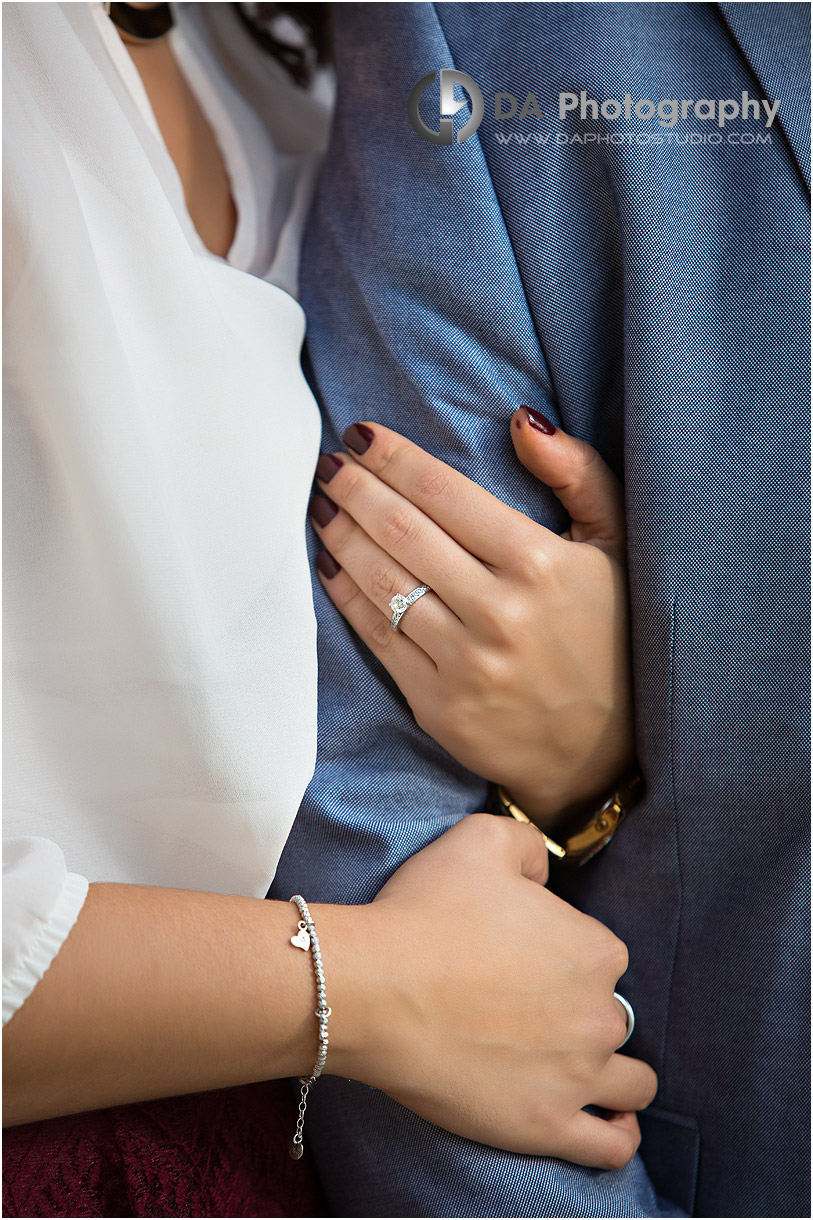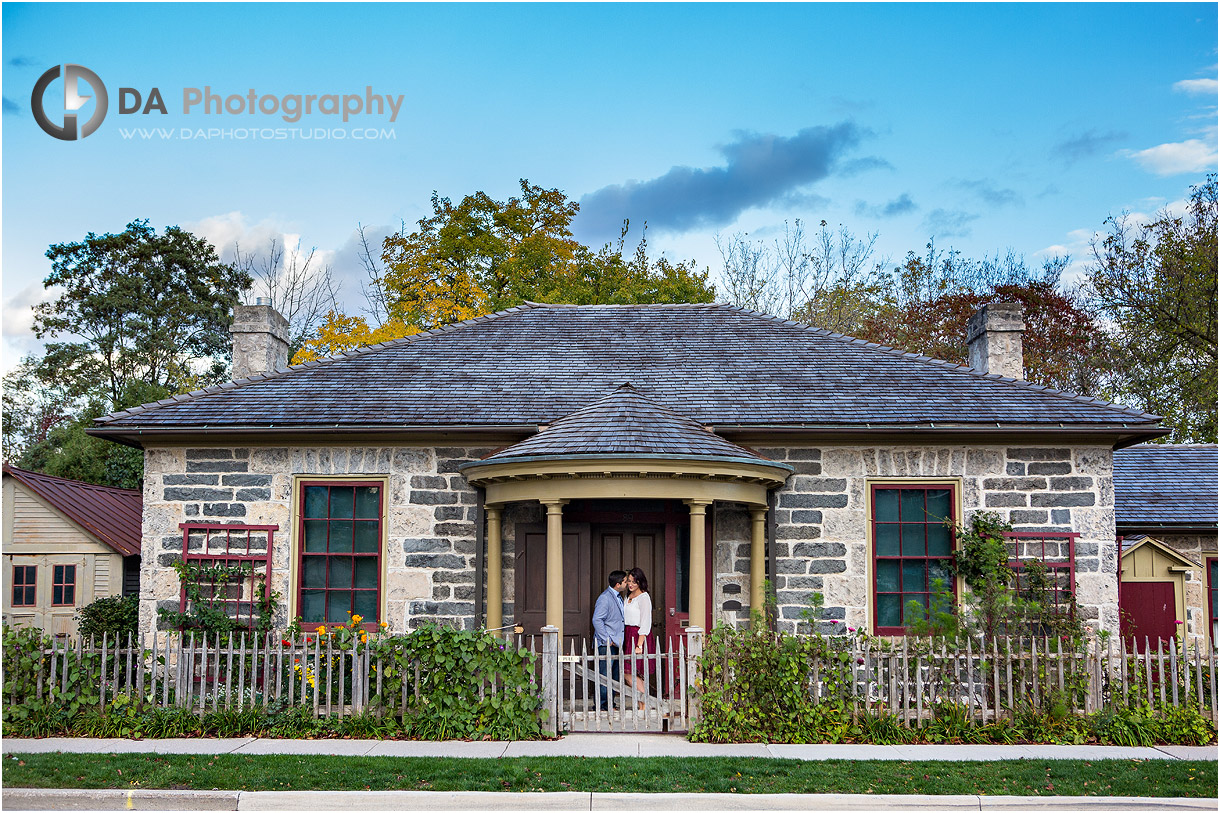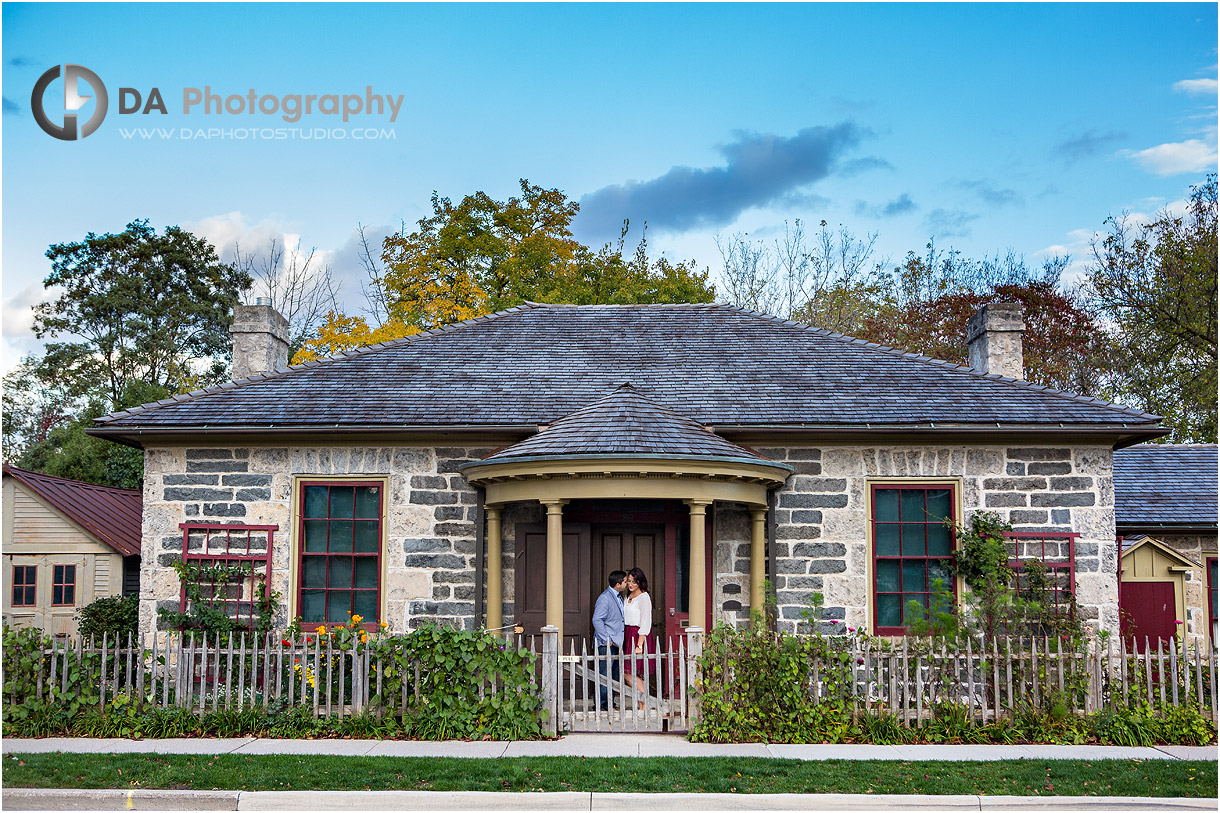 The beauty of working with them before, was that they were instantly comfortable in front of the camera with me. This allowed me to concentrate all my efforts into being creative rather than having to spend time warming them up. Their confidence and love shone through and I managed to capture them in a variety of set ups, both natural and posed. I'm not usually a fan of posed photos, but their willingness to work with me meant we could have fun.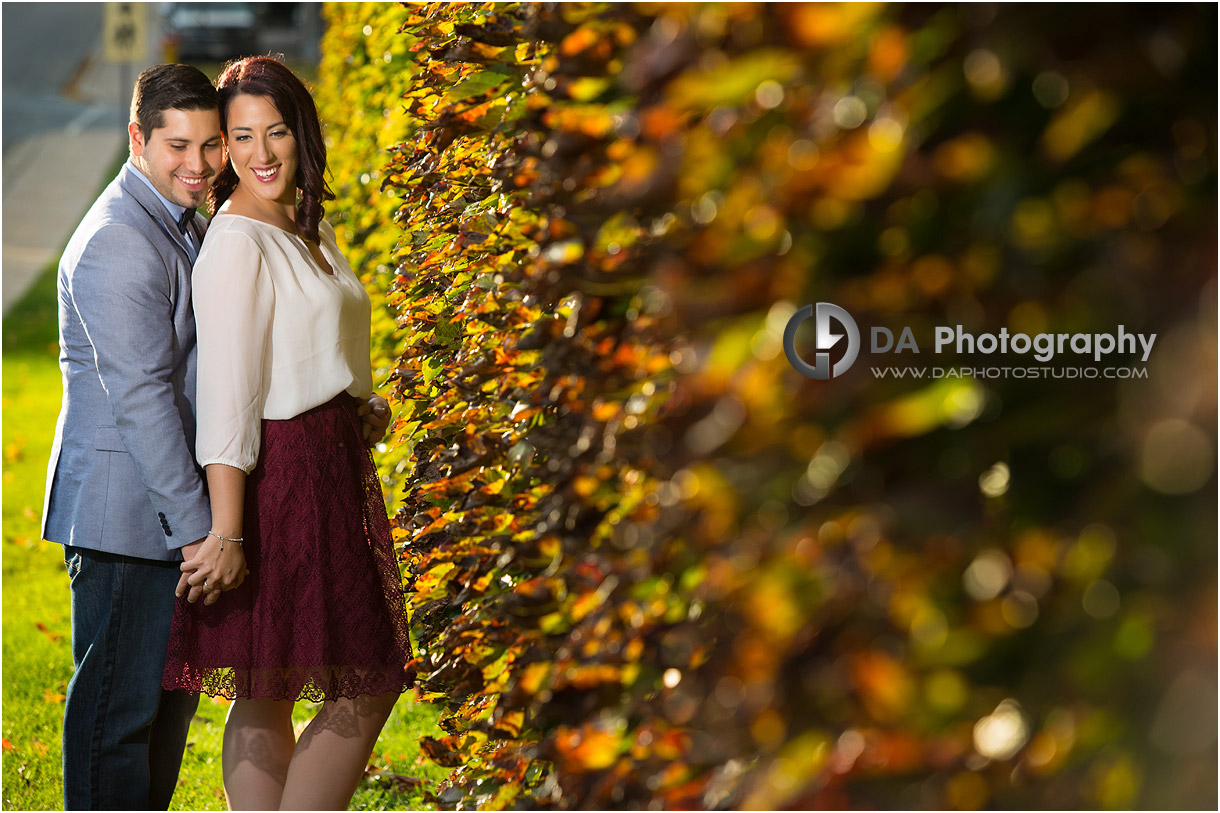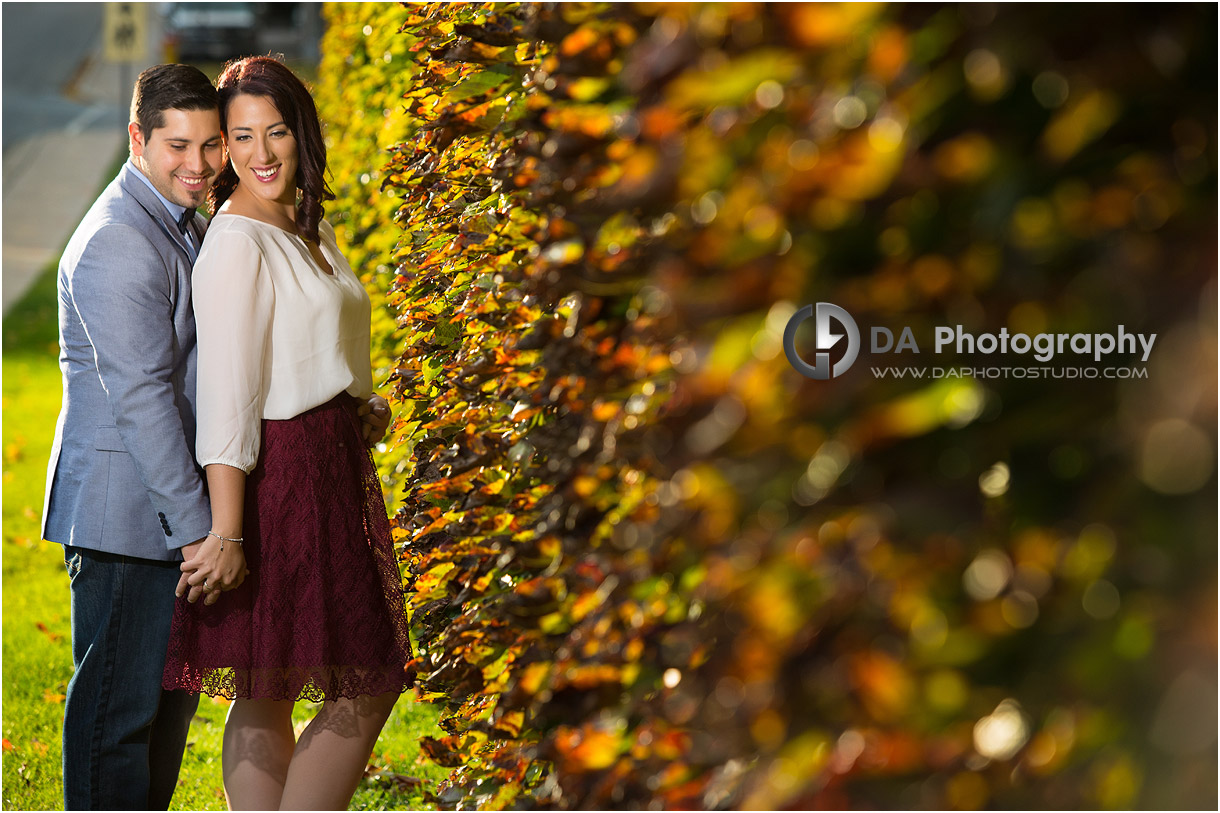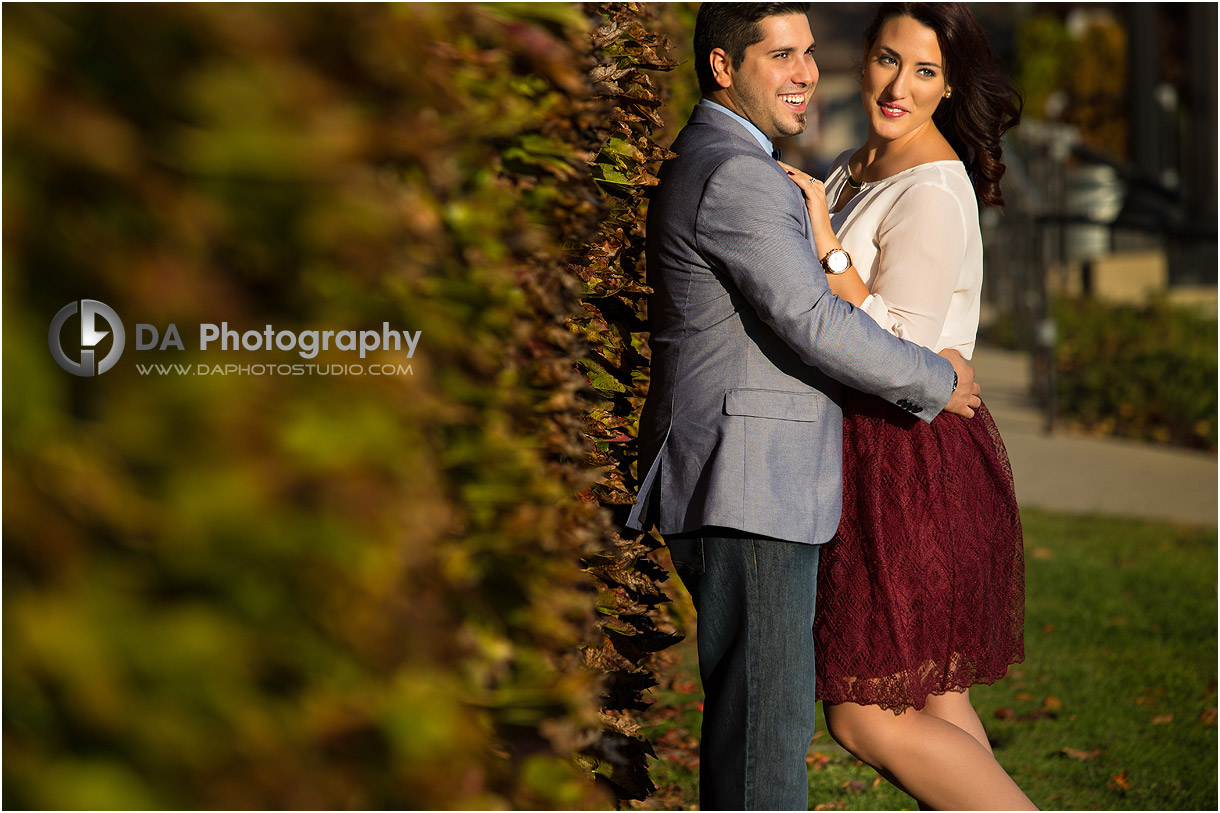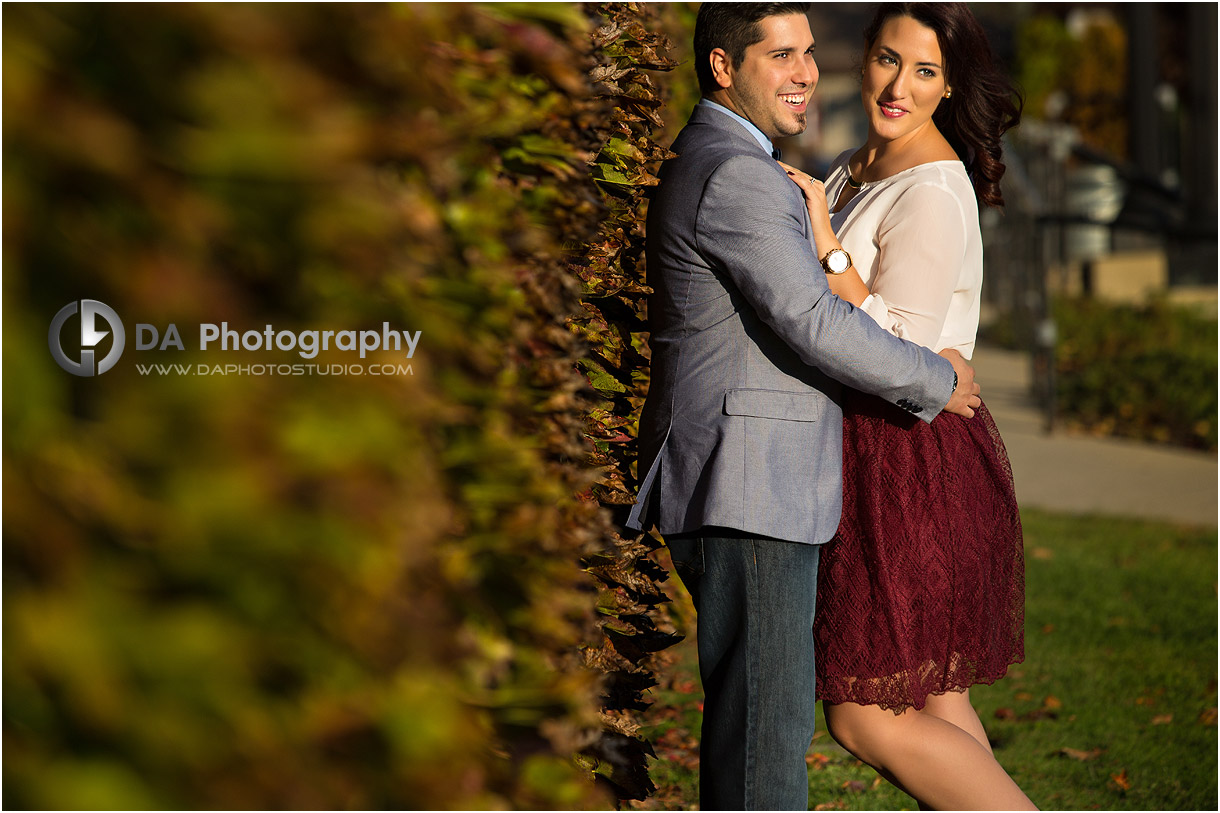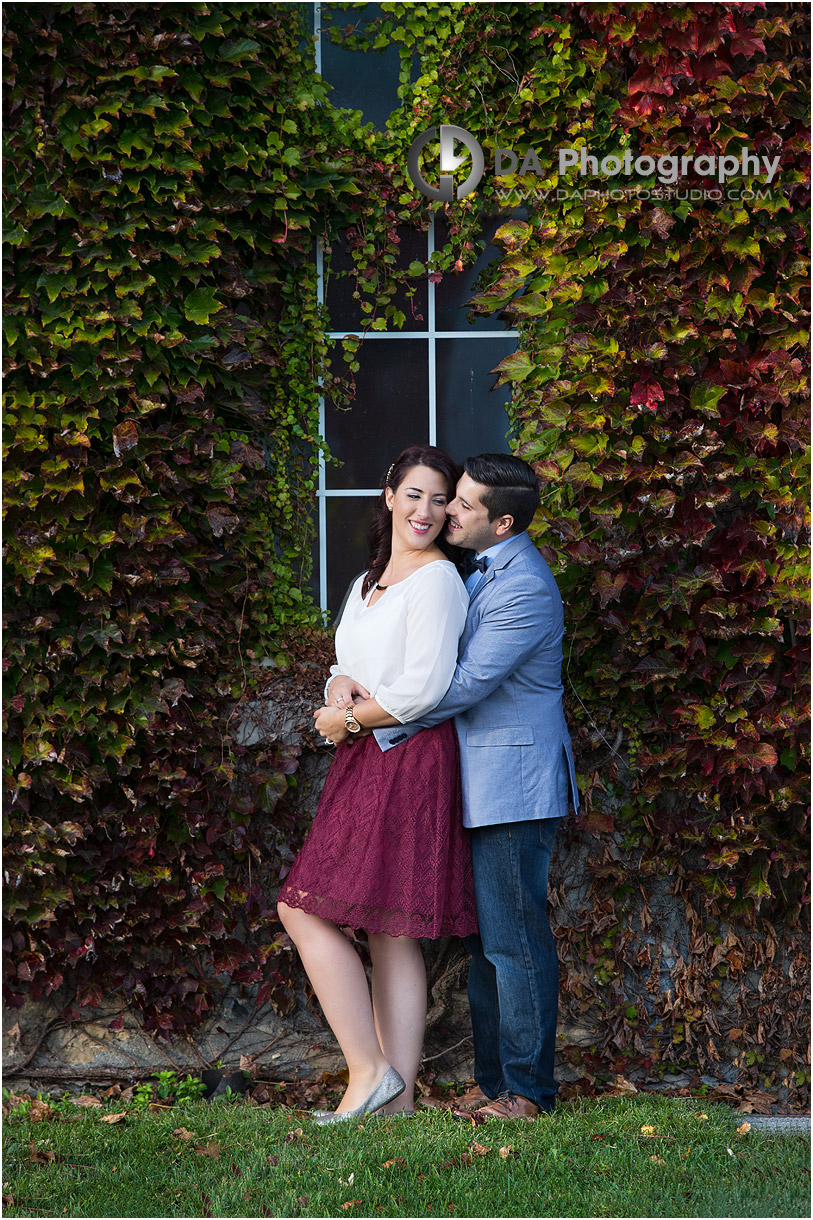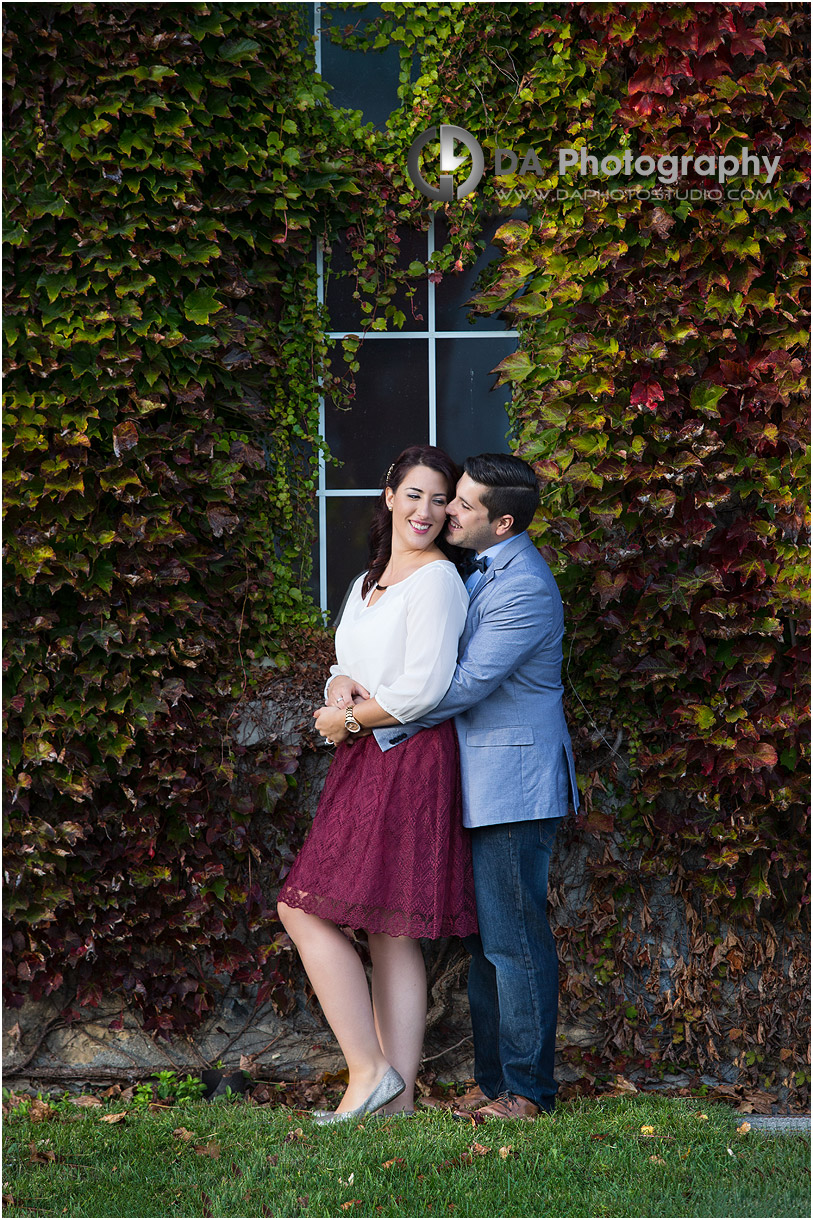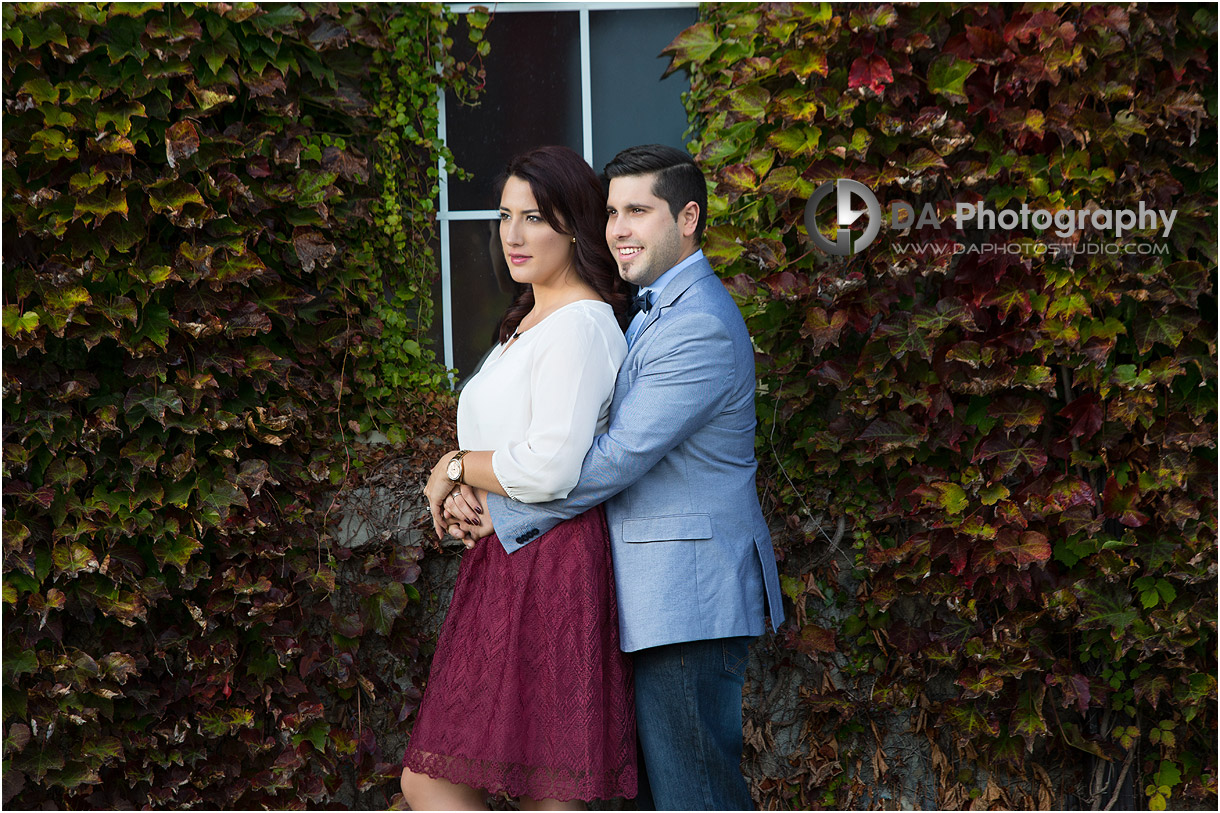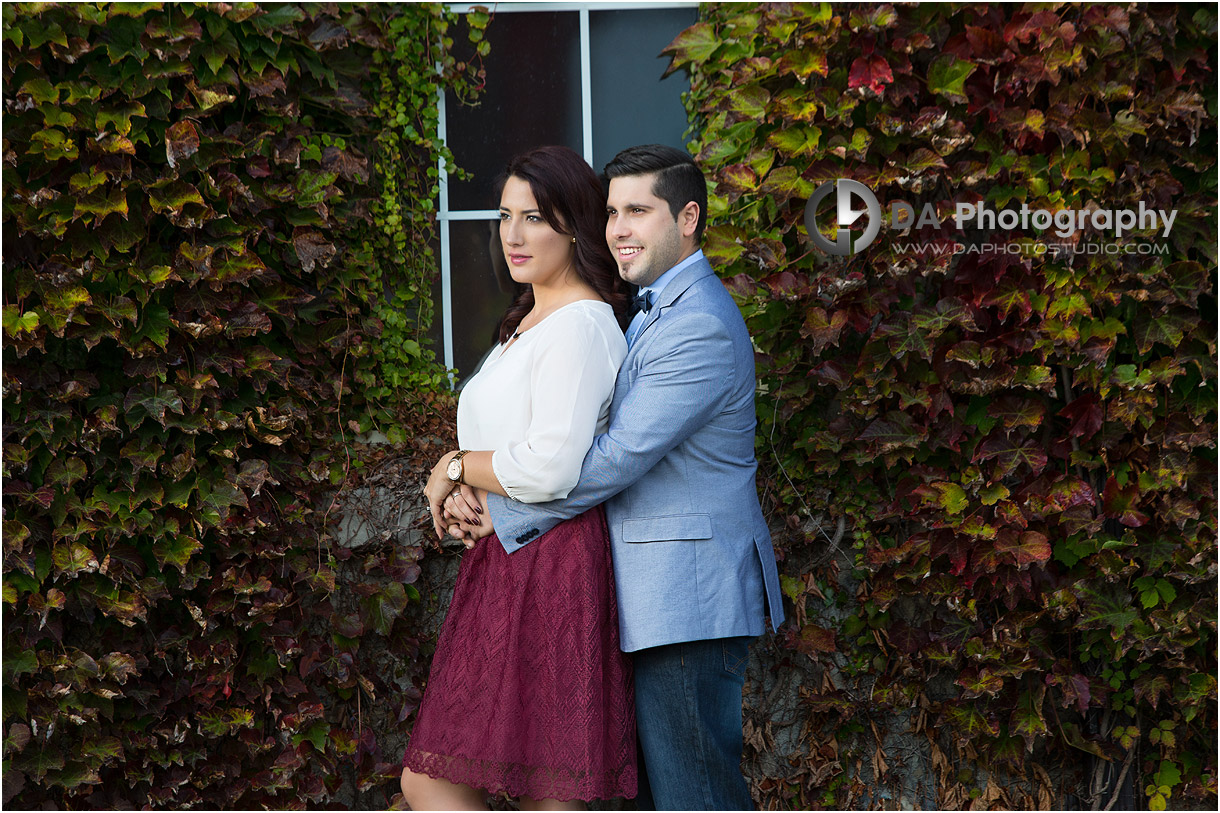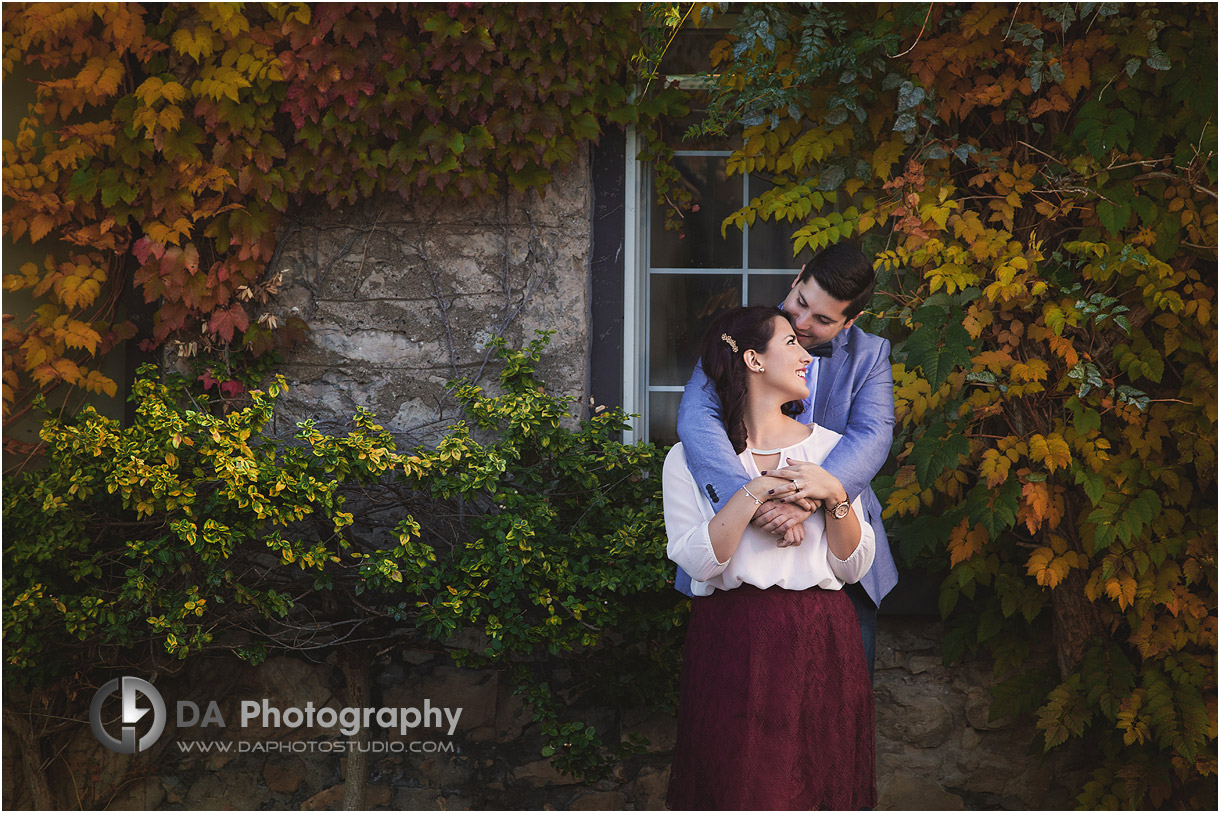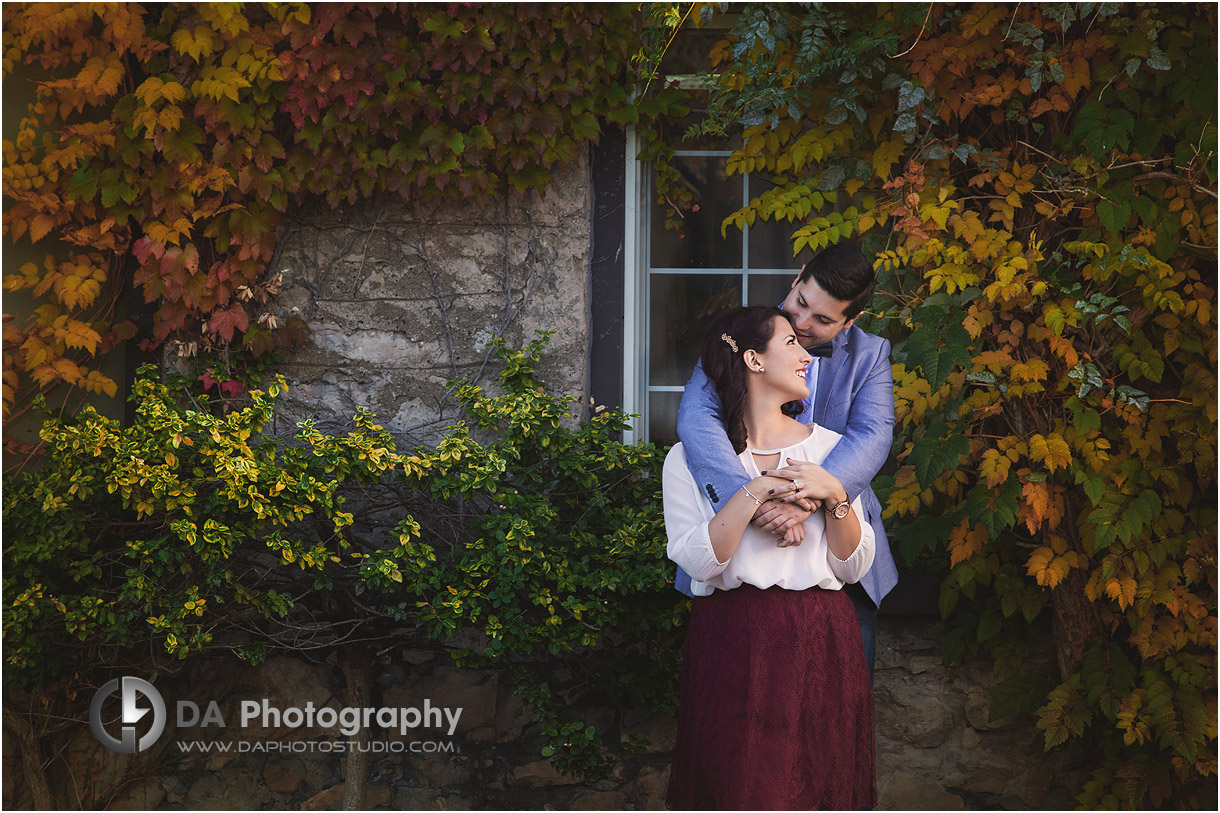 They had brought some props with them which I managed to incorporate and enjoyed playing with perspective and focus. An example of playing with these two elements was with this image in which I placed the LOVE lettering in the foreground. By focusing on that and having off focus the couple in the background, the result is an interesting composition.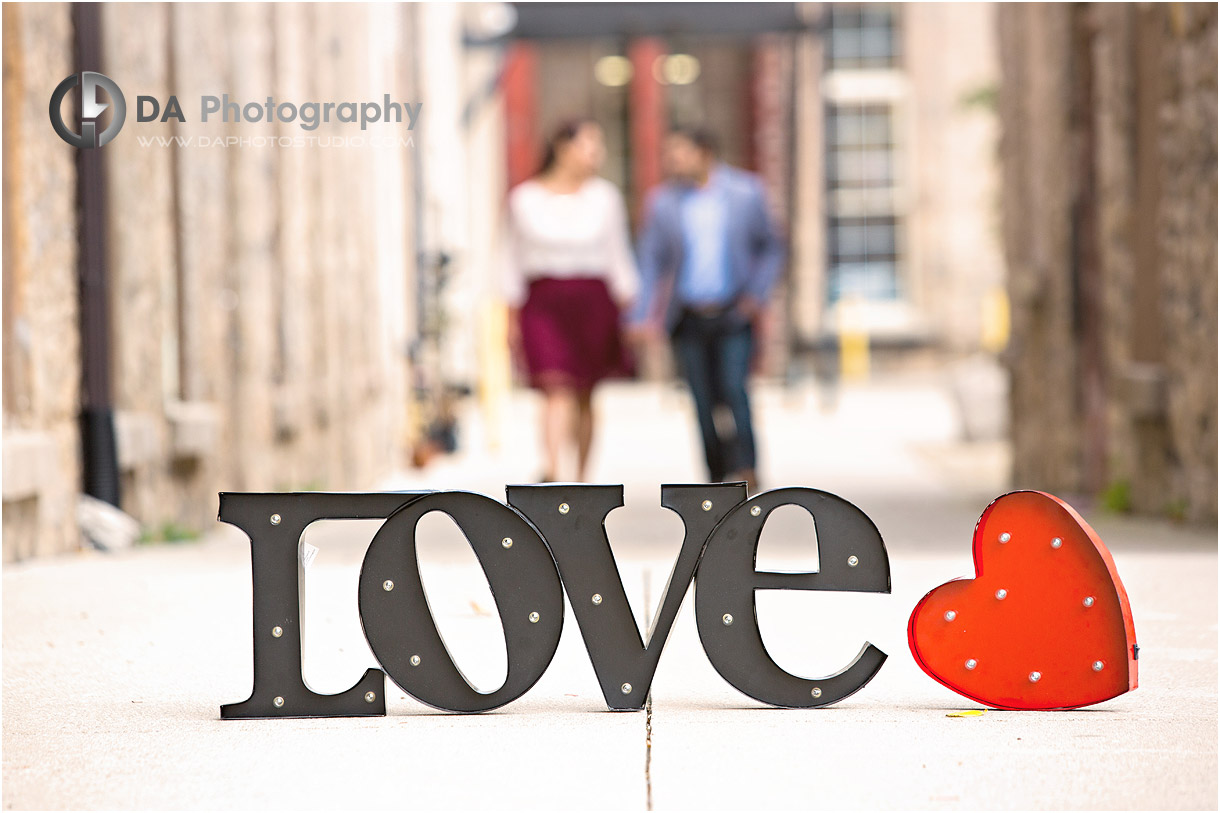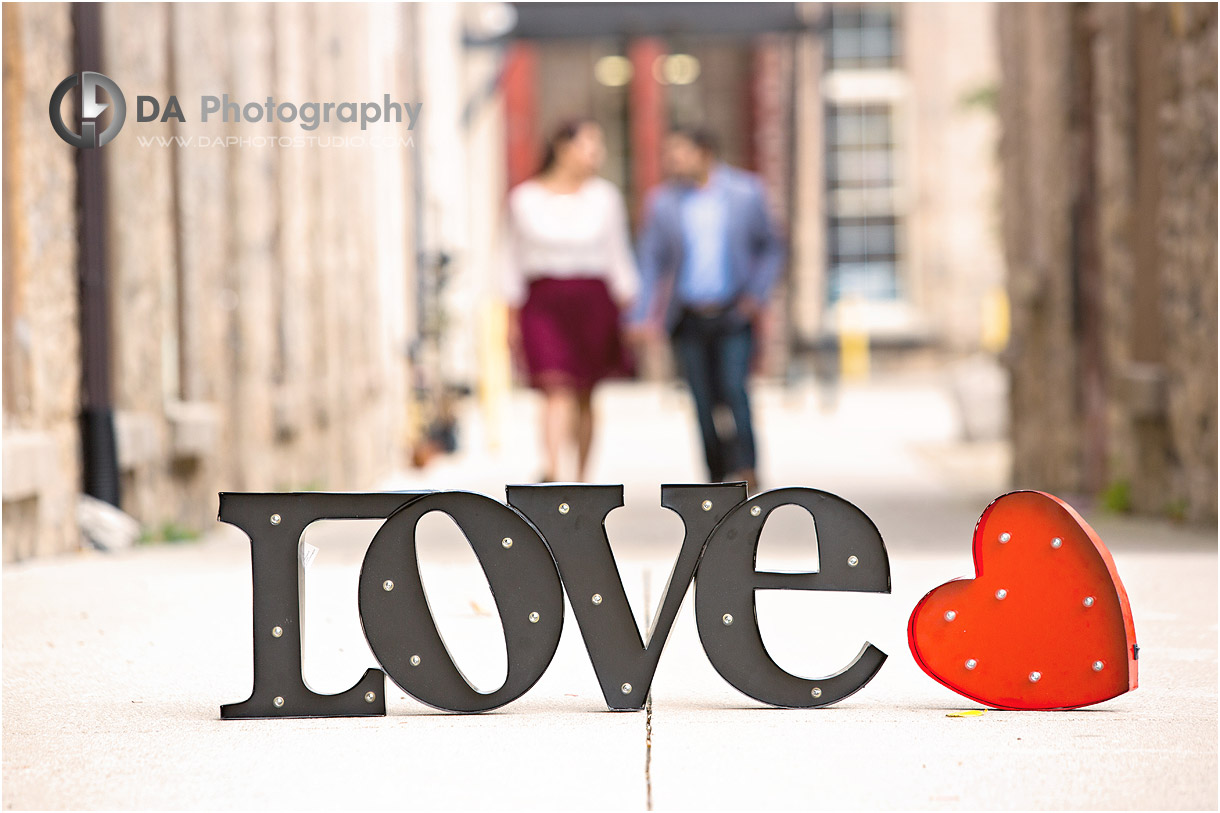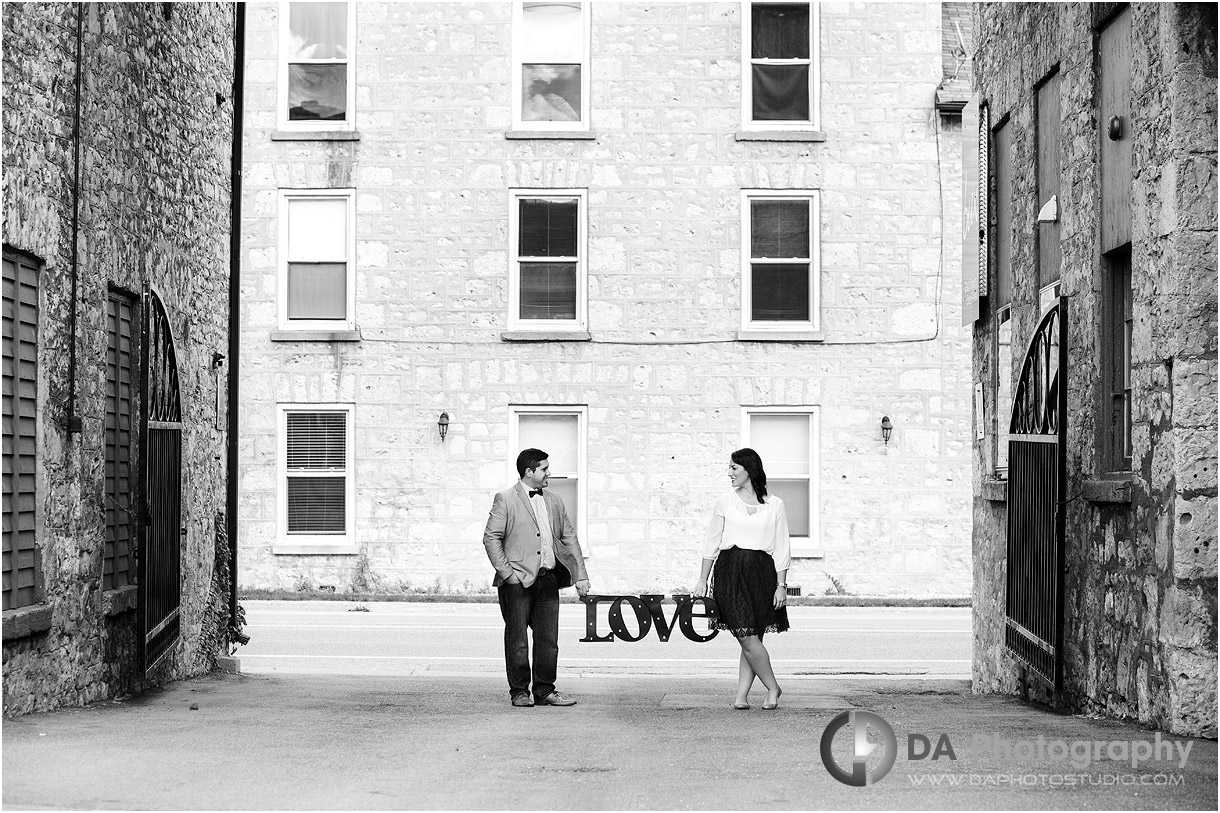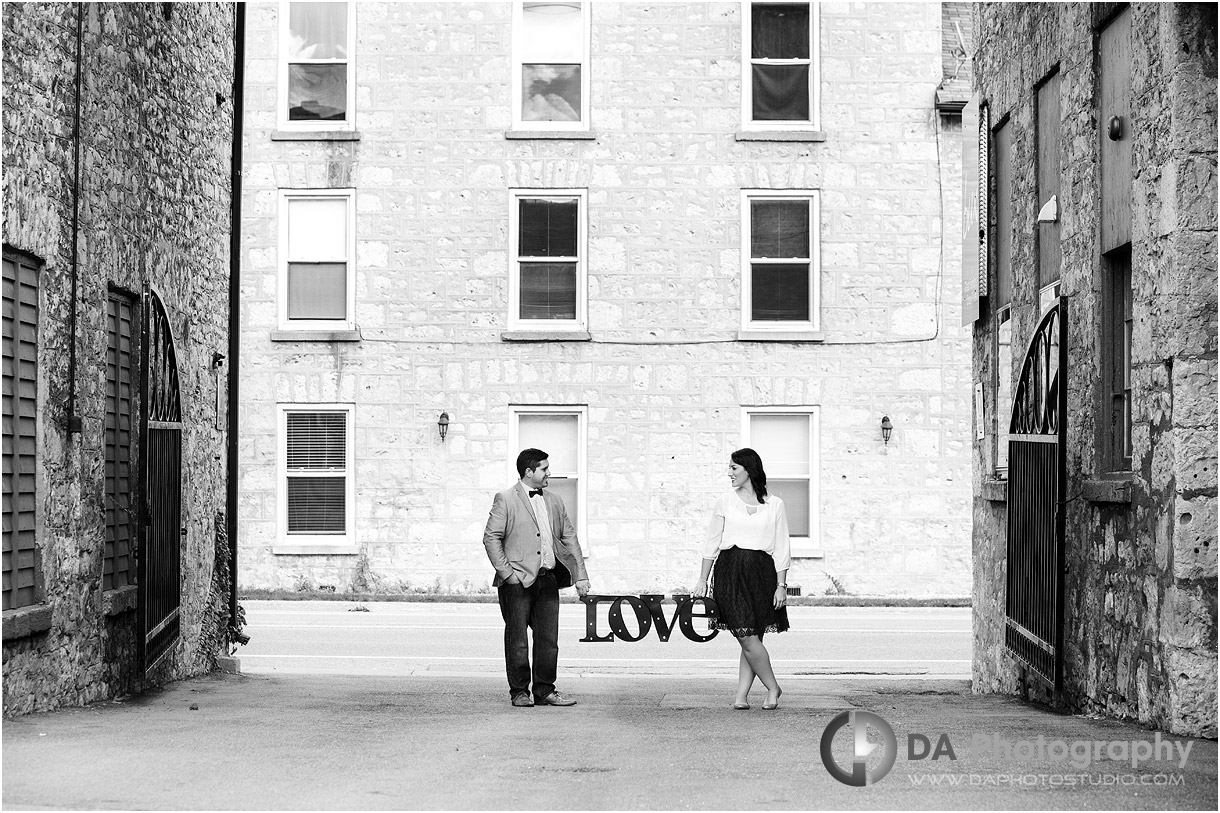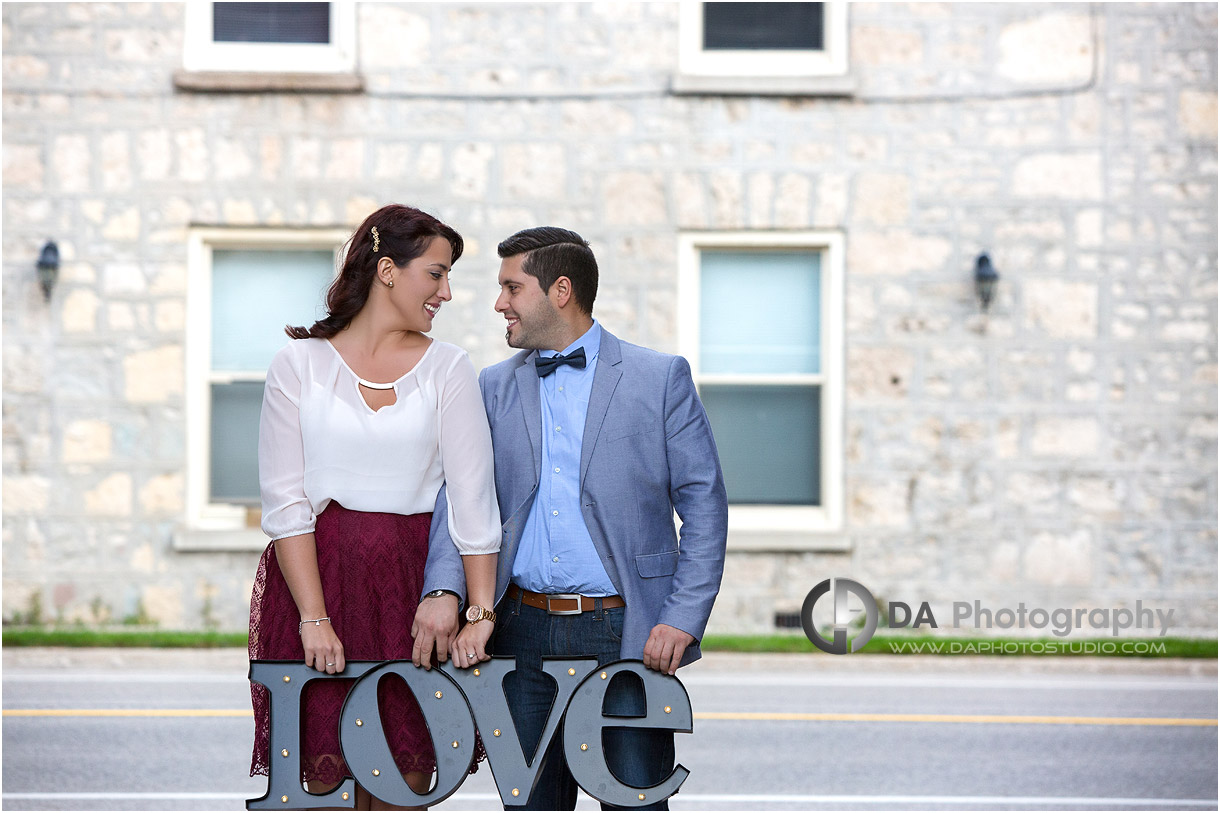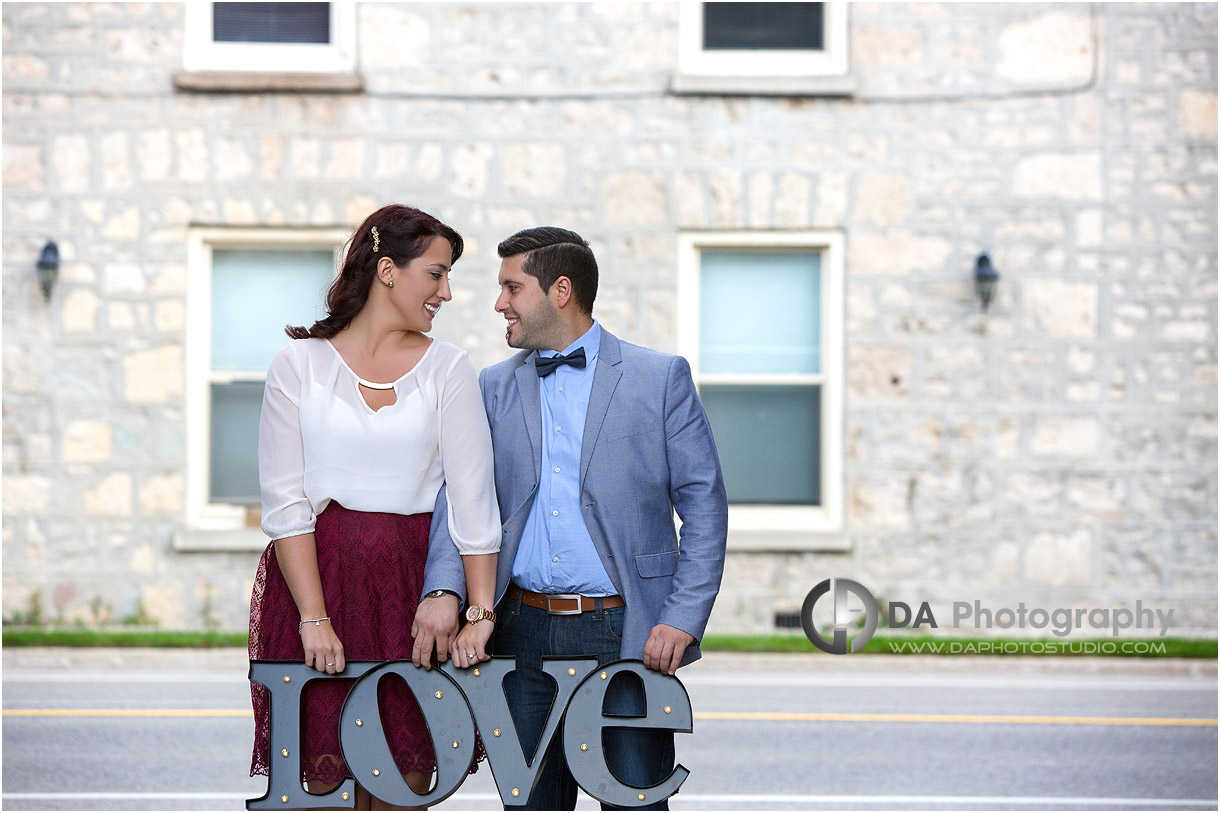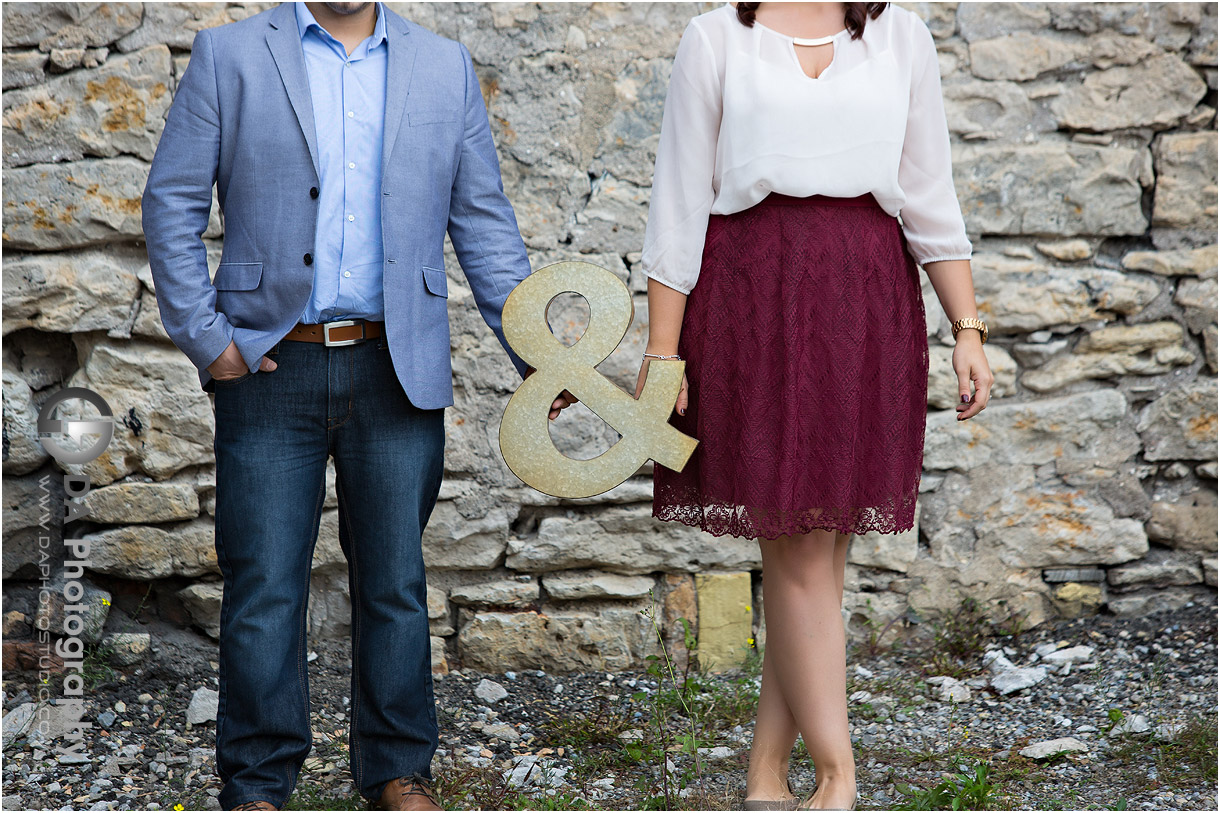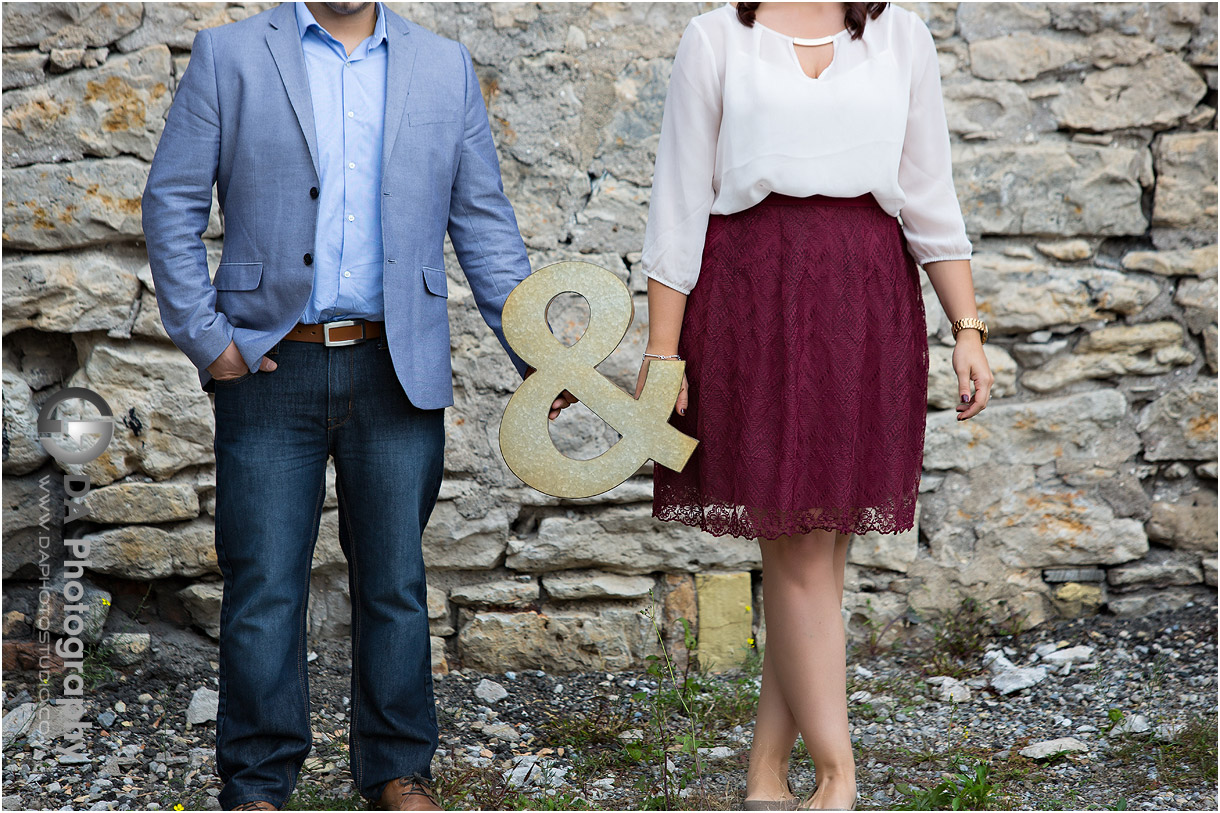 One of my favourite images at Southworks Mall was of my couple arm in arm, facing each other, with their shadow on the wall. I positioned them in a way that was natural yet created almost a heart shape in the shadow which was pretty cool.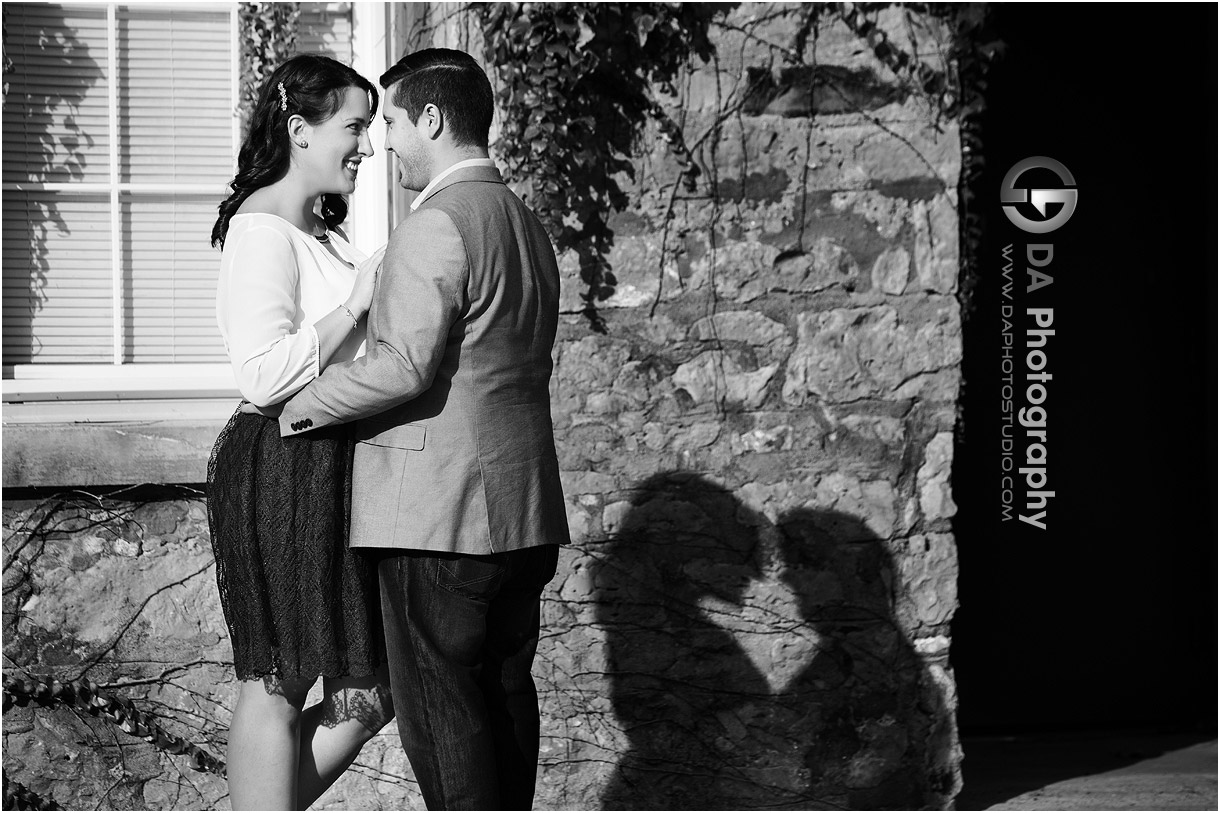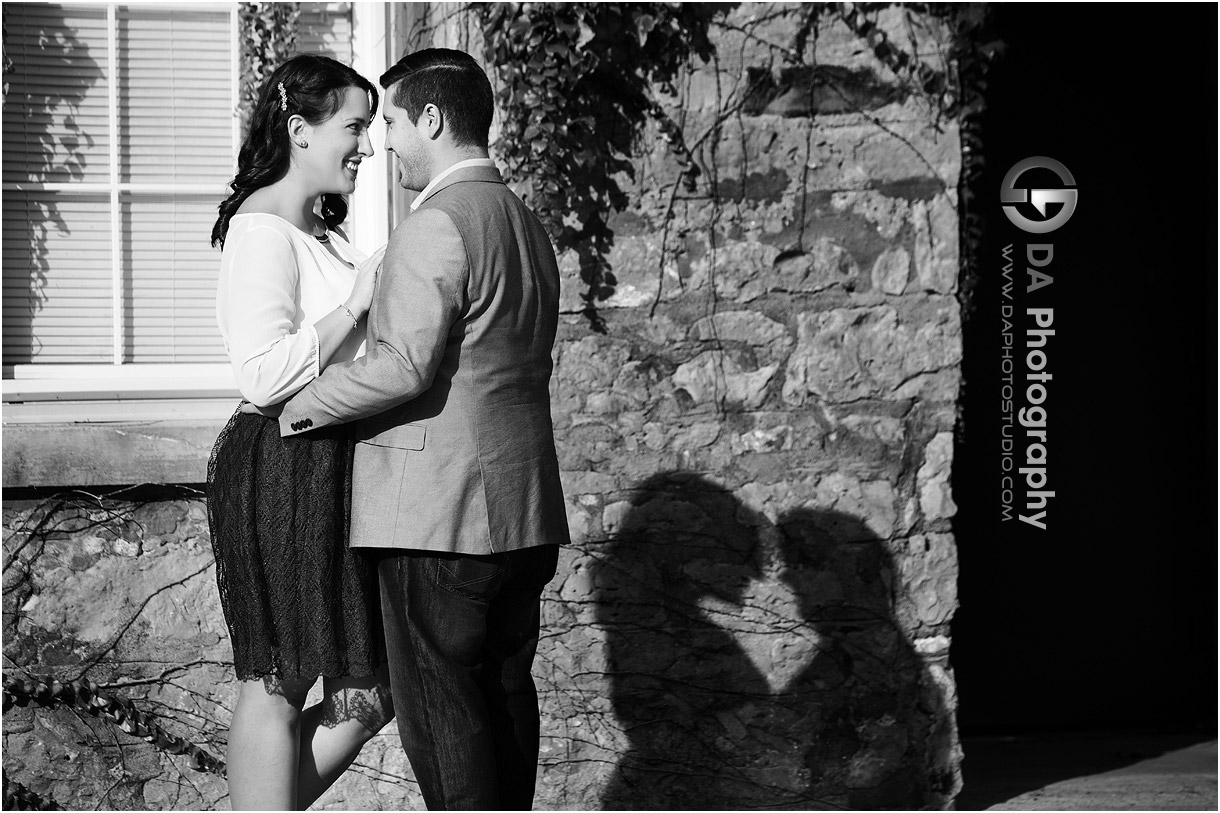 Cambridge is such a beautiful location to showcase, so it only seemed right to head down to the Grand River. We got there in enough time to play with the autumnal coloured leaves which matched Diana's skirt beautifully. I love incorporating an element from nature into a close up of the engagement ring. The simple beauty of the lines and colours in the leaf, helped make the ring pop.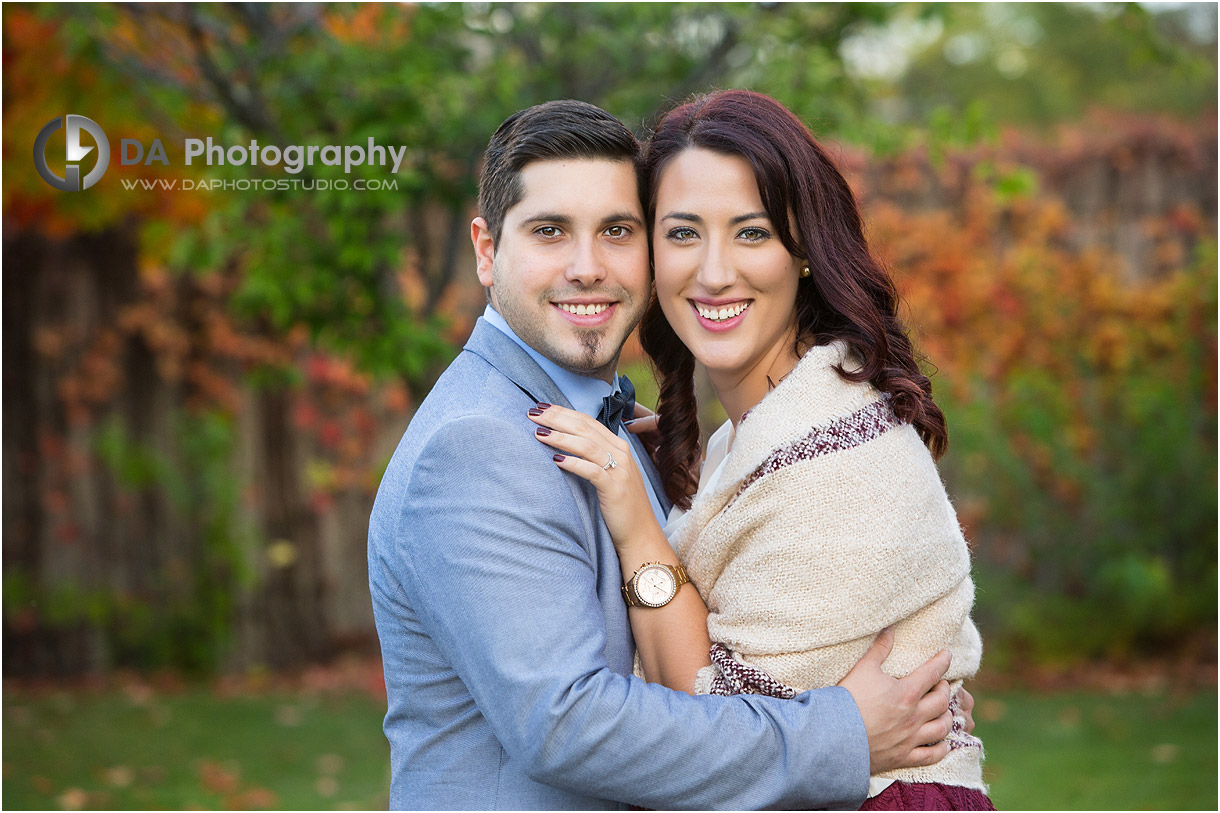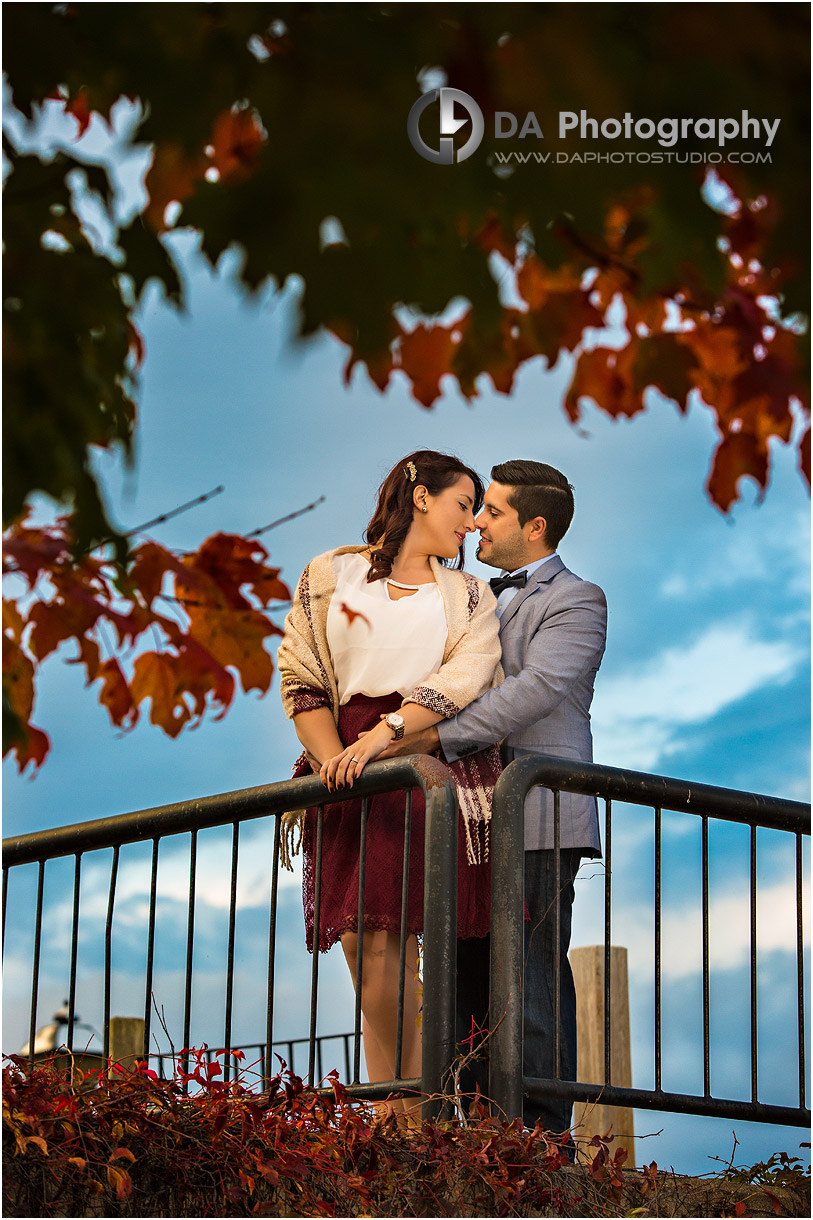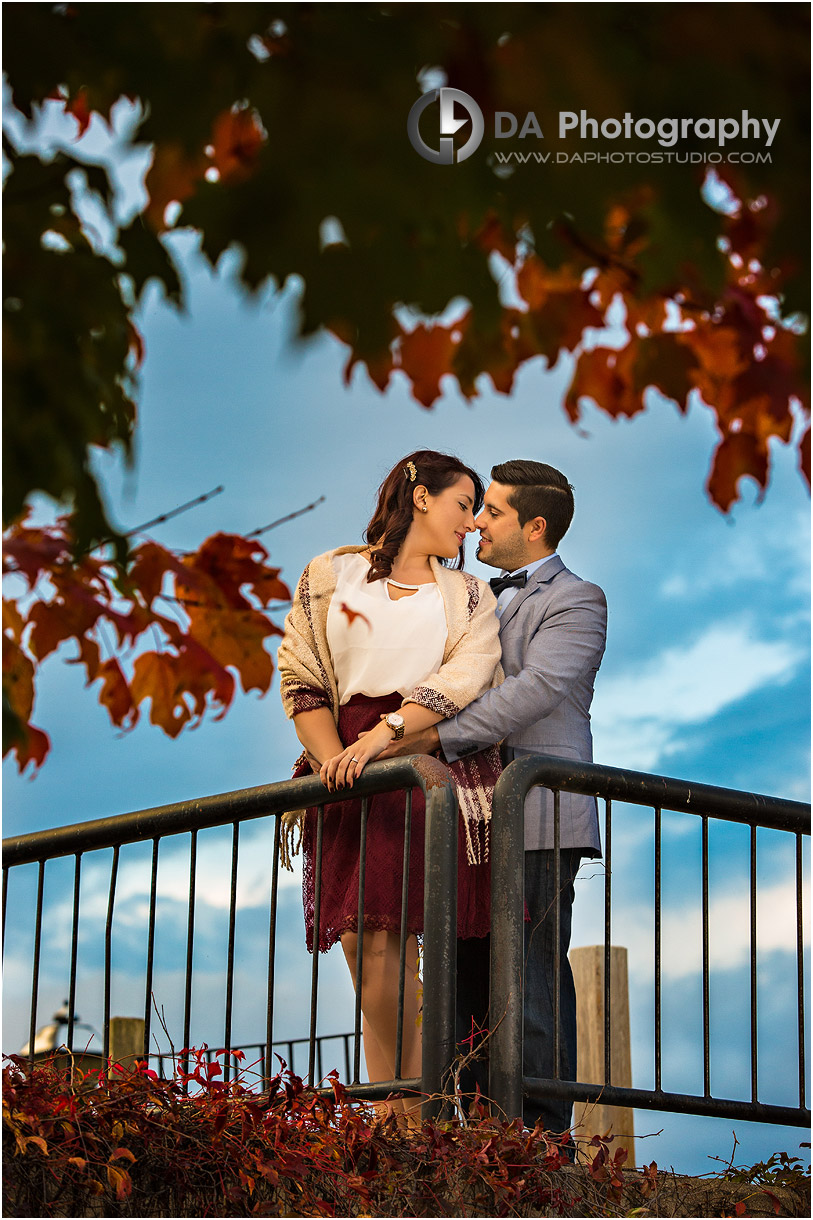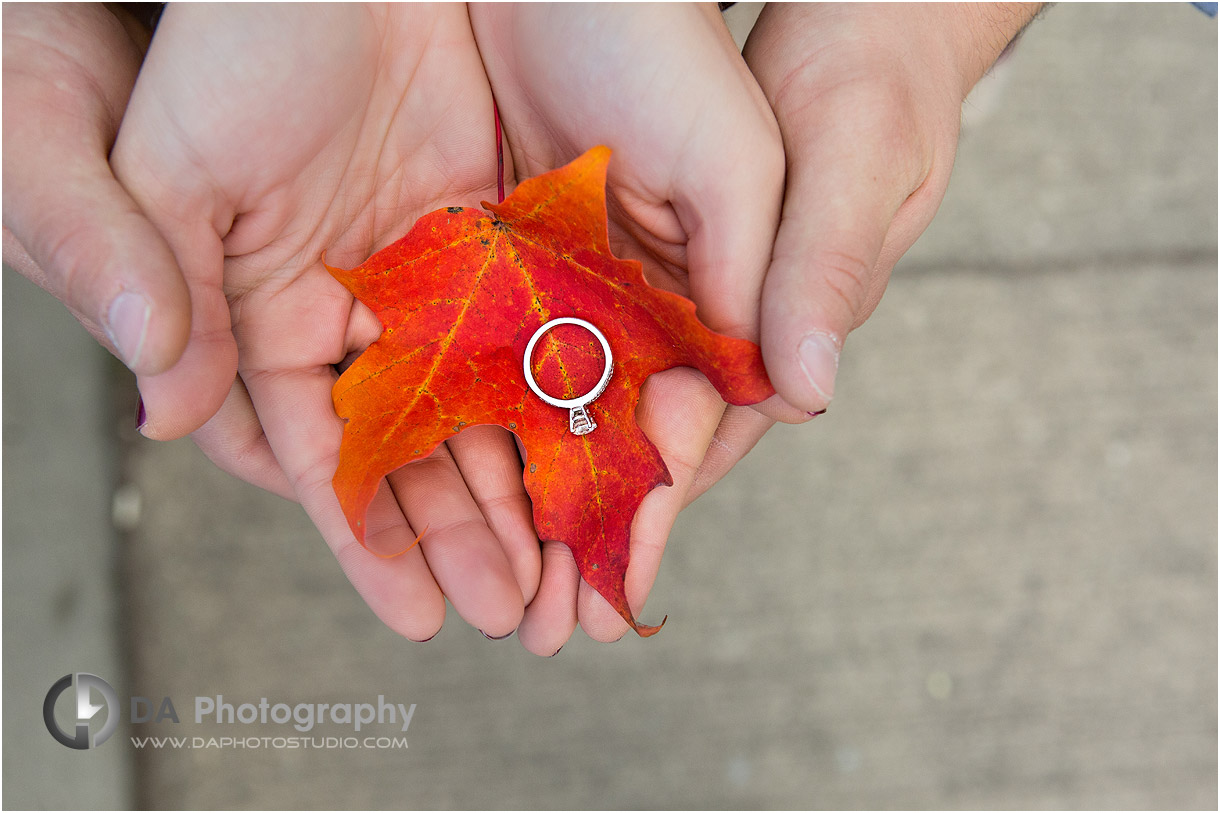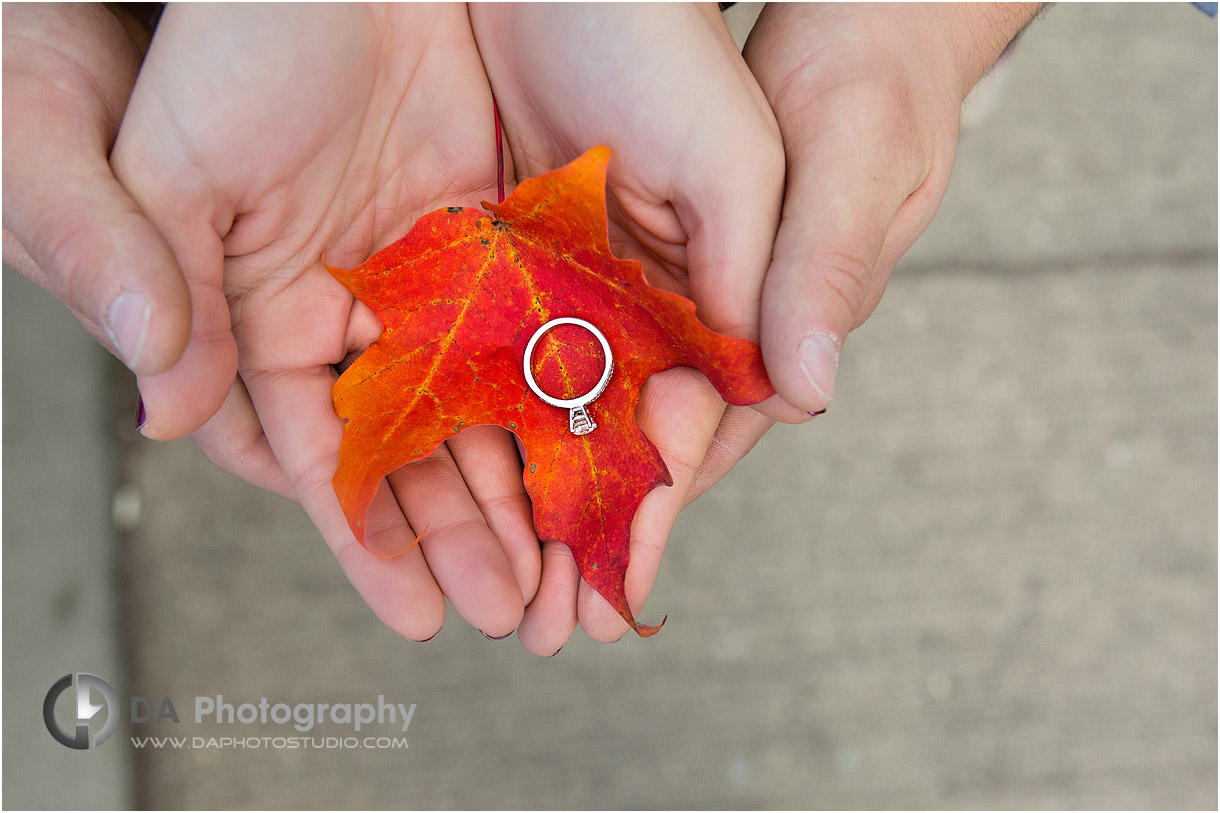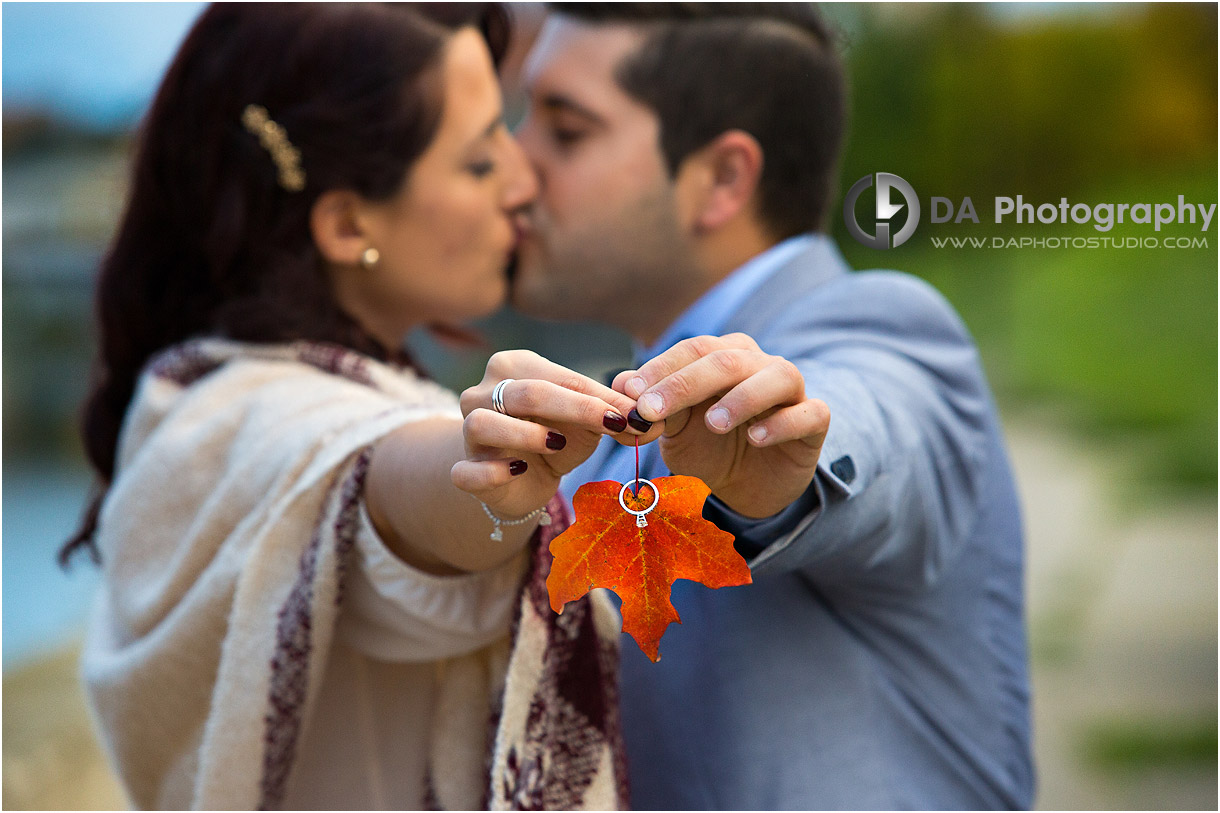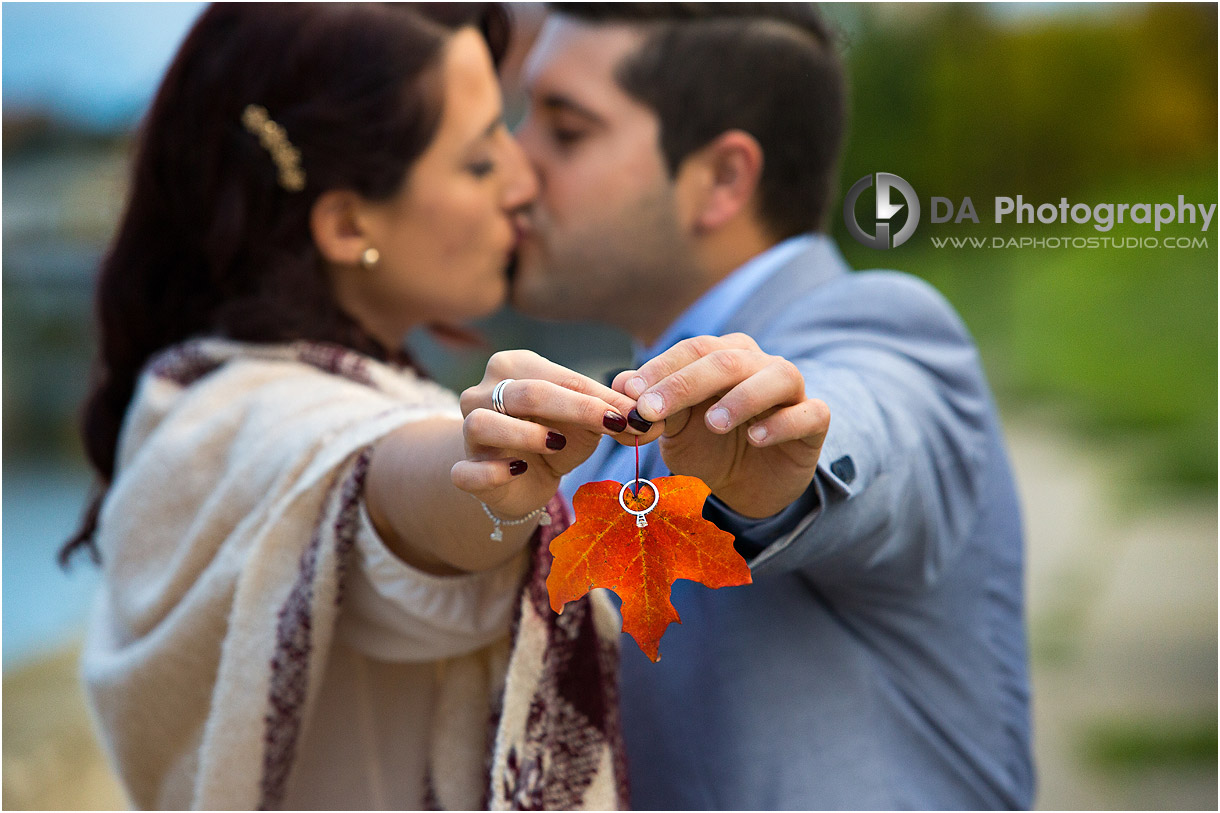 Discover the benefits of using a Cambridge engagement photographer to represent creative and heartfelt photography in the most unusual of locations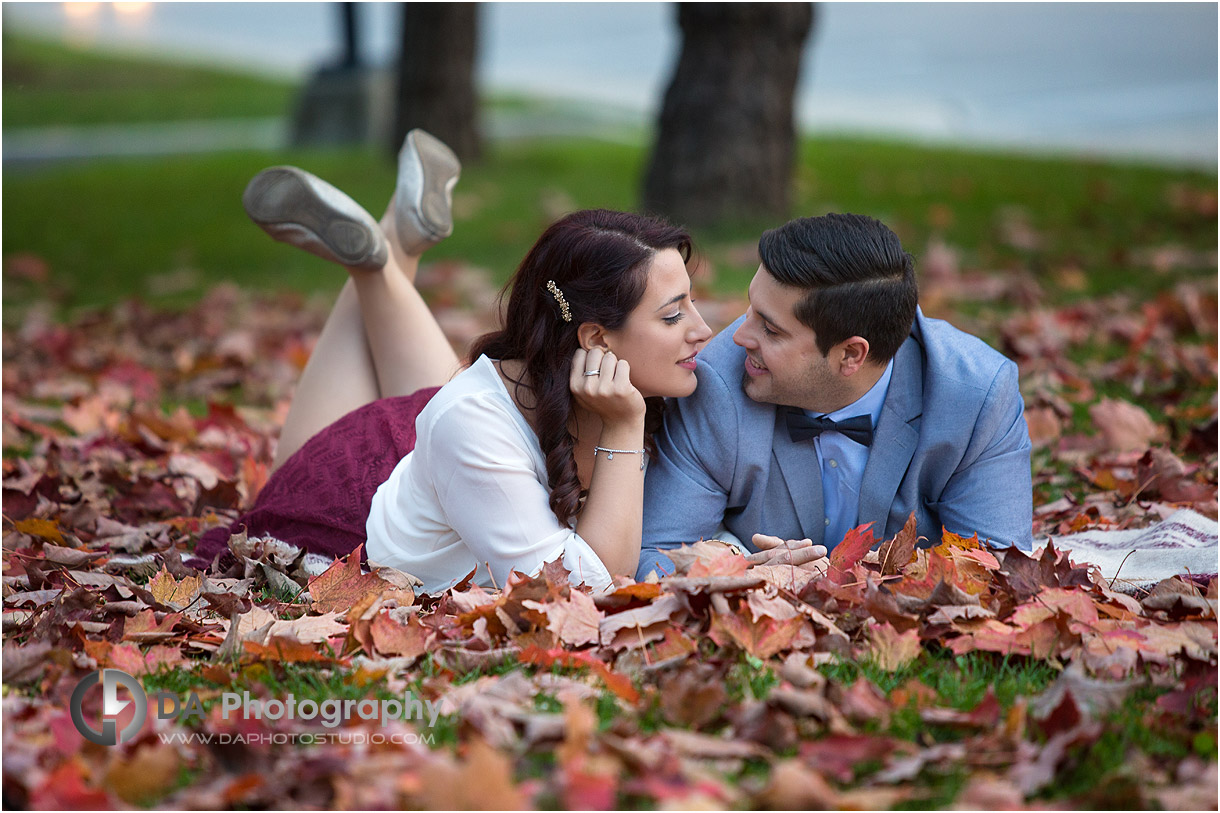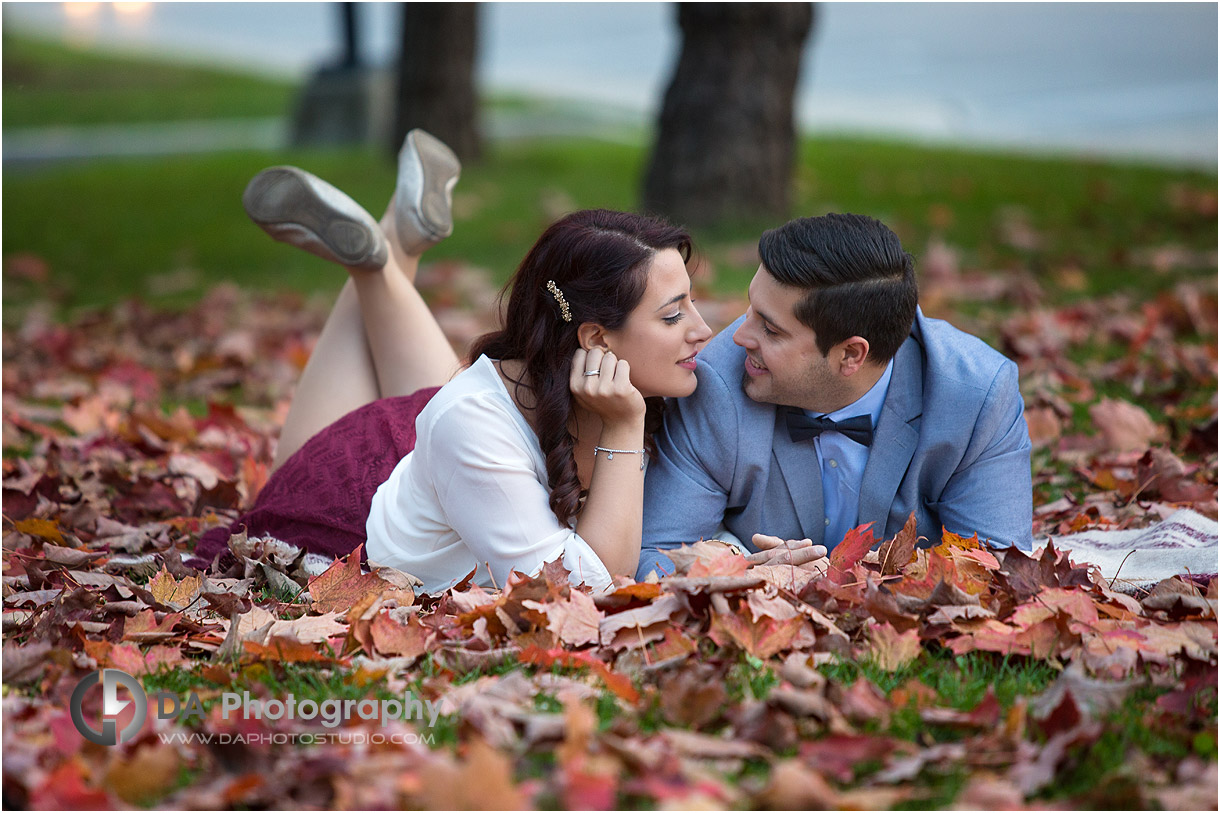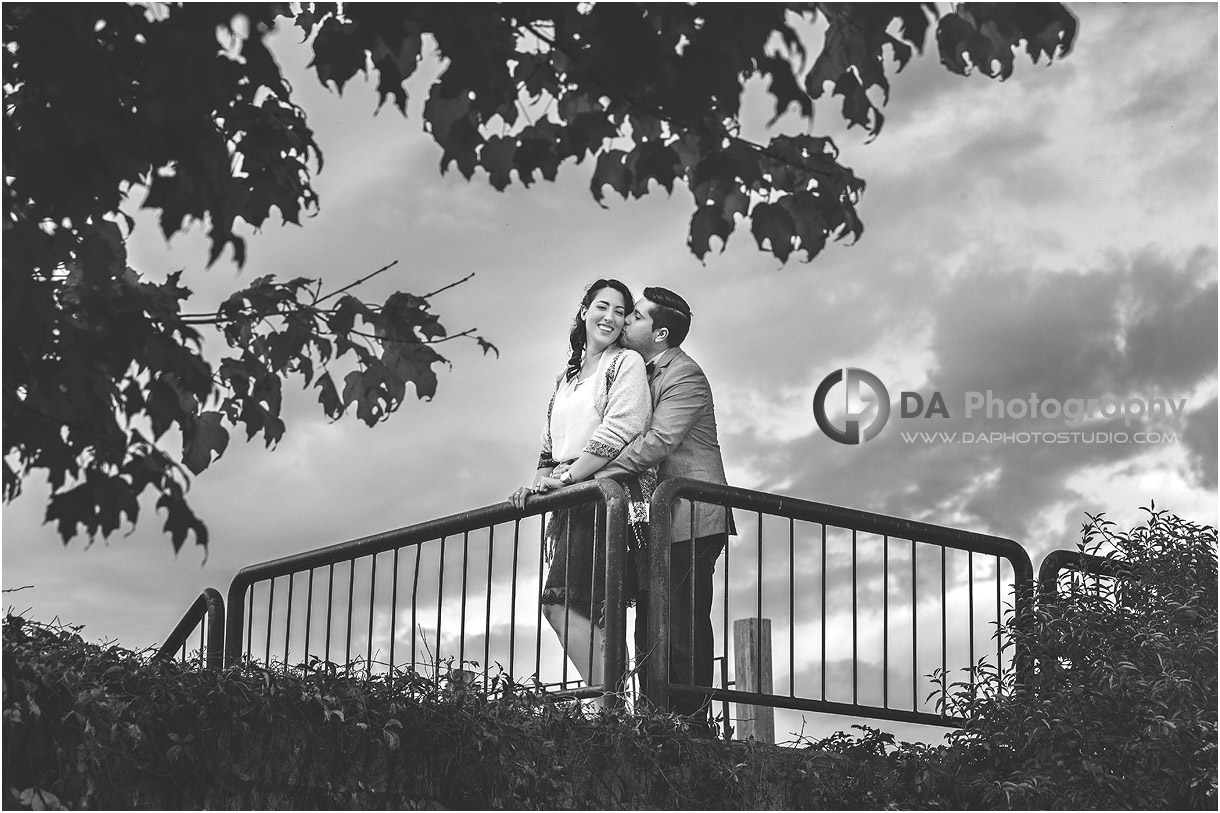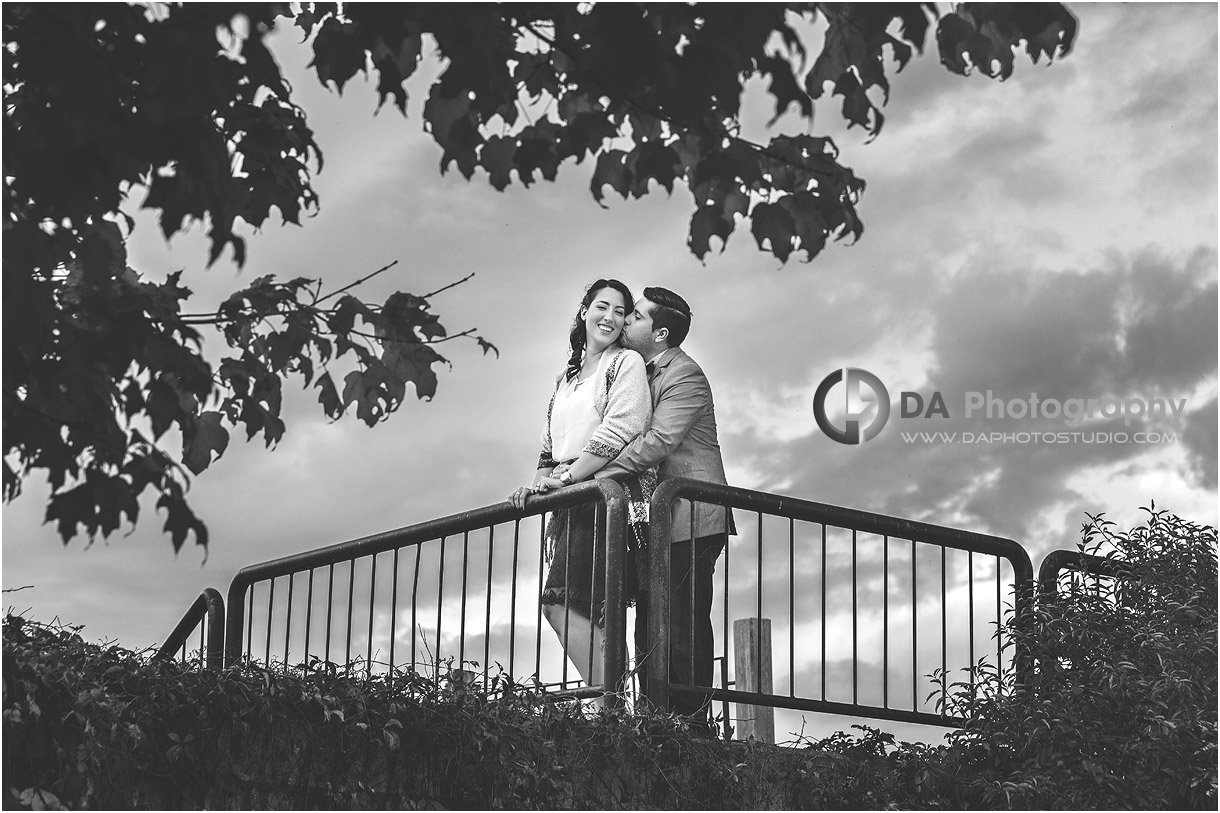 As the sun started to set, the fluffy clouds started to look dramatic which worked well for the background. The stillness of the water, texture of the clouds, and Diana and Sebastian's natural comfort in each other's presence, led to some beautiful photography.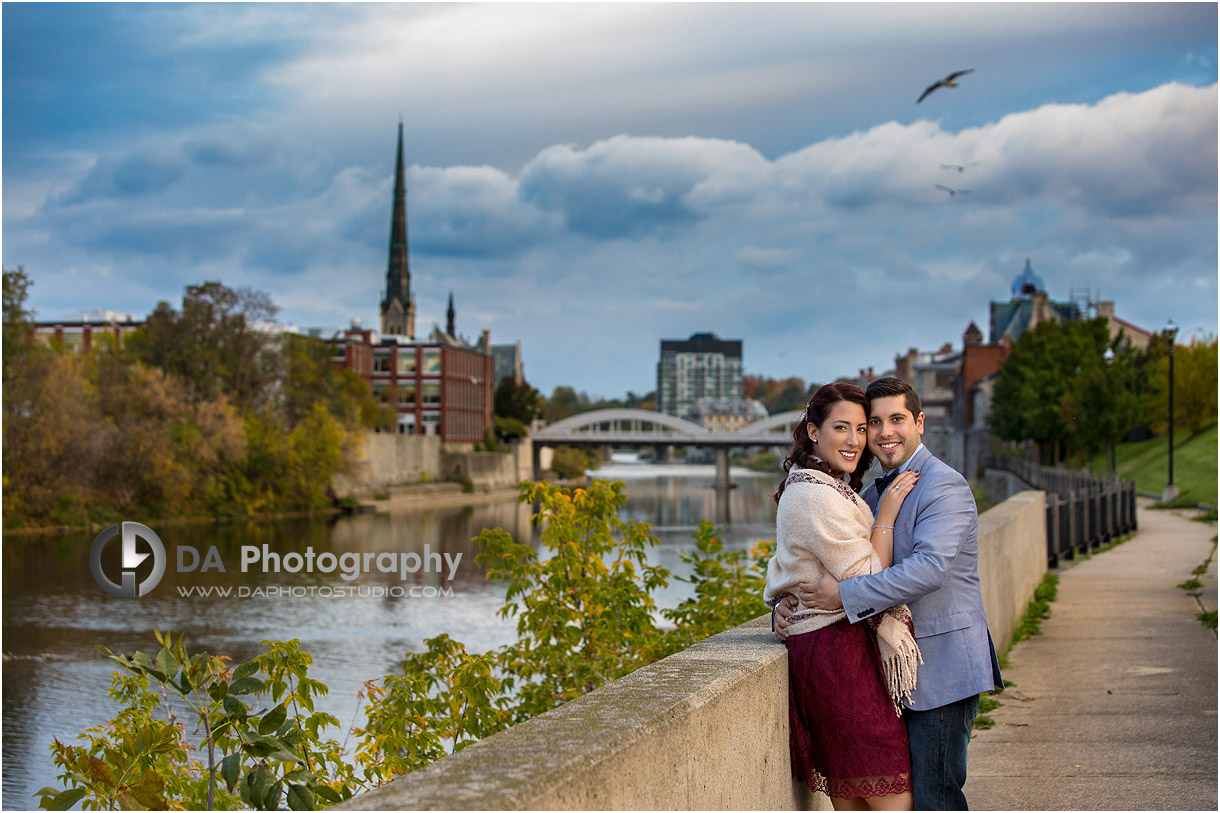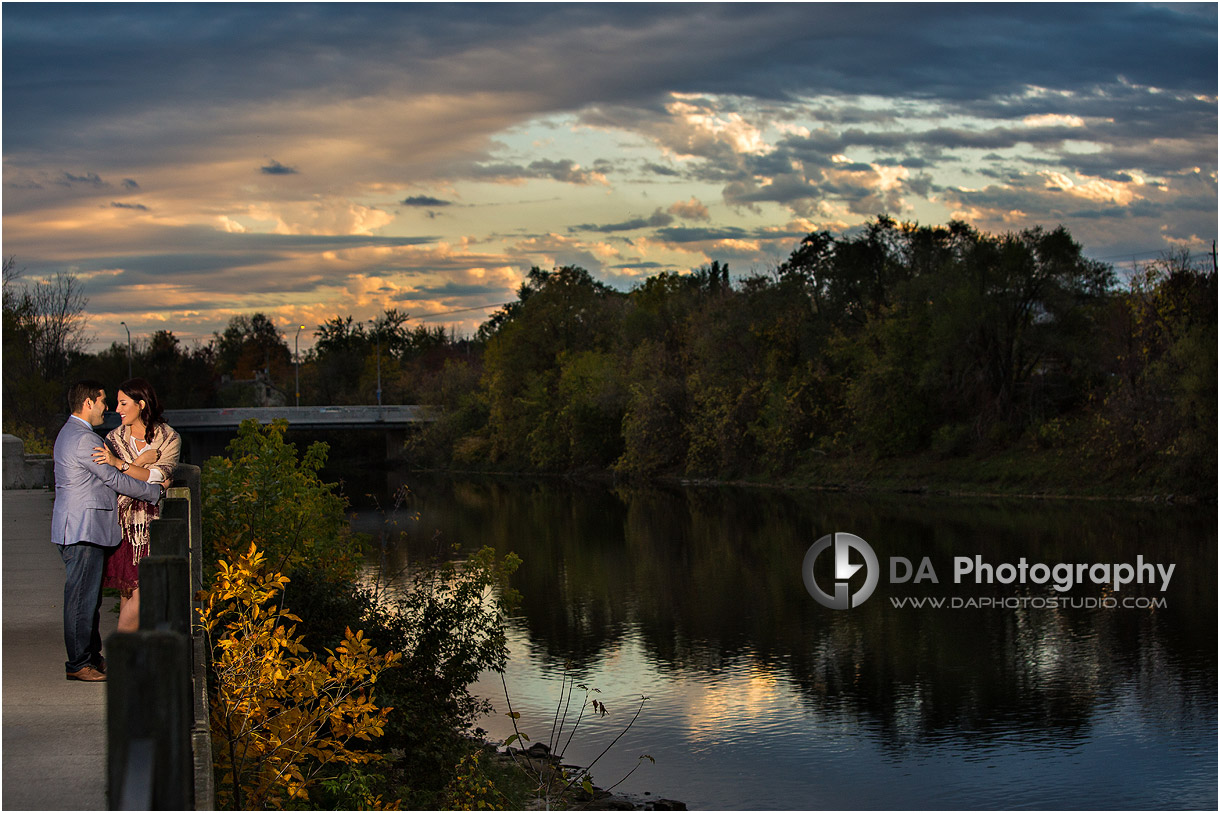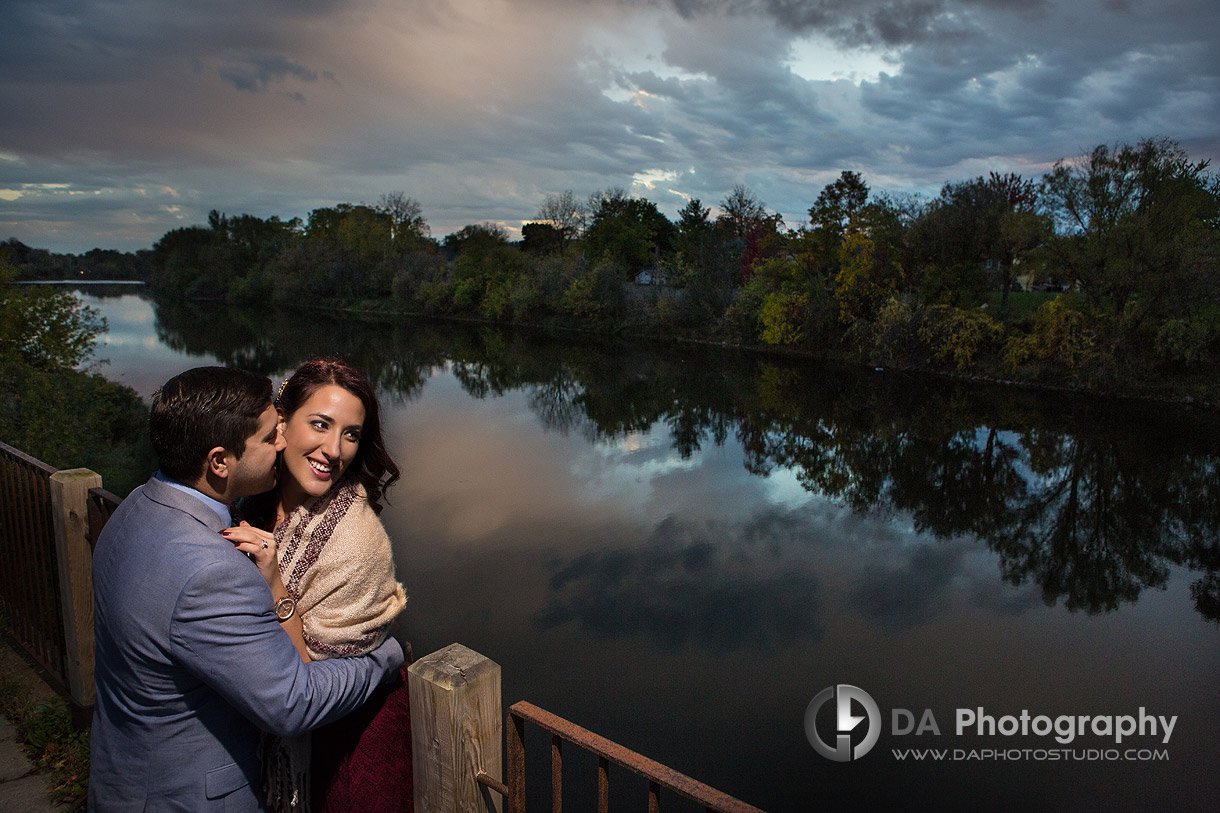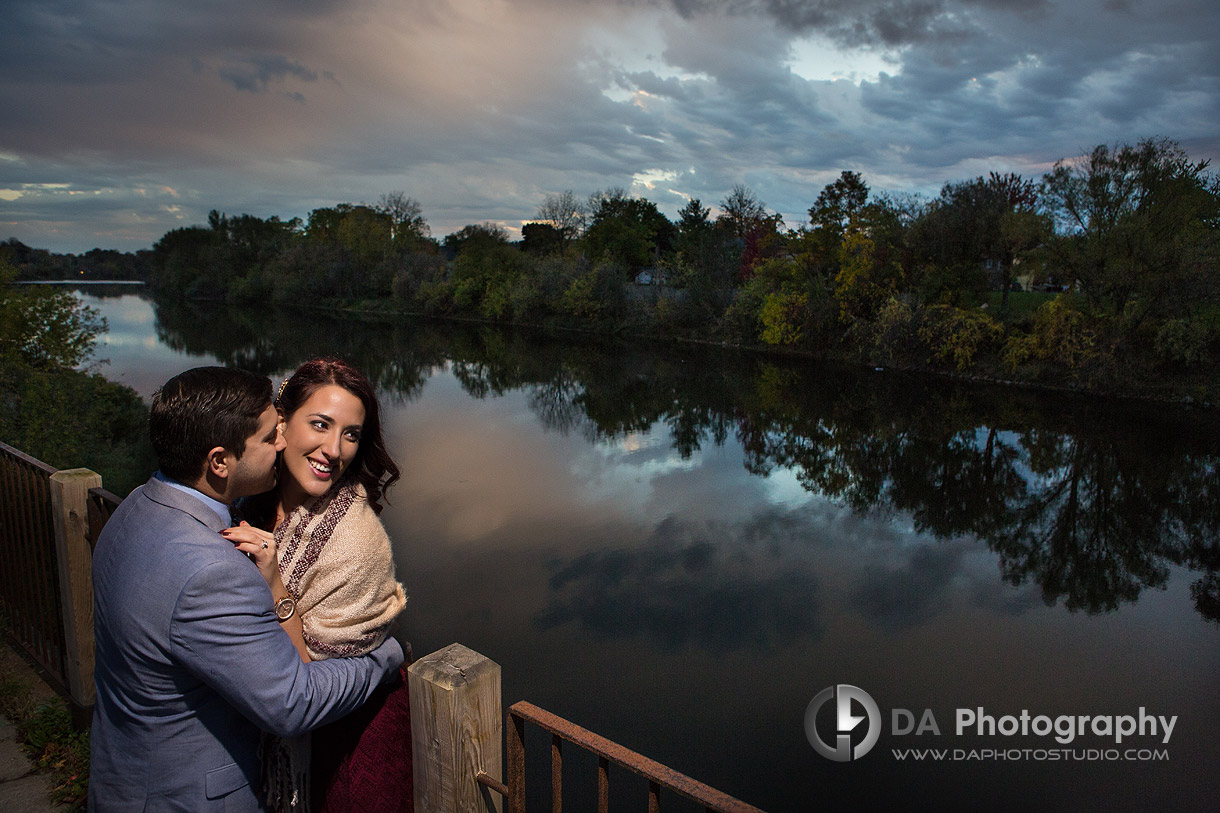 As a Cambridge engagement photographer, my aim is to capture a true representation of the couple. If you are not typically lovey dovey, then it wouldn't seem realistic to feature you in overly, staged, affectionate shots. Closeness and love can be showcased in many ways; from a gentle embrace to a heartfelt look that radiates your feelings. You can trust that I will deliver something unique and representative of the start of your exciting adventures together.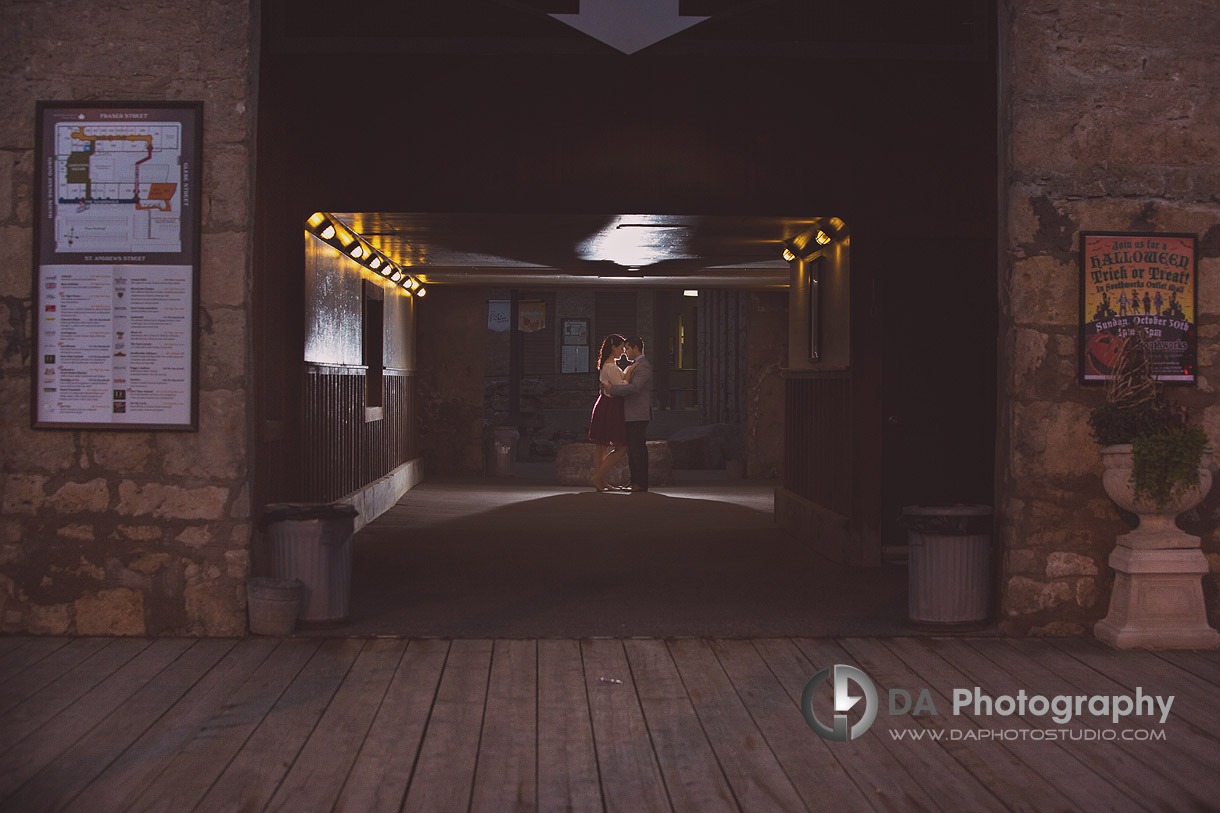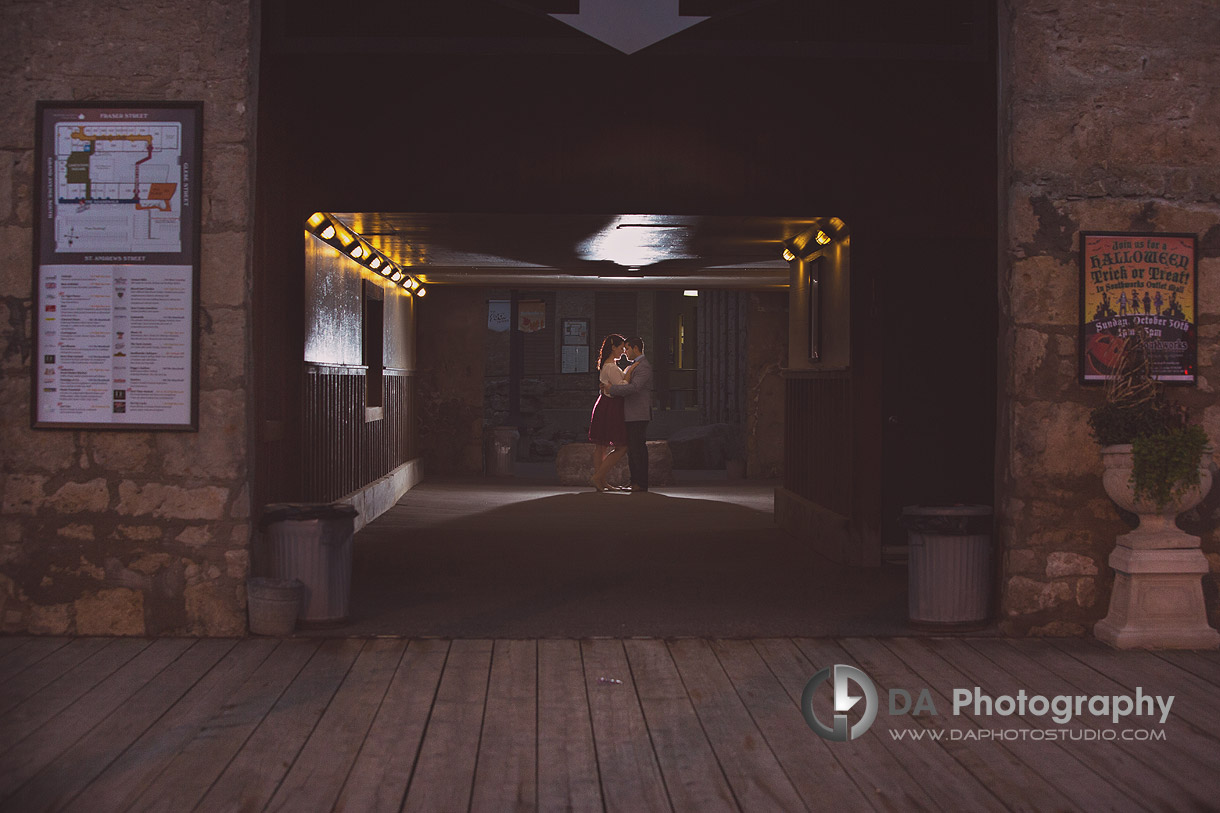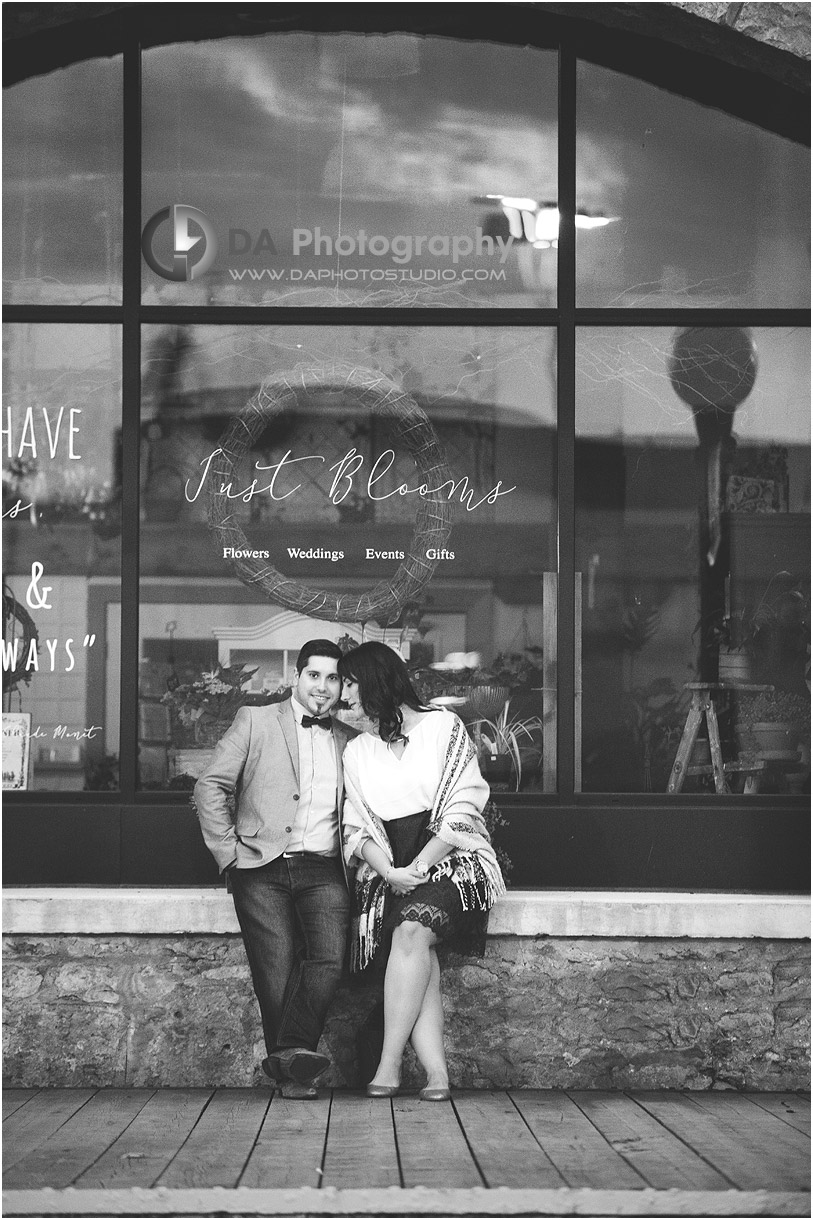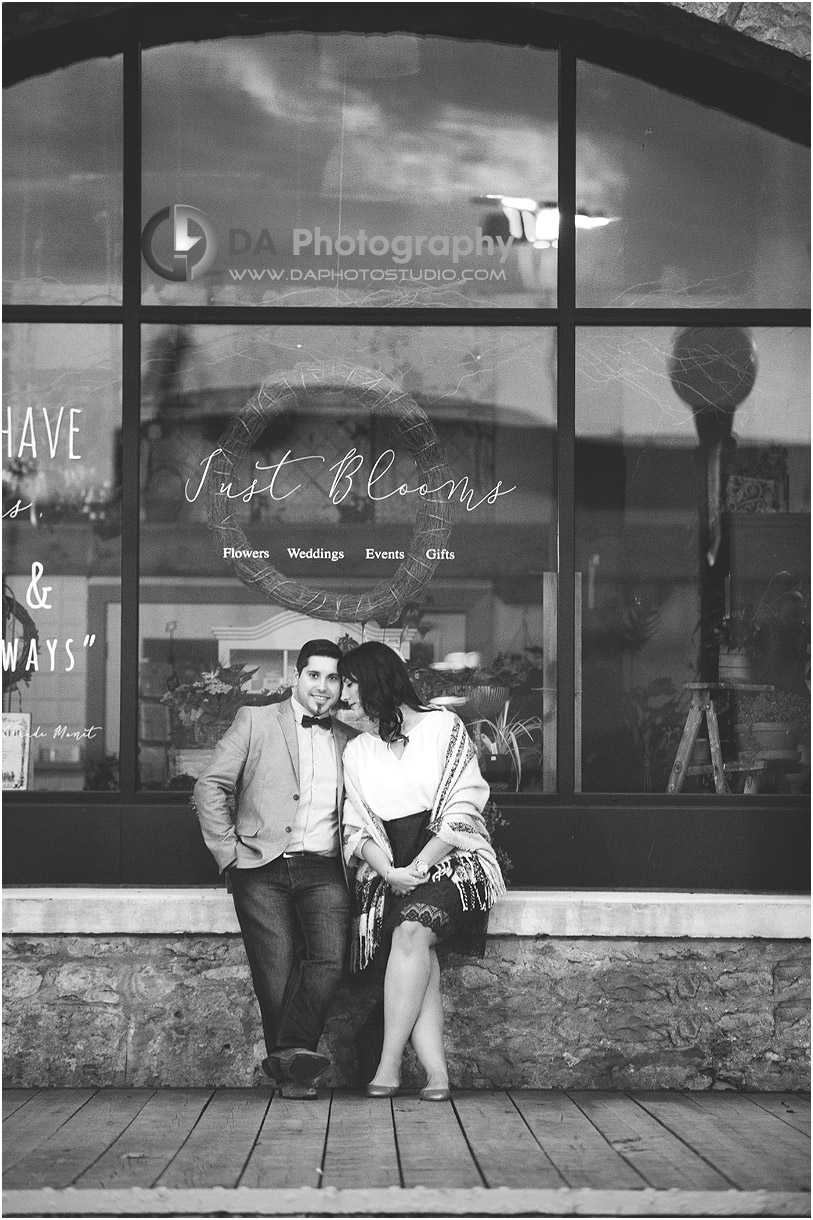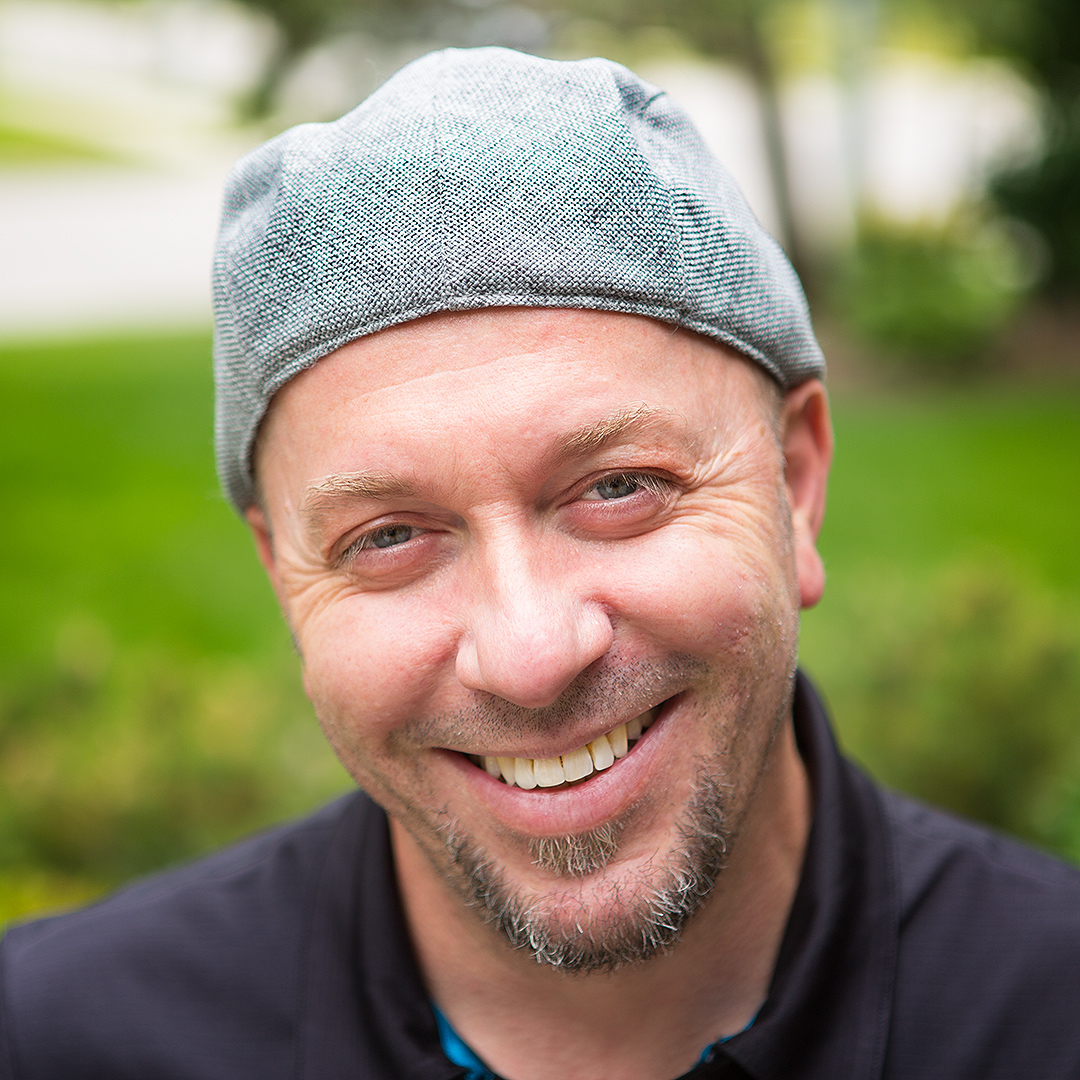 My passion and biggest asset is taking the time to make every client comfortable and relaxed before I even pick up the camera. The result? Photos of you that actually look like you at your best! I can prove to you how much you can enjoy having your picture taken. Lifestyle photography is about the experience that happens to be served up along side of some great photos.
Specialties:
Family Photography for families that like to move around and enjoy their photo time, Wedding Photography for couples looking for a mixture of photojournalistic, contemporary and traditional images and Professional Corporate headshots that are far from cheesy and stiff.